Walker's Disrupter Bluetooth Ear Buds Review: Pocket-Sized Hearing Protection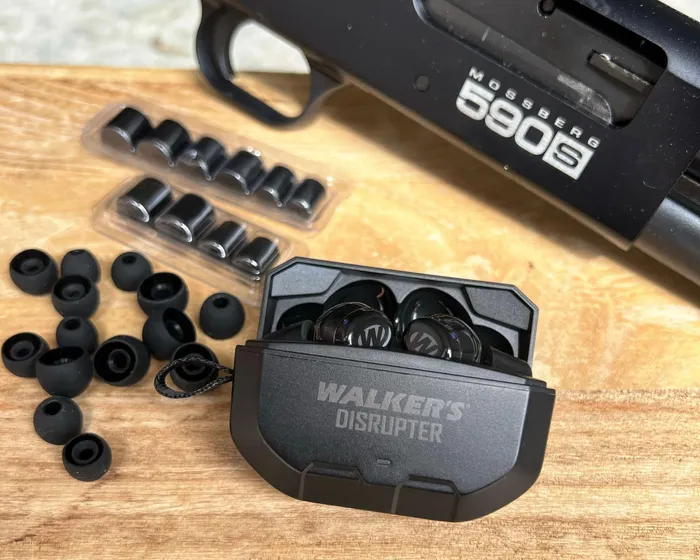 Walker's Disrupter Bluetooth Ear Buds Review: Pocket-Sized Hearing Protection
Introduction
I do a lot of shooting, so hearing protection is extremely important. I've traditionally been an ear muff kind of guy, but I've found myself grabbing ear buds more frequently lately.
Walker's was nice enough to send out a pair of the new Walker's Disrupter Bluetooth ear buds for us to test, so the timing was perfect. The Disrupter has more tech-related features than I'm used to, so I was excited to see everything they offered.
In the box is everything you'll need to be hitting the range or gym immediately. They come with three sets of foam tips, three sets of silicone tips, and a USB-C charging case with a cord.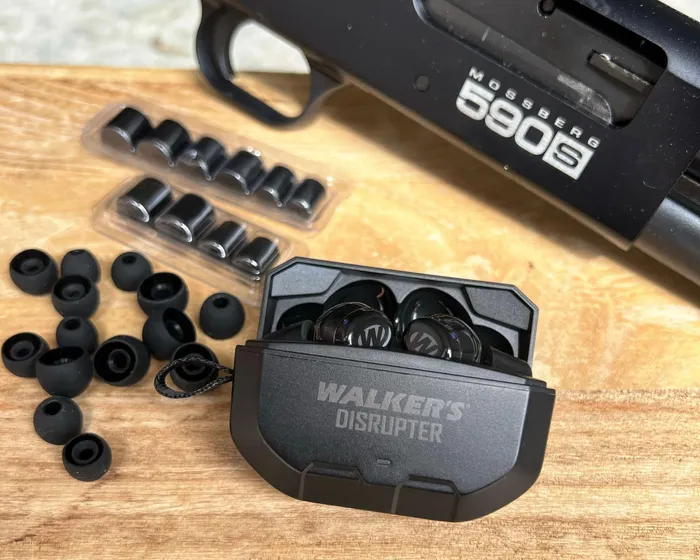 Having all of these fancy features is great, but are they useful, and do the ear buds do the most important thing: protect your hearing?
Let's take a look at some of the newest ear buds on the market.
Walker's Disrupter Ear Buds Review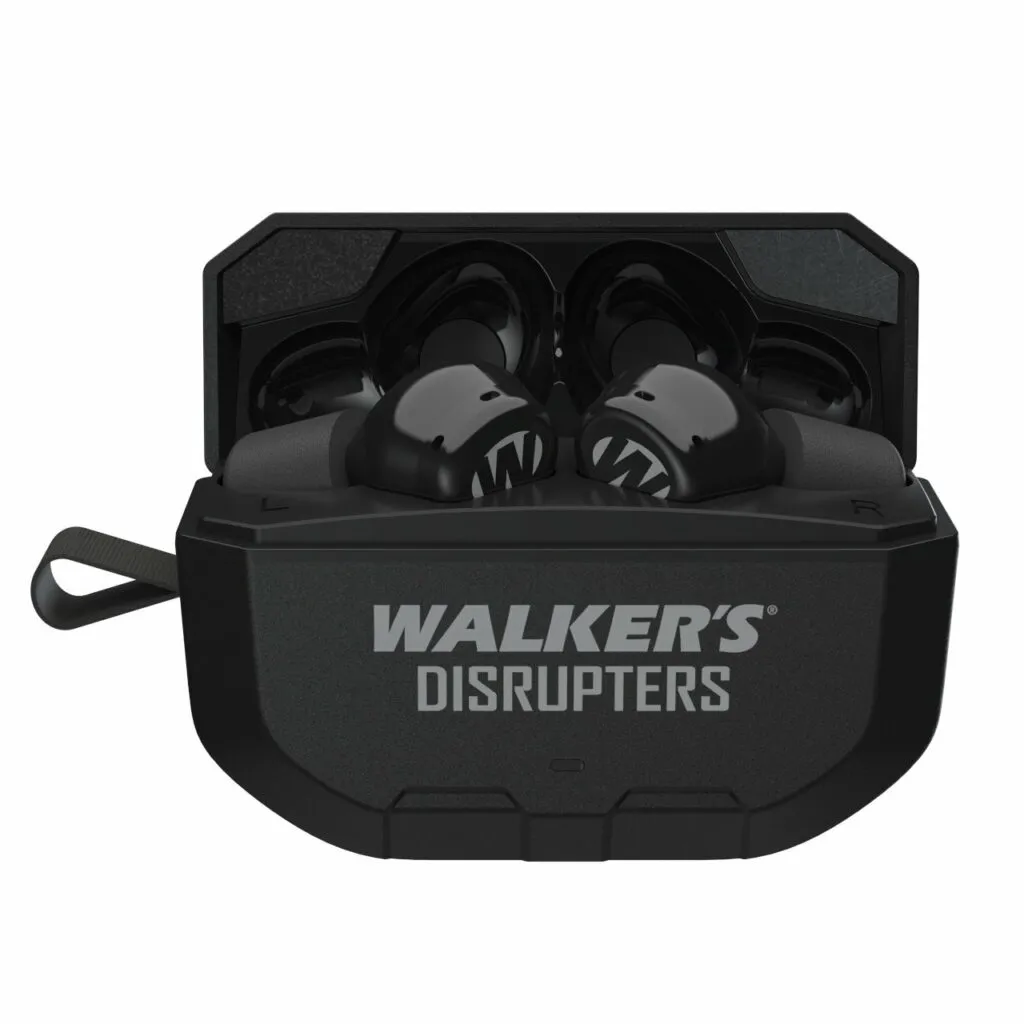 Specifications
| | |
| --- | --- |
| NRR (Noise Reduction Rating) | 24dB |
| Battery | Rechargeable (Dock) |
| Battery Life | 11 hours (ambient mode), six hours (bluetooth streaming) |
| Microphones | Four hi-gain omnidirectional |
| Ambient Sound Settings | Five |
| App Supported | Yes |
| Bluetooth | Yes |
Pros & Cons
Pros
26 dB NRR – safety first!

Multiple ear tips for custom fit

Bluetooth connectivity and control

Portable USB charging case (USB-C)

Auto shut-off

Adjustable passthrough
Cons
Minimal bass if used for music

Not cheap
Range & Run Test
Since the Disrupter ear buds are also marketed for everyday use, I wanted to test them outside the range as well. Of course, the range was the priority, though.
After trying on the various-sized foam tips, I found the medium ones fit the best and headed to the range.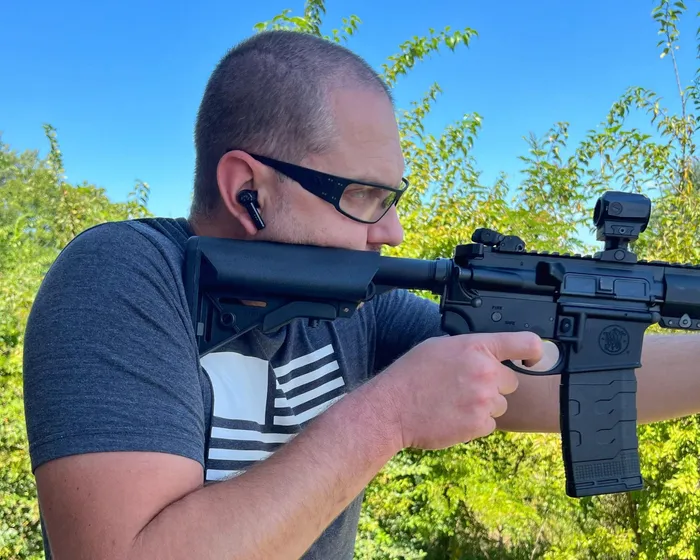 The range is definitely where these ear buds excel. You can run them in Front Focus or 360° Sound, depending on where you want to emphasize sounds. I like the 360° for maximum situational awareness.
They stayed secure in my ear, provided adequate noise reduction, and the app allowed me to change the settings without having to fidget with the ear buds themselves.
Lastly, you can also answer calls with them, which my wife definitely appreciates, so I can always answer!
From a range perspective, these will likely be one of my "go-to" options moving forward.
I don't run very often, almost ever, but I figured it would be good to see how the ear buds stay in your ear with a lot of movement. In the past, I've had ear buds fall out while running or constantly had to adjust them.
I headed out for a run with the small silicone ear tips installed. It was close to 90°F, so the sweat may have helped keep the ear buds in place, but I had no issues with them staying put.
Working out inside, I did have a couple of instances where the ear buds fell out, but it was only when I would have my head completely tilted to the side. Picture if you were to do a side plank; that's when it would fall out sometimes.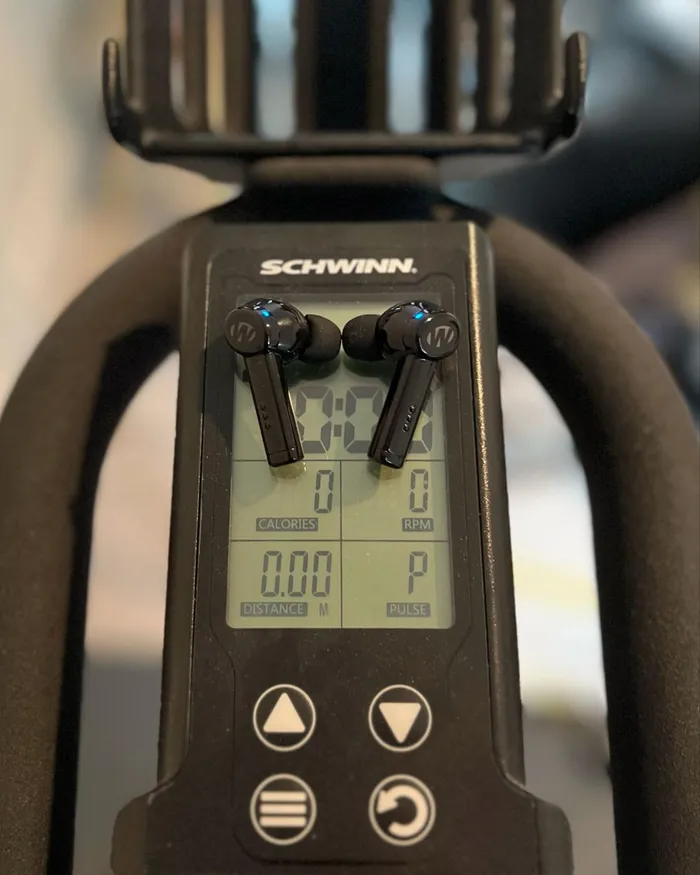 From an indoor and music perspective, the sound quality isn't great, and the bass is almost non-existent. I still see myself using a different set of ear buds when working out or just listening to music.  
Fancy Features
Bluetooth Connectivity & App Operation
Let's be honest: everybody almost always has their phone with them and more apps than they can even remember! If you add the Walker's Link app, you can control your sound settings without messing with physical ear buds.
Aside from changing your settings, you can also view the battery life of both the case and ear buds.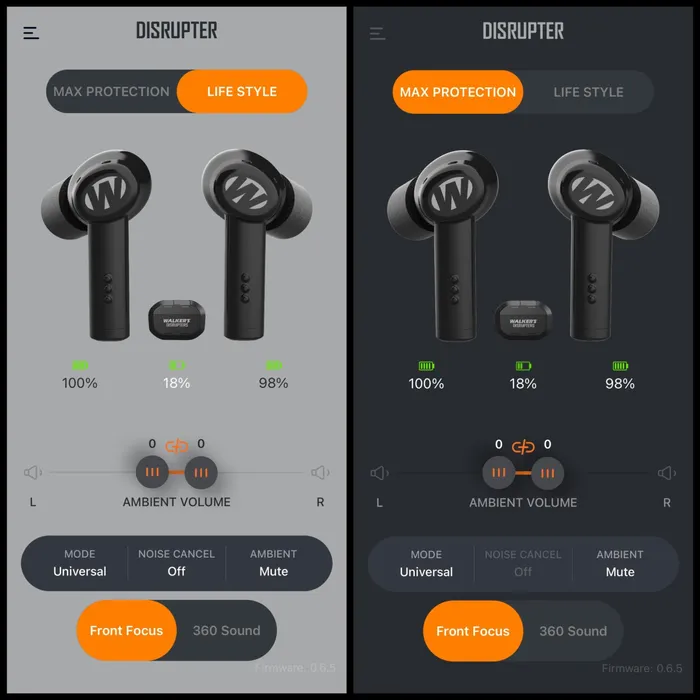 USB Charging Case
Having a case for your ear buds is crucial to keep track of them, but having it charge your ear buds is icing on the cake. Thankfully, the case uses a USB-C cord, not some specialized and hard find one.
The case seems pretty rugged, and I like not worrying about just throwing it in my range bag. You can even see how much battery life is left in the case if you download the app.
All in all, the case is a great touch.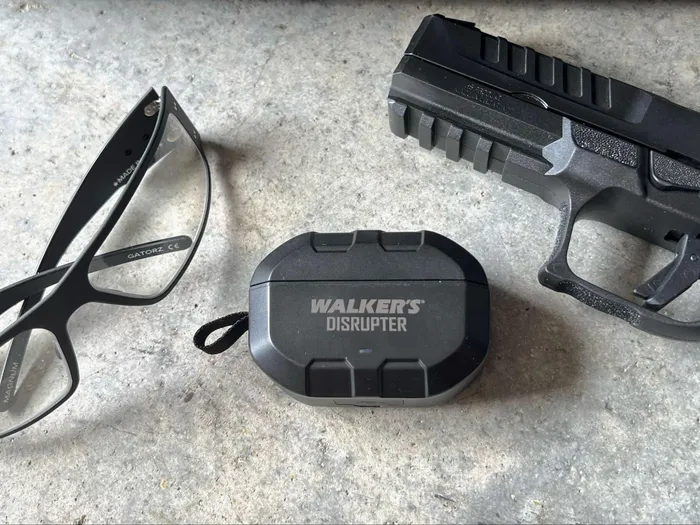 Five Ambient Sound Settings
Depending on your surroundings, there are five ambient sound settings. The five sound settings are universal, clear voice, hi-frequency boost, power boost, and custom.
I found myself more often than not in universal mode, but it's nice to know that the others are there or even a custom option is available if needed.
Alternatives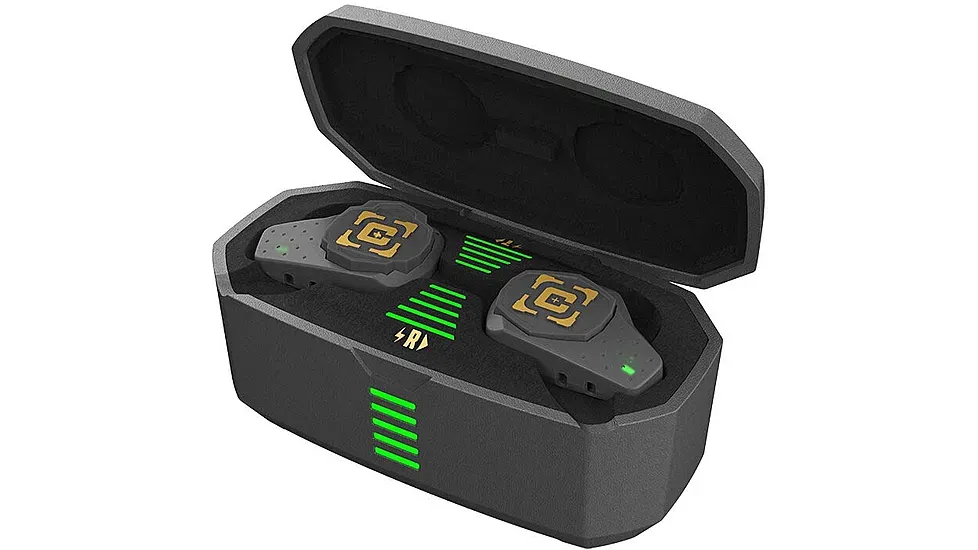 Another new set of electronic ear buds with a ton of bells and whistles is the Caldwell E-Max Shadows Pro. Safety first: they have a 25dB NRR and come with multiple-size earplug options to provide a custom fit.
You can connect via Bluetooth for up to 6 hours and simply recharge them in the convenient storage case afterward.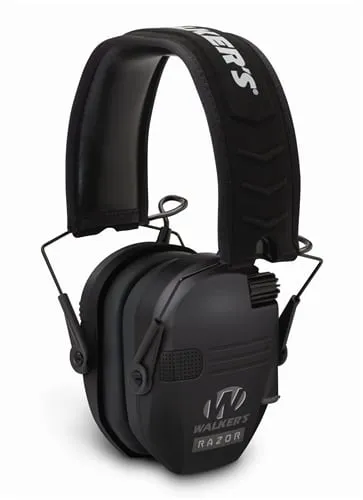 Are ear buds not your style? Are you not sure you need Bluetooth? Walker's has some of the best electronic earmuffs, and best of all; you'll save quite a bit of money.
The Razor Slims are low-profile, comfortable earmuffs with a 23dB NRR. They come in many different colors and won't break the bank.
Conclusion
There is no arguing that the Walker's Disrupters are loaded with features. Some you may use, some you may not, but they are there just in case. They do a good job at protecting your hearing while at the range but still allow you to hear what's happening around you.
However, I wish the music sound quality was better, especially given the price and being marketed for lifestyle activities. Ultimately, I believe they are high-quality ear buds, but I would like to see either the price lower or the sound improved.
If you are in the market for new ear buds, specifically for the range, I think they are worth checking out due to the noise reduction and Bluetooth/app capabilities.  You may feel different about the music sound quality, where the price makes more sense to you.
Are you an ear bud or ear muff person? Drop your favorite hearing protection down in the comments!
Explore more