We The People Holsters Review: Hands-On Testing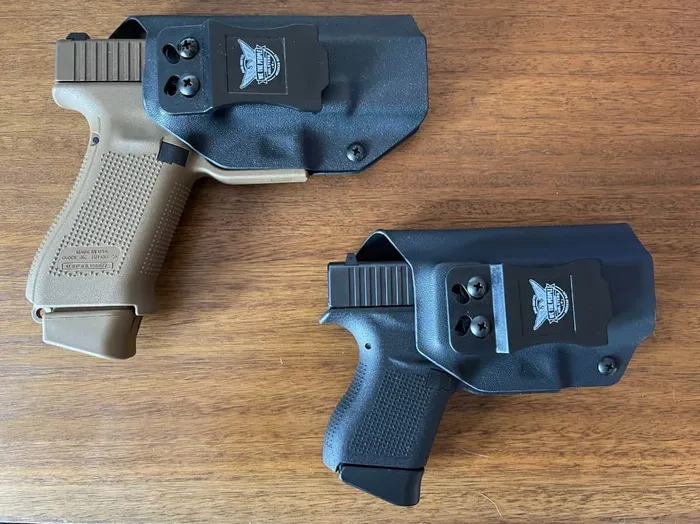 We The People Holsters Review: Hands-On Testing
Cover Photo: We the People Holsters – Glock 19 IWB Holster (Left) & Glock 43 Holster (Right)
Today I'll be doing a We the People Holsters review. I've seen lots of satisfied customers using this brand of cost-effective holsters, and I wanted to see what the big deal is.
Their line of IWB and OWB holster models cover all kinds of handgun models like Smith & Wesson, Sig Sauer, H&K, Ruger, 1911s, Beretta, Walther, and Colt, but I felt that I should start with one of their most sought-after ones: the Glock holster.
Hand-molded and assembled in Las Vegas, NV, We the People Holsters have one of the most comfortable and sturdiest holsters for the Glock 43 and Glock 19 handguns. They're one of the most convenient budget holsters you can find on the market, not to mention the free shipping and lifetime warranty.
In this guide, I'll cover their characteristics and features, pros & cons, how they feel, what they excel at, and show you how the We the People IWB holsters work.
Overview of the We the People Glock 43/Glock 19 Holsters
The IWB (inside the waistband) Glock 43 Holster and Glock 19 holsters are both Kydex-made handcrafted holsters, designed for comfort and perfect retention.
The Glock 43/43X and the Glock 19/19X are both popular, lightweight CCW handgun options, and they need a holster that matches their prominence. You can find these holsters in all kinds of colors and prints, and I personally love the carbon fiber pattern.
Where to Buy?
Pros & Cons of the Glock 43/43X IWB Holster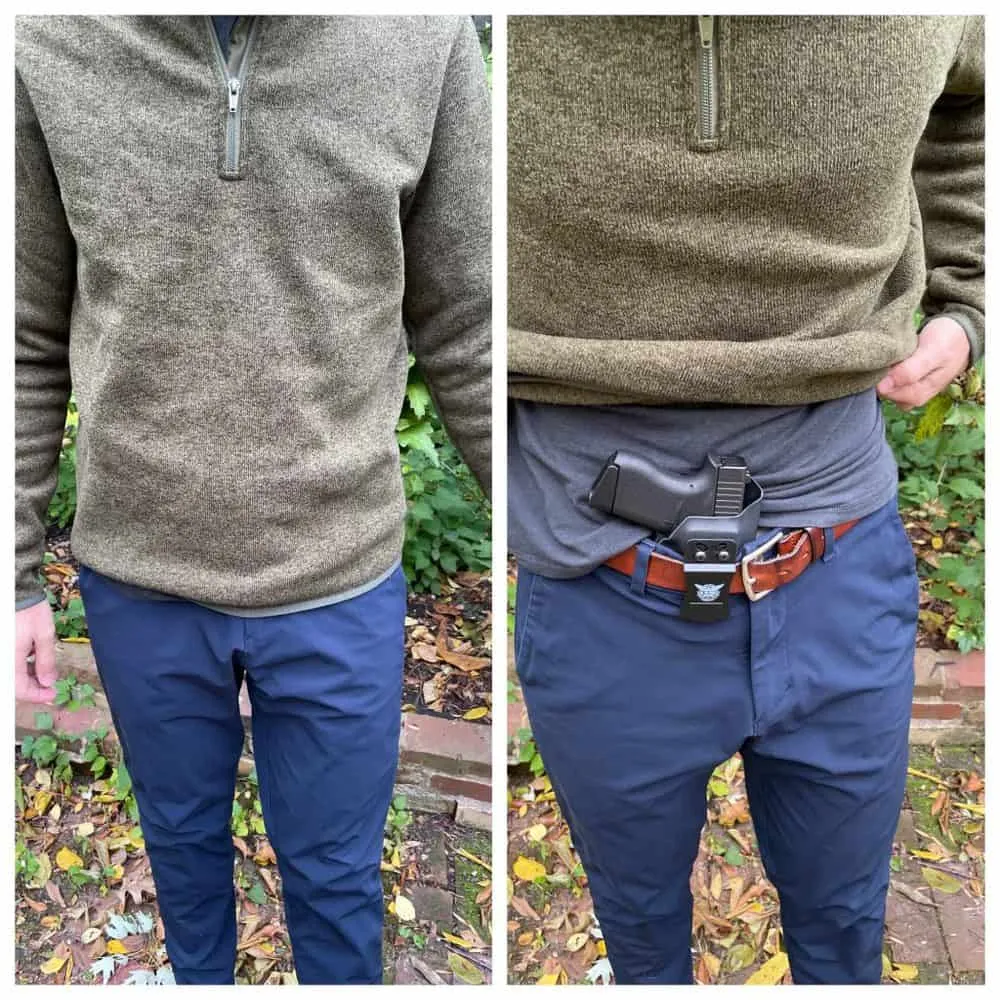 Pros
Comfortable and lightweight

Well-balanced retention; not too tight, not too loose

Available in black and carbon fiber texture

Adjustable angle and cant

Audible 'click' that lets you know you're holstered
Cons
Reported loosening after a year of use
Pros & Cons of the Glock 19 IWB Holster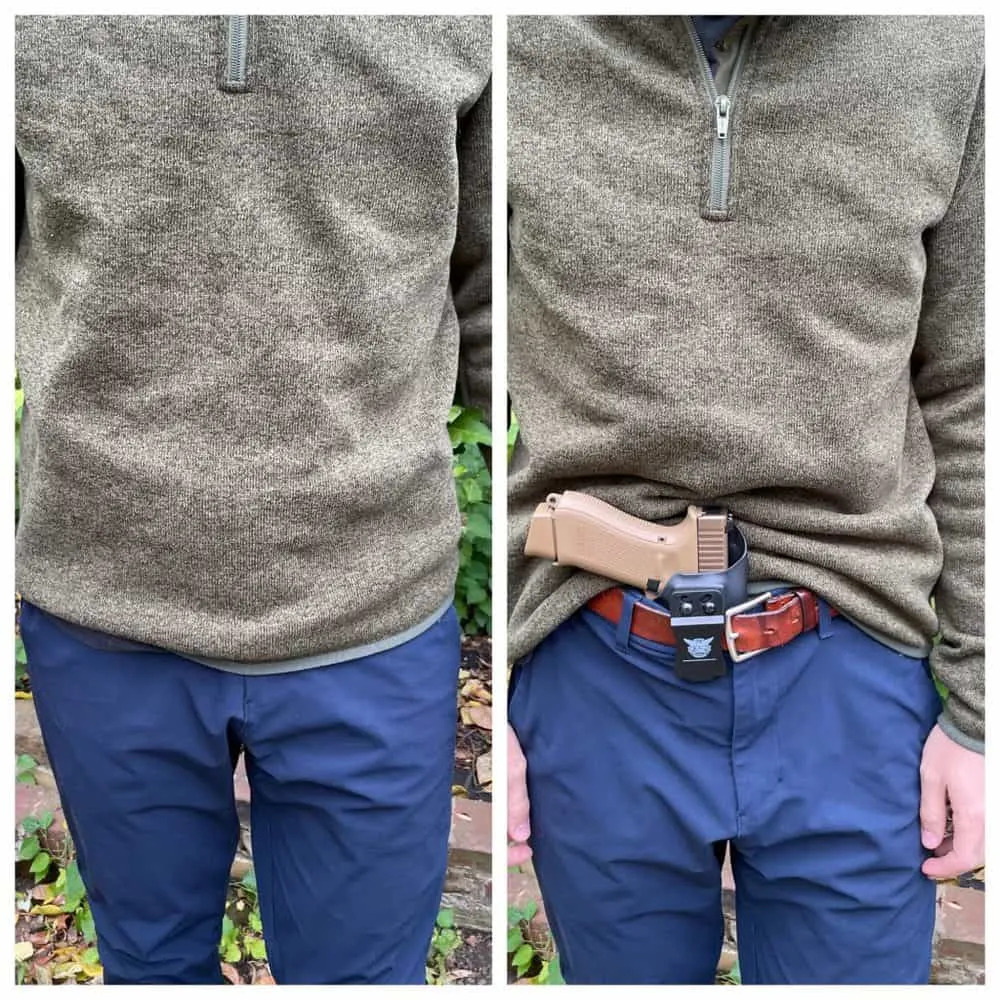 Pros
Protective sweat guard is a lifesaver

Great for CCW and doesn't print at all

Sturdy and stable belt clip that stays put

Lifetime warranty on all holsters
Cons
Doesn't print, but might not be comfortable for some
Specifications of the We the People Glock 43/19 IWB Holster
| | |
| --- | --- |
| Brand | We The People Holsters |
| Hand orientation | Right hand or left hand |
| Material | Kydex |
| Color | Many colors available for each model |
Features, Ergonomics, and Design
The Glock IWB holster's design is focused mainly on comfort and functionality, and its refined simplicity is complemented by the sturdy Kydex material. It features:
Adjustable retention, ride, and cant;
Audible 'click' when you holster your handgun;
Protective sweat guard;
3-ounce weight;
Lifetime warranty;
1.5-inch belt fit.
Works well with and without models with rails.
Belt clip for maximum security and smooth drawing (up to 8 different positions).
Ideal for CCW.
The custom-designed and printed Kydex IWB holster is 0.08 inches thick, and it only weighs around three ounces, making this a solid lightweight option.
Its thickness adds to the durability and the right amount of rigidity to make it shapeable over time. As for stealth and concealability, you can hide it quite easily under your t-shirt.
The retention is excellent and it's just right—not too tight and not too loose, covering the triggers safely. Thanks to the Kydex, the surface is waterproof, easy to clean, and will serve you for a long time.
The WTP holster for the Glock 19 is slightly slimmer, and can perfectly accommodate laser sights as well.
Additionally, expect WTP to throw in some stickers and a t-shirt as well.
How It Feels
The WTP holster will accommodate most carry draws like appendix, behind the hip, cross carry, or strong side draw.
However, what I like the most is how easy it is to draw and re-holster your handgun. It maintains a perfect fit; not too tight, not too loose. It also breaks in easily, and it keeps a low profile as an IWB holster.
It's discreet and rests well inside your pants without any pressure on sensitive areas around the groin. The sweat guard and smooth surface help to reduce discomfort.
Adjusting the Holster
You can adjust the height and angle by unscrewing the clip. There are 8 different cant positions for the belt clip angle, which is enough to please most Glock enthusiasts.
Adjusting the holster makes it easier to draw and re-holster your Glock, and it doesn't feel flimsy at all. When you holster your Glock 43, it's held snugly in place and doesn't move around while you carry it.
You can also adjust the retention to set the tension to a point where it would perfectly fit the way you draw while remaining comfortable. Once you find that retention sweet spot, I recommend using a thread locker for your screws.
Belt Clip
The belt clip is one of the best features of the Glock holster. It makes sure the holster doesn't shift or move around when you're in your car or running. It's sturdy, sits tight, and stays put. There are also two holes for screws that lower the holster or cant at the angle of your choice.
Many Glock owners will appreciate how the holster won't come off along with the handgun while drawing. Best believe such inconvenience is frequent with most brands. You won't have to worry about playing tug of war with your WTP holster.
Sweat Guard
The sweat guard is another great little feature of the WTP holster. It can extend high enough to protect your skin, and there are no sharp edges that will dig into your stomach and thighs, so you're free to move and bend over. This won't be much of a hassle for when you're driving either.
This is the edge that WTP has over other holsters I've tried on the market, and the manufacturer went with a very necessary beveled-edge design. The sweat guard keeps your skin and holster sweat-free.
The Glock 19 holster is compatible with Gen 3, Gen 4, and Gen 5 holsters, while the .40 version is only compatible with the Gen 3 and Gen 4 holsters. Still, the Kydex holster is comfortable and discreet enough for these generations of handguns; you can maintain a low profile regardless of what you wear and keep your gun concealed.
FAQs
Here are some frequently asked questions about the We the People Holsters.
Are We the People Holsters Good?
We the People Holsters cover a wide range of handgun brands and models, and there's no doubt you can find a holster for your handgun as well.
The IWB holster models cover the triggers, conceal easily, and tuck under your shirt very well. They're made of lightweight and durable Kydex, which makes them very comfortable to use.
The custom-molded .08-inch thick Kydex offers flexibility with no sharp edges to cause discomfort, it breaks in and molds easily, and it's very easy to clean.
Are Different Holster Models Interchangeable?
No. You need to pick a specific model for your handgun since there is no universal holster as of yet.
Which One Is Better? IWB or OWB?
IWB stands for "inside the waistband," and it's mostly used for concealed carry when you're trying to keep a low profile with your handgun. This option is the most stealthy one, but it's also not as comfortable as OWB.
OWB stands for 'outside the waistband', and it's definitely the most comfortable option. OWB holsters allow you to draw and re-holster much faster, they look very cool, but OWB carry might be problematic for public places.
It entirely depends on you whether you want an IWB holster or an OWB holster.
There are also ankle holsters you can find on the market that are all about concealability.
Social Proof (What Do the Others Have to Say?)
Conclusion
I'm convinced that We the People Holsters went with a simple and straightforward design from a functional perspective. Keeping it simple and listening to your customer feedback is all it takes when Glock holsters are in question.
With an attractive price, many different cant positions, free shipping, lifetime warranty, and the all-satisfying "click," these holsters are for the casual handgun enthusiast that doesn't need any needless additional features.
What I like the most about the We the People Holsters for these Glocks is that they have near-perfect retention.
They're not too tight, and not too loose, making them the Goldilocks of cost-effective holsters. How many times have you pulled your handgun, and the holster just comes off with it? Not these ones. With the sturdy and stable belt clip, you won't have any such problems.
Both the Glock 19 and 43 holsters are carefully molded and feel just right. There's a reason why Kydex is a popular material for holsters. Simply put, it offers certain durability and flexibility suitable for Glock users.
So far, I'm not disappointed.
Explore more