Zenith ZF-5 Review: Your American "MP5" is Waiting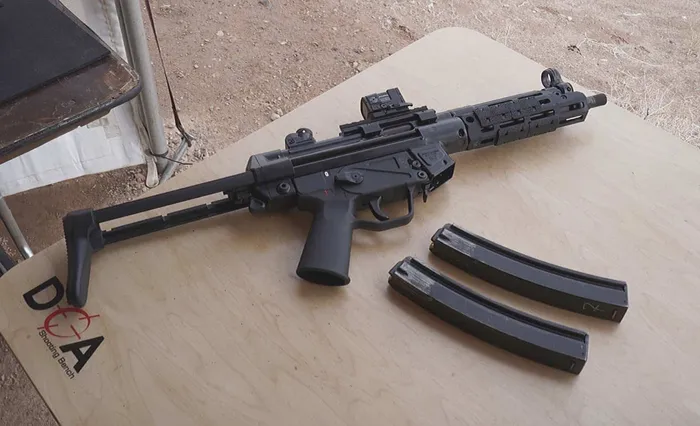 Zenith ZF-5 Review: Your American "MP5" is Waiting
Introduction
The MP5 is arguably one of the most recognizable firearms out there, which is why we're reviewing an MP5 clone, the Zenith ZF-5. Many of you know about the MP5 because you're a firearm enthusiast, but even those who aren't have likely seen it in a movie or video game.
Heck, well before I ever shot one in real life, it was one of my primary guns in Call of Duty.
Given the popularity of the original MP5, there are many clones out there. One stands out in particular, though, which is the ZF-5. It's one of the closest to the original and definitely does not give you any feeling of a "knock off".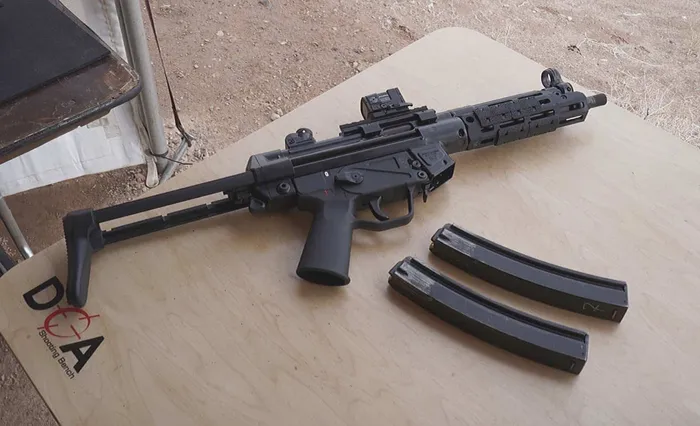 One of the largest appeal factors is that it's made in the USA. Here's a closer look at what could be your next American-made SMG.
Zenith ZF-5 Review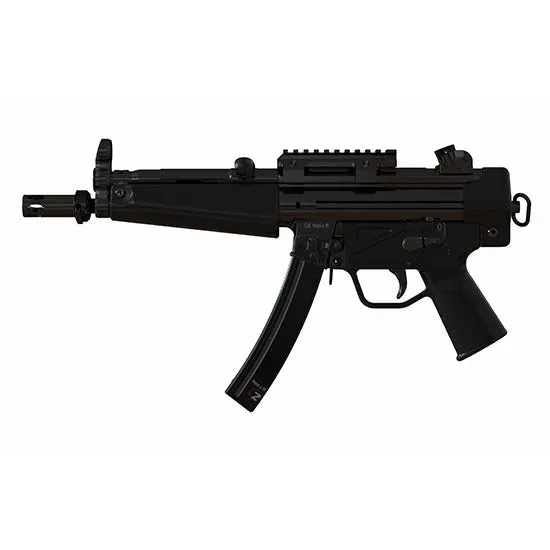 Specifications
| | |
| --- | --- |
| Caliber | 9mm |
| Capacity | 30+1 |
| Operating System | Gas-operated Roller-delayed Blowback |
| Barrel Length | 8.9 Inches |
| Overall Length | 17.9 Inches |
| Width | 2.3 inches |
| Height | 8.3 Inches |
| Weight (w/o magazine) | 5.5 Pounds |
| Sights | Fixed Hooded Front, Adjustable Rear w/ 4-aperture Rotary Drum |
| Sight Radius | 13.4 Inches |
Pros & Cons
Pros
Priced Competitively (

compared to H&K

)

Retractable Stock

Surprisingly Accurate

Made in the USA
Cons
Difficult to Reload

1,000 Yard Targets Difficult to Hit (Obviously!)
Range Report: Reliability & Accuracy
Reliability
I had limited time with the ZF-5, but my overall experience was positive.
I had no issues with ammo, but the magazine dropped out twice, even after the first round loaded and went bang. I'm not sure if it was the specific magazine I was using, but I would definitely want to test several different magazines after to find the root cause.
Accuracy
I was able to shoot a model with and without an optic. I first shot one with an Aimpoint Acro, which felt like I was using a cheat code with how easily I hit my targets.
The next only had the classic iron sights, and it really surprised me how accurate it still was.
Granted, targets weren't placed much more than 15-20 yards away from us, but the ZF-5 quickly and easily transitioned between them.
Overall Feel
With the retractable stock, I didn't think it would feel as sturdy as it does. Thankfully, I was wrong.
The ZF-5 may be smaller than the AR you're used to shooting, but it still feels like you're ready to take on almost anything with it.
Features
Improved Controls
One of the major complaints I hear about MP5s is the position and angle of the safety. Zenith made sure to address that and make it somewhat more user-friendly, but it still has room for improvement.
At least it's ambidextrous!
I really like the paddle magazine release being located right behind the magwell, in addition to the button mag release in the standard location. The reloads were hard enough with the small magwell, so any way to make them easier is welcomed.
Lastly, you'll find your run-of-the-mill charging handle located on the left side of the gun at a 45-degree angle.
Nothing special, nothing wrong with it.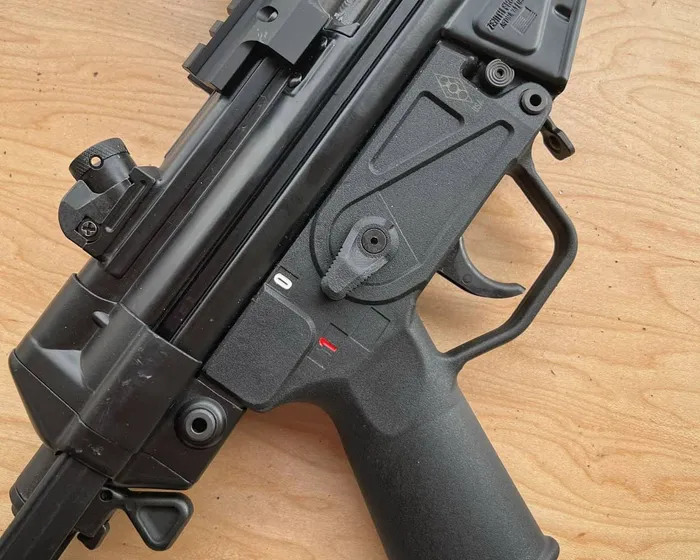 Retractable Stock
The 4-position A3 retractable stock feels lightweight despite being made of steel. It's connected simply with a large takedown pin and slides to its various positions via a button at the 6 o'clock position.
I know the point is to be minimalistic, but I do wish the buttpad had more to it.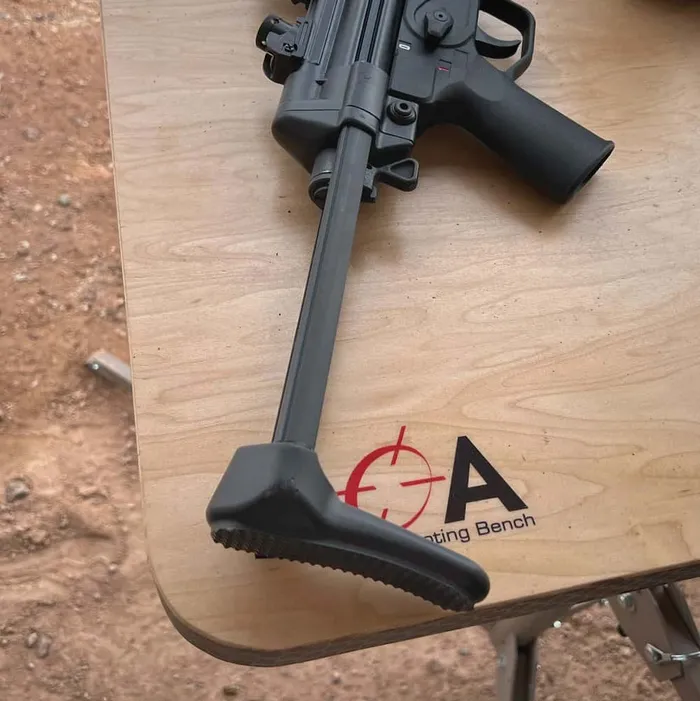 Sights
Being used to the AR platform, these sights are way different. However, they were surprisingly easy to adjust to.
The rear rotary drum sight is adjustable, with four different precision holes. The front is a classic fixed hooded sight that was easy to line up. Having four different levels of precision is a neat feature that I could get used to.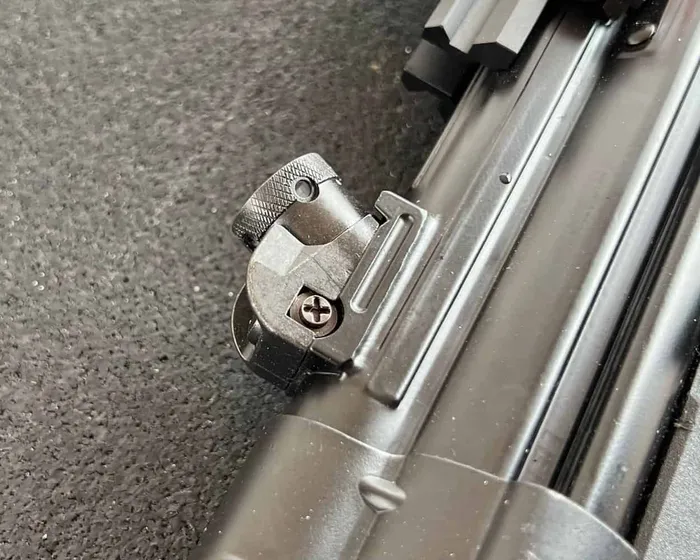 How We Tested
We could put as many rounds as we wanted through the ZF-5 at Range Day during SHOT Show earlier this year.
There was a variety of ammo available, all FMJ (at least that I saw), but we had no malfunctions with any of it. From rapid firing to slowly plinking away at random targets downrange, the ZF-5 performed well.
Score Card
Reliability (10/10)  
While it was a limited amount, all rounds went through it flawlessly.
Ergonomics (8/10)
Small gun and large man = hard to feel ergonomic. However, it's ergonomic for its size.
Customization (8.5/10)
With the M-Lok handguard and top rail, you'll have plenty of options for accessories.
Appearance (10/10)
It's awesome…it's an "MP5" and looks just like it does in Call of Duty!
Value (8/10)
Better price than some of the competitors but still pricey.
Accessories
Vortex makes some of the best optics out there and the Spitfire is one of my favorite prism scopes. It features an AR-BDC4 reticle and a 3x magnification. Backed by Vortex's lifetime warranty, you won't have to worry about much.  
With how fun the ZF-5 is to shoot, I would want at least 10 or 12 magazines, all pre-loaded prior to my range trip.
All steel construction, reinforced feed lips, and round count indicator holes make the ZF magazines extremely durable and high quality.
Alternatives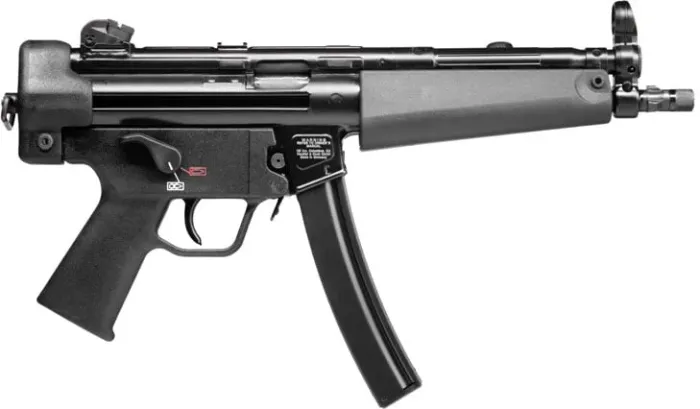 Said to be one of the most imitated PCCs in the world, the SP5 is the US version of the famous MP5.
It's known for its reliability and accuracy, while some of the MP5 clones are most definitely not. I believe it's still made in Germany, with the parts even being stamped for authenticity, which adds to the cool factor!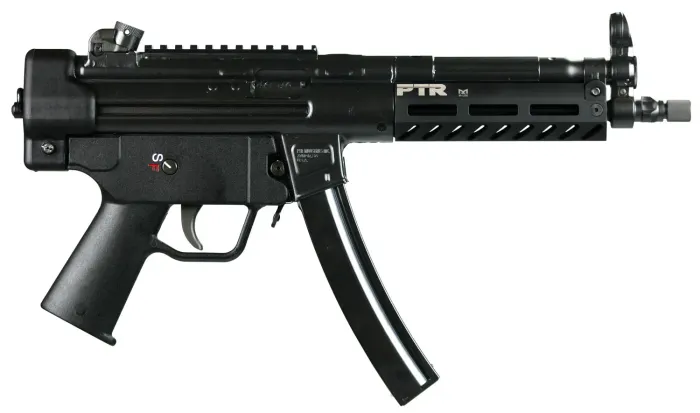 For those who want an "MP5" but also value saving a good chunk of money, there is the PTR 9CT.
It's made in the US with some modern touches, such as an M-Lok handguard. Regardless of the lower price tag, I've heard strong reviews regarding reliability.
Conclusion
As I mentioned before, there are and have been a ton of MP5 clones made over the years.
Some are cheaper than others, some are easier to find, and some are more authentic to the true MP5 than others. The Zenith ZF-5 is one of the most well-rounded, in my opinion. You don't have to sacrifice quality for the little bit lower price tag the ZF-5 comes with.
If you're in the market for a new SMG, specifically an MP5 clone, I highly recommend checking out the Zenith ZF-5.
Explore more