ATN ThOR 4 Thermal Optic Review: Illuminating the Night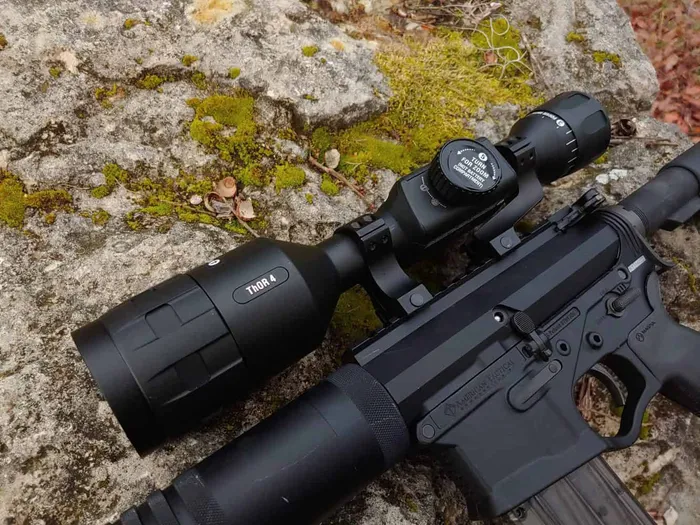 ATN ThOR 4 Thermal Optic Review: Illuminating the Night
ATN leads the way with affordable, consumer-grade night vision devices, and we've got our hands on the ATN ThOR 4 4.5-18X thermal optic to see what thermal can do for you. 
Thermal and night vision optics have become nearly mainstream in the world of commercial optics. Only a few years ago, these optics were nearly double in price for half the quality. As the prices how lowered and accessibility increased, finding the right optics became a central part of the GunMade mission. These optics are still costly, and we know how hard you work for your money.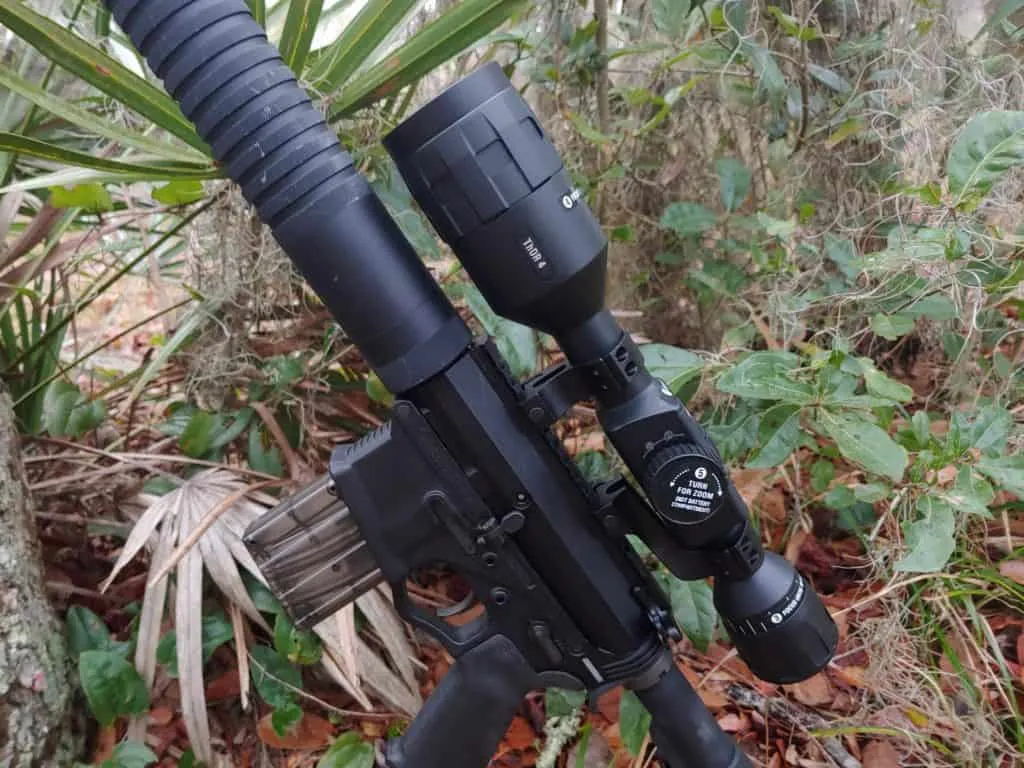 When we test an optic like in this ATN ThOr 4 review, we want to push it to its limits. We want to understand what makes it tick, how well it works, and if it's worth the money. This involves expansive testing in a controlled manner to flush out any potential weaknesses. ATN provided the optics as loaners for review, but we do not take any money from ATN to write these reviews. The thoughts, opinions, and facts found are reflective of true-to-life testing. 
Let's put the bottom line upfront, the ATN ThOr 4 384 4.5-18X is a solid, well-made optic that performs surprisingly well for its relatively low price point. The optic isn't perfect but is feature filled with surprising clarity and outstanding range. This optic took me forever to fully test and evaluate because it has so many features that set it apart from most of the competition. 
The ATN ThOr 4 is a huge line of optics, so I want to reiterate that this specific model is the ATN ThOr 4 384 4.5-18X. This optic is designed as a weapon's scope and comes ready with everything you need to toss it on a rifle and go. Throughout the review, we'll explain the many benefits of the ATN ThOr 4 and the benefits of thermal optics in general. 
You'll see the bevy of features that makes the ATN ThOr 4 stand out and what you can expect performance-wise from the optic. I've mounted this optic to my coyote killing 17 HMR AR, and we'll see just how capable this optic will make your favorite rifle. 
Mount up, dig in, take a seat and keep reading. 
Where to Buy?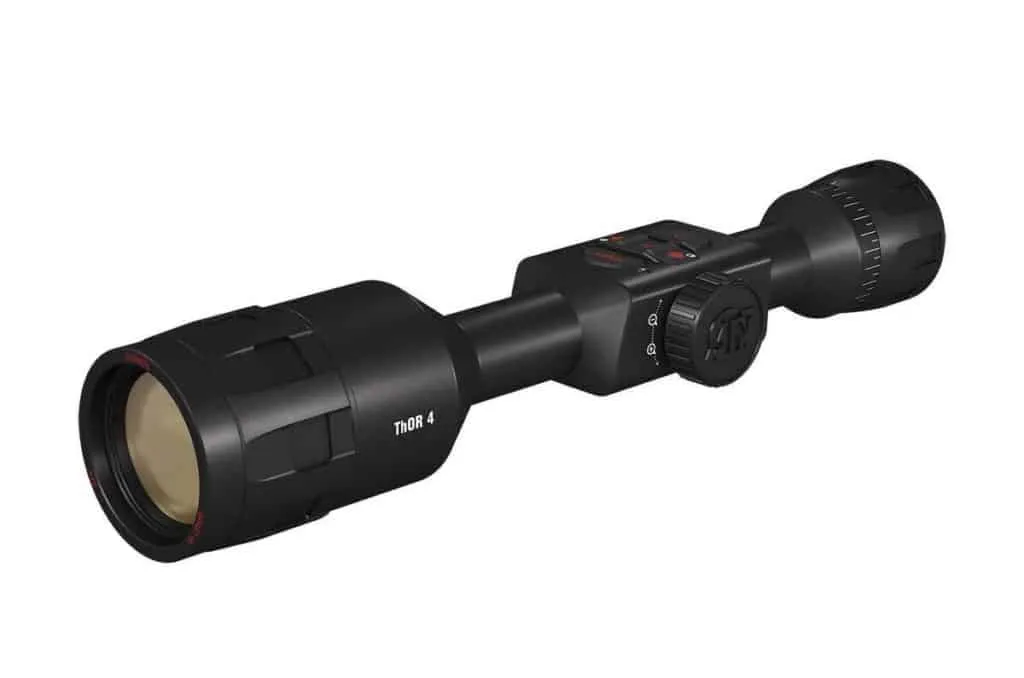 Inside the ATN ThOr 4 384 4.5-18X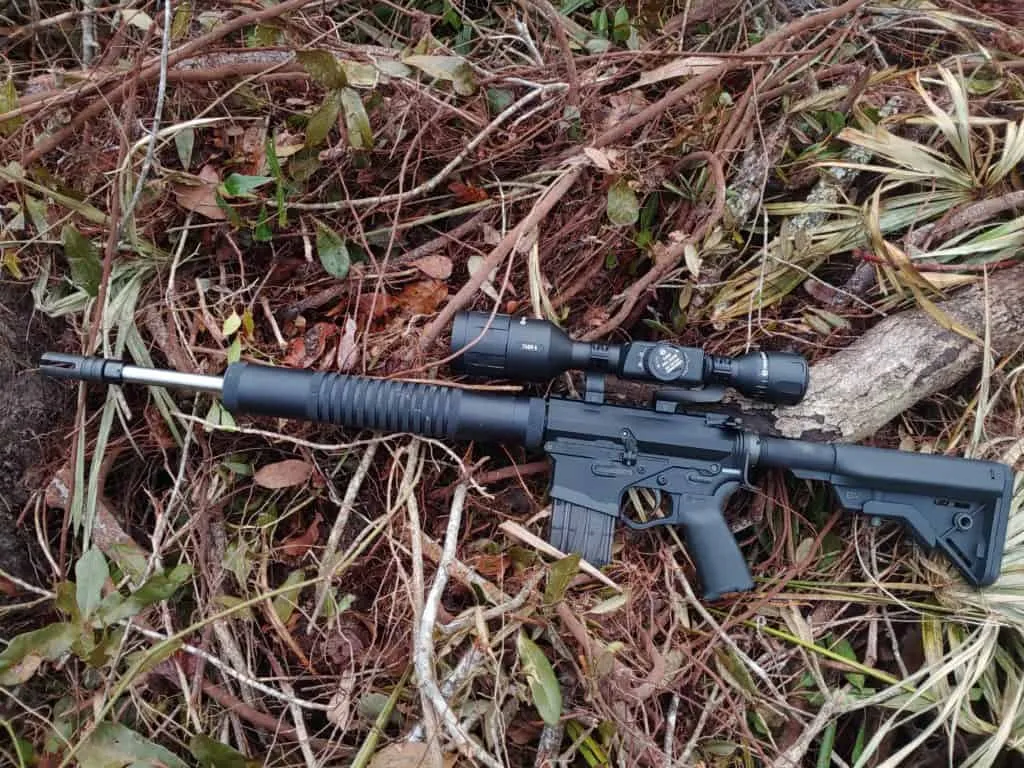 Specifications 
| | |
| --- | --- |
| Sensor | 384×288 |
| Refresh Rate | 60 Hz |
| Magnification | 4.5X with up to 18X Digital Magnification  |
| Eye Relief | 3.54 inches |
| Battery Life | 18 Hours |
| Length | 13.8 inches  |
| Weight | 2.2 pounds  |
Seeing Heat 
Have you ever seen the film Predator? In several scenes, it flashes to the Predator's vision in several scenes, and he sees it in a bright variety of colors. That bright variety of colors is thermal vision. That allows him to pick out targets and track his prey. Well, modern thermal optics do just that but do it in a much more efficient and much clearer way. The ATN ThOr 4 384 provides you with a much clearer thermal signature than the Predator ever had. 
This optic mounts to your firearm and allows you to effectively engage or just observe anything from specially made thermal targets to pests, coyotes, and hogs in the middle of the night. Thermal optics present you with a view of the world you've never seen before. While the primary use of thermal optics is at night, they can be safely used during the day as well, so there is no need to dismount as the sun comes up.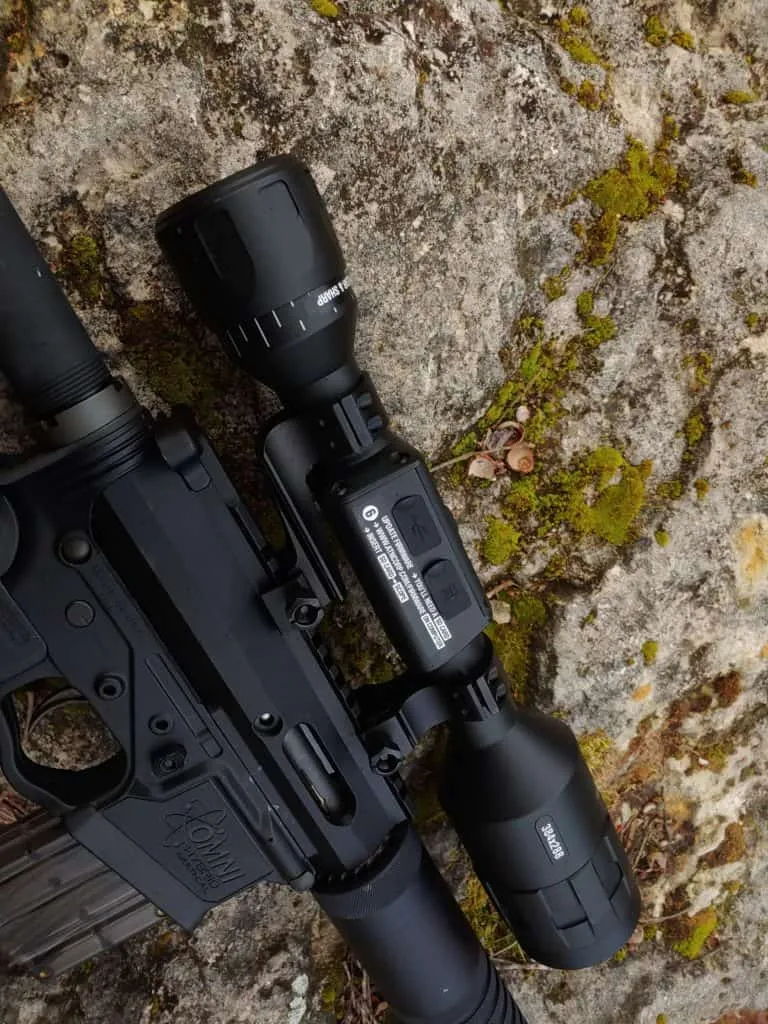 Where Does the ATN ThOr 4 384 Stand? 
The ATN ThOr 4 384 represents one of the higher-end hobby and commercial grade optics for the everyday shooter. This isn't an optic necessarily made to go to war and come home, and that's not a bad thing. While military thermal optics might be tough and capable, they aren't likely to have the multitude of features you find in the ThOr 4 384. 
If you are new to the world of night vision optics and thermal ATN isn't a bad company to dip your toes into. They provide a good place for new shooters to get accustomed to the wide-open world of thermal sights. The ATN ThOr 4 384 isn't the cheapest of the ThOr scopes, but it's one of the more competent for hunting and use in the field. 
If you're looking for a lower price point, go check out our ATN ThOR LTV 320 4-12x thermal review.
The biggest flaw came when the image would freeze. This happened twice while testing the ThOr, and I just turned it off and turned it on to remedy the situation. It only happened twice in hours of testing, and I couldn't replicate the incident.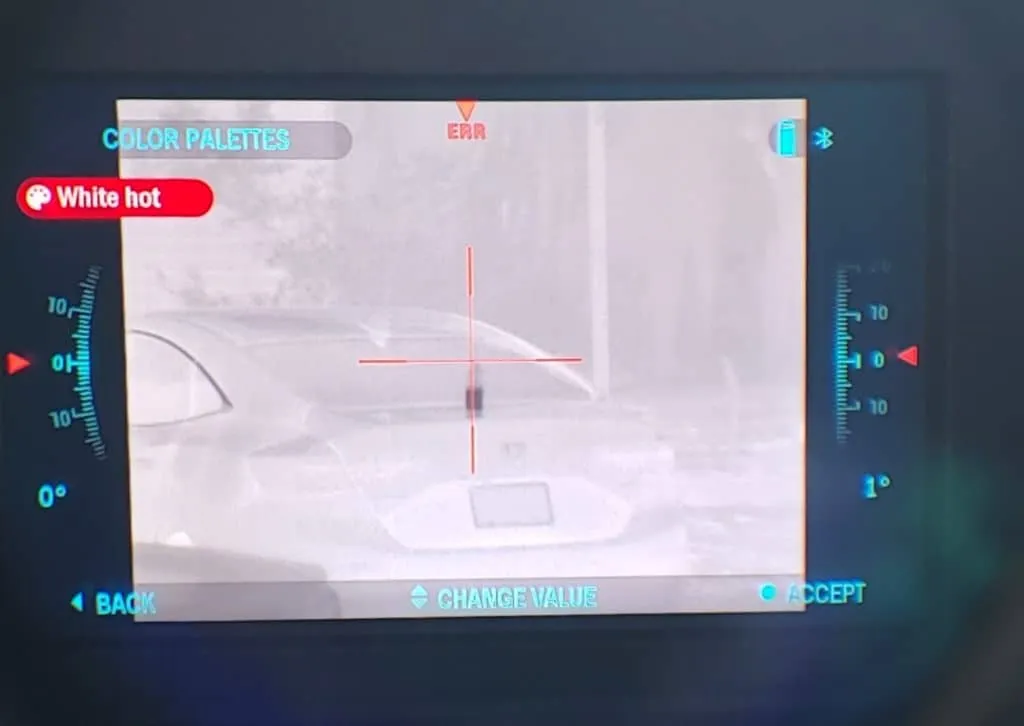 Pros and Cons 
Pros
Clear Image
Awesome Refresh Rate
Tons of Color Refresh Rate
Long Battery Life
Cons
Heavy
Image Occasionally Freezes
Light It Up With the ATN ThOr 4 384
The Sensor 
The 384×288 sensor isn't the largest sensor on the market, and the 640 series does offer a more powerful 640 sensor option at a higher price. The 384×288 isn't bad by any means, and thoroughly check the above-average marker. What does make the ATN ThOr 4 impressive is the refresh rate. The ThOr 4 384 leads the way with a 60 Hz refresh rate. This ensures there is total clarity and very little lag between the time something moves, and you see the movement. With 60Hz, the lag is not even perceptible. 
One night I watched a pair of rabbits in the backyard hop, jump, eat grass and twitch at 50 yards away in perfect clarity. Being able to easily distinguish small animals as rabbits is an impressive feat. Lesser optics would have revealed small black blurbs hopping about, but I could see ears, tails, and the very distinctive shape of a rabbit. 
The Magnification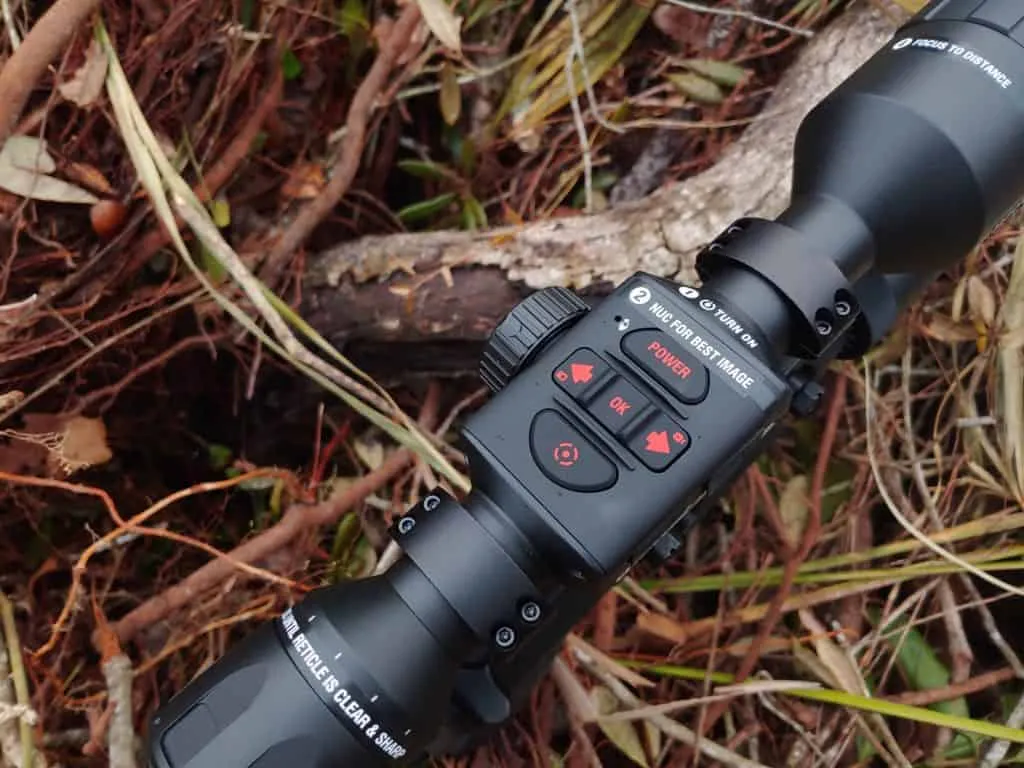 Speaking of those rabbits, a big reason why I could see the little fellas so clearly was because of the built-in 4.5X optical magnification. It grants you rather solid performance at most ranges where you'd engage at night. The magnification paired with the sensor made it easy to see what was a bunny and what was an owl. This combination makes it easier and safer to hunt non-game animals at night. (Although state and local laws should be checked before any hunting at night is done.) 
The 4.5X optical magnification is backed by an 18X digital magnification. Digital magnification differs from optical magnification. When you spin the magnification wheel, you'll enhance the zoom. You will be adding distortion and reducing the clarity of your image. As the zoom gets higher, the picture gets a bit muddier. The larger the target, the easier it is to see at higher magnifications, but those bunnies did become blobs at 18X. Anything beyond 8X zoom wasn't great. 
Color Options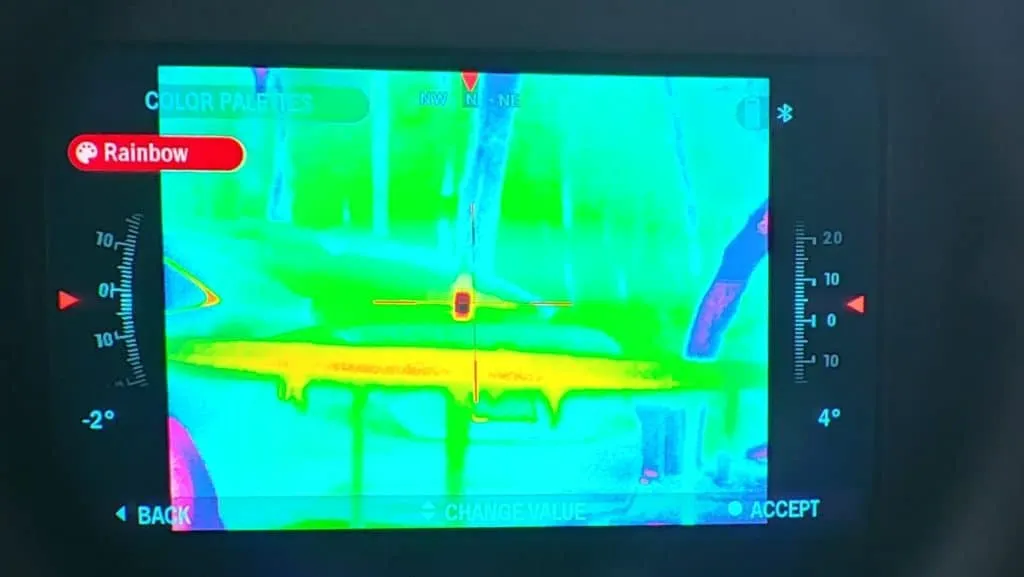 Thermal can be represented in a variety of ways in regards to color. The most popular being white-hot and black hot, whereas the name implies a hot target glows a particular color. The ThOr 4 384 4.5-18X also offers green hot, red hot, and various rainbow-colored options that perfectly replicate 'Predator' vision from the popular film series. While you have options, I prefer the standard white/black hot options. 
To ensure you match your reticle to your favored color palette, you can also change reticle colors and even the entire reticle. Navigating through the menus takes practice to do efficiently, and you'd be wise to have your manual at hand the first few times. 
Slinging Lead 
When it came time to shoot, I found the zeroing system to be very efficient. As a digital device, you don't need to worry about spinning turrets. Instead, you can shoot at a target, and then you observe where the projectile landed in relation to your point of aim. 
You then move the reticle to where the group is, and boom, you are zeroed. It's fairly simple, and you'll need to make sure you keep the weapon steady. Zeroing thermals can be tricky. I did find a hack online and used tin foil to create a 2×2 square to zero in on. Zeroing was quite easy, and one of the best features of the optic was how easy it is. 
Smart Features 
The ATN ThOr 4 384 is touted as a smart scope with numerous connectivity features. You can record videos and take pictures once you install a mini SD card. Additionally, you can connect the scope to your phone. Each feature seems to work fairly well. However, the initial setup to connect the ThOr 4 to my phone took forever and often seemed to fail to connect. Once I got it working, it was fine, but it took time. 
Also, the recoil-activated recording didn't seem to work. Perhaps it was due to the low recoil of my rifle?
The World Of Thermal Optics 
If the ThOr 384 doesn't do it for you, there are plenty of alternatives. Here are just a few worth taking a peek at.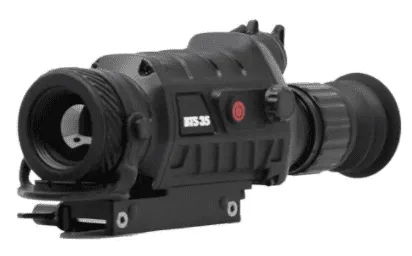 The Burris Thermal Scope ditches all of the smart features of the ATN ThOr in favor of a slightly cheaper, lighter, and simpler option with outstanding resolution and a great refresh rate. It's fairly simple and acts as just a rifle scope. However, the hot tracking feature does make it stand out and allows the optic to 'lock' onto a heat signature and follow it.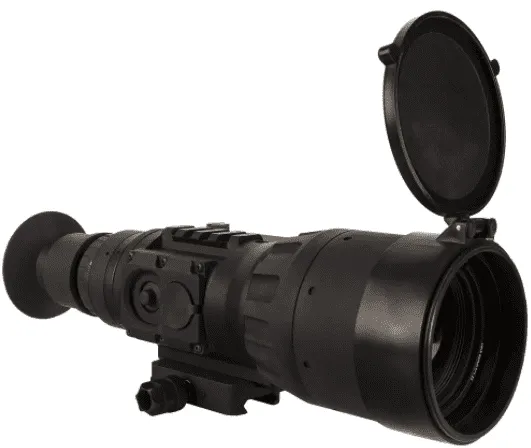 If you want something more on the professional end of the thermal market, then check out the Trijicon REAP-IR. This is the type of thermal used by military and police forces that are designed to take a beating and keep on working. It comes with an adjustable resolution that's highest level outperforms the ThOr with a refresh rate that matches it. 
The Power Of Heat 
The ATN ThOr 4 384 provides a solid budget-friendly thermal optic. The clarity and range are impressive, and the one-shot zero is super handy. While the smart features are neat, they don't have a ton of appeal to me. At the end of the day, I want an optic that works. A stripped-down version of this optic with the same resolution but a lower price would be outstanding. The biggest flaw was the image freezing. That frustrated me to no end and could potentially kill a hunt or ruin a shot, but it did only happen twice and might have been a ghost in the machine situation. 
What do you think? Is the ThOr 4 384 for you? If so, check it out here and get out there. 
Explore more