ATN ThOR LTV 320 4-12x Thermal Scope Review: Does The Value Justify The Price?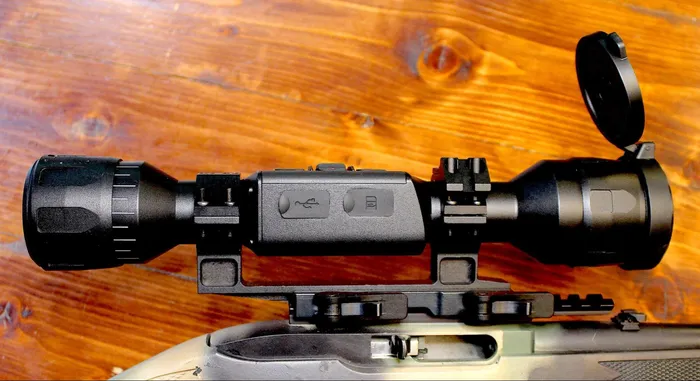 ATN ThOR LTV 320 4-12x Thermal Scope Review: Does The Value Justify The Price?
Introduction
Shooting at night has always presented problems until thermals became affordable. The ATN ThOR LTV 4-12x is a versatile, lightweight thermal scope that allows hunters to succeed in low-light and night situations.
With a ton of great thermal scopes on the market, what sets this scope apart? Today, we'll take a closer look to find out. Thank you to ATN for sending out this scope and mount to make this review possible.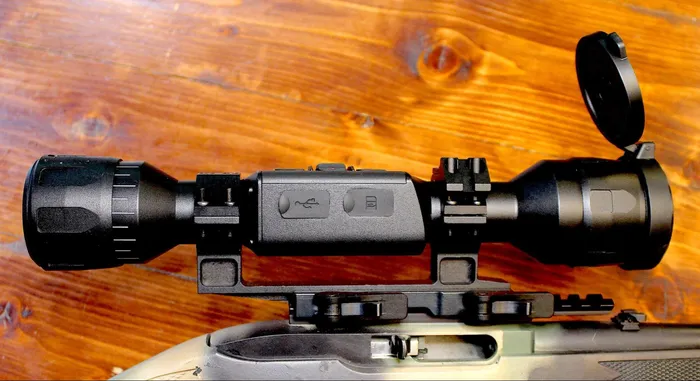 ATN ThOR LTV 320 4-12x Thermal Scope Review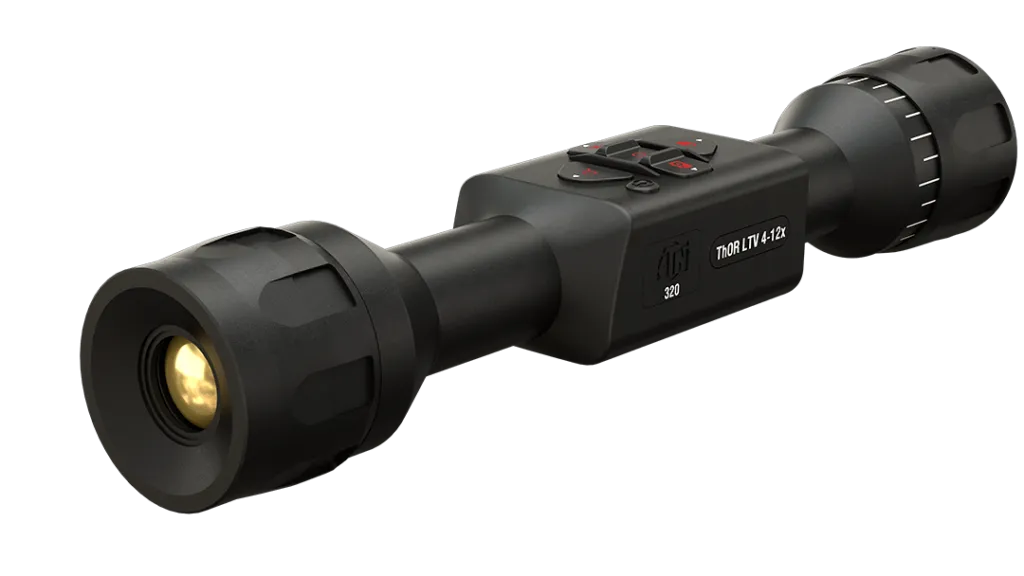 If you are thinking about getting a thermal scope, there are a couple of things to consider. Cost? Features? Reliability? Etc.
Specifications
| | |
| --- | --- |
| Feature | Specification |
| Objective lens | 25 mm |
| Resolution | 320×240 px / 12 μm |
| Magnification | 4-12x |
| Field of view | 8.8°x6.6° |
| Display Resolution | 1280×720 px |
| Eye relief | 90 mm |
| Video Record Resolution | 1280×720 px |
| 3D Accelerometer | Yes |
| Color modes | White Hot / Black Hot |
| Reticles | Multiple Patterns |
| Micro SD card | 4 to 64 GB |
| USB, type C | Yes |
| Mount | 30 mm Standard Rings |
| Internal Lithium-Ion Battery | 9+ hrs |
| IP rating | Weather resistant |
| Human Detection Range | 910 m |
| Human Recognition Range | 455 m |
| Human Identification Range | 290 m |
| Dimensions | 292x56x55 mm / 11.5″ x 2.2″ x 2.2″ |
| Weight | 1.4 lb / 650 g |
| Warranty | 3 years |
| Country of Origin | USA |
Pros & Cons
Pros
Excellent image – the thermal image can be adjusted to be white or black, with eight different color schemes

Easy to use – the arrow keys and menu system make the scope easy to set up

One-shot zero

Video & still recording – place up to a 64GB micro-SD card in the slot and record away

Affordable compared to some of its competitors
Cons
No WiFi or Bluetooth – these options are available from ATN on some of the higher-priced scopes

Mini-SD card is difficult to remove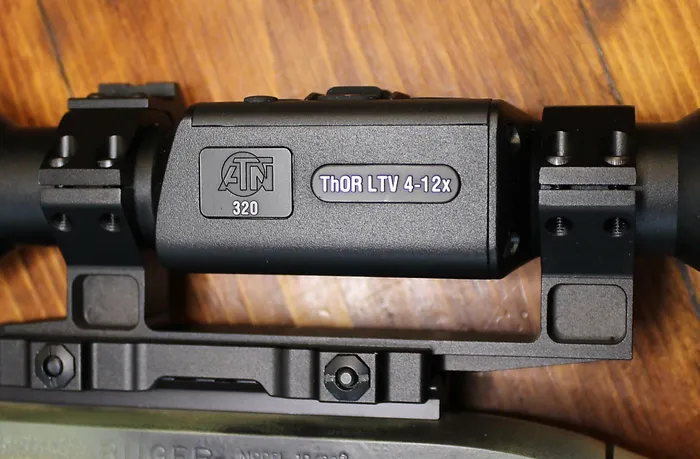 First Impressions & Unboxing
When I opened the box, I was impressed. Not only was the scope packaged very securely, but it was also placed in a zip-up storage bag with a cleaning cloth. Also included were items you might not expect, such as a flip-up cover for the front lens, a heavy-duty USB-C charge cable, a collapsible eye cup, and scope rings.
After the scope was fully charged, I gave it a whirl. Once focused, the images were sharp and clear. You can set hot to being white or black. All in all, it performed wonderfully out of the box.
How We Tested
I have a good friend, a former deputy, who loves guns as much as I do. He brought his Saint over… not Bernard, but Springfield Armory's AR-15. He has it fully decked out with a nice red dot, light, and magnifier.
Our informal test had us comparing his AR's optics against my Ruger 10/22 with the ATN scope mounted. He couldn't see our thermal test targets at only 25 yards, even with all those things mounted on his rifle.
He picked up my 10/22, aimed again, and was blown away by how sharp and clear everything was and how easy it was to see heat signatures. From the animals around to even a rock still hot from earlier in the day, we could pick up the heat signatures across the board.
It wasn't exactly scientific, but it proved the thermal's worth… at least to me.
Reliability
My zero has not moved since it was set. The scope held its zero throughout shooting, getting bumped in the woods and even falling out of my truck once.
Features
ATN makes more thermal and night vision optics than almost any other company. With a broad product set, it even has some optics starting as low as $599. Each model still has plenty of solid features.
Let's look at the 4-12x features more closely since that's the subject of our article today!
One-Shot Zero
Day or night, put up a thermal target (a piece of foil tape) and center the reticle on it. Now, go to the business end of the scope – the top. Here, you'll see this: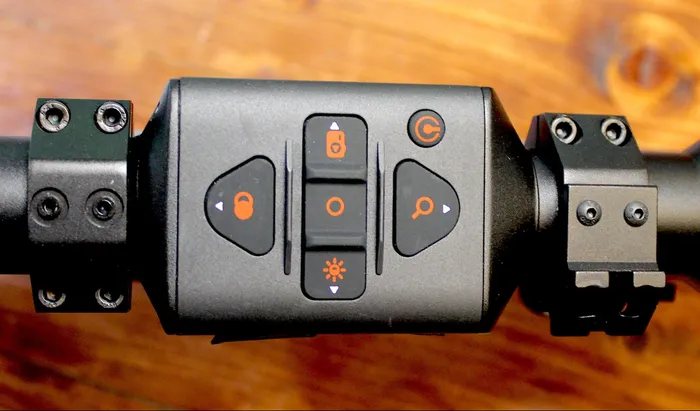 You simply take a shot, adjust your reticle to where the shot was placed, and that's it.
Notice that it resembles a TV remote control, with its 4-position arrow keypad and center dot (the on/off button is upper left). For specifics, the manual explains it all. Easy-peasy.
Recording
ATN will let you use anything from a 4GB to a 64GB card. That's a lot of videos!
Day or Night
One common misconception among shooters about thermal scopes is that you must use them at night. Not so. You can shoot equally well in daylight or at night. This makes them highly versatile.
Rechargeable Battery
You don't need any batteries for this baby. Just plug in the included, heavy-duty USB cable and charge away. The charge should last for at least 9 hours.
Adjustable Diopter
The diopter adjustment ring helps with focus, as does the front focus ring. I removed the flexible eye cup to get closer with the camera.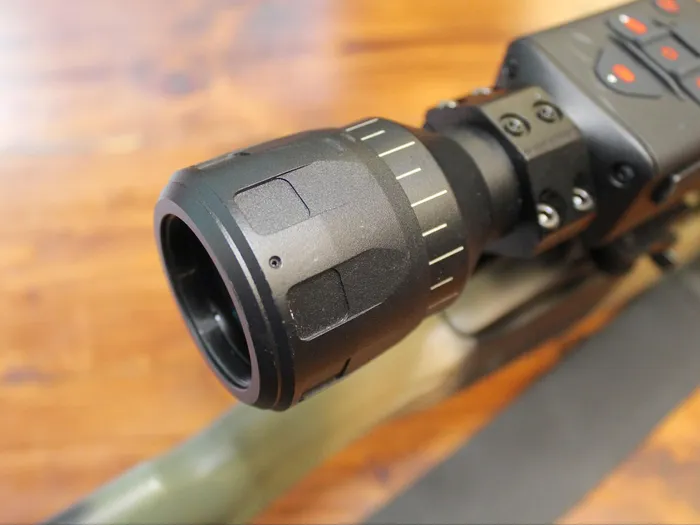 Extra Display Features
The scope's display will show you, on the left side, any tilt of the rifle and, on the right, any inclination up or down. That way, you'll know whether the rifle is level or not.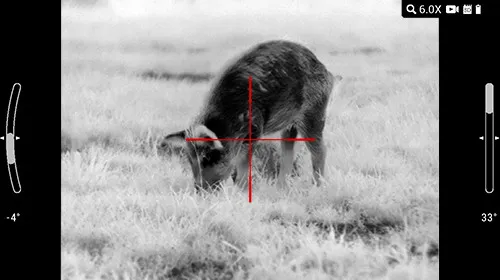 Reticles
Here are some shots of the six reticles in different colors built into this scope.
Also visible at the top right of every screen are widgets… the NUC flashing icon (non-uniformity correction), magnification icon, zoom reading (up to 12x here), camera, SD card in place, and battery level.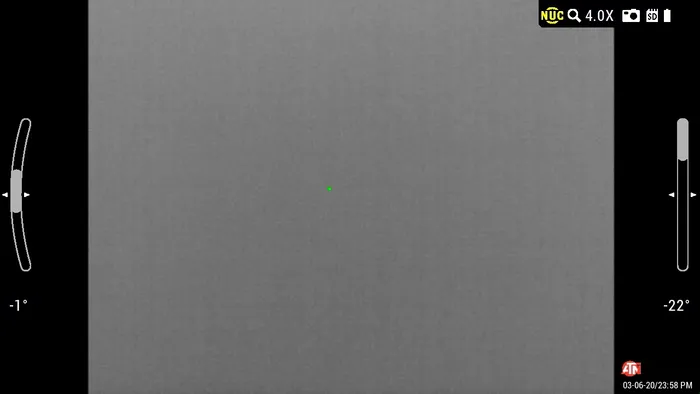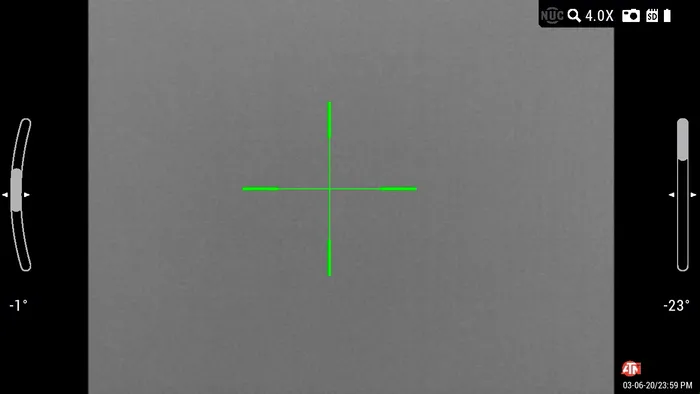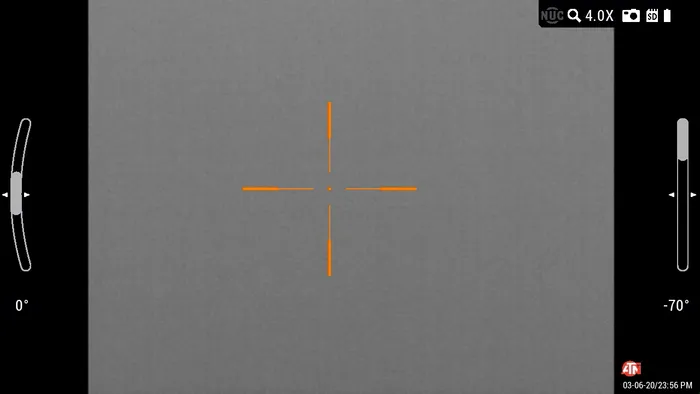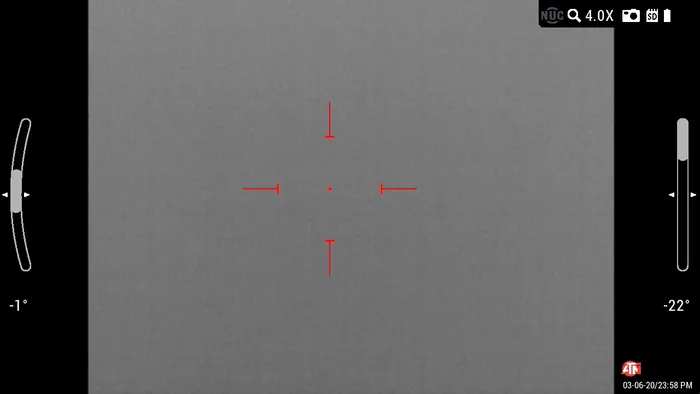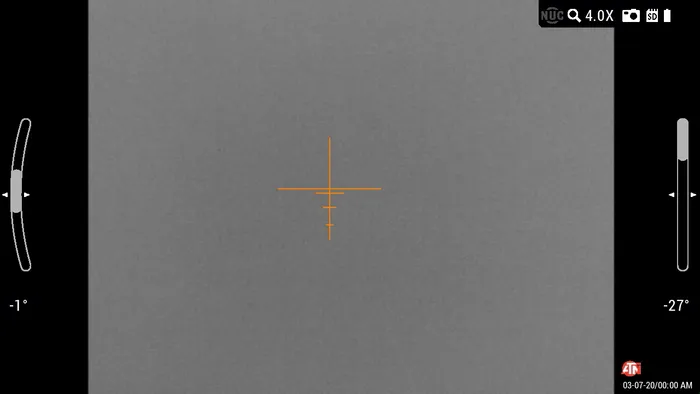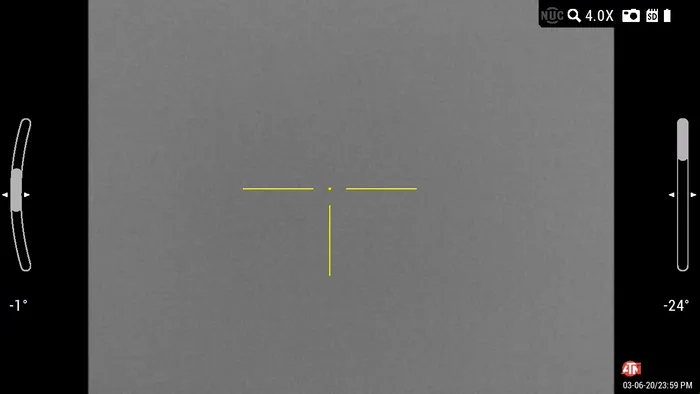 Altogether, there are six different reticles to choose from in the following colors: orange, yellow, black, green, blue, very pale white, and red.

Screen color palettes include the colors you see above, plus other mixtures. Many of these are combinations of two colors. I counted 11 different patterns in all, enough for any lighting condition.
Score Card
Reliability (10/10)  
No problems holding zero. Even after the scope fell, getting the rifle out of the truck it was not affected.
Ergonomics (9/10)
Getting the SD card in and out was a pain, but the scope and controls are set up well otherwise.
Customization (10/10)
The scope comes with everything you need for basic nighttime shooting and many settings to choose from.
Appearance (10/10)
The scope is professional-looking.
Value (9/10)
Except for WiFi and Bluetooth, this scope has it all covered.
Accessories
Here are some useful scope accessories that would pair well with the LTV.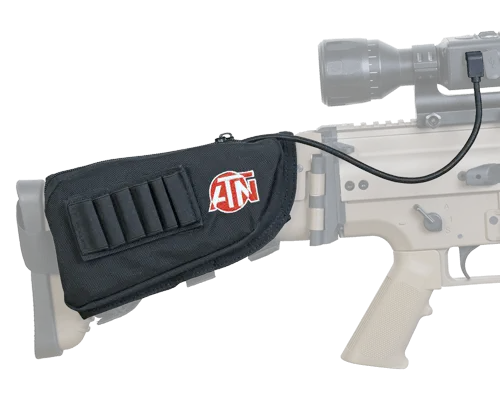 This 20K uaH battery pack will power the scope (or other USB device) for up to 22 hours.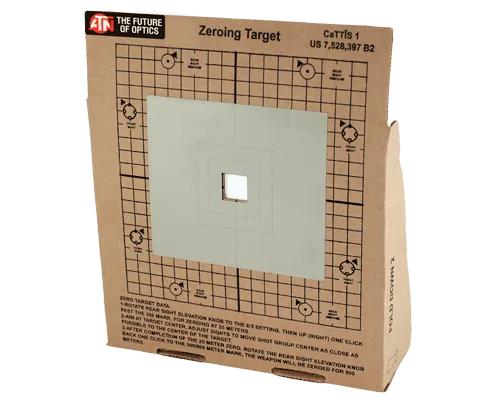 This target set includes a thermal "hot spot" in the center for sighting in your scope or shooting in general.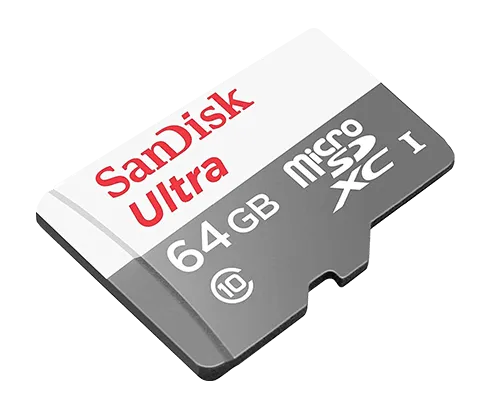 With 64GB, you get the maximum storage possible for this scope.        
Conclusion
For those who shoot after dark, this scope gets the job done. It isn't the cheapest (or the most expensive) thermal scope out there, but it works just fine. I used it during both daylight and at night successfully with solid results.
If you've always wanted to try a thermal scope, this is a great one to consider. If you're on a tighter budget, ATN does have other scopes starting at $599.
Do you own any ATN scopes? If not, do you recommend another specific scope for night shooting? Let us know in the comments below!
Explore more