Benelli M2 vs. M4 Comparison: Which Should You Buy? [2023]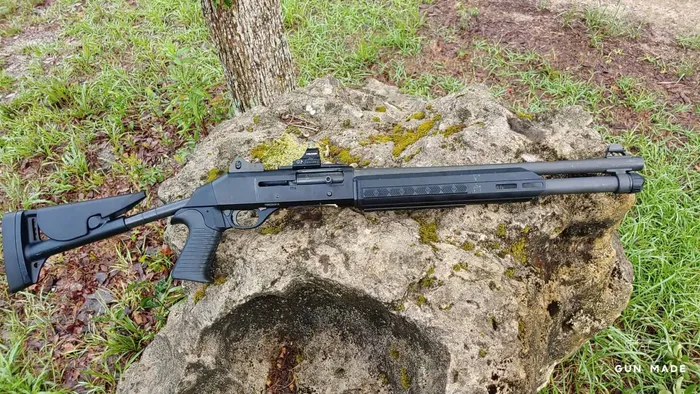 Benelli M2 vs. M4 Comparison: Which Should You Buy? [2023]
Benelli has always been known for its top-quality shotguns.
The Italian manufacturer landed a US Army contract for a new 12-gauge tactical combat shotgun, and their semi-automatic Benelli M4 won it.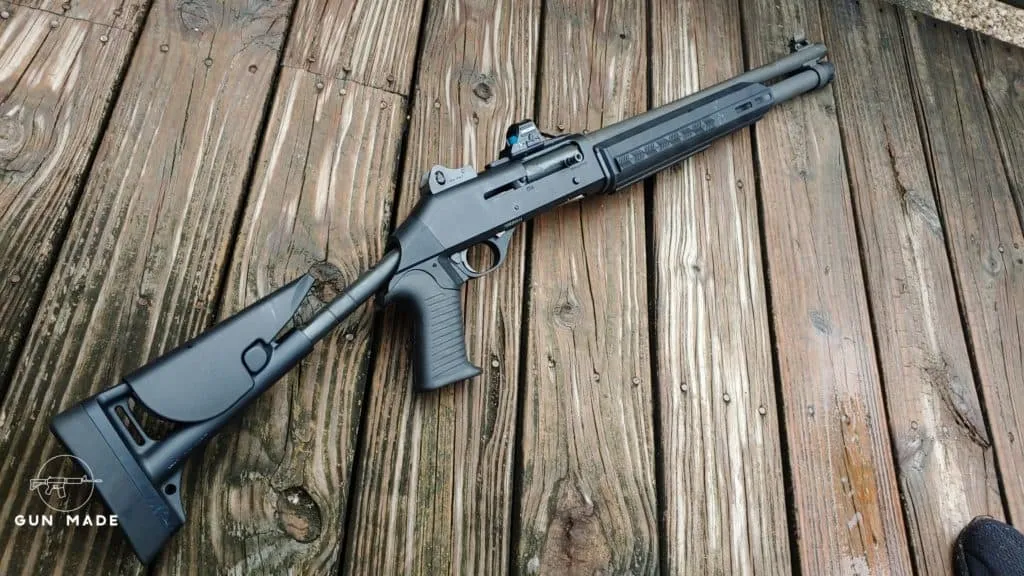 While the Benelli M3 is extensively used by SWAT teams, the cost-efficient M2 and the innovative M4 are also highly acclaimed in the civilian market.
Their different characteristics and price tags have many gun enthusiasts scratching their heads. So, what's the difference between the Benelli M2 and M4?
Today, I'll answer that question by doing a rare comparison review of these semi-automatic shotguns.
Specifically, we'll talk about the Tactical Benelli models. They are undoubtedly powerful shotguns for self-defense and home defense purposes, but they differ vastly in many characteristics.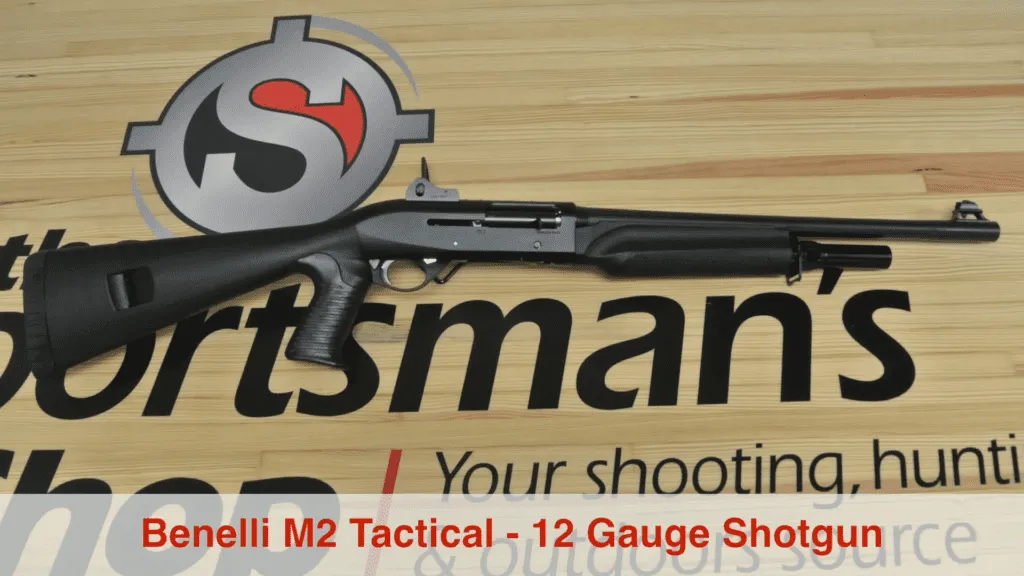 Knowing where they excel and where they flop will give you an idea of which one to buy.
First off, let's see their main specs.
Overview of the Benelli M2 Tactical

The Benelli M2 at a Glance
Based on the blueprint of the M1 Super 90 with a short-stroke recoil system, the Benelli M2 is a greatly improved tactical shotgun that makes for a well-made home defense platform.
Introduced in 2013, the M2 Tactical was designed with a very reliable, inertia-driven, semi-automatic action with a five-round capacity.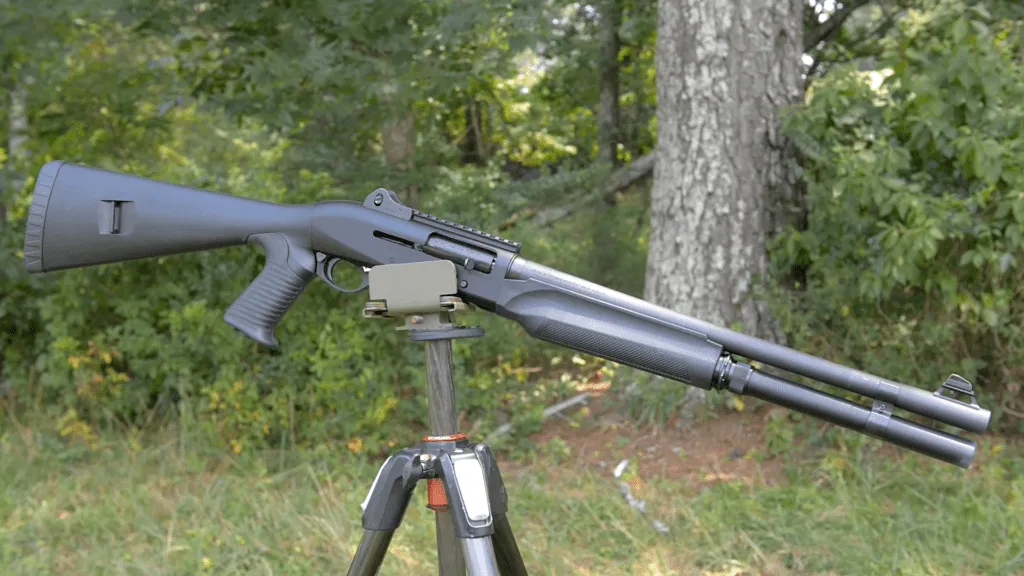 More importantly, it was equipped with a ComforTech stock and a very comfortable butt pad that can soak up all that semi-auto recoil.
The M2 had grown so popular over the years that it was followed by the M3 and, later, the M4.
Overview of the Benelli M4

The Benelli M4 at a Glance
The Benelli M4 Tactical, known as the M1014, is a modernized shotgun built from the ground up.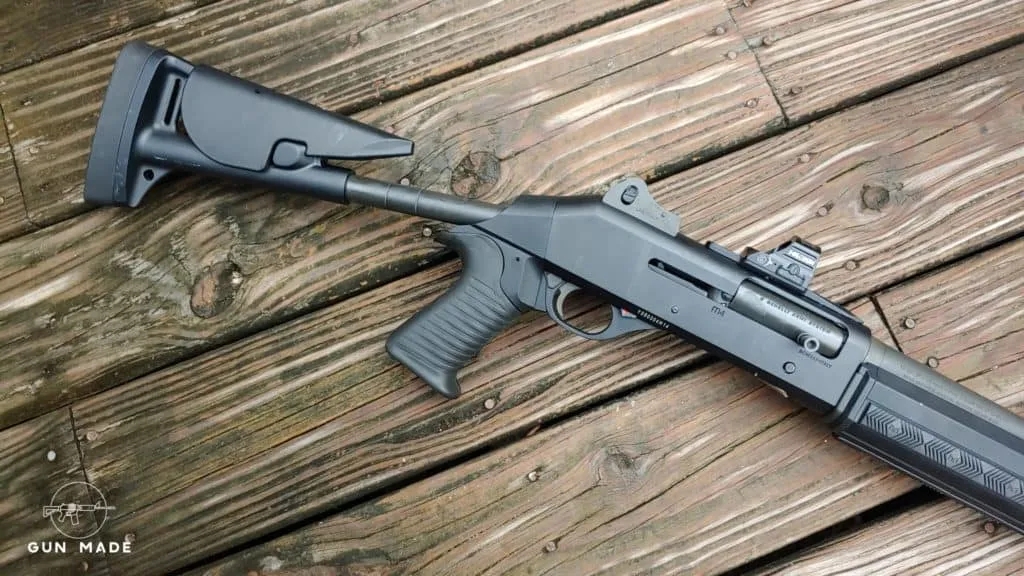 We're lucky we have market access to such a powerful, military-inspired shotgun. It has seen battle as a service shotgun among various military personnel throughout the globe, including the US Marines since '99.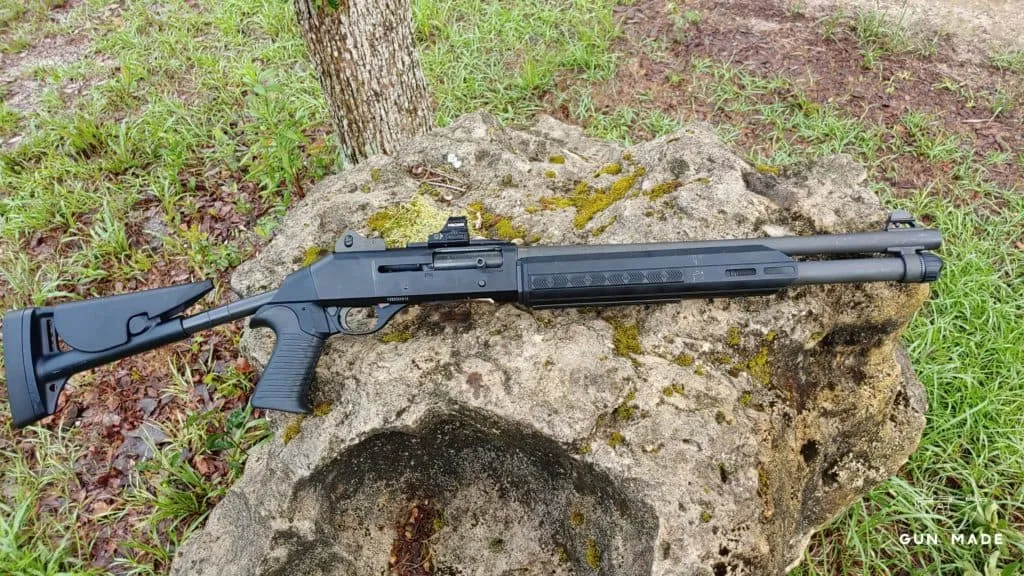 What makes it special is the Benelli Auto-Regulating Gas-Operated (A.R.G.O.) system, designed to be reliable and ready for combat. This is why the M4 is significantly more expensive than the M2.
Specification Chart for the Benelli M2 and Benelli M4
| | | |
| --- | --- | --- |
| Specifications | Benelli M2 | Benelli M4 |
| Gauge | 12-gauge | 12-gauge |
| Action | Inertia-Driven semi-automatic | ARGO (Auto-Regulated Gas-Operated) semi-automatic |
| Chamber | 2 3/4" and 3" | 2 3/4" and 3" |
| Choke | Screw-In with an improved cylinder bore | Fixed – Cylinder Bore |
| Capacity | 5+1 | 5+1 |
| Overall Length | 39.75 inches | 40 inches |
| Barrel Length | 18.5 inches | 18.5 inches |
| Length of Pull | 14-⅜ inches | 14-⅜ inches |
| Weight | 6.7 pounds | 7.8 pounds |
| Trigger Pull | 6.5 pounds | 6-7 pounds |
| Stock and Grips | Black synthetic pistol grip | Black synthetic pistol grip |
| Finish | Black anodized; Blued matte barrel | Corrosion-resistant Cerakote |
| Sights | Open rifle | Adjustable Ghost Ring |
| Receiver | No optic rail | Drilled and tapped receiver with Picatinny rail for optics |
| Main Difference | Lighter; Inexpensive; and has more recoil | Expensive; Heavier; Significantly less recoil with the ARGO system |
Key Differences Between Benelli M2 & Benelli M4
As you can see, there are some marginal differences in build and feel between the M2 and M4, but the biggest difference is definitely their operating system. So, we'll start there.
Benelli M2 Tactical Operating System
The Benelli M2 utilizes an inertia-driven gas-operated system that uses the energy from your shots' rearward recoil.
This "slingshot" system was invented in 1900 by Carl Axel Theodor Sjogren, improved by Bruno Civolani, but patented by Benelli.
With solid reliability, and functioning better than most semi-autos, this gas-operated system can cycle heavier loads at a very fast rate.
What's more, the buttstock has springs for dampening recoil, and it doesn't build up much gunk, so it's easy to clean as well.
Compared to the M4's ARGO, the M2's simple inertia mechanism is lighter but kicks a bit more.
Benelli M4 Tactical Operating System
Built up to military standards, the Benelli M4 semi-automatic has an innovative technology called Auto-Regulating Gas-Operated system or ARGO.
The ARGO works with two highly reliable short-stroke gas pistons that give you an edge in fast follow-up shots along with a faster cycling rate, greatly lowered felt recoil, and lasting reliability.
The two gas-operated pistons work well with this system, and it's self-cleaning as well, meaning it produces less gunk, so it's easy to clean.
This unique system is very reliable, and it effortlessly handles 3-inch buckshot shells and field loads. Both the M2 and M4 cycle 2¾- inch and 3-inch shells excellently.
The M2 runs on the tried-and-true Benelli Inertia, but the M4's is more powerful and reliable overall, so one point goes to the M4.
Size, Weight, and Ergonomics
While both the M2 and M4 share the same weight and barrel length, the M2 weighs 6.7 pounds, as the inertia mechanism is lighter than the M4's ARGO with an overall weight of 8.7 pounds, making it the heaviest Benelli product to date.
Both models have an oversized trigger guard, so you can use gloves. The M2 boasts an adjustable ComforTech recoil-reducing pad that cushions the heavy inertia recoil.
The M4's stock and grips configuration comes with either a tactical stock or a fixed stock with a pistol grip. There are even more configurations, but they're not for civilian use.
Despite being a lightweight model, the downside of the M2 is that it doesn't have an accessory rail, so the possibility of aftermarket optics is taken away.
A point for the M4.
Sights and Optics
When it comes to optics, the M4 clearly dominates the field, as there's no optic rail on the M2.
Both the M2 and the M4 have ghost rings, but Benelli M4 has a fully-adjustable LPA ghost right sight and a white dot front sight for fast target acquisition. If you want some short-range scopes or red dot sights, there's a 5.25-inch Picatinny rail on the M4's receiver.
Another point for the Benelli M4.
Receiver and Barrel
While some shotguns are made for close-quarter tactical combat, others can reach medium ranges, and that's what the M4 does, in contrast to the M2's power.
While both shotguns have an 18.5-inch barrel, the Benelli M2 has a screw-in choke with an improved cylinder bore, while the M4 has a fixed cylinder bore choke.
Both shotguns have a durable construction with polymers on the stock and forend and offer high functionality and longevity.
I would say it's a draw.
Pricing
Today, it's fascinating how pop culture has a significant influence on marketing. Thanks to John Wick 2, Benelli saw massive spikes in sales for the Benelli M4 semi-automatic shotgun.
Not only is the Benelli M2 Tactical significantly more affordable than the M4 Tactical, it's the cheapest of the Benelli family, but that's not the reason why it's popular.
The final point goes to the M2.
Benelli M2 Pros & Cons
Pros
Affordable
Inertia-driven reliability
Pistol grip stock model is comfortable
ComforTech butt pads for reduced recoil
Lighter than the M4
Cons
No accessory rails
Still an expensive option in contrast to other semi-auto models
Difficult to maintain
Benelli M4 Pros & Cons
Pros
A.R.G.O. operating system with superb reliability
Ergonomic and comfortable
Good factory sights
Lots of aftermarket options
Can cycle most loads
Comes with one choke tube
Cons
Very expensive
Heavier than the M2
Alternative Semi-Automatic Tactical Shotguns
For those interested, here are some great alternative shotguns with a similar build to the Benelli M2 and M4.

With an 8-round capacity, ambidextrous safety, and modularity to boot, the Mossberg 930 SPX Tactical is a serious contender to the Benelli semi-autos. This gas-operated 12-gauge blaster has a side-mounted charging handle,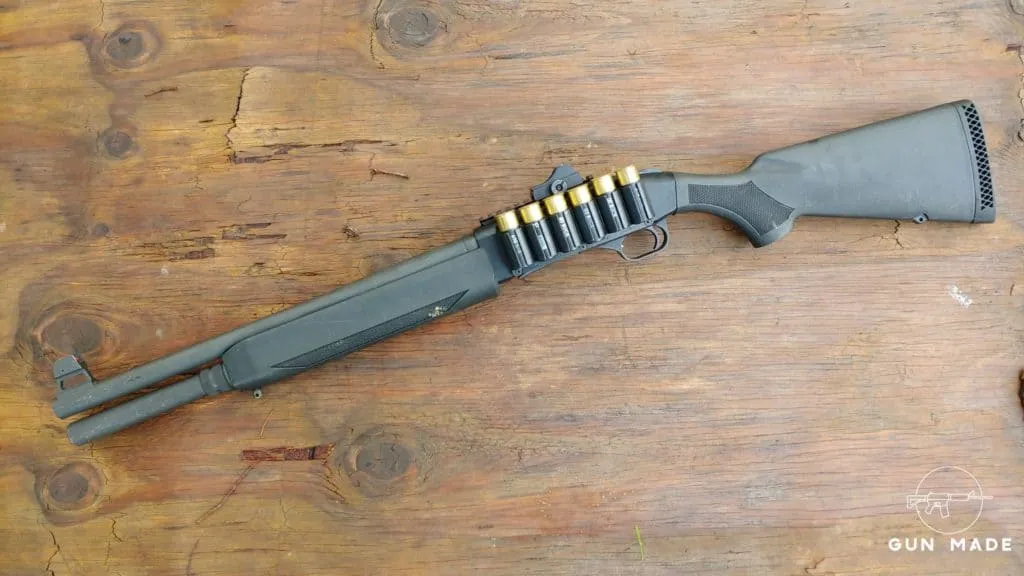 Picatinny rails, a comfortable pistol grip, and the ghost ring sights are great for target acquisition.
As shootable as it is, the Mossberg 930 SPX Tactical doesn't eat low-brass shells, so I suggest some Federal Power-Shok as an alternative.
Check out our Mossberg 930 SPX review for more information!

The highly compact Remington V3 Tactical is a 12-gauge semi-automatic powerhouse with a 6-round capacity. It's 6.7 pounds light, just like the M2. The oversized charging handle and easy-to-use safeties make it a solid home defense shotgun.
The Supercell recoil pad greatly enhances its overall ergonomics, and the flared loading port offers fast reloading. But, what makes it special is the reliable Remington-patented Versaport gas system that can effortlessly cycle all kinds of shells and slugs.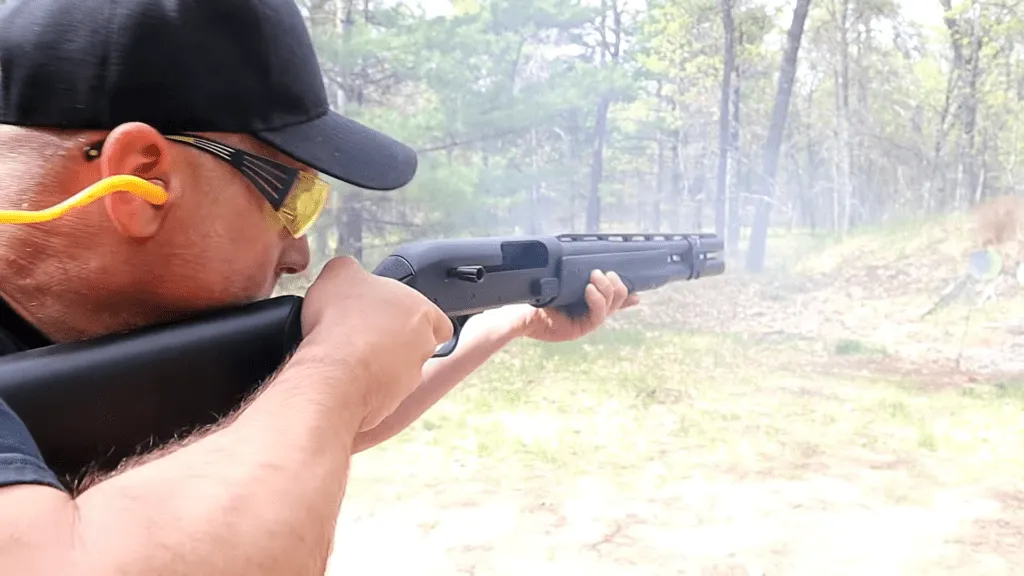 You can also check out the more cost-efficient yet tactical Remington 870 Express pump-action shotgun as well.

Here's a firearm that teeters on the edge of the law.
The Remington TAC-14 is a 12-gauge pump-action pistol-grip shotgun that's barely a shotgun. It has a 14-inch barrel and an overall length of just barely 26 inches, evading the grip of the NFA's tax stamps.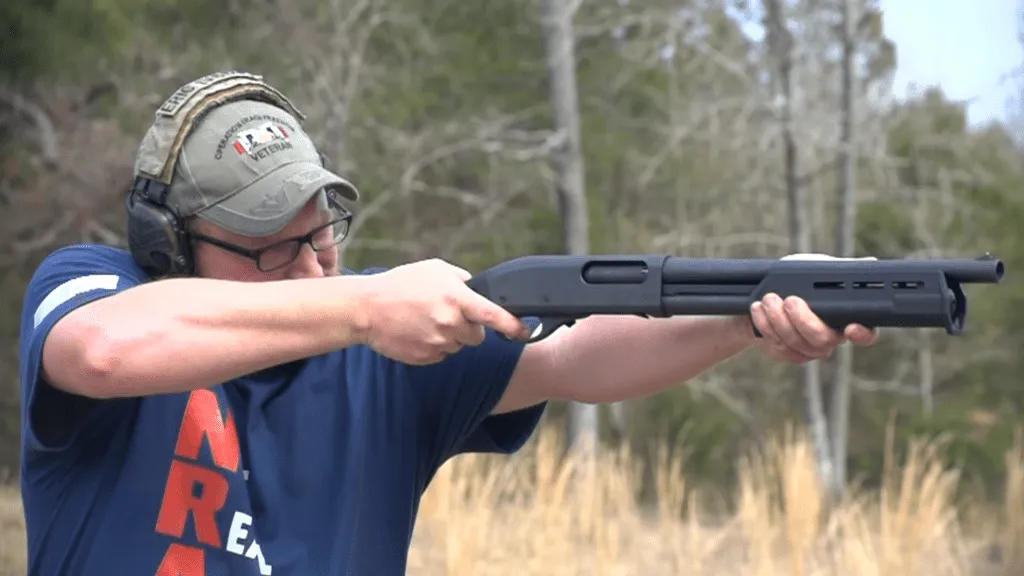 The TAC-14 weighs 6 pounds and offers a fast solution in home defense, as it's made to be operated in close and narrow situations. What makes it special is the classic aesthetics, the 5-round capacity, and the comfortable contours of the Birds Head grip.
Our Recommendation – The Benelli M2
The M2 and M4 are definitely some of the best shotguns for home defense money can buy. That being said, our pick between these two would have to be the Benelli M2.
The ComforTech butt pad soaks up just enough recoil for self-defense situations, and it's much more lightweight and easy to use than the M4.
Although the M4 is a very popular tactical shotgun with a high-quality build, the M2 has a great price and all the necessary characteristics for home defense.
The M4 is a more serious firearm that caters to the competition/sporting shotgun, not just for tactical applications and door breaching. The ARGO system might be one of the most reliable shotgun actions as of yet.
So, if you have the buck to spare for a highly moddable semi-automatic shotgun that can quickly cycle shells and slugs, I recommend the M4 to you.
Stay safe, shoot straight.
Explore more