Beretta 92FS Review: Trusted Military & Police Pistol?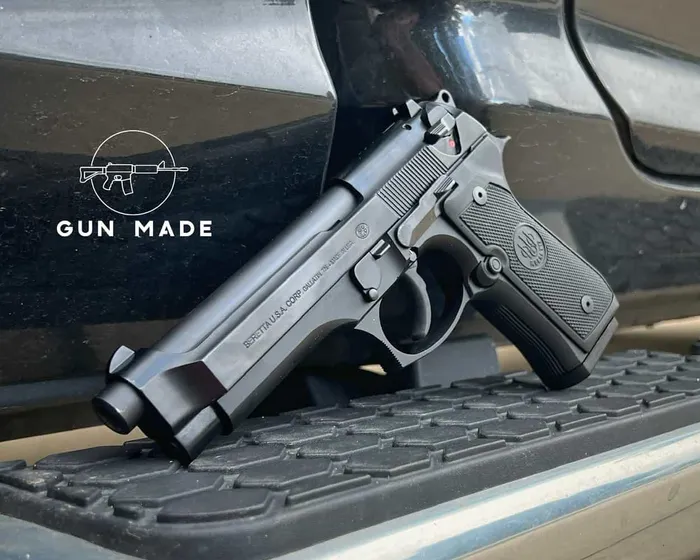 Beretta 92FS Review: Trusted Military & Police Pistol?
Right on the Beretta website, you'll find a pretty bold statement, literally in bold font on the 92FS page…"The World's Most Trusted Military and Police Pistol." History has proven the 92FS/M9 to be accurate, reliable, and durable, but is it safe to claim it's the MOST trusted? With so many quality pistols on the market, I think it would be hard to say that about any single firearm.
The Beretta 92FS is one of those guns that almost everyone has seen, whether they realize it or not. It's a classic that has been featured in many movies, shows, and even video games. Being essentially the civilian version of the M9, the "cool" factor only adds to the popularity of the 92FS.
Let's take a look at what has drawn so many people to hop on the 92FS bandwagon.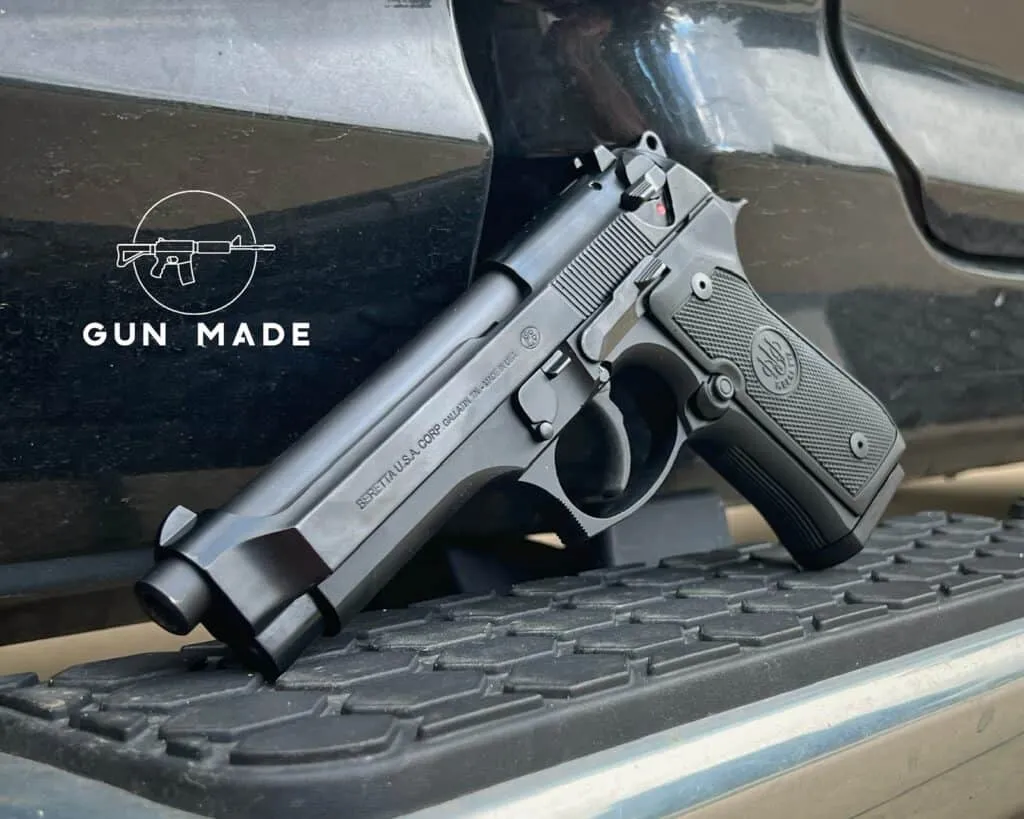 Beretta 92FS Review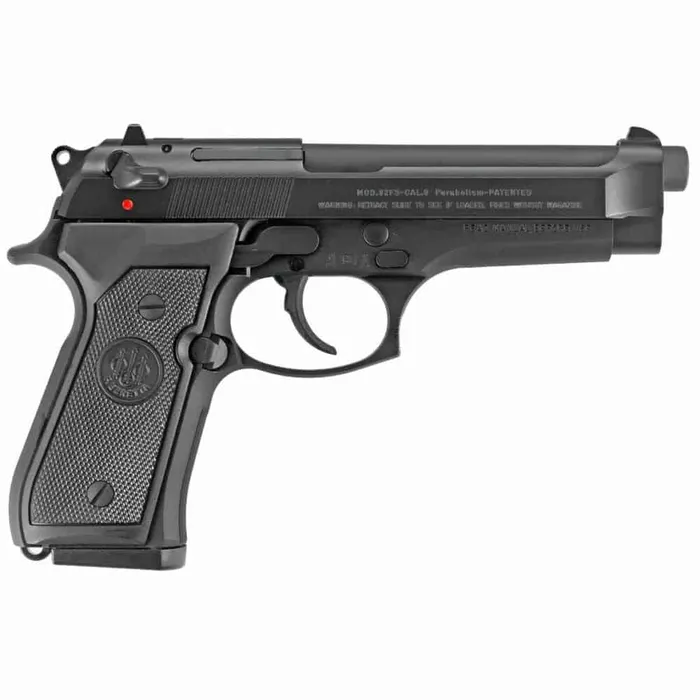 Specifications
| | |
| --- | --- |
| Caliber | 9mm |
| Capacity | 15+1 Rounds |
| Barrel Length | 4.9 Inches |
| Length | 8.5 Inches |
| Width | 1.5 Inches |
| Height | 5.4 Inches |
| Weight | 33.3 Ounces |
| Sights | Fixed Square-notch Rear, White Dot Front |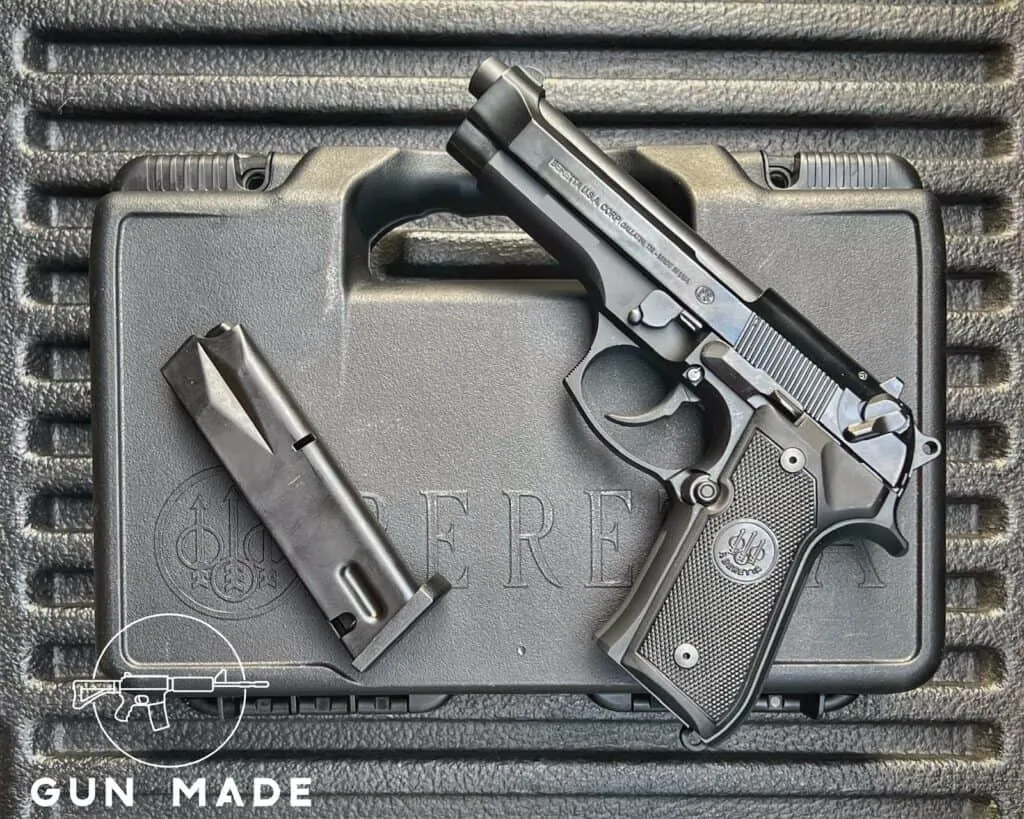 Beretta 92FS Pros & Cons
The 92FS is a very interesting firearm in that many of its pros also contribute to its cons. It's large and bulky, so it absorbs recoil well. It prioritizes safety, but the actual safety is placed in an awkward position. Those are just a couple, but as you'll see as you continue to read, there are others as well.
Pros
Flat shooter with low recoil
Ambidextrous/reversible controls
Accurate and reliable
Cons
Safety placement is awkward
Size to capacity ratio
Lack of accessories
Features
There is a reason that the 92FS remains such a popular pistol to this day. While the features may be quite different from some of the other top pistols in the market today, that's not necessarily a bad thing.  
Grip
If you have large hands like me, you're in luck. The Beretta 92FS is definitely a full size gun, giving you a wide and tall grip. For some, it's actually too large, but there are plenty of aftermarket grips that you can replace the stock ones with to make it narrower if you'd like. The texturing is just right for a gun of this size, being aggressive enough to really get a solid hold.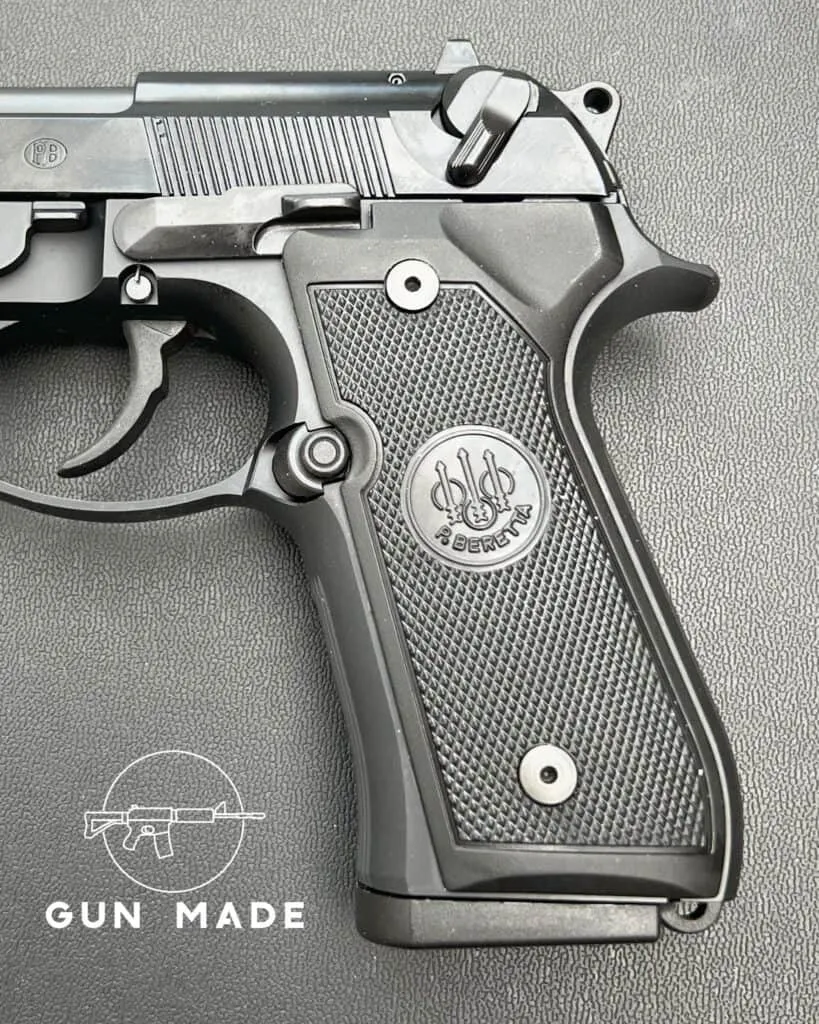 Slide
An extremely neat feature of the 92FS is its open slide. It typically adds cost when dealing with an open design like this, but it helps increase the reliability and decrease the weight. Both of which are definitely worth an upgrade in cost. A gun of this size can use all the weight reduction it can get.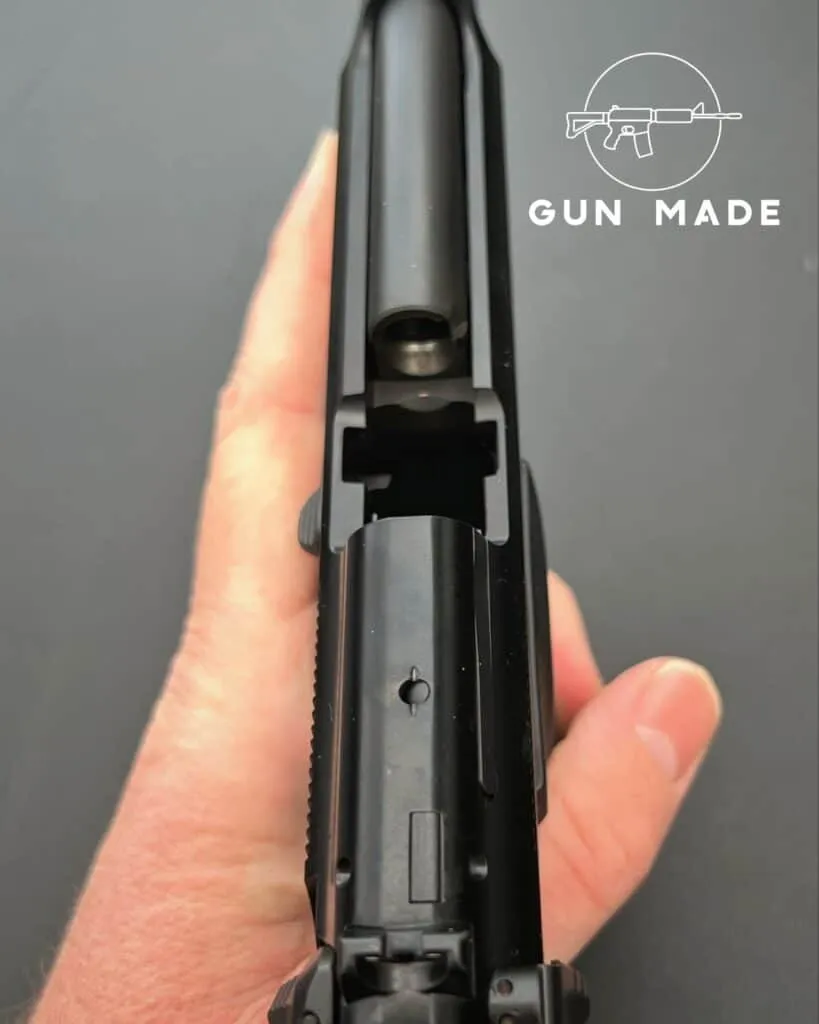 Sights
There is not much to say about the sights, aside from that they work. They are a simple 3-dot white setup that is easy to acquire when shooting in daylight. I didn't get a chance to shoot this in any low-light scenarios, but I would imagine with the lack of night sights, it would be hard to find and stay on your target.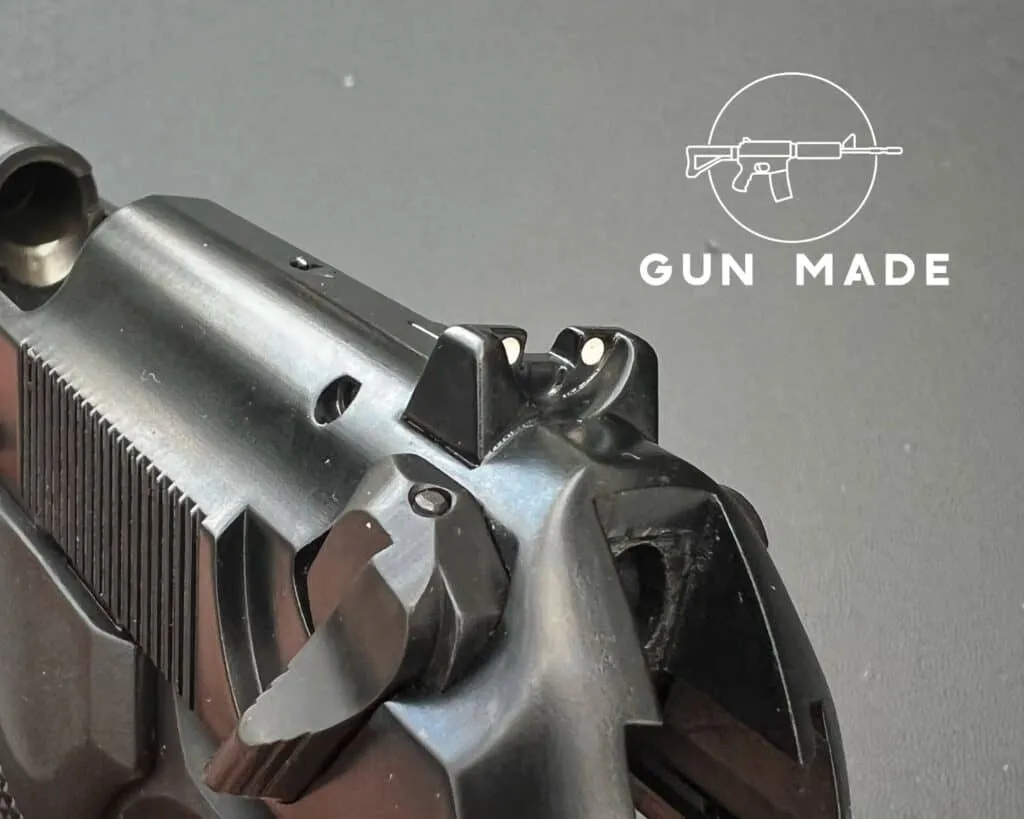 Trigger
The trigger is one of the best features of the 92FS. In single action, it's a dream to shoot. In double action, it still has a smooth and consistent pull, but man, is it longggg. It's so long that it makes you wonder why someone would employ the safety in tandem with it. Regardless, it's a great trigger that I found surprisingly fun to shoot, with quick and easy follow-up shots.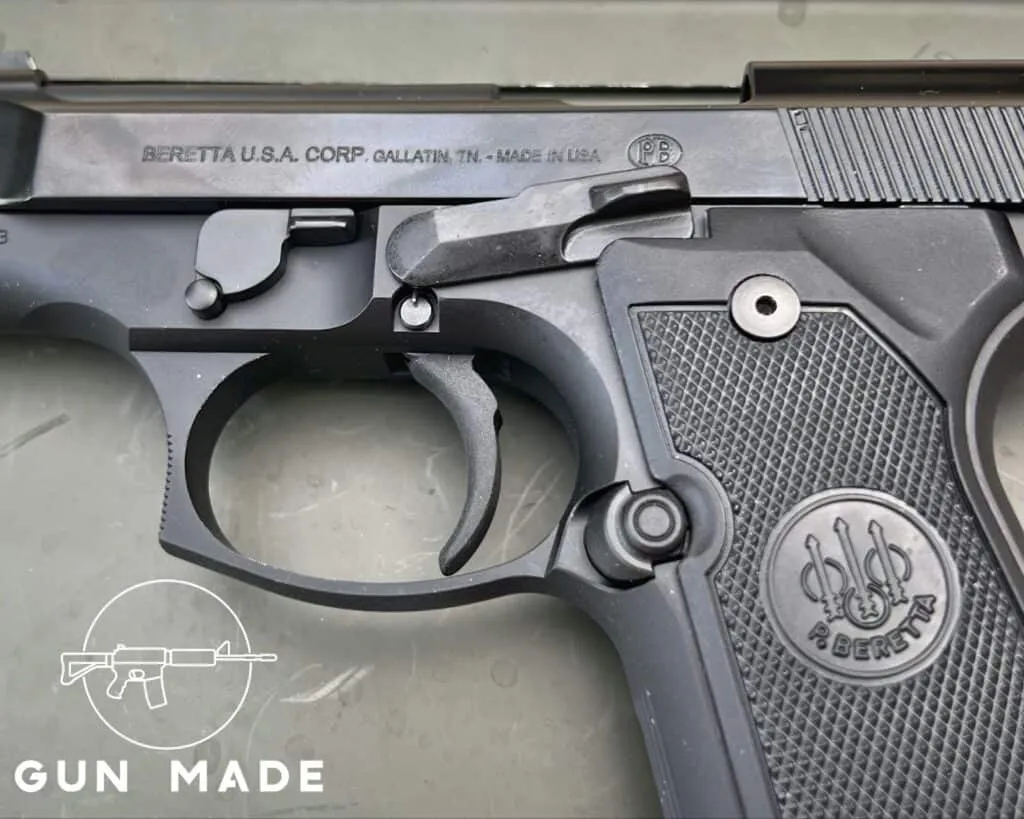 Magazine
From what I've read and experienced so far, the metal magazines are very reliable. However, 15-rounds seems like a very small capacity for a gun of this size. I would have liked to see at least 17-round mags come with the 92FS. You'll see on the back of the magazine numbered witness holes to help keep track of your remaining ammo.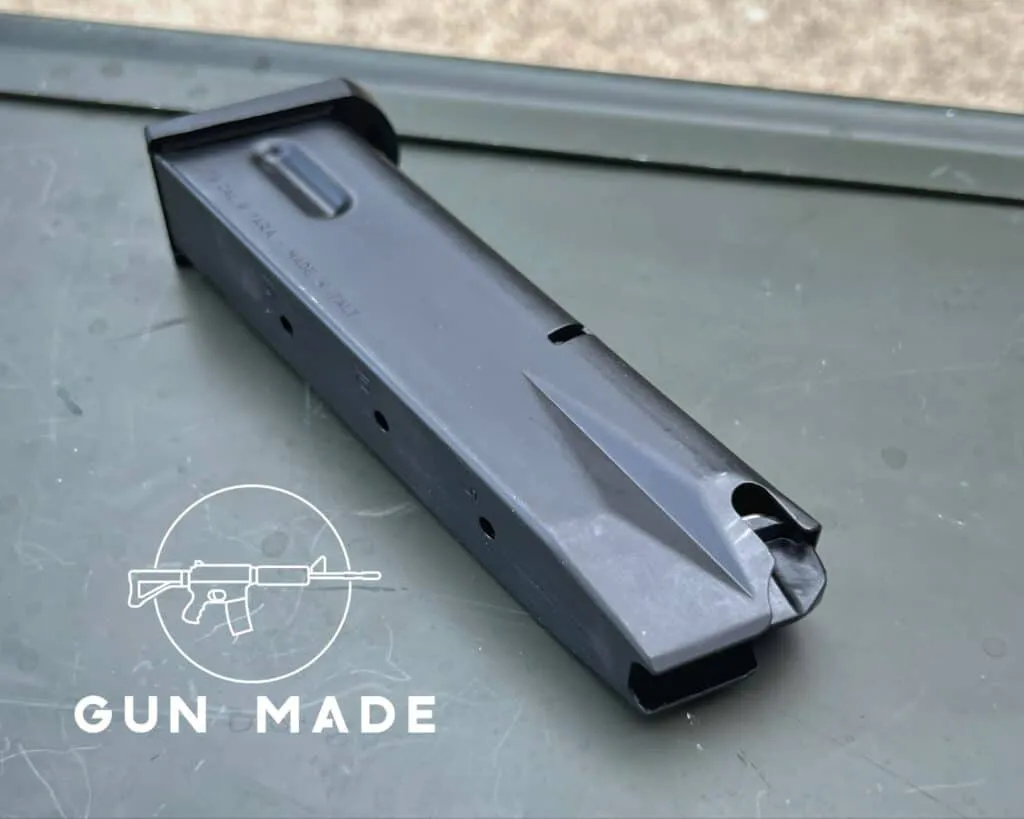 Controls
The controls leave me frustrated overall. To start with a positive, the slide stop lever is nicely sized and very easy to manipulate. Moving on to the "so-so" aspect of the controls, which is the magazine release. It is so small and somewhat recessed that it's easily missed if trying to reload quickly. I think it definitely should be larger and protrude more.
And lastly, the worst part of the control group is the safety/decocker. Beretta completely missed the mark with this aspect, placing the safety in a strange position and then having it actuated almost counterintuitively. If you do a quick Google search, you'll see that a TON of people agree.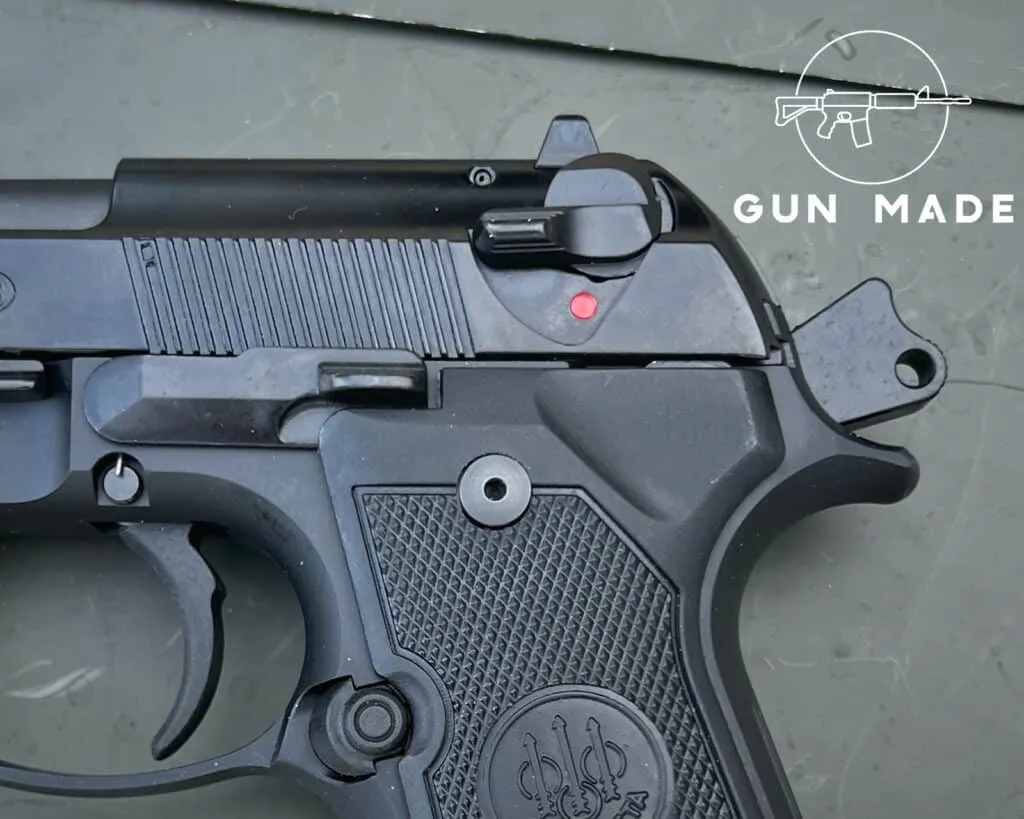 Range Report
Reliability
Reliability was no issue with the 92FS. Anyone I've spoken with who has shot or shot a 92FS has not complained of its reliability. I've seen reviews online that differ, but I was excited to see for myself.
After getting a quick ammo delivery from GunMag Warehouse, I wound up putting 250 rounds of 115-grain Federal Champion FMJ through the 92FS with no issue. I followed that up with 40 rounds of 124-grain Speer Gold Dot JHP which it had no issue with either. I'm rather confident that if I had put another 290 rounds through it directly after, I would have the same results.
Accuracy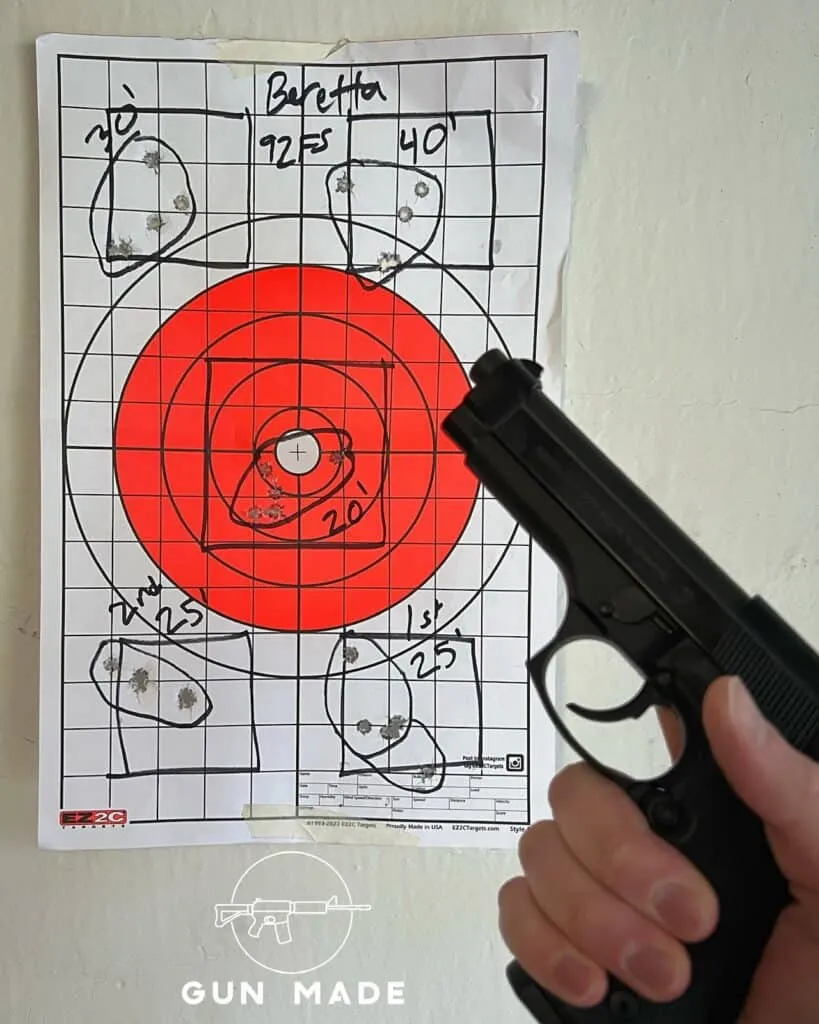 Without any warm-up period, my first few groupings landed around 2.5" or tighter. Even speeding up my rate of fire, I was able to remain consistent.
Once I took the 92FS out to a friend's range, we set up some ½ size USPSA torso targets out at 35 yards, and I was able to keep my groupings for the most part, within the two inner sections. For double-action shooting, I'll take it.
Accessories
Without a standard accessory rail, or any rail for that matter, you're going to be very limited in the accessories department. I prefer not telling people to add an accessory/adapter to add an accessory, so I'll stick to what you can go with as the gun comes.
If lasers are your thing, you're in luck. The TR20 will be a direct fit for your 92FS, even with the lack of an accessory rail. You can get it with a red or green laser and it's backed by a five year warranty.
A quality holster is a must, especially with a larger framed gun like the 92FS. Alien Gear Holsters makes an extremely comfortable hybrid holster that gives you a soft and cooling neoprene backing with a woven nylon and spring steel core. On the outside of it all, you'll have a custom-molded shell to securely hold your 92FS.  
Alternatives
Some may say there are no alternatives to the 92FS, but let's keep it real, every gun has an alternative option out there.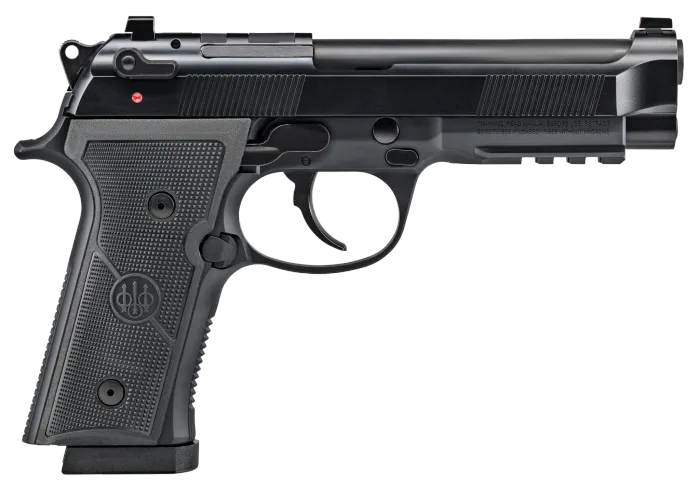 If you like the 92FS but think it's missing some of the highly popular modern touches, the 92X RDO is for you. It comes with an optic-ready slide, a short reset trigger, and an accessory rail. It's a bit more pricey, but you're definitely getting what you pay for with this one.
The P320 Compact will give you the same capacity of 15+1, but in a slightly more compact package. The civilian model is similar to the military one, so you still get that unique aspect to it. Its modularity is superb and reliability is top-notch, making it deliver a high value.
FAQs
What's the difference between the 92FS and the M9?
From a pure specification standpoint, they are EXTREMELY similar. They do have their differences, though, so I'll name a couple of them as examples. The sights differ, with the 92FS having a white 3-dot configuration and the M9 having a dot-and-post configuration.
Do police still use the Beretta 92FS?
These days, it's more common to see police being issued Glocks, S&Ws, and Sigs, but the option is still there to carry the 92FS, from what I understand.
Is the Beretta 92FS good for home defense?
The Beretta 92FS definitely can be good for home defense, if it's what fits your specific needs. I prefer to have lights and optics on my home defense guns, and as many rounds as possible, so the 92FS wouldn't be "ideal" for me, but it may be for you.
How do you care for and maintain your Beretta 92FS?
Beretta recommends cleaning and lubricating your 92FS every time you shoot or at least once a month. Once field stripped, make sure to clean and lubricate everything, including the barrel, recoil spring, slide, and frame. I also suggest wiping down the magazines if there is excess residue or dirt.
Conclusion
I ultimately found myself having mixed reviews on the Beretta 92FS. Do I think it's a reliable and accurate gun? You bet. Would I prefer it had a few more modern updates? You bet. Overall, I would likely opt for one of the newer 92 models, such as the 92X. However, I would not be upset about grabbing a 92FS to add to the collection for the right deal.
Explore more