14 Best 9mm Pistols [2023]: Rated By Size And Hands-On Testing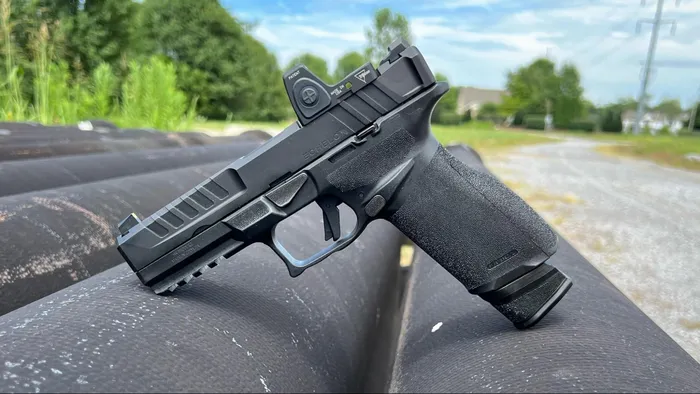 14 Best 9mm Pistols [2023]: Rated By Size And Hands-On Testing
Welcome to the captivating world of the best 9mm pistols, where the fusion of power, versatility, and practicality creates an unrivaled firearm experience.
The 9mm Luger, also known as the 9×19mm Parabellum, has been a leading choice in the firearms community since the 1980s. This preference was further cemented by the FBI's transition to 9mm semi-automatics after the 1986 Miami Shootout, underscoring the caliber's effectiveness and reliability.
The allure of the 9mm isn't just in its balance of power and ease of handling; it's also in the affordability of its ammunition, as you can see in our guide for the best 9mm ammo.
This cost-effectiveness is a significant factor why many shooters, from beginners to seasoned experts, opt for the 9mm. It's a practical, powerful choice whether you're looking to expand your arsenal or selecting your first handgun.
In today's guide, we're not merely reviewing 9mm pistols but sharing our extensive, hands-on experience. At Gun Made, we've rigorously tested a wide range of 9mm pistols, gaining deep insights and understanding the unique characteristics of each model. So, which did we choose as our favorite 9mm handgun this year? Here are our conclusions and advice –
Select a size based on your intended use: larger for home defense and range, compact for concealed carry.
Prioritize a handgun with a quality trigger for improved accuracy and a smoother shooting experience.
Set a budget and seek a handgun that offers the best performance and reliability within your price range.
Consider a handgun with good aftermarket support for easier customization and future upgrades.
Our selection features semi-automatic 9mm pistols chosen for their standout concealability, accuracy, magazine capacity, modularity, and user-friendliness. Recognizing the diverse needs within the 9mm community, we've organized these handguns into the best full-size duty pistols, compact, and subcompact variants.
Let's begin our exploration by focusing on full-sized 9mm pistols, known for their high capacity, enhanced accuracy, manageable recoil, and versatility across various shooting applications.
Best Full-Size 9mm Pistols
Full-sized 9mm pistols excel in home defense and range shooting, providing superior recoil control and accuracy. Yet, they're less ideal for concealed carry compared to their smaller, lighter compact and micro-compact counterparts.
These larger pistols offer greater magazine capacity but can be cumbersome for everyday carry, choosing between size and convenience a matter of personal preference.
As we delve into the world of full-sized 9mm pistols, it's time to highlight the best in the market. The upcoming section will showcase top models known for their exceptional accuracy and innovative features, helping you find the perfect match for both home defense and range performance.
Keep reading for our favorite full-sized 9mm pistol recommendations, tailored for those who appreciate a blend of power and precision.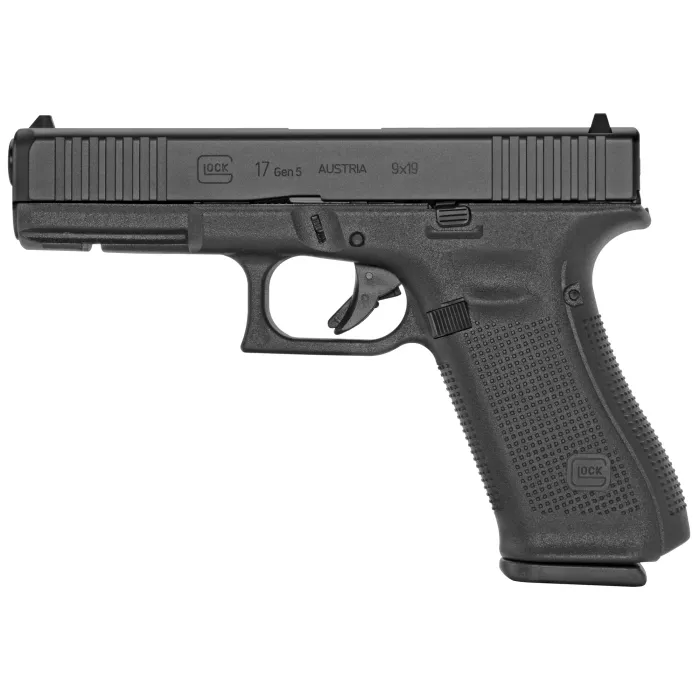 Specifications
| | |
| --- | --- |
| Magazine Type | 17+1 |
| Barrel Length | 4.49 inches |
| Overall Length | 7.95 inches |
| Weight | 24.97 ounces |
| Finish | Black nDLC |
| Grips | Polymer |
| Sights | Fixed sights |
| Ideal Use | Best for home defense and range training |
Pros & Cons
Pros
Affordable with great value
Glock reliability and ease of use
Classic design
Straight grip design suitable for most
Massive aftermarket options
Lightweight for a full-size pistol
Largely available
Cons
Might be too big for some
Reliant on aftermarket customization
The Glock 17 Gen5 MOS firmly holds its ground as a top contender in the full-sized 9mm pistol category.
Its legacy began as a service pistol for the Austrian military and law enforcement in the early 1980s, quickly gaining favor with armies and law enforcement agencies worldwide. Its adoption by over 65% of US agencies speaks volumes about its reliability and performance. This history sets the stage for the Glock 17's reputation as a dependable and trusted firearm.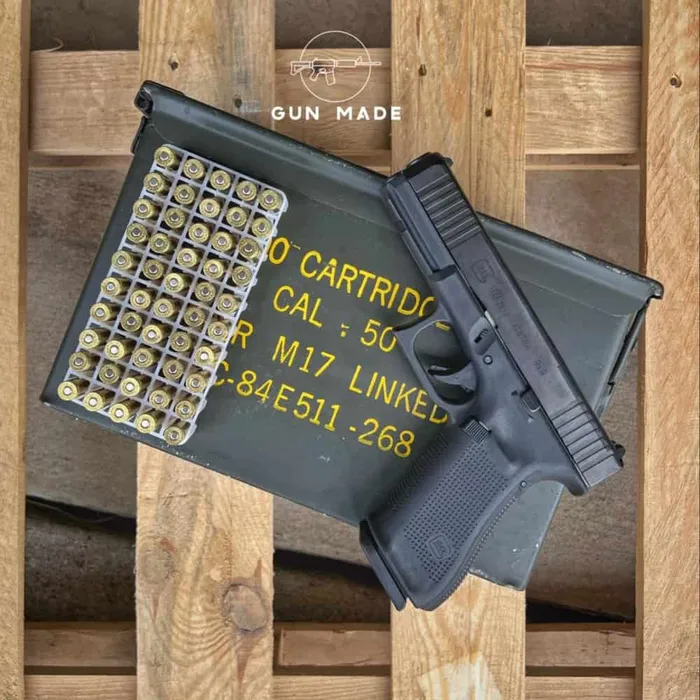 Our hands-on review of the Glock 17 Gen5 MOS revealed a firearm that excels in functionality and adaptability. The Modular Optic System (MOS) adds a significant advantage, allowing for easy attachment of various optics.
The pistol's design, including front slide serrations and a precision-machined slide, enhances its utility. Other features like the ambidextrous slide release, reversible magazine release, and a comfortable grip with a flared magwell contribute to its user-friendly nature.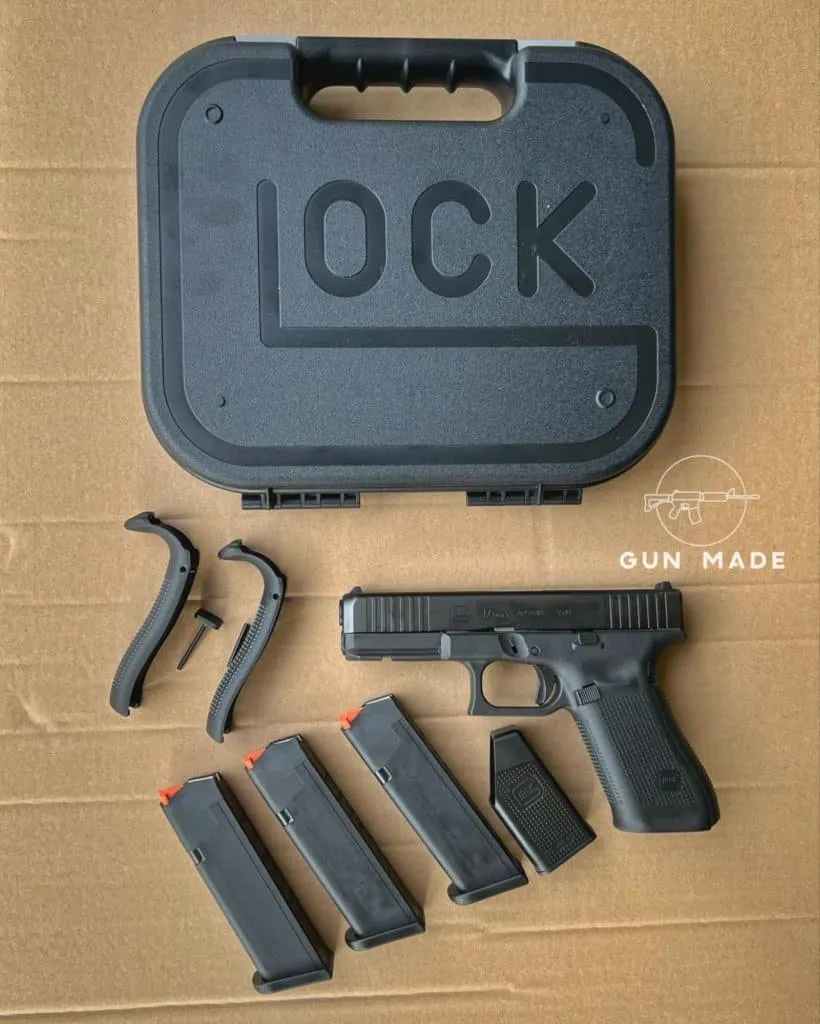 Notably, its magazine comes with a bright orange follower for easy identification, and the package includes three 17-round magazines and a magazine loader, making it a great value.
In terms of performance, the Glock 17 Gen5 shines in reliability and accuracy. Its track record of flawlessly handling different types of ammunition, including 115gr target ammo and defense rounds, is impressive. Despite some personal preferences regarding the trigger and sights, the pistol's overall design ensures consistent and accurate shooting.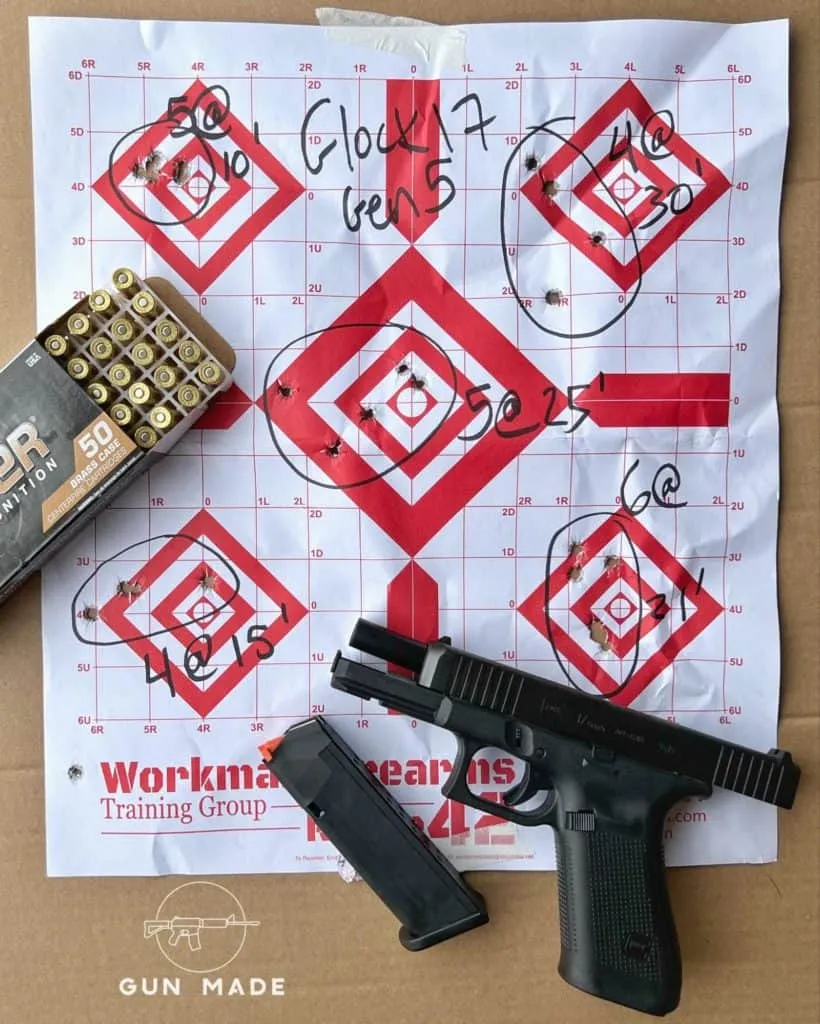 The longer barrel and slide contribute to its stable shooting dynamics, with impressive groupings even at challenging distances. These aspects, combined with the array of customizable accessories available, solidify the Glock 17 Gen5 MOS as a top choice for a range of uses, from duty and competition to concealed carry.
In comparison to other full-sized 9mm pistols on the market, the Glock 17 Gen5 MOS stands out for its blend of historic reliability, modern adaptability, and overall performance. Its ease of use and robust feature set make it an excellent choice for both seasoned shooters and those new to firearms.
For more info on our hands-on testing, check out our Glock 17 Gen 5 review.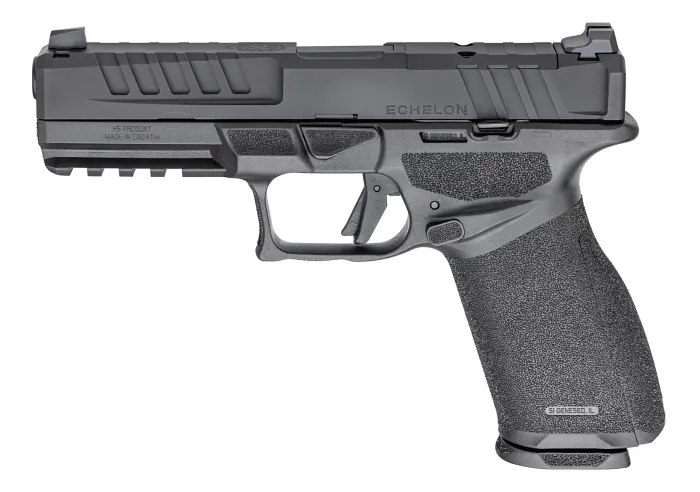 Specifications
| | |
| --- | --- |
| Caliber | 9mm |
| Capacity | 20+1, 17+1 |
| Barrel Length | 4.5 inches |
| Overall Length | 8 inches |
| Width | 1.2 inches |
| Height | 5.5 inches w/ flush mag, 6.5 inches w/ extended mag |
| Weight | 23.9 ounces w/ flush mag, 24.3 ounces w/ extended mag |
| Slide | Billet machined, Melonite finish, optics ready |
| Barrel | Hammer forged steel, Melonite finish, 1:10 |
| Sights | Tactical rack U-notch rear with a tritium/luminescent front |
| Ideal Use | Best for tactical applications, competitive shooting, and home defense |
Pros & Cons
Pros
Modular design enhances user adaptability.
Exceptional reliability and accuracy.
Direct mounting for over 30 optics.
Adaptive grip texture for comfortable use.
Cons
Slide stop lever feels undersized.
Would benefit from taller sights.
Costlier than some competitors.
First off, let's talk about why the Springfield Armory Echelon might just be your new go-to 9mm handgun, rivaling our top pick, the Glock 17 Gen 5.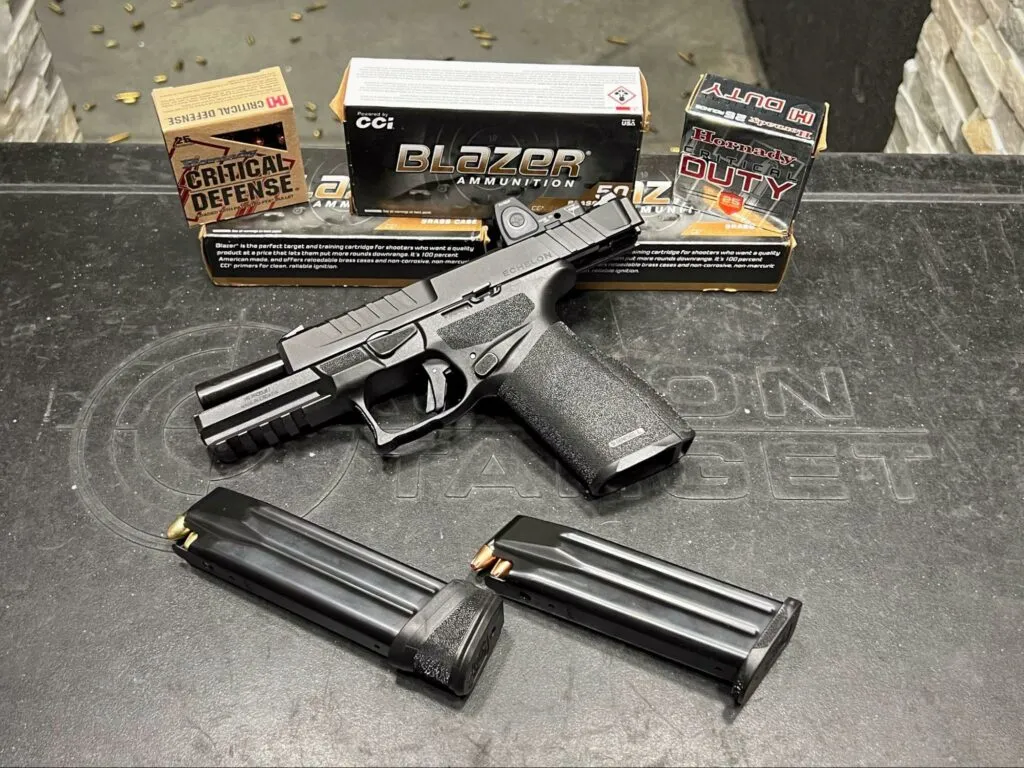 At the heart of this dynamic pistol lies its patent-pending Central Operating Group (COG) – an innovation that really stands out in the crowded field of 9mm offerings. This modular feature allows you to effortlessly swap the COG between different grip modules, facilitating a custom-tailored experience that's an exact fit for your needs.
With a barrel length of 4.5 inches, a 20+1 capacity, and an overall length of 8 inches, the Echelon mirrors the dimensions of the Glock 17 Gen 5 but with the added advantage of modularity.
The Echelon's performance in action is truly a sight to behold. Whether you're at the range running through drills or in a critical defensive situation, this handgun's reliability is nothing short of exceptional.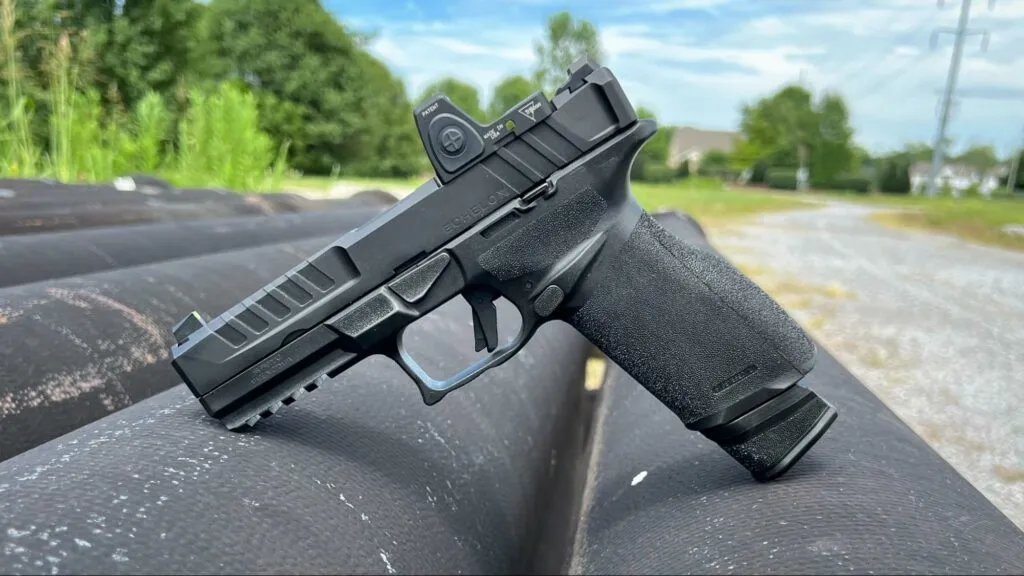 During testing, we put 850 rounds of varied ammo types through it – from cheap range fodder to high-end defensive rounds – and we only had one failure, which was most likely user error. In comparison with the Glock 17 Gen 5, we found the Echelon to be just as reliable, if not more so.
Additionally, the Echelon's accuracy stood up impressively against the Glock 17 Gen 5, even at a distance of 25 yards. This precision, combined with its modular design, helps the Echelon carve out its own niche in the 9mm market.
Now let's dive into the unique features of the Echelon. Its Variable Interface System (VIS) allows for direct mounting of over 30 different optics, adding to its user-friendly nature and outclassing the Glock 17 Gen 5 in terms of optical adaptability. Moreover, the Echelon sports a melonite-finished, billet-machined slide that has been given great attention to detail. It boasts aggressive serrations, a forward trench cut, and a flared slide, making it a delight to operate.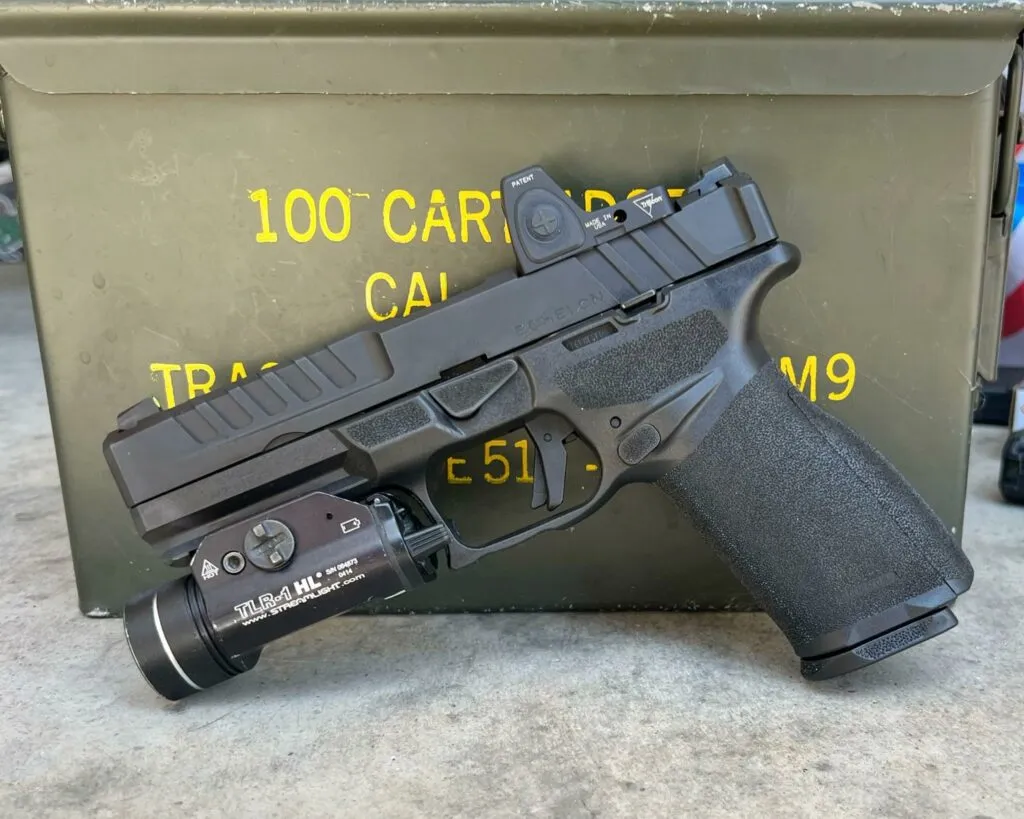 The adaptive grip texture offers a comfortable yet firm hold, ensuring your shooting experience is as efficient and pleasant as possible. Even the magazine capacity is thoughtful, shipping with a 17 and 20-round mag. These features, taken together, place the Echelon on par with the Glock 17 Gen 5, but with a few more innovative bells and whistles that might just tip the scale in its favor.
Check out our Echelon review to see more about what we thought about this new 9mm after 850 rounds of testing.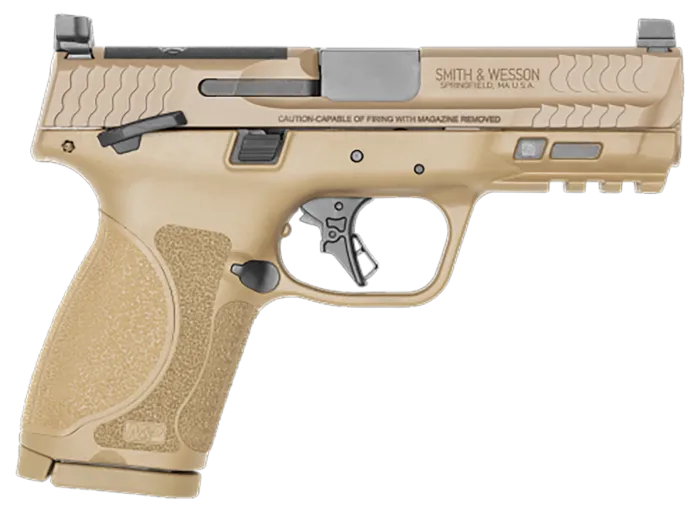 Specifications:
| | |
| --- | --- |
| Magazine Type | 17+1 |
| Barrel Length | 5 inches |
| Overall Length | 8.5 inches |
| Weight | 30 ounces |
| Finish | Black Armornite |
| Grips | Synthetic |
| Sights | Fiber Optic Green front sight; Adjustable Fiber Optic Red rear sight |
| Ideal Use | Best for competitive shooting, tactical training, and home defense |
Pros & Cons
Pros
Smith & Wesson quality
Out-of-the-box shooting
Low recoil
Reinforced polymer frame with Corrosion resistant Armornite finish
Loaded chamber indicator
Interchangeable palm swell inserts
Comes with two magazines
Cons
Stock sights aren't windage adjustable
Coming in at a close second, we have the US-made Smith & Wesson M&P M2.0 (Military and Police) striker-fired, semi-automatic, 9mm pistol.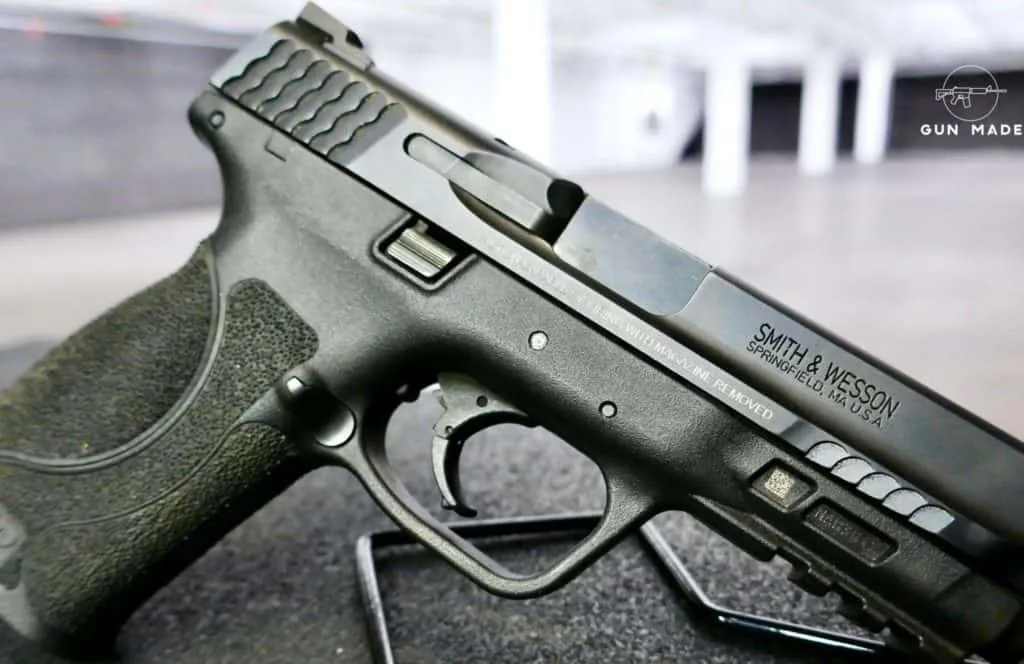 First introduced in 2005, the Smith & Wesson M&P M2.0 duty pistol is a common recommendation for first-time shooters who are looking for a straightforward, out-of-the-box shooting experience.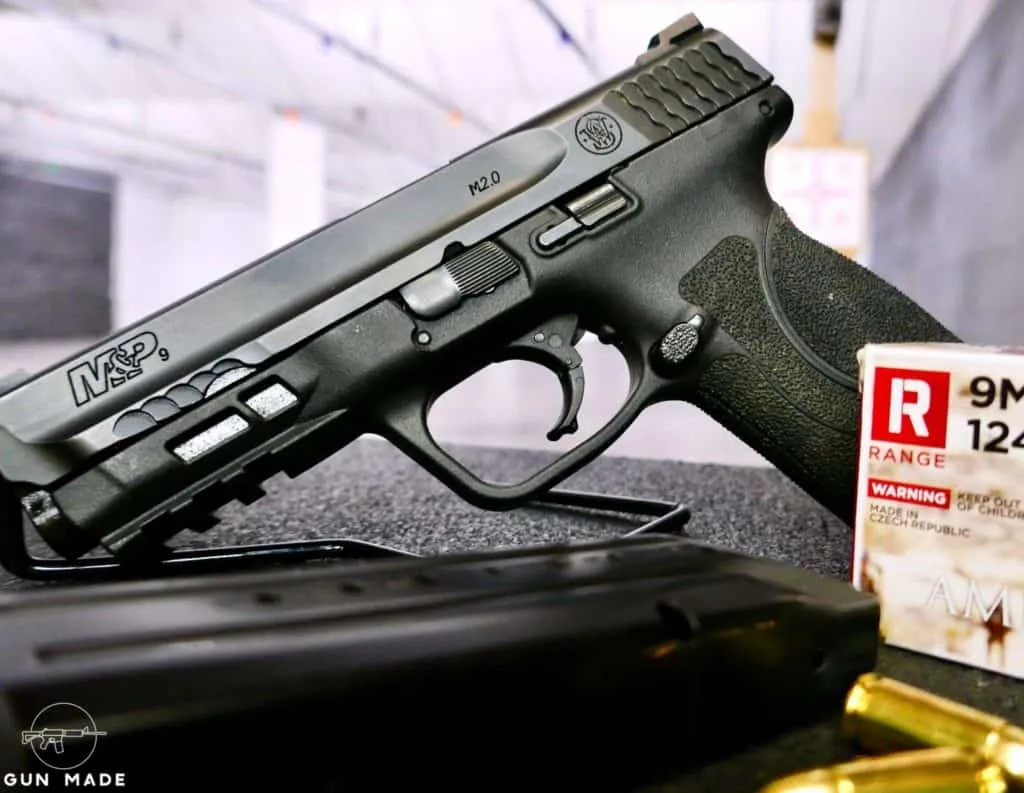 As an ever-present contender to the Glock 17, this full-size modern polymer pistol comes with similar front slide serrations, a stainless-steel slide chassis, and a very crisp trigger pull with an audible trigger reset.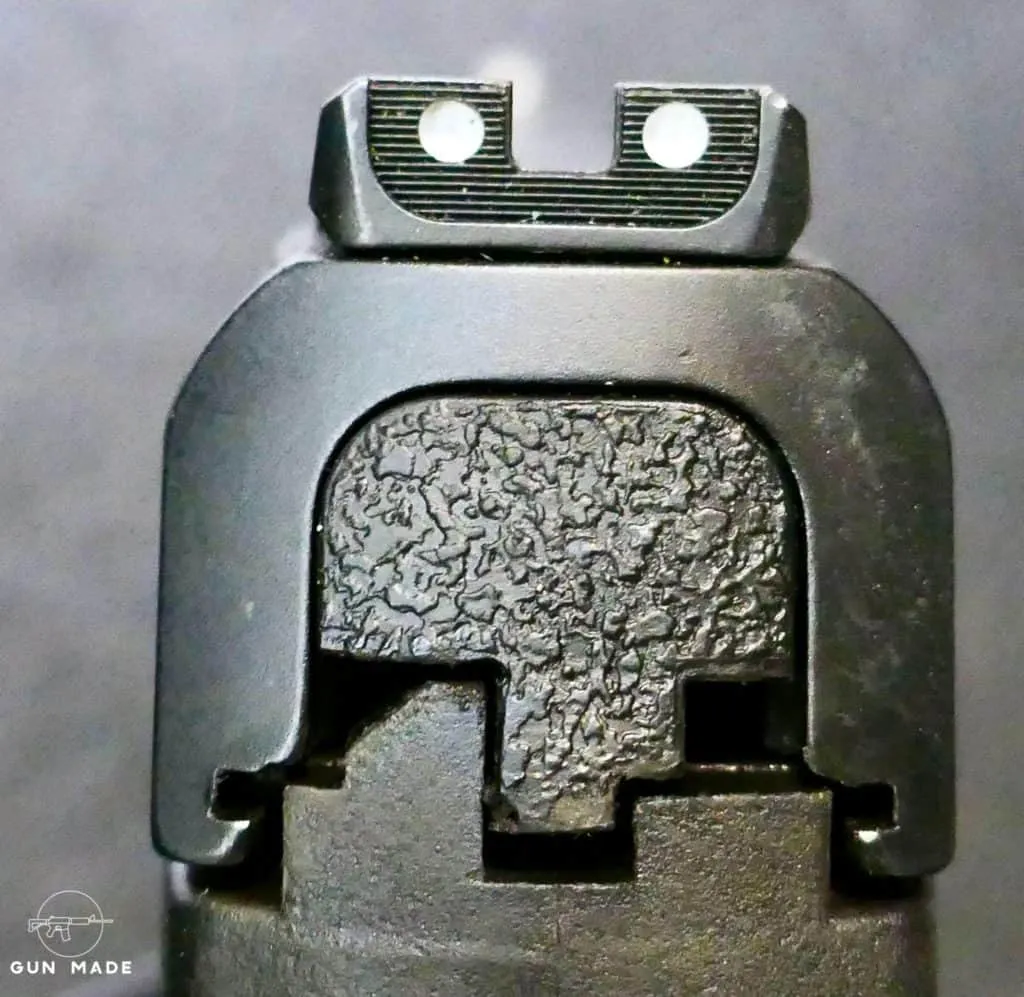 Though it's heavier than the G17, what you get is excellent grip texture and ergonomics as well as plenty of customization opportunities to turn it into a sporting and competition shooter.
There's a Picatinny rail under the barrel for your lights and lasers. Moreover, the green and red fiber optic sights offer decent target acquisition, while the low barrel bore axis reduces muzzle flip. These features offer faster follow-up shots, faster aim recovery, and an edge in home defense.
This 17-round capacity pistol isn't as popular as its subcompact variant, the M&P Shield (which we'll talk about soon), but it's still an excellent full-sized pistol that's made for rapid shooting.
Check out our Smith & Wesson M&P M2.0 review to get more info.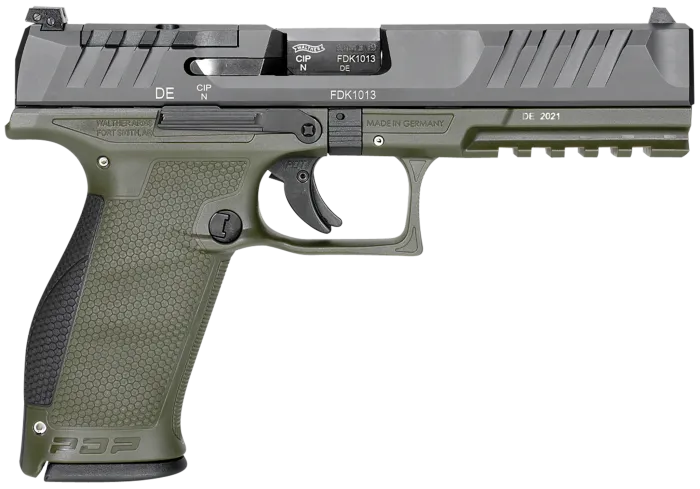 Specifications:
| | |
| --- | --- |
| Magazine Type | 18+1 |
| Barrel Length | 4.5 inches |
| Overall Length | 8 inches |
| Weight | 24.4 ounces |
| Finish | Black |
| Grips | Polymer |
| Sights | 3-Dot sights |
| Ideal Use | Best for tactical applications and competitive shooting |
Pros & Cons
Pros
Excellent Walther ergonomics
5.6-pound Performance Duty trigger
Optics Ready model suitable for a plethora of sights
Whopping 18-round capacity
Compatible with PPQ M2 magazines
Different barrel lengths available
Cons
Really aggressive slide serrations
Trigger guard flare might be big for some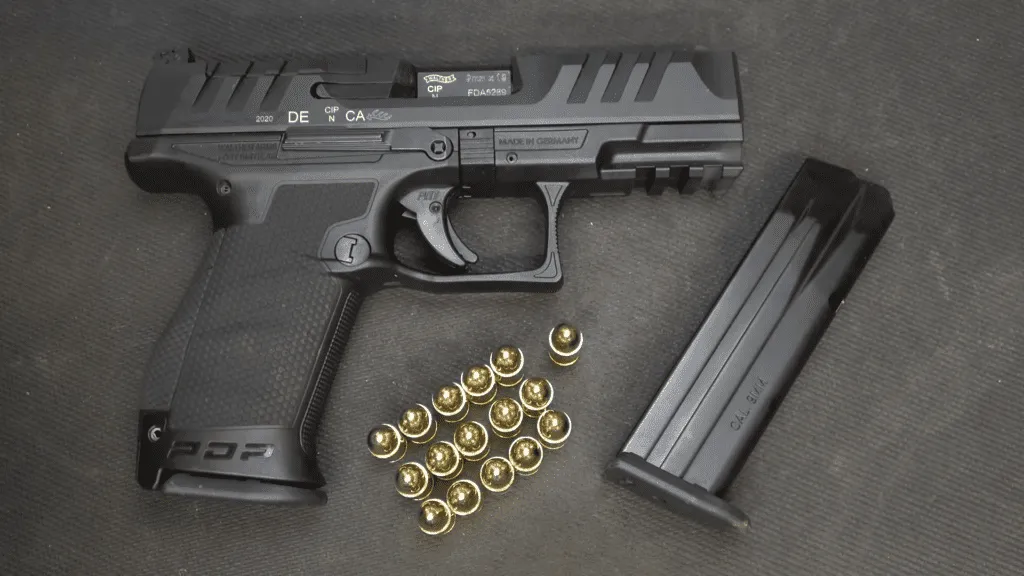 We saw the Austrian Glock and the American S&W full-sized handguns. Now, let's talk about one of the most popular German 9mm pistols—the Walther PDP. The PDP stands for "Personal Defense Pistol," so you know it's a modern semi-automatic duty pistol.
What I most like about the PDP is that it comes in many variants, such as the Compact version. It also offers different magazine capacities and has different barrel lengths, ranging from 4-, 4.5-, and 5-inch barrels.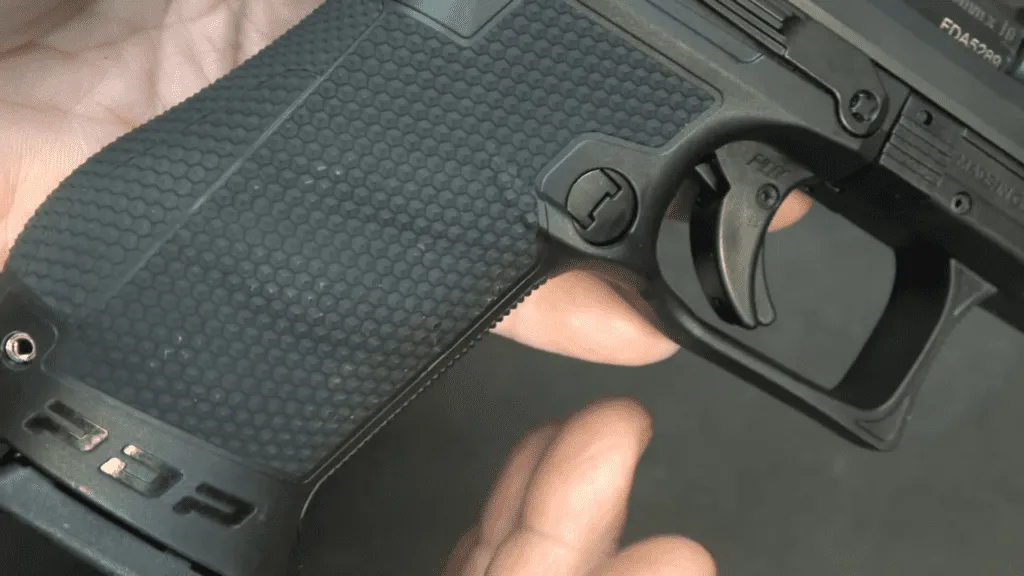 Specifically, the Walther PDP Optics Ready really caught my eye, and with a 4.5-inch barrel, it's really a golden middle ground for a full-size duty pistol. The 3-Dot/Optics Ready sights with a windage-adjustable rear sight allows you to fully unlock its potential by installing some high-quality red dot sights.
While some feel that the SuperTerrain slide serrations are a bit aggressive, the overall ergonomics and contours offer a very stable shooting and control.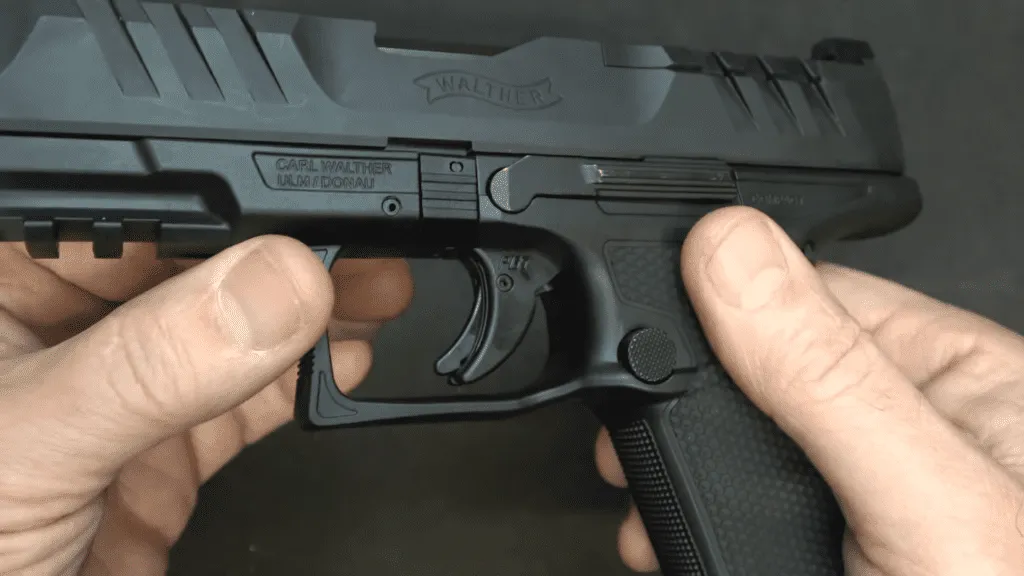 With your Walther PDP purchase, you get a factory backstrap, a beaver tail, and two stainless steel 18-round magazines.
While Walther thrives on the success of the Walther PPQ or the Walther PPK's historical and iconic significance, the Walther PDP fills the boots of a full-size pistol for self-defense.
Best For Competition – CZ P-09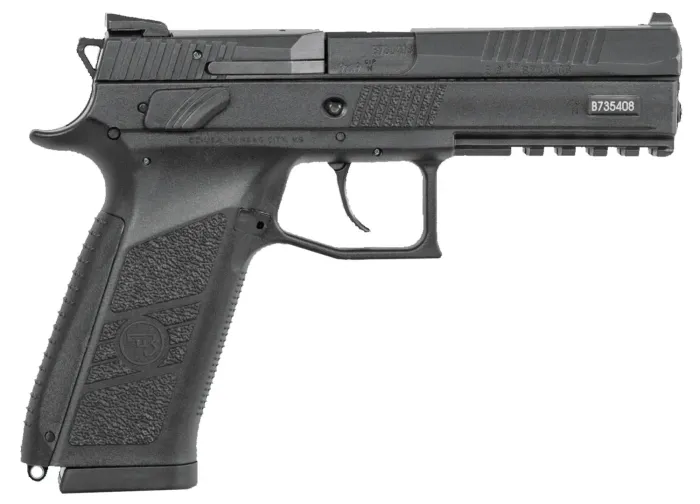 Specifications
| | |
| --- | --- |
| Magazine Type | 19+1 |
| Barrel Length | 4.53 inches |
| Overall Length | 8.1 inches |
| Weight | 29.6 ounces |
| Finish | Black |
| Grips | Polymer /w interchangeable backstraps |
| Sights | Fixed 3-Dot |
| Ideal Use | Ideal for duty use and home defense |
Pros & Cons
Pros
Tactical and moddable pistol package
Great price
19+1 round capacity is one of the largest on this list
Minimal recoil
Sizable, comfortable grip
Comes with interchangeable backstraps and two baseplates
Cons
Extra magazines are expensive
Long trigger reset
Not many aftermarket parts
Notice how I mentioned different manufacturers from different countries? Well, here's a Czech one, just for good measure. The CZ P-09 is a modernized take on the almighty CZ 75.
It's a vastly more straightforward 9mm platform in a polymer frame that goes full tactical with its Picatinny rail, swappable safeties, two baseplates, and two interchangeable backstraps. You know it's a full-size pistol made to be tailored to your style.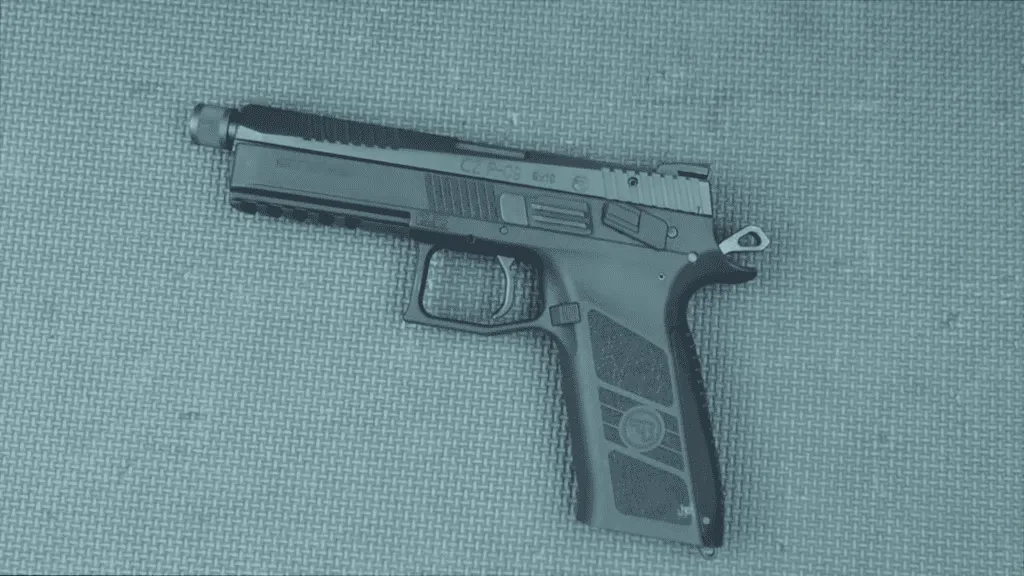 Having said that, the flush-fi, 19-round, double-stack magazine is what makes the CZ P-09 stand out from the rest of the big ones.
Despite the long trigger reset, the DA/SA design offers you a solid shooting experience, and it can eat anything you feed it—from highly powerful self-defense rounds to lighter FMJs for target practice.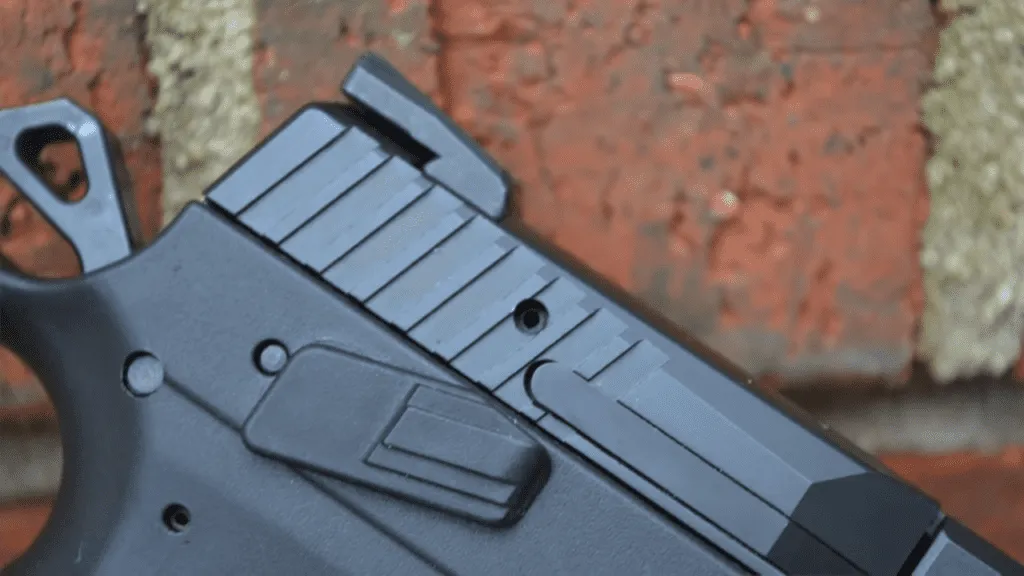 In conclusion, this is what makes it a solid competitor to the Glock, Walther, and Smith & Wesson, if not a bit underrated. Though the aftermarket parts for the CZ P-09 are relatively hard to find, it's viable enough as a concealed carry handgun. The platform does allow you to turn it into a home defense gun.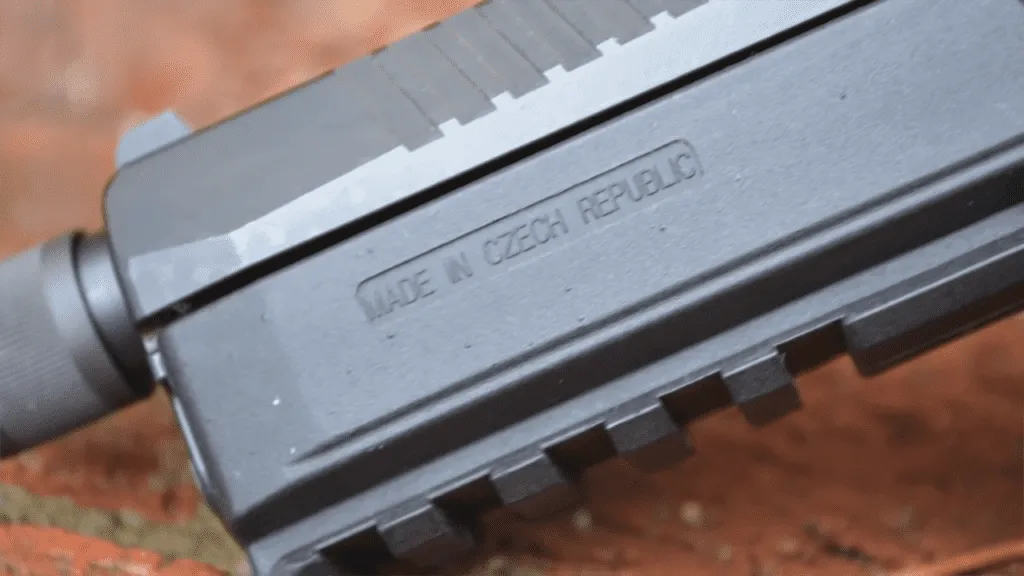 Best Compact 9mm Pistols
In the diverse world of 9mm handguns, compact 9mm pistols hold a special place, offering a blend of portability and power that's hard to beat.
These smaller firearms provide an ideal solution for concealed carry, allowing for discreet and comfortable everyday use without sacrificing firepower. With typically less recoil and easier handling than their full-sized counterparts, compact 9mms are perfect for both beginners and seasoned shooters seeking a balance between size and performance.
Whether it's for personal defense, concealed carry, or just a more manageable shooting experience, a compact 9mm pistol is a versatile choice that meets a wide range of needs. So, which models stand out in this category?
In our next section, we'll dive into the best compact 9mm pistols on the market, helping you find a reliable and effective option that fits your lifestyle and needs.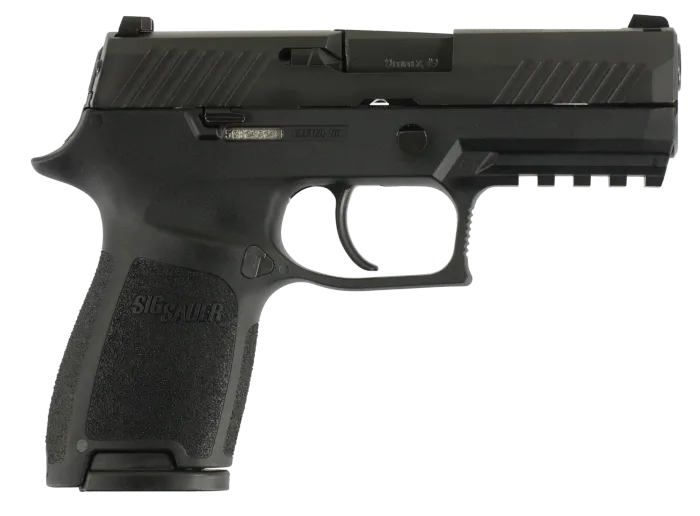 Specifications
| | |
| --- | --- |
| Magazine Type | 15+1 |
| Barrel Length | 3.9 inches |
| Overall Length | 7.2 inches |
| Weight | 25.8 ounces |
| Finish | Black |
| Grips | Standard Polymer SIG Sauer Grips |
| Sights | SigLight Night Sights |
| Ideal Use | Best for concealed carry and versatile use |
Pros & Cons
Pros
High-quality compact 9mm pistol
Outstanding reliability
Decent ergonomics for medium-sized hands
U.S. Army-approved
Modular for red dot sights
Cons
Large for a compact pistol
No grip safety
Gritty trigger
The SIG Sauer P320 is one of the most sought-after CCW pistols that really stands out as a well-balanced, do-it-all pistol. This is the same gun that won the US Army Service Pistol contract, surpassing the Beretta APX in that race.
The SIG Sauer P320 is a striker-fired, double-action pistol that's built from the ground up. It has a stainless steel slide with a corrosion-resistant Nitron finish and a 3-point takedown safety system for easy disassembly and manipulation.
The trigger has a consistent pull, despite being a bit gritty. Additionally, there's also one with contrasting sights, but this specific variant comes with SigLight Night Sights that offer great target acquisition.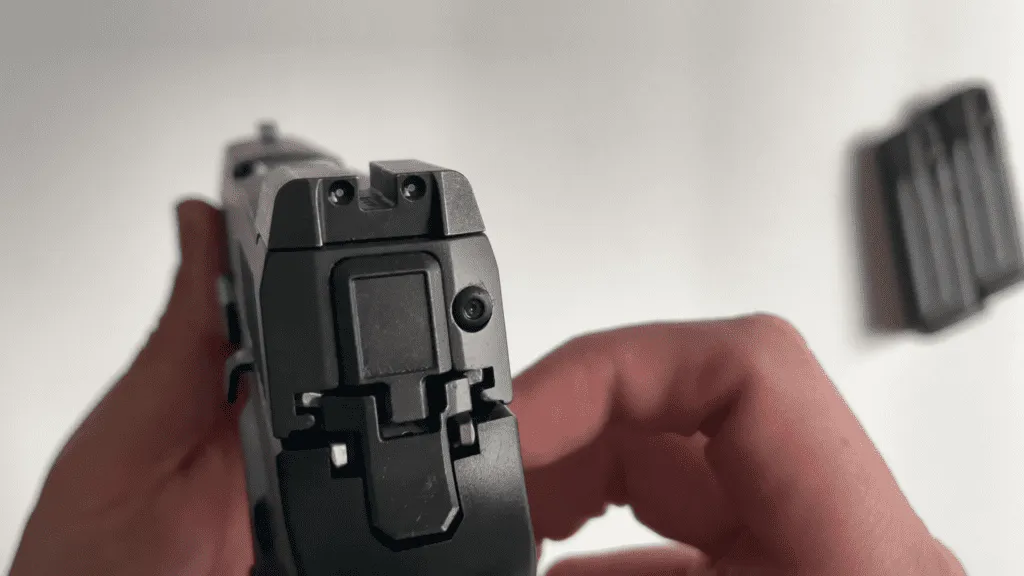 While the SIG Sauer P320 Compact is categorized for self-defense, it's designed to be as modular as possible, as can be seen from the slightly bigger frame when compared to most 9mm compacts.
The Integral M1913 rail has a modular frame that lets you easily change grip sizes. It also supports straightforward disassembly, so you can easily switch to other calibers like the .40 S&W and the .45 ACP.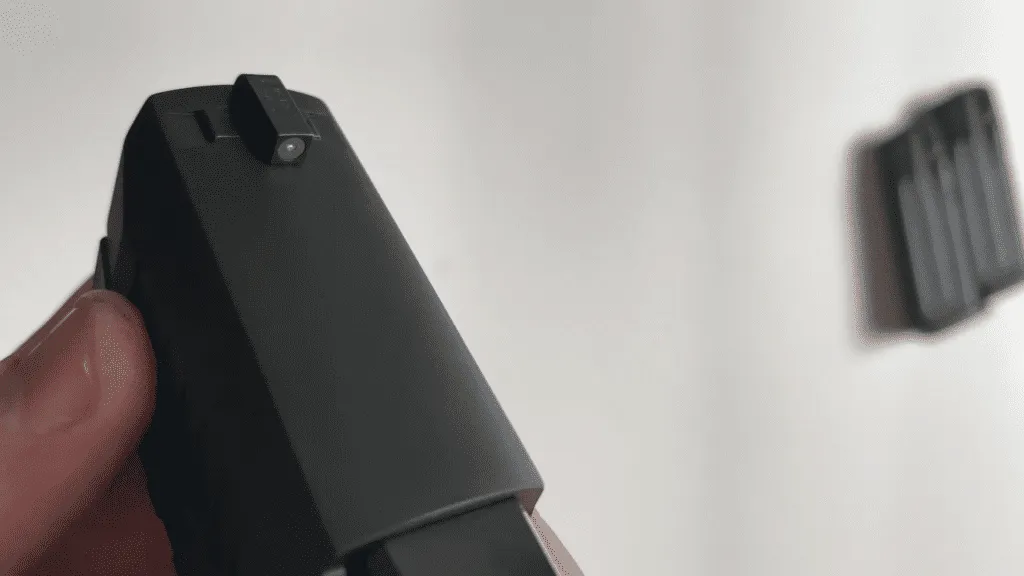 Best For Law Enforcement – Glock 19 Gen5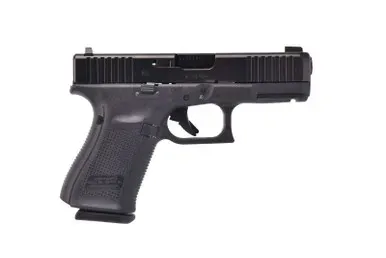 Specifications:
| | |
| --- | --- |
| Magazine Type | 15+1 |
| Barrel Length | 4 inches |
| Overall Length | 7.28 inches |
| Weight | 23.63 ounces |
| Finish | Black nDLC |
| Grips | Polymer |
| Sights | Fixed sights |
| Ideal Use | Great for personal defense and law enforcement |
Pros & Cons
Pros
One of the best compact Glock pistols
Highly reliable and accurate
Ergonomic and easy to conceal
Massive aftermarket options
Minimal recoil
Cons
Besides maybe aesthetic reasons, none really
Since its release way back in '88, the Glock 19 has been a target of ridicule because it's one of the first striker-fired pistols to get the polymer treatment. After some years, its surprising reliability and accuracy finally got the acknowledgment it deserves. Even the U.S. Navy SEALs adopted a reworked Army model.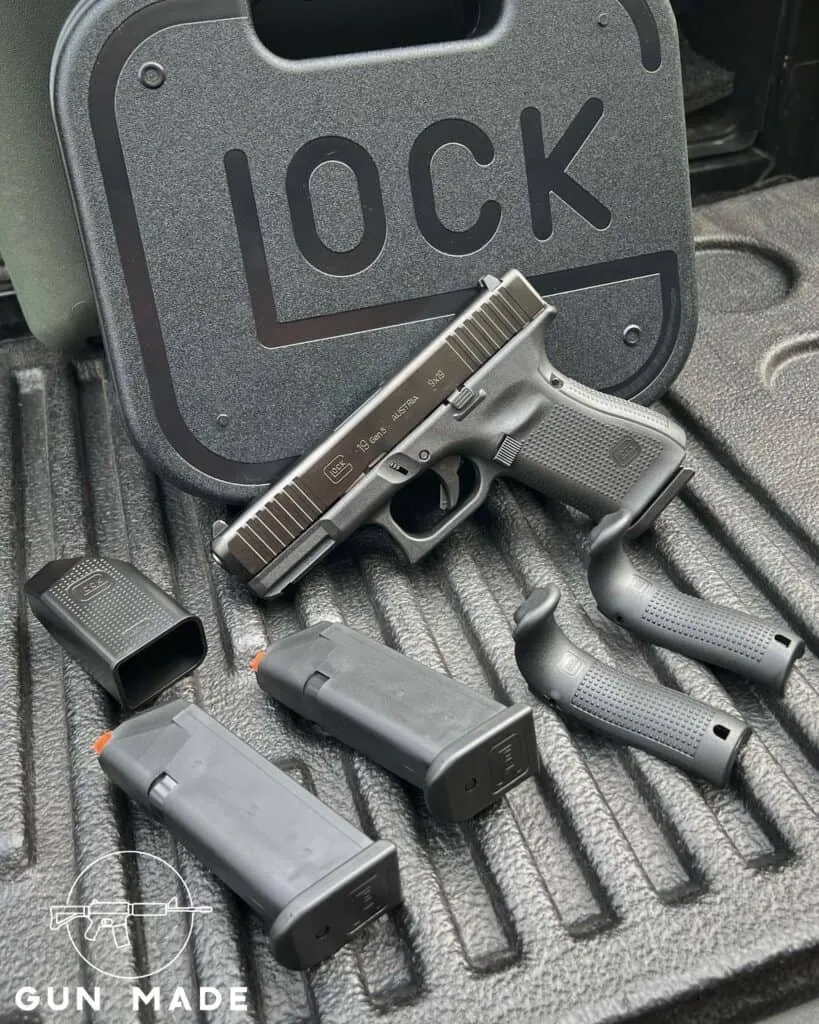 Today's Glock G19 Gen5 model incorporates fine grip textures and no longer has those annoying grooves found on older models. It doesn't have an external manual safety, as seen on most Glock pistols, but it has a firing pin, drop, and trigger safety.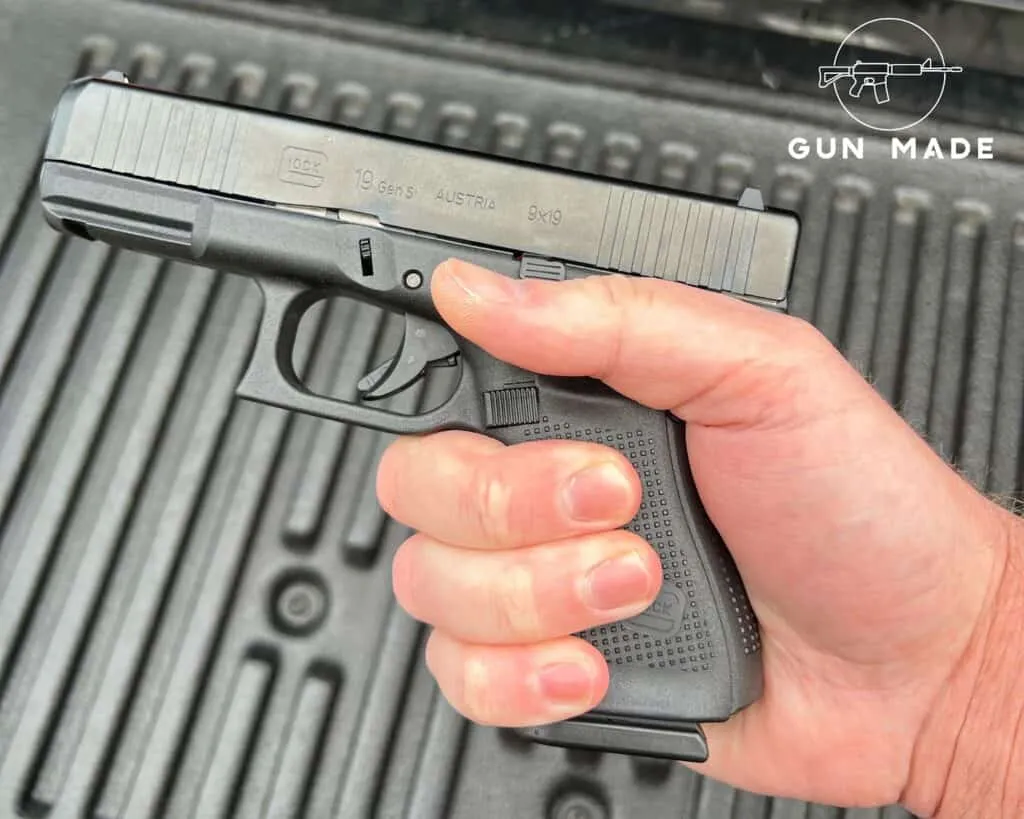 Based on Gaston Glock's G17 design, the Glock 19 is a pioneer of the "compact pistol" variant, and its sheer popularity allows for a world of aftermarket parts, which makes it a perfect multi-purpose handgun.
Shooting the Glock 19 is super fun. Without an external hammer, you get a consistent double-action 5.5-pound trigger pull.
In a nutshell, the only difference that sets it apart from the Glock 17 is the reduced 15-round mag capacity and a frame that's suited for a more compact and easily concealable platform.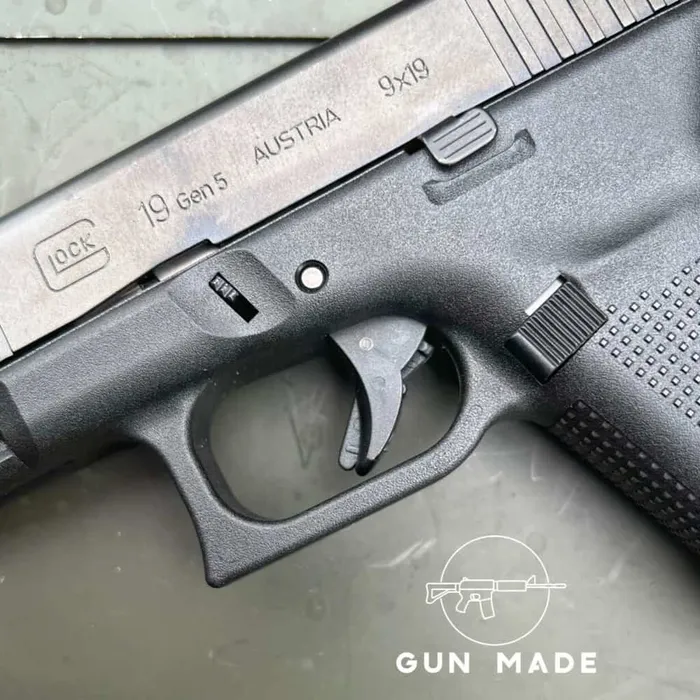 The recoil is minimal with the right 9mm ammo boxes. I like the Blazer 115-Grain FMJ, Federal 124-Grain FMJ, or Winchester 115-Grain FMJ.
We've got plenty more to share about the G19 Gen5. Check out our Glock 19 Gen5 review for more information.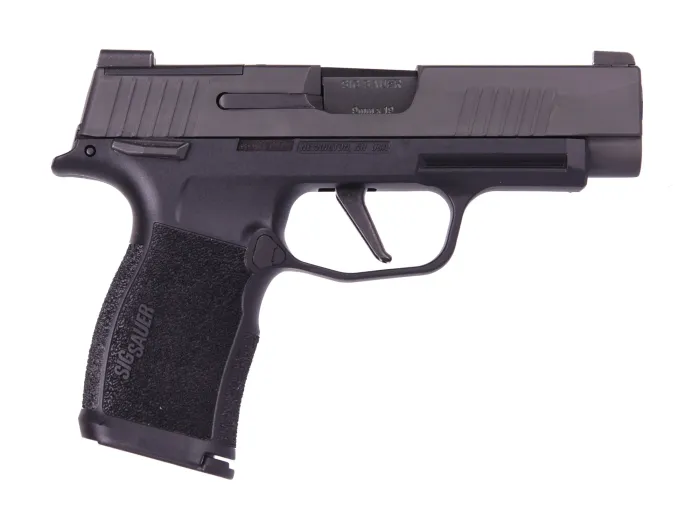 Specifications:
| | |
| --- | --- |
| Magazine Type | 12+1 |
| Barrel Length | 3.7 inches |
| Overall Length | 6.6 inches |
| Weight | 20.7 ounces |
| Finish | Black Nitron |
| Grips | Polymer |
| Sights | X-RAY 3 Day/Night Sights |
| Ideal Use | Ideal for concealed carry with extended capacity |
Pros & Cons
Pros
Well-made trigger
Lightweight and compact
High-capacity magazine
Multiple variants available
Comes with two 12-round magazines
Cons
Not as concealable as other models
Early models plagued by safety issues
Introduced in 2017, the SIG Sauer P365 quickly made waves in the EDC pistol market, spawning more subcompact models like the P365 Nitron or the slimmer, snag-free P365 SAS.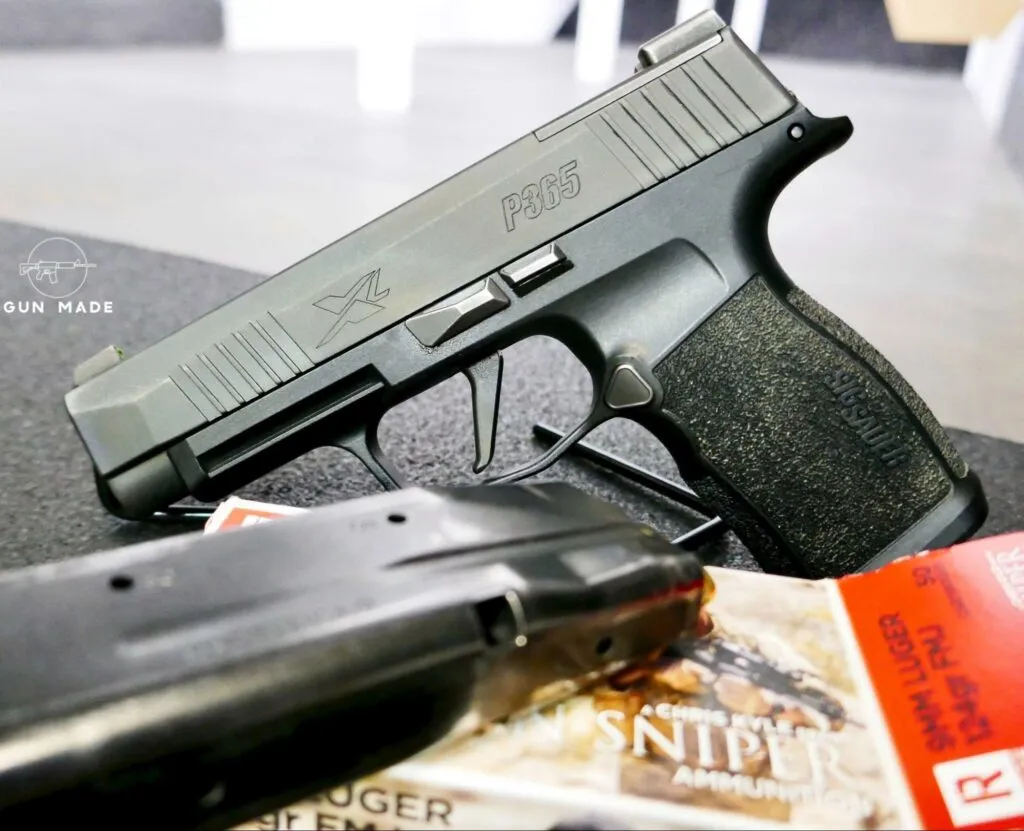 The P365 XL has a 12-round capacity in a single-stack frame that's slimmer and smaller than a Glock 43. SIG Sauer took their time to get the blueprint right, as the trigger went through many redesigns before achieving a crisp, Glock-like trigger pull with a smooth travel.
Despite the high capacity, it's a well-balanced combination of power and size. It's a popular concealed carry pistol, so you can find countless IWB holsters for it.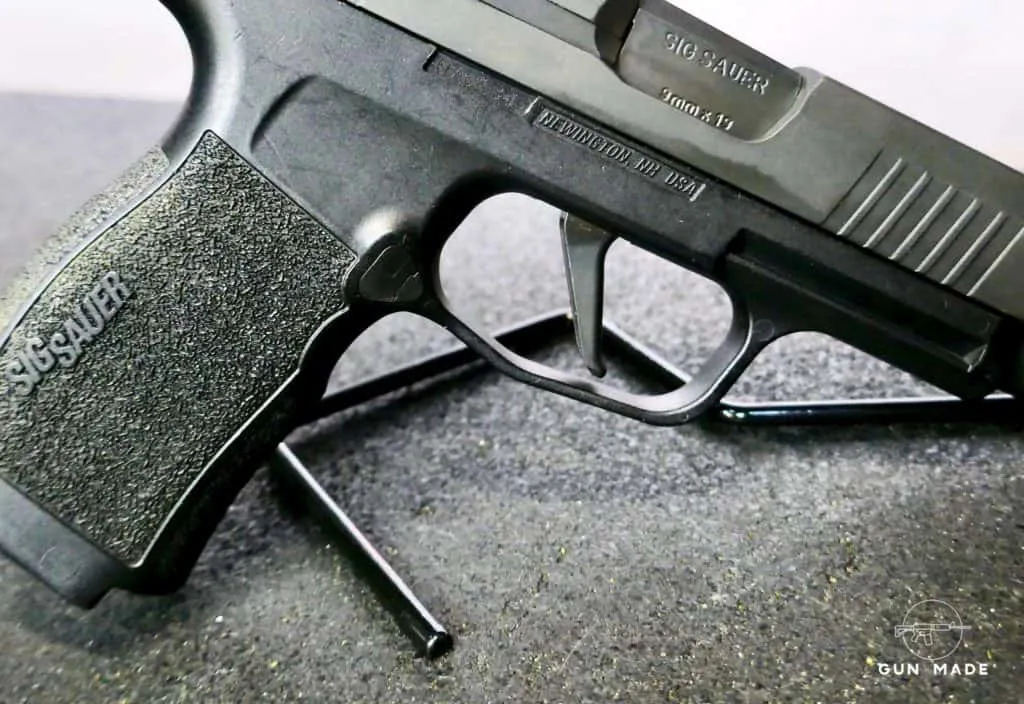 What I most like about the SIG P365 XL are its factory sights. They're X-RAY night sights that allow fast target acquisition and are so visible and convenient that you'd think twice about red dot sights.
In regard to aftermarket upgrades, I recommend you don't touch a thing besides maybe new grips or perhaps a 15-round extended magazine.
A word of advice: SIG Sauer warns that the first models had a multitude of safety issues, so I recommend you steer clear of older used models you might find in pawn shops.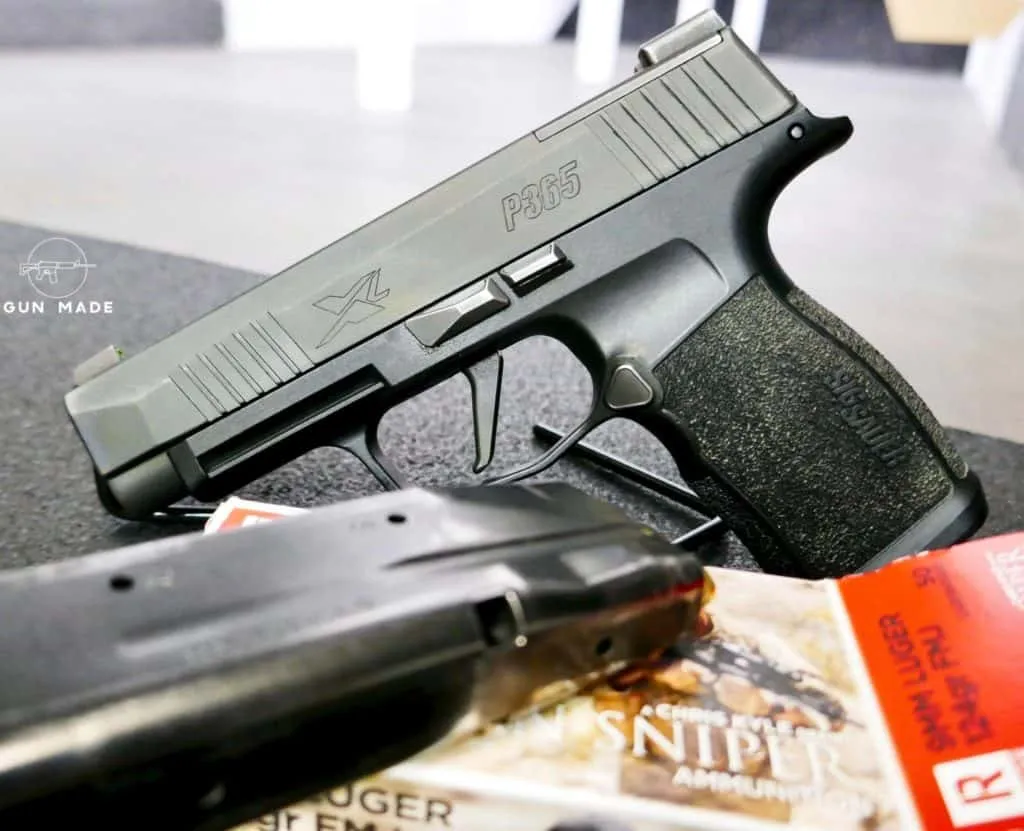 Check out our P365XL review to get more info!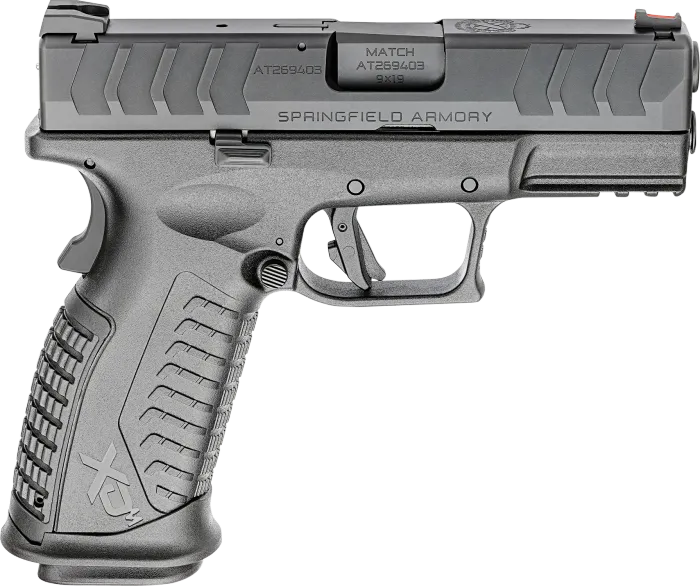 Specifications
| | |
| --- | --- |
| Magazine Type | 14+1 |
| Barrel Length | 3.8 inches |
| Overall Length | 6.75 inches |
| Weight | 27.5 ounces |
| Finish | Black Melonite |
| Grips | Polymer |
| Sights | Fiber Optic front sights, U-Dot rear sights |
| Ideal Use | Best for those seeking a compact firearm with high-quality sights |
Pros & Cons
Pros
Modern aesthetics
Anti-corrosion Melonite finish
Fantastic DA/SA trigger
Great factory sights
Ergonomics suitable for larger hands
Cons
External safety might be annoying for some
Well known for their Hellcats, Springfield Armory gives us another great 9mm pistol; the Springfield XD-M Elite Compact.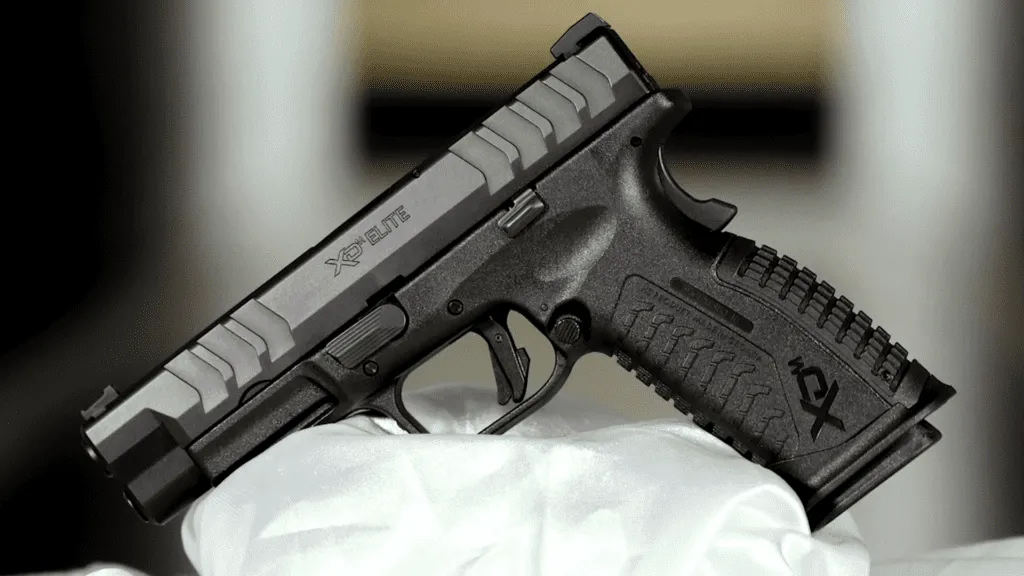 The XD-M Elite Compact is a striker-fired pistol with a fancy Melonite finish and a grip safety that feels like a 1911 in a modern self-defense platform. It's a very promising subvariant made to shoot straight out of the box.
Although blockier than a Glock, it has the Goldilocks grips with a perfect texture that offers excellent control and footing for medium-sized hands. Disassembly is easy as long as you properly clean and oil it once in a while.
The highlight is the special Match Enhanced Trigger Assembly (META) trigger with a crisp, short trigger pull and a noticeable trigger reset. The double and single-action system allows you to swap between lighter trigger pulls or pull the hammer back between shots.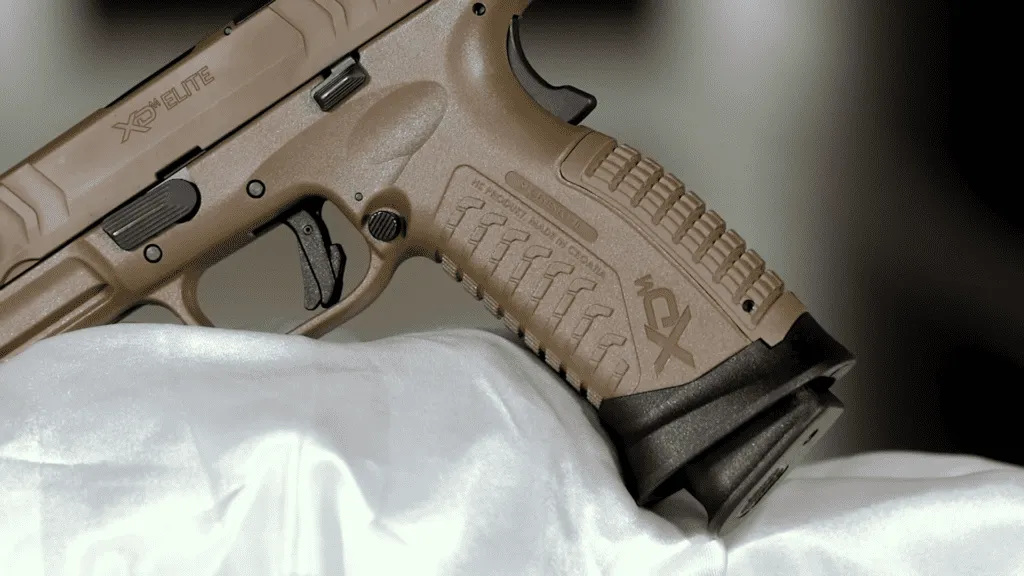 While some might not like the external safeties, all the controls are in the right place, and the front and rear cocking serrations offer easy operation.
With your purchase, you get two flush-fit magazine base plates, three interchangeable backstraps that fill your hands, and a removable magwell.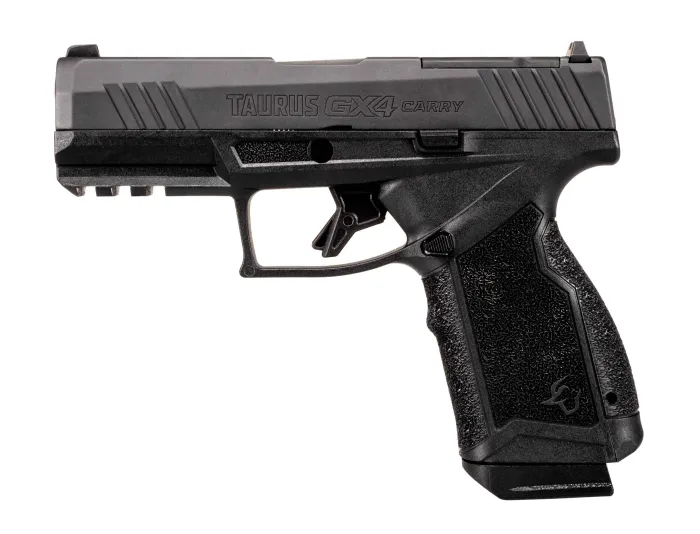 Specifications
| | |
| --- | --- |
| Caliber | 9mm |
| Capacity | 15+1 Rounds |
| Barrel Length | 3.7 Inches |
| Overall Length | 6.56 Inches |
| Overall Width | 1.08 Inches |
| Overall Weight (unloaded) | 21.5 Ounces |
| Frame and Barrel Material | Stainless Steel |
| Slide Material | Alloy Steel |
| Frame Finish | Matte Stainless |
| Barrel Finish | Satin Black DLC Coating |
| Slide Finish | Gas Nitride |
| Ideal Use | Best for everyday carry for personal defense |
Pros & Cons
Pros
Improved ergonomics and great grip texture

Optic cut slide

Accessory rail

15+1 capacity

Reliable and accurate

Clean and crisp flat face trigger
Cons
Lack of ambidextrous controls

Not a large amount of aftermarket support (yet)
In our hands-on testing, the Taurus GX4 Carry T.O.R.O. stood out as one of the best compact 9mm handguns on the market. Its design is a testament to Taurus's commitment to innovation and user feedback.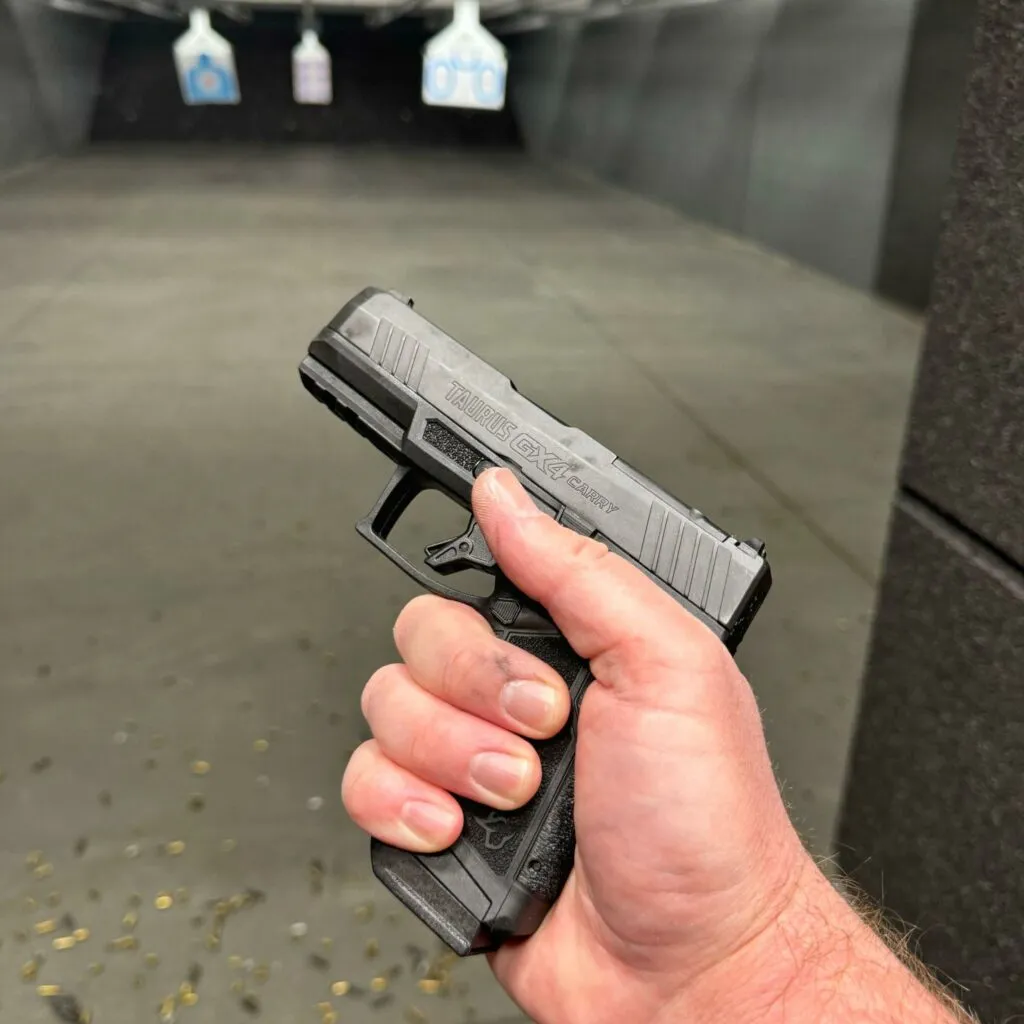 This model, with its accessory rail and enhanced 15+1 round capacity, is a testament to Taurus's commitment to blending functionality with compactness. The ergonomics are exceptional; the well-balanced frame provides a comfortable grip, even for those of us with larger hands, and the interchangeable backstraps allow for a customized fit.
During our rigorous testing, the GX4 Carry demonstrated impeccable reliability. We put it through its paces with 175 rounds of diverse ammunition, and it performed without a hitch, reaffirming its position as a dependable compact 9mm option. Its precision was noteworthy, with the design features facilitating consistent tight groupings on target.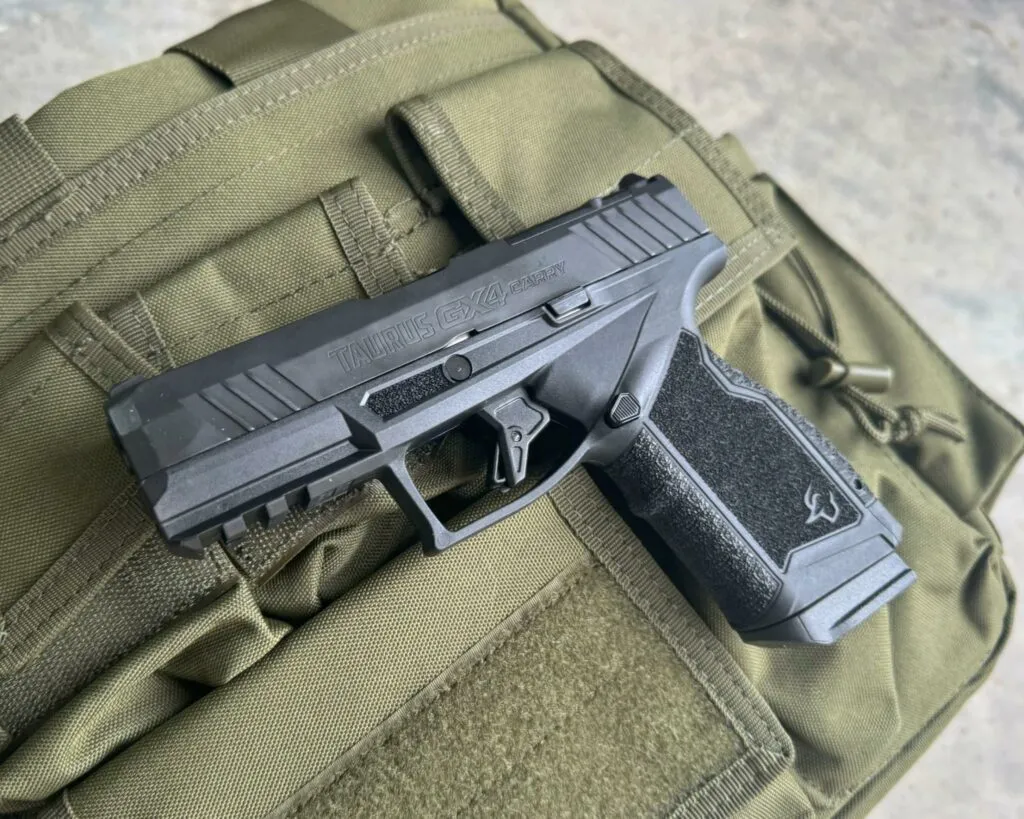 Beyond its stellar performance, the affordability of the GX4 Carry is a significant draw. With its competitive pricing, often found below its $504.99 MSRP, it offers an unparalleled blend of value and quality. Having experienced its capabilities first-hand, we can confidently vouch for the Taurus GX4 Carry T.O.R.O. as a top choice for anyone seeking a high-performing compact 9mm handgun.
Check out our Taurus GX4 Carry review for the full scoop!
Best Subcompact 9mm Pistols
In the expansive arena of 9mm handguns, sub-compact models are the ultimate choice for ultra-concealability and ease of carry.
These pistols are ideal for those who prioritize discretion and comfort, especially in situations where a larger firearm would be cumbersome or impractical. Despite their smaller size, sub-compact 9mms don't compromise on firepower, making them a reliable option for self-defense.
They are particularly appealing to concealed carry permit holders and those seeking a backup gun. With the vast array of options available, let's narrow down the field — up next, we'll introduce you to the best sub-compact 9mm pistols, each offering a unique blend of concealability, power, and performance.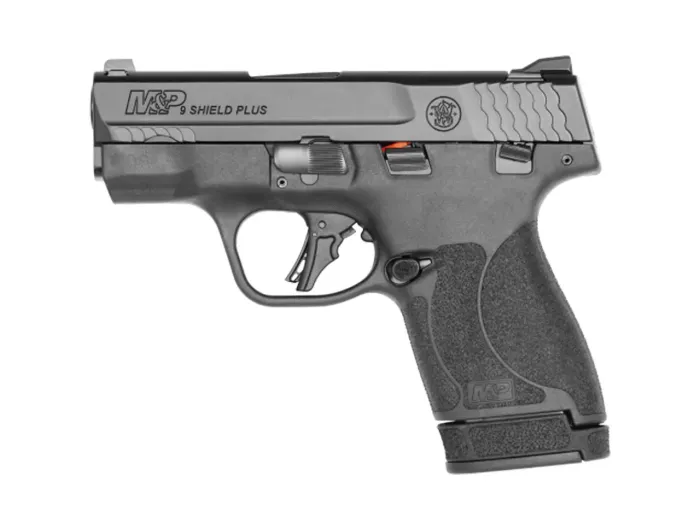 Specifications
| | |
| --- | --- |
| Magazine Type | 13+1 |
| Barrel Length | 3.1 inches |
| Overall Length | 6.1 inches |
| Weight | 17.9 ounces |
| Finish | Armornite |
| Grips | Polymer |
| Sights | White Dot front; White 2-Dot rear sights |
| Ideal Use | Best for concealed carry |
Pros & Cons
Pros
Reliable Smith & Wesson design
Ergonomically enhanced
Great flat-face trigger with audible reset
Moderate recoil
Aftermarket abundance
Cons
Annoying gap between the extended mag and the mag well
Not entirely compatible with a Shield model
Instead of a Smith & Wesson Shield, I have to give this one to the Shield Plus. It's a fantastic improvement and a definite successor to the beloved and highly popular Shield platform.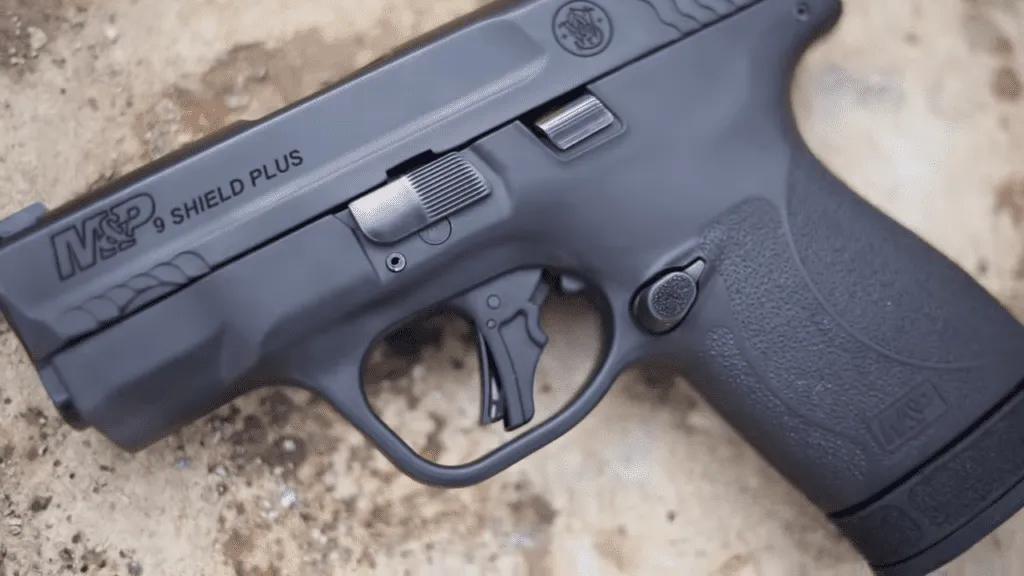 Unveiled in mid-2021, it's mainly inspired by the new wave of subcompacts that shake the firearms industry, like the Canik TP9 Elite SC, the Ruger Max-9, or the Heckler & Koch VP9SK.
The Shield Plus has a high-quality Armornite finish and an enhanced grip texture with an 18-degree grip angle that's thicker and more aggressive than the G43X, for example.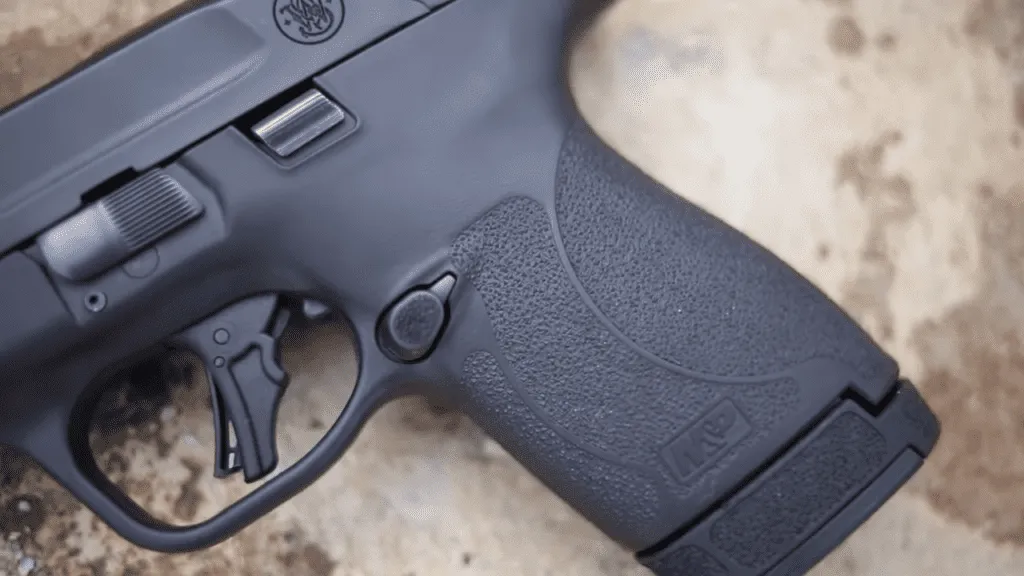 The crisp trigger with an audible reset and a 6-pound pull is flat-faced, which a lot of folks love in this recoil-operated platform.
What makes the Smith & Wesson M&P Shield Plus so special is the so-called "staggered stack" column design that grants it a 13-round capacity while the frame is compact for a concealed carry pistol. There's also a 10-round California-compliant variant that weighs as much as a Glock 43X, give or take.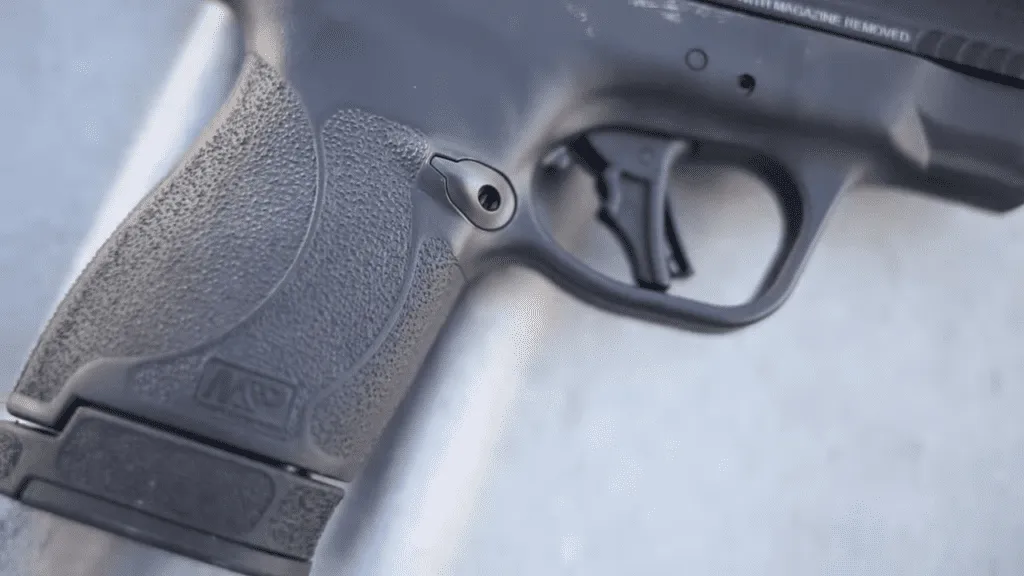 Simply put, if you ever wanted a small EDC pistol with more bullets to shoot, now's your chance.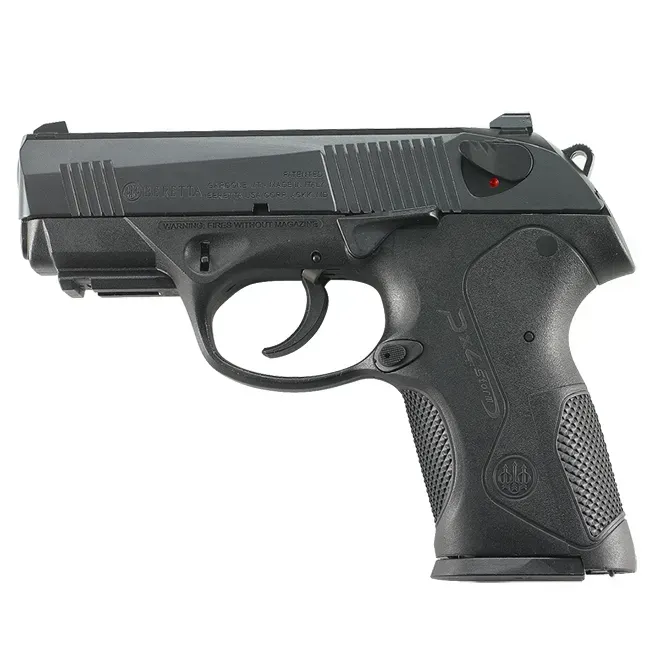 Specifications
| | |
| --- | --- |
| Magazine Type | 15+1 |
| Barrel Length | 3.27 inches |
| Overall Length | 6.8 inches |
| Weight | 27 ounces |
| Finish | Black |
| Grips | Polymer with interchangeable backstraps |
| Sights | 3-Dot |
| Ideal Use | Best for personal defense and range use |
Pros & Cons
Pros
High-quality Beretta design
Lightweight and snag-free for quick-draw CCW
Reliable and not picky with 9mm ammo
Aftermarket abundance
Ambidextrous safeties
Cons
Factory grips might not be for everyone
Most folks own a full-size pistol model from the Beretta 92 Series, which leads me to believe that the Beretta PX4 Storm Compact is unfairly overshadowed.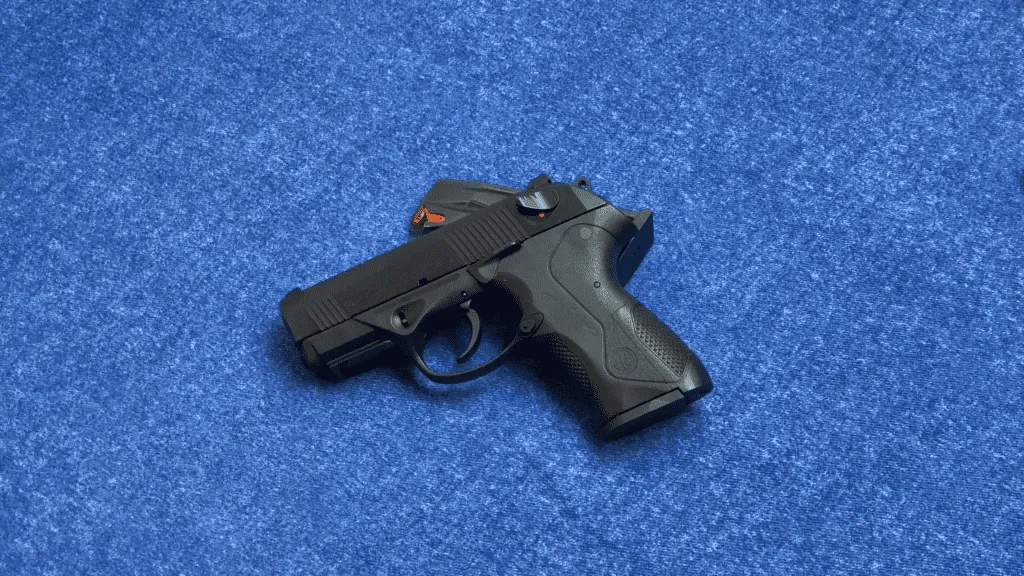 Don't let the name fool you; it's a subcompact. If you're looking for a snag-free 9mm pistol for EDC purposes, the Beretta PX4 Storm Compact might do the trick.
With a consistent, old-school Beretta DA/SA trigger, 15-round capacity, and a rotating barrel system that reduces recoil, the PX4 Storm Compact brings you a new dimension in concealed carry shooting.
The polymer frame is designed for both left- and right-handed users, and it has ergonomics suitable for medium-sized hands. The original grips are nothing special, but you can find a couple of great aftermarket ones, including the Talon Grips with more aggressive texturing.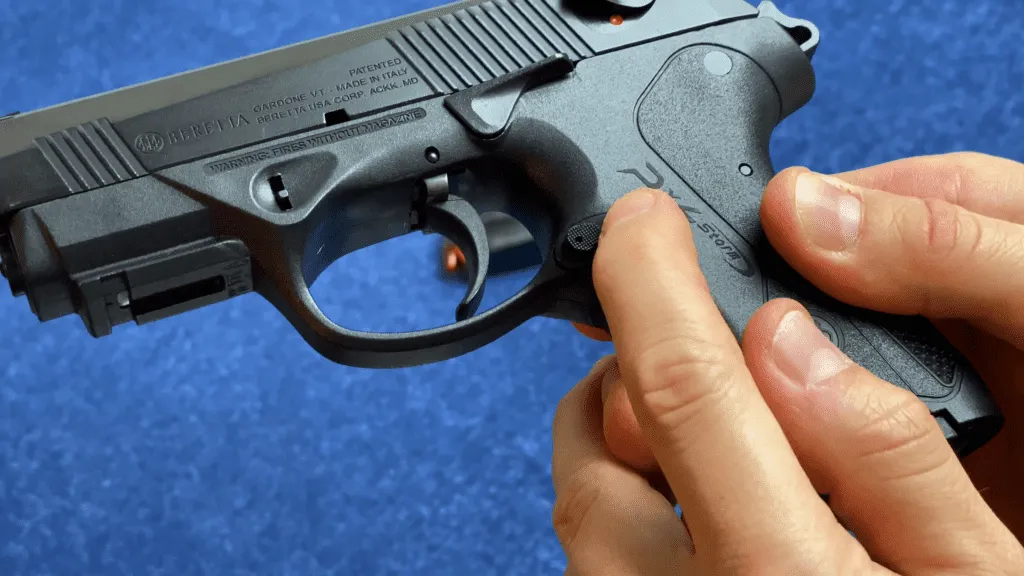 The safeties include a slide-mounted decocker, interchangeable magazine release, and an ambidextrous slide lock that requires some index finger action instead of using your thumb. Either way, it's pretty easy to get the hang of it.
Obviously, the PX4 Storm Compact is made for versatility that caters to most users' shooting styles, and it still retains its reliability, despite the highly modular construction. There's a .40 Smith & Wesson model that's also available.
Best Slimline 9mm Pistol – Glock G43X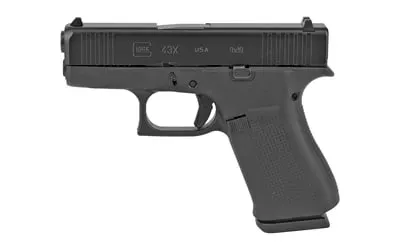 Specifications:
| | |
| --- | --- |
| Magazine Type | 10+1 |
| Barrel Length | 3.41 inches |
| Overall Length | 6.5 inches |
| Weight | 16.4 ounces |
| Finish | Black nDLC |
| Grips | Polymer |
| Sights | Fixed Glock sights |
| Ideal Use | Perfect for concealed carry |
Pros & Cons
Pros
It's a Glock with familiar controls
Unmatched reliability
Front and rear cocking serrations
Interchangeable parts with Glock 43
Isn't aftermarket-reliable in comparison to other Glocks
Cons
Difficult to find a holster for it
10-round capacity
I promise this is the last Glock on this list.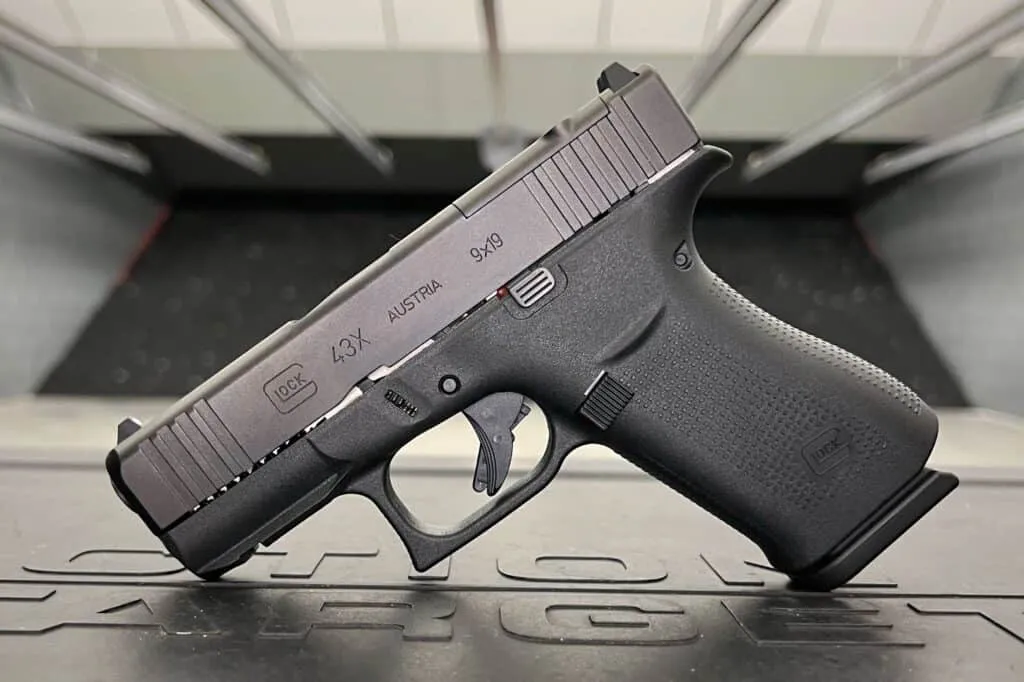 The Glock 43X is strikingly (pun intended) similar to a G48, only it's smaller and much more effective as a concealed carry weapon. We love it so much, we did a full Glock 43x review.
Expect fun shooting sessions without worrying too much about failures. The factory trigger allows quick follow-up shots, and though the recoil can kick a bit, it's easy to get used to it. It can eat anything but prefers 115-Grain boxes, as far as I'm concerned.
You got your front and rear cocking serrations just for good measure, and the grips aren't too bad either.
While you can find truckloads of Glock 43x upgrades, the G43X is a platform made to shoot immediately with only its factory parts. Sadly, since it has a different frame than a G43, there are not many holster options.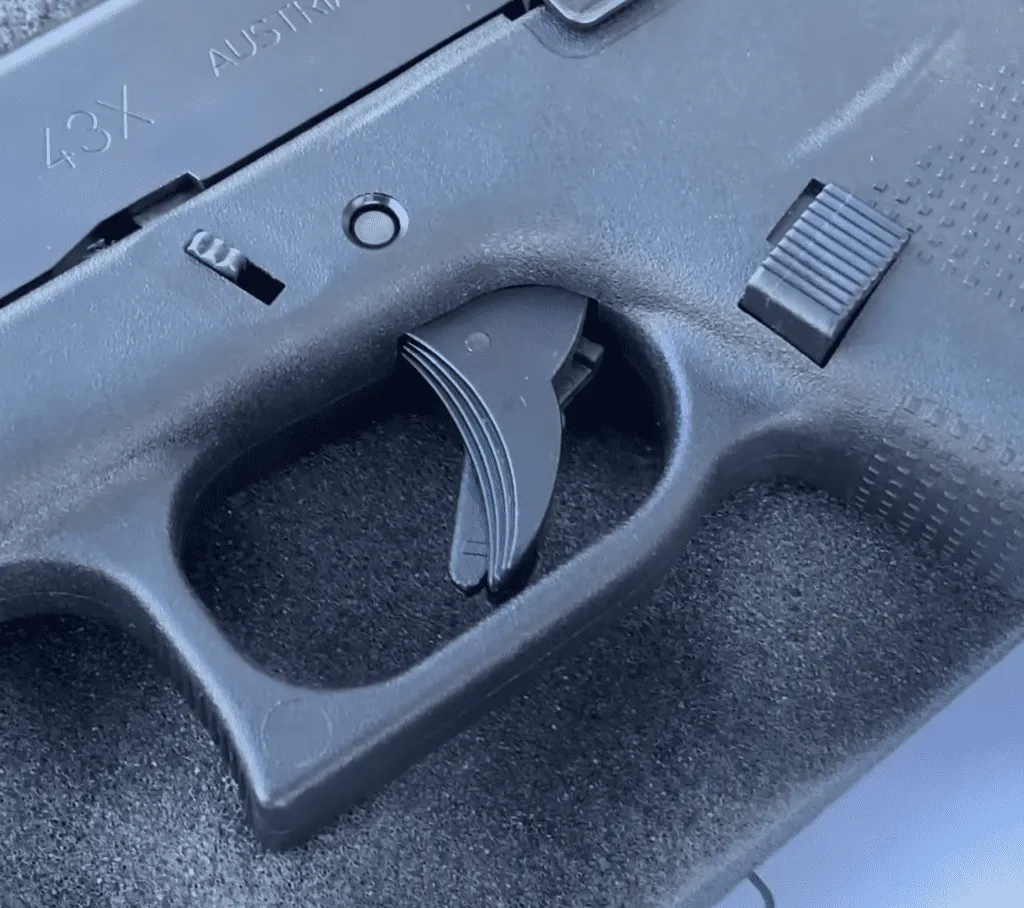 What Glock wanted to do with the G43X was put another subcompact high-capacity pistol into the race just to diversify the market a little. The Glock 43 was already a good one, but the six-round capacity was probably bothering some, so they turned it up to 10.
Best Ultra-Compact – Taurus GX4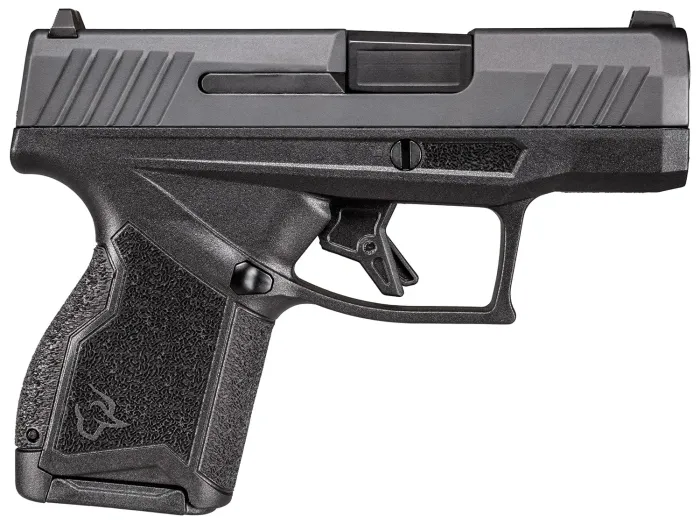 Specifications
| | |
| --- | --- |
| Magazine Type | 11+1 |
| Barrel Length | 3.06 inches |
| Overall Length | 5.8 inches |
| Weight | 18.5 ounces |
| Finish | Satin Black nDLC |
| Grips | Polymer |
| Sights | Fixed steel white dot front sights; Serrated, drift-adjustable rear sights |
| Ideal Use | Best for affordable concealed carry |
Pros & Cons
Pros
Great price
Beveled, snag-free edges suitable for EDC
Great trigger with a 6-pound pull
Easy to use
Recommended for medium-sized hands
Includes a pistol case, two 11-round magazines, and extra backstraps
Cons
No optics plate included (besides the Taurus GX4 T.O.R.O.)
While Taurus isn't known for top-notch pistol parts, they upped the ante with their overall quality. People seem to like the newer models like the Taurus GX4, and for good reasons too.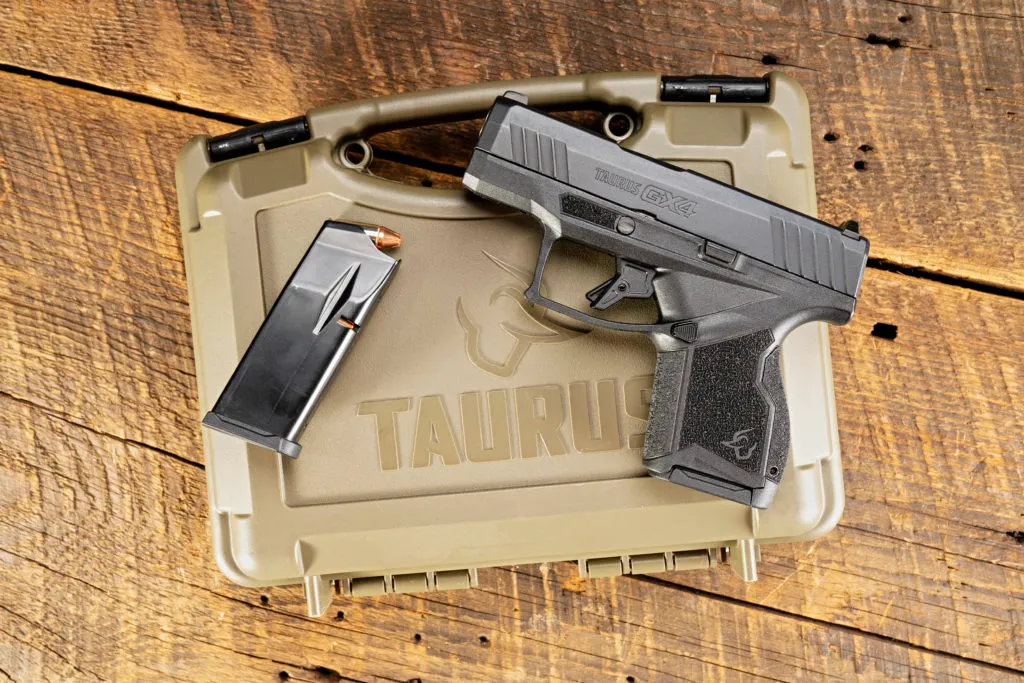 The Taurus GX4 micro-compact semi-automatic pistol is built for concealed-carry purposes. It's an inch wide but boasts a high capacity, similar to the Shield Plus and the Ruger Max-9.
Featuring a recoil pad, beveled edges, an easy takedown pin, and a nifty little flat-face trigger with serrations for added control, it offers a very comfortable shooting experience for a low price.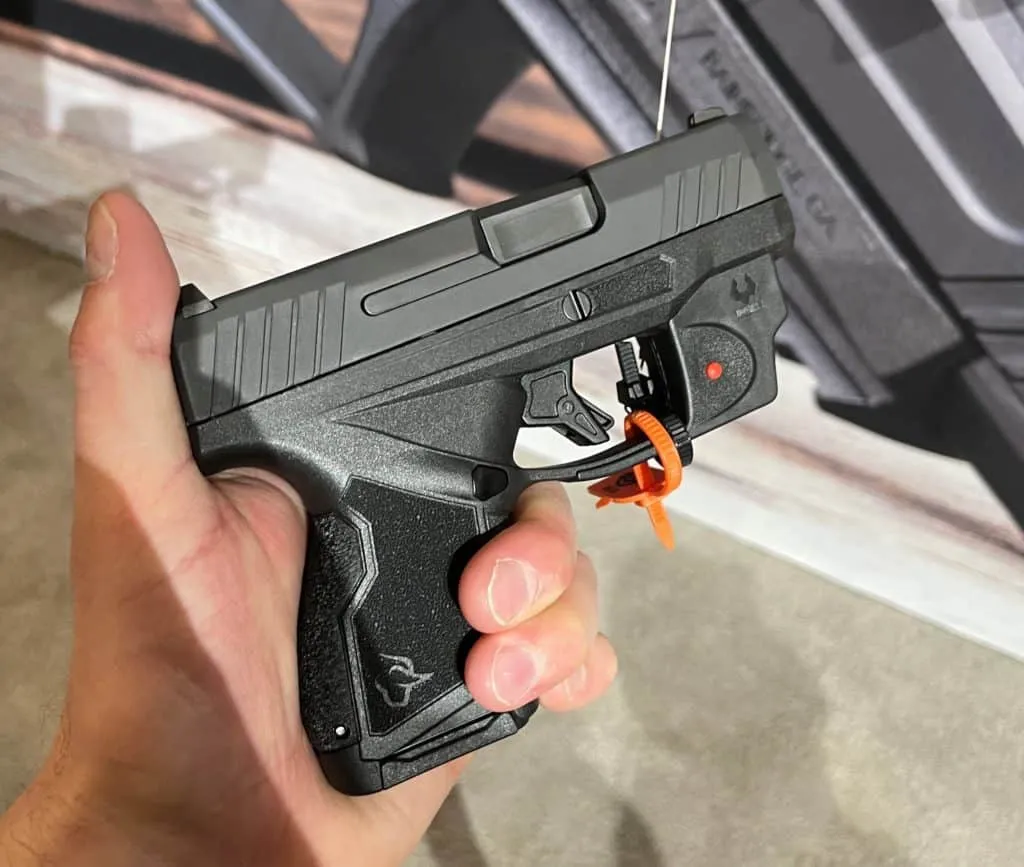 A stainless steel frame, slide, and barrel keep the Brazilian construction together, and the DLC coating is a solid finish for a gun with this price tag. There's no optics plate for your red dot sights, but that's what the Taurus GX4 T.O.R.O. is for.
If you're looking for an inexpensive, extra-small subcompact pistol, the Taurus GX4 is an overlooked little number that offers more than it promises.
How To Choose The Best 9mm Pistols
I'm sure that many will find their style in these pistols, be it self-defense and CCW, home defense, military combat, or shooting gallery fun.
If you want a newer model, it's a good idea to keep a clear head. While the newest features may seem very attractive initially, you should wait until they find the bugs and tweak all the issues before considering a purchase.
Just take a look at the SIG Sauer P238. The first models had defective safeties, which prompted a recall before they fixed it and turned it into a superb concealed carry weapon. Even the Smith & Wesson's Shield EZ reportedly shot more than one bullet after a trigger pull.
What's important is you try one out at the shooting range and see how it feels in your hand. Is the recoil too much? Is the take-down process too complicated? You get the picture.
Before we let you in on some tips for 9mm pistol shopping, let's clarify some things.
EXPERT TIP: Always be aware of the legal implications and requirements of owning a firearm in your area. Licensing, carry permits, and specific firearm restrictions can vary significantly.
The Difference Between Full-Sized, Compact, Subcompact, and Micro-Compact 9mm Pistols
There's no clear line, but here are some main differences between a full-size, compact, subcompact, and micro-compact pistol.
Full-Size Pistols
A full-size pistol has a barrel length of 4 to 5 inches. You have your full-size, single-stack pistols that hold around 10 bullets, or a double-stack magazine that can hold even more.
To differentiate, let's use Glocks as an example. The Glock 17 perfectly fits the category of a full-size handgun.
Compact Pistols
A compact pistol is smaller than a full-size, and the barrel length goes from around 3.5 to 4.5 inches.
Most compact pistols also have a smaller frame, are easy to conceal, and won't print under your clothing. Manufacturers make them thinner, so they usually have fewer bullets than full-size pistols.
A good example of a compact pistol is the Glock 19, the Glock 17's little brother.
EXPERT TIP: Don't overlook the importance of a good holster, especially for concealed carry. A quality holster not only ensures comfort but also quick access and safe retention of your firearm.
Subcompact Pistols
The smallest category of pistols is the subcompact, and they have between 3- and 4-inch barrels. They hold fewer bullets than compact pistols and are usually used for deep concealment and EDC.
When talking about subcompacts, a Glock 26 comes to mind.
Micro-Compact Pistols
Beyond the subcompact is the micro-compact category. As concealed carry has gained popularity, so has the demand for even smaller, more concealable firearms. The micro-compact 9mm pistols typically come with barrel lengths under 3 inches and, in some cases, closer to 2 inches.
Their smaller frame and shortened grip usually mean a reduced magazine capacity, but advancements in magazine design and technology have allowed some micro-compacts to hold almost as many rounds as their larger subcompact siblings. Despite their size, these pistols maintain a surprising degree of shootability and accuracy, making them a favorite for those prioritizing deep concealment without compromising firepower.
One notable example of a micro-compact 9mm is the SIG Sauer P365. Its revolutionary design and extended magazine options have made it a game-changer in the micro-compact market, setting new standards and expectations for what these tiny titans can achieve.
Ergonomics and Grips
Holding the gun is 95% of the whole experience. It would be best if you made sure the grip textures, contours, and placement of the safeties are up to your standards and personal satisfaction.
Proper target practice means spending long hours at the shooting ranges, and you don't want anything to feel weird or strain your palm. Even the slightest inconvenience can quickly become really annoying.
Look for pistols with replaceable grips that would complement recoil control. Some folks like straight grips, and others like a different grip angle, grooved, or slightly curved. What's important is that they need to fit perfectly in the palm of your hand.
Overall Construction, Durability, and Weight
When semi-automatic 9mm pistols are in question, you can use stainless steel or polymer frames.
Stainless steel pistols are durable and look very cool but are quite often heavy.
Polymer constructions are really lightweight, and they perfectly house EDC pistols.
Today's technology utilizes melonite, nDLC, and other fancy finishes that protect the gun from corrosion.
I'm convinced that all of these pistols have great durability and mechanism malfunctions rarely occur due to fragile polymer moving parts.
Get yourself a stainless steel Browning Hi-Power if you want something really cool. It's a classic semi-automatic pistol. FN Herstal has an improved version that also works like clockwork.
EXPERT TIP: Remember, the longevity of a 9mm pistol depends not only on its build quality but also on how well you maintain it. Regular cleaning and proper storage can significantly extend the life of your firearm.
Action Type and Trigger
There are single-action or double-action semi-automatic pistols.
Single-action pistols need you to pull the hammer before you pull the trigger to shoot. They have a very light trigger pull. This is the landscape of striker-fired pistols.
Double-action (D/A) pistols pull the hammer back at your first trigger pull, then release the hammer to fire once you pull the trigger a second time. D/A triggers don't need you to pull the hammer back.
How the trigger feels also dictates your shooting experience to an extent. You must consider the trigger pull, travel, and whether the reset is audible enough for you.
For casual shooters, I recommend shorter trigger pulls. On the other hand, pistols with longer trigger pulls prevent accidental discharge, and that's why police officers use D/A.
Aftermarket Support
Some casual shooters don't want to pay more for upgrades, but if you're willing to tweak your 9mm pistol, look for modular ones with Picatinny mounting rails for your flashlights and optics.
Evaluate whether or not you just want a pistol that shoots straight out of the box like a Springfield Armory XD-M Elite Compact and the Smith & Wesson Performance Center M&P 9 M2.0, or you're looking for something that you can turn into a tank.
While extended magazines offer more bullets, new sights and optics offer great for target acquisition, and new grips offer better stability, you need to consider the holster.
The holster you choose is very important, especially if you want something that can be used as EDC for self-defense. Trust me; you don't want to spend money on a gun that doesn't fit a holster of your choice.
9mm Ammo For Your Handgun
When selecting the best 9mm ammo, it's crucial to consider the purpose, whether it's for self-defense, target practice, or tactical use.
Different scenarios call for different types of ammunition. For instance, training with the same grain weight as your defensive ammo is wise for consistency in performance. The grain weight impacts recoil, with lighter bullets offering less recoil. This choice is essential for comfort and effectiveness in shooting.
9mm ammo varies significantly in quality and application. For self-defense, rounds like Speer Gold Dot, which undergo rigorous testing and are trusted by law enforcement, are recommended. On the other hand, range ammo like CCI Blazer Brass and Federal Syntech Range are praised for their reliability and cost-effectiveness, though they may be dirtier or less suitable for self-defense.
Understanding the difference between range and self-defense ammo is key, as they have different designs and purposes.
Ultimately, the best 9mm ammo depends on individual needs and the firearm in use. Critical considerations include reliability, cost, consistency, and the specific gun's compatibility with the ammo. It's not just about choosing any ammo but selecting the right type for your specific situation and gun.
For more detailed guidance and recommendations on the best 9mm ammo for various purposes, check out our comprehensive guide.
Conclusion
The 9mm semi-automatic pistol is a reliable, well-made machine. While the 9mm bullet has less recoil than most calibers, it's still powerful enough to stop assailants, small enough for the 10+ round capacity, and cheap and almost always available.
All of these 9mm pistols are someone's first choice among gun owners, and most of you might already own many of them.
You can never go wrong with the good old Glock 19, a Sig Sauer P320 Compact, or a Sig Sauer P365 XL. They are legendary firearms tested and proven time and time again, and there's a good reason why people buy the same gun despite having one already.
Note that I only listed semi-automatic 9mm pistols. Perhaps I'll follow it up with a full handgun guide that also covers 9mm revolvers in the near future.
And if many of these handguns are too pricy, check out our guide on budget 9mm handguns.
Until then, stay safe and shoot straight.
Explore more