4 Best .22 Suppressors: Silent Shooting for .22 Caliber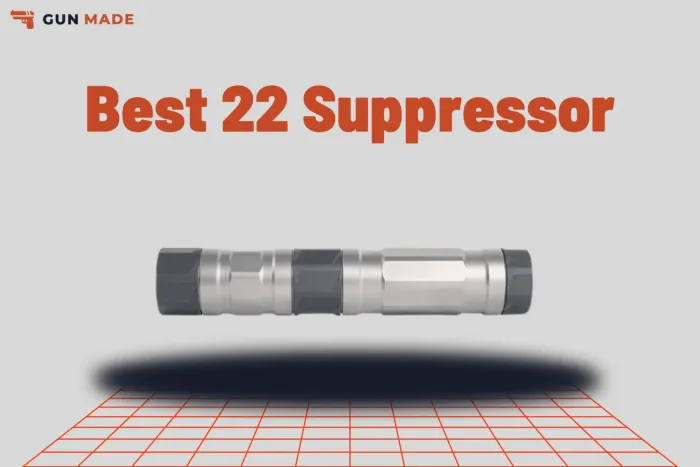 4 Best .22 Suppressors: Silent Shooting for .22 Caliber
If you're looking for the best .22 suppressor on the market, you don't have to look any further. We've been on the hunt for them ourselves, and we've made a list of the ones we liked the most.
Getting your hands on suppressors can be challenging. Not only are they expensive, but the ATF also has to get their piece of the pie and keep your suppressor in a little place we call "ATF Jail."
That means it will take you a while to get one. And not only do you have to buy it, but you have to pay $200 to the ATF along with the paperwork.
Nobody has time for that.
Luckily, we have a lot of friends in the gun industry who were able to give us their input for the best .22 suppressors (which eventually turned into .50 caliber suppressors, but we know how that goes.)
Like Brady once said, don't be confusing a suppressor for a "silencer." Nothing is ever as quiet as you see on T.V. At the very least, you'll hear the action and firing pin striking the bullet.
Let's dive in and find out which is the best for you.
Oh, and before we start, "can" is a slang term for a suppressor.
Best .22 Suppressors
Before we get started, we actually put together a short video for those of you on a budget. If you're looking for some of the best budget .22 suppressors, go watch our review below:
Now, back to our top-rated .22 suppressors on the market, regardless of price!

Specifications
| | |
| --- | --- |
| Sound Reduction | 108Db (Rifles) 117 Db (Pistols) |
| Baffles | Removable |
| Weight | 6.5oz |
| Length | 5.75in |
Pros & Cons
Pros
Multi-caliber

Removable sections

Hollywood quality quiet
Cons
Often Out of Stock

A bit heavier than the other options 

Different configurations may confuse some
The SilencerCo Switchback .22 gives you more than what the name suggests. The Switchback gives you some of the best sound suppression on the market and works with pistols and rifles.
Which is great. I mean, do you want to give the ATF another $200?
Of course not.
Not only can you fire .22 out of the Switchback, but it is also capable of suppressing firearms chambered in FN 5.7×28 and .17 HMR.
Of course, the decibel range will be slightly different with those rounds. Expect 117.9 decibels at full length with the 5.7×28 and 114db with .14HMR, respectfully.
What do I mean by full length? I'm glad you asked.
The Switchback has three adjustable lengths (with different levels of suppression, of course) and breaks down into multiple pieces so you can easily clean up the inside without worries.
With the three adjustable lengths, you have a suppressor that can go from a total length of 5.75 inches down to 2.5 inches in its shortest version.
At full length (with .22), you can expect a decibel range of 108 dB for rifles and 114 dB for pistols.
A medium size exists at 3.59in and gives you a decibel range of 129db for pistols and 118db for rifles.
At its shortest length, which sits at 2.5 inches, you will find your decibel range around 143db for pistols and 126db for rifles.
One step closer to James Bond suppression.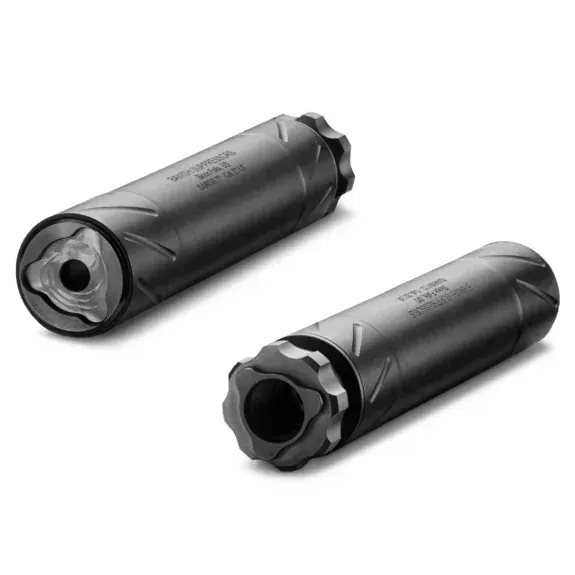 Specifications
| | |
| --- | --- |
| Sound Reduction | 113Db (Rifle) and 120Db (Pistol) |
| Baffles | Yes |
| Weight | 4.1 Ounces |
| Length | 5.3 |
Pros & Cons
Pros
Rated for Full-Auto

Multi-calibered

40-42db sound reduction
Cons
A bit more expensive than other suppressors

Gets dirty easily

Direct thread (no quick detach)
This isn't the first time we've fell in love with a Banish suppressor, we liked the Banish 45 so much that it sat at the best overall spot in our best 9mm suppressor list.
And it definitely surprised us again when coming up with this list for the best .22 suppressor.
How so? Well, much like the SilencerCo Switchback, the Banish 22 is built to be used on both pistols and rifles.
Also, the Switchback can suppress other firearms chambered in 5.7×28 and .17HMR.
The only real difference we noticed is the ability to adjust the suppressor's size. This isn't possible on the Banish 22.
But that's okay, the length only comes in at 5.3 inches, and you get a 40db to 42db of noise reduction with this suppressor, and guess what else?
It's rated for full-auto as well!
While that may not sound like a big deal (since we cannot own fully automatic weapons), it shows how well-built the Banish 22 is.
When shooting a suppressed weapon at full auto, eventually, the rounds get louder. It has something to do with the laws of physics.
Things heat up, and the ability to suppress rounds worsens as things get hotter. Unless you have a suppressor built well enough to handle all the heat in the kitchen, like the Banish 22.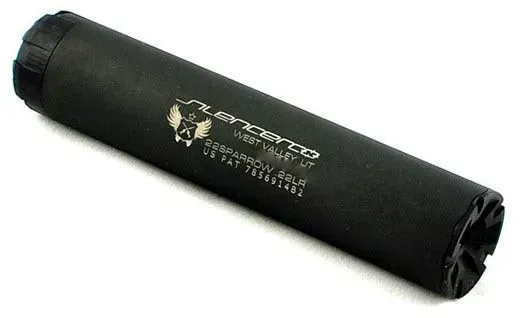 Specifications
| | |
| --- | --- |
| Sound Reduction | 114Db (Rifle) and 108Db (Pistol) |
| Baffles | Monolithic Core, removable. |
| Weight | 6.1 Ounces |
| Length | 5.1 Inches |
Pros & Cons
Pros
Lightest on the list

"Hollywood quiet"

Multi-Caliber
Cons
Direct Thread (No quick detach)

Monolithic core may be harder to clean

Gets dirty easily
Another SilencerCo product?
Hey, what can I say? They make a great suppressor.
The Sparrow couldn't have a better name. It's 5 inches and weighs only 6.1 ounces, with a 1-inch diameter. Needless to say, it's pretty small.
But that does not take away from how badass this little can is. It's rated for full auto, the same as the Banish 22, which tells you how well-built it is.
And you can also suppress other weapons chambered in .17HMR and 5.7×28, like the SilencerCo Switchback and Banish 22.
And the noise cancelation is world-class, with only 112 decibels, well below safe hearing levels. With ear protection on your head, you won't be able to hear the round at all.
So long as you are using sub-sonic ammunition, of course.
.17 HMR is a bit louder at 124.5 decibels and 127.7 decibels for the 5.7×28, respectively.
Cleaning the Sparrow is a breeze as well. The suppressor splits in half (after you unscrew the back cap), revealing the monolithic core that can easily be put into an ultrasonic cleaner or scrubbed with a toothbrush and a towel.
Although the Sparrow has been around for quite a while, and some shooters may deem the technology obsolete, the Sparrow is still perfect for those who want to own a great suppressor that can keep the noise down on both their rifles and pistols.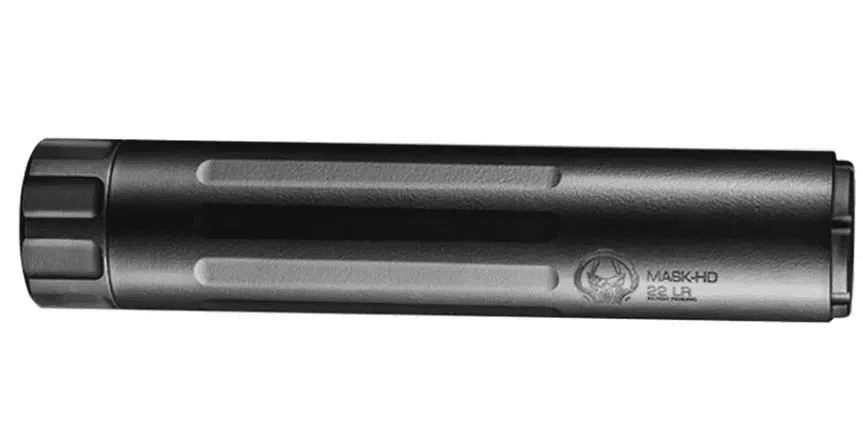 Specifications
| | |
| --- | --- |
| Sound Reduction | 115 (Rifle) and 115 (Pistol) |
| Baffles | Removable |
| Weight | 6.6 ounces |
| Length | 5.1 inches |
Pros & Cons
Pros
Multi-Caliber

Easy to clean

Full-Auto rated
Cons
Heaviest on the list

No quick detach (direct thread)

Gets dirty quickly
The DeadAir Mask HD was another one of those suppressors that we couldn't get our minds of off. Then again, we tend to favor suppressors rated for full-auto.
You know what that means. It's built well, and suppression won't give up on you so easily when the heat starts accumulating under sustained fire.
Like many of the suppressors on this list, the DeadAir Mask HD is capable of hushing up more than just a .22. Yes, that means you can keep the sound down on your .17HMR and FN 5.7×28 rounds as well.
One of the designs we favored in the Mask HD is the ridges that hold the baffles in place. Not only does it help when putting it back together (not confusing the placement of the baffles and all).
But it deters the lockup of the suppressor.
What is lockup? Great question. You're on a roll here.
Lockup is what happens when you forget to clean your suppressor and allow the carbon buildup to, well, build up.
Since the DeadAir Mask HD has ridges and stuff on the baffles that keep it from coming in full contact with the suppressor housing, you won't have to break out in panic mode when you remember that it's been about 7,000 rounds since you cleaned your can.
That may not seem like a big deal, but let me tell you, from experience, it makes a big difference.
Well built, easily cleanable, and extremely quiet (with subsonic ammo).
How We Chose our Top Picks
Admittedly, choosing the best .22 suppressor wasn't easy. There were a bunch of variables that we took into consideration. One of them is the ability to use one for multiple weapon platforms.
Since the ATF and NFA have their grip tight around suppressors, we wanted to make sure you don't have to buy more than one. All of the suppressors on this list can be fired from pistols and rifles alike for that reason.
Rimfire cartridges are dirty little rounds, so being able to strip down and clean it had to be easy to make it on the list. We don't want you to have to jump through hoops when you want to clean it up.
The Decibel range was important as well. Who doesn't want Hollywood-quality silence from their suppressor? Some of these suppressors are so quiet that you think you're shooting a BB gun. Great for picking off some varmints without being so loud that you scare them away before you nab a few.
Buyer's Guide
Hold on, hold on. Before you go whipping out your wallets to buy a suppressor, there are a few things you should think of before sealing the deal and putting your suppressor in ATF jail.
How Long To Get My Suppressor?
Since the ATF likes to play with our 2nd Amendment every chance they get, it takes them a bit to clear your suppressor. The ATF reports that once you file an eForm 1, it will take you 60 days, or two months, to receive a response.
It can take longer. Remember, they can drag their feet with the process for a while. I've had many buddies with squeaky clean records have to wait six months or more just to get a reply.
Hopefully, that won't happen in your case. Just remember, you will have a couple of hundred dollars tied up for a while. So, make sure you have the patience and funds to do so.
Kind of weird, though. The ATF says that suppressors are not considered firearms, therefore, not protected under the 2nd Amendment. If that's the case, what jurisdiction do they have over them? Your guess is just as good as mine.
What Suppressor Should I Be Looking For?
It depends on you. Are you going to be using your suppressor on both pistols and rifles?
If that's the case, make sure you have something compatible with both.
How often do you plan on using it? If you plan on sending hundreds or thousands of rounds down range, you want something that is rated for full-auto and cleaned easily.
The last thing you want is to have a suppressor that can't be cleaned easily, and having all that carbon buildup on the inside can seriously lower the life of your can.
That's the last thing you need. So, make sure it is compatible with pistols and suppressors, it can be broken apart and cleaned easily, and it's rated for full auto.
For those reasons, we tried our best to make sure all the suppressors on this list have all of those features.
How to Clean Your Suppressor
Rimfire cartridges are extremely dirty, so we always recommend cleaning your suppressor after each range day. As stated before, the last thing you want is carbon buildup in your can.
Anyway, cleaning your suppressor can be a breeze. Always refer to the owner's manual that comes with your suppressor before starting this process; since they make them, they surely know the best ways of keeping them clean.
Outside of that, strip it down, and get yourself a nylon brush and cleaning solution. Scrub the baffles as best as you can, and give the inside of the tube a cleaning as well.
We do not advise using any vibrating tumblers since this can cause issues with the finish and even the threads of your suppressor.
Different materials on suppressors will determine what you can and cannot use when cleaning them. As stated before, refer to the owner's manual.
FAQs
How long do suppressors last?
Unfortunately, suppressors do wear out over time. Well-built suppressors can last you more than 30,000 rounds, but suppressors that endure rapid firing wear out quicker.
How do suppressors affect accuracy?
Yes, they do. Sometimes in good or bad ways. Just make sure your setup is of good quality, and you may see some slight improvements with your weapon while it's suppressed.
How loud is a suppressed .22 with subsonic ammo?
Subsonic ammo drastically reduces the sound when used with your firearms. That's because it travels slower than the speed of sound, so no supersonic "whip."
Depending on your suppressor, you can get 140 decibels down to 110db when you use subsonic ammo and a suppressor.
Conclusion
While suppressors can be hard to get your hands on, they will pay you back with the amount of fun you'll have while also keeping varmints at bay and not upsetting the neighbors.
Whether you're shooting rifles or pistols, I always recommend the SilencerCo Switchback due to its 114-decibel capability and usability to be used on both platforms. Not to mention you can also shoot FN 5.7 out of it as well, for those ballers out there who like to hunt in style.
We hope we were able to aid you in your quest for the best .22 suppressors, and we hope you have as much fun as we did when you pick up one of your own.
Explore more