5 Best AR-15 Bolt Carrier Groups: A 2023 Buyer's Guide Based On Experience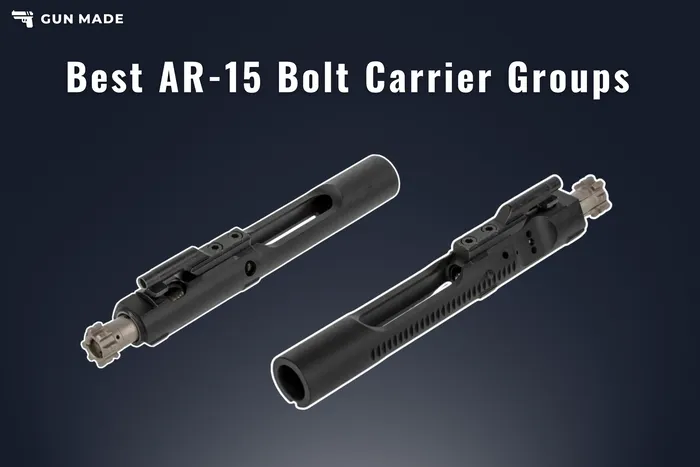 5 Best AR-15 Bolt Carrier Groups: A 2023 Buyer's Guide Based On Experience
Introduction
If you're looking for the best bolt carrier group (BCG) on the market, you're in the right spot.
It doesn't have to be painstakingly hard to find a BCG when you actually come to the guys who run their gear and don't get paid to push garbage. Yes, I'm throwing shade.
Frequently, I see people running bolt carrier groups that are better off as either a fancy paperweight or in the trash, and unfortunately, I see plenty of 'gun blogs' pushing said products.
But I'm here to ensure you don't fall for the BS.
The downside is you will have to spend some bread if you want the best. Adopting the 'buy once, cry once' mentality will help you in the long run.
I understand that it can be hard at times to do so since there are bills to pay, children to feed, and things to fix around the house, but buying cheap now will only make you spend more in the long run. We'll talk more about that in a minute.
Let's jump into these BCGs. These are the best BCGs that I've personally had the best luck with, or my shooting buddies have.
And NO, no one has paid me a cent. This list is based on the hard testing of at least 100 AR-15s.
Best AR-15 Bolt Carrier Groups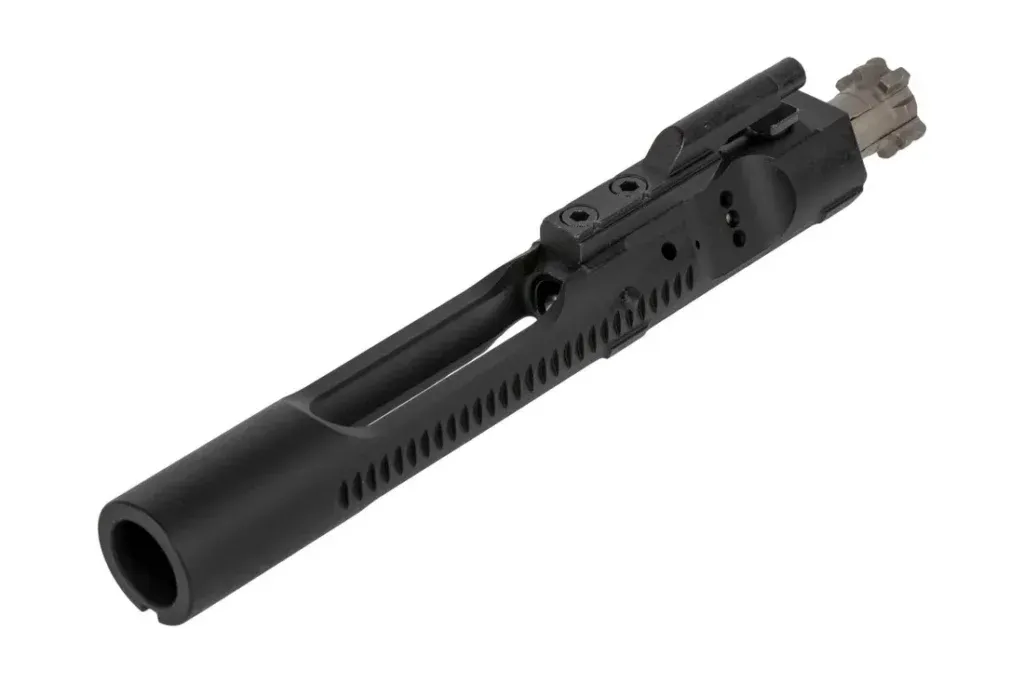 Specifications
| | |
| --- | --- |
| Bolt Material | Proprietary Steel |
| Inner Coating | Proprietary Hard Film |
| Outer Coating | Phosphate |
| MPI/HPT Tested? | Yes |
| Shot Peened? | Yes |
Pros & Cons
Pros
Modified gas opening enhances gas feeding into bolt tail

Additional gas ports to keep gas away from the shooter's face

Quality materials for durability
Cons
You're paying for what you get – it's pricey

Can be tricky to find but not impossible
LMT (Lewis Machine & Tool Company) has been known for putting out some of the best products when the time calls for it. It's won military contracts with the New Zealand Army and has quality comparable to Knights Armament. You can say LMT has a knack for going the extra step that manufacturers tend to avoid.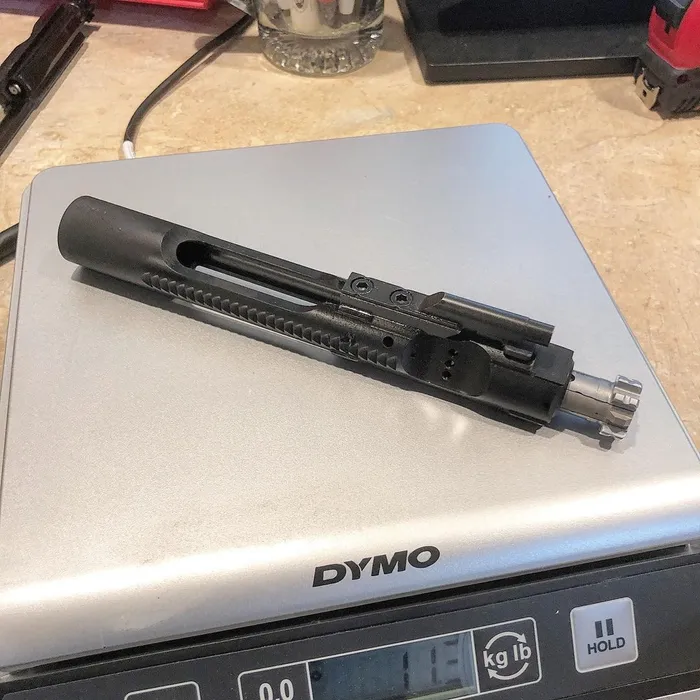 All of that comes at a price. And you can bet that you'll pay a premium for it.
But here's why I recommend the LMT Enhanced BCG for the top spot…the reliability is top-notch. It is the best at doing what it's supposed to do. No matter if you run your firearm suppressed, on full-auto, or in a short-barreled system. When you pull the trigger, the rifle will go bang.
And if it doesn't, you can bet it's not the fault of the bolt carrier group.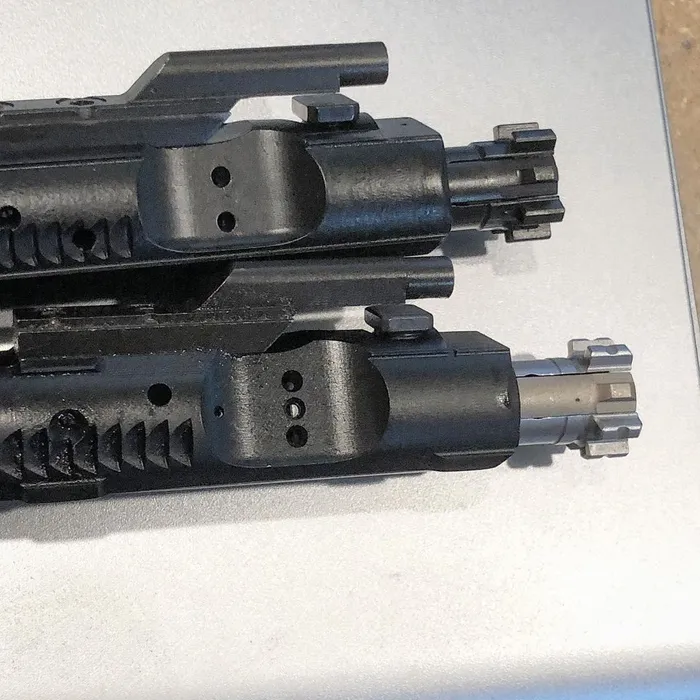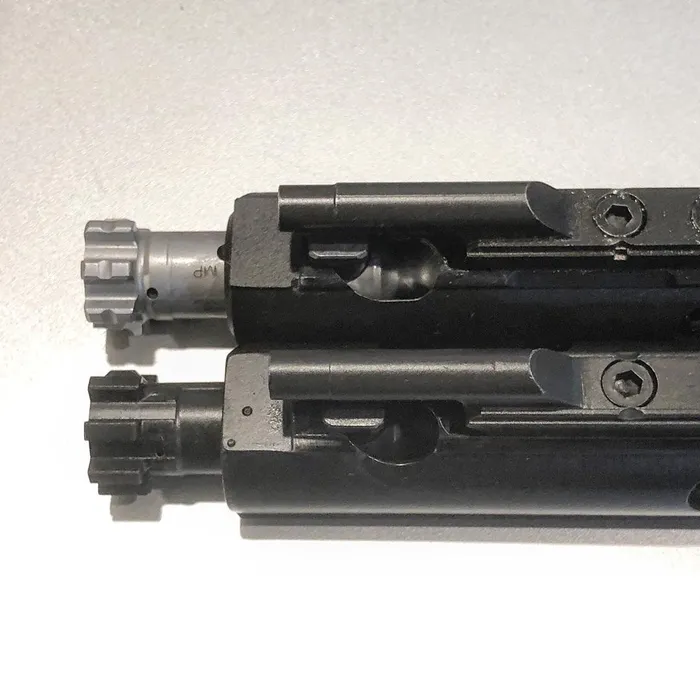 I have about six or seven of my buddies who run these BCGs on their rifles, and they have never had any issues. Even with 40+ thousand rounds through them and counting, it still runs like nothing I've ever seen.
From the altered cam path that allows for better extraction of the spent shell casing to the usage of Springco springs (which are the best on the market), and the extra gas port to direct the gases away from your face, there are plenty of features making this a perfect choice for the top spot.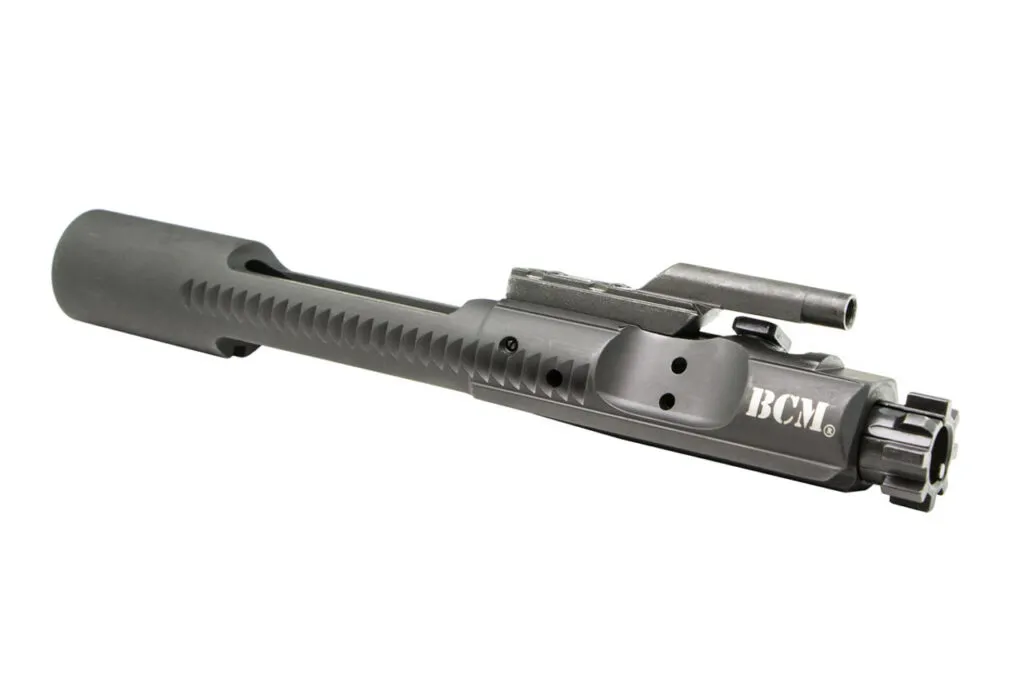 Specifications
| | |
| --- | --- |
| Bolt Material | Carpenter 158 Steel |
| Inner Coating | Chrome Lined |
| Outer Coating | Phosphate |
| MPI/HPT Tested? | Yes |
| Shot Peened? | Yes |
Pros & Cons
Pros
Works harder than BCGs three times the price

Fair price for a top-tier bolt carrier group

Always in stock, so it's easy to find
Cons
Have to oil frequently due to phosphate coating
Bravo Company Manufacturing is one of those excellent companies that deliver top-tier parts at a mid-tier price. I've put my 14.5" MCMR with this bolt carrier group through hell and back, and she keeps returning for more.
Her name is Bertha.
Oddly enough, this bolt carrier group is the most frequently used BCG amongst all the AR-15 builds in my shooting community. As I said a second ago, I use it myself. And I haven't seen a need to change it even after 20,000 rounds.
That's why it sits in the best value spot for this list.
Sure, there are cheaper bolt carrier groups out there. But, in my experience, no BCGs are beating the BCM bolt carrier group regarding reliability, ruggedness, and overall performance unless you spend more dough.
And among the community of people who actually run their rifles the way they should be, this bolt carrier group is the standard. Buying anything less is just a disservice to yourself.
The only downside is not being able to run it without oil like some of the smoother-finished BCGs due to the phosphate coating. Don't worry, just slather a Mobil1 grease/oil combination on your BCG and upper walls, and you're good to go for a while.
Remember, phosphate holds onto lubrication well.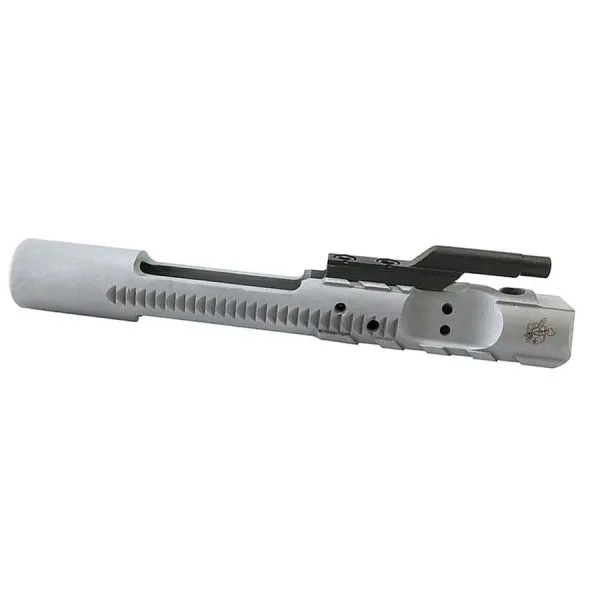 Specifications
| | |
| --- | --- |
| Bolt Material | Proprietary Steel Blend |
| Inner Coating | Chrome (From Bolt Coating) |
| Outer Coating | Chrome |
| MPI/HPT Tested? | Yes |
| Shot Peened? | Yes |
Pros & Cons
Pros
Channels for continued function in adverse conditions

Chrome finish for smooth and reliable function

No need for an extra coating
Cons
Anything Knights Armament = Pricey

Stock runs out quickly

Usually comes without a bolt
Knights Armament is a company that doesn't need too much of an introduction unless you are new to the AR-15 community. I won't say it makes the best high-end rifles in the game because anyone who makes that blanket claim is absurd, but it's definitely up there.
Do you know what that means? Money. Dinero. Bread. A lot of it.
The same thing goes for its parts; the Sandcutter is no different. It's built for being in a rifle that will be used, abused, thrown around, and expected to function reliably still.
The 'Sandcutter' name is due to the channels that allow for reliable function even if there's debris in your system. These channels 'cut' through anything that may obstruct function and ensure a boom when you pull the trigger.
I've seen it do a pretty good job at doing that. It could partially be due to the chrome finish on the BCG itself, which has more lubricity than other coatings.
Should you fully trust this BCG just because it comes from Knights? Hell no. I've seen plenty of its parts have issues. However, I have had good experiences myself.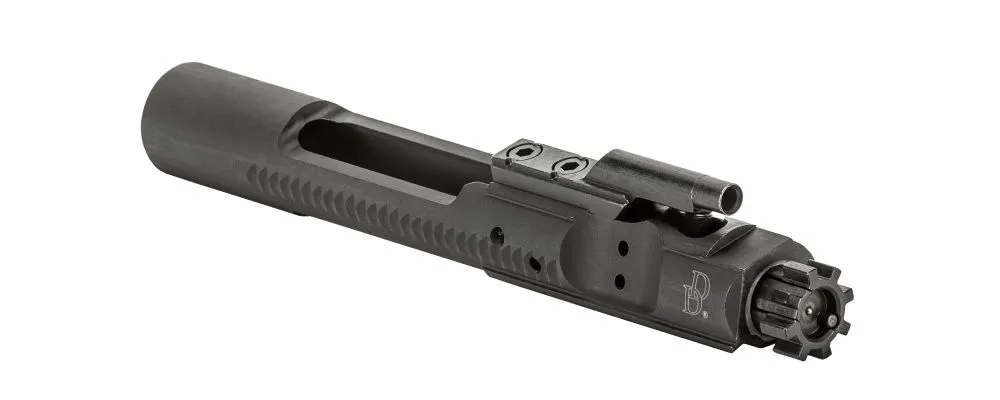 Specifications
| | |
| --- | --- |
| Bolt Material | Carpenter 158 |
| Inner Coating | Chrome Lined |
| Outer Coating | Phosphate |
| MPI/HPT Tested? | Yes |
| Shot Peened? | Yes |
Pros & Cons
Pros
Phosphate coating holds onto lubrication 

Consistent quality control (lower number of bad BCGs)

The staking on the gas key screws is the best on the market
Cons
Have to be sure there is a good amount of lubrication

Basically a BCM but more expensive
I've always said that an article on AR-15s isn't complete without at least one mention of Daniel Defense.
And it ain't a regular drive through the countryside if you don't see at least one DD sticker on the back of someone's Silverado. Usually accompanied by a Smith and Wesson sticker.
I'm not one to put gun stickers on the back of my truck, but I can understand why people like representing a good company. In my personal experience, as far as consistent quality goes, DD is one of the top manufacturers.
Its bolt carrier group backs up my statement. While the Daniel Defense BCG is nothing to really write home about, with nothing particularly setting them apart from a standard Bravo Company bolt carrier group, the DD BCG just does what it has to do.
And it does it effectively.
I'd like to think that if you don't have an issue with your BCG, then it's probably a good one. One of the guys in my shooting group, Brandon, runs a DD BCG on his 11.5-inch AR-15 and has never had an issue.
Even when the guys with the Gucciest bolt carrier groups were.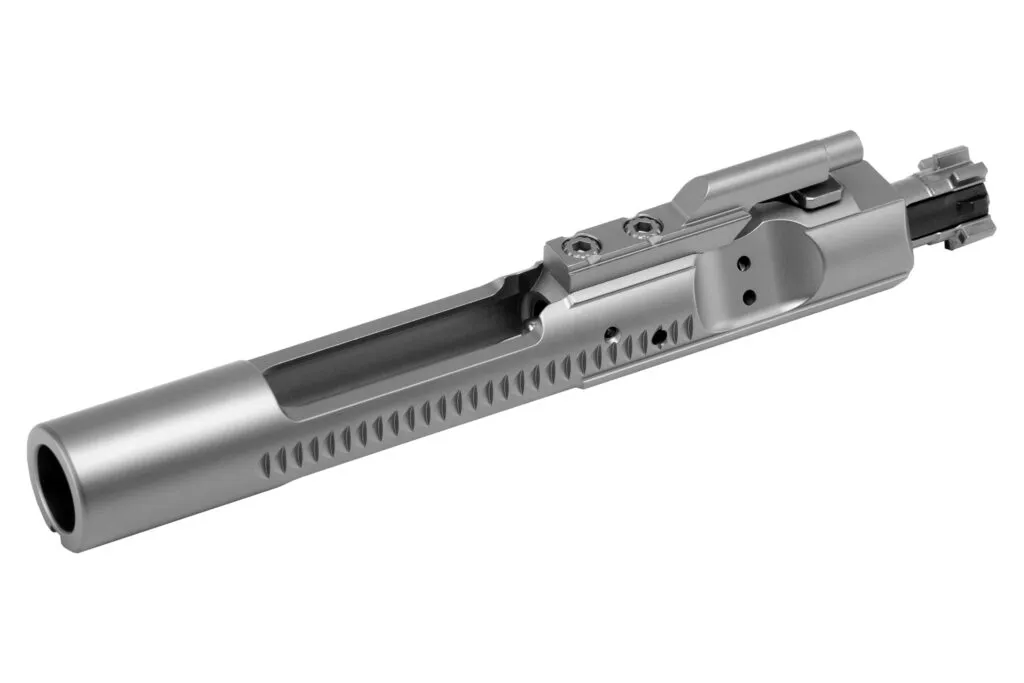 Specifications
| | |
| --- | --- |
| Bolt Material | Carpenter 158 Steel |
| Inner Coating | NP3 (Teflon) |
| Outer Coating | NP3 (again, Teflon) |
| MPI/HPT Tested? | Yes |
| Shot Peened? | Yes |
Pros & Cons
Pros
Teflon coating impregnates its rubbing points with Teflon (smooth)

Springco extractor spring

The extractor is phosphate coated (reliable ejection over NP3)
I had to save one of the best for last, and this bolt carrier group really does kick ass. This BCG is smoother than a Brazilian wax and coats the inside of the upper receiver with Teflon (NP3) after shooting it for a while.
There are plenty of high-end parts in this bolt carrier group. It features a Sprinco extractor spring, OCKS screws that hold the gas key in place, and an NP3 treated bolt and cam pin.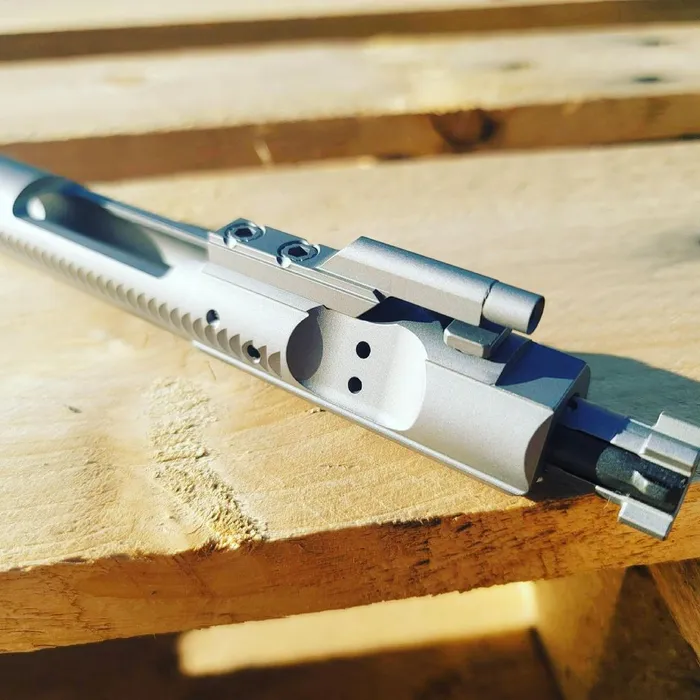 The quality is consistent with the correct tolerances that allow for smooth functioning, no matter your setup.
Surprisingly, it doesn't break the bank even with the quality goods that make up this BCG. Actually, it's a great price.
While I don't necessarily recommend shooting this BCG dry for long, I've seen plenty of the boys get away with running them lube-free plenty of times. So if you leave your lube at home, don't worry; this one doesn't dry out quickly.
How We Chose Our Top Picks
Fortunately for me, I have a massive group of friends with more money than sense. They are also highly knowledgeable, though, with some of them being graduates of the Sonoran Desert Institute.
There are about 100 of us, all with different rifle builds. We've traded parts, tested them, and kept what was best.
When I curated this list, many of us sat in a group chat deliberating, recalling past testing, making jokes that are way too inappropriate for the internet, and talking about which bolt carrier groups should NOT be on the list.
In the end, these BCGs made the cut.
Bolt Carrier Group Buyer's Guide
Before you buy your bolt carrier group, there are a few things you should consider. BCGs are the most important part of the firearm and hold all of the components that make the gun go boom.  
So, you should make sure you do your due diligence when choosing one. And don't always go for the 'budget' option, especially if you plan on running this rifle in a SHTF or home defense scenario.
Unless, of course, it's the value option that I mentioned. The Bravo Company Manufacturing BCG is the cheapest I'd recommend.
Your bolt carrier should be at least made of Carpenter 158, shot peened, magnetic particle inspected/high pressure tested, and have a chrome lined inner coating. Of course, there are way better materials than Carpenter 158, but this is just the standard.
Why is any of this important? I'm glad you ask.
The modes of testing (MPI/HPT) are pretty standard for BCG makers. You don't want a magnetic bolt carrier group, as it can cause magnetic pieces to get stuck and cause massive issues. Same risk if the BCG is not high-pressure treated.
Many companies do this with multiple carriers simultaneously, which can allow some bad apples to fall through.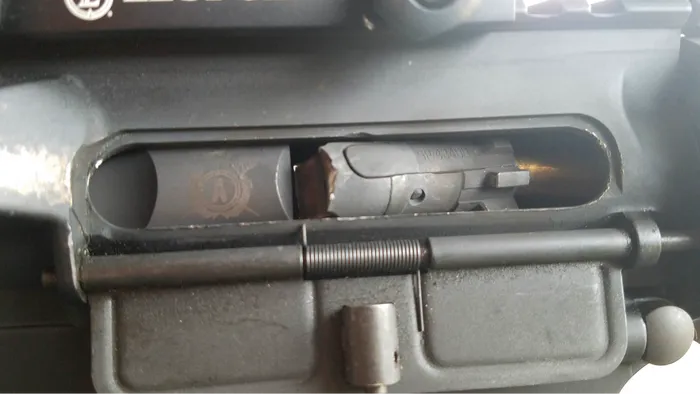 And, the chrome inner coating helps the bolt move freely with less friction.
When looking for a bolt carrier group, make sure that it, at a minimum, meets these standards.
Bolt Carrier Group Coatings/Finishes
The coating/finish on your bolt carrier group can either help or hinder its success. I will go in order of my favorite to least favorite (and obviously, what I recommend the most to the least.)
Again, I'm not saying that every bolt carrier group with these coatings and finishes will serve you well, but they have served my team and me well over the years.
Chrome Finished
Chrome was the original coating on the bolt carrier groups that Eugene Stoner put in his M16 platform. Chrome works well in harsh environments and lowers the amount of wear over time.
Finding a bolt carrier group with a chrome coating can be challenging at times since manufacturers of BCGs have improved on coatings in different ways. They can also be expensive, but chrome carriers tend to be manufactured well.
However, your extractor should not be made of chrome. Chrome is too slick for that purpose and should be swapped for one made of phosphate.
Phosphate Coated
Phosphate is the more common coating/finish you find on bolt carrier groups. Especially those that are 'mil-spec' due to how inexpensive it is.
And they do well. The Bravo Company Manufacturing BCG that I recommended is made from phosphate.
This coating is known for its durability. The only issue with phosphate is the need to be oiled due to its rough nature. Thankfully it holds the oil well.
I recommend an oil/grease combo if you plan on running it hard for a prolonged period.
NP3 Coating
NP3 is one of your more expensive coatings. NP3 uses Polytetrafluoroethylene (Teflon) with electroless nickel to provide a slick surface that actually rubs off on the friction points where the BCG sits in the upper receiver.
This gives off a long-lasting and durable finish that doesn't need to be oiled or greased as often as phosphate or some of the other common coatings.
Your extractor should not be coated with NP3. Like Chrome, it's too slick to function reliably. The more grip, the better.
Diamond-Like Carbon (DLC)
DLC is the most durable coating in my experience. Especially when the company does it right, these coatings are damn near corrosion-proof and scratch-resistant and will last you years of service.
DLC coatings also have low friction, so you don't have to worry about oiling them all the time.
Black Nitride
This coating is produced by diffusing nitride into the metal, which is more like a treatment than a coating or finish. This treatment results in a hard-surfaced bolt carrier group that is resistant to corrosion and wear.
Smooth as well.
The issue is that most companies that use nitride on their bolt carrier groups use metals like 9310, which can become more prone to issues after the process takes place. Just be mindful of that if you plan on buying a nitride-finished BCG.
Nickel Boron
This coating is popular among those who want to keep corrosion and wear to a minimum when running their rifle. Especially if you run your rifle hard. It doesn't get as much love as it should, but that's due to better options for coatings/finishes.
Titanium Nitride (TiN, or that Gold color)
Just don't do it. Neither the boys nor I have had a good experience with these coatings on bolt carrier groups due to how rough they tend to be in the bore, which can tear up your gas rings.
Do you know what that leads to? Inefficiency.
If you run a TiN BCG, this is your sign to eliminate it.
FAQs
What is the best steel for BCGs?
From my experience, I've had the best luck with BCGs made from Carpenter 158 or better. What's more important is the quality of the blend and the manufacturer making sure there are no issues with the BCG beforehand, such as microfractures and things of that nature.
What is the most durable AR-15 BCG?
BCGs made of chrome or phosphate, with Carpenter 158 being the base material, have had the most success. Again, this is my experience.
Should you lube your bolt carrier group?
Think about it. A cylindrical object moving fast inside another object of similar material dealing with high heat and friction. Would you lube it? I would lube it.
Especially depending on the material of the BCG. Some hold onto lubrication better, like phosphate.
Conclusion
So, there is our list of the best bolt carrier groups on the market. Of course, others may have their own preferences and experiences, but these are the results of my own studies and the opinions of roughly 100 other shooters.
It's important to note that plenty of companies outsource the manufacturing of their BCGs. Toolcraft and MicroBest are the source of some of the best on the market.
Just a heads up so you don't pay a markup on one of their products being sold by a big-time manufacturer.
Now, who makes your favorite bolt carrier group and why? We want to hear your opinions, so drop them in the comments!
Explore more