10 Best High-End AR-15s [2023]: A Top Tier List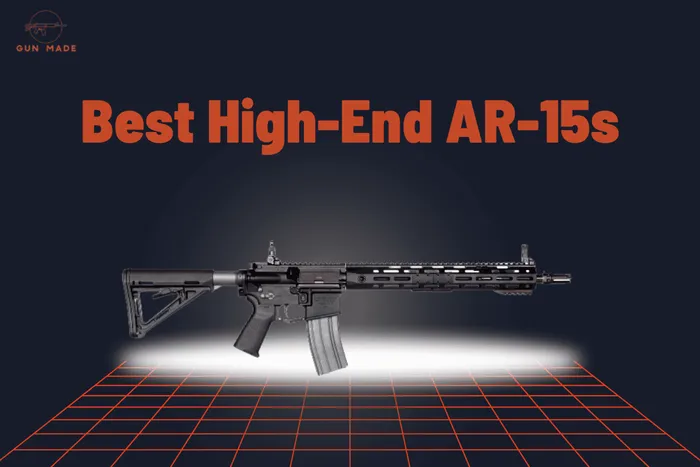 10 Best High-End AR-15s [2023]: A Top Tier List
Introduction
Are you looking for the best high-end AR-15? Good. This is going to be fun.
While AR-15s may be one of the most versatile weapon systems in the gun world, it is essential to note that not all AR-15s are created equal.
There is a massive difference between a budget AR-15 and one that costs $1,500 or more.
We will review our picks for the best high-end AR-15 platform rifles based on price, quality, ergonomics, and overall look. Also, we will recommend quality attachments that may enhance your experience while using these rifles in our Buyer's Guide.
After discussing which rifles are the best with my colleague Caleb Roberson, a current student at SDI and fellow Marine Corps veteran, here are our picks for the best high-end AR-15s.
Grab a drink, and let's talk top-tier AR-15s.
Best High-End AR-15s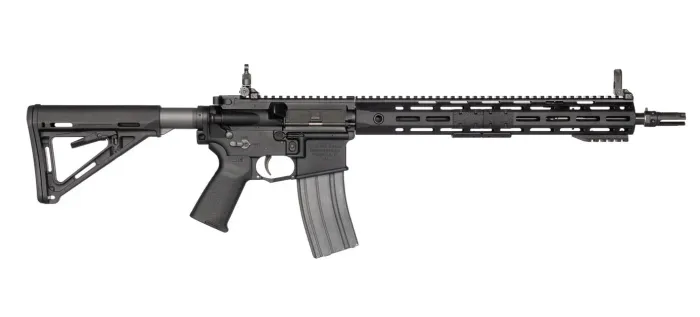 Specifications
| | |
| --- | --- |
| Caliber | 5.56 |
| Capacity | 30+1 |
| Weight | 6.3 pounds |
| Overall Length  | 36.5" |
| Barrel Length | 16" |
Pros & Cons
Pros
20,000+ rounds without cleaning

Ambidextrous controls

In-house designs found nowhere else
Cons
May be hard to find

Only works at it's best with NATO ammo

Reports of grittiness with trigger
There is a reason why the Knights Armament SR-15 Mod 2 always sits at the top spot for the best high-end AR-15 on the market.
Eugene Stoner, the founding father of the AR-15 (eventually, the M16), left Armalite and used his tactical genius over at Knights Armament to evolve the AR platform. The SR-15 pays respect to all of Stoner's hard work in making the AR-15 what it is today.
Knights Armament uses many of its in-house designs to push the SR-15 over the top.
Parts like their multi-lug E3 bolt, gas system, and barrels give the SR-15 the ability to push 20,000 rounds down range without needing a cleaning.
We will also like to point out how durable and reliable the SR-15 is. So much so that the venerable Garand Thumb acclaims it as the best fighting carbine on the planet.
Unsurprisingly, many individuals in law enforcement and the military swear by the SR-15.
If you want a top-tier rifle in terms of performance, reliability, and durability, pick up an SR-15. Not only are they one of the softest recoiling rifles on the market, but they are also the gold standard for the AR-15 platform.

Specifications
| | |
| --- | --- |
| Caliber | .223 Wylde/5.56 |
| Capacity | 30+1 |
| Weight | 6.0 – 8.0 Pounds (Configuration dependent) |
| Overall Length | 32" |
| Barrel Length | 16" |
Pros & Cons
Pros
Ambidextrous Controls

45-degree throw safety

Sub-MOA accuracy
Cons
Long lead time for orders

Bulky compared to other rifles 

Typically sell above MSRP for second hand (they're that good)
Guns are like legos for adults. The Radian Model 1 is a testament to that statement.
While other manufacturers give you a few options for configuring your AR-15, Radian takes it a step above that by offering many options for your build. It is legos, and this rifle is a beauty.
Radian is well known for its charging handles, which come standard on all of its rifles. The charging handles are optimized for suppressor use. Good news for all of you who already paid that $200 theft, I mean, tax stamp.
But those looks go way beyond aesthetics. The Radian Model 1's accuracy is incredible. Radian promises sub-moa (dead-on) accuracy with the proper ammunition. The stainless steel barrel lends itself to accuracy, and the Vortex trigger aids in its capabilities.
The recoil impulse on the Radian Model 1 is better than most, if not all, of the rifles currently on the market. Important if you want to keep your rifle on target and shoot better than your buddies on the range.
If accuracy is of utmost importance to you when looking for a high-end AR-15, find yourself a Model 1 and send a few rounds down range. If you aren't thoroughly impressed, I have failed you.
I know; I'm talking about accuracy a lot. But when you get your hands on a Radian Model 1, you'll know why.
Here's a video from Garand Thumb on the Radian Model 1:

Specifications
| | |
| --- | --- |
| Caliber | 5.56 |
| Capacity | 30+1 |
| Weight | 7.4 pounds |
| Overall Length | 36" |
| Barrel Length | 16" |
Pros & Cons
Pros
Ambidextrous bolt catch/bolt release

Quick change barrel and gas system

Colored safety markings
Cons
On the heavier side for an AR-15

Some may not like the grooved pistol grip

Among the heaviest in this category
M.A.R.S: Modular Ambidextrous Rifle System.
The Lewis Machine and Tool Mars L is a truly ambidextrous AR-15 that carries every control on your ordinary rifle over to the left side for the left-handed shooters out there.
While most of the high-end AR-15s on this list have ambidextrous controls, the MARS takes it a step further by having a bolt catch and release on the right-hand side of the rifle.
Two things to note about the MARS are the monolithic upper receiver and the quick change barrel.
The upper is made out of one piece of aluminum, hence the name monolithic, which helps reduce the slop usually seen in rifles with poor fit and finish.  It sounds out of this world, but it starts to make sense, considering how great this rifle is.
How great do you say?
Change-your-barrel-with-two-torques cool. Yes, you read that correctly. With the two torque screws that sit northeast of the mag-well, you can change the barrel and gas system to fit different lengths depending on your preference.
I recommend the MARS to those who love to train with both their dominant and weak-handed shoulders.
Here is a detailed review of the LMT M.A.R.S. from Prepper Junkie:

Specifications
| | |
| --- | --- |
| Caliber | .223/5.56 |
| Capacity | 30+1 |
| Weight | 6.2 Pounds |
| Overall Length | 35.5" |
| Barrel Length | 16" |
Pros & Cons
Pros
One of the softest recoils on the list

Fit and fitment are among the best

Ambidextrous controls and 45-degree throw
Cons
4-6 week lead time on builds from their website

Bolt carrier group is not top-notch

MOA accuracy, while not bad, can definitely be better
As the name suggests, the Cobalt Kinetics Pro is a rifle designed to use professionally by the Military, Law Enforcement, and three gun competitors. It bridges the gap between a duty and competition rifle and does a great job at doing so.  
The CK Pro is also my top pick for a high-end home defense AR-15.
To own one, you don't have to have a career in any of those categories. The CK Pro is my personal favorite for anyone getting their first high-end rifle. The number of goods you get matched with the fit and finish of this rifle will help you when you justify the price.
What are the goods? Only from the best companies in their respective categories.
Geissele G2S trigger, Radian Raptor LT charging handle, VLTOR buffer tube, and B5 furniture. Cobalt Kinetics gives you more options to build your Pro on their website.
Cobalt Kinetics is another brand that is a testament to the 'legos for adults' statement.
When customizing your rifle on their website, they give you options from color, handguard, and barrel lengths, options for different stocks, all the way to muzzle devices and grips.
Here's an in-depth video of Tactical Considerations talking about the CK Pro: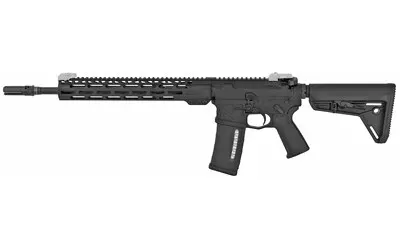 Specifications
| | |
| --- | --- |
| Caliber | .223/5.56 |
| Capacity | 30+1 |
| Weight | 6.9 Pounds |
| Overall Length | 32.5" |
| Barrel Length | 16" |
Pros & Cons
Pros
Radian and Geissele parts

Sub-MOA accuracy

Fully ambidextrous
Cons
Thinner barrel runs hotter

May not hold Sub-MOA pattern for a long period

10-12 week lead time
Have you heard of it? Probably not. Should you have heard of it? Yes.
UIC stands for Universal Improved Carbine, and many say this rifle is one of the most underestimated rifles on the market. Hence my question above.
The UIC is ambidextrous, like many other rifles on this list. This one stands with the LMT by being truly ambidextrous and having the bolt release on the right and left sides. Magazine changes are easy due to the oversized bolt release.
There are a few parts from Radian on the UIC, including the charging handle and safety switch. Geissele owns the trigger on this rifle.
The magazine well is flared, which also aids in magazine changes along with the oversized bolt release.
The UIC also comes with a Criterion barrel capable of shooting sub-moa (dead-on) like the Radian Model 1, and the barrel is a bit lighter. This is good, but the Radian Model 1 will be able to hold that pattern for a longer period of time due to the heavier barrel.
It is worth noting that the UIC will run hotter due to the barrel's profile. The thinner barrel, while able to shoot sub-moa, will get hotter quicker, which may be unpleasant for the shooter.
Here's a video from Garand Thumb talking about the ADM UIC Mod 2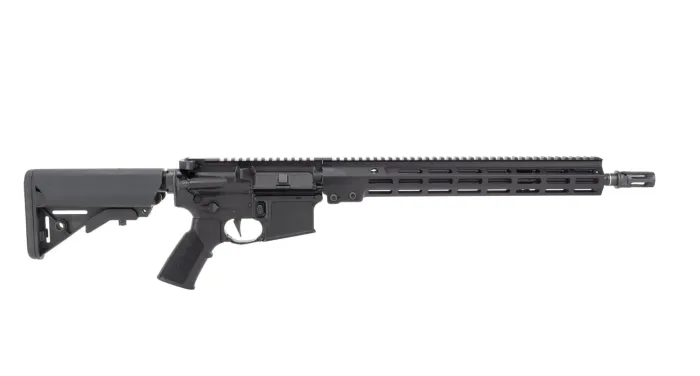 Specifications
| | |
| --- | --- |
| Caliber | .223/5.56 |
| Capacity | 30+1 |
| Weight | 6.9 pounds |
| Overall Length | 37.2"  |
| Barrel Length | 16" |
Pros & Cons
Pros
Geissele parts from factory

Nanocoating for a longer service life of parts

Built for extreme weather and duty use
Cons
Muzzle device only compatible with Surefire suppressors

Can be a bit gassy due to non-adjustable gas block

Not ambidextrous
Not only do they make some of the best triggers on the market, but Geissele also makes one heck of a rifle.
The Super Duty is Geissele's approach to making a battle-ready rifle right out of the box. Since Geissele has been one of the most prominent names in weapon accessories since 2004, we have high hopes for the Super Duty.
It comes with Geissele's Nanocoated SSA-E X with Lighting Bow®, a two-stage trigger with a wide body bow shape that mates the classic M4 and a flat body trigger in one piece. Almost every piece on this rifle is nano-coated, including the bolt carrier group, gas key, and cam pin.
Why is nano-coating important? What does it do?
Nanocoating comes from Nano Coating Composites (NCC), who invented Nanoweapon. A compound that enhances the life of parts, including a bolt carrier, tested through a jaw-dropping 450,000 rounds of ammo on full auto.
It also comes with a Surefire flash hider with quick detach. The downside is that it is only compatible with Surefire suppressors.
This rifle was made for duty use. So it may tend to be a little gassy for reliability's sake. It also does not come with an adjustable gas block, but you can rest assured that Geissele knows what they are doing.
Here's a video from Tactical Toolbox about the Geissele Super Duty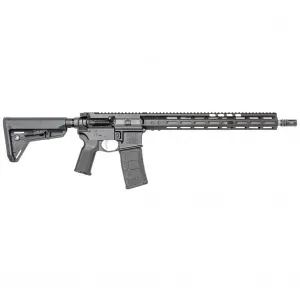 Specifications
| | |
| --- | --- |
| Caliber | .223/5.56 |
| Capacity | 30+1  |
| Weight | 6.6 pounds |
| Overall Length | 33" |
| Barrel Length | 16" |
Pros & Cons
Pros
One of the best factory barrels in its price range

Quality internals Noveske is known for

Radian Raptor LT charging handle
Cons
Controls are not ambidextrous

No QD sling mount on the handguard

Mil-spec kit
The idea behind the Chainsaw is a lovechild between a rifle under $2,000 and one that still maintained the quality other Noveske rifles have.
At $1,975, you get a mil-spec kit with classic Noveske internals. The Chainsaw still has the same tolerances as other Noveske rifles, which is how well they machine and fit the rifle. They did a great job, as usual.
The most important pieces on the rifle are the bolt carrier group; the barrel and gas block are what you are paying for with the Chainsaw. They maintain the quality that we all know Noveske for. You can expect to achieve sub-MOA shot groups with this rifle with the right ammo.
Noveske also went with the Radian Raptor LT instead of the Geissele charging handle you usually see on their rifles. Good for keeping the costs down.
Perhaps we would like to see ambidextrous features on this rifle and a QD mount on the handguard. Mil-Spec is nothing to write home about, but you still get a great rifle with the Chainsaw. So if ambidextrous features aren't a make or break for you, the Chainsaw is where it's at.
At this price point, Noveske presents a challenge for other rifles in the area. Look no further if you want one of the best factory barrels on the market.
Check out this video from Jim's Goon Life

Specifications
| | |
| --- | --- |
| Caliber | .223/5.56 |
| Capacity | 30+1 |
| Weight | 6.2 Pounds |
| Length(s) | 35.8" |
| Barrel Length | 16" |
Pros & Cons
Pros
Multiple QD mounts

Comes with a vertical grip 

Ambidextrous safety selector
Cons
Would like to see more ambidextrous features

In-house A2 flash hider not compatible with suppressors 

Not as modular as other rifles on the list
Daniel Defense, what else can you say? They have built some of the most successful rifles on the market. The M4v7 is no exception.
What you get is typical for rifles in its price range, but the cold hammer forged barrel from Daniel Defense is why many love the brand. With the right ammo, you can expect to achieve 1 MOA accuracy. Depending on conditions, you can also expect to push thousands of rounds down range with no failures.
The rail gets warm like the BCM Recce MCMR; this is due to the width of the barrel, where you sacrifice material and some durability for a lighter system that is easier to manipulate.
What the M4v7 has that you don't usually see is the amount of QD attachments on the handrail. Three on both sides, so a total of six, to be exact. This is something many other rifles in its price range fall short of.
Another thing you don't see is other manufacturers shipping their rifles with a vertical hand-stop. The M4v7 comes standard with a grip from Daniel Defense, so you can check that off your list when looking to kit your AR-15.
All in all, the M4v7 is a great rifle for those who want more than a normal AR-15. For the price, you get a solid gun ready for shooting straight out of the box.
Check out this review from the Bob Ross of guns, Hickok45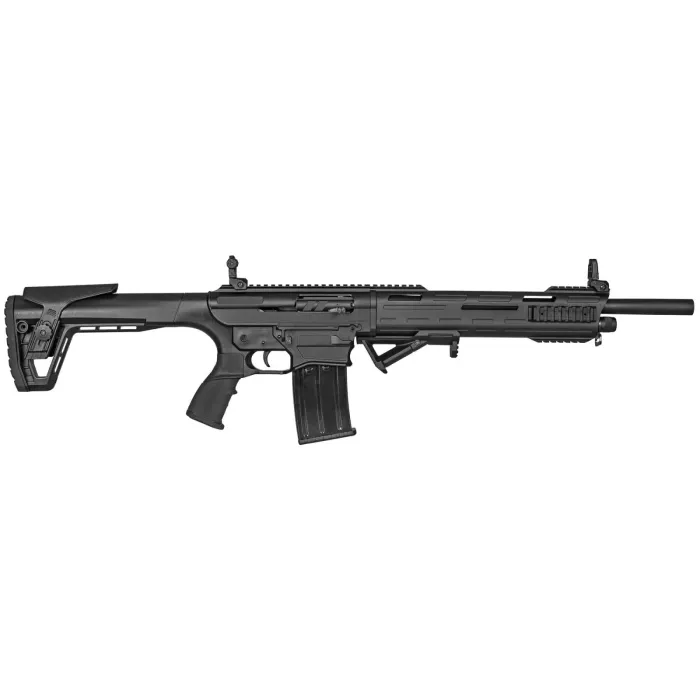 Specifications
| | |
| --- | --- |
| Caliber | 5.56 |
| Capacity | 30+1 |
| Weight | 6 pounds |
| Overall Length  | 30"  |
| Barrel Length | 16" |
Pros & Cons
Pros
Quality Control is top notch 

SOLGW will replace barrel for free if needed

14 different configurations
Cons
Safety is the only ambidextrous feature 

No QD mounts on rail

Hard to find in stores
Sons of Liberty Gun Works is relatively new to the AR-15 world, but the way they make their AR-15s will have you believing otherwise.
They also pride themselves on being transparent with their consumers. If you visit their website, they will list every rifle specification. I think they do that as well to show you just how awesome their rifle is.
The M4-89 was designed to be the ultimate fighting rifle. It comes with a Liberty Fighting trigger, A5 buffer system from VLTOR, Radian Raptor charging handle, and ambidextrous safety, not including the bolt catch/release or magazine release.
The handguard on the M4-89 is also made in-house, and Sons of Liberty are changing the design a bit to ensure it won't ever go anywhere on you. The new handrail consists of curved bolts that apply pressure on the barrel nut, marrying it to the upper.
The new design helps eliminate the play you see on some other AR-15s where the upper meets the lower. Ensuring you will never have any trouble with your handguard turning away from you.
Here is a video of the new design at ShotShow 2022.
SOLGW offers the rifle in many different configurations – 14, to be exact. There are different barrel lengths from 9-18 inch barrels and five caliber options – .300 BLK, 5.56, Match .223 Wylde, Match 6.5 Grendel, and Match 6mm ARC.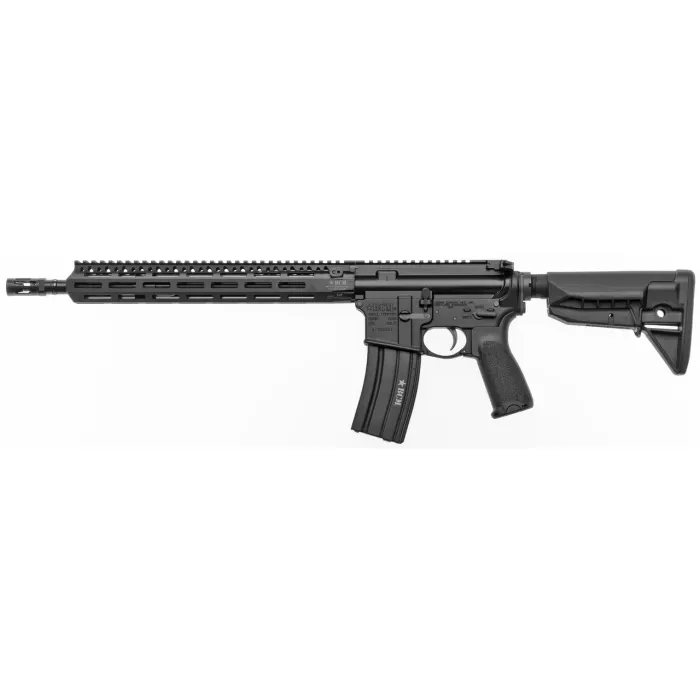 Specifications
| | |
| --- | --- |
| Caliber | .223/.556 |
| Capacity | 30+1 |
| Weight | 6.2 pounds |
| Overall Length | 34.5" (Extended Stock) |
Pros & Cons
Pros
Thin handguard for easy manipulation

Quality trusted by Special Operators

One of the best Bolt Carriers on the market
Cons
Runs hot due to slimmer rail

Durability is also affected due to slim handguard

Dimensions may seem weird to experienced shooters
I like to say that the BCM Recce MCMR is the Porsche 911 of the gun world.
Why do I say that?
People who do reviews on AR-15s tend to compare the rifle in question to the BCM Recce. The funny part is, many prefer the Recce over rifles three times the dollar amount.
Just like the Porsche 911.
It is in use with many law enforcement agencies and independent contractors worldwide, with BCM claiming that their rifles are in every corner of the globe. Used by U.S. Special Operators and the Department of Homeland Security as well.
You will find many different parts on this rifle. Usually reserved for rifles higher up on this list, including what many will say is the best Bolt Carrier Group on the market today.
BCM is well known for its quality, and U.S. Navy SEALs prefer the Recce due to that fact.
The upper is lightweight and thin, great for those who love a C-clamp on the front end to keep the rise of the muzzle down when shooting. It can get a little hot if you're shooting rapid fire. This may be unfavorable to some. Durability is sacrificed a bit due to this as well.
For the price, in our opinion, no other rifle comes close.
Check out this review from Tactical Considerations.
How We Chose our Top Picks
When choosing our top picks, we were admittingly brutal. We looked at different rifles, their features, and what we thought they should offer for their price point. Any rifles we deemed with a low feature-to-price ratio were eliminated. After a few debates over the phone and text, we came up with the list above.
Buyer's Guide
When looking for the best high-end AR-15, there are a few things to consider before sealing the deal at your gun store. Are you a left-handed shooter? What are you going to be using this rifle for? So on and so forth.
What To Look Out For
Well, Brian, what should I be looking for?
Suppose you will be using this rifle for LARPing or duty use. In that case, you should go for a rifle with more features. Ambidextrous controls, QD mounts, and the ability to feed rounds reliably are of the utmost importance when looking at a duty rifle.
If only for home defense, you can be more lenient since it will spend most of its life in the safe. Still, quality is essential. So don't skimp out. You always want to be able to trust the rifle you may have to stake your life on.
It is important to note that none of these rifles come with iron sights, and how else are you going to aim? Unless you have some Jedi magic going on, you will need some iron sights, at the very least. You may want to go with an optic for better accuracy.
We are talking about the best high-end AR-15 rifles on the market, so you won't have to worry much in terms of durability and reliability, so long as you properly maintain your rifle. With the Knights Armament SR-15, you have a bit more leniency since you can put 20,000 rounds down range before any issues arise.
Is There One On The List You Recommend All Around?
Hard to say, but if I had to choose, it would be the BCM Recce MCMR. It is in use by operators all around the globe, and it is tough to beat for the price you pay. I have one of my own, and I was never let down once, even after throwing it off a balcony. The only issue is the barrel heating up quickly when rapid-firing.
Why Are These Rifles More Expensive Than Others?
Quality and materials used play a significant factor in the price of a rifle. You get what you pay for when it comes to firearms as a whole.
If you take an SR-15 and compare it to a Smith and Wesson M&P 15, you will notice a difference in how they function, materials, and features. That is why the price margin is that big. Not saying the M&P 15 isn't a good rifle, but the SR-15 is leagues ahead of it.
Rifles on the lower end are great for home defense and going to the range for some fun. But when you use a rifle for duty use, you need something that will perform well and exceed what ordinary rifles are capable of.
While you may be able to use a lower-end firearm for some uses, many would advise against it. You may run into a situation that requires more from what you are using.
Here are some similar thoughts from the boys at Classic Firearms.
Best Ammo For Your AR-15
Our guide on the best AR-15 ammo discusses the importance of selecting the right ammunition for your AR-15, emphasizing that the choice depends on your preferences and your rifle's characteristics.
When choosing ammunition for your AR-15, it's essential to match the ammo with your rifle's specifications, such as barrel length, twist rate, and gas system, as these can significantly affect performance.
It's also important to balance cost and performance, ensuring you get reliable ammunition that suits your budget.
Experimenting with different types of ammunition is key, as each rifle may have its own preference, impacting accuracy and overall shooting experience. Testing various options will help you determine the best choice for your specific AR-15.
For a comprehensive understanding and specific recommendations, read our full article on selecting the best AR-15 ammo.
FAQs
What is the most accurate AR-15 caliber?
This depends on how far you are shooting. 6.5 Grendel for longer ranges, but .300 BLK reigns supreme for close engagements.
Who are the most expensive AR-15 manufacturers?
Which AR-15 does the military use?
Currently, they are still using M4s and M16s. Soon they will be using the new Sig MCX Spears.
Speaking of the MCX Spears, we just did a SIG MCX Spear LT review if you want more info on this SBR.
Is an AR-10 or an AR-15 more powerful?
AR-10s are more powerful than AR-15s. The AR-10 is designed to shoot .308/7.62, your typical AK-47 round.
Conclusion
Well, there you have it – the best high-end AR-15s on the market. Depending on what you want out of your rifle, the list above will surely steer you in the right direction. If you plan on using it for duty use, we suggest going with one of the better options on the list since you may need more features.
My plinkers out there will do great with any of these picks. Like the great Bugs Bunny used to say, "That's all, folks."
Explore more