6 Best AR-15 Charging Handles: Based On Expert Opinions [2023]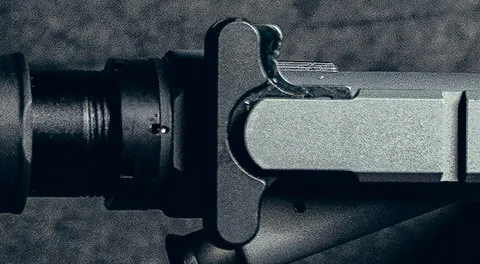 6 Best AR-15 Charging Handles: Based On Expert Opinions [2023]
Introduction
What is the best AR-15 charging handle? How do you determine which one is the best? Why is it important?
Ahh, you see. Now I've raised your brow. Charging handles are way more than just the metal thingy you pull on to chamber a round. And while there are some relatively cheap options, I would never advise cheaping out on a tool you bet your life on.
And if you don't believe me, I once saw a fine shooter snap his charging handle in half when trying to remedy a double-feed malfunction.
Hey, at least it was during peacetime.
I've searched near and far, got the opinions of gunsmiths, and got my hands on many of these charging handles myself. Without further ado, let's jump in. I don't wanna bore you.
Best AR-15 Charging Handles & Recommendations
It's important to understand why we choose these charging handles. But if you're crunched on time, here is a shortlist.
Best Overall – PRI M84 Gas Buster
Best Budget – BCM Gunfighter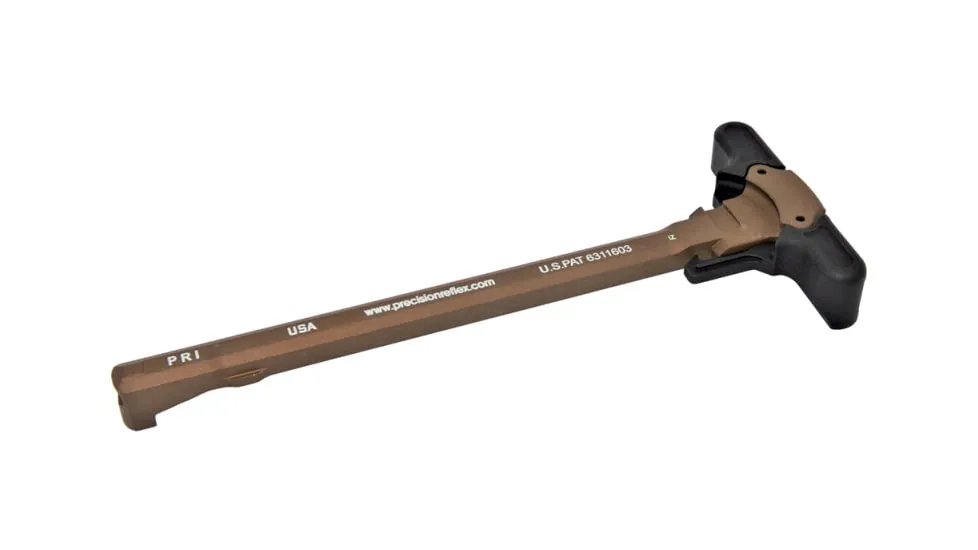 Specifications
| | |
| --- | --- |
| Material | 7075-T6 Aluminum |
| Ambidextrous? | Yes |
| Suppressor Optimized? | Yes |
Pros & Cons
Pros
Ambidextrous 

Best for shooting suppressed 

Various models for different needs
Unless you've spent a dubious amount of time scouring the web or chewing the ears off of shooters in the industry who take their AR-15s seriously, you've probably never heard of the PRI M84 Gas Buster.
I've never even seen it on any other lists on the web. And I have no clue why.
The M84 Gas Buster is exactly as the name implies. Since short-barreled AR-15s and shooting suppressed can lead to a gassy taste that will last for days, the Gas Buster is meant to mitigate the gas blowback you get when using these.
And it does one hell of a good job doing so.
I didn't experience any gassiness, oil on the face, or dirt when using the M84 Gas Buster. Even with some of the other options on the list, there always seemed to be some gas that leaked, though.
Not enough to make me step away from the rifle, but definitely more than the Gas Buster.
That said, I recommend the M84 Gas Buster to anyone who owns an AR-Pistol, SBR, or plans to shoot suppressed. Thank me later.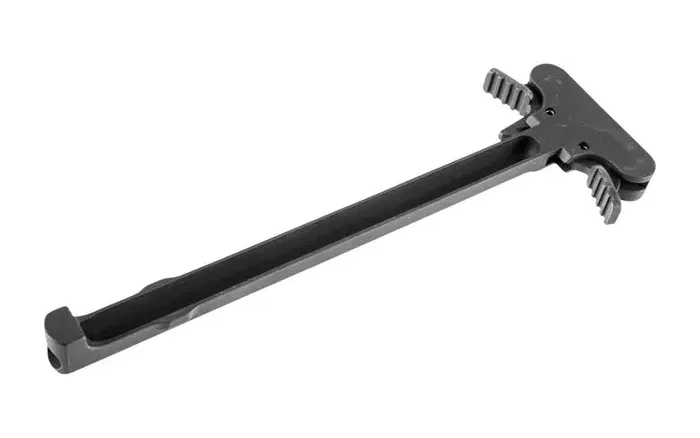 Specifications
| | |
| --- | --- |
| Material | 7075-T6 Aluminum |
| Ambidextrous? | Yes |
| Suppressor Optimized? | No |
Pros & Cons
Pros
Ambidextrous

Extremely durable  

Double latched (just in case)
Cons
The most expensive charging handle on the list
Now everyone and their mother has heard of Knights Armament. They make some of the best firearms on the market. They're so good that their M110 won the U.S. Army's "Top 10 Innovations" award back in 2007.
But does that innovation extend to their charging handles? Yes.
Knights Armament focused heavily on durability when they developed this charging handle. For one, there are double latches, so you can manipulate them even if one of the latches gets damaged.
The latches are also built to stay out of the way to limit snagging. So the possibility of breaking them is slim, but you can never be too sure.
And no matter how you choose to manipulate it, whether you use the pinch grip, single finger, or the good old-fashioned knife hand, you will find that this charging handle will work with you no matter what.
As for using the SR-15 charging handle, durability was top of this list. The gassiness of the 13.7-inch barrel was slim to none. And I recommend the KAC 5.56 charging handle to anyone focused on ultimate durability over other things.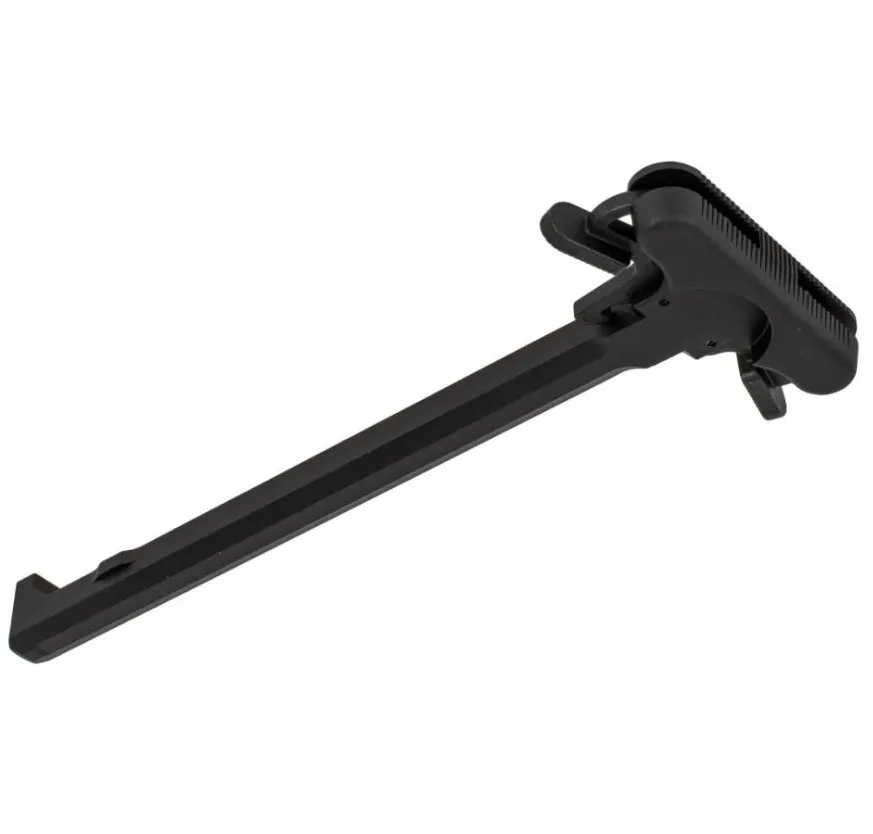 Specifications
| | |
| --- | --- |
| Material | 7075-T6 Aluminum |
| Ambidextrous? | Yes |
| Suppressor Optimized? | No |
Pros & Cons
Pros
Highly Durable 

Ambidextrous 

Dead stop latches
Cons
High Price

Snags at times
Lewis Machine and Tool is another manufacturer that drops the bomb on the market with great products that are so well made that this charging handle is regarded by many as the best on the market.
The LMT charging handle is definitely among the top three you can get your hands on, which should be obvious. This list is numbered, you know…
Not only was the LMT charging handle highly durable, but it reduced the amount of gassiness that came with the taste of the pasta I had that night.
Not as much as the M84 Gas Buster or Radian Raptor SD-SL, but enough to notice.
My favorite part of the LMT charging handle was the lack of bending that took place when manipulating it with one finger. You know, the side-to-side bend movement you usually see on flimsy charging handles?
Nope, not here. The LMT charging handle is solid, like a rock. But it does snag a bit at times.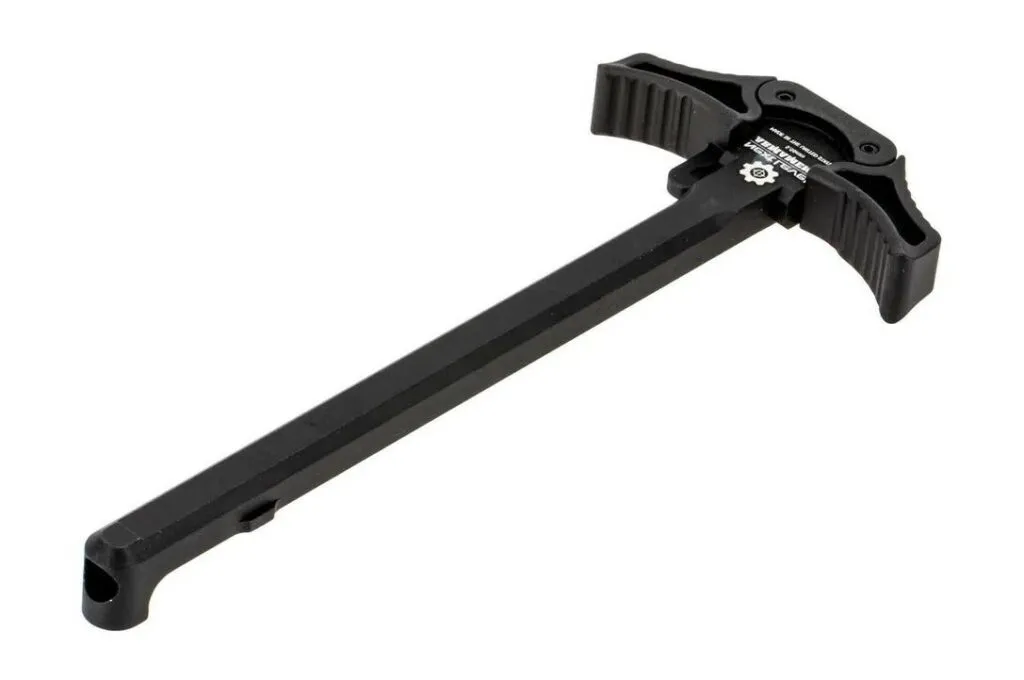 Specifications
| | |
| --- | --- |
| Material | 7075-T6 Aluminum |
| Ambidextrous? | Yes |
| Suppressor Optimized? | No |
Pros & Cons
Pros
Ambidextrous 

Larger latches for easier manipulation

Works well with gloves

Fair price
Next Level Armament is another company that you've probably never heard of. But that's okay. We're here to help.
Not only does the NLX Scythe have a badass name, but this charging handle was built in a place where guns are constantly battling elements. Michigan, that is, where the weather can drop below zero on any given day.
Those shooters must wear gloves or face losing Palmela and her five sisters. So they needed a charging handle that would support glove usage while still being easy to manipulate.
For all you shooters who shoot with gloves, this is the charging handle you've been looking for. It can sometimes snag since the latches stick out more than my ears.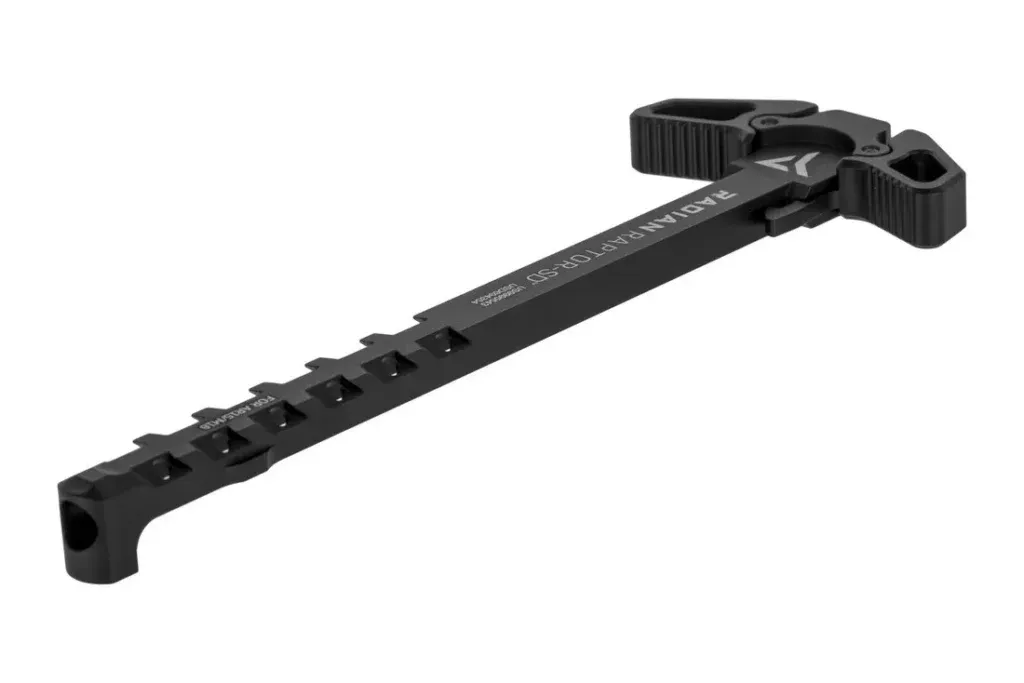 Specifications
| | |
| --- | --- |
| Material | 7075-T6 Aluminum |
| Ambidextrous? | Yes |
| Suppressor Optimized? | Yes |
Pros & Cons
Pros
Low Profile Design

Ambidextrous

Suppressor Optimized
Cons
It doesn't work well with gloves

Pricey
Now I know you've heard of Radian. They sell one of the smoothest recoiling AR-15s on the market, with the fit and finish of a Ferrari. The Model 1.
The Raptor SD-SL has a unique design that features porting on the shaft. And since we all know how shooting suppressed can be gassier than Taco Tuesday, we can use all the gas redirection we can get.
Think of it as a courtesy flush.
The low profile design keeps the latches from snagging on your plate carrier or digging into your chest when the rifle is slung, but it can be difficult to use when shooting with gloves.
Not that I experienced this problem, but I saw other shooters have this issue when using low-profile charging handles.
All it takes is practice.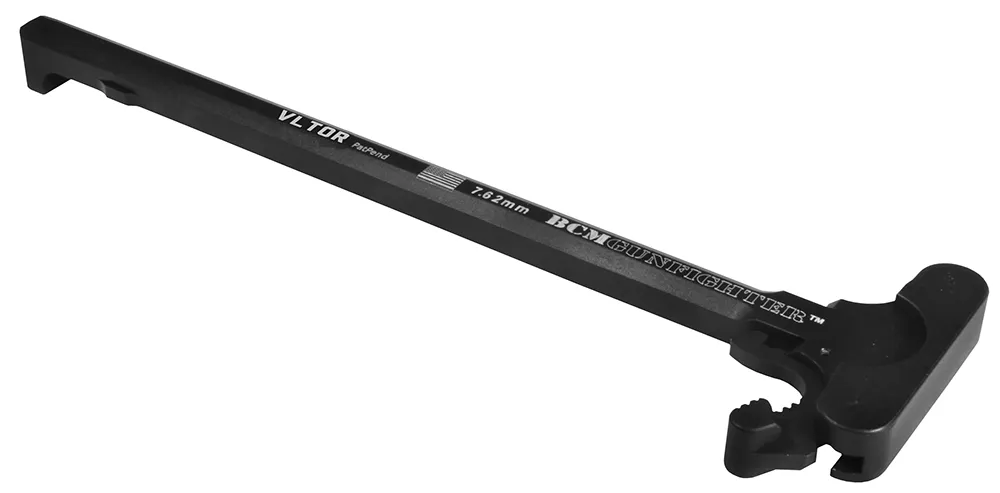 Specifications
| | |
| --- | --- |
| Material | 7075-T6 Aluminum |
| Ambidextrous? | No |
| Suppressor Optimized? | No |
Pros & Cons
Pros
Highly Durable/Reliable

Tiny Roll Pin eliminates a critical weak point

Raised lip helps mitigate gas directed at the shooter
Bravo Company is well regarded in the shooting community for making high-quality rifles at a mid-level price point. While they don't pay me to say nice things about their products (hell, they don't even know I exist), I do own one of their rifles. And it outperforms rifles three times the price.
And the parts they produce hold the same quality.
The Mod 3B, in particular, was a collaboration with VLTOR, who creates some of the best aftermarket parts in the industry for various weapon platforms. And I know many shooters who consider this to be the holy grail of charging handles.
It also has a raised lip to help limit the gases that you taste with your Sunday dinner. But it isn't ambidextrous.
The Mod 3B is my recommendation for any shooter who wants to put together a fighting rifle but doesn't want to spend an arm and a leg doing so.
How We Choose Our Top Picks
This list of the best charging handles for an AR-15 results from hands-on experience, three-two-hour-long conversations with two gunsmiths and three fine shooters who put rounds down range daily, and ridiculous amounts of research.
You may notice that none of the charging handles on this list are exactly what someone considers "budget" options. And you're right. There's a reason for that.
You're here looking for the BEST charging handle for AR-15s. Am I wrong?
A charging handle that you can rely on. One you can use, abuse, and never have to worry about. I've seen "budget" charging handles come unhinged during use and send a fine shooter to the dentist with a broken tooth. I've also seen them snap in half and render a rifle useless.
Why would you ever skimp on a part that is critical to a working rifle? Those shooters found out the hard way.
And, in my discussion with shooters who run their AR-15s harder than OJ ran the white Bronco, the only budget charging handle that we thought would suffice is the BCM Gunfighter. And still, that may be expensive for some.
But you wanted the best, so we found the best.
AR-15 Charging Handle Buyer's Guide
What Does A Charging Handle Do?
Think of the charging handle as the slide on a pistol. When you rack the slide back, you load a round into the chamber and set the pistol ready to fire.
A charging handle is similar. But it doesn't slide back every time you fire a round. If it did, that would be ugly.
The charging handle is a means of manipulating the bolt carrier group so that the round may be chambered. Or so a failure may be cleared.
Some charging handles feature a higher lip to mitigate the amount of gases that will cross your nose. And some of them don't. But we'll talk about that in the next section.
Charging handles do play a vital role in the function of an AR-15. How else will you get a round in the chamber if you don't have a charging handle?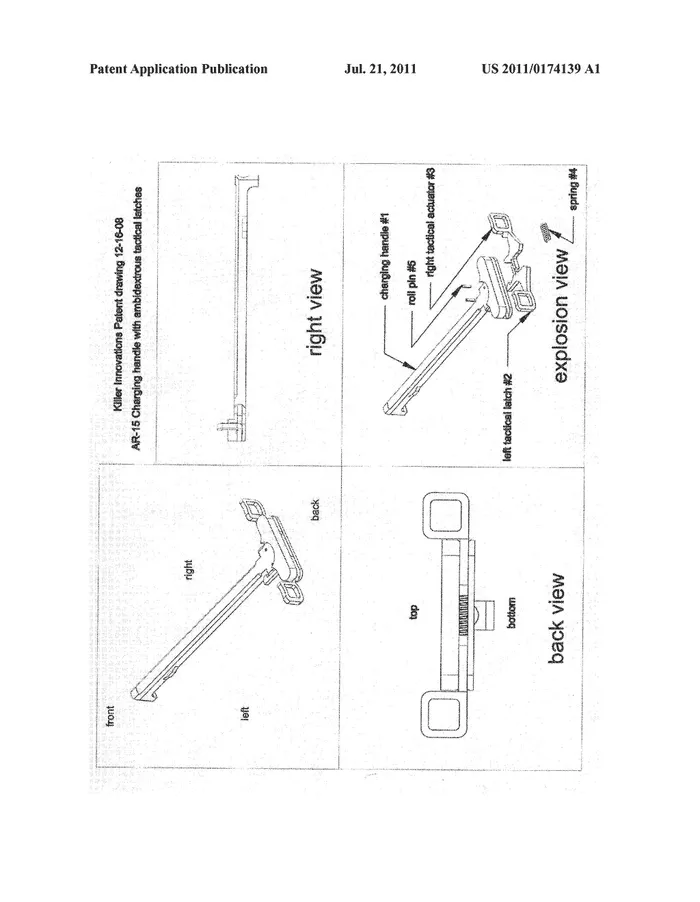 Advantages Of An Aftermarket Charging
Aftermarket charging handles can provide a plethora of different benefits.
For one, some factory charging handles are terrible when it comes to hard use and mitigating gasses. And they aren't usually ambidextrous.
If you're a shooter who runs his rifle harder than most, you will definitely find that an aftermarket charging handle will benefit you in more ways than one.
As I said before, charging handles from the factory are rarely ambidextrous. So an aftermarket charging handle is needed if you want to be able to manipulate from either side of the gun. It's one of the ways to create a fully ambidextrous rifle.
Second, the raised lip of an aftermarket charging handle is a must if you shoot with a suppressor.
Sure, you can go with an adjustable gas block, but that requires much more work than simply breaking the rifle in half (not literally) and changing the charging handle.
Upgrading Your Charging Handle (And Why You Should)
Upgrading your charging handle is one of many ways to personalize your Armalite rifle. And there is no shortage of charging handles to choose from.
Of course, there are high-end charging handles that have different internals and some low-end options that can get you by in a pinch or in a defensive role.
But, if you want a rifle that will perform, it's best not to skimp out on anything that helps the rifle go boom.
So, how do you know if you should replace your charging handle? I'll give you an example.
I had the pleasure of reviewing the Sig Sauer M400 Tread recently. All in all, it was a great starter rifle. But the gasses that escaped through the port where the charging handle is were enough to make me have to put the rifle down and get some fresh air.
That's when I realized that a charging handle like the PRI M84 Gas Buster or Radian SD-SL would have helped me enjoy my time behind the M400 more.
Do you see where I'm coming from?
Or, when I was shooting a suppressed Daniel Defense MK18. I swear, I thought I was in the gas chamber all over again. I could not stand to shoot it until I put on the Gas Buster.
After that, I was able to shoot without issue. Sure, the rifle itself was over-gassed, and brass flew out further than Elon's space shuttle, but I could breathe.
There is always a reason to change your charging handle. You can never be too careful by getting one that is suppressor optimized.
FAQs
What charging handle do Navy SEALs use?
The SEAL Teams have been working closely with Noveske Rifleworks and utilize the Super Badass Charging Handle, which is a collaboration between Geissele and Noveske.
Do charging handles make a difference?
Yes. Not all charging handles are created equally. I would not recommend running a cheap charging handle for those who bet their lives on their firearms.
Are AR-10 and AR-15 charging handles the same?
AR-10 charging handles are longer and wider than that of the AR-15. Since AR-10 uppers are usually longer, you will need a longer charging handle to go along with it.
Conclusion
Finding the best AR-15 charging handle can take a bit of work on your part, but any charging handle on this list is better than anything from the factory. And it is definitely better than those I see on other lists.
I would always recommend the PRI M84 Gas Buster over any charging handle. It will keep the gases out of your face whether you're shooting suppressed or not. I just like to make sure that my Pasta Forno isn't going to taste like Hornady propellants.
If you believe there are better charging handles, please let me know in the comment section. I always value your opinion.
See you on the range, fine shooter.
Explore more