Best AR-15 Lasers [2023]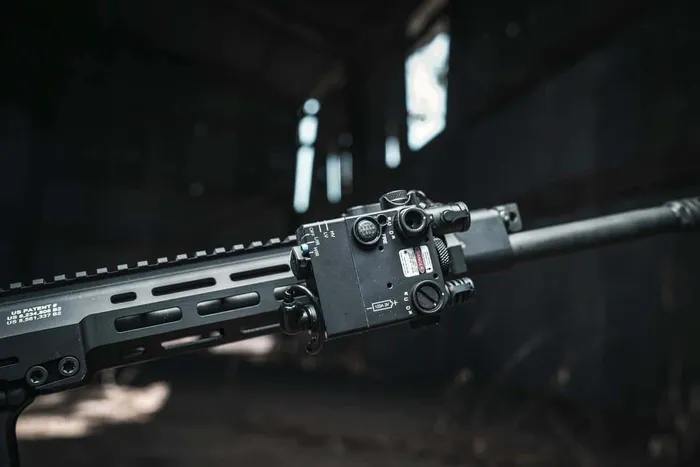 Forget about red dot sights or scopes. To achieve a new dimension in tactical applications for your AR-15, what you need is a laser sight.
AR-15 laser sights allow a more consistent short to mid-range aim, and they're one of the most efficient optic devices for at-night and low-light conditions.
Unlike red dot sights and holographics that merely impose a sight, laser sights allow you to actually see your aim directly on the target, and it tells exactly where your bullet will make its impact.
Lasers are the cutting edge of AR-15 optics in aiming and target acquisition. Even more so if you go for a visible laser/IR laser+IR illuminator combo, which unlocks the tactical possibilities of your AR-15 rifle.
Law enforcement and military agencies have used them for years, and now, with the growing popularity and new coming technologies, it's easy to find affordable, high-quality laser sights for the civilian market.
In this guide, I compiled what I think are the best AR-15 lasers, laser and IR illuminator combos, and even laser sight and flashlight combos for your convenience.
I rounded up both green and red laser sights with well-rounded features, the best budget laser sight options, long-range lasers for hunters, and some high-tier laser devices for all you serious AR-15 riflemen out there.
Top 10 AR-15 Lasers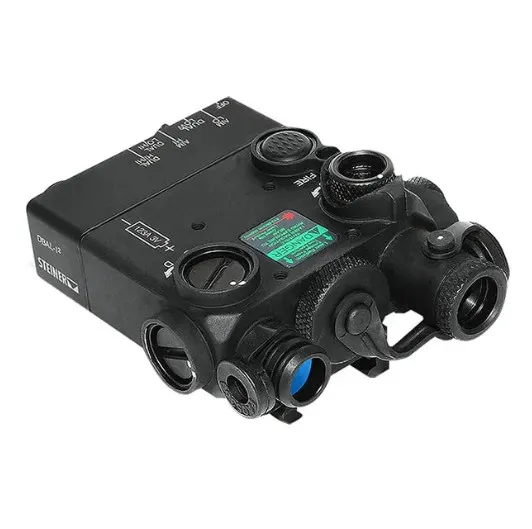 Specifications:
| | |
| --- | --- |
| Laser Ouput | 635 nm visible red laser; 850 nm IR laser |
| Click Value | ½ MOA |
| Battery | CR123A battery |
| Weight | 8 ounces |
Pros
Well-rounded IR laser pointer and visible green laser combo
QD mount, but can mount to any platform without a quick detach
Cable remote switch included
Fully adjustable windage and elevation
Cons
Doesn't pair with a LED light
Here's the Steiner DBAL-I2 from Steiner Optics. Some military organizations across the world use it, but I think that the well-balanced features it offers can be essential for anyone's AR-15 rifle.
It's a combination of an IR laser and an IR illuminator that are slaved together for those of you who are looking for impeccable accuracy and target acquisition in absolute darkness.
The powerful red laser can reach up to 300 yards in dark and low-light conditions, while the green laser model is best suited for daytime. If you don't have a night vision headset, you can order a much cheaper model without the infrared options.
Although it can only be zeroed in the dark for windage and elevation, the Steiner DBAL-I2 offers different power modes and can hold zero for what it feels like forever. You can very easily attach this to a Picatinny rail via the self-adjusting QD mount.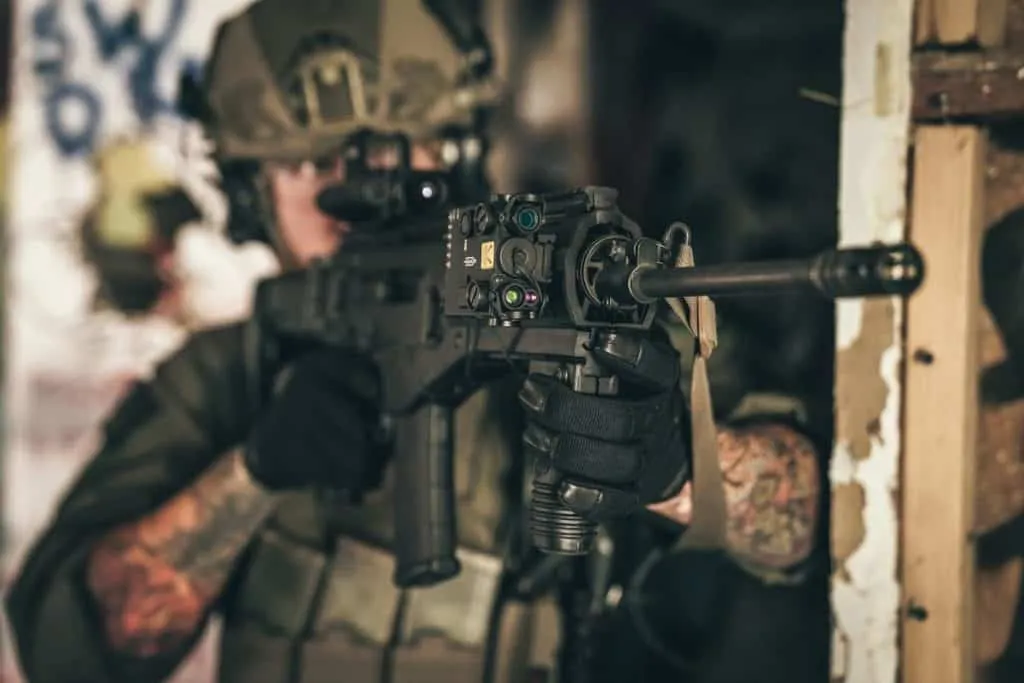 There's a push-button switch and a remote cable pressure-pad for instantaneous activation. Tap it twice for a 5-minute continuous beam.
The Steiner DBAL-I2 doesn't pair with a LED light, but I'm convinced that it would perfectly suit both experts and those of you who are just getting your feet wet into the ultimate tactical night package.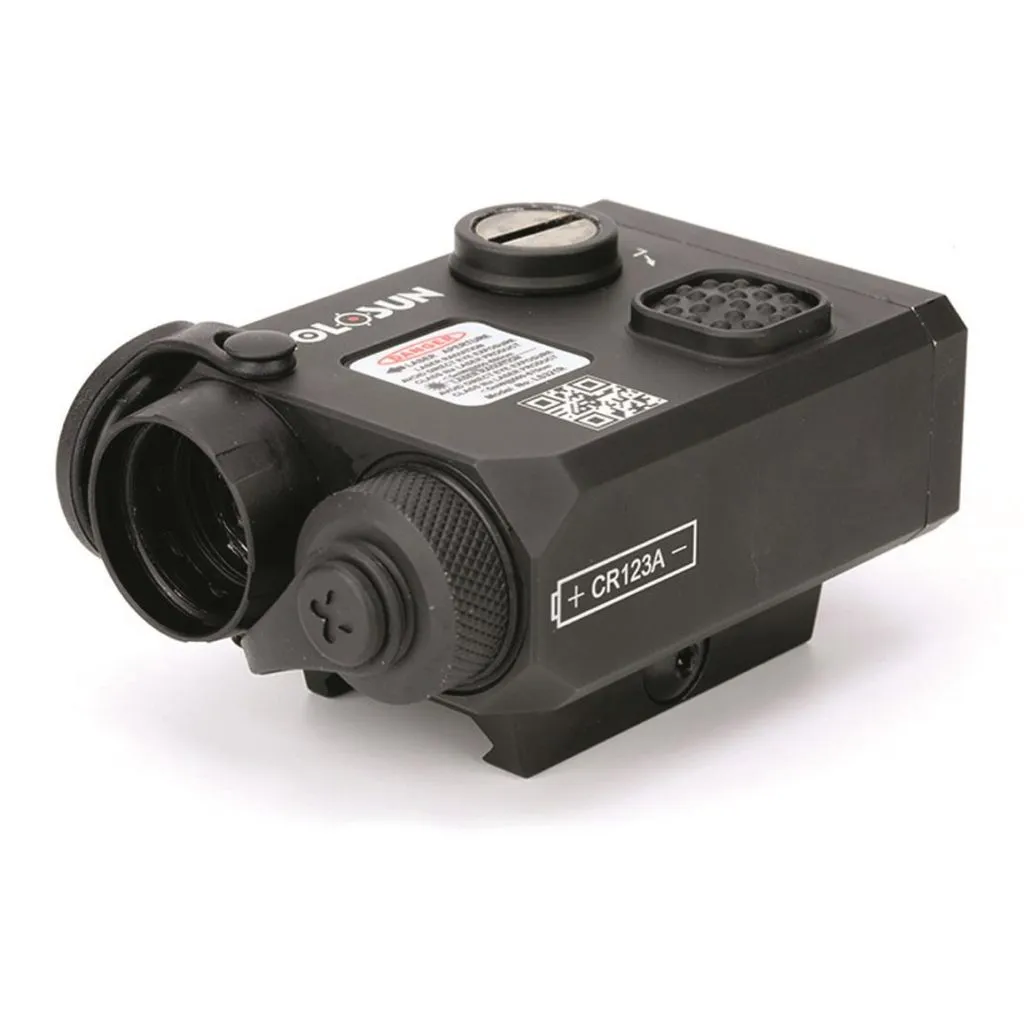 Specifications:
| | |
| --- | --- |
| Laser Ouput | 0.7 mW; Class 2M IR laser |
| Click Value | 1/2 MOA windage/elevation |
| Battery | CR123A 3V Lithium |
| Weight | 8.46 ounces |
Pros
High-quality visible and IR laser combo
IR illuminator works perfectly with night vision
Has elevation and windage adjustments
Long battery life for an IR laser combo
Easy to mount and easy to use
Red laser model also available
Cons
Expensive
Fragile remote cable and velcro tape
Sits a little higher than a Steiner DBAL-D2
Holosun are well-known for their high-quality optics, but guess who designed a visible laser/IR laser combo?
The Holosun LS321G Green Laser Sight combines its visible laser and IR laser for maximum efficiency. It's a coaxial unit, which means that the lasers are perfectly mounted and zeroed at the same time for co-adjusting elevation and windage.
Not only that, but much like the Steiner DBAL-D2, it has an IR illuminator for night vision utilization which allows you a clear shot in low-light conditions.
The high-quality lenses are housed by a highly durable, machined 7075-T6 aluminum construction. The well-designed edges do a good job of protecting the fragile lens.
You can install it on a Picatinny rail with ease, and if you want to adjust the tension on your QD mount, there's a complementary Torx tool for it.
The remote cable allows you to activate the laser without readjusting your grip, but it's fragile, so be careful. Otherwise, the Holosun LS321G laser offers mid-tier performance for tactical operations for your AR-15 rifle.
The slightly cheaper Holosun LS321R red laser model is also worth considering.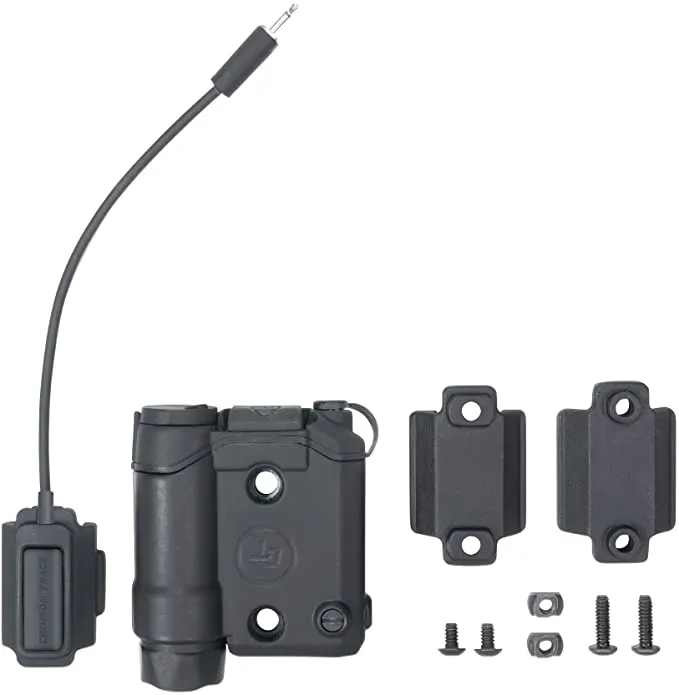 Specifications:
| | |
| --- | --- |
| Laser Ouput | 5mW, 532nm; 1,000 lumens flashlight |
| Click Value | N/A |
| Battery | Rechargeable |
| Weight | 7.2 ounces |
Pros
Great value
Fits AR-style rifles with at least 2.75-inch rail space
Convenient operation via pressure pad and tailcap button
Comes with a 1000-lumen flashlight combo
Laser dot can reach 100-yards
Cons
Doesn't accept Magpul MOE handguards
Flimsy switch cord
In the laser sight business, Crimson Trace are well-known for their pistol laser CMR-206 and CMR-204 models, but I believe that the Crimson Trace CMR-301 Railmaster Pro is where it's at.
The Crimson Trace CMR-301 has a standard 3R green laser and 1000-lumen flashlight combo that work together in perfect accord.
While it lacks night vision capabilities, it offers decent target acquisition at night and can reach up to 100-yards. The rechargeable batteries are also a big plus.
Mounting it is easy on Picatinny rail mounts or an M-Lok barrel clamp, but it's not compatible on a Magpul MOE handguard. You'll need at least 2.75-inch rail space for this one. With a barrel mount, you can move the laser closer to the muzzle.
There's a tail switch along with a very convenient pressure pad switch that's mountable away from the laser unit, both of which serve as on and off buttons. The CMR-301 is adjustable for windage and elevation.
I'm guessing the reasonable price is due to the polymer build, as some would expect a well-machined aluminum construction. However, I'd definitely recommend the Crimson Trace CMR-301 if you're looking for a cheaper Streamlight laser and flashlight combo.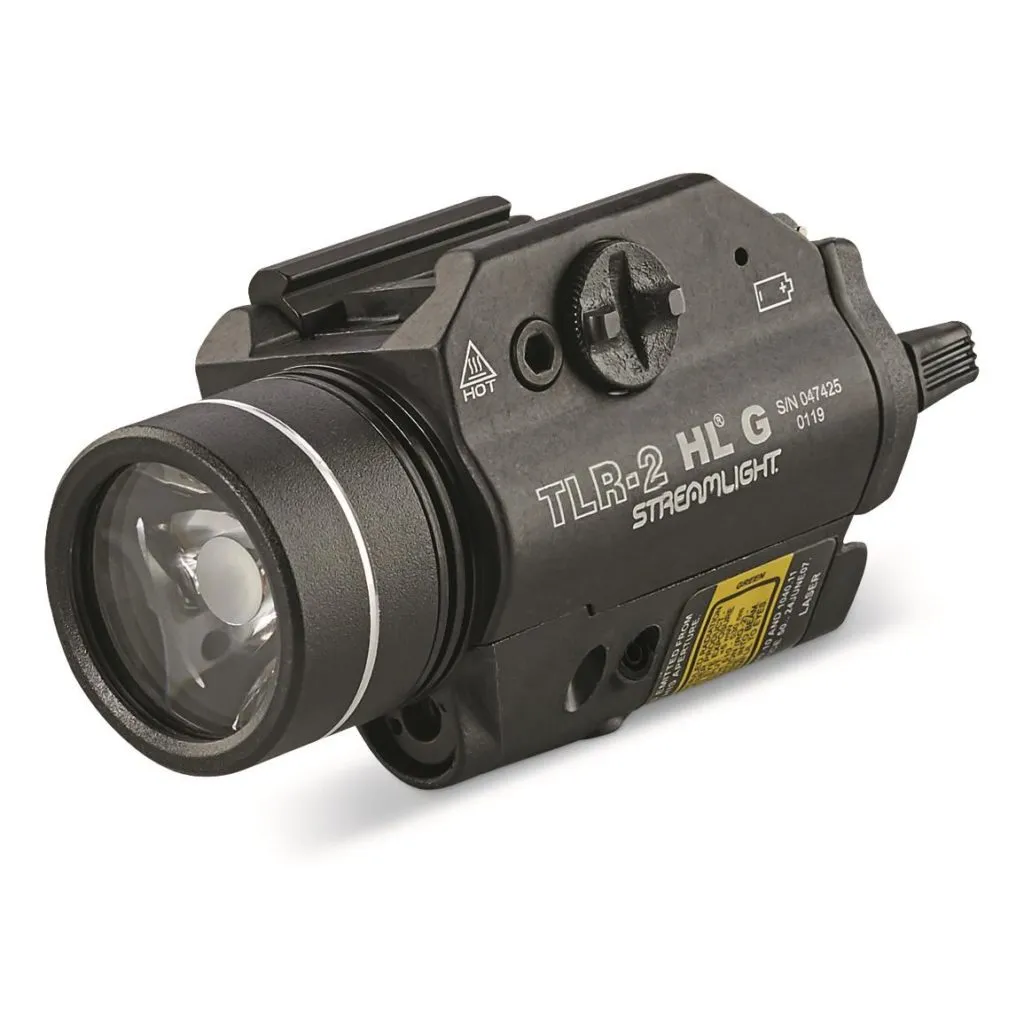 Specifications:
| | |
| --- | --- |
| Laser Ouput | 522-542 nm |
| Click Value | N/A |
| Battery | CR123A Lithium |
| Weight | 4.8 ounces |
Pros
Good value for a green visible laser/flashlight combo
Powerful C4 LED with a 1,000-lumen output
Can mount to Glock-style rails and all MIL-STD-1913 rails
Easy zeroing and mounting
Stays zeroed for a long time
One of the best peripheral illumination
Cons
Expensive for a laser flashlight combo
Customers report the activation switch getting stuck
Here's the Streamlight TLR-2 HL G, one of the best laser light combo devices money can buy.
Technically, Streamlight markets it as a light with a laser, but the features it has work together perfectly to give you a tactical advantage, especially for home defense.
The main highlight (pun intended) is the 1,000-lumen light blast with a 260-yard beam distance, while the 542 nm direct-drive laser with the strobing feature can reach up to the standard range of 25 yards. The concentrated beam with peripheral illumination is an important feature for a flashlight/laser combo.
What makes the Streamlight TLR-2 HL G special is that the laser is inside the flashlight, so zeroing it is super easy because they're centered in the exact same place. A lot of AR-15 and handgun enthusiasts praise how long it stays zeroed.
The battery life is around 1.5 hours if you have them both turned on and 17 hours with only the laser only turned on. The windage and elevation adjustment screws are really tightened to the aluminum construction, so you may need some tools for it.
The Streamlight TLR-2 HL G can fit most Glock-style rails and all MIL-STD-1913 rails. There are also the much cheaper TLR-2 HL and the TLR-2 with a less powerful flashlight.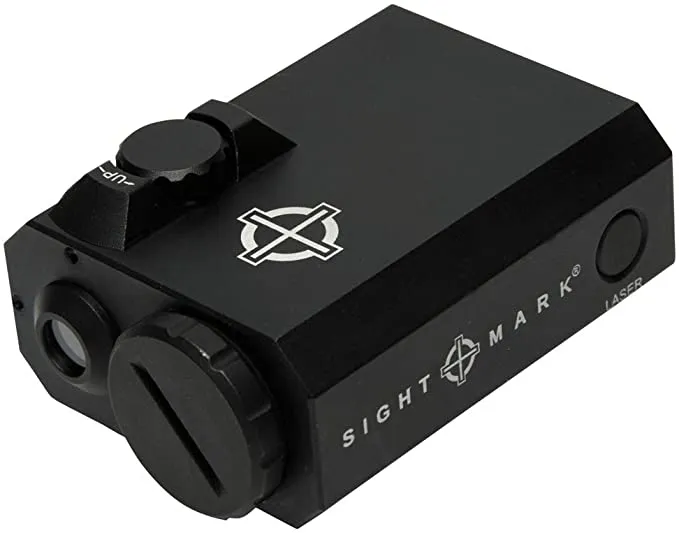 Specifications:
| | |
| --- | --- |
| Laser Ouput | <5mW 520nm class IIIA green laser |
| Click Value | 1 MOA |
| Battery | CR123A |
| Weight | 6.7 ounces |
Pros
Well-rounded model with great value
25-yard reach in daylight, 600-yard reach in the night
Powerful green laser
1.5-inch dot size at 25 yards
Sightmark limited lifetime warranty
Cons
Doesn't have a standard on/off switch
Heavy for just a single laser unit
If you think that the military-grade IR laser/IR illuminator combo stuff is a bit overkill, here's the Sightmark LoPro Mini Green Laser Sight. It's a well-rounded green laser sight without the fancy features.
The Sightmark LoPro Mini is a brilliant, no-nonsense model, and the design is completely focused on the laser's quality.
Although a bit heavy for a single laser unit, it's an all-around option for both rookies and veterans that can be easily mounted on Picatinny rails, and it sits relatively low. Additionally, it's a bit off-center so that your front sight doesn't block it.
The CR123A battery has up to 18 hours of continuous battery use, the windage and elevation knobs are easy to adjust with 1 MOA per click, and since you'll be using it for the 25-yard range, it's relatively easy to zero. What's more, there's an easy pressure pad for activation.
There are other Sightmark LoPro models available, like the LoPro Flashlight/Visible laser combo or the LoPro Flashlight/Visible laser/IR laser, which is a 3-in-1 combo. They're not that much more expensive as well.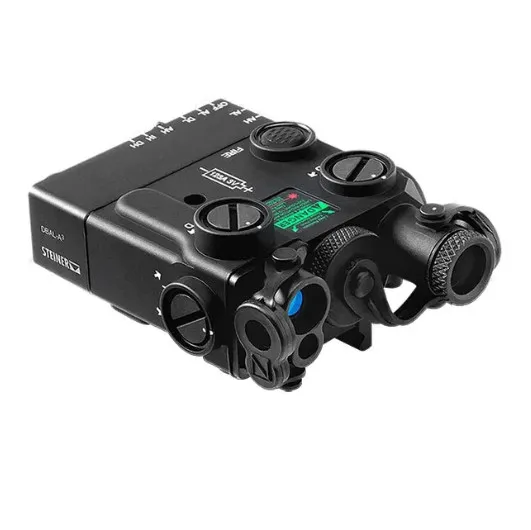 Specifications:
| | |
| --- | --- |
| Laser Ouput | 600mW eye-safe LED IR illuminator; 5mW visible green laser; 0.7mW IR laser |
| Click Value | N/A |
| Battery | CR123A |
| Weight | 8 ounces |
Pros
Unmatched laser power (second only to the MAWL and DBAL-A4)
Three-in-one IR light/IR laser/IR illuminator device
Remote switch for function and activation
Made to be paired with night vision headsets
Adjustable laser beam angle
Cons
One of the most expensive lasers on the market
Heavy
A definite military-grade laser sight made for civilian use, the Steiner DBAL-A3 is the ultimate in covert tactical laser operations. It boasts one of the most powerful visible green lasers on the market.
The DBAL-A3 combines a visible green laser that can be seen up to 50 feet on sunny days and 800 yards at night. The 835-nm IR laser can reach 275 yards at night, while the IR illuminator needs to be paired with a tactical NVD (night vision device).
This Metal Gear-level green laser is housed by aircraft-grade aluminum, built to be as shockproof and durable as possible, and it's made to withstand AR-15 recoil for a very long time.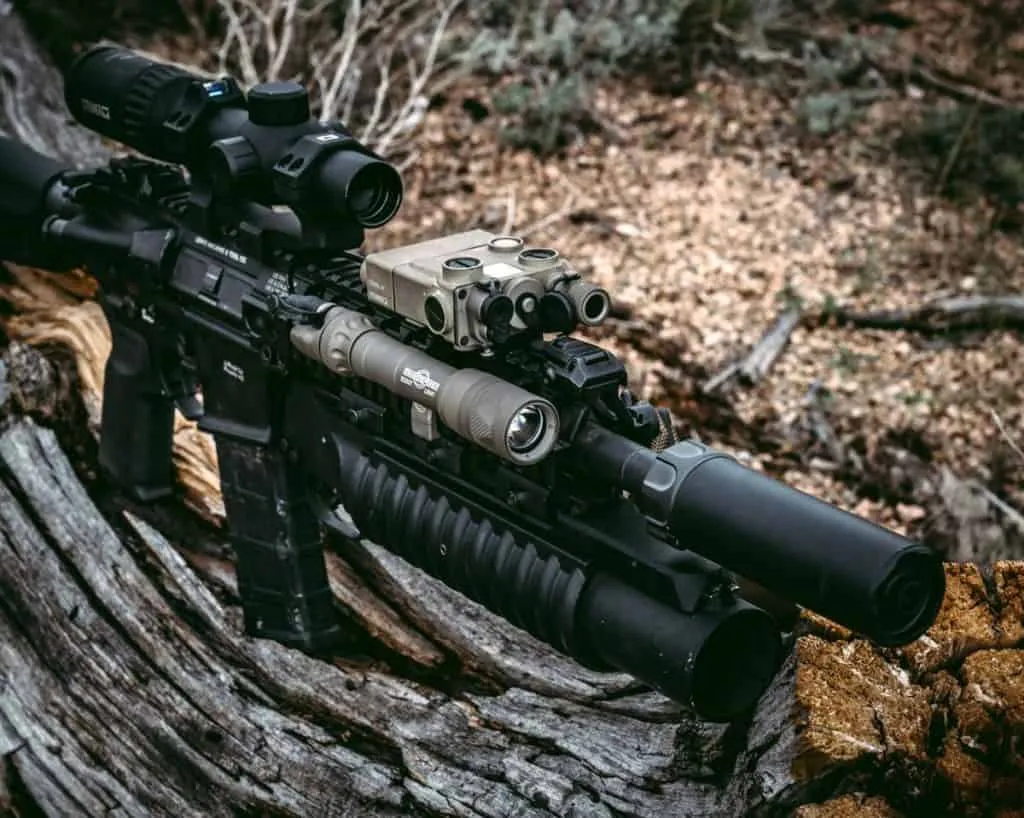 The integrated push-button activation switch is conveniently placed and is ambidextrous, and the remote pressure pad can be tapped once for momentary laser mode or double-tapped for continuous laser mode for 5 minutes.
The DBAL-A3 is definitely not for just anyone, and I would recommend this only to the serious AR-15 enthusiasts with a decent night vision headset. The Steiner DBAL-D2 is basically the same, except it has a stronger IR illuminator and is heavier.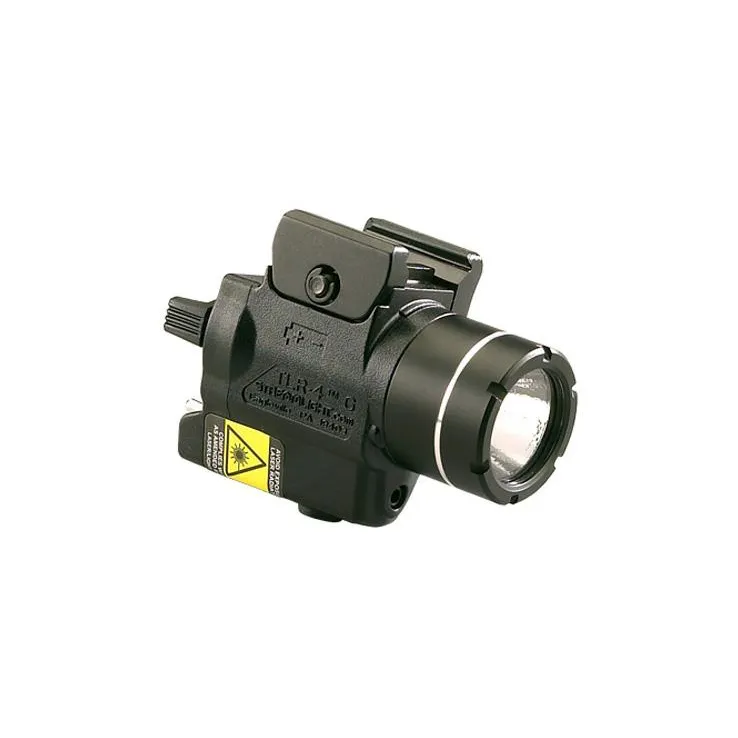 Specifications:
| | |
| --- | --- |
| Laser Ouput | 640-660nm red laser |
| Click Value | N/A |
| Battery | CR2 3V Lithium |
| Weight | 2.8 ounces |
Pros
Compact and lightweight
Suitable for both rifles and handguns
Three light mode options available
Easy to use and install
Ambidextrous on and off switch
Easy to zero and stays zeroed
Cons
Lower battery than the Streamlight TLR-2
Fragile polymer build
LED light not as bright as other flashlight models
Streamlight TLR-4 G is an option for handguns, but that's what makes it a great compact flashlight/laser option for your AR-15. It's a less powerful but far cheaper model than the TLR-2, and it's compact with just 2.8 ounces of weight.
The white LED flashlight has a 170-lumen power, which is enough for home defense and self-defense in dark alleys. The 640-660nm green laser can reach up to 10 yards in broad daylight.
Much like the TLR-2, it stays zeroed for a long time and has ambidextrous, easy-to-use switches. You can say that it's the most balanced in price, power, and features.
The TLR-4 G only lasts up to 1.5 hours of continuous use and 15 with just the laser. It can also mount on a Picatinny rail.
What the Streamlight TLR-4 offers is just great value for those of you who are just looking for a featherweight tactical device for when things go bump in the night.
Check out the even more powerful Streamlight TLR-8 with a durable aluminum build and 500-lumen LED flashlight. As a word of advice, I would avoid the red laser model because it's significantly less powerful.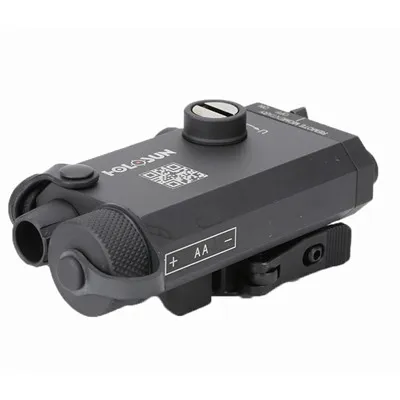 Specifications:
| | |
| --- | --- |
| Laser Ouput | 0.5mW |
| Click Value | 0.5 MOA |
| Battery | AA Battery (red laser); CR2 3V Lithium (green laser) |
| Weight | 4.9 ounces |
Pros
Lightweight and compact
Adjustable windage and elevation
Corrosion-resistant machined aluminum housing
Has a QD (quick detach) Picatinny mount
Cable switch controls
 
Cons
Tight screws might damage the aluminum construction
Green laser model has a CR2-type battery that's hard to find
Here's the Holosun LS117 red laser sight, which is somewhere in-between commercial and professional-grade devices. I recommend this sight if you want a smaller, more tactical edge from a class IIIA visible red laser with a decent price tag.
The Holosun LS117 has a 0.5nw collimated red laser pointer for close-quarter combat that can reach up to 25 yards and more if you're in low-light conditions.
It's one of the best compact red laser options with a lightweight yet durable 7075 T6 aluminum housing.
The Holosun LS117 has all the standard features of a good laser sight like an IP67 water resistance rating, extreme weather resistance from -40 to 124 Fahrenheit, a QD release Picatinny rail mount, a remote cable switch for easy activation, and high/low brightness settings.
I recommend this one if you want to go for the IR night vision models, but you're short on cash for the LS321 or the Steiner DBAL-D2. There's also a green laser model available and in combination with an IR laser.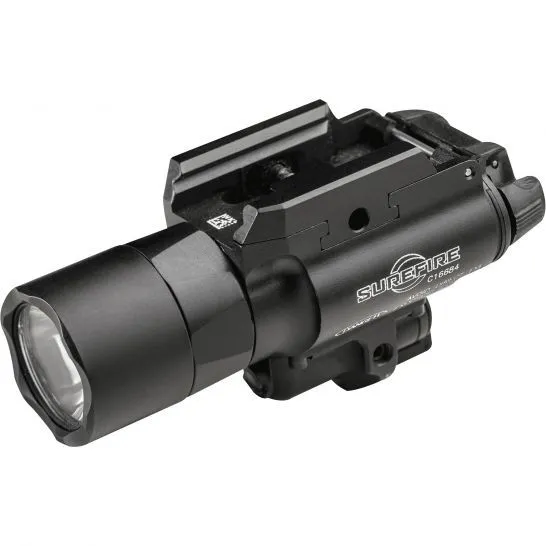 Specifications:
| | |
| --- | --- |
| Laser Ouput | 515 nm, 0.5 mW; 1000 lumens LED flashlight |
| Click Value | N/A |
| Battery | 2 CR123A Lithium |
| Weight | 4.9 ounces |
Pros
One of the best LED laser light combos
Stays zeroed for a long time
Ambidextrous controls
Great for home defense and night burglars
Sharp laser beam can reach up to 25 yards
Cons
Tightening the screws is difficult
The SureFire X400 Ultra LED Green Laser Sight is a certified standard among the laser light combo devices on the market.
The high-performing 1000-lumen LED flashlight, along with a very sharp 5 mW/515 nm green laser sight, makes for the ultimate in pistol and AR-15 tactical shooting, especially at night.
The SureFire X400 has more than an hour of battery life, and it can be easily mounted on both rifles and pistols via universal or Picatinny accessory rails. It's waterproof, thanks to the O-ring-sealed, aircraft-grade, Mil-Spec hard-anodized aluminum construction.
It has ambidextrous controls and a pressure-pad switch for AR-15 rifles that can easily be activated from both sides with one finger and from a shooting stance. The light also has a pulsating and a constant light mode for your convenience.
A lot of customers have noticed that the SureFire X400 has really tight Nylok adjustment screws, but that's why it rarely needs zeroing. What's more, the recoil-proof 1000-lumen LED light beam could also scare off hostiles and temporarily blind intruders at night.
A red laser sight model is also available along with 123A Lithium Battery packs, and there's a far cheaper SureFire X300, which is a less powerful but still viable laser light combo.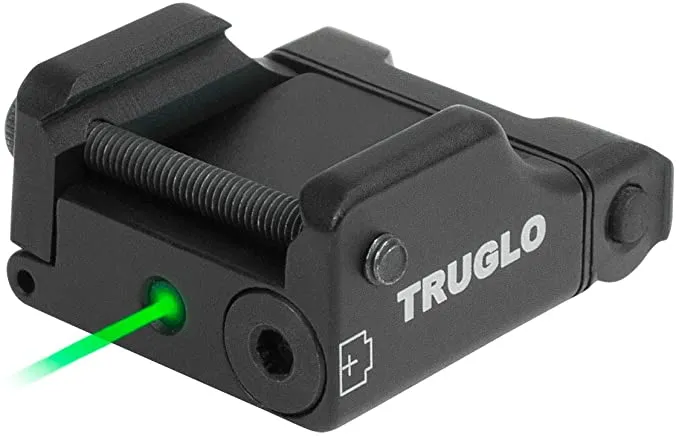 Specifications:
| | |
| --- | --- |
| Laser Ouput | 520 nm |
| Click Value | N/A |
| Battery | LR626 |
| Weight | 0.7 ounces |
Pros
Lightweight and compact
Ambidextrous
Can fit Picatinny and Weaver-style firearms
Automatic shutdown feature
Cost-effective
Cons
Not as powerful as the other lasers
Screws are overtightened
Difficult to adjust on tall firearms
Yes, you can use a pistol laser on your AR-15.
The ultra-compact TruGlo Micro-TAC is the David in the world of AR-15 laser Goliaths and is well-known to have impressed lots of skeptics.
The aluminum construction is durable, lightweight, waterproof, and shockproof, and it's universally compatible with most weapons, being able to fit Picatinny or Weaver-style rails.
The Micro-TAC has "pulse" and "constant" laser settings, and it automatically shuts down after 5 minutes of idle time.
It's pretty easy to install, and the windage and elevation adjustment buttons are easy to manipulate. What's more, its on/off button is ambidextrous, which makes it a very convenient choice for most.
Zeroing it can be difficult if your handgun has higher rail and iron sights, and this is what makes it more suitable for AR-15 rifles. The tense adjustment screws compound the issue, making it difficult to fine-tune the sight.
With its laser power output of 520 nm of wavelength, it's intended for the 25-yard range tops, and it might not be your best choice for long-range shooting.
I would recommend this AR-15 green laser sight for the rookies who are just dipping their toes in the laser business and for those who are looking for a short-range home defender.
AR-15 Lasers – A Definite Buyer's Guide
Like with any AR-15 accessory, before you buy the best laser sight for you, you first need to understand why you'll need it, and for what.
Let's get one thing straight; my honest opinion is that laser sights are designed to be used at night, preferably with night vision goggles.
Their efficiency significantly drops when used in the daylight, despite the visible green laser sights, and even so, why would you waste money on sights that only reach 50 yards tops?
Some of these sights are for pistols, but that's actually a good thing because laser sights are built to suit short-range weaponry, and this is where they truly shine (pun intended).
Rest assured, as long as your AR-15 rifle has a Picatinny rail or a Weaver rail, it's all good.
Let's start with power.
Laser Output
You should look for 3A/IIIA or 3R-classified lasers that are well-within FDA regulation. These lasers offer no more than 5mW power output, but you should consider the general wavelength of the visible laser, the IR laser for that matter, and the IR illuminator if you picked the triple combo.
You can't go wrong with 525 nm or 840 nm, but you should be careful with the quality, bloom, and precision of the laser dots.
A lot of retailers promise one thing, but it's an entirely different story in the field, so it's a bit risky to choose a laser with reliable output power, especially on laser listings on Amazon.
I recommend the lasers that I listed out by Steiner, Holosun, Crimson Trace, and Sightmark.
Overall Brightness and Battery Life
If you're considering the flashlight/laser combos like the LoPro Flashlight/Visible laser/IR laser or the SureFire X400 Ultra LED Green Laser Sight, make sure you take a look at the lumens they offer. This is the unit measurement for how bright your light is and how far it can illuminate.
Some flashlight combos like the Streamlight TLR-2 HL G have a brightness power of up to 1,000 lumens, but most of the time, you'll only need 170 lumens, which is enough to brighten a dark street or dark rooms.
Stick to 500-lumen power, combine it with a good green laser sight, and make sure the battery life is enough for your shooting purpose.
Price
As always, the quality of your chosen laser is directly proportional to its price, but you don't have to overspend on features and power you might actually not need. Think about the purpose of your purchase, how you'll use your laser, and the range you'll be using it for.
If you're going to frequently use it for nighttime tactical applications and you already have an NVD, it's a no-brainer to go for a visible/IR laser/IR illuminator combo.
But, if you're a rookie who's just looking for some fun or a concerned homeowner, get yourself a proper laser/flashlight device. You have lots of models, types, and feature combinations that you'll need to consider.
A word of advice:
Some popular lasers are circulating around Amazon like the very cheap Pinty, Ozark Armament Green Laser, Tacticon Armament, and Feyachi models.
I suggest you steer clear because they're low-quality airsoft lasers with a relatively weak laser output to be taken into serious consideration.
Construction, Size, and Weight
Compact and lightweight lasers are cool, but you can't have cool features and a lightweight device.
It's a real trade-off when it comes to a flimsy, yet lightweight polymer build, and a durable, yet hefty aircraft-grade aluminum construction.
Whatever you pick, make sure the laser device stays put, doesn't lose its zero from the AR-15 recoil, doesn't block your sight, and doesn't add swing weight to your rifle.
FAQs
What Is the Difference Between IR & Visible Lasers?
The difference between a visible laser and the IR laser is that the visible laser can be seen in daylight and is even more visible during the night.
On the other hand, the IR laser (infrared laser) has a color wavelength on the electromagnetic spectrum that's invisible to the human eye, and it's only visible with night vision goggles. Once you turn on your night vision goggles, they detect the IR laser no matter how dark it is.
If you have an NVD (night vision device), I recommend you look for IR laser and IR illuminator combo units. The IR illuminator serves as an infrared flashlight that significantly brightens your area of aim and can only be visible via night vision goggles.
What Is the Best Green Laser for an AR-15?
The best green laser might be the Steiner DBAL-I2 IR laser/IR illuminator combo with an 840 nm IR laser that can reach up to 250 yards at night. It has a quick detach HT mount, and it's pre-drilled for installing red dot sights.
If you want a cheaper mid-tier AR-15 laser, check out the Holosun LS321G, which also comes with an IR illuminator.
Which Laser Sight Does The US Army Use?
US military personnel use the multifunctional ATPIAL-C (Advanced Target Pointer/Illuminator Aiming Laser – Commercial) with a visible laser, IR laser, and Class I IR illuminator that can reach >25 yards, >450 Yards, and >150 yards, respectively.
Then there's the MAWL-C1+ which is just as powerful and is accessible to civilians but costs a couple of thousands.
Are IR Lasers Legal?
As a civilian, you're free to purchase and own laser and IR laser sights that are regulated by the U.S. Food & Drug Administration (FDA).
Such lasers are classified as Class IIIb or IEC Class 3B Medical/Industrial Lasers and are harmless, so it's legal to possess these FDA-certified products.
What is the Difference Between Red Laser Sights and Green Laser Sights?
Red lasers are cheaper and more available in the market and are more visible at night than green lasers. They are less bright during the day, but their overall output is smaller, and that's why they don't eat as much battery life.
Green Lasers come at a higher cost because they have a stronger light output, even for long-distance shooting. They work great both during the day and at night, but they drain batteries quicker than red lasers.
Conclusion
As you can see, there are countless models and laser types with features that have a little something for everyone. It just depends on what exactly you're looking for, how, and how much you're going to use it.
I'm guessing you're a serious buyer who's looking for a decent, nighttime tactical device, and if that's the case, consider the Steiner DBAL-I2. The Holosun LS321G and the Crimson Trace CMR-301 are also great choices if you want cost-effective and quality lasers.
There are also versatile flashlight/laser combos like the Streamlight TLR-2 HL G that get the job done as well, and for the more serious AR-15 enthusiasts, I strongly recommend the Steiner DBAL-A3 Green Laser for the ultimate in tactical night-time shooting that both hunters, military personnel, and veterans can use.
One final thing, when you purchase your laser, make sure you zero it around the 10-yard mark or the 25-yard range, and you're good to go for home defense. Pairing it with a reflex sight is easy and doesn't affect the laser's reach.
Stay safe, shoot straight.
Explore more