5 Best Night Vision Scope for AR-15s [2023]
5 Best Night Vision Scope for AR-15s [2023]
Introduction
Unfortunately, we weren't born with the same night vision capabilities that our ape ancestors have. So now you're here. Looking for the best night vision scope for AR-15s.
Big man in the sky, what gives? I wanna see in the dark! Why do I have to spend my cash on night vision when I'm supposed to be an apex predator?
Anyway.
I know the reference to anything with night vision capabilities may cause shooters to shy away, but I've found the best night vision scope for shooters of all budgets, from the ballers to the working man like me.
No worries, fine shooter. I got your back.
Anyway, before I lose you, let's jump in.
Best Night Vision Scope For AR-15s & Recommendations
If you're on a time crunch, here is a short list. Fair warning, you may want to see WHY they're the best in their category.
Best Overall – Pulsar Digex C50
Best Value – Sightmark Wraith HD 2-18x28mm
Best Night Vision Scope Under $500 – Nightowl Nightshot
Best For Coyote Hunting – ATN X-Sight 4K Pro Edition
Best For Hog Hunting – ATN Thor 4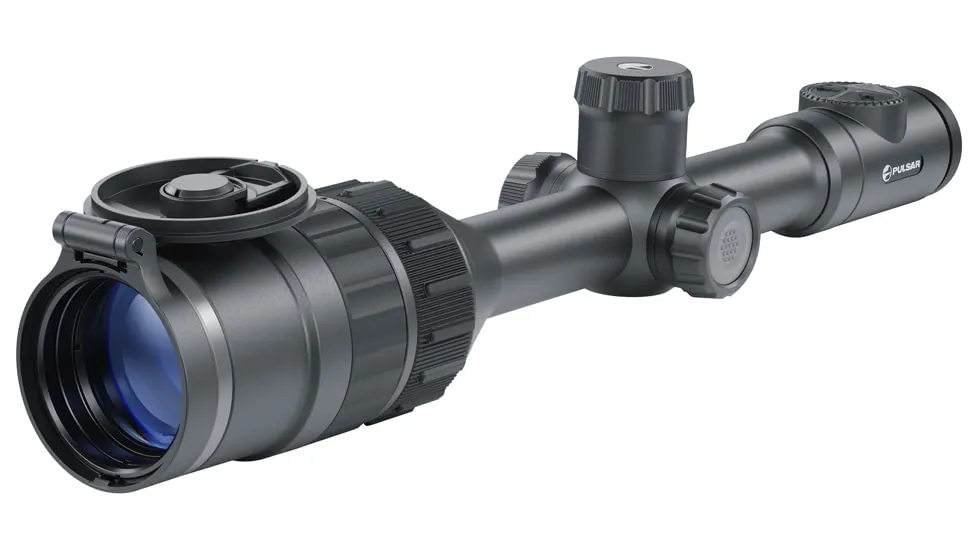 Specifications
| | |
| --- | --- |
| Magnification | 4x |
| Detection Range | 546 yards with IR Illuminator ON |
| Resolution/Pixels | 1024×768 |
| Type | AMOLED |
| Waterproof? | Yes (IPX7) |
| Material | Aluminum Alloy |
| Weight | 2.53 Pounds |
| Length | 16 Inches |
Pros & Cons
Pros
Three-second startup time

Photo/video recording

Completely waterproof

SUMLight features make the most out of low-light conditions
Cons
Price

Doesn't come with IR device

Heavy
If you want a night vision scope with more features than the space shuttle, you are in the right spot.
Okay, maybe not AS many, but the C50 can turn even the smallest bit of light and project more colors than a Samsung TV. But this time, instead of watching the hunt, you'll be the one behind the gun.
I picked the Digex C50 as the best overall due to how well it accommodates even the finest shooters. Out to 546 yards, you can positively identify whatever game you're hunting. Perfect for coyotes, hogs, deer, and elk.
You can also record your hunts. And they'll appear on your iPhone or Android device to share with the kids when you get home. Teach 'em young is what I say.
If none of that tickles your peach, then the adaptive night imagery will certainly set your soul on fire. When used with an IR illuminator, the flood exposure from the tall grass and brush won't drown out your game.
But, the C50 does not come with the IR device. So you have to fork over a bit more cash.
Buy once, cry once. After the crying is done, you can enjoy a lifetime of outsmarting the prey with one of the best night vision scopes on the market.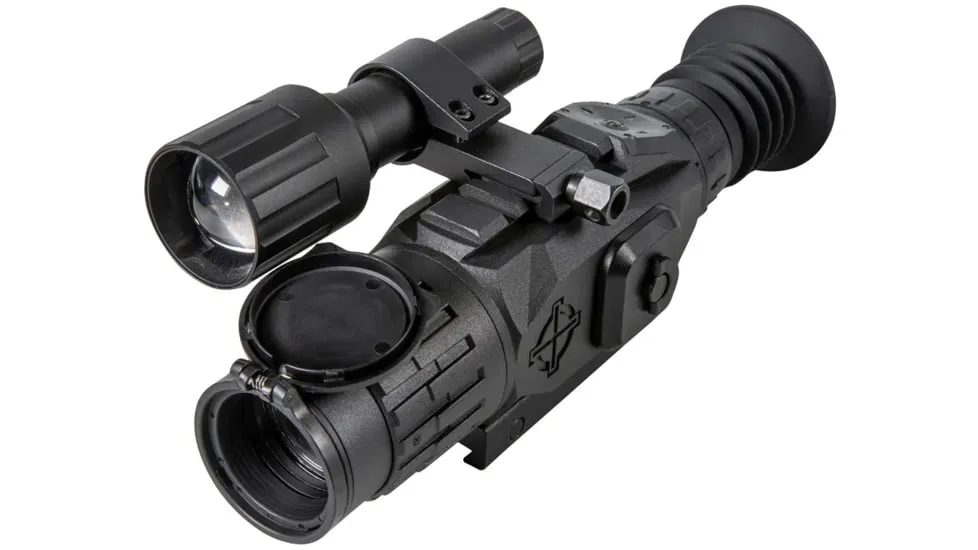 Specifications
| | |
| --- | --- |
| Magnification | 8x zoom (digital) and 2x (night) |
| Detection Range | 183 yards |
| Resolution/Pixels | 1280x720p (nighttime) |
| Type | FLCOS |
| Waterproof? | IP55 – water resistant |
| Material | Aluminum |
| Weight | 2.08 Pounds |
| Length | 10 inches |
Pros & Cons
Pros
High definition display

IR illuminator projects up to 200 yards at night

Multiple reticle options
Cons
Does not come with an IR illuminator

Only water resistant
Sightmark has their hands well dipped into everything in the AR-15 world. They make everything from optics, bore lasers, IR, and visible lasers; you name it. The only thing they haven't made is an AR-15.
For better or for worse.
The Wraith (do you guys remember that movie?) is Sightmark's addition to the night vision optic world. And it boasts some pretty impressive features.
What kind of features do you ask?
High-resolution display in both day and night, color display during the day, ten different reticle options with nine different color options, sharp display during the day and night.
Theres more.
1080p recording to show the boys later on and five different weapon profiles if you like to mount the Wraith on different guns.
That's some pretty good features for an optic that could have been featured in the next category.
My only gripe with the Wraith is that it's only water-resistant. When the hunt gets wet, the last thing you want to worry about is your optic giving out on you. I would have liked to see an IPX7 waterproof rating on an optic that will see some moisture.
Best Night Vision Scope Under $500 – Nightowl Nightshot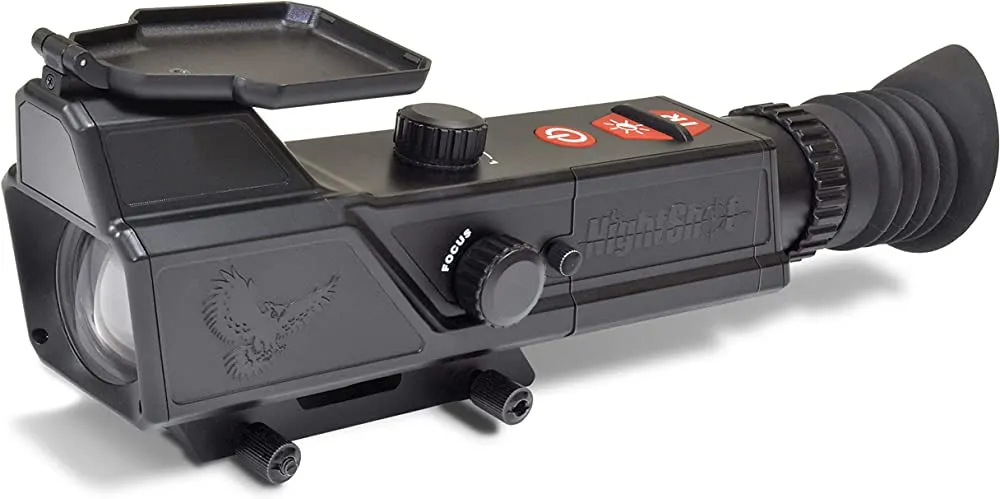 Specifications
| | |
| --- | --- |
| Magnification | 3x |
| Detection Range | 75 yards (optimal) |
| Resolution/Pixels | 480/640 |
| Type | Digital |
| Waterproof? | For some reason, it's not. |
| Material | Thermoplastic |
| Weight | 1.3 Pounds |
| Length | 13.19 Inches |
Pros & Cons
Pros
Surprisingly lightweight

3 different reticle options in both black or white

Built-in infrared illuminator
Cons
Looks like an 80s video camera

Feels like cheap plastic

Higher calibers cause the screen to go blank 

3-hour battery life
If you are just getting into hunting at night and don't want to break the bank, the Nightshot is an optic you should consider.
I know, it looks like they filmed The Breakfast Club on this thing. But when you take into consideration that it has a built-in IR illuminator, you can understand why the Nightshot made it on this list.
No other optic on this list has a built-in IR illuminator. You usually have to spend a bit more coin on that.
But that also gives the Nightshot great night vision capabilities. Although, you can only get up to about 75 yards with this optic before everything starts to get grainy. That can be bad since positive identification is a must when out on the hunt.
But, if you can manage to get in close, you can pick up targets easily with great resolution.
Well, for 3 hours, anyway. Then you have to change the batteries. Always keep a few spares with you.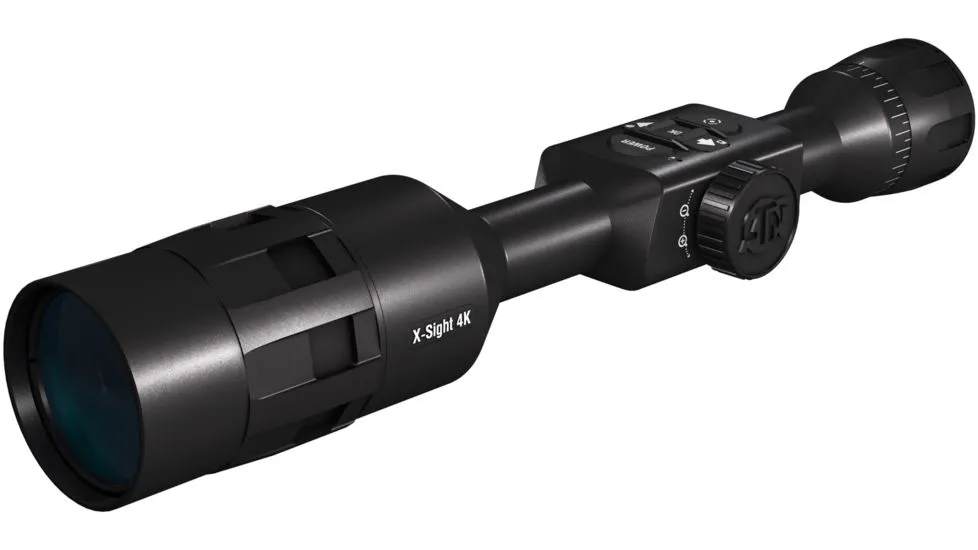 Specifications
| | |
| --- | --- |
| Magnification | 5-20x |
| Detection Range | 874 yards |
| Resolution/Pixels | 1280x720p |
| Type | Full High Definition |
| Waterproof? | No, water resistant |
| Material | Hardened Aluminum Alloy |
| Weight | 2.2 Pounds |
| Length | 14.9 Inches |
Pros & Cons
Pros
One-shot zeroing

Integrated ballistics calculator

Ultra HD Display

Handles higher calibers easily
Cons
For some reason, it's only water resistant

Not the best range

Must use IR Illuminator
I don't think there's enough time in the day to list all of the features that come on the X-Sight.
One of our own actually did a review on it.
Seriously, there's a lot. You have one-shot zeroing, a built-in ballistics calculator, and all of the color options on the rainbow for your reticle. The damn thing will even tell you where to aim.
There is no other optic on this list that offers this many features. Especially none that will tell you where to aim the reticle and pull the trigger.
What more could a hunter want from his scope?
Oh, I got it. How about some waterproofing? ATN stuffed an iPhone into a scope but drew the line at waterproofing. Hey, at least it's water-resistant, I guess.
Just don't go dropping this thing into any puddles. The lack of waterproofing is the only reason the X-Sight didn't make it to the best overall spot.
Best For Hog Hunting – ATN Thor 4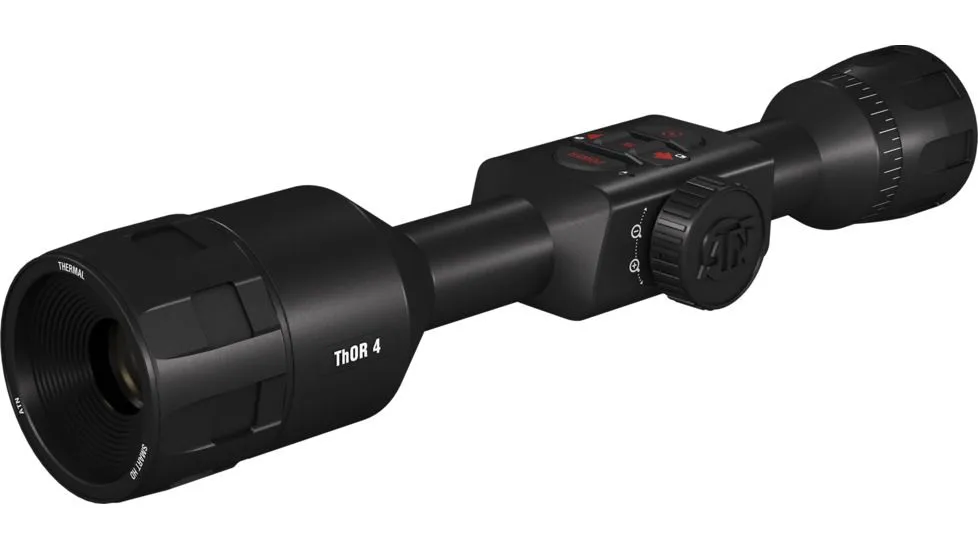 Specifications
| | |
| --- | --- |
| Magnification | 2-8x |
| Detection Range | 830 Yards |
| Resolution/Pixels | 1280x720p |
| Type | High Definition |
| Waterproof? | Again, no. |
| Material | Hardened Aluminum Alloy |
| Weight | 1.93 Pounds |
| Length | 13.1 Inches |
Pros & Cons
Pros
Extremely sensitive thermal imagery

Internal ballistic calculator

Top-notch image quality

Handles higher calibers
Cons
It's not waterproof

Can sometimes lock up when in use

Can freeze in extremely cold temperatures.
Ahh, I just noticed another optic from ATN on my list. Bare with me, fine shooter. They make some pretty damn good night vision and thermal optics.
Not waterproof, but still pretty good.
And now I'm gonna throw you a curveball. It's a thermal optic. But there's a method to my madness. Thermal optics are a must for hog hunting.
Night vision scopes are cool and all, don't get me wrong, but a thermal optic is a must-have when dealing with these squirley little animals. I also recommend this optic for coyote hunting as well, but since hogs are a bit more dangerous.
So we wanna see them before they see us.
And have you ever looked into a thermal scope with a field full of hogs on the other side?
When you've been itching for a hunt for a long time, there is nothing better than looking through a thermal scope, breathing out all of the stress, and taking aim at the game.
Just make sure it's not raining too hard when you take out the ATN Thor 4.
How We Chose Our Top Picks
Well, they definitely had to have night vision capabilities…
I'm just joking, fine shooter. There's more to it.
The state I live in, that state being Washington, even though the politicians here are hell-bent on turning this state into the next California, has a huge hunting population. And all of the fine hunters here who get their kicks in the sticks are always welcome to share their knowledge.
So, like the diligent little writer that I am, I called a few that have time in the trees. And then I called a friend over in Texas who has been relieving hogs of their existence for years.
And since I have little to no time behind the tree line (unless you count on Uncle Sam's dime), I took their advice and researched. And now, here we are.
The Night Vision Scope Buyer's Guide
Anything that has "Night Vision" in the name will raise anyone's eyebrows. It can be pretty expensive, which is why you should…
Consider What You're Buying
It would be a crime against humanity and your wallet if you buy more or less than what you need. And when it comes to night vision, the price is high.
What's even worse than the price is getting out behind the brush and finding out that you got less than what you wanted. Not only can that ruin the hunt that you've been trying to get out to for weeks, but you'll also have to deal with the angry spouse.
No one wants an angry spouse. Make sure you know what you're getting into beforehand and avoid the headaches altogether.
Consider how far you plan on shooting. And know that even the best night vision scope on the market won't give you the range of capabilities that a regular daytime scope will provide you with. Even the top-dollar scopes will only get you out to about 400 yards.
And for some hunts, there may be better options. But it should get the job done.
Night Vision vs. Thermal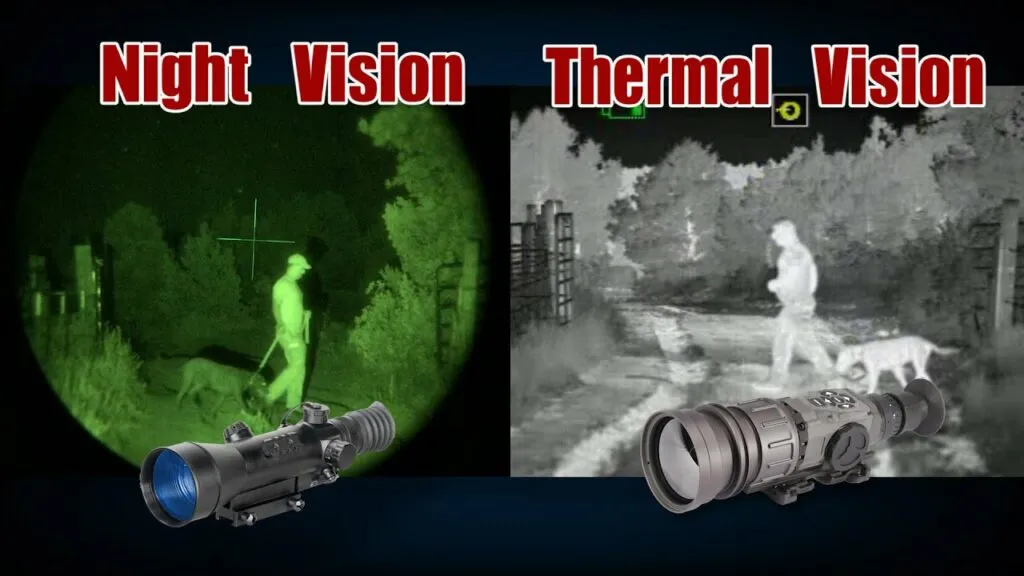 Night Vision and Thermal are different beasts.
Night Vision
Night Vision needs ambient lighting to function. Any lighting will do. And night vision excels with imagery and identifying what you're aiming at. Night vision is also cheaper, lighter, and has a better battery life than thermal.
The downside of night vision is that it NEEDS ambient light to function. Whereas thermal needs none.
Thermal Vision
Thermal uses infrared sensors to detect heat and relay it to the eye. This is why thermal is best at detecting in day and nighttime settings. This is why I always recommend thermal for hog and coyote hunting.
But there is no free lunch. Thermal scopes are more expensive, have less battery life, and are less durable than night vision.
FAQs
Which Is Better, Night Vision Or Thermal Scopes?
They both have pros and cons, but thermal scopes are better at detection. And it's always best to know what's out there. Night Vision scopes are best for more extended hunts since thermal optics have less battery life.
Can You Coyote Hunt With .223?
You most definitely can coyote hunt with .223.
What Is The Best Brand Of Night Vision Scopes?
ATN if you don't need a waterproof optic. Pulsar if you do need something to handle the wet.
Conclusion
Finding the proper night vision scope for an AR-15 doesn't have to be complicated. There aren't that many options when you come to think about it. And the best one is just a few clicks away. Just remember to always look into your scope before buying.
The hunt will be better when you have what you need.
Are there any night vision scopes that we missed? Or do you have one of your own and think we should do a review on it? Let me know in the comments.
See you on the range, fine shooter.
Explore more