6 Best AR-15 Magazines In 2023: Mags for Every Occasion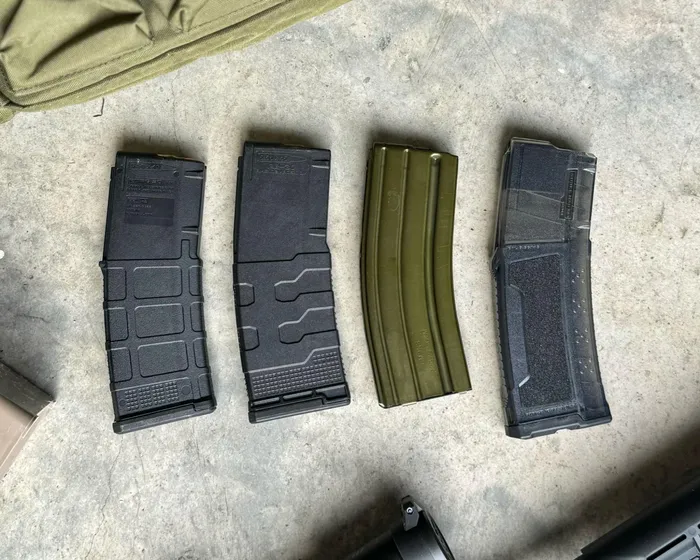 6 Best AR-15 Magazines In 2023: Mags for Every Occasion
You don't have to look hard to find more types of AR-15 magazines than you can count on both hands. There is a suitable magazine for every occasion, from polymer to steel and five to 60-round capacities.
The task of picking the best AR-15 magazine may seem daunting, but that's what we're here to help you with! We're lucky enough to test guns and their respective accessories and magazines for a living, so we've seen and used most of them.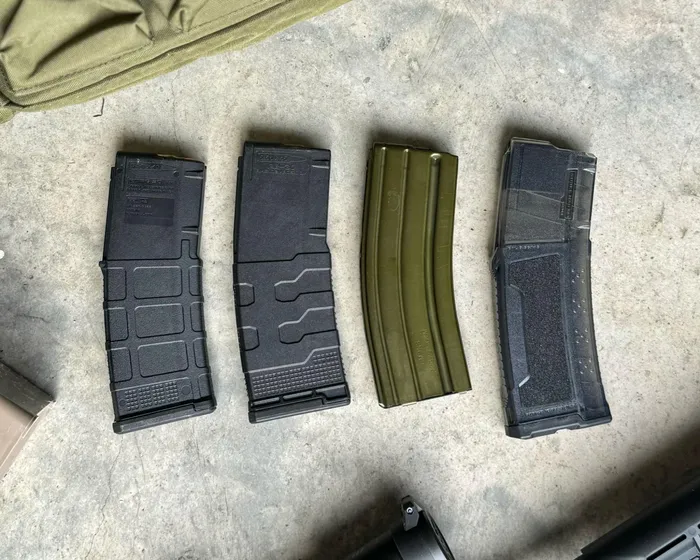 The good news is that there are plenty of quality magazines out there. Today, we'll go over our top picks and provide you with some extra knowledge and things to consider around your next magazine purchase.
Here are my key conclusions from years of experience with AR-15 magazines:
Explore Various Types: I recommend checking out the wide array of AR-15 magazines. There's a perfect type for every need, from polymer to steel, and varying capacities from 5 to 60 rounds.
Try the Magpul PMAG 30 Gen M3: I personally find the Magpul PMAG 30 Gen M3 very reliable. It has great features like a paint pen dot matrix and slimline floorplate, making it a top choice.
Consider DURAMAG for Durability: I suggest looking at DURAMAG Steel/Aluminum magazines for those who prioritize durability. They're incredibly sturdy, though they don't have windowed options and can rust.
Experience High-Capacity with Magpul PMAG D-60: If you're after high capacity, the Magpul PMAG D-60 drum mag is a game changer. It holds 60 rounds, but be mindful of its bulkiness and weight.
Lancer L5AWM 30 for a Hybrid Option: I find the Lancer L5AWM 30 an impressive hybrid design. It combines a polymer body with steel feed lips, offering both durability and an easy way to check your round count.
Material and Capacity Matter: When choosing your magazine, think about the material – polymer, steel, or aluminum – and the capacity. These choices should align with your specific requirements and local laws.
Now, let's get into our list of the best AR-15 magazines.
Best AR-15 Magazines & Recommendations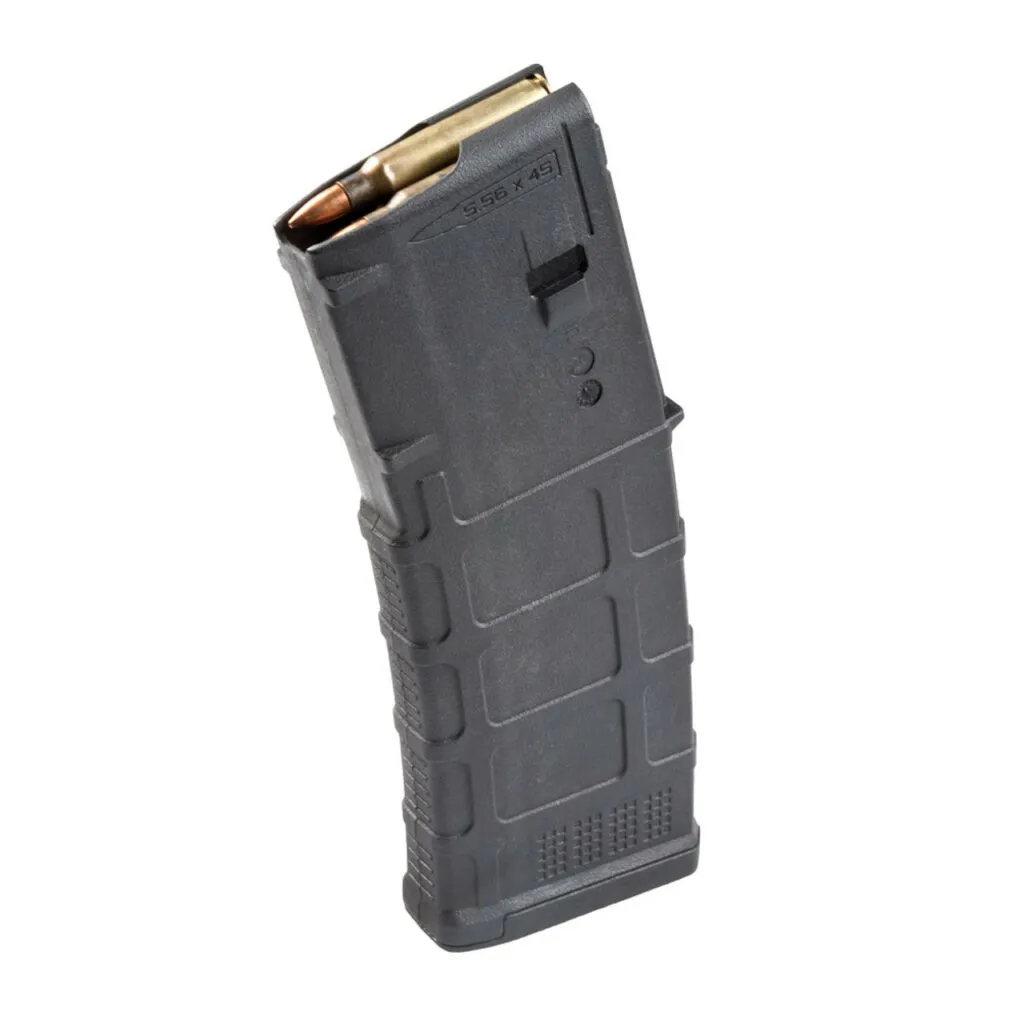 Specifications
| | |
| --- | --- |
| Capacity | 30 rounds |
| Body Material | Polymer |
| Feed Lip Material | Polymer |
| Follower Material | Polymer |
| Weight | 5.0 Ounces |
Pros & Cons
Pros
Proven reliability 

Paint pen dot matrix

Included dust cover

Large aftermarket support for a magazine

Also offered in 10, 20, 40, and 60-round capacities

Slimline floorplate makes double and triple pouches easier to use
The Magpul PMAG is arguably the most popular AR-15 magazine on the market, and for good reason.
From its external features, such as the paint pen dot matrix and slimline floorplate for easy use with mag pouches, to its internal features, such as the anti-tilt, self-lubricating follower, and constant-curve internal geometry, there is essentially nothing this magazine is lacking compared to its polymer competition.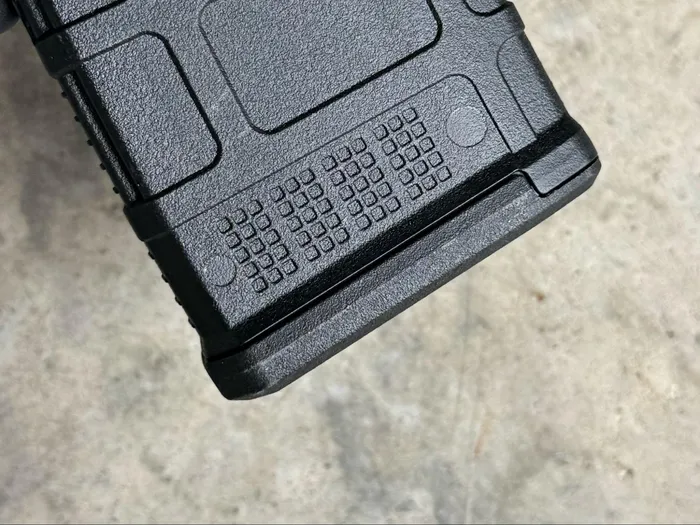 You'll see various texturing and ribbing along the body for a secure grip and an over-travel stop along the back.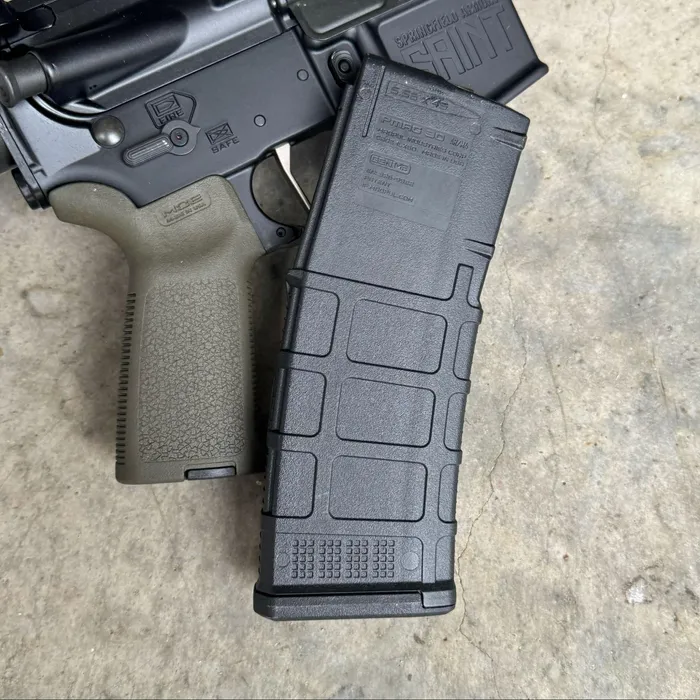 While I haven't tortured tested any of my personal PMAGs, many of mine have seen several thousand rounds over several years without issues.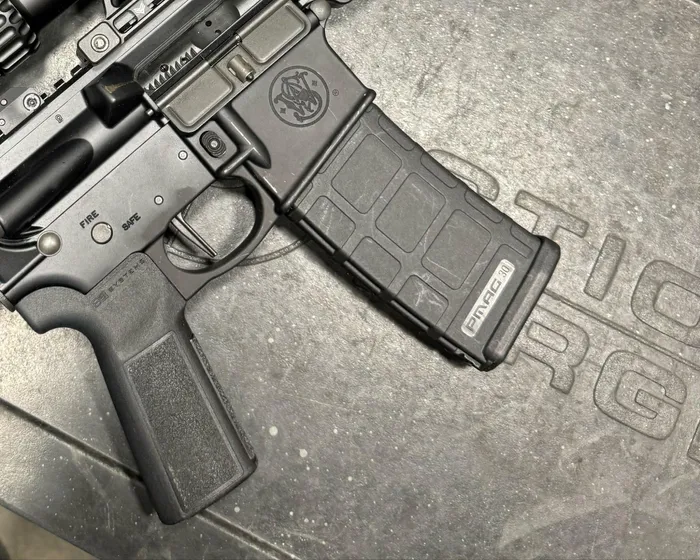 Whether you have any PMAGs currently or not, you should grab a few.
Best Polymer AR-15 Magazine (Runner-up) – Amend2 Mod-3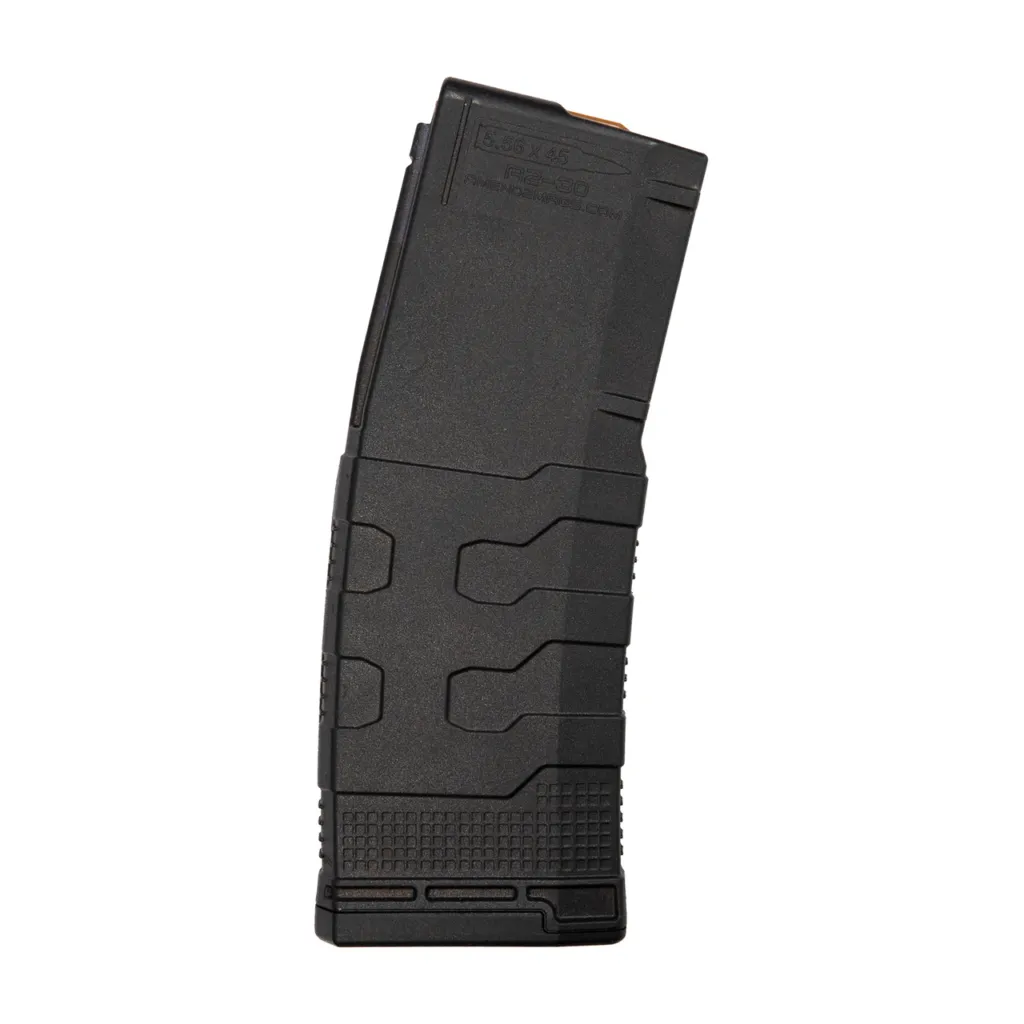 Specifications
| | |
| --- | --- |
| Capacity | 30 rounds |
| Body Material | Polymer |
| Feed Lip Material | Polymer |
| Follower Material | Polymer |
| Weight | 4.6 Ounces |
Pros & Cons
Pros
Constructed out of long strand glass reinforced nylon polymer for durability

Anti-tilt, self-lubricating follower

Paint pen dot matrix

Can often be found in affordable bulk packs
Cons
Not as long-term proven as the PMAG

Only available in a couple of finishes (for now)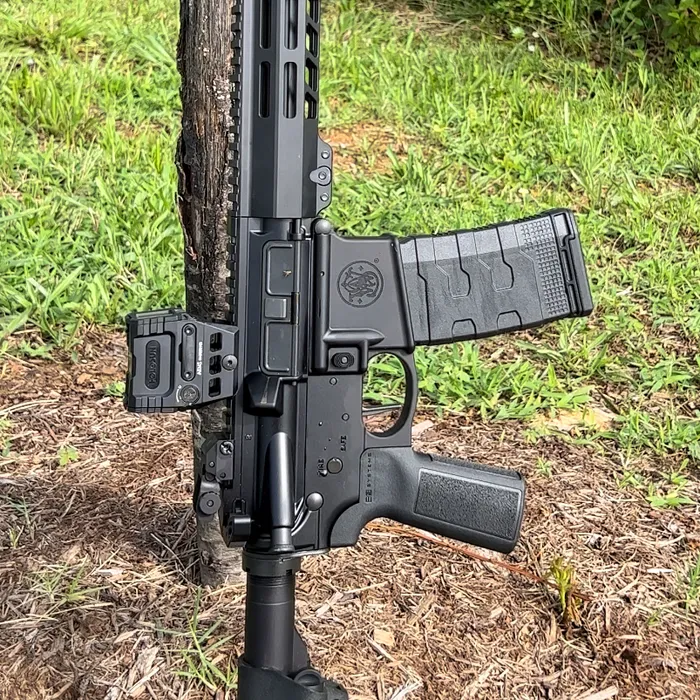 Amend2 magazines isn't new to the scene, but it hasn't been around as long as your Magpuls of the world.
However, I've been running Amend2 magazines for years with no issues whatsoever. The Mod-3 mags are a relatively new release, but the Mod-2 also worked wonderfully for me.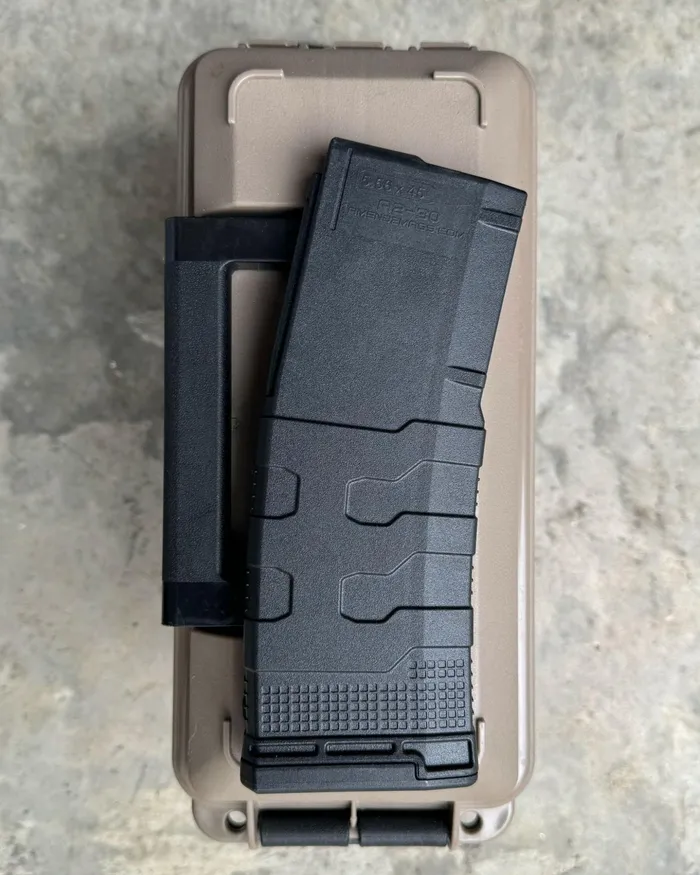 The Mod-3 features a heavy-duty glass-reinforced nylon polymer construction and plenty of texturing and contouring, providing a durable and easy-to-grip body. The anti-tilt, self-lubricating follower and stainless steel spring keep it feeding smoothly.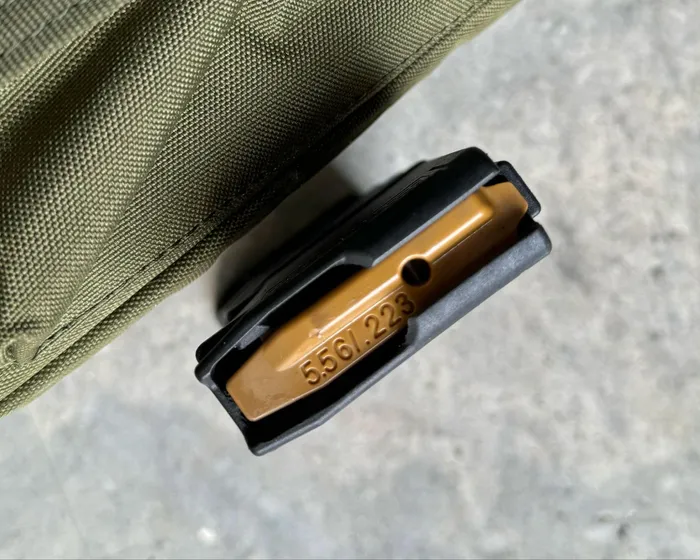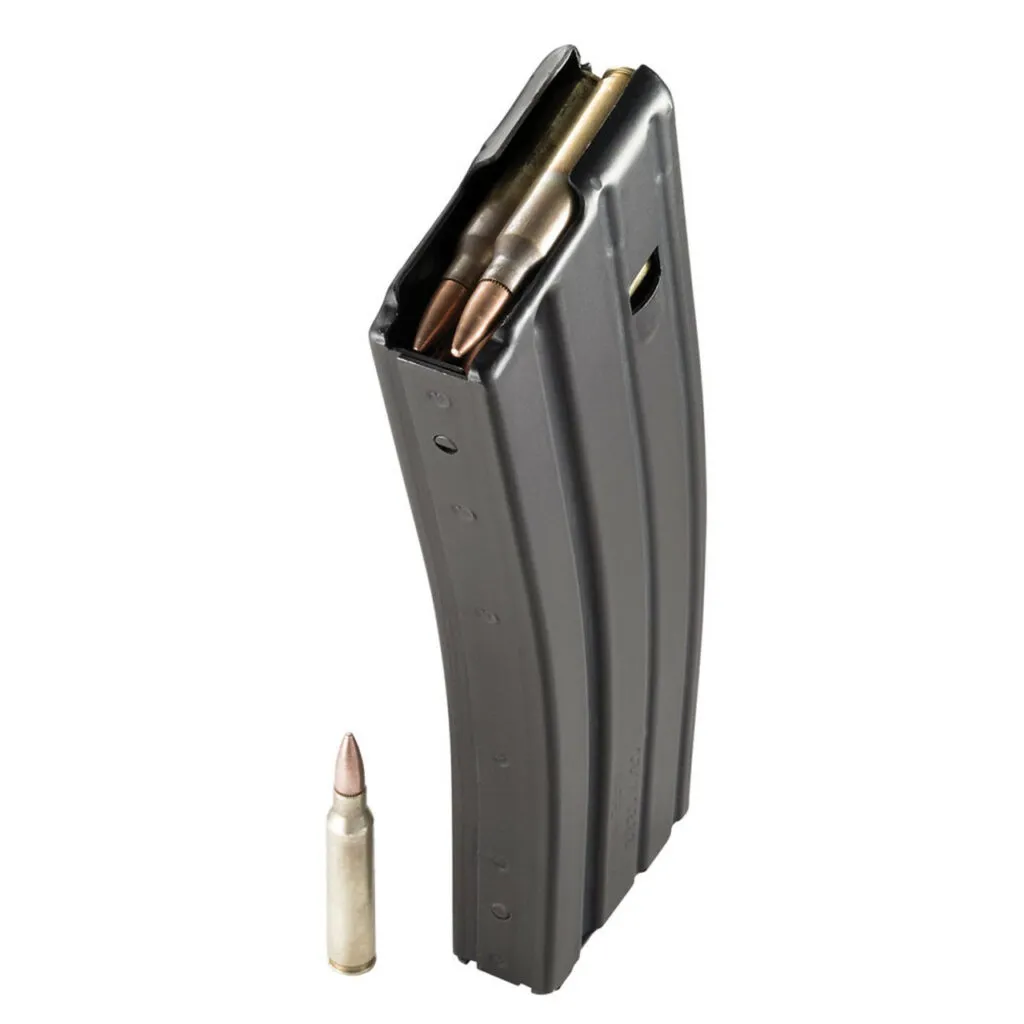 Specifications
| | |
| --- | --- |
| Capacity | 30 rounds |
| Body Material | Aluminum or Stainless Steel |
| Feed Lip Material | Aluminum or Stainless Steel |
| Follower Material | Polymer |
| Weight (varied listed weights online) | Roughly 4 Ounces (aluminum), Roughly 6 Ounces (stainless steel) |
Pros & Cons
Pros
Extremely durable

5, 10, 20, and 30-round configurations

Option for lightweight aluminum construction 

Tons of finish colors to choose from

Advanced internals
Cons
No windowed options

More prone to rusting than polymer magazines
These DURAMAGs are designed for, you guessed it, durability. In addition to the quality steel or aluminum bodies, they feature LipLock technology that keeps the rounds secured and in proper alignment.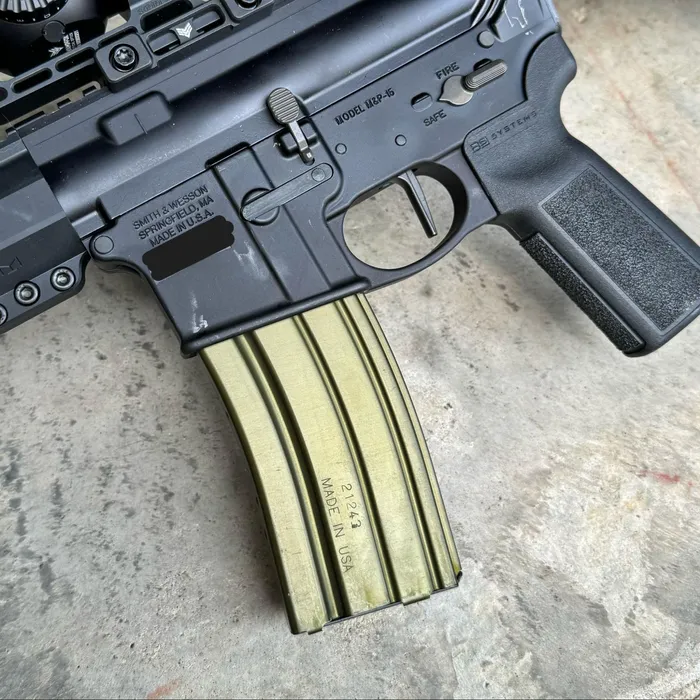 Inside the magazines are anti-fatigue springs and advanced geometry followers that work together to provide smooth and consistent feeding.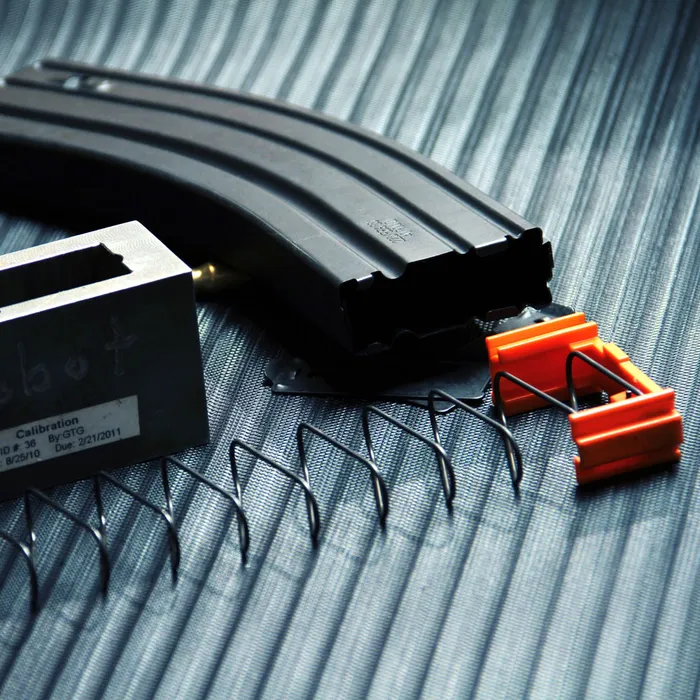 You won't be able to get any DURAMAGs with windows, and they are more likely to rust than polymer mags if not stored properly, but overall, they are built to last.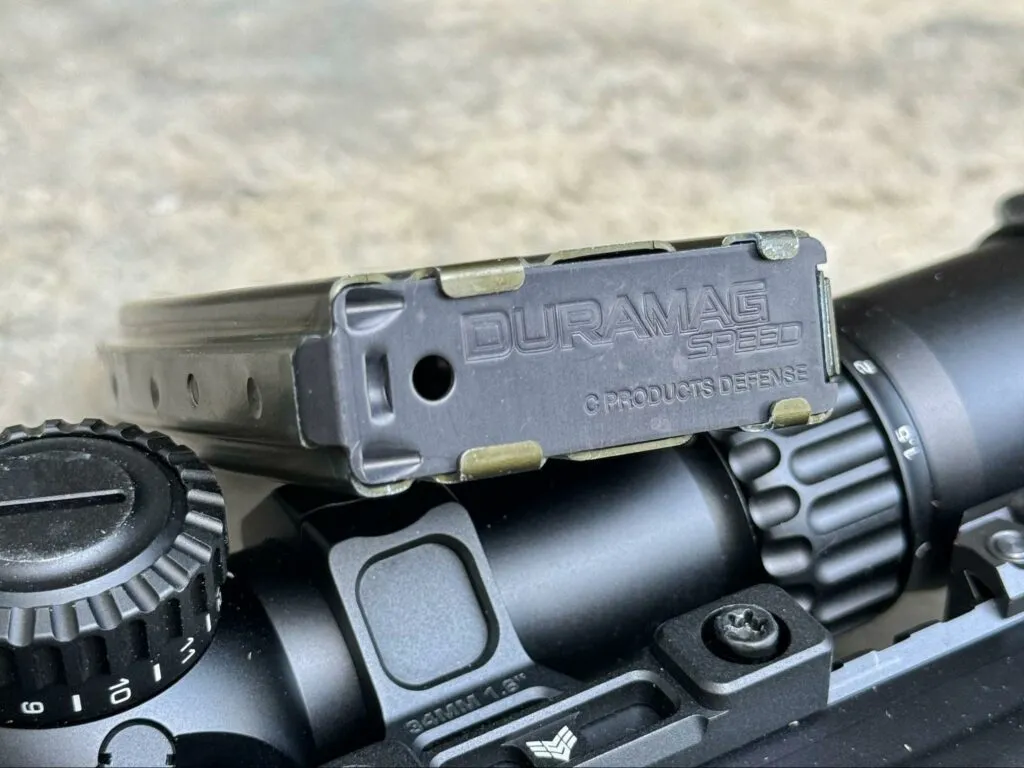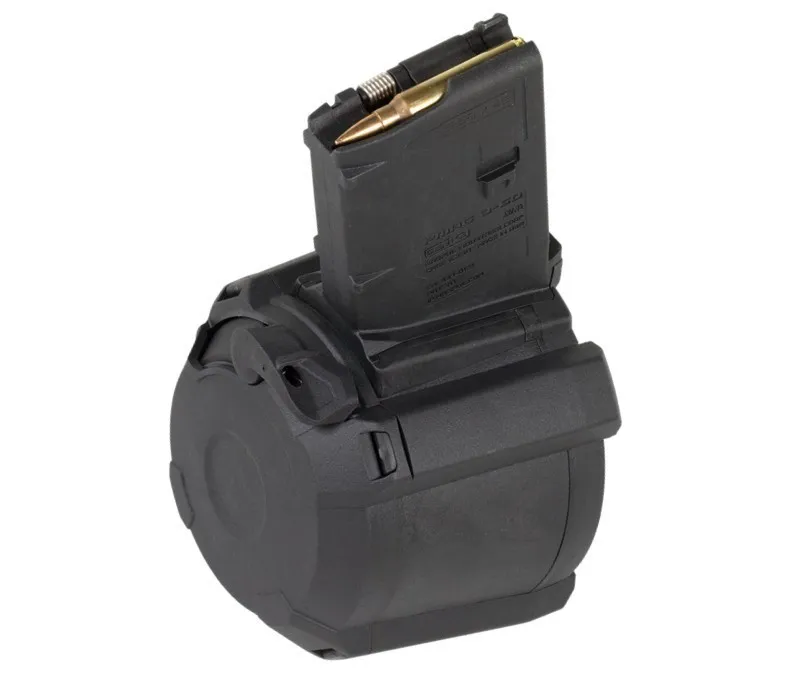 Specifications
| | |
| --- | --- |
| Capacity | 60 rounds |
| Body Material | Polymer |
| Feed Lip Material | Polymer |
| Follower Material | Polymer |
| Weight | 20.5 Ounces |
Pros & Cons
Pros
Lots of freedom seeds (high capacity)

One of the most reliable high-capacity magazines

Saves a ton of time by reducing the number of reloads needed

Paint pen dot matrix

Witness window
Cons
Oddly shaped and hard to carry 

Heavy once loaded

Pricey
If you want to maximize your time at the range, grab one of these drum mags and load it up! With the equivalent capacity of three standard-sized magazines, you can say goodbye to wasting time reloading at the range.
You'll also be well-prepared if those zombies ever finally come…one can hope.

However, all of those rounds mean more weight. The bulkiness and shape of the magazine also prohibit you from carrying them in traditional ways, such as mag pouches on your battle belt or plate carrier. The durability and reliability overshadow all of that, though.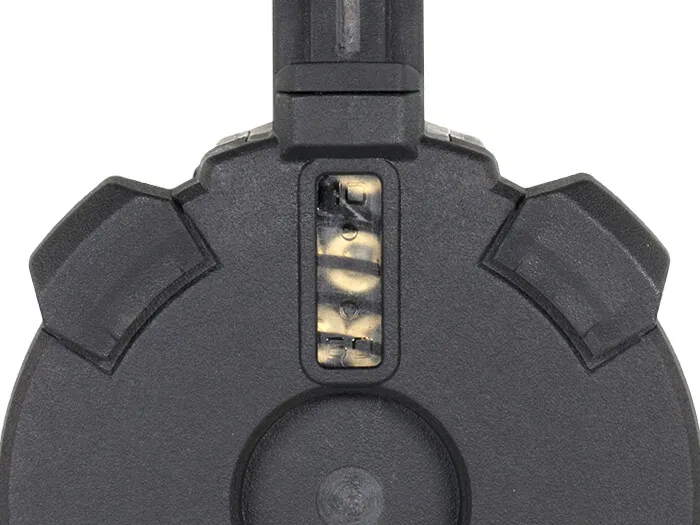 You may think this would take a while to load, but thanks to the ratcheting loading lever, you wind up with a relatively quick and easy loading process. It's even designed to be left loaded, so you can save it until you're ready to go.
EXPERT TIP: Higher capacity magazines like drum mags are heavier; balance the need for capacity with the practicality of carrying.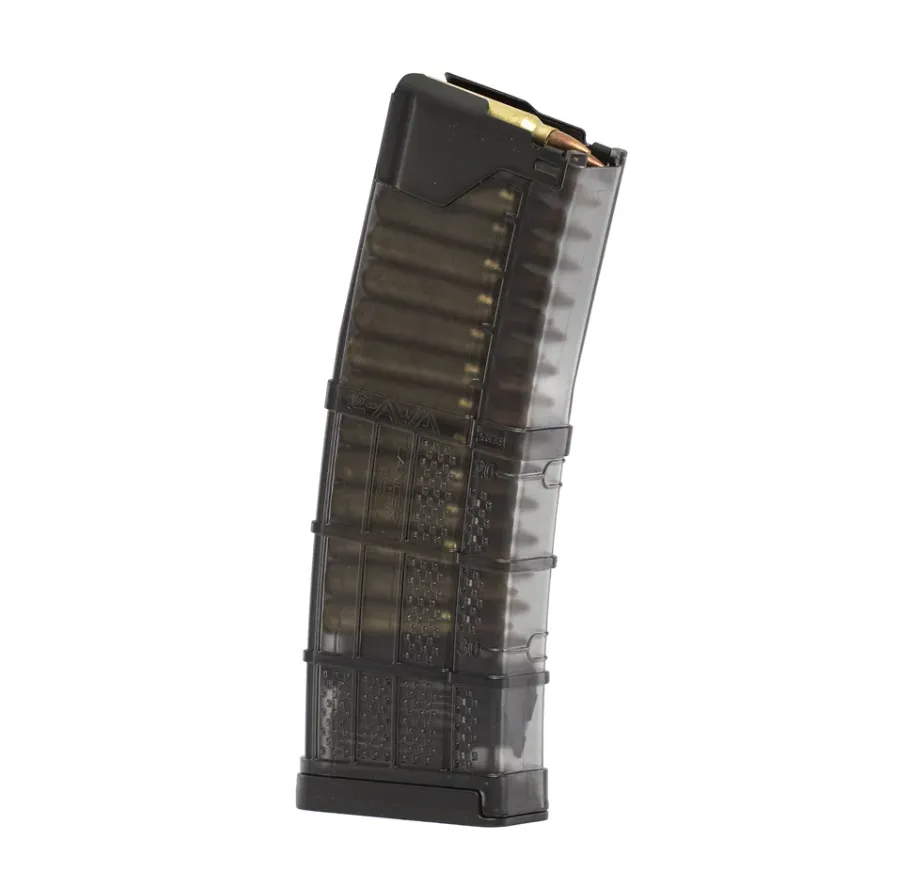 Specifications
| | |
| --- | --- |
| Capacity | 30 rounds |
| Body Material | Polymer |
| Feed Lip Material | Steel |
| Follower Material | Polymer |
| Weight | 4.8 Ounces |
Pros & Cons
Pros
Steel feed lips

Translucent polymer body and round count indicators 

Available in many different colors and capacities

Interchangeable floor plates with optional drain holes
Cons
Certain finishes/capacities are much more expensive than the competition
The Lancer L5AWM (Advanced Warfighter Magazine) is a hybrid design that pairs a polymer body with a hardened steel feed lip assembly. The result is a reliable and durable magazine that is favored by many.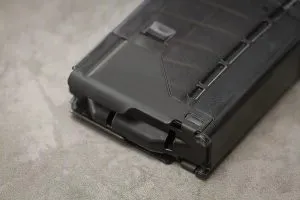 The texturing on the body provides ample grip, and the translucent body lets you quickly see how many rounds you have left. The body also includes round count indicators for a more precise round assessment.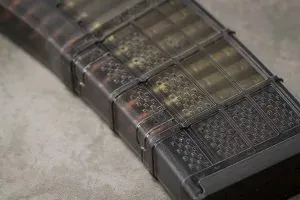 A unique feature Lancer includes with the L5AWM is an interchangeable floorplate with optional drain holes. If you ever find yourself swimming with your rifle, at least you can count on the water draining from the magazine quickly.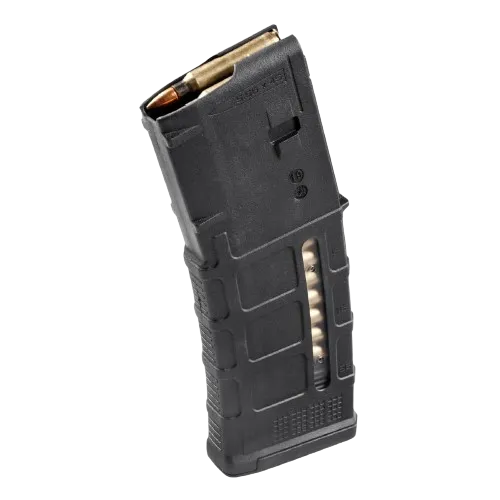 Specifications
| | |
| --- | --- |
| Capacity | 30 rounds |
| Body Material | Polymer |
| Feed Lip Material | Polymer |
| Follower Material | Polymer |
| Weight | 5.0 Ounces |
Pros & Cons
Pros
An obvious pro…it has a witness window for visual round count

Paint pen dot matrix

Long history of reliability

Slimline floorplate makes double and triple pouches easier to use

Large aftermarket support for a magazine
Cons
Only available in a 30-round capacity (5.56/.223)
So there isn't much difference between this one and the standard M3 we discussed above, aside from the obvious…a window! The window lets you quickly assess your remaining rounds without dropping the mag and guessing.

It has solid texturing, an over-travel stop on the back, and a paint pen dot matrix like the other M3s. The only downside is that it's only available in 30-round magazines, so if you're in a restricted state, you're out of luck even more than usual.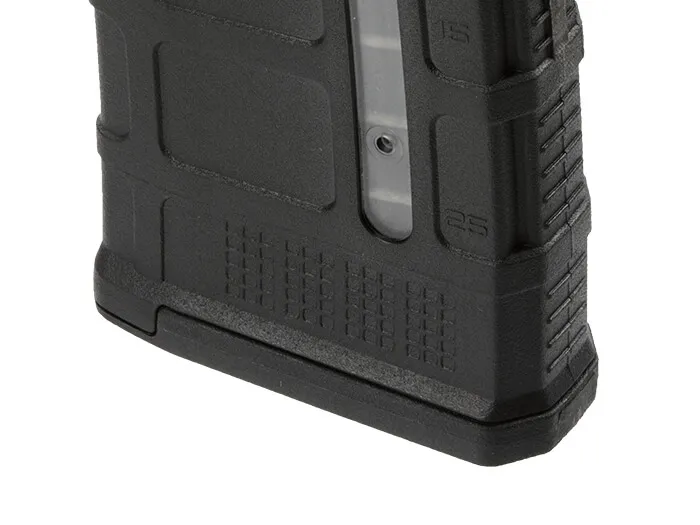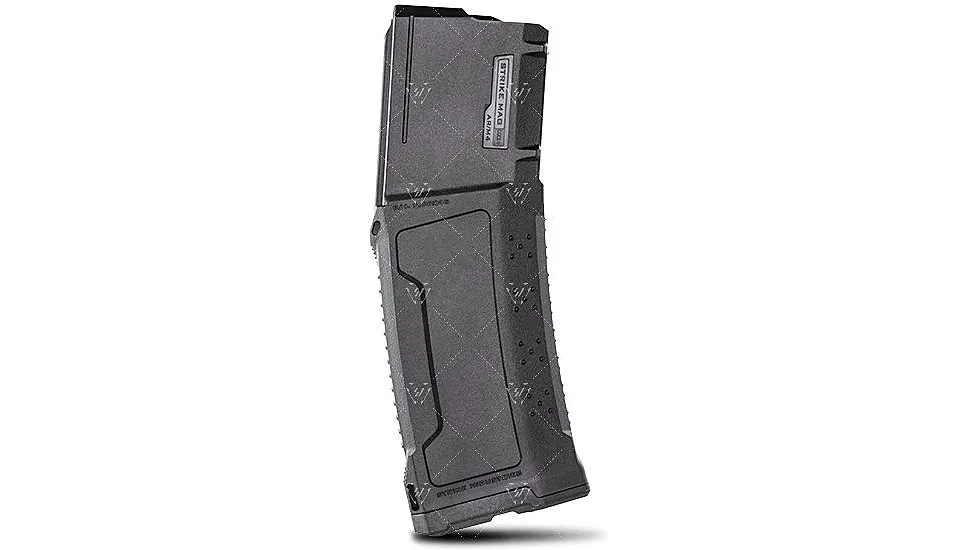 Specifications
| | |
| --- | --- |
| Capacity | 33 rounds |
| Body Material | Polymer |
| Feed Lip Material | Polymer |
| Follower Material | Polymer |
| Weight | 5.5 Ounces |
Pros & Cons
Pros
Extra three rounds over your standard 30-round mag

Translucent body to visually assess round count

Anti-slip finger grooves and optional grip inserts
Cons
Only available in 33 or 10-round capacities

A few bucks more per mag than many of its polymer competitors
Strike Industries has an incredible number of offerings for the AR platform, one of which is this magazine.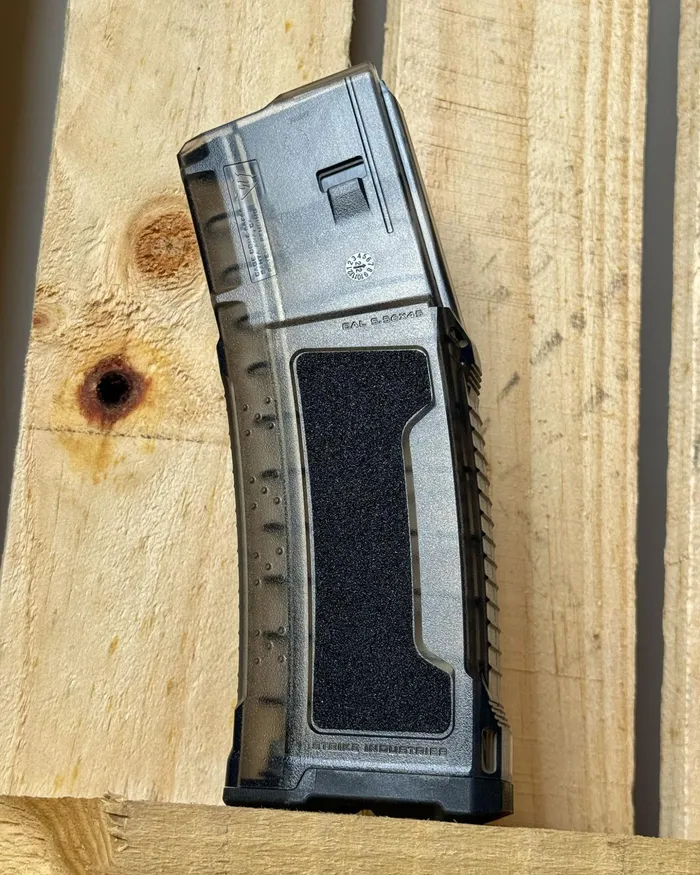 The significant selling feature is that you get three extra rounds over your traditional 30-round magazine, giving you a total of 33 rounds in the mag. A few rounds may not sound like much, but it could mean the difference between life and death at the end of the day.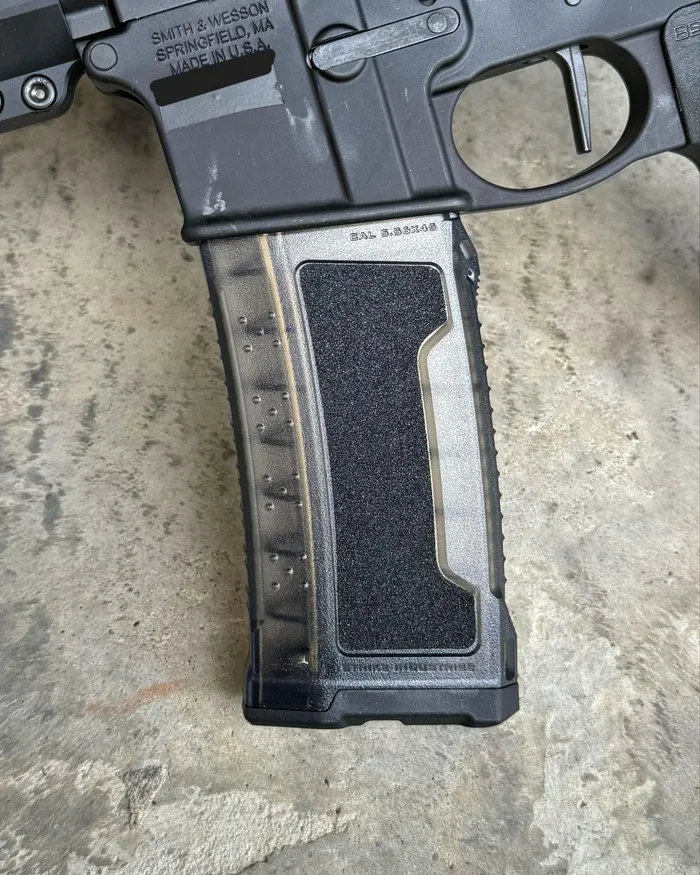 The translucent "smoke" finish lets you see how many rounds are left in the magazine. From a texture perspective, the mag is a tad slick, but optional grip inserts are available to help improve that.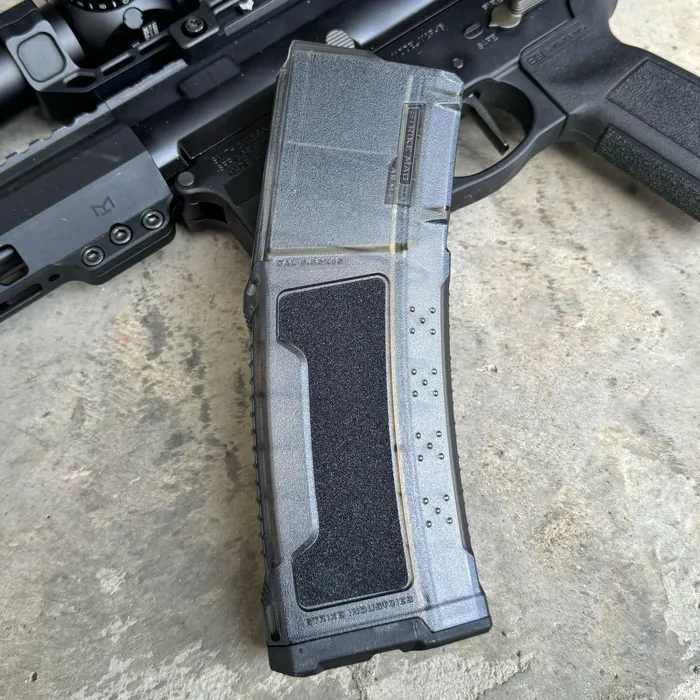 If you're skeptical of the durability, here is a quick drop-test video from Strike.
EXPERT TIP: Diversify your magazine collection and test different types to find the best match for your rifle and shooting style.
How We Chose Our Top Picks
We've been lucky enough here at Gun Made to test every magazine on this list at one point or another. We may not have had each one on hand as we wrote the review, but many of them we did.
Of course, we also consulted with fellow shooters and industry peers, in addition to scouring the internet to make sure some new-fangled magazine that we somehow missed didn't get released. None did.
We wanted to provide options for every type of magazine you may want or need, so we ensured they were all well-made and reliable and went from there.  
AR-15 Magazine Buyer's Guide
While a single magazine is not a significant monetary commitment, it can still be a waste of your hard-earned dollars if you buy the wrong ones. More importantly, if your magazine malfunctions and your rifle doesn't get fed, you might as well not have that rifle.
So, when deciding which magazine to purchase, regardless of whether it's on this list or not, consider some of the following.
EXPERT TIP: Ensure the magazine is fully compatible with your specific AR-15 model, as some magazines may have fitting issues.
Magazine Material
Ah, the age-old debate of polymer vs. steel vs. aluminum magazines. But we can't forget hybrid magazines, too!
Each type of magazine has its strengths and weaknesses.
We'll start with polymer magazines. Arguably the most popular type of AR-15 magazine, polymer mags are lightweight and rust-resistant and offer witness windows in certain models to keep track of your remaining rounds.
However, polymer is more likely to become brittle in the cold, and the feed lips can be prone to bulging under the stress of keeping a full magazine.
Steel and aluminum magazines are highly durable and can be very inexpensive, depending on the brand.
You won't have bulging or brittleness concerns, but they are prone to rust if not stored correctly, and it can be difficult to tell if the feed lips have incurred damage. Polymer feed lips are visually easy to assess, while aluminum and steel feed lips are not as easy.
Hopefully, I haven't lost you yet, as there are still hybrid magazines to discuss. Hybrid magazines attempt to borrow the best from polymer and metal magazines by having a polymer body with metal feed lips.
There aren't as many options on the market as standard polymer or steel/aluminum magazines, but some people swear by these hybrid mags.
Capacity
The "standard" AR-15 magazine holds thirty rounds unless you live in one of those wonderful states with magazine restrictions. If that's the case, I apologize and recommend you consider moving.
Most magazine companies offer 10-round magazines for those more restricted states, so you'll be covered regardless.
Assuming you aren't in one of those states, you can find mags in a variety of higher capacities. For example, the Magpul drum mag we mentioned above gives you 60 rounds of freedom seeds at your disposal. That's a lot of fun in one magazine.
Be sure to research your local and state regulations before purchasing any higher-capacity mags.
Storing Your Magazines
Where you will be storing your magazines can also play a part in your decision-making process.
Ideally, your mags should be stored in a temperature and humidity-controlled area, but sometimes that's not always possible. If they are going to be in extremely cold conditions frequently, consider avoiding polymer magazines for the brittleness factor mentioned above.
If they will be stored in a hot and humid environment, you may want to consider polymer magazines for their rust-resistant features.
At a minimum, try not to store them in direct sunlight or damp conditions. A simple water-tight ammo can with a silica packet inside can work wonders to increase your magazine's functional life.
FAQs
Is it okay to keep AR-15 magazines loaded?
This has been long debated in the firearms community, but the ultimate answer is yes, it is OK to keep AR-15 magazines loaded.
The most wear and tear occurs from the continuous loading and unloading of the magazine, not leaving it loaded. Any quality magazine should be OK to be stored loaded.
Should I use metal magazines or polymer magazines?
I don't think you need to choose one over the other. I believe you should have metal magazines in addition to polymer magazines in your collection.
Each are better suited for different situations, so it's best to have both.
What is the difference between an M2 PMAG and an M3 PMAG?
The M2 and M3 PMAG have some noticeable differences and some not-so-noticeable differences.
The obvious differences that can be visually seen are the addition of the paint pen dot matrix on the M3 and a large lip on the rear of the magazine near the top, which helps prevent over-insertion.
What you can't see from a quick glance is that a stronger polymer is used for the M3's construction, an improved follower is included inside the M3, and the M3 is compatible with a broader group of firearms.  
Conclusion
Any magazine on this list will serve you well, in addition to plenty of others that we just didn't have room for.
It's never a bad idea to buy and test several different magazines to see which you and your rifle like best. Worst case, you have a nice variety of magazines ready to go whenever you need them. You can never have too many magazines!
At the end of the day, you need to determine where and how you plan to use your magazines and order a few that make the most sense.
As always, stay safe, train hard, and have fun.
What are your favorite AR-15 magazines? Which, if any, did we miss that you think should be on this list? Drop them in the comments below so others can look into them!
Explore more