5 Best AR-15 Lower Receivers [2023]: For All Budgets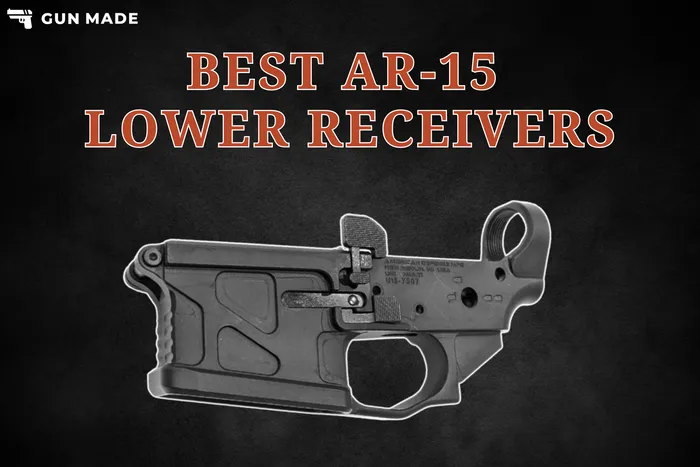 5 Best AR-15 Lower Receivers [2023]: For All Budgets
There is no shortage of AR-15 lower receivers on the market this year.
The AR-15 is the most customizable rifle platform, with thousands of manufacturers throwing their products in the center of the ring to see who can do it the best.
These manufacturers serve every type of AR-15 user, from those who want quality parts and don't mind paying the price to those who don't mind sacrificing some quality to save a few bucks.
This is why you see complete lower receivers like the MARS-L from LMT going for almost a grand, while you can pick one up from Palmetto State Armory for under $100.
There's a reason for the price gap, and I'll explain it all after we talk about the best lower receivers for each shooter.
Before we get started, here are our biggest conclusions based on our hands-on experiences testing lower receivers –
Avoid Cheap Lower Receivers: Don't buy low-priced AR-15 lower receivers as they may lack reliability and safety.
Separate Lower and Upper Receivers: Opt for individual selections of lower and upper receivers instead of integrated sets for better customization.
Invest in Quality: Allocate a reasonable budget for your AR-15 setup; spending too little can lead to subpar quality and performance.
Sidenote: For this list, I'll be referring to stripped lower receivers. If you want a complete lower with all the parts included, each of these manufacturers makes them as well, but it'll cost you much more.
Let's get into it.
Best AR-15 Lowers & Recommendations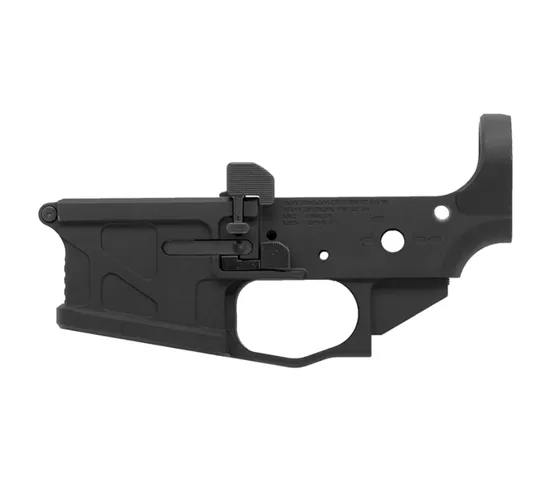 Specifications
| | |
| --- | --- |
| Billet or Forged Aluminum | Billet |
| Material | 7075-T6 Aluminum |
| Finish | Anodized or Cerakokte |
| Level Of Completion | Stripped |
| Finish Color(s) | Black, OD Green (Cerakote), FDE, Midnight Bronze, Grey |
| Ambidextrous? | Yes |
Pros & Cons
Pros
Considered by many to be the best lower receiver on the market 

Completely ambidextrous

Easy to find under $300

Works with a wide variety of triggers

Flared trigger guard
Cons
Made from billet aluminum (not as strong as forged)
American Defense MFG makes some of the best AR-15s on the market today. I've had my hands on three from its UIC line of rifles, and the lower receiver stands out the most.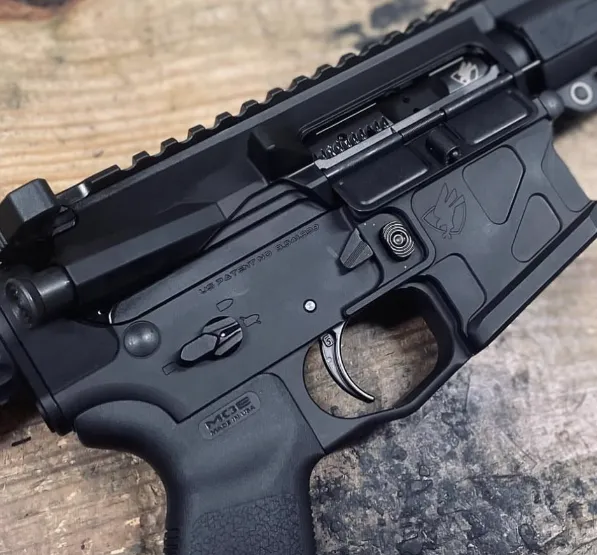 This lower receiver is fully ambidextrous. No, not just the safety selector, but the bolt release/bolt catch, safety selector, magazine release, and every other part a shooter needs.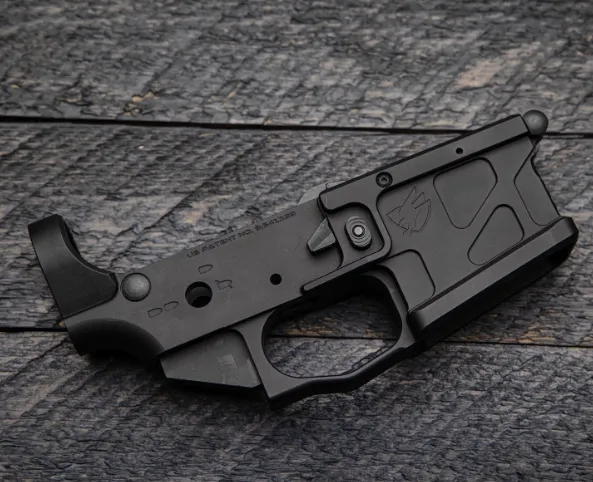 What makes the ADM UIC stripped lower so well regarded is the low price you have to pay to get your hands on one.
Compared to higher priced lowers of the same quality, it's easy to see why it's the best overall.
EXPERT TIP: Always check compatibility with your existing AR-15 components when choosing a lower receiver like the ADM UIC to ensure seamless assembly.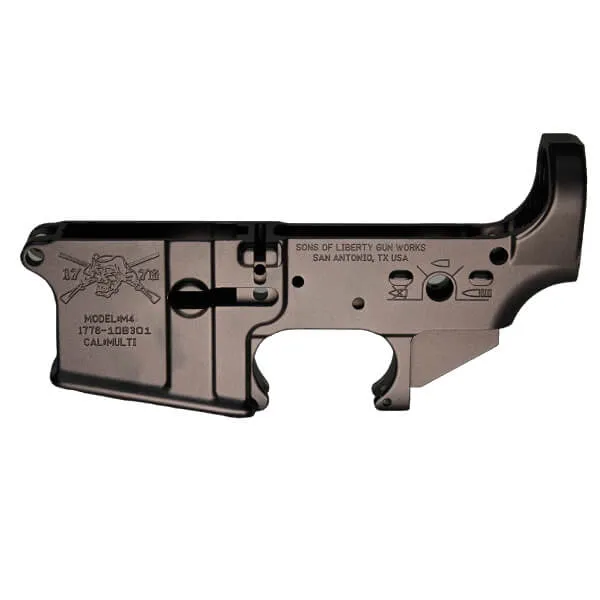 Specifications
| | |
| --- | --- |
| Billet or Forged Aluminum | Forged |
| Material | 7075-T6 Aluminum |
| Finish | Anodized Type II Hardcoat |
| Level Of Completion | Stripped |
| Finish Color(s) | Black |
| Ambidextrous? | No |
Pros & Cons
Pros
Blemished models (cosmetic imperfections) can be found under $100

Forged from 7075-T6 Aluminum

SOLGW is based

Looks better than some other popular lowers at this price point
Sons Of Liberty Gun Works has given manufacturers like BCM, ADM, and even Daniel Defense a run for their money in the best mid-tier AR-15 category.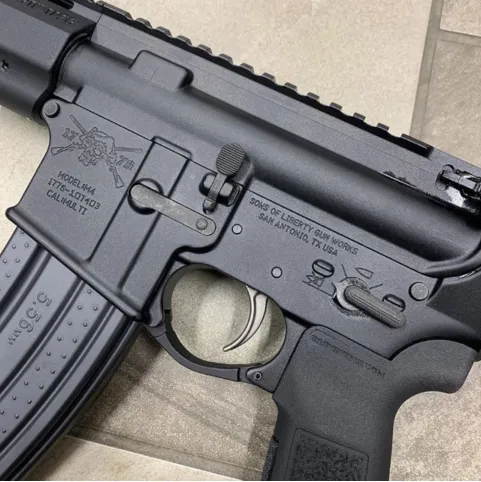 When it comes to the price you pay vs. what you get, SOLGW is a tricky company to beat. Even the cheaper AR-15 manufacturers have a hard time keeping up with the price of their products.
If you look hard enough, you can find one of these stripped lowers for the same price you would pay for an Aero Precision M4E1. Even though the M4E1 is a fine lower, I do favor the quality of the Angry Patriot. Being forged from 7075-T6, you can be reassured it's built to last.
So, if you're looking for a tank of a lower receiver but don't want to pay a premium, consider the Angry Patriot.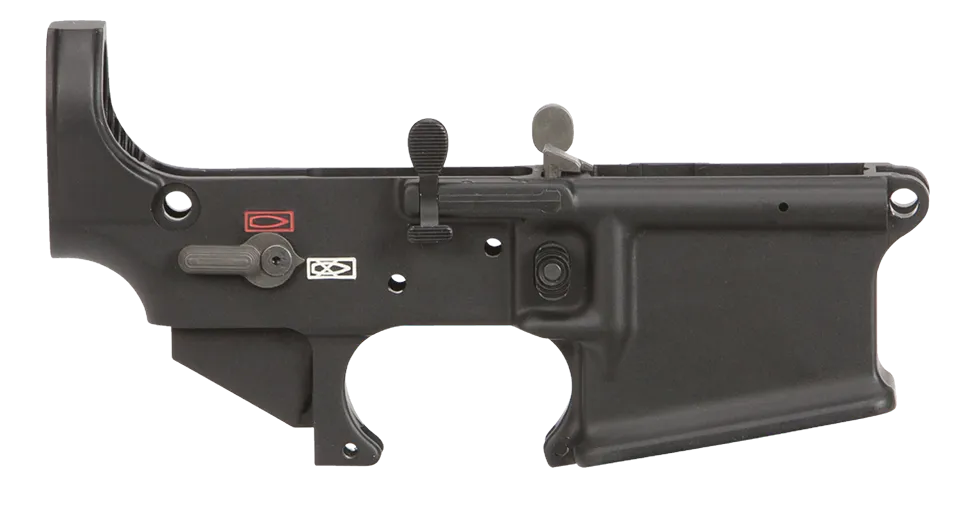 Specifications
| | |
| --- | --- |
| Billet or Forged Aluminum | Forged |
| Material | 7075-T6 Aluminum |
| Finish | Anodized Hardcoat |
| Level Of Completion | Stripped |
| Finish Color(s) | Black |
| Ambidextrous? | Yes |
Pros & Cons
Pros
You can take this thing into hell with you, and it will come out unscathed

Ambidextrous safety selector, bolt catch, and magazine release

Flared mag well for faster loading
Cons
Price (of course)

Availability
If price doesn't matter to you and you're looking to build an operator-level rifle comparable to what NATO death squads are using, then you're in the right place with the MARS-L.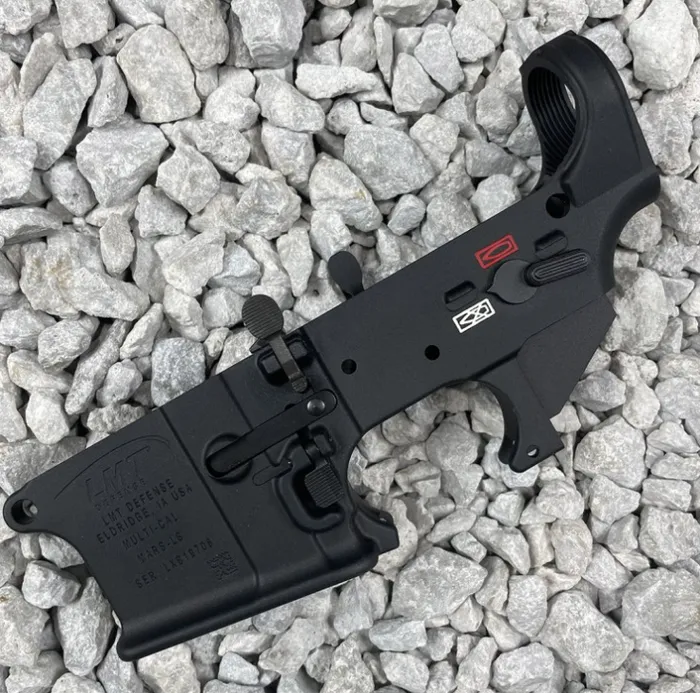 While putting an LMT lower on your rifle build won't make you an elite government hitman, the MARS lower is built to be the last piece of kit you ever have to worry about if you're out there being a silly goose and your rifle goes down.
You can bet it doesn't have to do with the lower.
LMT supplies dozens of NATO countries with firearms and is one of the highest-tier AR-15 manufacturers on the market.
Expect the wait times to be high, though. Remember, they have government contracts.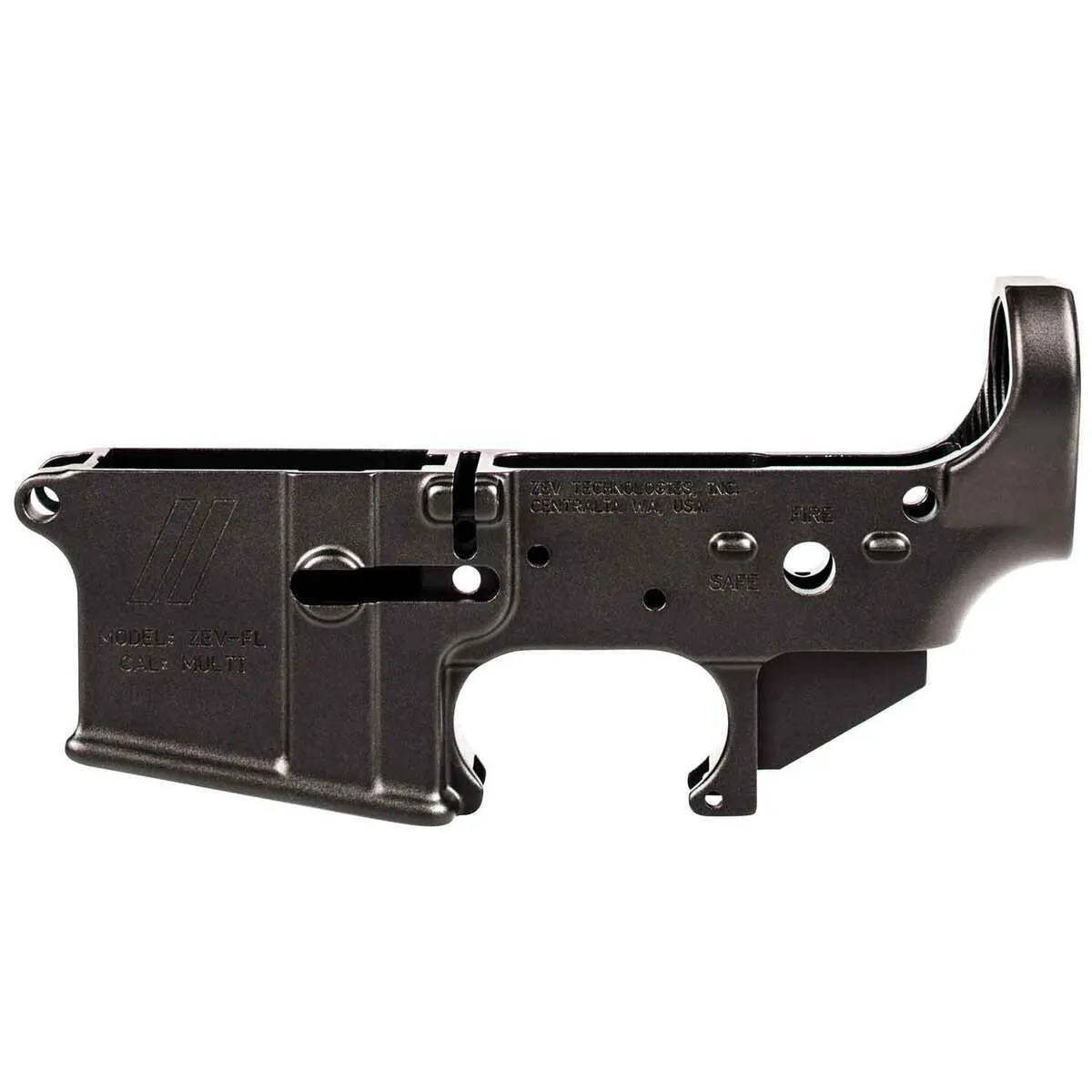 Specifications
| | |
| --- | --- |
| Billet or Forged Aluminum | Forged |
| Material | 7075-T6 Aluminum |
| Finish | Anodized Type III Hardcoat |
| Level Of Completion | Stripped |
| Finish Color(s) | Black |
| Ambidextrous? | No |
Pros & Cons
Pros
Machined with better-than-mil-spec tooling in mind

Tight +/-.001" tolerances

Flared mag well for easier magazine-changing
Cons
Non-ambidextrous

Hard to find in-stock
ZEV Technologies started as an aftermarket parts supplier for the Glock platform, and it was only recently that it decided to dip its hands in the AR-15 market with its Core Elite and Core Combat rifles.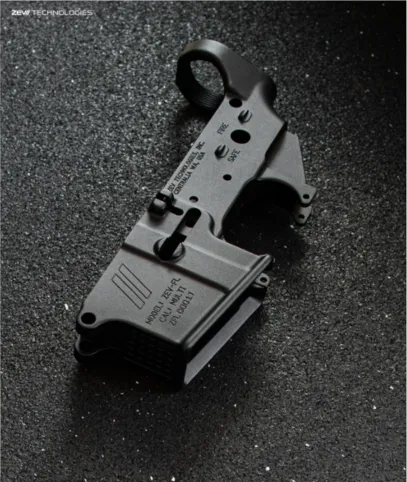 The release of these two rifles gave more life to the mid-tier AR-15 category, much like other mid-tier AR-15 manufacturers like BCM and SOLGW.
These stripped lowers are cheap but made to be better than mil-spec, which is a hype I usually tell people to avoid because it means the absolute bare minimum.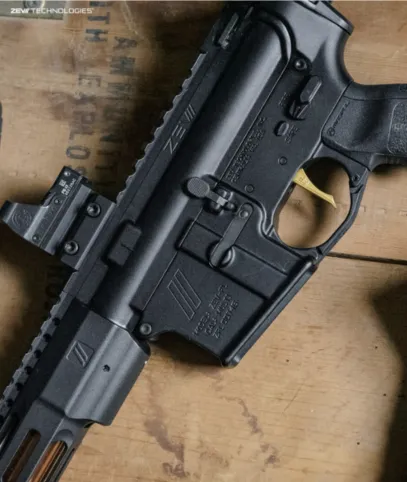 Mil-Spec = Government trying to save money.
But the good thing about the ZEV line of products is that it essentially acknowledges that mil-spec is garbage. So ZEV tooled it to be better.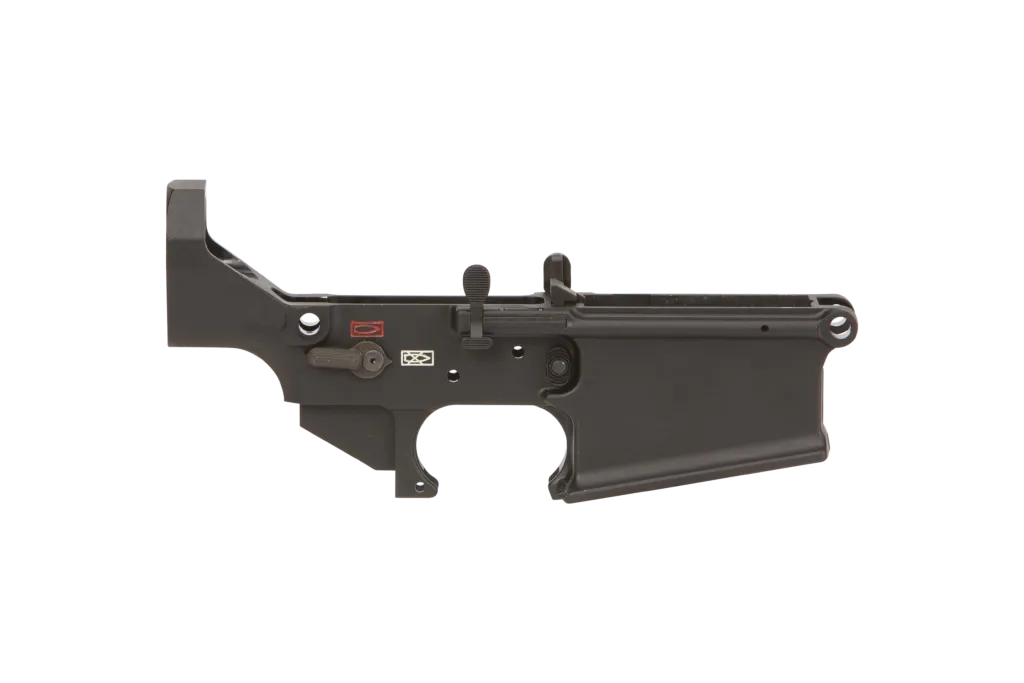 Specifications
| | |
| --- | --- |
| Billet or Forged Aluminum | Forged |
| Material | 7075-T6 Aluminum |
| Finish | Anodized Hardcoat |
| Level Of Completion | Stripped |
| Finish Color(s) | Black |
| Ambidextrous? | Yes |
Pros & Cons
Pros
Again, you can take this thing into hell, and it'll be fine

Built for the serious end user 

Safety selector is machined into the lower

Flared mag well
If the 5.56×45 is not enough for you, let me introduce you to 7.62×51.
A legend in the streets.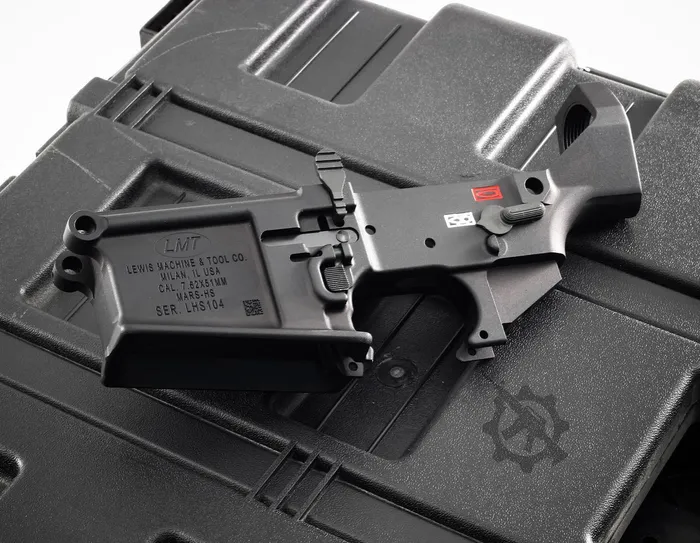 This stripped lower from LMT is built to handle the extra power that comes with shooting such a big round and is meant to be fitted to its MARS-H upper for ultimate battle-rifle capabilities.
I've been a big fan of the MARS-H for quite a long time and was lucky enough to get my hands on one from a friend.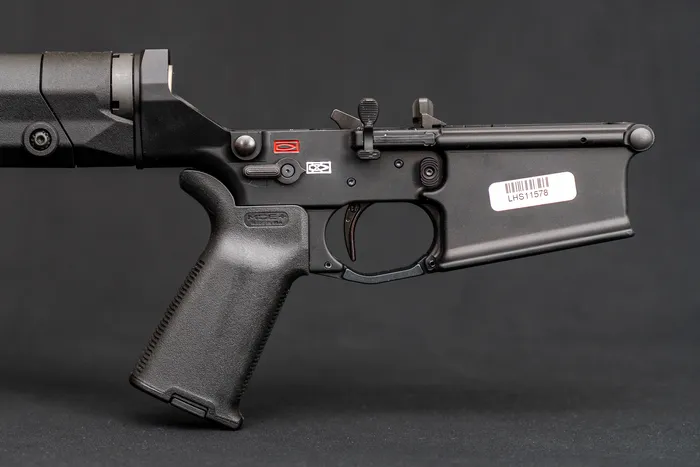 Well-built is an understatement, and it's what I imagined a rifle would feel like when I was a kid. Hefty and a force to be reckoned with.
If you want a solid lower for an AR-10 build, you can't go wrong with the MARS-H stripped lower.
How We Chose Our Top Picks
I've gotten my hands on these products through friends who share a mutual love for firearms. It's a great trade-off. I write about guns, and they let me shoot theirs for free to do so.
Who doesn't love that?
I didn't pick these lowers alone. I also consulted with many friends who are always buying and searching for better products. No matter how much they cost.
Since we've been doing this for a while, it's easy to seed out the ones I wouldn't recommend and those I would. This is a list of lowers that we've personally tested and found worthy.
AR-15 Lower Receiver Buyer's Guide
Materials Used In Making Lower Receivers
Two of the most common materials used in making lower receivers are 6061-T6 Aluminum and 7075-T6 Aluminum, with 7075-T6 aluminum being the stronger of the two.
You also have polymer, which would technically be the weakest. I wouldn't recommend a polymer lower at all, even if you're saving weight.
Anyway, back to aluminum.
Oddly enough, the difference between the two aluminum won't make much of a difference in the field, and especially won't for those who simply want a home defense rifle.
The only significant aspect of 6061-T6 is the corrosion resistance. But since most of our lowers are coming anodized or Cerakoted, that doesn't matter much.
Since the mil-spec standard is 7075-T6 aluminum, it's rare to find one made of 6061-T6, but they're still out there.
| | | |
| --- | --- | --- |
| Material | 6061-T6 Aluminum | 7075-T6 Aluminum |
| Tensile Strength | 45,000 PSI | 83,000 PSI |
| Yield Strength | 40,000 PSI | 73,000 PSI |
| Sheer Strength | 31,000 PSI | 48,000 PSI |
| Elongation | 17% | 11% |
| Brinell Hardness | 95 | 150 |
EXPERT TIP: Some manufacturers don't list the actual build materials on their websites. LMT does this, and Knight's Armament is infamous for this. Additionally, some manufacturers will say that its parts are made from 7075 but are made from 6061. If you're unsure, call the manufacturer.
Different Aluminum Machining Processes
There are three different types of aluminum machining processes: cast, billet, and forged.
Forged aluminum is made by pressing the material into itself, creating the most robust and durable outcomes out of the three. This is why forged 7075-T6 aluminum is widely used by high-quality rifle manufacturers.
Billet aluminum is machined from one solid block of aluminum and is considered stronger in certain aspects than forged, but is not as strong as a whole.
Cast aluminum is the weakest of the three and is made by melting down and pouring aluminum into a mold. It is then cooled, giving you a solid piece after the whole process is complete. I haven't encountered many casted lowers, but they are out there.
EXPERT TIP: For a balance between strength and cost, prioritize lower receivers made of 7075-T6 Aluminum, widely recognized for its superior durability compared to 6061-T6 Aluminum.
Types Of Lower Receivers (Right-Side, Left-Side, Ambidextrous)
The most common lower receivers have the controls on the left-hand side of the firearm. These are considered non-ambidextrous, and while they are perfectly fine for right-handed shooters, they can present a challenge for those who shoot left-handed.
So, lower receivers with controls on the right-hand side became necessary, and manufacturers like STAG started producing fully left-handed rifles, even putting the ejection port on the left side to keep brass away from the shooter's face.
Ambidextrous lowers are the most sought-after, especially by shooters who are building rifles for combat.
Most manufacturers only offer certain ambidextrous controls, such as the safety selector and bolt release.
True ambidextrous lowers have every control on both sides of the rifle. An example of one is the ADM lower mentioned above.
EXPERT TIP: For those who may share their rifle with users of different handedness, consider investing in an ambidextrous lower receiver for greater versatility and ease of use.
Levels Of Completion
Fully stripped lowers are exactly what they sound like. There is no trigger, buffer tube, controls, or anything else. It's simply a barebones lower receiver.
80% lowers are unserialized blanks that require additional manufacturing to house the parts needed to be considered a firearm. Because they aren't technically considered firearms, the ATF can't get involved.
Complete lowers feature everything you need with no further tinkering. They come finished and instantly ready to be mated to an upper receiver and fired.
EXPERT TIP: Stay informed about the latest regulations regarding AR-15 components in your area to ensure your build remains compliant with local firearm laws.
FAQs
Are there any legal restrictions on purchasing AR-15 lower receivers?
If the lower receiver is serialized and you buy it online, it must be sent to an FFL, even if it's completely stripped. If you buy an 80% lower that's not serialized, you won't have to ship it to an FFL.
In short, anything serialized has to be sent to an FFL.
Can I use a lower receiver from one brand with an upper receiver from another brand?
Of course. You may run into an issue when you get to higher-end options like Knights Armament, which has many proprietary components.
But more often than not, you can easily mate different upper and lower brands.  
Can I build an AR-15 from a stripped lower receiver if I'm a beginner?
Yes, it's easy for a beginner to build an AR-15 from a stripped lower receiver. YouTube is free, and you will only need a few simple tools, such as a punch set and an armorers wrench for example.
No matter what you're experience level, building an AR-15 is not an impossible process.
Conclusion
Now that you know all about AR-15 lowers, you can take some time and find out which one is right for you and your build.
I recommend skipping the budget options and buying once, crying once if you're building a battle rifle. Now, if you're using it for home defense, any budget options on this list will be all you need and more.
Either way, if you'll stake your life on it, your gear must be up to snuff.
Which lower is your favorite, and why? Let me know in the comments.
Be good and take care.
Explore more