10 Best Home Defense Guns 2023: Shotguns, Pistols, & Rifles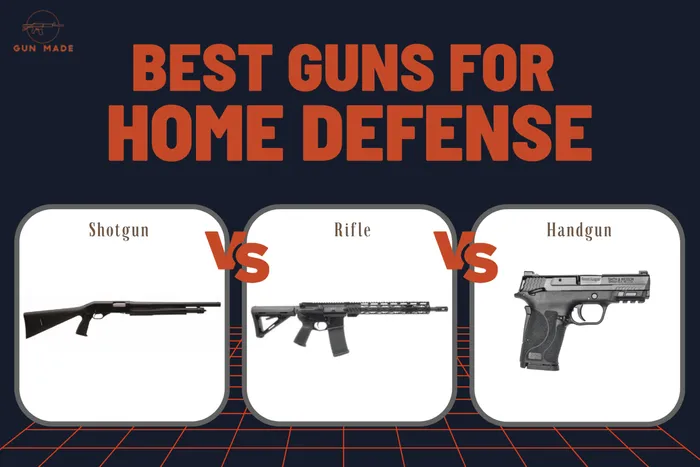 10 Best Home Defense Guns 2023: Shotguns, Pistols, & Rifles
Introduction
It is no secret that home invasions are at an all-time high. The truth is, it's only getting worse. We've compiled a list of the best home defense guns for all who wish to defend themselves against a would-be burglar, thief, or the occasional bear (it has happened, you know).
When the average response time for police is 20 minutes or more, it can leave you stranded with an intruder for what may feel like a long time. Like the great Sweet Brown once said, "Ain't nobody got time for that."
If danger comes crashing through your door, window, or ceiling, the last thing you want is to rely on 911 making it there fast enough before things turn for the worst. Our list of the best guns for home defense was picked from experience, and I would stake my life on them in a home defense situation.  
Best Home Defense Guns & Recommendations
We will review and give recommendations for the best home defense guns available, as well as divide them into categories for whom each firearm might suit best and why. For example, some shooters may have farmland, so they want to reach further, while some shooters live in an apartment and have neighbors to their right and left.
A few things taken into consideration are the overall size of the weapon, ease of use, caliber, and the ability to add onto the weapon to best suit the needs of the user. Buying a gun is an investment, but that doesn't mean you have to break the bank, so the price was also considered. Money saved can be used to afford ammunition and training.
Let's jump in.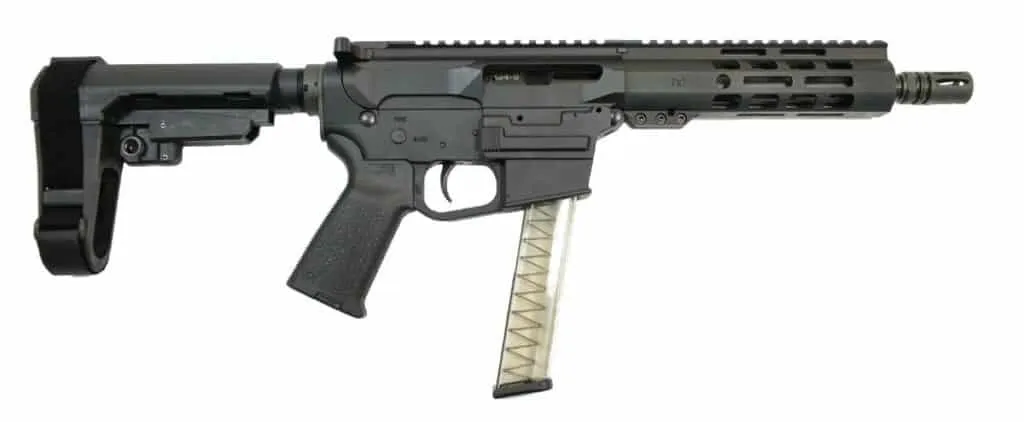 Specifications
| | |
| --- | --- |
| Caliber | 9mm |
| Capacity | 33 Rounds (With Glock Mags) |
| Weight | 8.2 pounds |
| Attachments | Yes |
Pros
AR-15 ergonomics with 9mm recoil

Lightweight, but durable 

Compatible with Glock magazines
Cons
ETS magazines are made from plastic

Low stopping power with 9mm

Bolt carrier group doesn't lock after the magazine is empty
Why am I telling you that an AR-9 is the best overall home defense weapon? It boils down to a few things.
When defending your home, you want a gun that is easy to maneuver, light, and with as little recoil as possible. Keeping the weapon on target is of the utmost importance when encountering an uninvited guest. The AR-9 is a hybrid of a pistol caliber and AR-15 platform.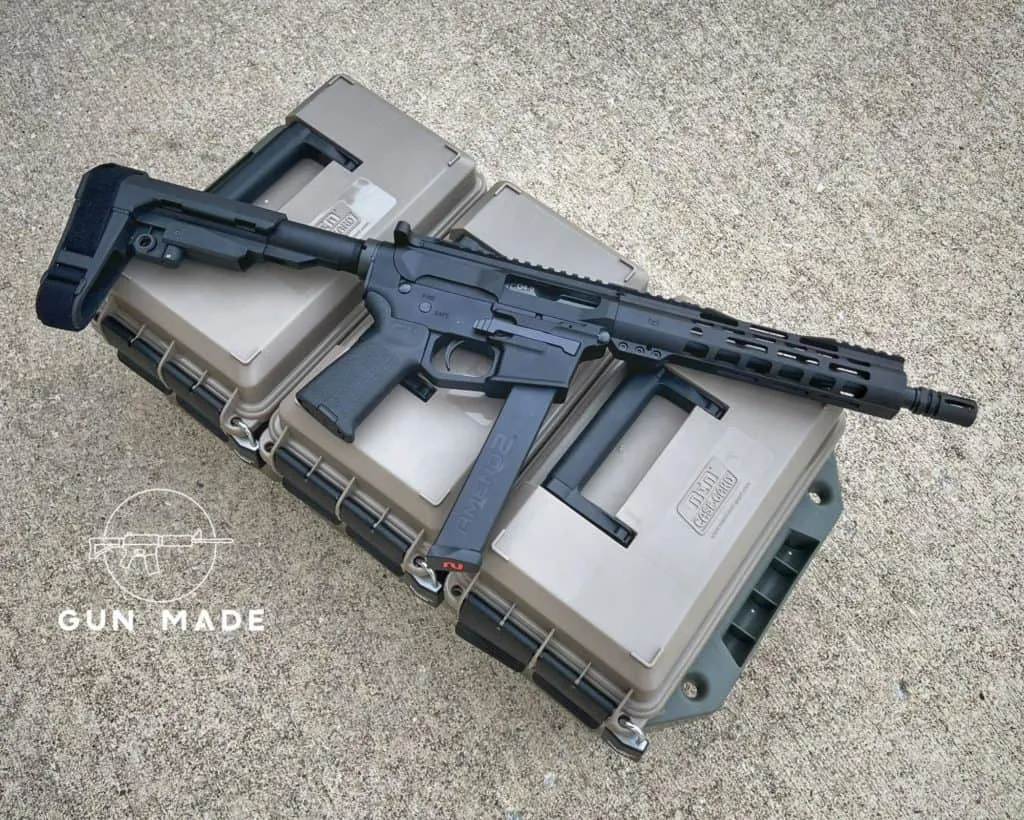 This means you can mount a sight, flashlight, and whatever else you need to be ready to go when you hear something go bump in the night. Using an AR-9 is the perfect option for home defense since you have all the ergonomics of an AR-15 and the light recoil of a 9mm.
The PSA AR-9 is perfect for home defense, especially for shooters who have neighbors within close proximity. The last thing you want is a bullet penetrating the walls and going into someone else's home. So what do you do? Slap some hollow-point ammo into the AR-9 and rid yourself of the liability if a bullet strays from the intended target.
Flashlights are extremely important when using a weapon for home defense. Failure to positively identify a target can result in an unnecessary shooting and legal issues later.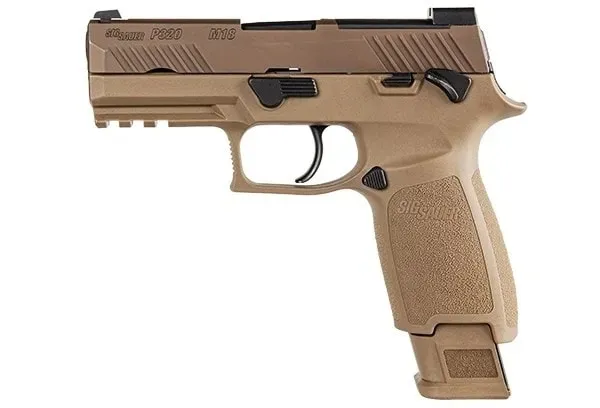 Specifications
| | |
| --- | --- |
| Caliber | 9mm |
| Capacity | 17+1 or 21+1 rounds. |
| Weight | 1.7 pounds |
| Attachments | Yes |
Pros
Trusted by the Marine Corps

Comes with (1) 17 and (2) 21-round magazines

Concealed carry ready
Cons
Low stopping power with 9mm

Reports of jamming (I have never experienced this)

Requires adapter for some optics
The Sig Sauer M18 was adopted by the U.S. Marines in 2019 after the U.S. Military conducted their Modular Handgun System trials.
 In this test, the pistol had to go through 2,000 rounds without an interruption during the cycling, 10,000 rounds without failures, and a 35,000 round service life.
The M18 was able to go through 12,000 rounds without any issues. That said, if the M18 can be trusted to perform in combat, it can be trusted for home defense.
If you wish to add a red-dot sight for better aiming, the M18 comes optic-cut and with a Picatinny mount on the bottom for a flashlight. It is also small enough to carry concealed should you decide to go that route.
In addition, the M18 comes with (1) 17-round magazine and (2) 21-round magazines from the factory.
For a home defense situation, we recommend going with the 21 round magazine since you may run into multiple intruders who could also be armed.
The M18 is extremely customizable, so if you want to change anything on the pistol itself, it is easy to do so.
Since the only piece that is serialized is the fire control unit, you can change your whole set-up as long as you transfer the serialized part over.
For more info on the M18, check out our full review.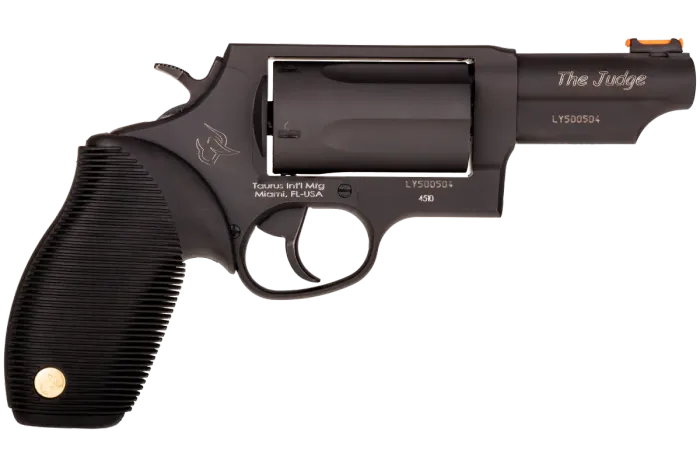 Specifications
| | |
| --- | --- |
| Caliber | .45 Colt and .410 shotshells |
| Capacity | 6 rounds |
| Weight | 1.81 pounds |
| Attachments | No |
Pros
Fires both .45 Colt and .410 Shotshells

Exposed hammer allows for single action fire

Extended ejector rod for easier reloads
Cons
Only six rounds before having to reload 

Can not be fitted with a light or optic

Slower rate of fire compared to semi-auto pistols
Taurus struck gold with the Judge when it was released in 2006. Usually, I would opt for a home defense weapon with a larger capacity and quicker reload times, but the Judge is an exception.
This revolver accepts both .45 Colt, which is a long-proven defense round, and .410 shotshells. This means you have shotgun ammo in a small package.
Some may say .410 may not be enough to do the job. From my experience with a Judge, a shot from 5 yards away will land exactly where you aim.
With the capability of running shotshells alone, the Judge is a perfect home defense revolver. If you are not fully comfortable relying on the .410, you can load .45 Colt and .410 simultaneously (in different cylinders, of course), and the Judge will fire one after the other.
The only downside of the Judge is the inability to have attachments mounted to it. Now, the fiber optic front sight is fine for home defense, but without a flashlight, you may lose the ability to positively identify your target.

Specifications
| | |
| --- | --- |
| Caliber | 12 gauge |
| Capacity | 15 with 2 ¾ inch shells |
| Weight | 6.9 pounds |
| Attachments | Yes |
Pros
High capacity for a shotgun

Short barreled (26 inches overall)

Maneuverable even in the tightest spaces
Cons
12 gauge may not be suitable for lighter and smaller shooters 

Bullpup design ejects shells in the back; can cause burns

Cheap plastic on some parts may not hold up over time
Nothing is scarier than hearing a shotgun slide rack when you aren't suspecting it. Kel-Tec is one of the only long-standing manufacturers that you can still count on for quality. The KSG is an extension of that sentiment. It's a short-barreled, two-tubed, bullpup shotgun that is perfect for close-quarters engagements.
Most shotguns on the market have barrels that are too long to be swinging around the house, but with the KSG design, you essentially get a short-barreled shotgun with a much higher capacity.
With the 15-round shell capabilities (with 2 ¾ inch shells), you won't have to worry about sacrificing ammo count for a more efficient home defense gun. The whole gun comes in at 26 inches long, which is shorter than the AR-9 we talked about above.
The downside of the shorter barrel is more pellet spreading compared to its longer-barreled brothers and sisters.
 Unless your name is Elon Musk or Bill Gates, you don't have to worry too much about the spread. The KSG is my top pick for the best pump shotgun for home defense on the market.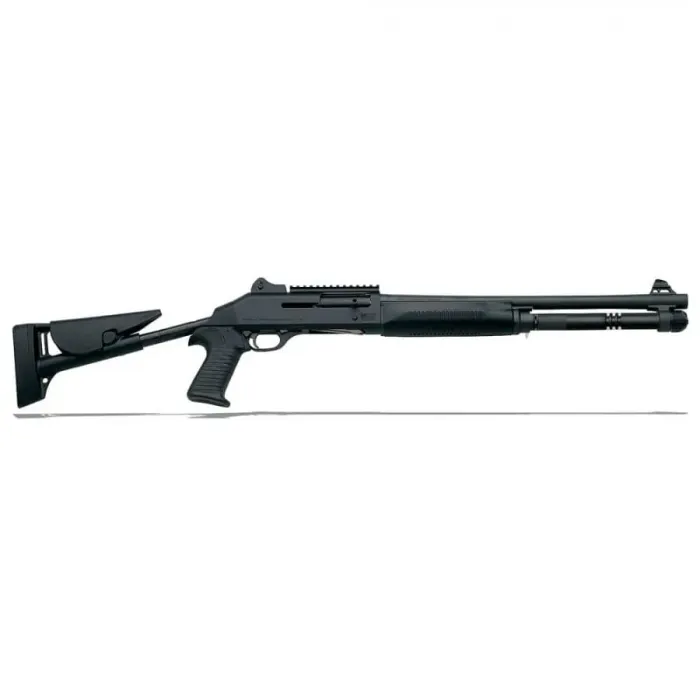 Specifications
| | |
| --- | --- |
| Caliber | 12 gauge |
| Capacity | 5+2 or 7+2 |
| Weight | 8 pounds |
| Attachments | Yes |
Pros
Proven track record since 1999

Recoil is great, for a shotgun

High capacity compared to other semi-automatic shotguns
Cons
High cost for a shotgun

Heavy, may not be comfortable for some shooters 

Only one Picatinny rail for attachment
Although this shotgun is pricey, the Benelli M1014 is the staple for all shotguns with its semi-automatic capabilities.
This shotgun has been tried, tested, and proven by the U.S. Military. There's a reason why the Marine Corps has kept the Benelli M1014 around for so long; it works whenever you need it to.
 I am extremely familiar with this weapon from being in the military and putting thousands of shells through this shotgun.
The cost is high, which may understandably deter some shooters. But, for what you're getting from the Benelli M1014, it is hard to find any semi-automatic shotgun on the market that can compete with it.
 It is important to consider the weight since the M1014 is on the heavier side.
It has a Picatinny rail on the top for mounting optics and a light, but the light may be closer to the sight, which some shooters may not prefer. If you have the extra money for a combat-proven shotgun, look no further. The Benelli M1014 is all you'll ever need and more.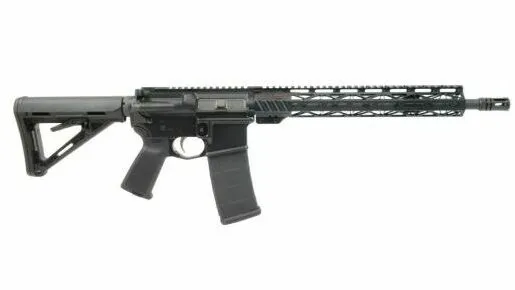 Specifications
| | |
| --- | --- |
| Caliber | 5.56 |
| Capacity | 30+1 |
| Weight | 5.9 pounds |
| Attachments | Yes |
Pros
High stopping power with 5.56

Chrome Moly barrel for heavier rounds

High magazine capacity for multiple intruders
Cons
5.56 is powerful (can penetrate multiple walls)

Shipping may take a while from PSA

Picatinny handguard may be uncomfortable for some shooters
When you have an un-welcomed guest in your home, you want to tilt the odds in your favor as much as you can. The AR-15 has been a home defense favorite for a long time, with an estimated 20 million of them being used for home defense. The CHF Mid-length is a great rifle with high-end parts that you can rely on when you need it the most.
This rifle can take attachments, is low in cost, and easy enough to maneuver around the house. With its low price point and ease of use, you can focus on getting the proper attachments for a home defense weapon rather than spending it all on a rifle alone.
Since most AR-15s on the market don't come with iron sights, you can spend money on a quality optic for fast target acquisition, a flashlight for positive identification, and a sling to keep the rifle close to your body.
Since you won't be putting your pockets in the red, you can also afford to buy ammo and hit the range so you can get used to firing your rifle. You will be more prepared when and if the time comes that you have to protect yourself and your loved ones.

Specifications
| | |
| --- | --- |
| Caliber | 5.56×45 |
| Capacity | 30+1 |
| Weight | 6.5 pounds |
| Attachments | Yes |
Pros
Extremely soft recoil due to proprietary buffer

Fit and Fitment are perfect

Ambidextrous controls
Cons
5.56 can penetrate multiple walls

Some shooters may not prefer ambidextrous controls

Muzzle brakes tend to increase muzzle flash
For those who want a top of the line AR-15 that is virtually perfect, there is the Cobalt Kinetics Pro. The CK-Pro is exactly what the name says; professional. You do not have to be a professional to shoot or own one.
The Pro is one of the best high-end rifles on the market, with a bunch of goodies for those who want premium parts in all areas of the rifle.
 It comes standard with a 2-stage Geissele G2S trigger, Radian Raptor LT charging handle, a 45-degree throw safety, and a VLTOR 5 position buffer tube that houses a proprietary Cobalt buffer system. These are the best of the best in their respective categories.
The build quality of the CK Pro is second to none. Usually, when you shake an AR-15, you can feel and hear rattling from where the upper and lower receivers connect.
Not with Cobalt Kinetics. There is no rattling, and it feels like the rifle is made out of one solid piece.
All of the controls are ambidextrous, so if you are a left-handed shooter, you will be able to access all of the controls from whichever side is most comfortable for you.
Due to build quality, the premium features that come with the Pro, and its ambidextrous controls, this rifle is perfect for those looking for a high-end home defense AR-15.

Specifications
| | |
| --- | --- |
| Caliber | 20 Gauge |
| Capacity | 5 Rounds |
| Weight | 7 pounds |
| Attachments | No |
Pros
Caters to the elderly and smaller framed individuals

Similar output with less recoil compared to 12 gauge

Less felt recoil is perfect for inexperienced shooters
Cons
20 gauge can penetrate walls

No Picatinny rails for attachments 

Racking the pump may not be easy under stress
The Savage Stevens 20 gauge is a cheap but highly effective solution in home defense for those who want to put an attacker down with one shot but do not want the extra recoil that comes with a 12 gauge.
It is arguable that a 20 gauge is not as effective at eliminating a threat. But in close proximity, a 20 gauge is just as effective with minimal recoil. The Savage Stevens 20 gauge comes with a vertical pistol grip and synthetic stock for easy controlling, and a 5-round magazine tube just in case you need to follow up with a secondary shot.
The ghost ring rear sight is perfect for quick target acquisition. With the barrel coming in at 18 inches, there will be little weight on the front of the gun, allowing you to hold it up for a longer period of time without fatigue.
Being able to swing it around corners without worry is essential to home defense. Although the Savage Stevens does not come with a Picatinny mount for attachments, there are many after-market options available to mount a light to the tube.
The reason why we picked this shotgun for women is because of how little recoil is produced compared to the heavier 12 gauge, with similar output at close range.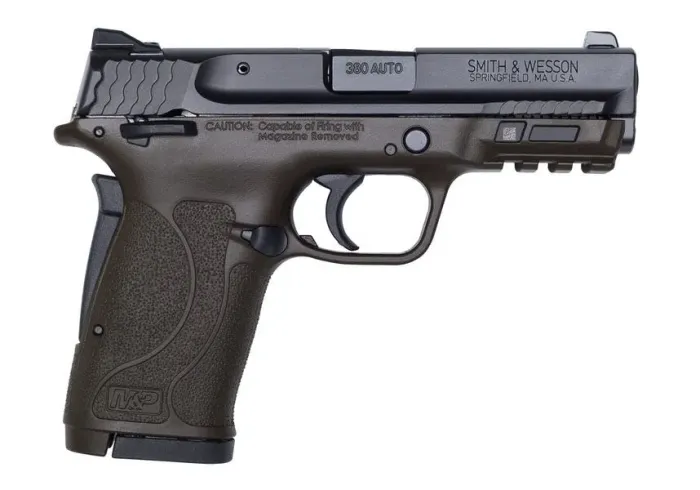 Specifications
| | |
| --- | --- |
| Caliber | .380 |
| Capacity | 8+1 |
| Weight | 1.1 Pounds |
| Attachments | No |
Pros
Easy manipulation of the slide

Magazines are easy to load

Lighter than normal shield models
Cons
Grip safety has to be fully depressed when firing

Reports of malfunctions with last round

May have feeding issues with certain ammo brands
Smith and Wesson designed the Shield .380 EZ to be as easy to use as possible (as the name implies). With a scalloped front end, slightly deeper serrations on the front of the slide, and magazines designed to be easily loaded, the EZ is perfect for those with limited grip strength.
The EZ is also designed for easier cleaning. Taking it apart does not require you to pull the trigger unlike most of the other shield models.
The EZ has a grip safety similar to the Colt 1911, which requires you to have it fully depressed before firing. If you want to opt for a manual safety, there is a model that comes with that option available. The back of the slide also includes a raised ridge on both sides so you can get a better grip when racking it back.
All in all, the idea when picking this weapon is the ease of use. If you suffer from arthritis, carpal tunnel, or any other ailments that may affect your grip strength, this pistol is a perfect solution if you still want a semi-automatic handgun for self-defense.  
Note: The grip safety can not be depressed when putting the pistol back together.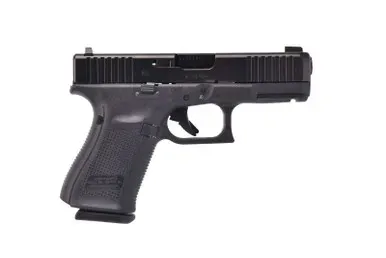 Specifications
| | |
| --- | --- |
| Caliber | 9mm |
| Capacity | 15+1 |
| Weight | 1.4 pounds |
| Attachments | Yes |
Pros
Compatible with older generation magazines

Slide cut for optics on MOS model

Gap by magazine port for easy grabbing of magazines
Cons
No manual safety

U sight in the back can limit sight picture

Needs an adapter plate for lower priced optics
If there is one thing we know about Glock, it's that they just work. The new Glock 19 Gen 5 comes with features from the Glock 19x that was submitted for the U.S. Military's MHS trials.
The finger grooves are gone, and the slide release is now ambidextrous. This will definitely come in handy for you left-handed shooters out there. The magazine release is changeable from left to right, so you don't have to manipulate the gun in any odd ways to make it work.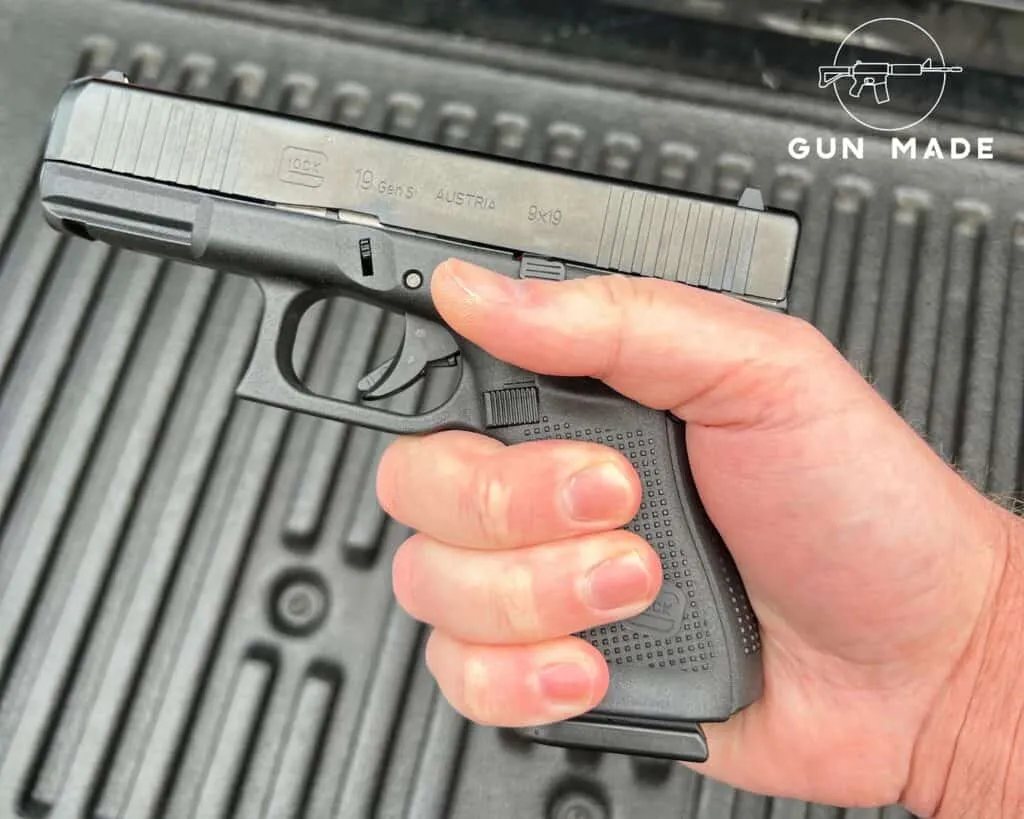 The Glock 19 Gen 5 has two different variants. One of those is the standard slide with no cut for optics, and the other being the MOS cut which allows you to put a sight on top with a footprint for the Trijicon RMR Type 2.
It comes with Glock's integrated rail system in front of the trigger guard so you can mount a light or a laser. The reason we pick the G19 is because of how well it fits in the hands of all shooters. Most shooters with bigger hands can still find enough space on the bottom for their pinky. It's small enough to carry concealed, so you won't have to leave home without it.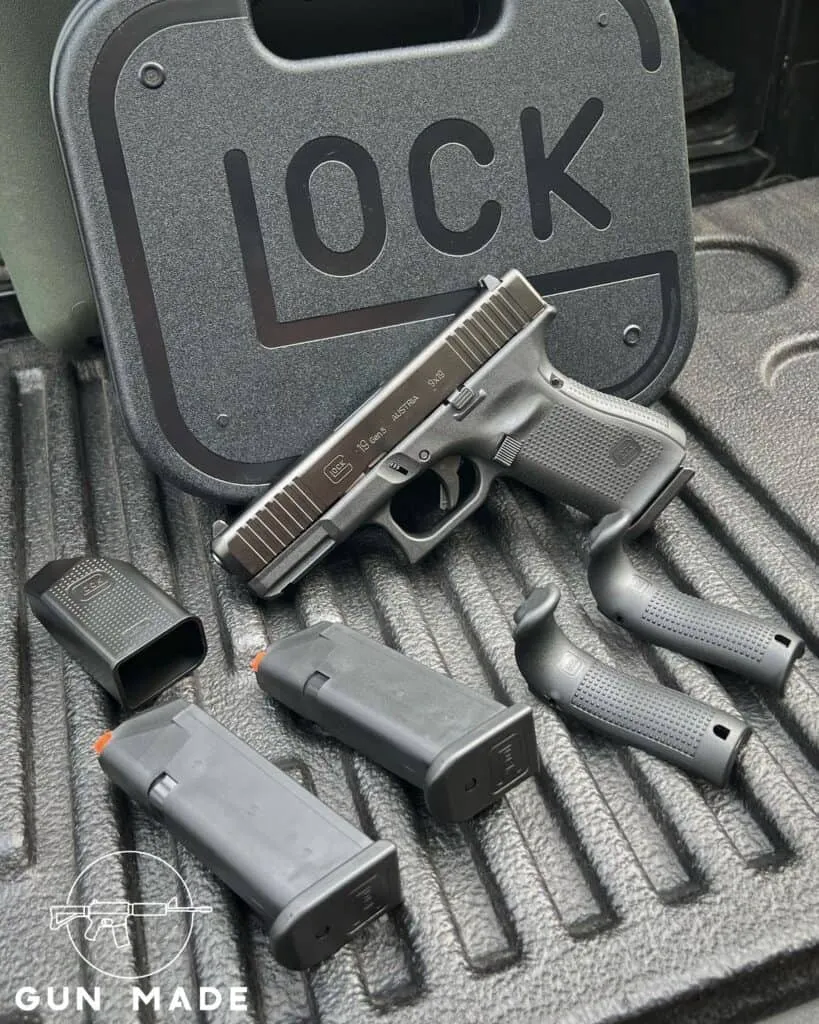 How We Chose our Top Picks
A few things we took into consideration when choosing our top picks was the living situation for different shooters, age, and the ability to add attachments. Also, we factored in the possibility of burglars being armed and/or in pairs. We also gathered information about ballistics from a colleague who attends Sonoran Desert Institute that could help to determine which gun is suitable for each situation and why.
Some of these guns have been chosen by professionals, and others have been picked from personal experience. I have spent time with a few firearms on this list and many other firearms with these questions in mind. Although there are many quality firearms in each category, we went with the ones that we thought would suit you best.
Buyer's Guide – How to Choose a Home Defense Gun
When picking out a home defense gun, there are many important things to consider. Let's discuss a bit so you know what questions to ask yourself when picking out your firearm.
You should consider the layout of your home when picking out a home defense gun. How wide are your hallways, stairwells, and rooms? What materials were used in the construction of your house? How close are your neighbors?
This is of utmost importance when choosing a firearm for home defense. Remember, too much firepower can put you in legal trouble.
The best home defense gun is the one you train with the most. Security always starts with you. It boils down to personal preference and how well you feel about your abilities when using that firearm under stress.
You can have the best weapon that you think would be suitable for home defense but can find yourself on the short end if you don't train with that weapon. Learning how to move through your house effectively is also fundamental since criminals like to hide in blind spots to try and catch you off guard.
A .22 can be used for home defense if you train enough, although we may advise you to opt for a bigger caliber.
There is no one-size-fits-all approach to finding a firearm that's best for you. If you do not have the time to train, we recommend something you can pick up and fire at the threat without worrying too much about aiming, which would be a shotgun.
If you want to see which weapon to choose for home defense, here is some good advice from John Lovell at Warrior Poet Society.
Pistol, Shotgun, or Rifle For Your Home Defense Gun?
Pistol for Home Defense
Pistols give you maneuverability around corners, accessibility since you can store it in small spaces, and ease of use to just grab it and go. Muzzle flip will work against you when you try to follow up with another shot, and the caliber may require you to follow up.
Pros
Can fit through tight spaces

Easily maneuverable around the house

Ease of use
Cons
More recoil working against you

Follow up shots are harder 

Small calibers may require multiple shots
Shotgun for Home Defense
Shotguns are great for being able to put multiple projectiles into the target at one time but may recoil too hard, and racking the shotgun back may not come so easily under stress.
Shotguns don't usually allow attachments to be added onto the weapon, so double check that whichever one you use is easy to add attachments to. Flashlights are a necessity, in my opinion.
Pros
Multiple projectiles in one shot

Cost is typically lower for shotguns

Ammo variety and effectiveness
Cons
Recoil is higher than other options

Limited tube capacity

Most shotguns do not offer rails for attachments
Rifle for Home Defense
Rifles are a great option as well since 5.56 rounds can easily put a target down up close and at a distance, with low recoil, and a bunch of ammo left to spare.
Overpenetration may put you at risk of hitting something or someone else other than your target. The best thing to do before buying a gun for home defense is to assess your area and try out a few options at the range before sealing the deal. Always know what is beyond your target.
Pros
Recoil is low compared to other options

Magazine capacity is high

High stopping power with the ability for follow-up shots
Cons
Overpenetration

Harder to store/access 

Usually more expensive than other options
Choosing The Best One For You
This is the most important step. We recommend going to the gun range and looking at a few options after considering the layout and structure of your home.
There are pros and cons to each option, and no one weapon is all around perfect. There are many variables that come into play when choosing one, and no two persons are the same.
As stated before, it comes down to you and which weapon system you can train with the most. If you want to have an all-around gun that you can carry concealed as well, a pistol may be your best option.
Take into consideration how much space you have in your home. Do you have the extra space to accommodate a big safe? Or do you prefer something small and easily concealable?
The beauty is you have many options at your disposal, and there is no shortage of ammunition. You can take as long as you like and ask as many people as you wish.
FAQs
What rounds should I use for home defense?
Depending on your living situation, for example, if you live in close proximity to neighbors, 9mm hollow points are best. If you don't have neighbors nearby, go with 5.56. Just be careful if you have people sleeping in other rooms because of overpenetration.
Is 45 ACP or 9mm better for home defense?
.45 ACP is better if you can handle recoil well and have a large magazine capacity for follow-up shots. We would say use hollow point ammo to ensure you don't penetrate walls for whichever one you decide to use.
Should you always keep your gun loaded?
We always treat firearms as if they are loaded, so why not? Keeping your firearm loaded saves time when you need to access it quickly and get it ready to defend your home. Remember: keep the odds heavily in your favor. Always keep firearms locked in a safe.
Conclusion
Well, there you go. This is the ultimate guide on choosing the best home defense gun, and our recommendations on which is best in every category.
The Palmetto State Armory BLEM 8" AR-9  is a perfect option for every shooter who wants to protect themselves in a home defense scenario. With the light recoil of the 9mm and ergonomics of an AR-15, getting rounds on target and keeping a properly aligned sight picture will be easy.
It's always smart to find what works best for you in your situation, so hopefully, this guide helps steer you in the right direction.
Remember, training is always the most important focus when working with firearms for home defense. Also, positive identification is a must, so don't forget a flashlight. As the infamous FPSRussia would say, "have nice day."
Explore more