Best Gun Cases [2023]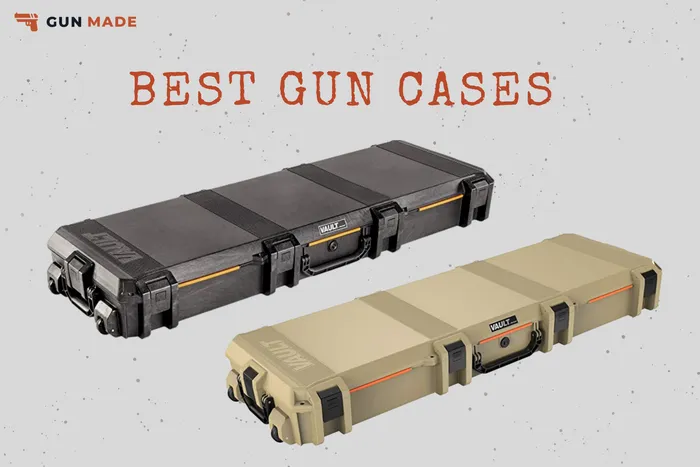 Forget gig bags, tennis bags, or any other makeshift cases. If you want to properly store and protect your firearms, you'll need a gun case.
Sure, your synthetic-stock bolt-action rifles might look indestructible, but when you're on the move, you still need to protect your optics on your rifle, not to mention airplane guidelines that won't allow non-lockable gun cases.
That's why I rounded up some of the best gun cases of 2022 in terms of durability, space, zipper quality, practicality, and function. It's mostly focused on big rifles and shotgun cases, but I also added pistol case options as well.
I listed both hard and soft cases, lightweight and discreet options, and I also added some alternatives with modular features.
Brands like Pelican and Plano dominate the gun case market, but for the sake of diversity, I also covered lots of ground with other gun case brands and models. The buyer's guide will help you narrow down your choices if you're stumped.
Let's start with…
Top 7 Hard and Soft Gun Cases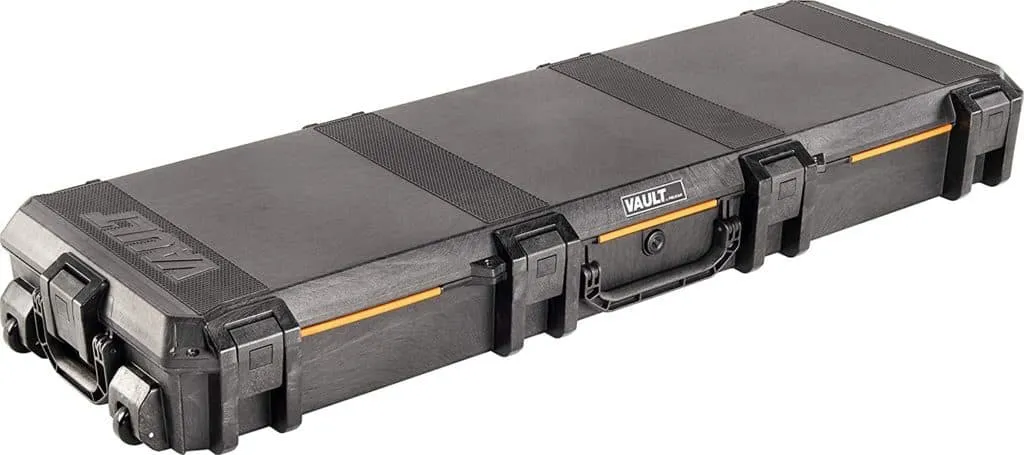 Pros
Durable, injection-molded polymer
Reinforced padlock holes
Sealed and prevents moisture and debris
Cushioned interior and resin shell
Roomy interior with ample foam to cushion against impacts
Recessed latches for enhanced protection
Has wheels
We'll start with a big, 56-inch gun case.
The Pelican Vault is definitely one of the sturdiest of the hard cases, manufactured by top-tier Pelican standards.
Designed for absolute strength and protection, the Vault's injection-molded polymer casing promises to keep your rifles safe and sound, especially if you don't trust the reckless airline boarding staff with your baggage.
The Pelican Vault double-rifle case has a cushioned, five-layer protective foam as an interior and easy six push-button latches to keep it tightly sealed against dust and rainy weather.
Additionally, there's a convenient pressure-release valve when you're switching altitudes. The case is water-resistant but not waterproof.
The cushioned foam is molded for scoped rifles, and the heavy-duty handles are ergonomically beveled to be as comfortable for carrying as possible. It even has wheels.
Though it's a massive gun case, what the Pelican V800 Vault gives you is sheer protection, convenience, and extra room for your rifles. While the Pelican Vault V800 model is a double rifle case, you also have the V770 single rifle case.
I chose the Pelican Vault because I think it offers great value for your money, and you can securely carry it anywhere, whether you're flying or you're driving.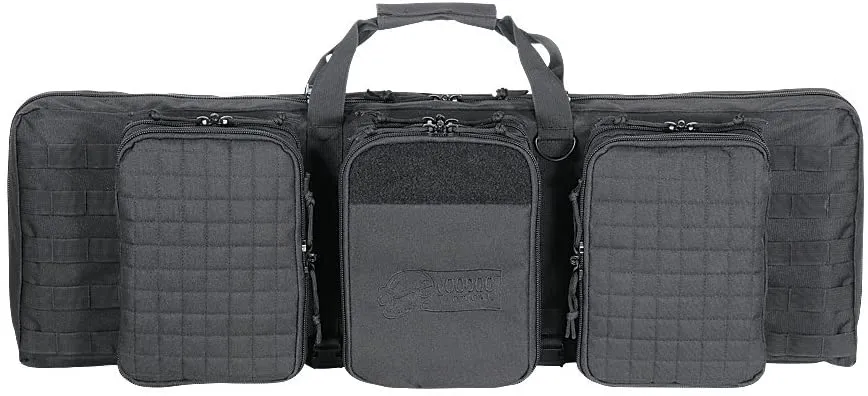 Pros
Ballistic fabric and high-quality stitching
Lots of space
Padded pockets can also carry two pistols
Six sturdy paddings
Three gusseted pouches for ammo and magazines
Padded, adjustable shoulder straps
Molle webbing for attaching pouches
Cons
Burdensome if carried as a backpack
I wouldn't recommend scoped rifle storage
The VooDoo is a very versatile, multi-purpose gun case that allows you to store both pistols and rifles. It's based on a simple gun case concept but checks out where it matters the most.
Though it's bulky, it's one of the best 36-inch rifle cases and has a very comfortable and sturdy build. It has thick padding, rigid crosshatch stitching that protects against tears, and a very strong ballistic fabric.
There are also 36, 42, and 46-inch models available, and all models have a padded divider between the rifles for extra comfort and safety. You can carry it as a regular suitcase or backpack thanks to the shoulder pads.
VooDoo advertises it as a scoped rifle case, as the internal tie-downs keep the guns moving. But, I wouldn't count on that particular claim because there's slight wiggle room in the case, and that's risky enough for any glass optics.
Speaking of which, check out the Primary Arms 4-14×44 FFP Rifle Scope if you're going for durability.
The MOLLE straps on the outside can carry extra ammo bags, and the lockable compartments can store valuables. Additionally, it has pouches for six rifle magazines and eight pistol magazines, along with room for your shotgun ammo.
Overall, it's a do-it-all soft case for your rifles at a very attractive price. It also has the VooDoo lifetime warranty, so that's a huge plus as well.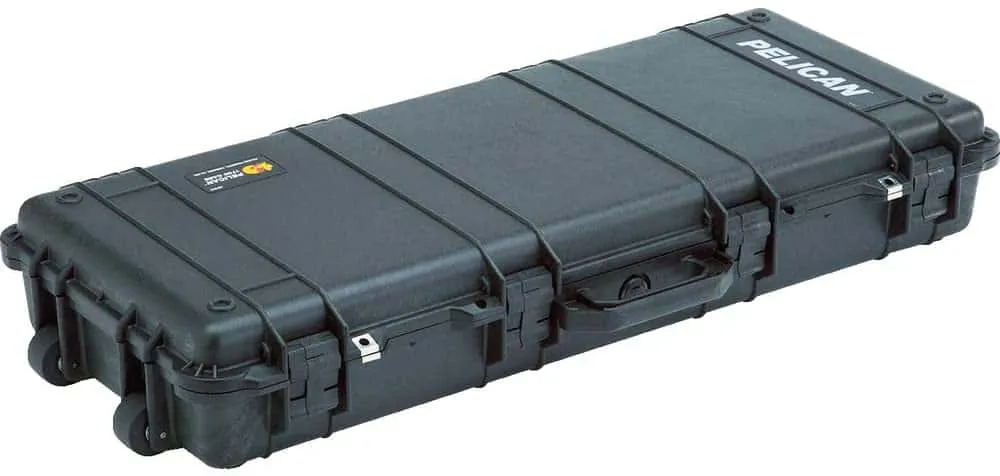 Pros
A tank of a gun case
Stainless steel reinforced padlock protectors
Waterproof thanks to the Automatic Pressure Equalization Valve
Crushproof, dustproof, and durable open-cell core casing
Easy-to-use throw latches
Customizable foam interior
TSA-approved
Cons
Expensive
No assistive perforations
Bulky (26-pound full-size model)
Trusted and used by the military, police officers, and hunters since the 1970s, the Pelican Protector 1700 series are the lightweight powerhouse of rifle gun cases.
This is a definite premium option, and all the models, including the 38- and 53-inch versions, are costly.
However, you can bet that the Pelican Protector 1700 has a design that's entirely focused on protecting your AR-15 rifles and long-barreled rifles.
It has a strong, crush-proof, dust-proof, polymer shell with a foam core design and an Automatic Pressure Equalization Valve, which keeps water out and releases built-up air pressure. This airtight system also makes the case float.
The double throw latches are easy to use, and the metal-reinforced locking points for your padlocks make sure your guns are safe and sound.
It also has strong wheels, fold-down handles, and O-ring seals for convenience. All of these features make the protector TSA-approved.
The Protector doesn't have perforations for removing the foam, but it comes with a three-piece pluck-out foam set that can be cut and used both as a single or double-rifle setup. Simply cut the foam interior for the perfect rifle or accessory fit.
To sum it up, it's a Pelican. One of the strongest gun cases money can buy. It comes with "Pelican's Lifetime Guarantee of Excellence."
Check out our Pelican Protector 1700 review for more information.
Pros
Lightweight
Affordable
Built for putting everything in place
Three secondary compartments
Comfortable, adjustable backpack straps
Accommodates two rifles
Cons
PVC material isn't strong as a hard case
No backpack straps
Customers report loose stitching
As a lightweight and conveniently priced gun bag, the NcStar VISM is a newcomer that turned heads of gun enthusiasts, marines, hunters, and competition shooters.
It's a double-rifle bag with a thick interior padding, PVC outer layer, and additional PALS loops on the sides if you want to strap something on them.
There are several models from 36 inches and up to the highly-demanded 55-inch model. 
What makes this gun bag shine is its three compartments for optics, handguns, mags, and practically anything else you put in.
It has so many compartments that you might just forget where you've put all your stuff, but that's a favorable trait in our book. That being said, the pockets are easy to access.
The inner layers are padded with a dense foam that does well to protect your double rifles or carbines, and there's a heavy-duty zipper that keeps it nice and tight.
You can mount and carry any tactical equipment (including scabbards), and though the bag has no straps, it doesn't slide off when you carry it, thanks to the rugged texture and Velcro pads on the handles.
Overall, the NcStar VISM might be one of the most portable soft cases for your firearms that can be both affordable and durable. I recommend this one if you frequently visit the ranges.
Pros
The best anti-rust gun case on this list
Sturdy latches
52-inch model available
Custom fitting, pluck-and-fit foam interior
Smooth, oversized wheels
TSA-approved
Cons
Heavy for a resin bag
Edges are a bit jagged
A bit pricey
With the wittiest name in the game, the Plano Rustrictor is a hard case for your firearms that does exactly what it sounds like.
Available in 36, 42, and 52-inch models, it's a lab-tested hard gun case that stores, protects, and prevents rust.
The strong, waterproof resin shell protects the exterior, while the VCI rust inhibitor (Vapor Corrosion Inhibitor) is able to prevent rust and corrosion "five times better than your regular gun case."
The customizable foam interior that's merged with the case is ventilated for the rust inhibitor to work as intended. This unique rust-preventing feature is what makes it stand out, along with its TSA-approved status.
Four integral lock latches protect the case from theft, so you won't have to bother with extra padlocks. The oversized wheels are for traversing rough grounds without any annoying rumbling.
The Plano Rustrictorone of the biggest and high-priced gun cases from Plano. Although it's more expensive than a regular gun case, it's the best in anti-corrosion firearms protection that can preserve your rifles for a very long time.
I recommend it for those of you who live in humid conditions.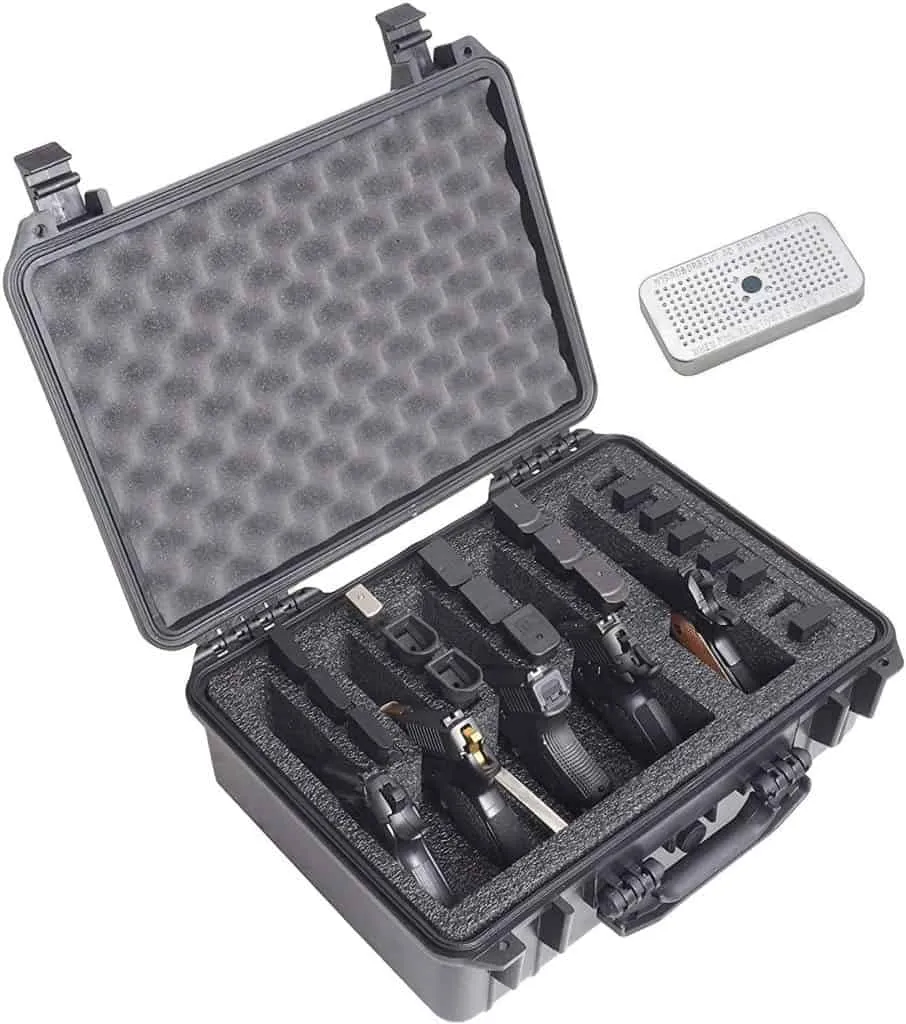 Pros
One of the most durable, multi-handgun cases
Can fit five handguns and 20 magazines
Lockable
Removable foam section
Waterproof Case
Silica gel canister for rust prevention
TSA-approved
Cons
Not a pick-and-pluck foam case
Needs strap hooks
A lot of folks have more than one pistol, so I picked this multi-slot pistol case from the Case Club.
The Case Club 5 is a lockable, heavy-duty pistol case that has extra room for up to 20 magazines (plus 5, if you count the magwells on your pistols). Personally, I really like how the pistols are set up for a quickdraw for fast retrieval.
Two padlock points with a quarter-inch shackle through the hinges secure your pistols. There's also a moisture-absorbing silica gel canister that helps prevent rust, rarely found in pistol cases.
The heavy-duty base foam openings are made of closed-cell polyethylene, which prevents moisture. They're pre-cut and can snugly accommodate any handgun, whether it's a compact, a 1911-style pistol, or with a red dot or light attachments.
The case itself is dustproof, waterproof with a pressure release valve, shippable, TSA-approved, and comes with a lifetime warranty. Though it's not a pick-and pluck foam surface, the slots are customizable and removable.
The mag slots can fit both single and double-stack magazines. Simply remove the spacer to fit your double-stack mags.
Overall, the Case Club 5 is a gun case for when you can't decide (and you usually can't) which pistol you want to travel with.
One more thing, if you're a pistol owner and you're looking for a more state-of-the-art approach in securing your firearms, check out our list of best biometric gun safes.
Pros
Stylish design
Triple layer Pick and Pluck EPE foam help prevent corrosion
High-density foam padding for maximum protection
It has a leather-like exterior and is EASY TO CLEAN
Roomy interior to fit guns up to 42 inches long
Easy storage when not in use
Cons
Not ideal for firearms larger than 42 inches in length
It can be heavy and bulky when carrying long distances
The Cedar Mill Guitar Rifle Case offers a unique combination of style, safety, and convenience for rifle owners. 
A stylish guitar-shaped camouflage case with two locking mechanisms ensures your firearm is safe from theft or unauthorized access. The interior has been designed to provide the perfect fit for long guns up to 42 inches. 
High-density foam and a secure locking system guarantee that your rifle is protected from damage. 
The proprietary cubed Expanded Polyethylene (EPE) foam means that you do not need any special tools to customize your case, while the EPE foam is a hydrophobic (Water repelling) foam.
Overall, the Cedar Mill Discreet Concealment Guitar Rifle Case offers a stylish, convenient way to store and transport your firearms. 
With its triple-layer pick and pluck foam system and high-density padding, you can rest assured that your rifle will be safe from theft or damage. This is an excellent option if you want a unique and efficient way to store and transport your long guns.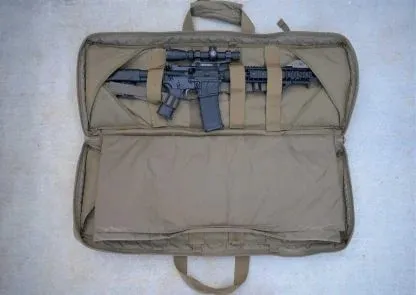 When it comes to protecting your rifle in the field, there is no better option than the Lynx Defense Tactical Rifle Case. This sleek and durable case is designed specifically for tactical rifles, with padded compartments and foam inserts to provide optimal protection.
The case features a convenient carry handle as well as a removable shoulder strap, making it easy to transport your gun wherever you go. And with a water-resistant outer material and premium stitching, this case will keep your rifle protected from even the toughest conditions.
Whether you're an avid hunter or a dedicated survivalist, the Lynx Defense Tactical Rifle Case is truly the best choice for anyone looking to take their weapons with them on their next adventure. I highly recommend this product for anyone who values the safety and security of their firearms.
Best Gun Cases – A Definite Buyer's Guide
There are countless gun cases on the market today.
You got hard cases, soft cases, double rifle, single rifle, covert bags, pistol cases, etc.
We generally categorize gun cases in hard and soft case types, and this simplifies things a lot.
While minor gun case characteristics are important when picking a good gun case, they still depend on your preference.
Features like wheels, foam types, zippers, internal locking types, and extra pockets are entirely subjective when it comes to personal convenience.
My opinion is, don't go for budget options if firearm protection is in question.
That's why I didn't include a budget option, but all of these gun cases are affordable and reasonably priced.
Let's look at the pros & cons of both hard and soft cases.
The Advantages and Disadvantages of Hard Cases
Hard cases are strong, durable, and protect your guns at the cost of more weight. They have a harder outer shell that's usually made from fiber-reinforced compounds like polymer.
These cases are built for protection and preserving your firearms. The foam interior padding insulates your gun, while the hard outer shell is usually crushproof and offers strong impact protection.
The strong interior foam liner keeps your firearms secure and prevents wiggling, and they're usually watertight with pressure systems that prevent water, dust, debris, humidity, and the reinforced locking points are usually anti-theft.
However, hard cases are usually more expensive than soft cases. They're heavier, bulkier, and can be awkward to carry or fit into the car if they're too big.
Simply put, if you travel a lot, it's imperative that you go for a quality hard case with wheels. More importantly, they're TSA-approved, and this allows you to travel via airplane.
TSA-Approved Hard Cases
Lots of cases are TSA-approved as per TSA (Transporting Firearms and Ammunitions) guidelines, which means you can't fly the plane without this seal of approval.
These certified cases are lockable and have high-quality builds that can be anti-theft or waterproof.
Still, it doesn't mean they're high-tier; it just means they're lockable and meet airplane safety guidelines.
The Advantages and Disadvantages of Soft Cases
On the other hand, soft cases are lighter and more practical for storage, and you can use them as backpacks with the right shoulder straps and soft padding. If you're a hunter that treks a lot, soft cases are the lighter and more portable option here.
When choosing soft cases, you should look for nylon or ripstop fabrics. These types of material, along with tie-down systems and extra pockets, offer the best for soft gun cases.
Some can even be waterproof and designed to float in case of an emergency.
Picking soft cases usually means you'll carry them around with you, so it's very important to first try it out if the straps don't hurt you and you feel comfortable carrying it.
The downside is that soft cases aren't as effective in protection or impact-resistant as hard cases. What's more, most soft case models have wiggle room that can easily shift your guns around.
If you have optics on your rifle, avoid soft cases without the proper internal walls or straps. Protecting your firearms is one thing, but the safety of your fragile optic glass should always be your top priority.
After everything that has been said, you can always have both hard and soft cases. If the weather is overcast today, pull out the hard case. If it's sunny outside, strap the soft case on your back, and it's happy hunting from there.
One more thing, if you want a case that's attachable with extra pockets and gear, pick a MOLLE-compatible one.
Conclusion
As you can see, there are lots of brilliant gun case manufacturers that focus on safety first, then convenience.
I researched and skimmed through a lot of bags, but these are among the most secure gun cases and bags with a decent price tag.
If you travel a lot and take a lot of flights, going hard is the only way if you want to find your scoped guns intact at check out. When flying, you are safe to check multiple rifles, but still, you need to check your country's airline policies.
You got TSA-approved gun cases with hard casings that meet lockability standards, soft cases that offer more mobility, but if you have pistols, there's always the VaultTech to give you peace of mind.
On the other hand, if you're driving a lot and like to carry your gun bags like a backpack, the VooDoo is a good option.
Whatever the case may be (pun intended), it still depends on your preference, how you want to carry it, whether or not you want extra ammo pouches, and how many rifles you have.
My honest opinion is to either pick one with comfortable straps or pick anything on wheels and call it a day.
Stay safe, shoot straight.
Explore more