Best Gun Holsters for Cars [2023]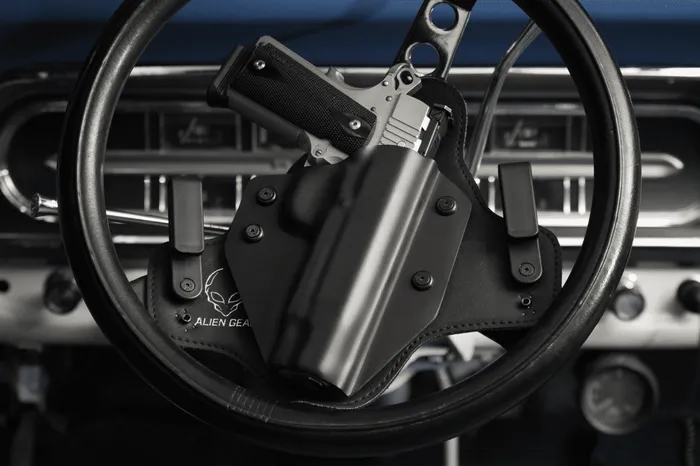 Best Gun Holsters for Cars [2023]
For those of you who like to have your concealed carry holstered while in a car, it can be really uncomfortable and annoying. Your holstered pistol digging into your leg can be a nuisance, especially when long trips are in question.
Fortunately, there are all kinds of gun holsters for cars on the market today, and each type offers different benefits and features at great prices.
You have your holster mount models, holsters secured under the steering wheel, holsters that have the characteristics of a gun safe between the space of the seats, you name it. Every model is designed for vehicles and offers much-needed relief.
However, with so many vehicle-specific car holsters out there, it can be a hassle to pick a good one. Let's review them in more detail. We'll talk about their characteristics, pros & cons, and help you choose the best one for you.
I'll also mention some important points, tips, and legal info regarding state laws for when you have your gun in your car.
Best Gun Holsters for Cars
Pros
Easy to install and fully adjustable
Available for many pistol models and brands
Excellent retention
Very stable and sturdy mount
Cons
Won't accommodate handgun lasers
The Alien Gear ShapeShift car holster offers a convenient solution to carry your firearm while you're in your car.
The reason why I chose the Alien Gear ShapeShift holster is that there are countless models for almost every popular handgun in the US. If you have a Ruger LC9, Alien Gear has that covered. CZ-P10C? A P365? Give me your Glocks, Smith & Wessons, your Sigs… They got a holster for them too.
It's just a very straightforward seat strap holster that can be installed between the seats and holds your handgun firmly. It offers a handgun retrieval method that's right in front of you so it offers quick access and you won't forget it in your car either.
You can adjust the retention and cant of the holster without any tools. It's very sturdy, so you won't have to worry about any sudden road bumps.
Additionally, you can change it as it integrates into a regular holster type from open to concealed carry to shoulder holster.
Alien Gear is well-known for its reasonably priced firearm products with great quality, and the ShapeShifter is an exemplary product. What bothers me is that there are no ShapeShifter varieties that could accommodate a handgun with optics like, let's say, the Crimson Trace Laser, so be mindful of that.
Pros
One of the sturdiest locking car holsters on the market
Very durable and secure
Can be used on a bed frame or under office desks
Great price
Compatible with Glocks and most 1911 models
Silicone lining protects your handgun from scratches
Cons
Limited mounting options
Not very cost-effective
Difficult to install
The Jotto Steel Holster is one of the best locking handgun car holsters you can find on the market. The company mainly supplies police cars with their products, and that's evident because the holster simply works.
It's typically mounted between the seats, but you can also mount it on a bed frame or under a desk, so it's not just for cars.
It comes with mounting screws, though it may be difficult to install for some. The silicone lining is a nice touch and it protects your handguns from scratches.
The Jotto car holster can be mounted horizontally or vertically with the mounting brackets. You might need to drill into your vehicle to mount this holster, but once you do, it's one of the tightest and sturdiest holsters you can have in your car. A small price to pay for excellent, tamper-free security.
Additionally, it's officially licensed by the NRA and made in the USA, so that might explain the high price. If you can afford this, and you wouldn't mind drilling some holes in your car, it's an excellent car holster.
If you carry a 1911, check out our list of best holsters for 1911 handguns.
Pros
Can accommodate any handgun, regardless of model or size
Can be installed sideways, vertically, or for ambidextrous use
The best gun holster magnet that can carry up to 25 pounds of weight
Great value
Lifetime guarantee
Cons
You will need padding to not scratch your gun
Mounting equipment not included
Here's a very unusual, yet surprisingly effective option for those of you who like to keep it simple.
Ragnar Industries presents The Tac-Mag. A gun holster magnet for your car that can hold up to 25 pounds of weight. What I like about this "holster" is that it has multiple neodymium magnets that keep the handgun from spinning around.
You can install it anywhere, preferably under the steering wheel. The powerful magnet can hold your Glocks, your .45s, your Sigs, or practically any other popular CCW handgun.
Additionally, you can also install it under a desk or by the bedside, so it's not just for the car. It's weatherproof, shockproof, and Ragnar Industries also has a lifetime guarantee on this one.
The price is just irresistible, the installation process is easy, and the neodymium magnets offer excellent gun security. It's made for pragmatic gun owners who want an emphasis on quick access and retrieval.
One thing I don't like about this design is that the magnet can scratch the surface of your gun, and you would need some padding to protect it. Other than that, it's a really interesting option that should be considered.
I know, I know. It's not a gun holster. But, come on. It's Vaultek!
The Slider Series Handgun Safe from Vaultek offers unmatched security as a vehicle holster. It's easy to clamp down, has a biometric lock that won't back down, and can fit almost any vehicle seat, between the seats in the console, in the trunk, or anywhere else, basically.
It needs batteries that can be recharged via Micro USB, but they run for months, so don't worry about that.
The safe has a biometric lock that remembers your fingerprint and offers fast accessibility. It also has an application that can be installed on your phone and functions via Bluetooth. Moreover, if you'd like to keep it simple, you could use the numeric passcode.
The safe is constructed from 16 gauge carbon steel that feels like Fort Knox, while the padding keeps your gun safe from scratches.
I would also like to mention the Jaronx Console Vault that's compatible with RAV4 vehicles and the models from Console Vault as well. These vehicle-specific safes have lots of models that can be compatible with any handgun and vehicle, and they also offer sanctuary for your valuables.
Honorable Mentions – Gun Mounts For Cars
These aren't gun holsters, they're mounts. But they deserve a mention either way.
All of these gun mounts provide a firm and secure place for your handguns. They are usually placed at the car's console between the seats, though you may find various other mounting places.
Pros
Can be attached to any clip holster
Fits most vehicles
Ambidextrous
Sturdy, flexible, and streamlined design
Multiple mounting options available
Can be also used for belt holsters
Cons
No holster available
Expensive for a mount-only product
Here's the Gum Creek Handgun vehicle mount that can be attached securely to the steering column of your car. It's one of the most easily accessible gun holster mounts with unmatched flexibility.
This premium option is universal and it's designed to fit any vehicle. It safely attaches to the gap below the steering wheel and it's very easy to install and remove. Perfect for those who like to be flexible or don't travel much.
The Gum Creek mount can secure most belt loop holsters, works on small or large handguns, and there are two metal hooks as well as heavy nylon to properly secure and fasten the mount. It allows quick access to your handgun and the sleek design offers you many mounting options.
Gum Creek offers a limited lifetime warranty on this one, but the downside is that this doesn't come with a handgun holster.
Additionally, the adaption kits are sold separately, and this might be a hindrance if the mount doesn't fit. But this might be convenient for some who already have a regular holster. It's still compatible with any holster and vehicle.
This mount works great with ambidextrous holsters, and its main purpose is compatibility and flexibility.
Pros
Easily adjustable and concealable
Firearm points in safe direction
Compatible with other mounting accessories and magnets
Excellent accessibility
Fits between seats and consoles
Cons
Can wiggle towards the driver's seat
May be too flexible for some
The Highway Holster Vehicle Seat Mount is designed for belt clip holsters and is flexible enough to hold any gun weight.
The Highway mount uses two small screws for adjustment, has Velcro straps, and can be mounted inside the seat. It's one of the most innovative and safe mounting products for any car holster, designed for seat gaps between the seat and the center console.
It's built for those of you who like to keep your sidearm on the right side, where you can quickly and smoothly access your pistol at a moment's notice when required.
You can simply strap the gun mount onto the seat belt buckle and fit your Glock, Walther, or any of the models you choose from with a regular belt clip.
Installation and removal are easy with a Phillips screwdriver, and it's available for most vehicles with open access center consoles.
It's not a discreet option, it can wiggle around, but it has a great price for the features. It's perfect if you want your firearm to be concealed by your legs.
Buyer's Guide – What to Look For in Gun Holsters for Cars
Each gun holster model offers different mounting methods. Then you have gun holster visibility, how secure and safe it is, and how accessible it is, among other things. It's up to you to decide on your preferred drawing method.
You have all kinds of mounting variations like in front of the dashboard, on the side of the seat, between the seats, under the seat, door or window mounts, cup holder holsters, locking mounts, glove box mounts, etc. You could even come across vaults and trunk mounts, but those are significantly different solutions.
We can't cover them all, but if you plan to purchase a gun holster that will suit you, you need to consider these important factors.
Consider the State Laws
As always, this would be the first thing you should take note of.
Gun laws vary from state to state. Some states require a concealed carry permit for carrying a gun in a vehicle, some require you to keep your firearm concealed, and other states prohibit carrying a loaded gun in a vehicle.
Speaking of permits, another important legal necessity that any gun owner should own is a concealed carry insurance policy. Check out our list of the best CCW insurance policy providers of 2021.
Accessibility
Contrary to popular belief, it's difficult to draw your sidearm sitting in your driver's seat. You need to get yourself a gun holster that allows you to be quicker. After all, if you can't access your weapon fast enough, why even carry. Holsters help you do just that.
I recommend holsters that are either under the steering wheel, below the middle point of the seat, between the seats, or in the glove compartment.
Secure vault boxes between the seats are also a popular option because they keep the gun hidden, but it entirely depends on whether you're comfortable flipping the console open. 
If you're looking for a popular compact pistol that can fit a lot of holsters, check out the Bersa Thunder .380.
Safety and Security
Not every firearm has fancy safety mechanisms and locking triggers, and even worse, a lot of folks don't appreciate not having an empty chamber. If you go with a holster that has a lot of wiggle room, it can be very dangerous.
Proper gun holsters can reduce this risk and you should look for a safe and secure mount or gun holster that has a very stable build.
Additionally, you should look for shockproof, protective holsters that have guards and paddings to protect your firearm from scratches or sudden bumps on the road.
A 2016 post from the Atlantic reports that there are around 600,000 car gun thefts reported each year. Most of these car thefts are due to the fact that the weapons are almost always visible. So, be mindful of this.
Mounting, Size, and Compatibility of the Holster
The holster must be compatible with the handgun. A car holster must be compatible with the handgun and the vehicle.
Look for holsters with proper sizes that can fit your handgun and place it in a strategic location where it's easy to retrieve and always check out the dimensions first.
Ease of installation doesn't matter much, but you need to consider whether or not you want holes drilled on the inside of your car, for instance, as that can be the case as well.
I recommend going for magnetic holster variations, but mountable holsters are sturdier, so make sure you figure out where and how you want your holster placed.
If you're interested, please check out our list of best shoulder holster options.
Visibility
This is probably the most critical factor, both for legal and ethical reasons.
It's advisable not to let people know that you have a gun in your car, and there are also state laws that prohibit having visible guns inside. This is very important, especially when being pulled over by the authorities.
This issue will usually be the dealbreaker when you want to buy a very secure gun safe holster between the seats. Mounting holsters are always a good idea if your state laws allow visible guns in your car.
I recommend you still keep the gun out of sight as much as possible while retaining convenient access to it.
FAQs
Here are some important questions concerning gun holsters for cars. 
Can I Holster a Gun in My Car?
This depends on where you live.
State laws vary for this question, and some state authorities will ask you to have a concealed carry permit for carrying a gun in a vehicle, some require you to keep your concealed handgun out of sight, while other states prohibit carrying a loaded gun in a vehicle.
Federal laws state that you don't need a permit for traveling with a firearm. You're protected by FOPA (Firearm Owners Protection Act) from local restrictions if you are traveling for lawful reasons.
Be careful, though. It's best if you consult with your local laws and the state laws in the state you're traveling to. There are different laws regarding carrying guns in your car, and then there's the issue of being pulled over when carrying your gun holster in your car.
What to Do if I Get Pulled Over With a Gun in My Car?
When pulled over while you have your gun holstered in your car, you need to remain calm and cooperative with the law enforcement officer.
Here's a step by step to make the proceeding as smooth as possible:
• Pull over to the right;
• Turn your engine off;
• Keep your hands on the steering wheel;
• Inform the police officer you have your CCP (concealed carry permit) and that you're carrying a concealed carry firearm;
• Don't make sudden movements, remain calm, and show your CCP and driver's license at the same time.
Just make sure that you inform the officer in a neutral manner. Saying "I have a gun" is not a bright idea..
"I am a CCP holder and I have my handgun in [location]. How would you like me to proceed?" is one way to do it.
Is My Concealed Carry Permit Valid When Travelling With a Gun in My Car?
How Can I Conceal My Handgun in a Car?
The glove box, center console, or the storage spaces of your dashboard are valid locations.
Holster mounts, seat strap holsters, and vaults between the seats are one way to conceal your pistol in the car. But, open carry is the most convenient way and you can draw your concealed weapon faster.
Conclusion
As I mentioned, there are multiple ways to secure and store your gun in your car, and there are many methods of mounting your car gun holster. It's up to you to decide whether you want to keep it between your legs, between the seats, under the steering wheel, or on the dashboard.
All of the holster models in this guide do their job just fine. My personal choice is definitely the Alien Gear ShapeShift Driver Defense Holster with its unmatched security, ease of use, and accessibility, or you can use the Jotto if you need a good gun safe between the seats.
Carrying your gun in a car holster will take some time to get used to. You'll also need to practice your drawing speed for self-defense this way and, of course, don't forget to take it.
Keeping your gun in your car needs the same responsibility as when you have it secured in your home. Just remember to pick one that offers accessibility, security, and comfort that suits you, and you'll get used to the car holster in no time.
Stay safe, and shoot straight.
Explore more