CZ P10C Review: The Glock 19 Slayer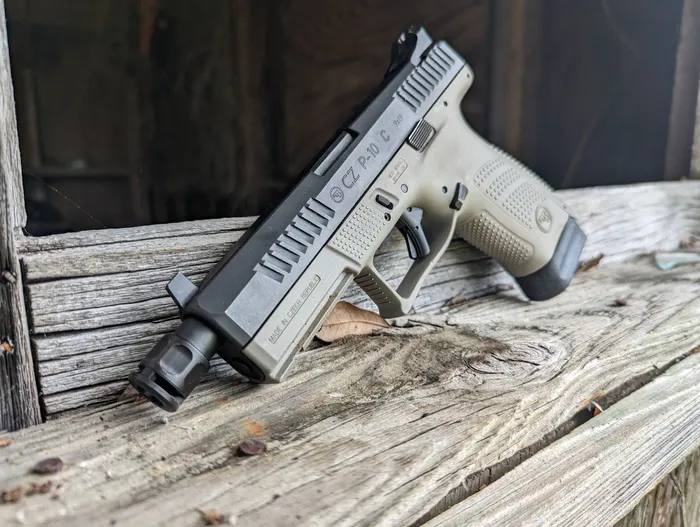 CZ P10C Review: The Glock 19 Slayer
Introduction
When CZ revealed the striker-fired P10C, most people were cautiously optimistic. CZ became famed for their hammer-fired handguns like the CZ 75, the P09, and various competition guns.
CZ makes great guns, and it has been decades since the CZ-100 series flopped. I'm a CZ nerd, I enjoy their handguns quite a bit, so when the P10C dropped in 2017, I was waiting and ready for it.
The CZ P10C uses a partially cocked striker mechanism, which provides a much better trigger than the CZ-100's old double-action striker-fired design. The polymer frame is nothing new for CZ but most certainly refined in the P10C.
The handgun initially came in 9mm and 40 S&W, but these days it looks like the 40 S&W has been dropped from the catalog. For reference, today's model is a 9mm variant.
CZ premiered the P10 series with the P10C, which was followed by the P10F and P10S. The P10C is the compact variant, so think Glock 19 in size. The F and S represent the full size and subcompact, respectively. Speaking of the Glock 19, the P10C is coming to eat its lunch.
The P10C looks at the Glock 19 and licks its lips at the thought of being the best compact pistol on the market.
The CZ P10C Review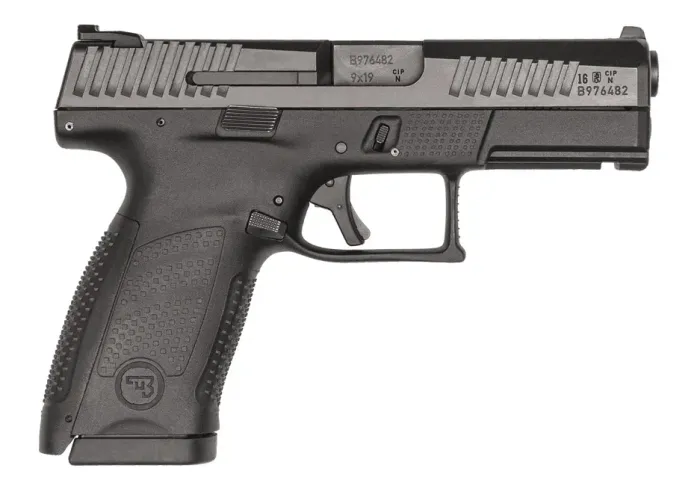 The CZ P10C is a do it all defensive handgun. This compact frame keeps things small enough to be easily carried as a concealed carry firearm.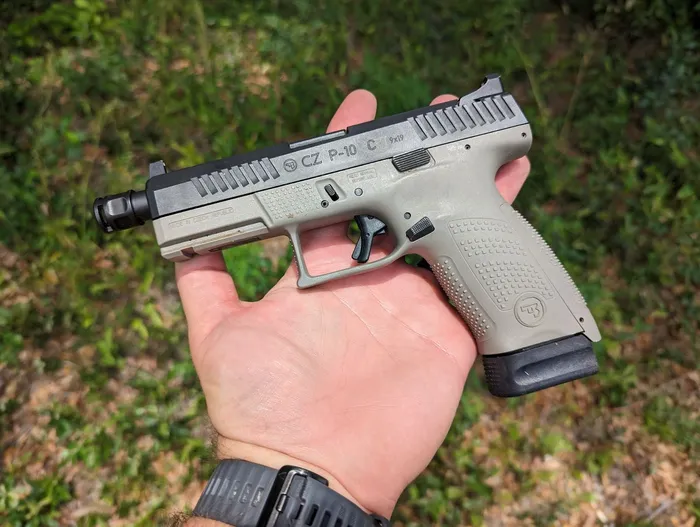 The moderate size gives you all the features of a full-sized gun to make it a capable defensive firearm for home defense. These features include a Picatinny rail, an optics mount when necessary, and often what's considered a capable magazine capacity. With the CZ P10C in 9mm, it's 15 rounds.
The P10C provides a number of small improvements to the general concept of a compact pistol. This includes a refined trigger with a great reset, a very aggressive grip texture, and ambidextrous controls. CZ includes some of the basic demands most shooters want. This includes two magazines, various backstraps, and all metal sights.
If you are looking for a modern compact striker-fired, polymer frame pistol, then the CZ P10C should be at the top of your list. Especially if you just want a plug-and-play defensive firearm.
There is no need to upgrade anything on the P10C, and it's ready out of the box for whatever task you have to toss at it.
Specifications
| | |
| --- | --- |
| Caliber | 9mm |
| Capacity | 17 rounds |
| Barrel Length | 4.02 inches |
| Overall Length | 7.3 inches |
| Height | 5.2 inches |
| Width | 1.26 inches |
| Weight | 26 ounces |
Pros & Cons
Pros
Excellent Trigger 

Ambidextrous Controls 

Excellent Grip Texture 

Great Sights 

Works With Some Glock 19 Holsters
Cons
Aggressive Texture Rubs When Carried Concealed
First Impressions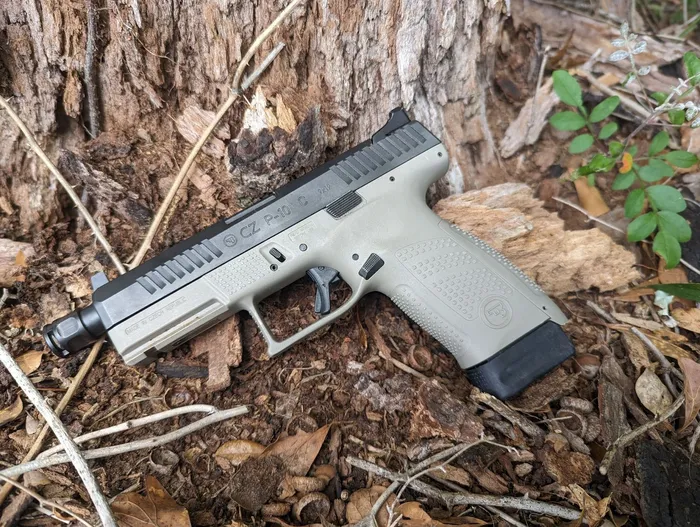 Right out of the box, we have a gun that feels and looks great. The grip texture is very aggressive, and you won't need a stipple job or grip tape on this bad boy.
The slide moves smoothly rearward without too much effort. The magazines are all metal with witness holes for each round.
The gun is fairly light and seems to fit my hand well. CZ fans with notice it uses conventional external slide rails. The CZ series are well known for their internal slide rail designs.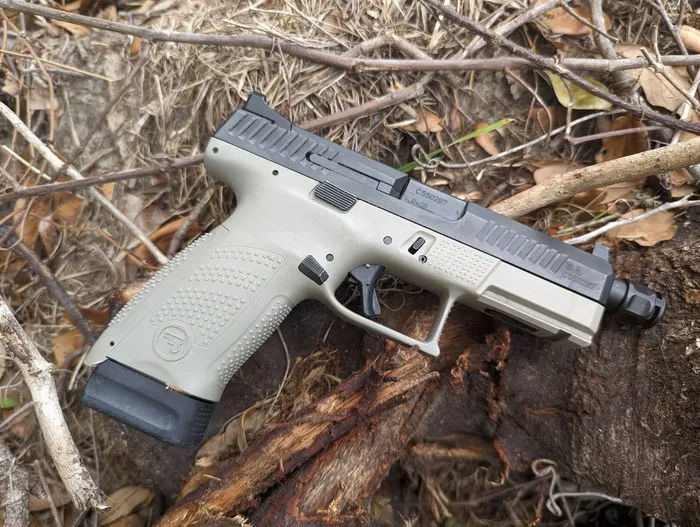 This often lowers the slide and bore axis. It's oddly missing with the P10C, but that's not a major issue. The P10C comes with several backstraps to change the grip size, but I found it just right out of the box.
Reliability
I've owned this gun for six years. It's been shot a lot. We are talking at least a couple thousand rounds.
It did serve as a carry gun for quite some time and was only replaced by the smaller P365XL. The CZ P10C and I have a long history together, and I do enjoy shooting it.
The weapon has never met a projectile it won't digest. Hollow points, round nose, and even flat point 9mm.
Not to mention steel and aluminum cases, as well as brass. It's gone through numerous brands and ammo types with hardly any issues. I've had some European 9mm with hard primers that only seems to work in rifles. I've also had several general ammo problems.
When you shoot a lot, you'll eventually run into some bad ammo that doesn't always go bang. Outside of a few isolated incidents that are tied to bad ammo, the P10C has always run.
Even on high volume, long days at the range, in dusty or wet environments, and even after the magazines have swallowed piles of sugar sand during reload drills. The gun doesn't care it just goes bang.
Ergonomics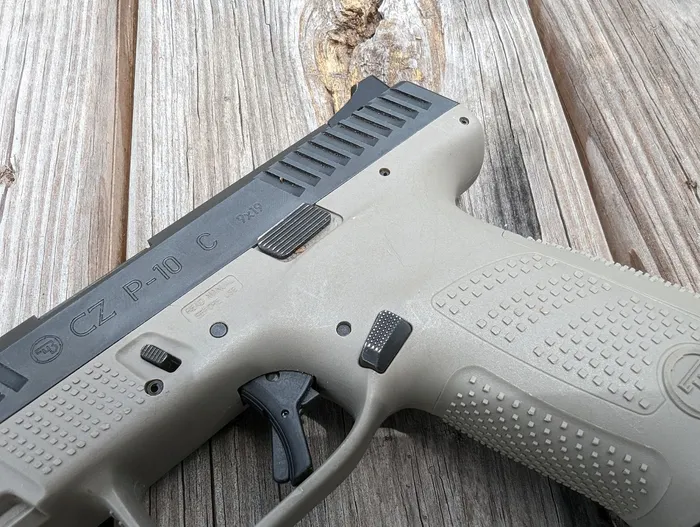 CZ has always been ahead of the curve when it comes to the ergonomic game. The CZ 75 series, in particular, were made to fit my hand.
When you go from polymer to metal frames, you will get a little less precise. Still, the P10C does well ergonomically. First, the frame is designed to allow a nice high grip on the gun. This includes a slight hump at the bottom that keeps your hand high.
The gun has a slight overhang that allows you to press up quite high without getting slide bite. The trigger guard also has an undercut to keep that high grip comfy.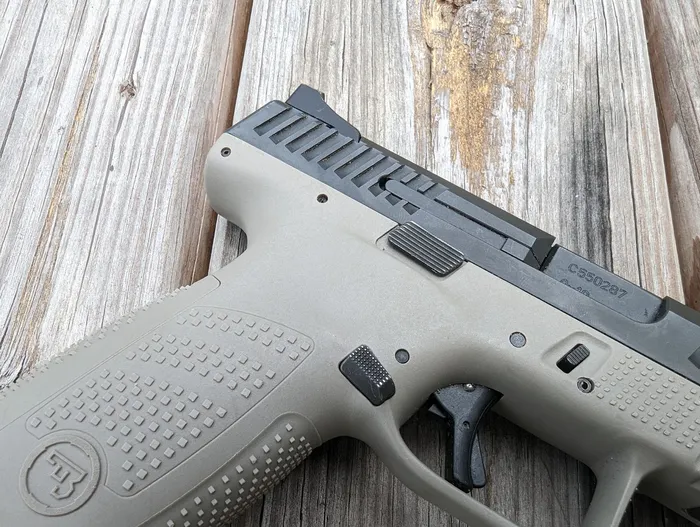 The grip texture is a blessing and a curse. It really sticks to your hand. It grabs you and holds on throughout the recoil process. It's great…until you stick it into an IWB rig. That aggressive grip texture can rub you raw when carried daily.
The P10C packs an ambidextrous magazine release and slide stop that are both very nice. The ambidextrous magazine release is stiff. Even after years of use, it's still quite stiff. CZ did make the wise decision to use a rather large slide release, at least compared to the polymer-frame striker-fired competition.
Accuracy
The P10C is backed by a cold hammer-forged barrel and good sights that make the gun nice and mechanically accurate. CZ also pushed the sights back as far as possible to provide the longest possible sight radius for the gun. That's quite smart. Combine that with a smooth and short trigger that has a crisp pull, and we get a very accurate compact firearm.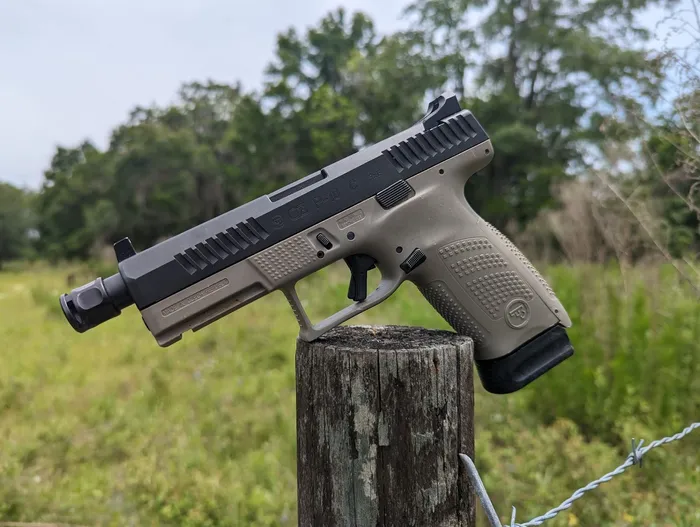 At 25 yards, you can punch the black out of a B-8 target with ease. Accuracy and speed are often at odds with each other. With that in mind, you typically want both. The P10C provides an easy-to-control platform with great ergonomics, and that helps when it comes to shooting fast.
Shooting failure drills, 10-10-10 Drills, and similar speed and accuracy-based drills are fairly easy. Even with nothing more than the basic three-dot iron sights still results in excellent accuracy even under the clock.
Features
Ambidextrous Controls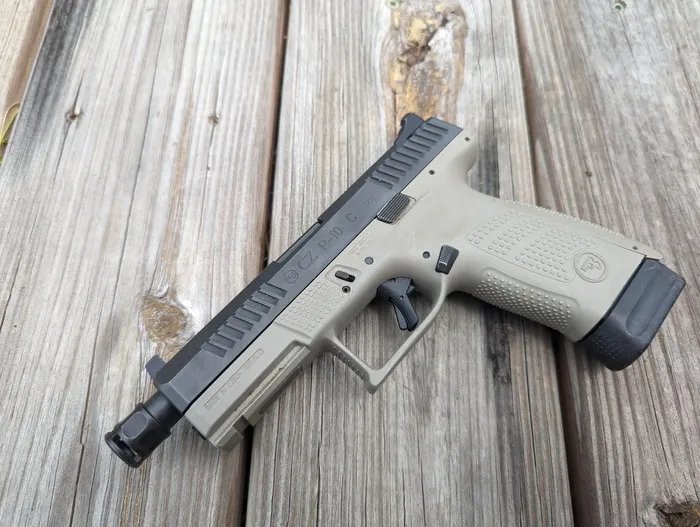 Lefties and righties are well served by the P10C. Beyond the beneficial nature of being more accessible for all shooters, it makes the gun easier to use if you have to switch hands. If you have an injured right hand and have to use your gun left-handed, the controls are still very functional.
Picatinny Rail
At the bottom of the dust cover sits a rail. This rail allows you to mount accessories, and with handguns, that typically comes down to mounting a light or possibly a visible laser. CZ uses a spec 1913 rail with a single slot that fits most full-sized and compact weapon lights.
OR SR Models
CZ also produces a few different models of their various P10 series firearms. OR means optics ready, and SR means suppressor ready. This model is an SR model. Some guns are both OR and SR, giving you a pistol ready to be outfitted with all the modern accessories you could ever want.
Customizable Grip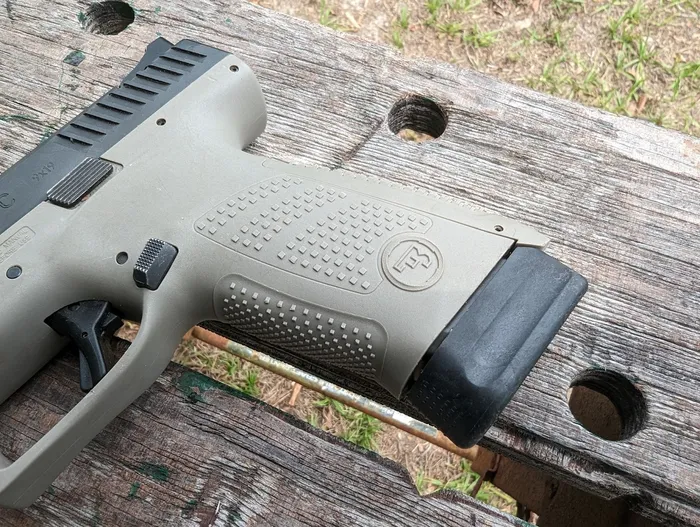 The grip inserts allow you to easily customize the gun to fit your hand. Don't undervalue this. You can customize the grip to ensure you can easily reach the gun's controls and activate lights, lasers, etc.
How We Tested
Long-term ownership and use have been great ways to test this firearm. It's been carried, taken to a training class, used and abused at the range, and more.
It's a gun that might be slightly retired, but it's been a weapon I still come to, especially when teaching new shooters. The gun has been used and trained with in a wide variety of environments over several years, and it's proven to be a winner.
Ammo Used
Oh boy, what ammo haven't I used over the years? My recent spat of shooting to reacquaint myself with the gun for this review involved some Global Ordnance 9mm, some Tula, and Winchester White Box.
Historically it's seen a lot of the cheapest ammunition you could shoot, as well as premium grade 124 hollow grain points.
Score Card
Reliability – 10/10
The CZ P10C eats through chunks of ammo without issue. It doesn't need to be cleaned often, and it's been exposed to tons of conditions without issue.
Ergonomics – 8/10
The ergonomics are excellent all around. My minor grips are a stiff mag release and abrasive texture.
Customization – 6/10
The gun doesn't reach Glock 19 levels, but there are some upgrades available.
Appearance – 8/10
CZ produces the gun in various frame colors, and it looks good.
Value – 8/10
The P10C consistently costs less than the competition but isn't as cheap as some more budget brands.
Accessories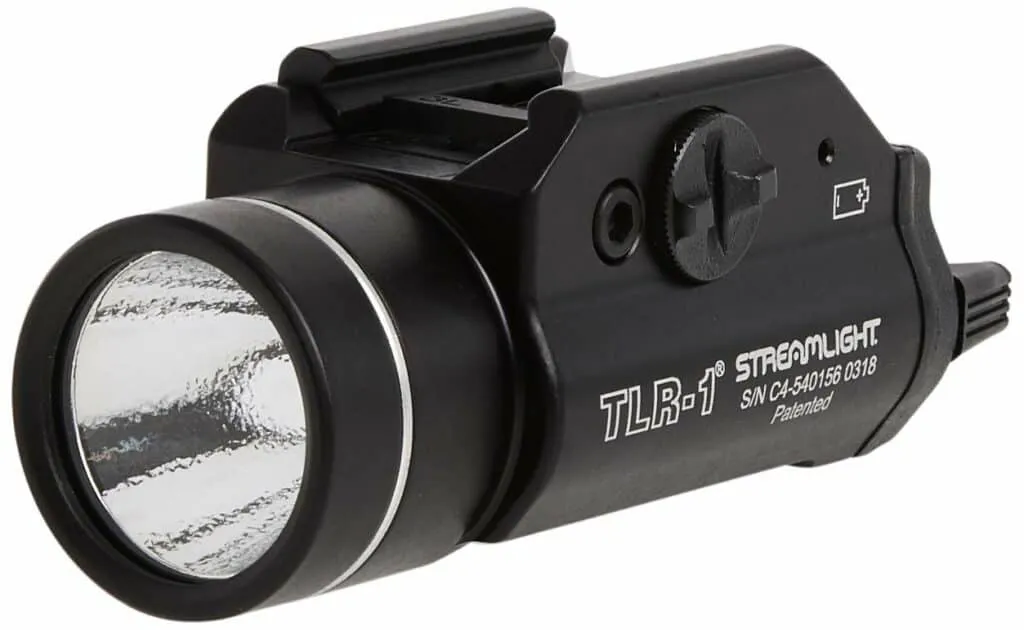 A thousand lumens of light will fit that accessory rail perfectly. The TLR-1 offers an affordable weapon light that will shine brightly and ensure you can establish positive identification in the dark.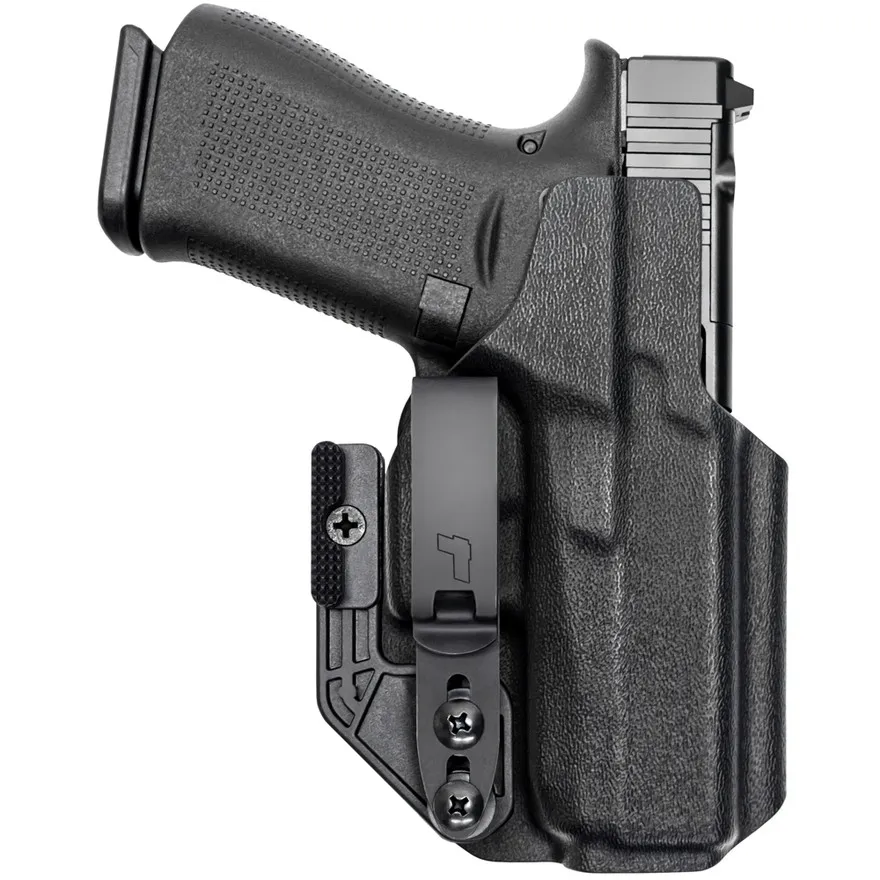 If you're looking to conceal carry your P10C, the Tulster Oath provides you with an all-polymer option that is designed around appendix carry but could be carried strongside if you choose. The included wing helps concealment for AIWB, and the metal clip ensures total durability.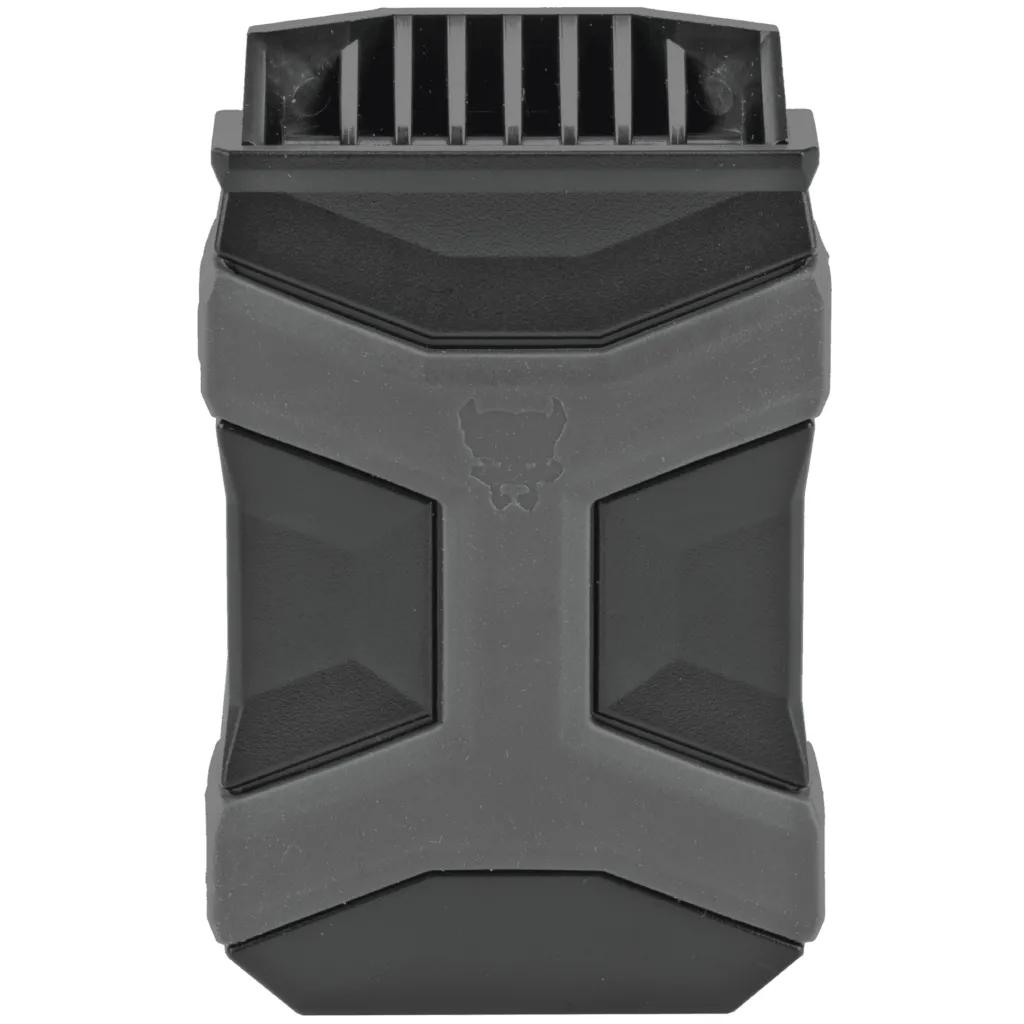 If you need to pack an extra magazine, the Pitbull mag pouch offers an OWB universal magazine carrier at an excellent price point.
This simple magazine pouch carries extremely well and is easy to conceal. It makes it easy to keep a reload on hand for those emergency situations.
Alternatives
The clear alternative to the P10C is the gun it competes with, the Glock 19. The Glock 19 formed the modern layout of the polymer frame, striker-fired compact handgun. Glock's 5th generation model offers the same features as the CZ P10C with different ergonomics. The main benefit of the Glock 19 would be the massive aftermarket support.
Check out our Glock 19 Gen 5 review for more info.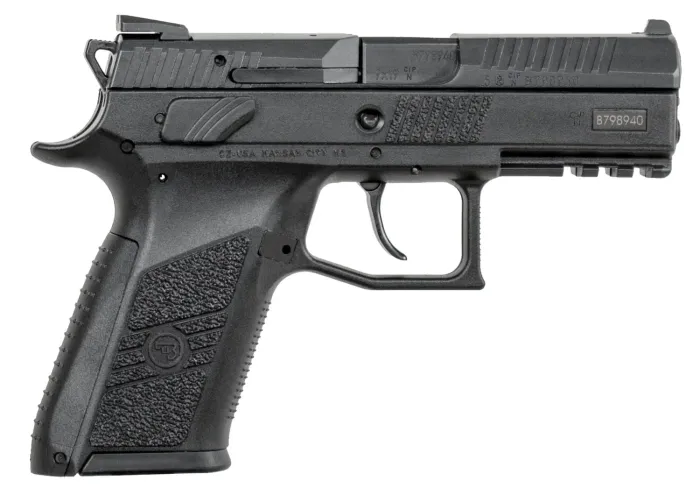 If you like the idea of a CZ but want something more traditional CZ-like, then the P07 is for you. The CZ P07 offers a polymer frame, modern accessory rail, and most of the same features as the P10C, but in a hammer-fired configuration.
It's compact in size and comes in 9mm as well. This is the more traditional CZ that's clashed with modern gun design.
Ready To Roll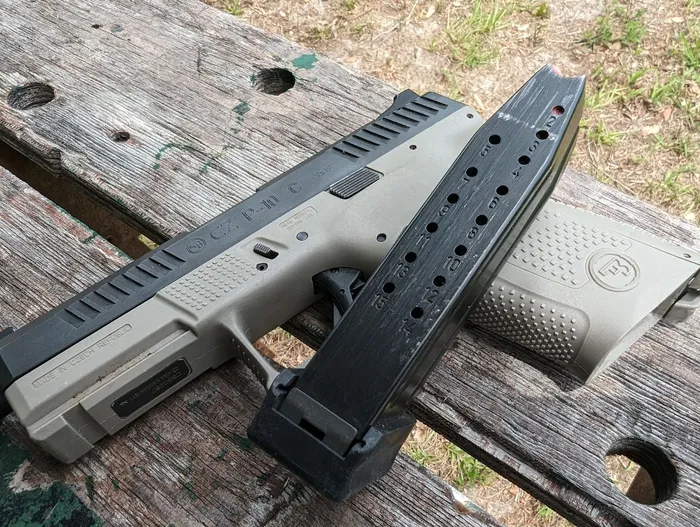 CZ has made the failed CZ-100 a thing of the past. They've made a competent fighting pistol that works well for home defense, duty, or concealed carry.
The CZ P10C has proven to be a modern striker-fired handgun that performs better than the competition. CZ tweaked the little things that matter, like the trigger, the grip design, and the sights, to maximize the gun's capabilities without maximizing its price tag.
Explore more