6 Best Lightweight AR-15s & Buyer's Guide [2023]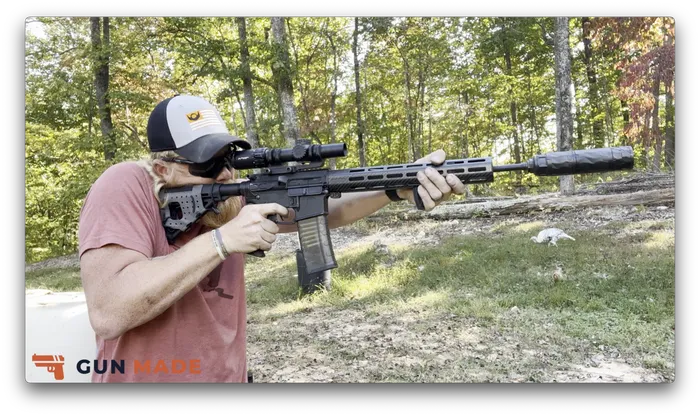 6 Best Lightweight AR-15s & Buyer's Guide [2023]
Today there are more lightweight AR 15 rifles than ever. That's great in a sense, but it can also make it very difficult to choose the right one for you. In this article, I'll guide you through the characteristics that you should pay attention to, especially if you're new to the most popular style of rifles in America. We will also review some of the best lightweight AR-15s out there.
Why Should You Get an AR-15?
As said, the AR-15 is not just the most popular rifle but the most popular firearm period in the United States, and for good reason. It's certain to scare off any home invaders, and it's also accessible and practical. However, more and more people are into lightweight ARs. They have almost everything that the larger models have except that they're easier to use. The best thing about them is that they're also perfectly suitable for beginners.
What are the Benefits of a Lightweight AR-15?
Obviously, the fact that this gun is lightweight is the reason why most people zoom in on it. But there's more to it. The rifle is so compact that it allows you to mount other useful accessories such as a tactical laser sight or red dot without making it cumbersome.
Most ARs are highly customizable. You can add anything you like, from scopes to slings. You can practically build your own gun, which many people enjoy. Everything depends on you.
Finally, they're effortless to use. Shooting with a lightweight AR-15 can be easier than shooting with a pistol. They're ergonomic and comfortable to carry.
What's the Weight of a Typical AR-15?
It's essential to distinguish the lightweight models from the ultra-lightweight. The latter is fantastic, but they are often pricey. The average AR-15 weight is 6.5 lbs., give or take. Therefore, anything less than 4 lbs. is considered a lightweight AR-15.
There are a lot of tips that can help you shave off some weight in unexpected ways. Some of the best ideas are to change barrels, buttstock, and to use lighter accessories.
Is a Lightweight AR-15 a Good Choice for Home Defense?
Yes, this gun is actually an excellent choice for self-defense and home defense. It could be a much better choice than the classic AR-15 because it's portable and easy to use. Moreover, it's suitable even for smaller people who don't have a lot of strength.
This gun is ideal for training and practicing too. Therefore, if you have one at home, you should train all authorized family members to use it, just in case.
However, I personally like this rifle as you can use it for far more things than home defense. It's ideal for hunting also. If I had to choose only one gun for everything (which I don't have to, thankfully), it'd probably be one of the lightweight AR-15s.
To Build or to Buy?
There's something special about building your own rifle, and everyone who has tried it knows the feeling. However, if you're still a beginner, I'd recommend you buy a fully assembled gun this time. Why? The reasons are multiple.
First, you may not even know what you need exactly, and the whole thing can be overwhelming. Second, if you purchase a gun from a trusted manufacturer, you get a full warranty.
If you want to do something by yourself, then I recommend buying the full upper part and customizing the lower.
What Price Should I Pay for a Lightweight AR-15?
There are various types of AR-15 on the market, and the prices vary greatly. The good thing is that there's something for everyone's budget. Maybe that's the reason that this gun has become so popular throughout the US. Prices start at as low as $500 (but don't expect miracles!) and up to several thousand dollars.
I've included a few of my favorite models in this review, so you can see what the main differences are.
Best Lightweight AR-15 Rifles
As you can see, there are many different types of lightweight AR 15 on the market. I've chosen five excellent models that cover all angles. I'm confident that everyone can find one that suits their needs and budget.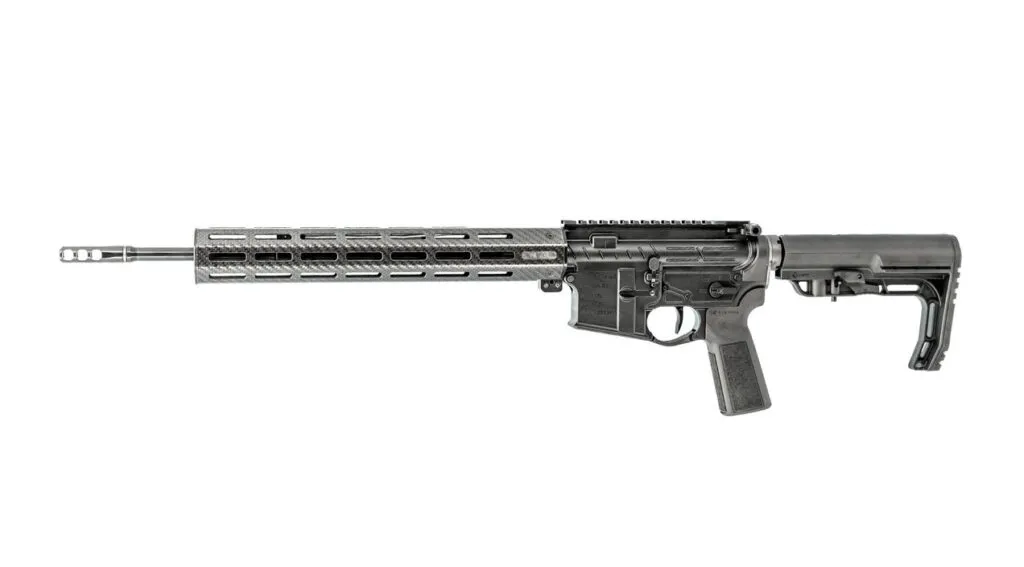 Specifications
| | |
| --- | --- |
| Material | 7075-T6 Forged Aluminum |
| Finish | Black Anodized |
| Complete Rifle Weight | 4.93 lbs |
| Inner Bore | Honed inner bore to smooth action of bolt carrier group |
| Engraving | Skeletonized Picatinny Rail w/ manually engraved T-marks |
Pros & Cons
Pros
Extremely lightweight at just 4.93 lbs stripped down
Maintained cool temperature during rapid firing
Easy and seamless shooting experience
Adjustable gas system offers versatility
All components are high-quality and meticulously designed
Withstood over 600 rounds in our torture test
Cons
Carbon fiber handguard may not appeal aesthetically to some users
Pencil profile barrel may not be as durable as heavier barrels over extended use
Skeletonized design may compromise strength for some users
Single stage trigger not preferred by all shooters
After getting our hands on the Faxon ION-X Hyperlite AR15, we were blown away by how this featherweight rifle delivered heavyweight performance. As we unboxed it, we were stunned that even with optics and suppressors equipped, it tipped the scales at barely 7 lbs – redefining our expectations of what's possible for a battle-ready rifle.
When we took it to the range, the ION-X showed us what it's really made of. Its 16-inch pencil barrel and carbon fiber handguard laughed in the face of rapid-fire, staying cool under pressure. The adjustable gas system performed brilliantly right out of the box, adapting to everything we threw at it during testing.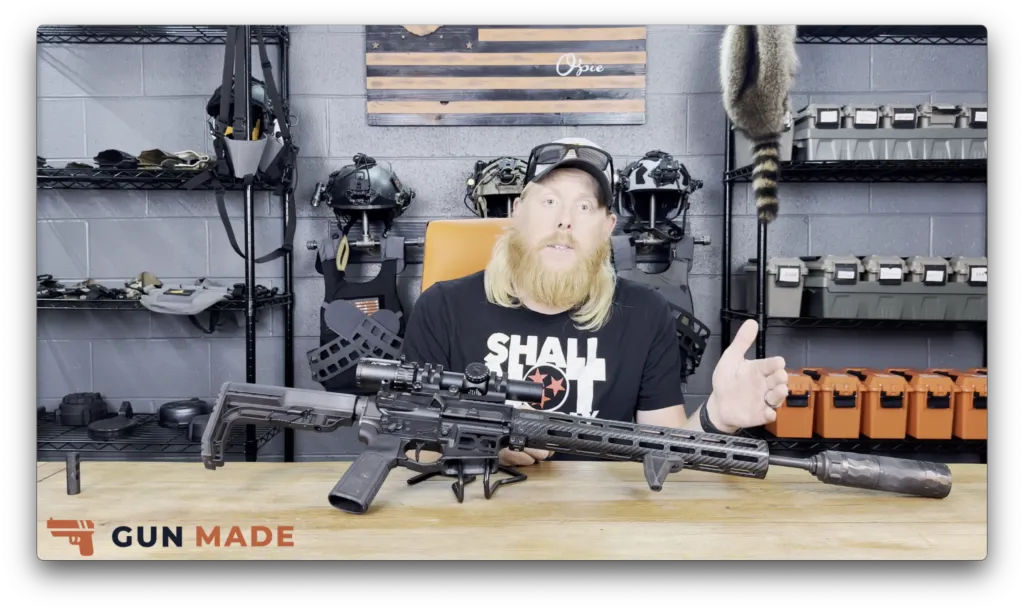 Testing the ION-X was an exercise in precision craftsmanship. From its expertly designed receiver set to its ergonomic charging handle, it was evident that Faxon sweated all the small details. The smooth single-stage trigger made every shot feel effortless. But beyond just its lightweight engineering, it was the ION-X's flawless functionality that impressed us most.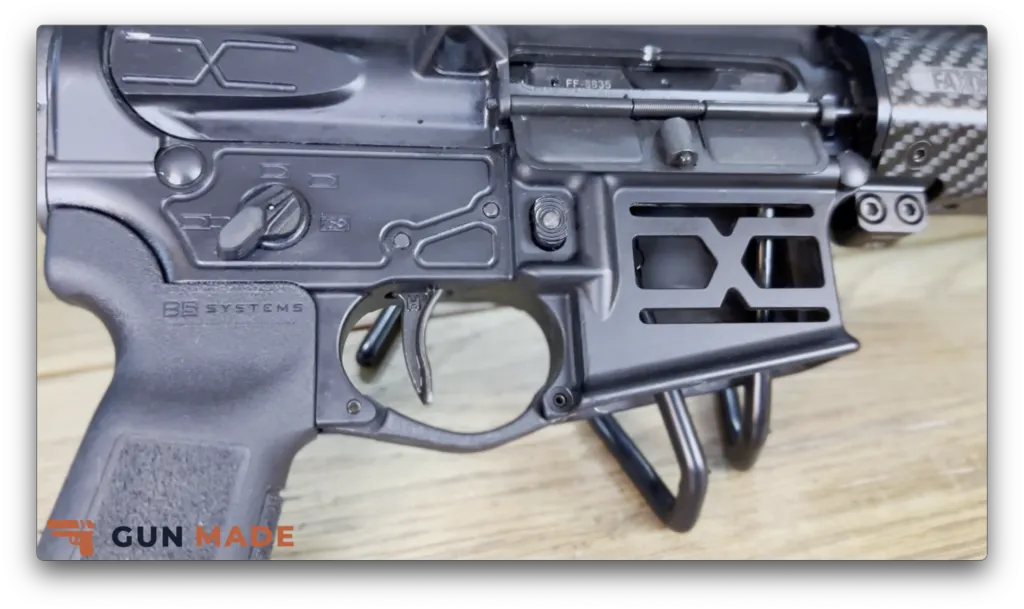 We really put durability to the test, firing over 600 rounds back-to-back, suppressed. The ION-X didn't even flinch, maintaining exceptional accuracy. It quickly became clear that this wasn't just another lightweight rifle – the ION-X sets the bar. We didn't just appreciate it being lighter – we were blown away by its uncompromising performance.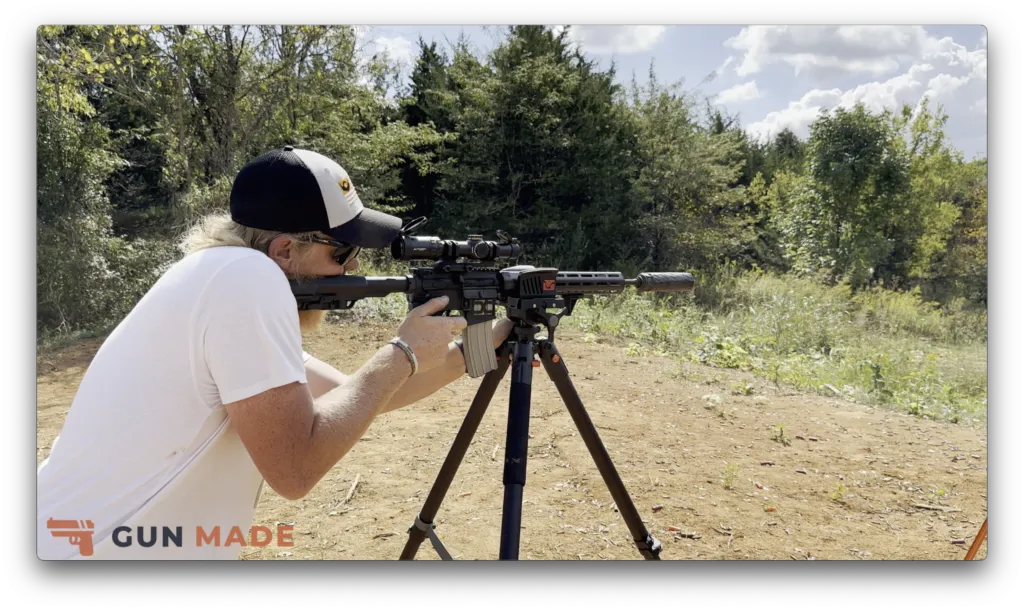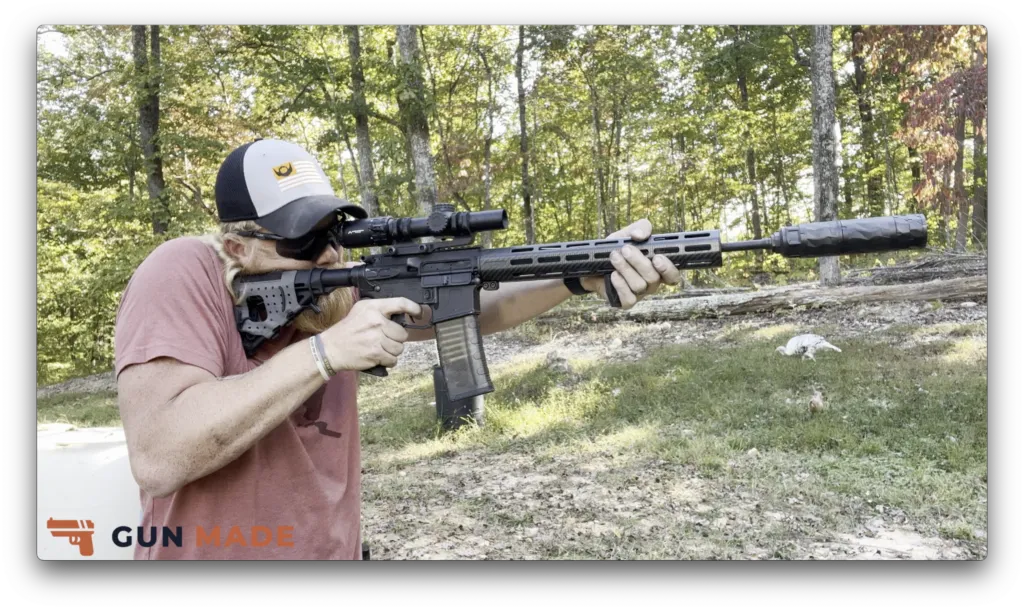 Read the full review here.

Pros
Versatile
Ideal for recreation
Compatible with a wide range of optics
Cons
You may need some time to get used to it
Personally, I like having more rifles and being able to pick one out according to my needs. But, if you need one versatile multi-purpose rifle, I think you could be satisfied with the Mossberg MMR Carbine rifle.
This modern, sporting gun is one of the most accurate and reliable models I've tried recently. It's ideal for hunting, competition, and recreation. Moreover, it has a very wide range. Some people like to keep it as a home security rifle, which is fine. But I believe it's a shame not using all of its potential in nature.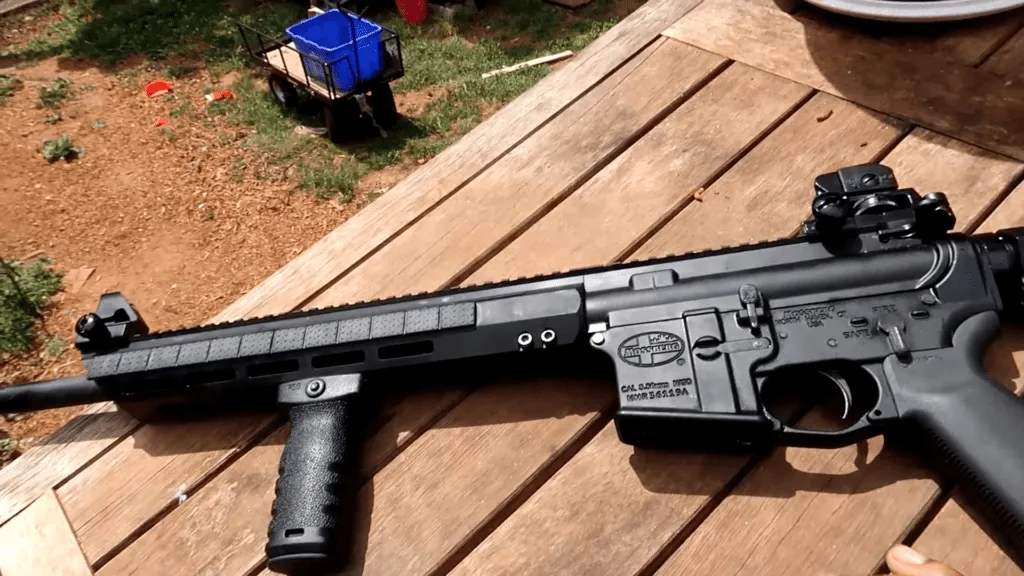 There is a wide range of optics you can use with this one, depending on what you need. The thing I like most about this rifle is that with a little additional investment, you can perfectly adapt it to your needs, and you can use it for different purposes.
The rifle, as well as all the accessories you can buy for use with it, feature non-reflective black phosphate and anodized metal. This feature makes it more durable than similar rifles.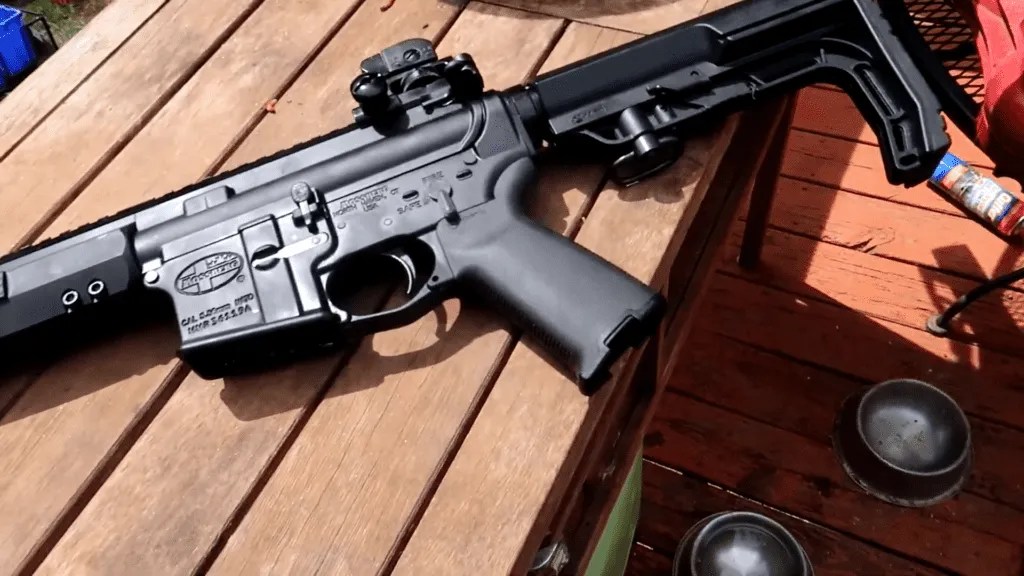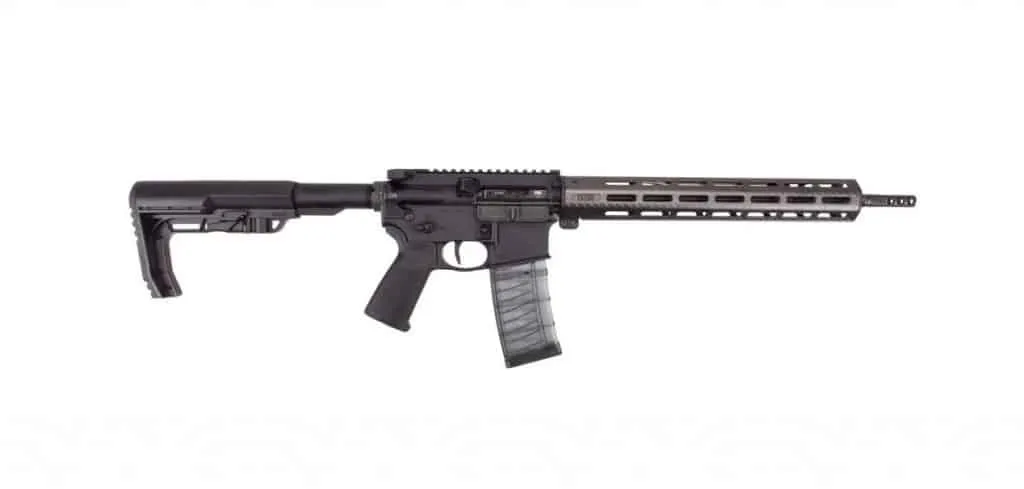 It can be challenging to find an ultra-light AR 15, let alone one that's highly affordable. Well, you're looking at just such an AR-15. Surprisingly, it's a Faxon, the company that built its reputation on producing parts and pencil barrels for Glock.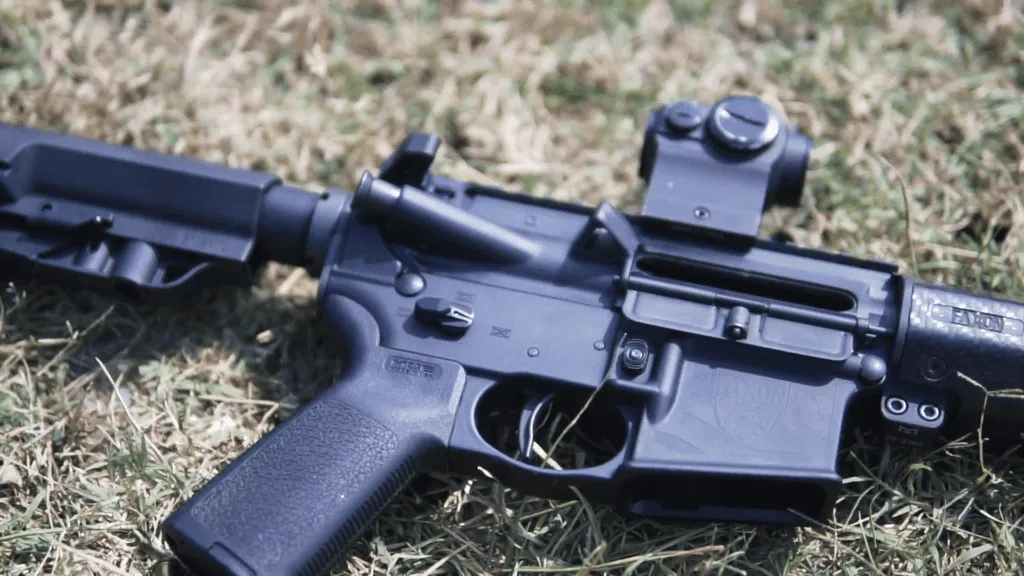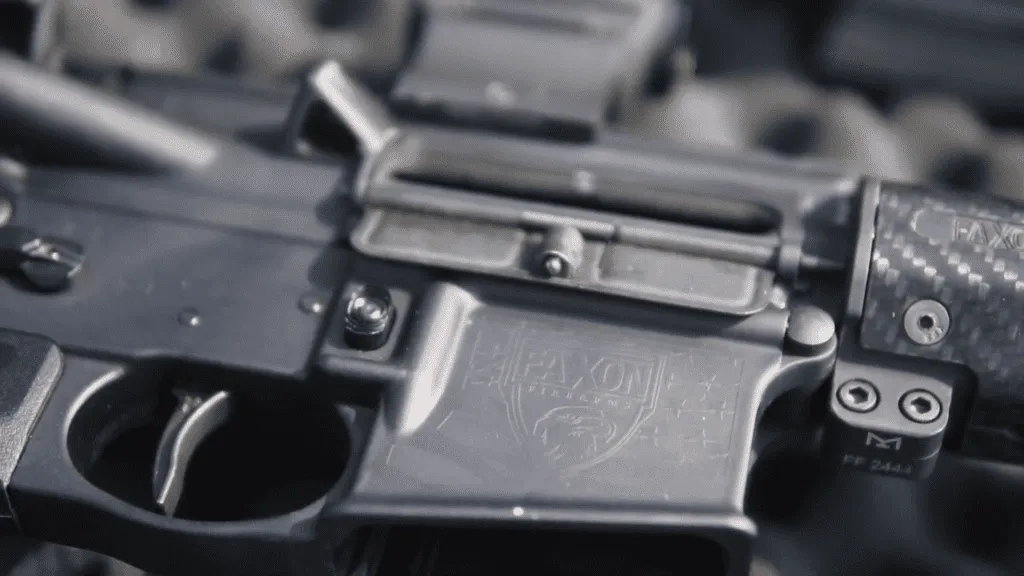 At 4.95 lbs., this may be one of the lightest AR 15 at a reasonable price. Faxon did a great job and created one of the most powerful yet compact rifles. Another feature that sets it apart is the shorter barrel of only 14.5 inches.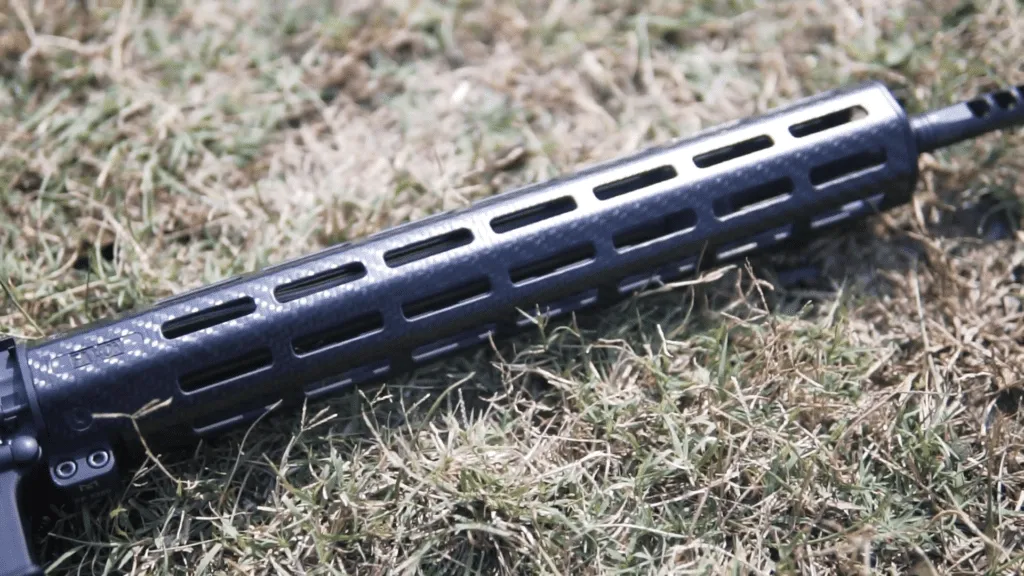 This is one of the most affordable AR-15 rifles I've come across and, let me tell you, it offers excellent value for money. This is a lightweight AR-15 that I can recommend to all beginners and handgun owners who don't want to spend a fortune on a new rifle.
Pros
Lightweight
Compact
Affordable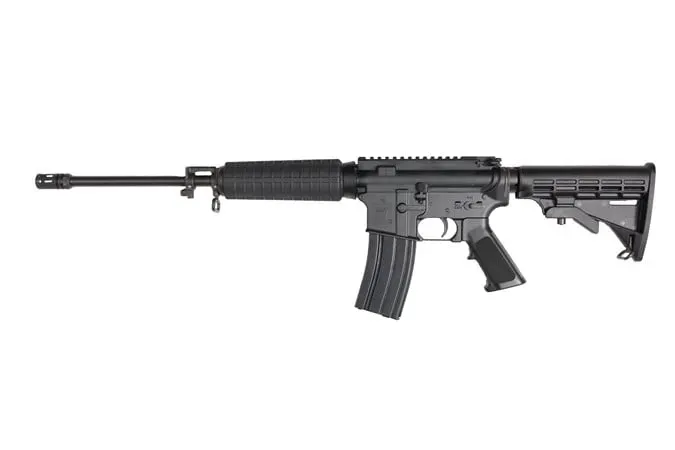 When I first saw this rifle, I was a bit skeptical. The naked pencil-thin barrel didn't seem convincing to me. But when I mentioned that to my older cousin, he reminded me that rifles like this were very popular a couple of years ago.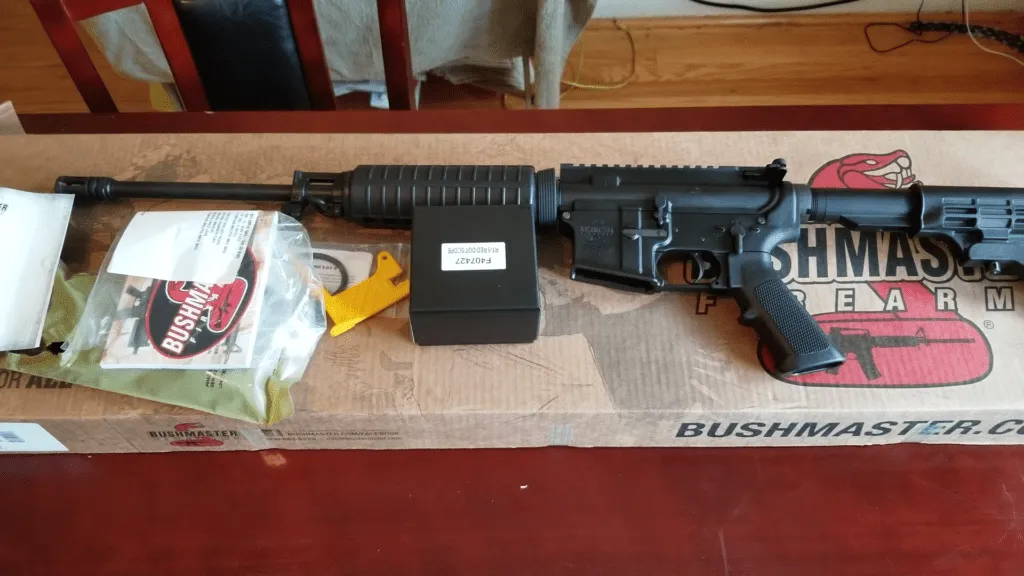 One feature that positively surprised me was the battery life. To be honest, I didn't expect much from this rifle. For the price, I'd be satisfied with an average battery assist. However, I once accidentally left it on overnight and guess what? Nothing! It continued working without any issues.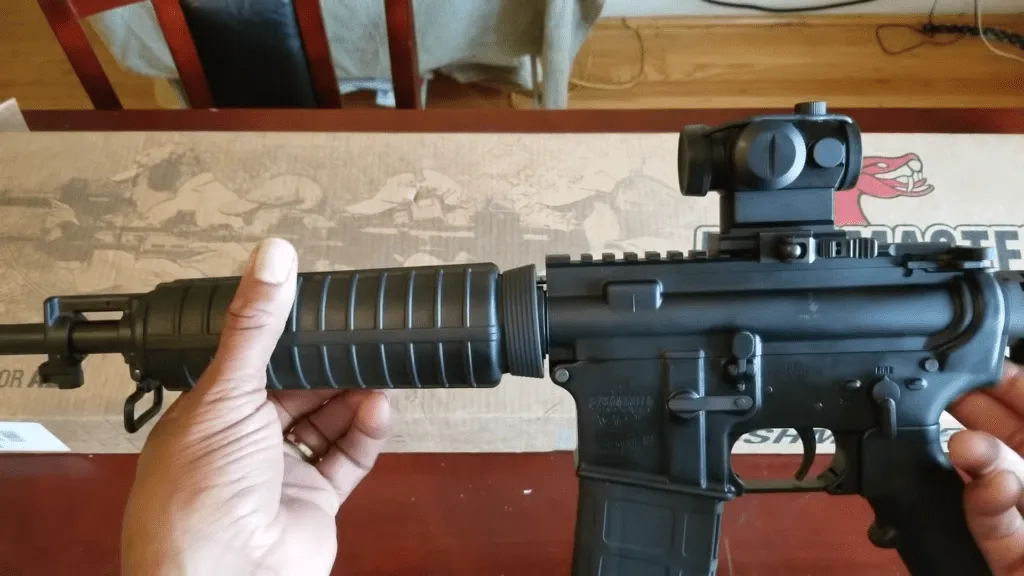 The only downside to this rifle is that it comes with a poor red dot optic that is made in China. Therefore, it doesn't have a front sight, and the field of view is limited. Moreover, it's doesn't have night vision capability.
But the good news is that you can always upgrade it! For more precise shooting, you can replace the optic with a higher quality one. I swapped in one of my favorite scopes and was left with a very accurate rifle.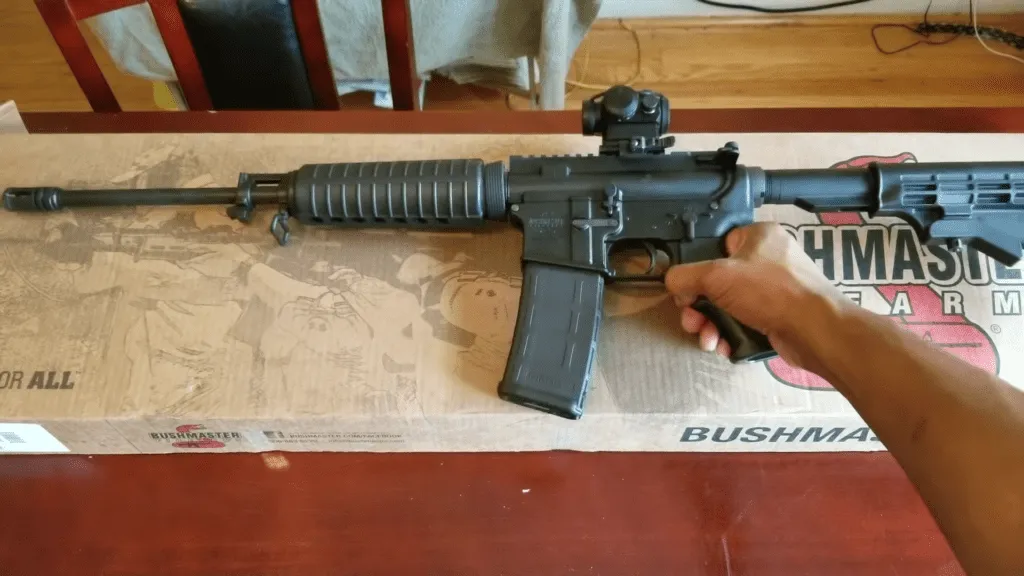 Pros
Upgradeable
Good value for money

This ultra-light AR 15 is kind of rare, so you might consider yourself lucky if you can get your hands on one without having to wait for months. It weighs only 4 lbs., which is impressive for such a potent semi-automatic.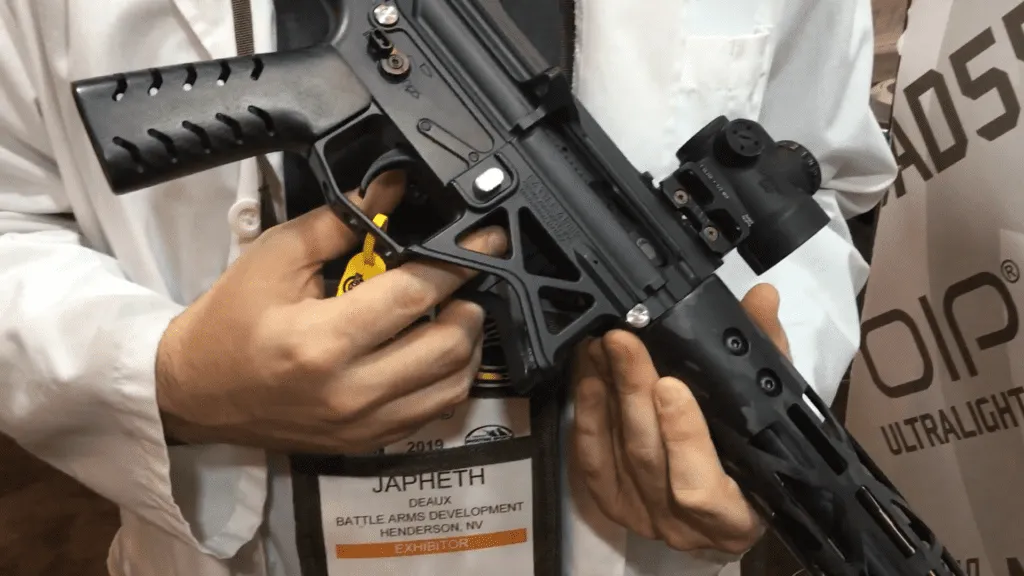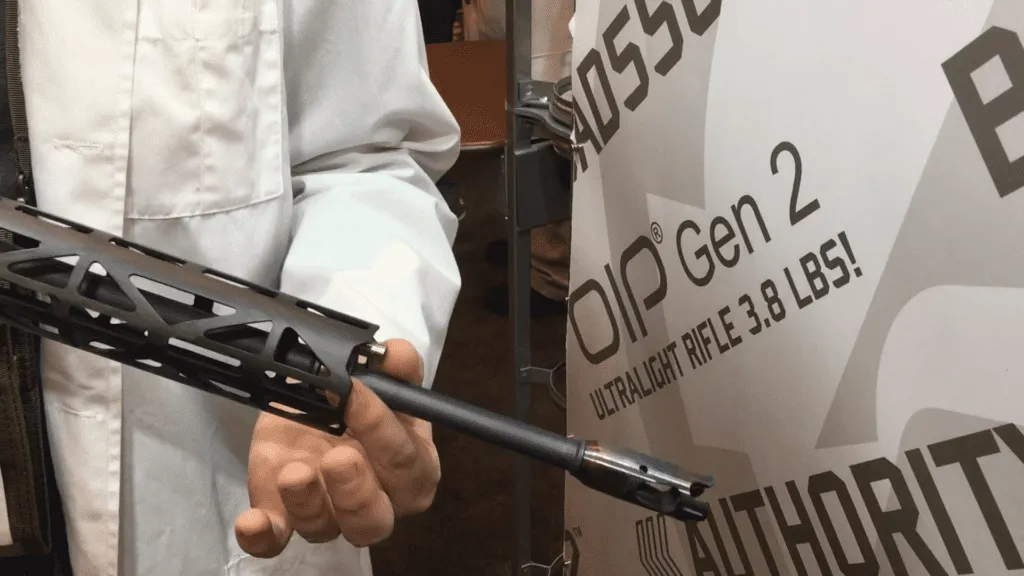 The best thing about this rifle is that pretty much everything is custom-made, from the receivers to the buffer system. This rifle has a somewhat shorter barrel, which some people may need time to adapt to. After a couple of days, you'll pick it up and see your performance improving.
This rifle could become your best friend, and it won't fail you in any occasion: hunting, recreation, etc. It allows you to shoot with great precision.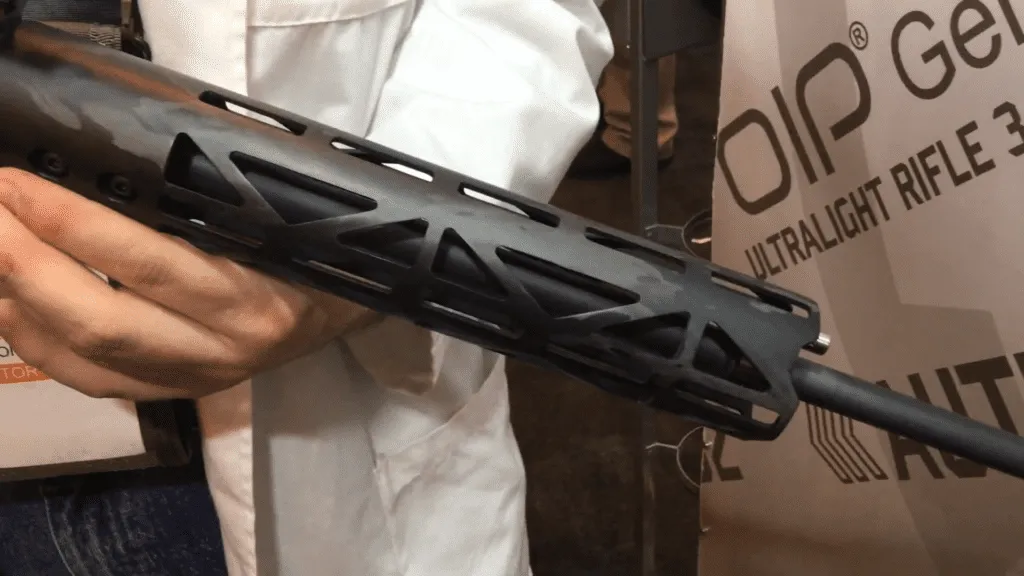 There's one thing that may put off some people. This model is very pricey, and although it's absolutely worth it, it may not work for everyone.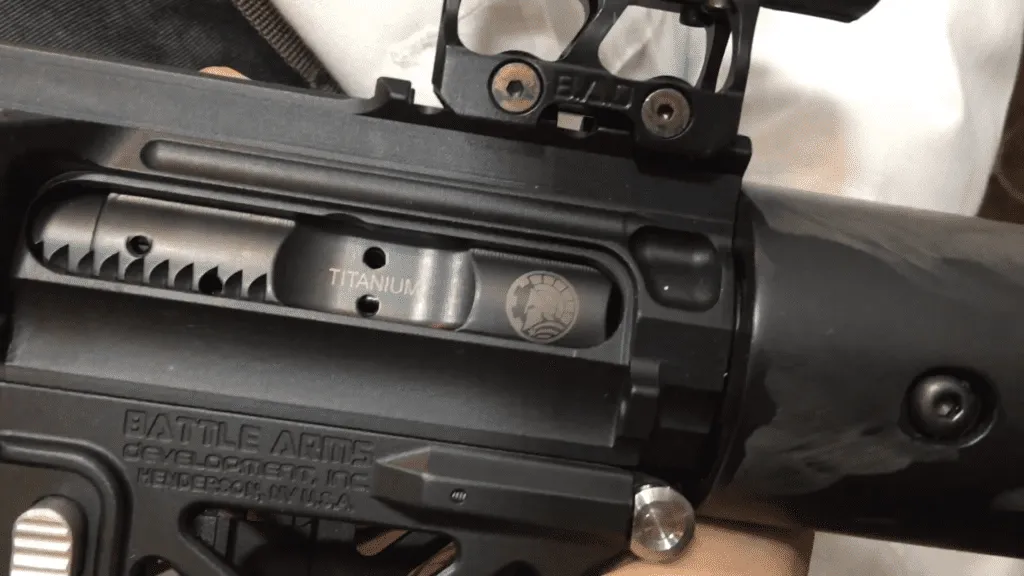 Pros
Custom-made
Excellent buffer system
Versatile

Last but not least, the Master of Arms may be lightest AR out of the box! There's a reason why I've kept it as a secret till the end. The manufacturer has done a great job of reducing the weight of every component. As a result, we now have an AR-15 rifle that weighs only 3.65 lbs.! Incredible!
When I first picked it up, I thought: You've got to be kidding, this looks like a toy! But I was so wrong. It turned out to be one of the most precise rifles I've ever held. Be careful when shooting for the first time, as you probably won't expect it to be that accurate. It's safe to assume that the Master of Arms ENYO is also one of the most accurate AR-15s I've tried.
It's effortless and easy to use and carry with you everywhere you go. It's suitable for shooting at a distance. Even if you're not that skilled, this rifle can make up for it.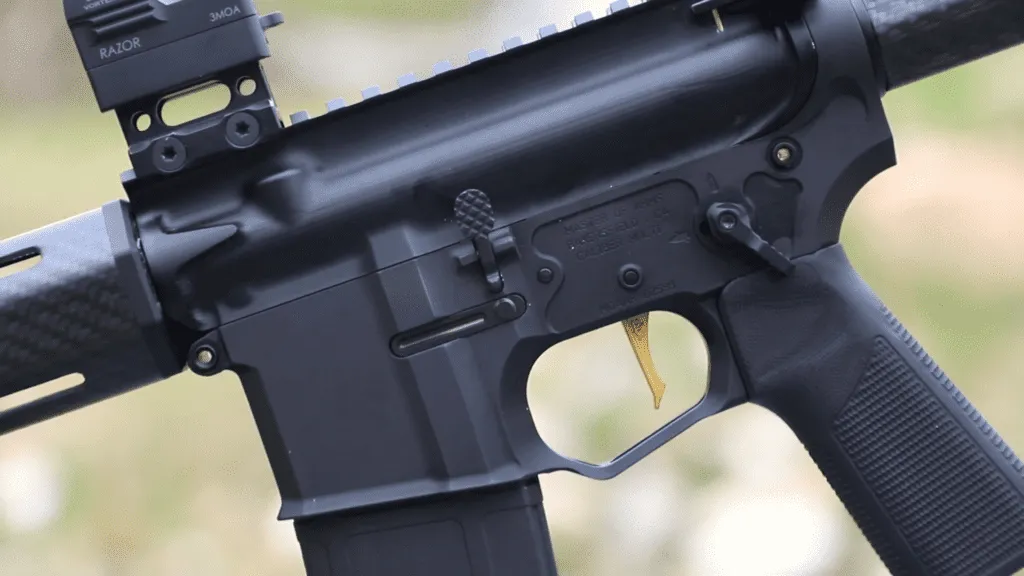 Of course, everything has its price, and this rifle's price is currently very high. If you're ready to invest in a high-quality semi-automatic rifle, then it could be the right choice. On the other hand, if you're looking for something recreational, you'll probably be satisfied with something more affordable.
Pros
Ultra-lightweight
Easy to use
Surprisingly accurate
Cons
A bit pricey
Difficult to find
AR-15 Ammo
Our guide on the best AR-15 ammo discusses the importance of selecting the right ammunition for your AR-15, emphasizing that the choice depends on your preferences and your rifle's characteristics.
When choosing ammunition for your AR-15, it's essential to match the ammo with your rifle's specifications, such as barrel length, twist rate, and gas system, as these can significantly affect performance.
It's also important to balance cost and performance, ensuring you get reliable ammunition that suits your budget.
Experimenting with different types of ammunition is key, as each rifle may have its own preference, impacting accuracy and overall shooting experience. Testing various options will help you determine the best choice for your specific AR-15.
For a comprehensive understanding and specific recommendations, read our full article on selecting the best AR-15 ammo.
Conclusion
These are all excellent AR-15 rifles, and you can't go wrong with any of them. Of course, everything depends on what you need and your budget. I'd say that the Faxon Firearms ION-X is the best lightweight AR 15. It's universal: You can use it both for hunting and recreation as well as home security.
This rifle has the best balance between price and quality, and it's also very durable. Moreover, it can be used with a wide range of optics, and it's easy to customize.
Explore more