The Best Night Vision Scopes [2023]: Up Your Game At Night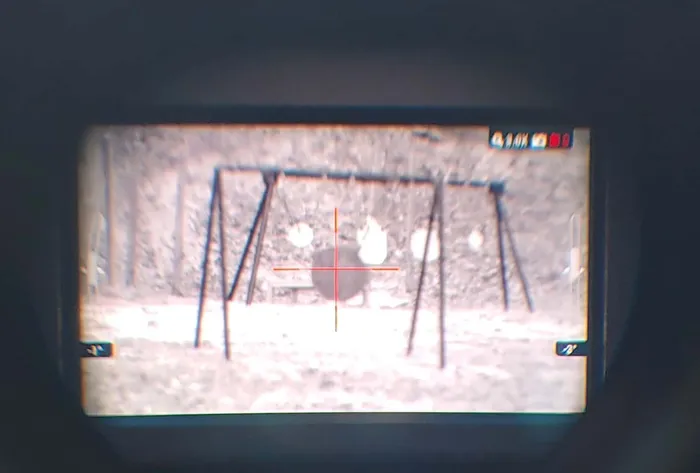 The Best Night Vision Scopes [2023]: Up Your Game At Night
Introduction
Unfortunately, we weren't born with night vision. Instead, we must spend money on the best night vision scope for our needs and have something evolution should have given us long ago. Sigh.
We've compiled an extensive list of the best night vision scopes on the market for anyone looking to up their game when out in the sticks at night. Or in the backroads. Whichever you prefer.
When looking for a night vision scope, remember you get what you pay for. Of course, you don't have to spend tens of thousands of dollars to be effective, but you don't want to buy a night vision scope off a shady website that's giving you 70% off.
As the famous saying goes: buy once, cry once.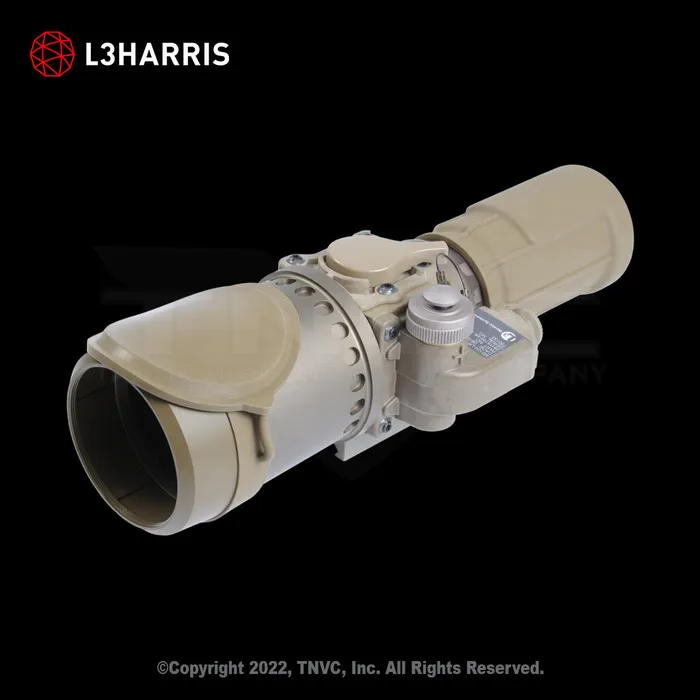 Specifications
| | |
| --- | --- |
| Range | 1,968 yards |
| Battery Type | AA or CR123 |
| Weight | 1.9 pounds |
| Length | 9.9 Inches |
| Waterproof | 68ft/ 4 hours |
Pros & Cons
Pros
Two battery options 

High-quality image at long distance

Sub-MOA aligned by L3 Harris
Cons
Expensive 

Extra weight on the front of the rifle 

Not as many capabilities as standalone scopes
Clip on night vision device, long-range (if you want to know what it stands for).
I firmly believe clip-on night vision scopes are the best for many reasons. One, you can utilize your daytime scope while still having night vision capabilities and not having to worry about re-zeroing (or re-sighting) your scope whenever you fancy yourself a hog hunt.
The reason I picked the L3 Harris CNVD-LR as my overall favorite is not only because of clip-on capabilities, but you also have two different battery options. It features a different battery cap that allows you to use AA and CR123 batteries.
Save the 123s for your lights; they're hard to find and expensive.
Why change your whole setup for an extra capability? You train with it all the time, and it's always best to train how you fight. With the CNVD-LR only adding two extra pounds to your rifle, you can keep it as is and clip it on as needed.
With the glass on the CNVD-LR, you can get a high-quality image up to 1,968 yards when you mount it in front of a high-quality daytime scope. Not that anyone would want to mount this in front of anything shabby.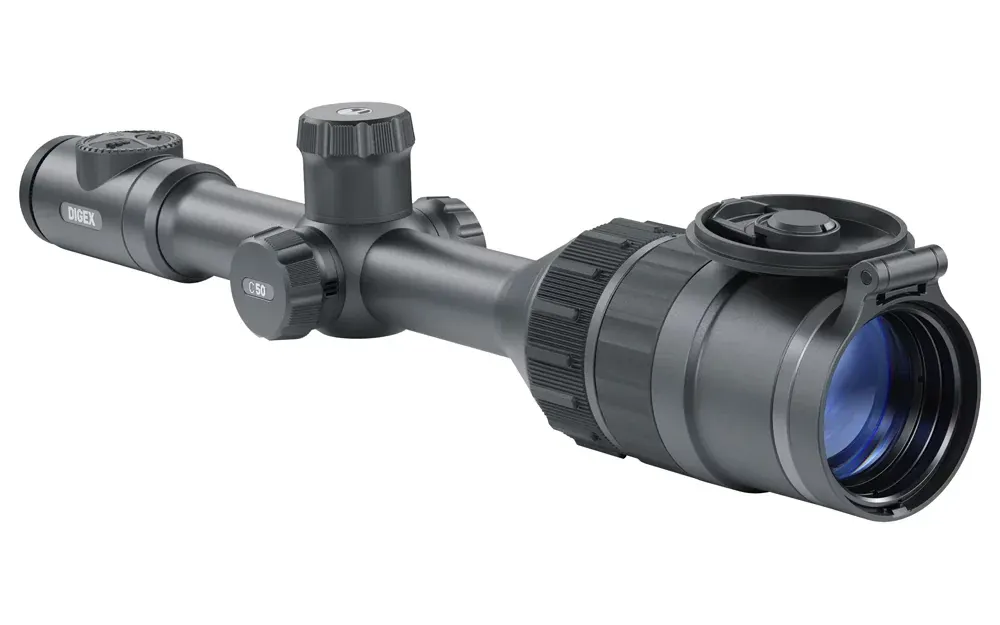 Specifications
| | |
| --- | --- |
| Range | 546 Yards |
| Battery Type | APS2 |
| Weight | 2.8 Pounds |
| Length | 16 inches |
| Waterproof | 1 meter/1 hour |
Pros & Cons
Pros
Digital AMOLED display with full color in daytime setting

SUMLight feature for low light conditions

Built like a Tonka truck
Cons
More expensive side for a night vision scope

Focus caps on day/night settings are a bit stiff

Relies on an app for recording (bugs and stuff)
Now for a standalone unit, we have the Pulsar DIGEX C50 that has all the extras that you can want in a night vision scope.
The AMOLED display provides clear and crisp imagery in both day and nighttime settings, with the daytime option being in full color. The audio and visual recording is amazing, and the DIGEX has wifi capabilities so that you can stream it to the StreamVision app.
Of course, you can record what you see through the optic.
Pulsar is also innovating the game with their 3-second ready and SumLight feature, and while the former may not seem like a big deal, most other scopes take around 10 seconds to be up and ready for use.
The SUMLight feature allows the scope to give you optimal night vision with low-light visibility. Since night vision works by amplifying ambient light, like moonlight, overcast conditions and other low light conditions can hinder the amount of night vision you can attain.
Enter the SUMLight feature.
For a standalone unit, I consider the Pulsar DIGEX one of the best on the market. It is super easy to learn, offers many features, and the darn things are built like tanks. The DIGEX can withstand 12-gauge recoil.
The magnification is from 3x to 14x, with the digital zoom doubling every time you zoom in. The reticle adjusts to the zoom.
It is a bit heavy, but that's okay. You don't want to get used to lightweight and then look down and wonder where your $1,300 dollar night vision scope went.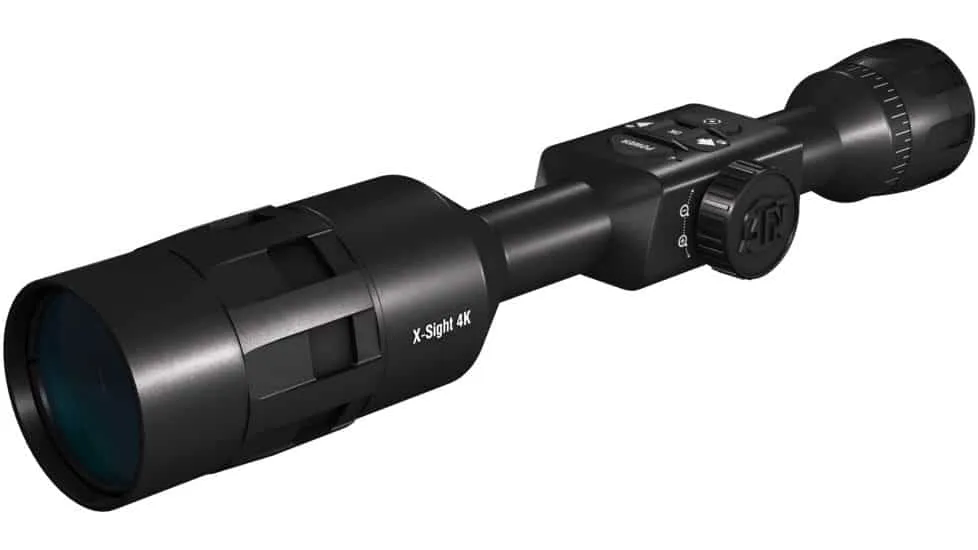 Specifications
| | |
| --- | --- |
| Range | Best under 100 yards |
| Battery Type | Internal |
| Weight | 2.2 Pounds |
| Length | 14.9 Inches |
| Waterproof | Weather Resistant |
Pros & Cons
Pros
One shot zeroing 

Ballistics calculator

Ultra HD display
Cons
Range isn't the best 

Battery life is low

IR illuminator
Not for nothing, I want to say this night vision scope has to be the best for standalone units on the market in terms of features. The amount of features you get with the ATN X-Sight makes me wonder why it costs so little, which is why we reviewed an ATN X-Sight for ourselves.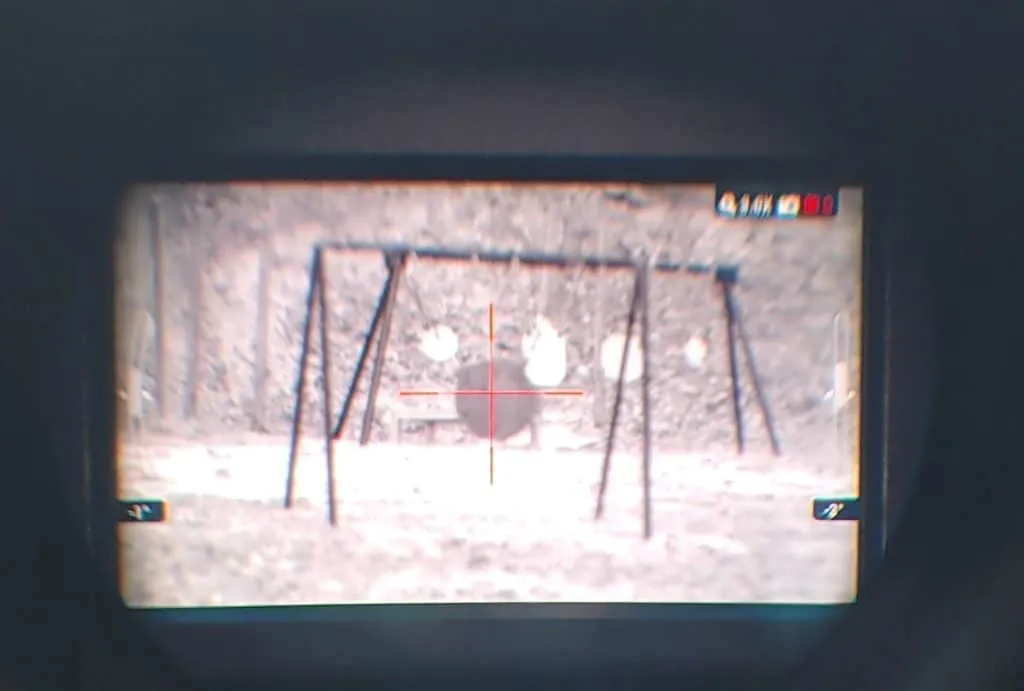 One-shot zeroing, ballistics calculator, ultra-HD display, I mean, the list goes on. I want to talk about the first two features I listed first and foremost.
One shot zeroing, it almost gives itself away with the name, but you fire one round, and the scope picks up where the round lands and adjusts itself. Next time you fire, it's dead on where you were aiming. Some may like to zero in themselves. I do, personally. But you can have the X-Sight ready in minutes.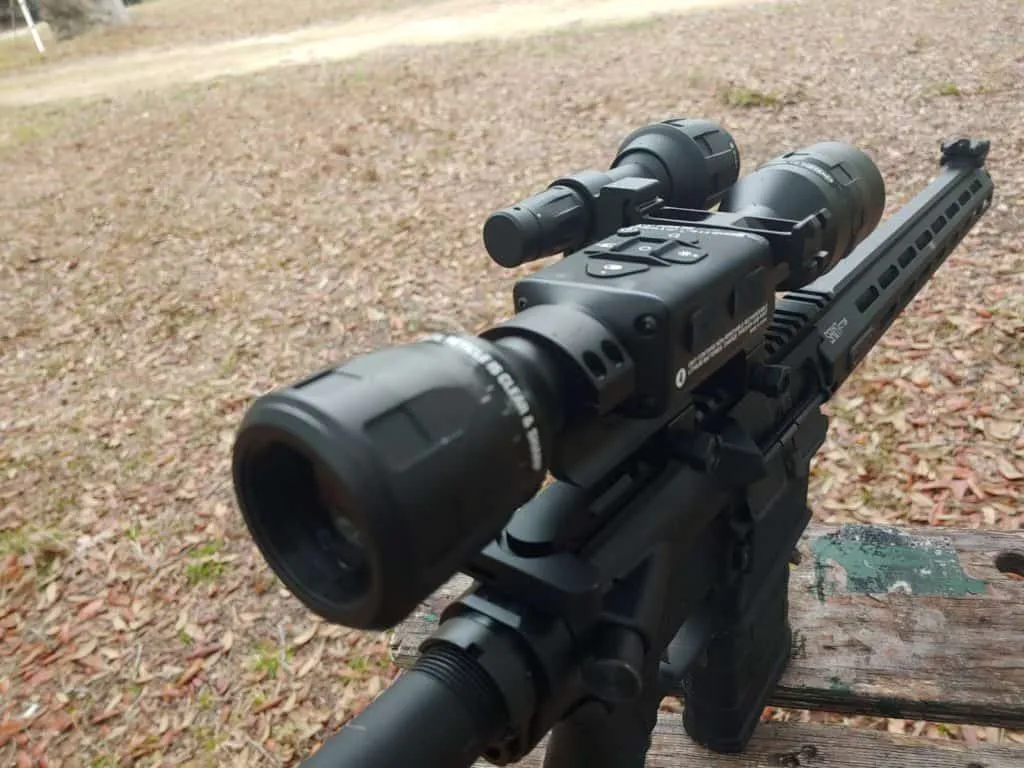 And it tells you where to aim. This can prove essential for those who want to protect their livestock from coyotes or whatever you have to take down.
ATN wants to make sure we're all hunting responsibly. So the X-Sight has a built-in ballistic calculator that tells you where to aim your sights so every shot hits its mark. No guesswork; just aim where it tells you and shoot.
All in all, I would use this NVS for coyote hunting all day (and night) long.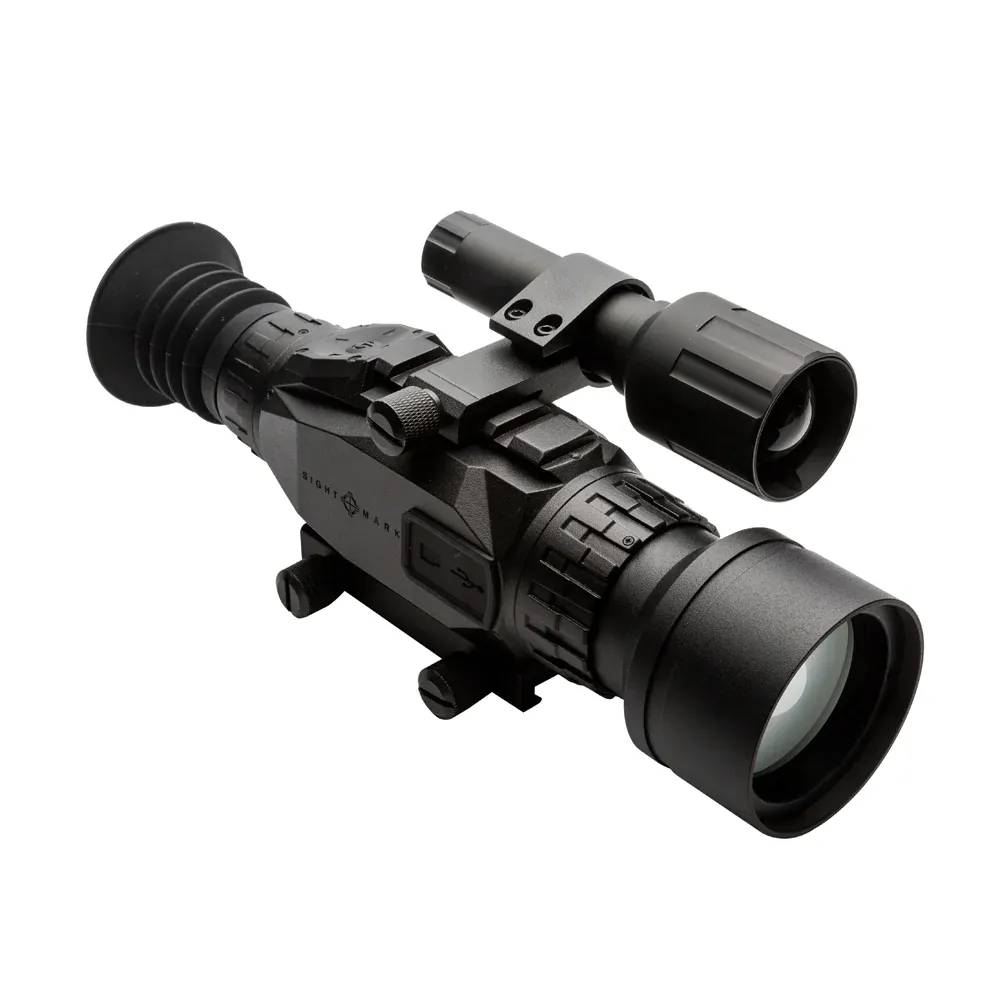 Specifications
| | |
| --- | --- |
| Range | 200 Yards (for identification) |
| Battery Type | 4 AA |
| Weight | 2.2 Pounds |
| Length | 10.5 Inches |
| Waterproof | Weather Resistant |
Pros & Cons
Pros
Full-color day-time display

Hi-Res video recording 

10 reticle options
Cons
No streaming to smart devices

8 hour battery time 

Doesn't work in extreme temperatures
Using a night vision scope for hunting coyote is especially smart since the superhuman varmint have some of the best vision and smell on the market. You get too close, and they may scurry away forever (at least we would hope if you're protecting livestock)
The Wraith gives you a great range of view and 1920×1080 resolution on a 1280x720p display, so you know exactly what's going bump in the night. The day-time setting gives you full color, and the night vision comes in black and white and the classic emerald option (whichever the user prefers, of course)
Durability matches all of SightMark's previous models, and the Wraith is shock tested to .308/7.62 for those who want a bigger punch when relieving a coyote of its existence.
Battery life is pretty low at around 8 hours, but we all know to carry extra batteries and always load a fresh set when using these types of devices.
You can record what you see in 1080p on an SD card, which is also great for hunting coyotes. It doesn't record audio, though, nor does it stream to phones or other smart devices like the ATN X-Sight.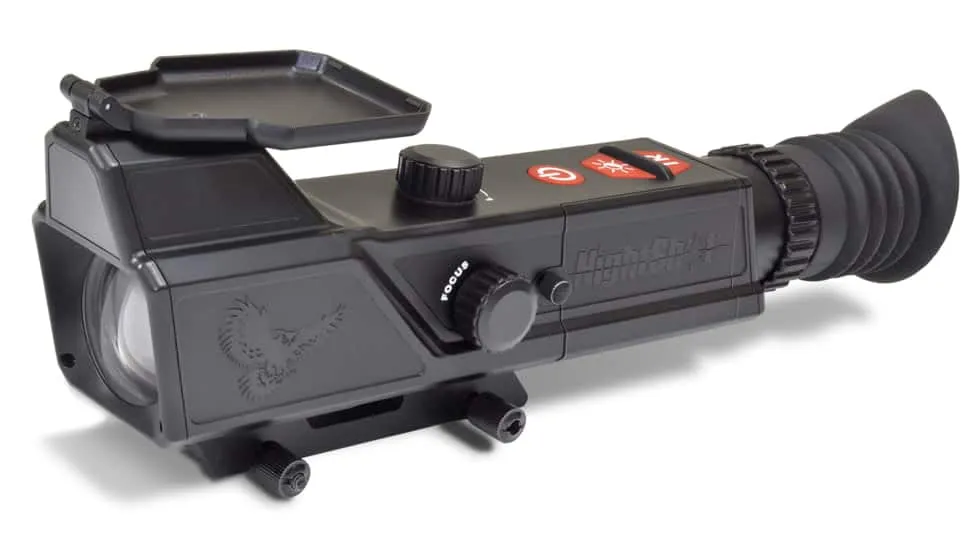 Specifications
| | |
| --- | --- |
| Range | 75 yards (optimal picture) |
| Battery Type | 4 AAs |
| Weight | 1.3 Pounds |
| Length | 13.9 Inches |
| Waterproof | Weatherproof |
Pros & Cons
Pros
Built-in IR illuminator

Multiple reticles

Super sensitive night vision
Cons
Crush washer complaints and issues
Although it may look like an old video camera, the Nightowl definitely takes away from the "you get what you pay for" sentiment.
It does not have all the gadgets you see on the Nightowl's higher-end peers, but it will do just fine for those who want a night-vision scope that won't break the bank. It does come with a built-in IR illuminator, so that is a plus.
You also get the multiple reticle options, three different black or white options to be exact. Good for those who want variety in their reticles for different circumstances.
The battery life is nothing to write home about; with only 3 hours of use with 4 AA batteries, you may find yourself needing a Cosco trip quite frequently, depending on how much you use the Nightowl. As stated before, carry extras. In this case, a lot of extras.
The range is best at 75 yards; anything past that, we start to see a bunch of graininess and low-quality sight pictures.
For the price, you get what you need to get the job done. It's not the most futuristic night vision scope, but it is very much mission-driven and gives you what you need.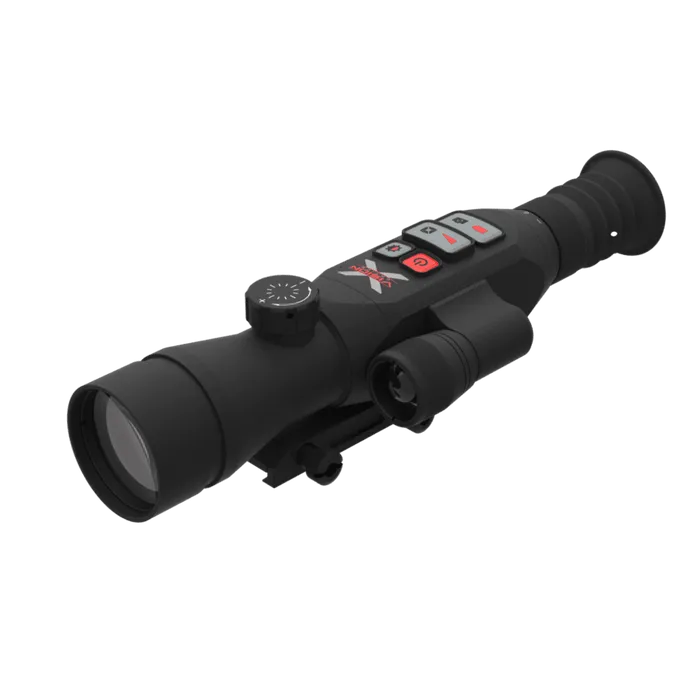 Specifications
| | |
| --- | --- |
| Range | 950/day and 350/night |
| Battery Type | Internal |
| Weight | 2.3 Pounds |
| Length | 12 Inches |
| Waterproof | Weather Resistant |
Pros & Cons
Pros
One-shot zeroing

6-hour running battery life

Long range in day and night
Cons
Bit pricey, cheaper scopes have the same features

Raised buttons may get snagged on gear

Hefty, hefty, hefty.
The KRAD sports some of the most advanced features and specs I have seen on any of the night vision scopes I vetted for this article.
Much like the ATN X-Sight, the KRAD has one-shot zeroing, which only requires you to take one shot and allow the scope to adjust itself. Saving you time and money when it comes to getting your scope ready for a night hunt.
All you have to do is download the free X-Vision app, take a shot, adjust it on your phone, and the scope automatically updates. Pretty neat.
The distance on the scope spans 950 yards during the day and 350 yards in complete darkness. That is better than most scopes on the market that only get to about 200 yards before night vision is no longer useable.
The battery life on the KRAD is worth mentioning; with 6 hours of running time with two internal batteries, just keep a power bank handy, and you can be out all night long and then some.
This scope is built very well, so you don't have to worry about any nicks or bumps taking you out of the game.
Best For Hog Hunting – ATN ThOR 4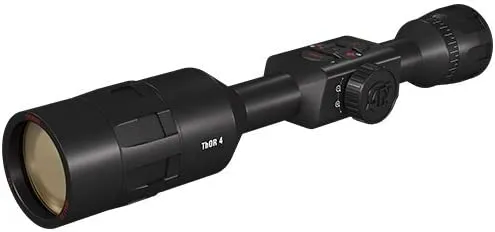 Specifications
| | |
| --- | --- |
| Range | 3300 yards |
| Battery Type | Internal |
| Weight | 2.2 Pounds |
| Length | 13.8 Inches |
| Waterproof | Weather resistant |
Pros & Cons
Pros
Extremely sensitive thermal imaging

One-shot zeroing

Record audio/visual videos

LONG range
Cons
Pricey

Screen RARELY freezes when in use

Hefty
Okay, so maybe it is a thermal scope, but quite frankly you want that capability when shooting a hog. Night vision is suitable for identifying but leaves a lot to question.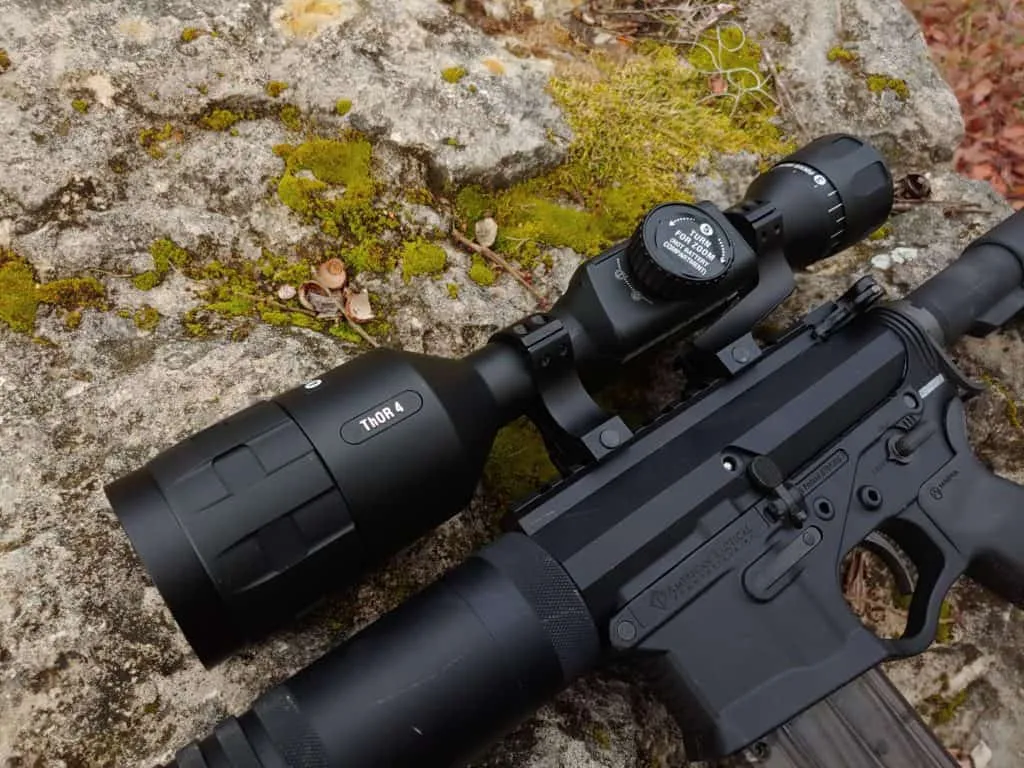 The ATN ThOR 4 comes with the same one-shot zero feature as seen on the X-Sight, so you won't waste time and ammo on sighting in.
The thermal sensitivity on the ThOR is amazing. If you put your hand on a wall and remove it, you can see where your hand was from the heat that is left over. That's great when you have small hogs or one hiding behind brush that is hard to make out. With night vision, any hogs that are out of sight tend to remain that way.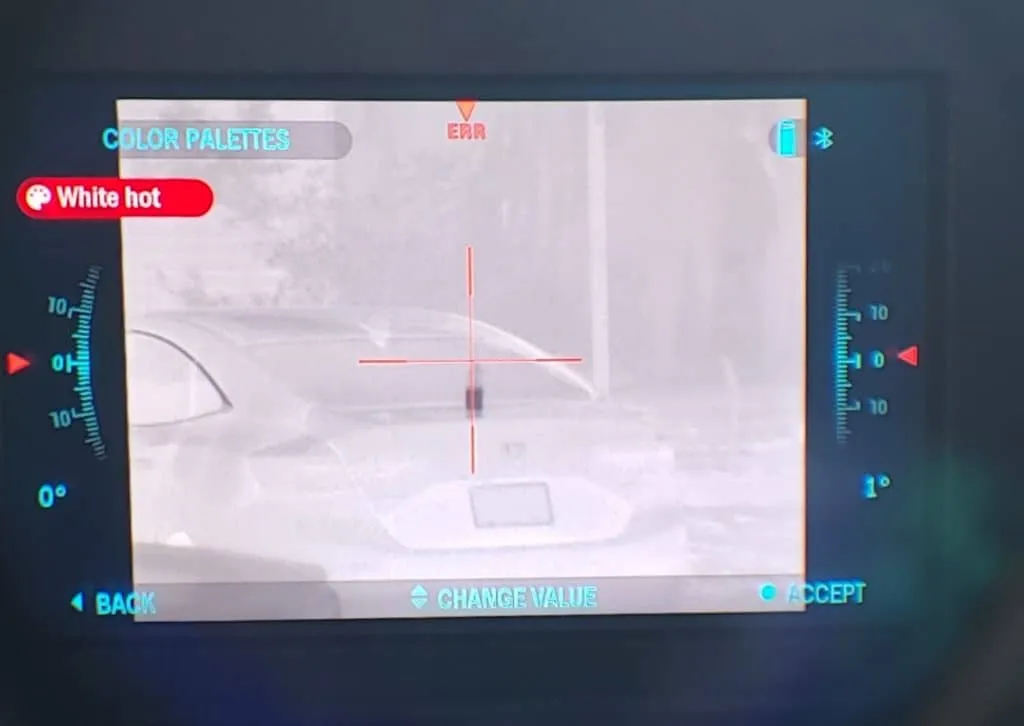 You need something that can detect heat.
It has wifi and Bluetooth features as well, so you can record audio and visual recordings during your night shoots, so you never have to tell the story of the shots you took.
Albeit pricey, the capabilities of the ATN ThOR far exceed the price, and you will save a bunch of rounds, time, and energy by utilizing the features on the scope. Maybe some you'll never need, but at least they are there.
We also were intrigued enough to do a complete review of the ATN ThOR 4.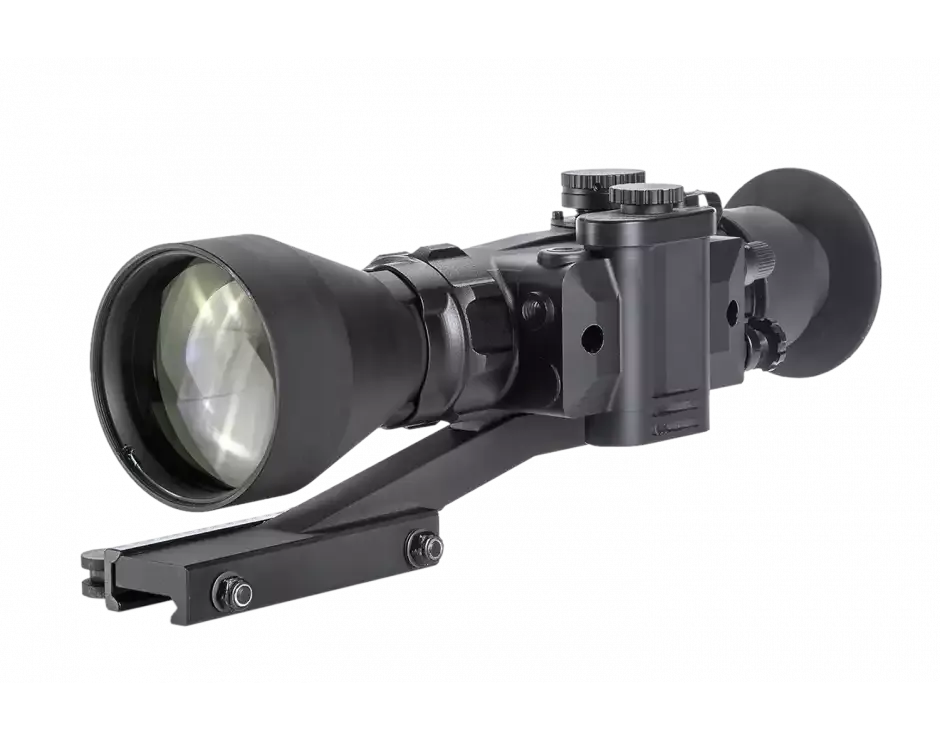 Specifications
| | |
| --- | --- |
| Range | 800+ Yards |
| Battery Type | 2 AA |
| Weight | 2.3 Pounds |
| Length | 8.4 Inches |
| Waterproof | Yes |
Pros & Cons
Pros
Long battery life

Extremely durable

Water/fog resistant
Cons
Pricey

Not that many features like other scopes

Need some moonlight for NV to work adequately
AGM is well known for producing some of the best night vision devices on the market. From the AN/PVS line to the NVG lines, the Wolverine comes from a manufacturer that is no stranger to producing high-quality night vision optics.
The Wolverine 4 is a Gen2 night vision scope built on high-quality materials that won't let you down when you need it most. More about that in the next paragraph.
It is a bit heavy, coming in at 2.6 pounds. But you can rest assured knowing that your night-vision optic won't give out on you if you drop it. The Wolverine 4 is shock protected and made out of aircraft aluminum alloy. Fancy stuff.
You get up to 4x magnification and a red-illuminated reticle in the center for easy acquisition. And the quick detach levers allow you to adjust the position of the scope on your rifle whenever you need to maximize your comfort.
Sure, it is expensive, but the simplicity, matched with the long battery life, will give you all the tools you need to be effective when the sun goes down.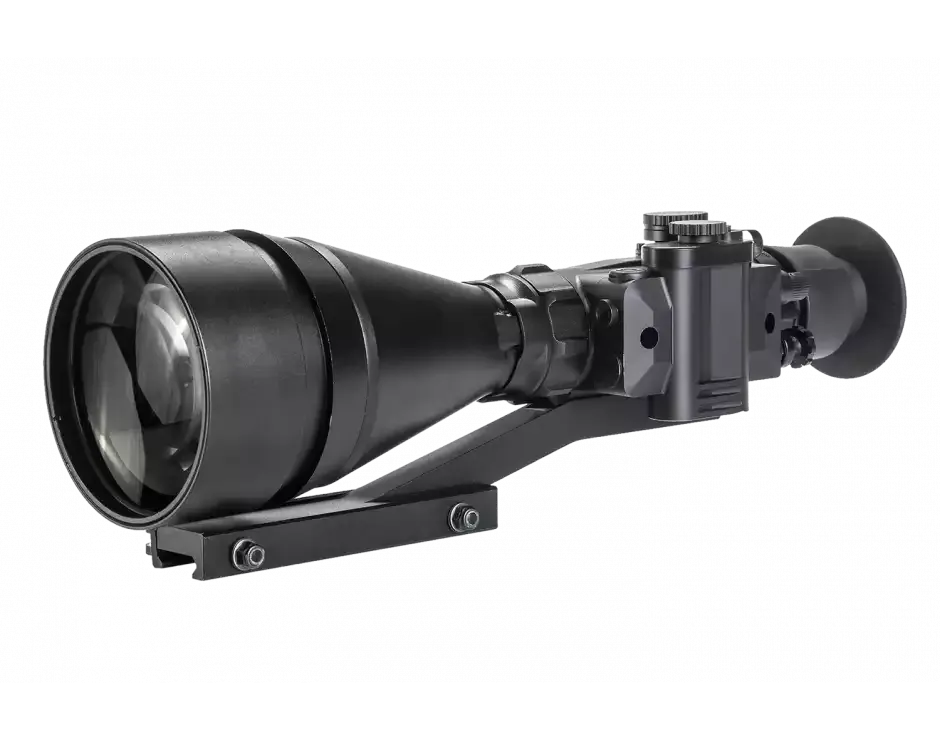 Specifications
| | |
| --- | --- |
| Range | 800 yards |
| Battery Type | 2 AA |
| Weight | 3.2 Pounds |
| Length | 11.6 Inches |
| Waterproof | Yes |
Pros & Cons
Pros
Clear as day, at night 

40 hours continuous with 2 AA 

Waterproof
Cons
Pricey

Some graininess after Zone 1, very minimal

Hefty
Another AGM product? Yes, I'm sorry, the Gen 3 night vision optics from AGM are top-notch, and although they are expensive, you won't be thinking of the price when you can see the deer ticks hopping off a deer at a distance.
Gen3 night vision is used by the military on a nightly basis and aids them in catching the worst people on the planet (as far as we know)
So when you want the best of the best; you need something that has Gen 3 capabilities.
But there is more that needs to be said; the Pro-6 is waterproof and built from the same materials as the plane you flew in to see family over the holidays. So you won't have to worry about breaking it when it falls or bumps into a tree or a body of water (you know, if you lose it in a boating accident).
There are two options available, the 3ALI uses green phosphor for emerald image lovers, and the 3AW1 gives you white phosphor for a black-and-white image.
Decisions, decisions.
How We Chose our Top Picks
When choosing these products, we wanted to put quality first and foremost. When you're buying something as expensive as anything with night vision, the last thing you want to worry about is your optic hitting the floor and sending $1500k plus down the drain.
Yes, I admit things got a bit pricey, but you definitely get what you pay for with night vision (most times).
We wanted to make sure these optics had some sort of water-resistant or water-proofing ratings as well, so the lights don't go out when it rains. That would suck, and I'm sure you can agree that it would mess up your hunting trip if the elements got in the way.
As far as the lights going out, we wanted to make sure these optics didn't die as soon as you turned the thing on, so battery life was also a big factor. After all, what good is night vision if you can use it for 30 minutes and be blind for the rest of the night?
Things to Consider When Buying a Night Vision Scope
When you're in the market for a night vision scope, you want to make sure you don't sacrifice quality for cost. You don't want to waste money, and the night vision game definitely favors those willing to spend on their equipment.
Not saying you have to break the bank, but you should treat yourself.
Image quality is of utmost importance when picking a night vision optic. You want to be able to tell the difference between one animal from another, just in case some other animal that you aren't hunting is hanging out in the area.
You want an optic that has a long battery life. Imagine tracking an animal, getting the perfect shot, and raising your scope just to find the optic is dead. That would hurt the soul. We don't want that.
And you don't want to have to creep up any further than you have to, so don't sacrifice on range either. We both know that these animals have excellent hearing, and having to creep up on them too closely can have them darting away or charging at you.
Depending on the climate in the area you hunt, you definitely want to have some sort of waterproof or water-resistant rating for your optic as well. Anyone who hunts in the state of Washington knows how hard the rain hits at the most inopportune times.
You folks in dry states don't have to worry about this as much.
How Do I Know Which One Is The Best For Me?
What are you using it for? Do you want to be able to record video to your phone? Ask yourself some questions. Make a list. Re-read this wonderfully written article and see which night vision scopes have the best features.
More importantly, look at your budget and see what you can afford. We all know the gun world runs on money. The more you have, the better.
If you don't want to switch between a regular daytime optic and one with night vision capabilities, you may want to err on the side of a night vision scope that is a clip-on. Which I personally prefer, even though I just run night vision goggles.
Do I Even Need A Night Vision Scope?
Well, you probably wouldn't have gotten this far into the article if you didn't think you needed one.
If you own farmland and have a problem with wildlife getting into the hen house like Smokey in Friday, it's easier to pick a coyote off when you can see where they are and how far they are.
The last thing you want is to hit one of your animals, obviously.
What about hunting at night? How can you tell a friend from a wild hog if you don't know what's rustling in the leaves? It could be your buddy coming back from releasing the Kraken. The last thing they need is for you to be unable to tell the difference between them and an angry hog.
Are Clip-ons Better Than Standalone Optics
It depends. Do you have a designated hunting rifle? Or do you want to be able to run night vision on your daytime scope?
As I stated before, I favor a clip-on so that I don't have to take my scope on and off and worry about re-zeroing whenever I fancy myself a night shoot. I wouldn't mind adding a standalone unit if I had a designated rifle that I only use for night shooting. But we're balling on a budget, so clip-on it is.
What's best for you is a better question.
How Do I Mount A Night Vision Scope On My Rifle?
Are you a hands-on learner like I am? I won't be much help through your phone screen, but most of your night vision scopes mount to any Picatinny rail (what you see on most AR-15s) or with rings. I will attach a video for you below.
Always make sure you have the correct tools for installing an optic. Including a torque wrench like this one from Wheeler, so you can limit the amount of life flashing before your eyes if your scope falls from your rifle.
I've been there, trust me. The last thing you want is to mount your optic with a butter knife and $1200 worth of optic falling to the ground. If it doesn't break, you still have to re-zero it. And ain't nobody got time for that.
And if you want some recommendations on a night vision scope for your AR-15, check out our guide.
FAQs
Which is better: thermal imaging or night vision?
Thermal imaging is superior, in my opinion. Night vision needs ambient light to work adequately, whereas thermal imaging uses heat signatures to light up a target. But, some thermal may lack definition, which is essential for identifying your target.
Can I turn my scope into night vision?
Yes, you can. We talked about clip-ons before, and this is what they are meant for. You can easily clip a night vision unit in front of your daytime scope and utilize night vision capabilities. No re-zeroing is required. It can be more expensive than standalone units, though.
What night vision scope does the military use?
Currently, the U.S. Military uses the AN/PAS-13 Thermal Weapon Sight (TWS), which, as the name suggests, is a thermal scope. And it's more expensive than a used car. But, when the scope is effective to the maximum range of the rifle, that's understandable.
Conclusion
What do you think? While I always recommend the L3Harris CNVD-LR, it wasn't easy to put it ahead of the Pulsar Digex C50. The Digex is great, and I know you will love it if you need a great night vision scope.
The CNVD-LR is for those in a military or law enforcement background who may need to operate in the dark, so you hunters out there do not need to spend that much for a night vision optic for hunting capabilities.
Sure, the night vision game can be pricey, but it's necessary for any serious shooter. Get your hands on a good night vision optic, and you'll be happy you did so in the long run.
Until the next episode!
Explore more