Best Pocket Pistols [2023 Guide]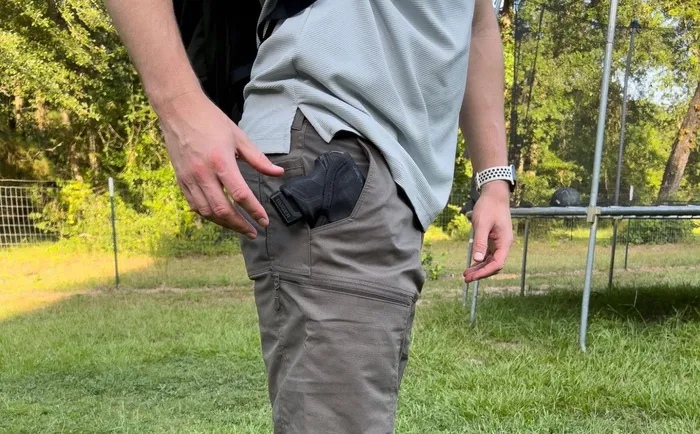 Best Pocket Pistols [2023 Guide]
I'm fairly convinced that there is no concealed carry pistol more convenient than a pocket pistol when self-defense is in question.
In 2020, over 19 million US citizens have gotten themselves a concealed carry permit that allows them to carry a gun for their own safety, according to the Crime Prevention Research Center.
This massive influx of new gun owners paved a way for a more diverse gun community, and that's why we see the newfound popularity of pocket carry pistols.
Pocket pistols have many benefits, especially for new gun owners. What makes them popular is their ease of use, concealability, and the abundance of aftermarket options for them.
They're small, but they can kick with a sharp and snappy recoil, and it can be a hassle to choose a good pocket pistol. That's why I rounded up some of the best pocket pistols on the market in this guide.
I'm going to talk about these pocket carry guns, what they excel at, and where they flop. I also came up with a nifty buyer's guide to help you form your own criteria when browsing the best pocket pistols for self-defense purposes.
I own, have owned, and shot most of these pocket pistols, but I have to say the Ruger LCP II .380 Auto (ACP) has to be one of the most reliable and straightforward small pistols I've ever used.
It fits the criteria perfectly, and there are many reasons why it's a great choice for a do-it-all pocket pistol with unmatched performance and reliability. Some might even use them as snake guns. See our list of the best snake guns here.
Best Pocket Pistols To Buy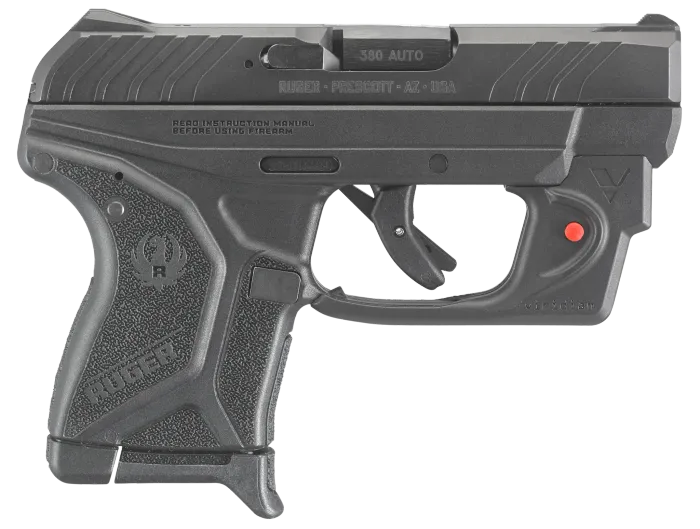 Pros
Proven Ruger reliability
Lightweight and perfectly-sized compact pistol
Steel frame & slide
Compatible with any clothing
Massive holster availability
Some models come with a Viridian green laser
Easy racking (designed to hold open after last round)
Cons
Might be small for larger hands (though, the extended magazine helps)
Ruger's LCP series are an absolute flagship for pocket pistols, and I'm convinced the Ruger LCP II runs the show.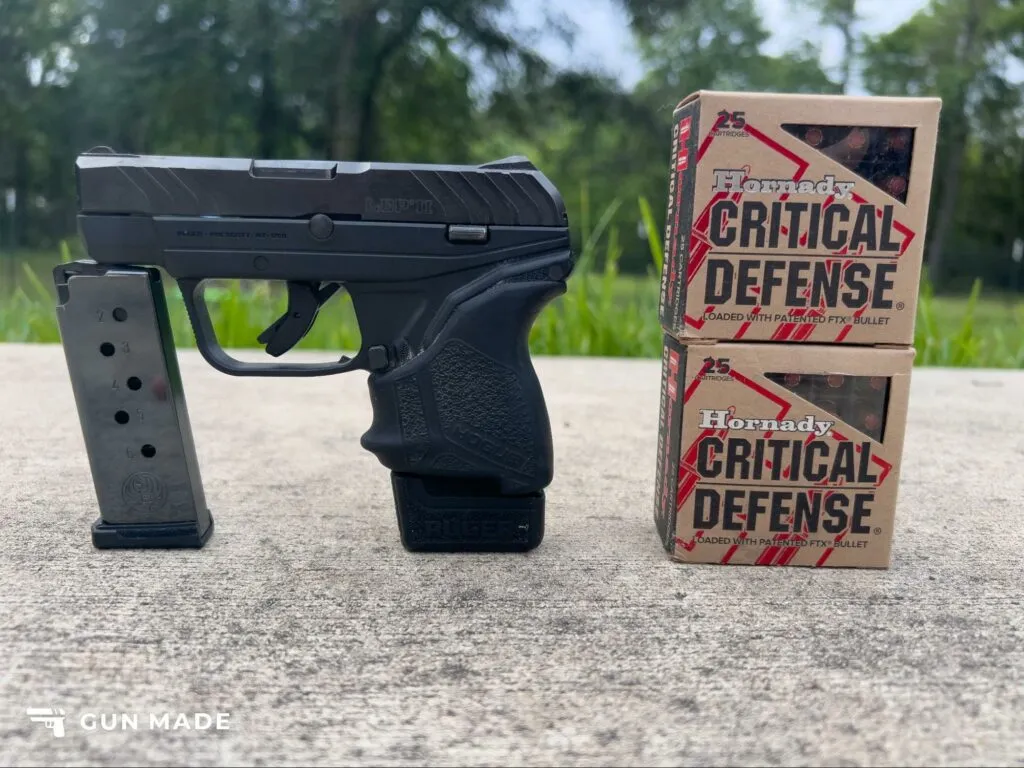 The Ruger LCP II just feels different than your standard pocket carry gun. It's practicality at its finest.
This is a very popular model that has all kinds of variants with different calibers, finishes, and accessories that make it easy for anyone to find their gun.
It's a refined upgrade of the Ruger LCP, and it's a surprisingly affordable sub-compact pistol with unmatched reliability, snag-free convenience, and a vastly improved trigger pull.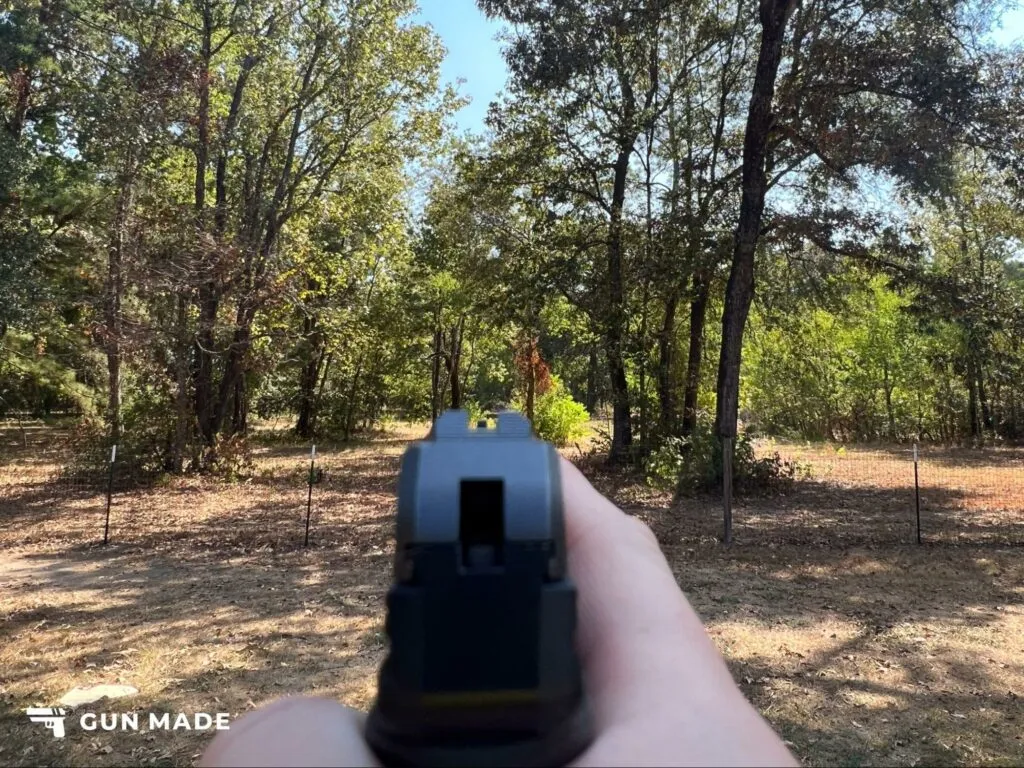 With an overall height of 3.7 inches, 5.1-inch length, and a 10.6-ounce weight, this pocket carry gun is one of the most lightweight options you can buy. Expect superior durability with the steel frame and slide.
I recommend you try this one before you buy it because the size might not fit big palms, but that's not much of a problem.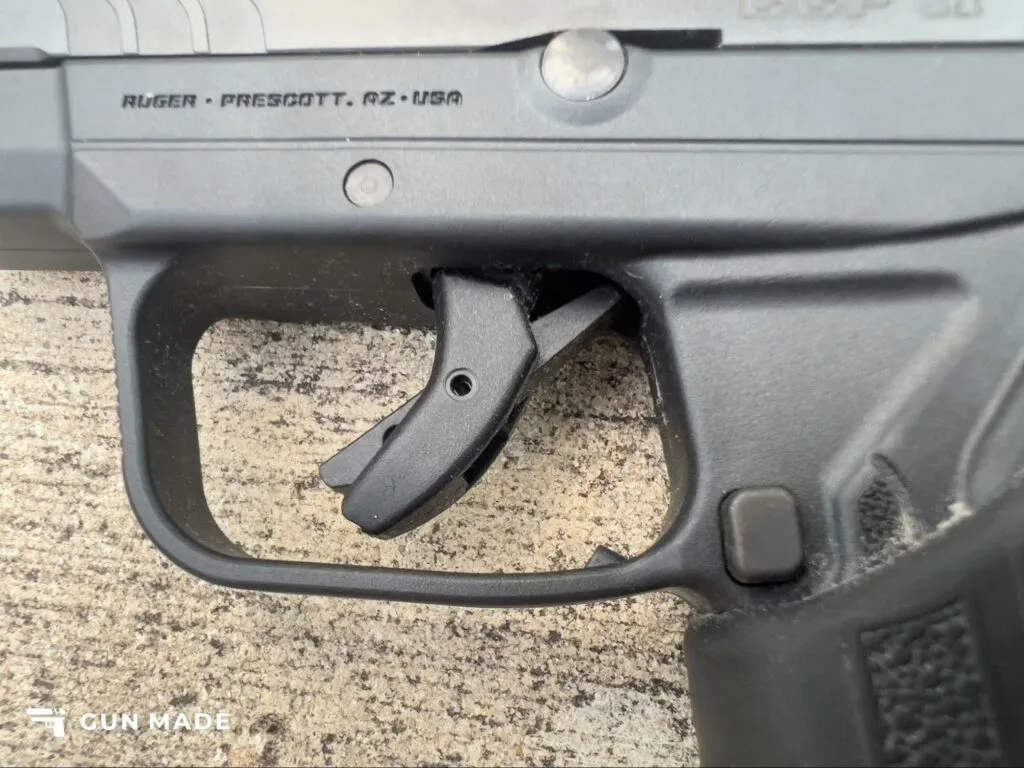 Overall, the Ruger LCP II .380 ACP is a very efficient concealed carry that shoots well around the 50-yard mark. It's easy to rack, easy to clean, it's always in stock, and you can find all kinds of holsters and aftermarket options for it to boot!
Check out our Ruger LCP II review if you want more information on our favorite pocket pistol! We also were huge fans of the Ruger LCP Max as a solid pocket pistol. Check out our Ruger LCP Max review for the full scoop.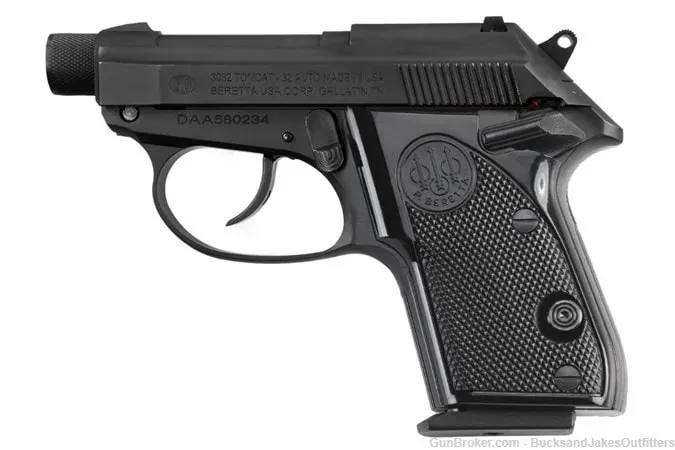 Pros
Incredibly compact
Easy to use
Lightweight (14.5-ounce weight)
Allows you to load without racking the slide
DA/SA trigger
Smooth two-position safety
Aesthetic and cool
Cons
Heavy recoil
Ammo might be difficult to find in-stock
The Beretta 3032 Tomcat has been in production since 1996 and it comes from a popular "cat" line of pocket pistols alongside highly reliable models like the Beretta Bobcat .22 LR.
It's a short-barreled .32 ACP with a capacity of 7+1 rounds, and it's roughly the size of a cell phone being 3.7 inches high and 5 inches long.
What's special about this pistol is that the tip-up barrel allows you to load rounds directly into the tube without racking the slide. Expect solid durability with its all-metal frame.
It has a double-action/single-action trigger that offers you light shooting with a shorter trigger if it's in single-action mode, and the two-position safety with a slide release feels smooth and locks both the slide and the gun from firing.
The magazine release is easy to operate with one hand, and it's on the left side of the pistol grip.
I have no problems with the .32 ACP ammo, but ammo boxes in this cartridge can be difficult to find, not to mention the moderate to snappy recoil. Still, it's a very efficient cartridge with solid accuracy and power.
I recommend you practice flipping the Beretta Tomcat because it takes some time to get used to the safeties, especially while holstered. It has just enough ridges for smooth operation, even if your hands are sweaty.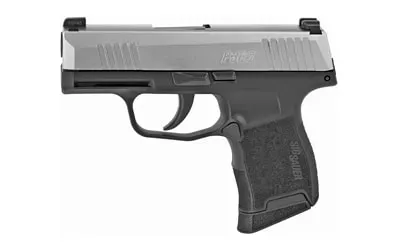 Pros
Excellent trigger
Manageable recoil
Available aftermarket support
10+1 round capacity
Snag-free
Cons
Bulkier than most pocket pistols
Proprietary rail not compatible with standard sights
Early models had reliability issues
Don't get me wrong, the SIG Sauer P365 teeter-totters on the edge of being a pocket pistol and a full-blown sub-compact pistol.
It's a lot bulkier than these other pocket pistols with its overall length of 5.8 inches, 4.3-inch height, and a 17.8-ounce weight. But, it's still a decent conceal carry option that's perfect if you're looking for a good target practice handgun.
The SIG P365 offers a high capacity of 10+1 rounds, snag-free design, convenient ergonomics, and a flush-fit magazine that comes with your purchase. There are models with the XRAY3 Day/Night sights as well.
It's engineered for maximum performance with the striker-fired trigger, stainless steel slide, Nitron finish, and polymer grip for enhanced ergonomics.
However, it's on the bulkier side, and there have been complaints about reliability issues with the striker of earlier models. So, I'd suggest you look for P365 models with a serial number above 66A100000.
If you're looking for more magazine capacity, the Springfield Hellcat 9mm offers a 13+1 round capacity. It has a more stubborn trigger, but it's smaller with its 3-inch length. Check out our Springfield Hellcat review for more info.
You can also check out the SIG Sauer P365 SAS with reduced muzzle rise. If you want to tweak your P365, there are plenty of accessories and aftermarket options.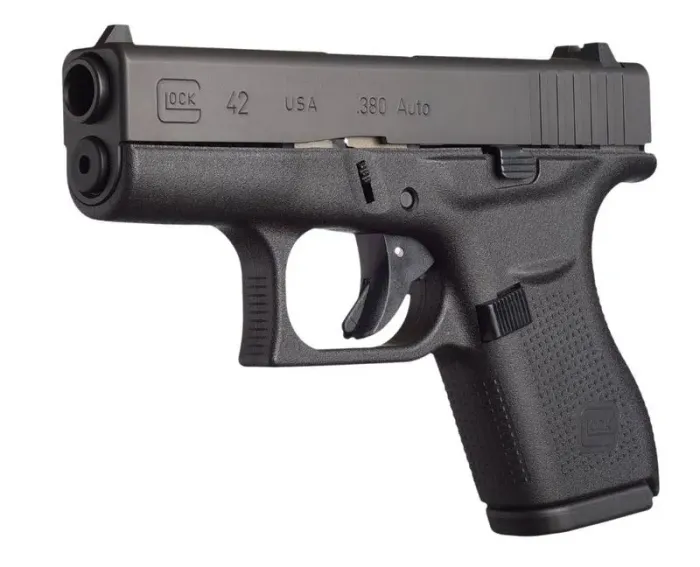 Pros
Proven Glock reliability
Great trigger
Multiple safeties
Easy and smooth shooting
Large availability for aftermarket options
Easy to operate
Rough textured grips
Glock doesn't have many models for the single-stack 9mm market, but with the Glock G42, I don't think they'll need to any time soon.
The Glock G42, chambered in the .380 Auto (ACP), is a 3.25-inch pocket pistol with a 6-round capacity and a very small stature for the ultimate concealed carry and self-defense use.
The design is largely focused on an easy-to-shoot blueprint with features such as the Glock Safe Action system with multiple integrated safeties, a cold hammer-forged barrel, a standard Glock polymer frame for durability, and a lightweight feel, weighing 13 ounces.
It's 4.25 inches tall and 6.25 inches long, while the rail can accept most sights and lights. I would most definitely recommend you the Holosun HE508T-X2 red dot sight for the G42.
If you're already used to Glock triggers, this one works just as smooth as a Glock G43 or a Glock 19X, with a similar weight and travel, at least.
The trigger is easily replaceable, and there are loads of other aftermarket options too. As for the ergonomics, it feels just fine with the not too aggressive grip texture.
Glock continuously finds new ways to effortlessly implement the safeties and controls from their bigger pistols to their smaller ones. Overall, it's a very ergonomic, pocket carry Glock that's made for smooth and reliable shooting.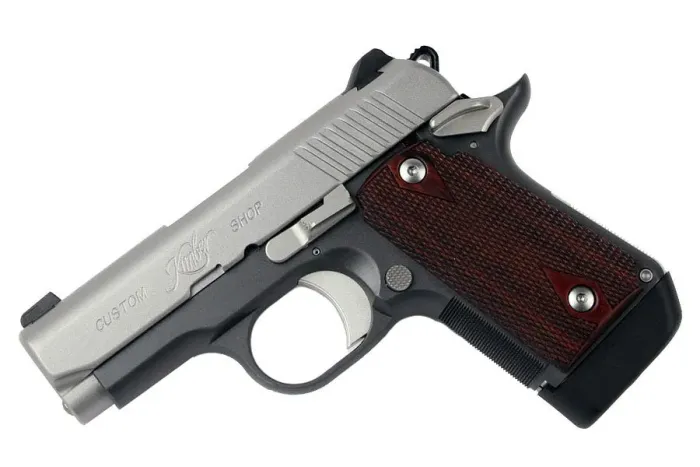 Pros
Great single-action trigger
Durable frame
Manageable recoil
Available models that come with Crimson Trace Laser Grips
Flush fitting magazine with finger grip extension
I hope you don't mind another premium pocket pistol, but Kimber are well-known for their competition-grade manufacturing and top-notch reliability with a hefty price.
The Kimber Micro 9, chambered in the 9mm cartridge, is a 1911-style pocket pistol that fits the concealed carry profile well. The slide lock, safety lever, and hammer operate in a similar fashion to 1911, except it's pocket-sized.
It's just over 3 inches in length, it weighs around 17 ounces, and it's an inch wide. The low 7-round capacity might not be suitable for everyone, but the trigger is smooth and moderate felt recoil is suitable for any firearms enthusiast.
Personally, I like the flush-fitting mag with a finger grip extension that most gun owners with large hands can really appreciate. It also comes with a soft padded case for enhanced ergonomics.
There are models that also come with Crimson Trace Laser Grips, but I personally like this model with the Hogue Wraparound grips. The 16-pound recoil spring makes sure there are no feeding issues, and it's a definite high-end feature that really pumps the price up for reliability.
The 9mm chambering is for those who appreciate stopping power, and you can expect moderate recoil thanks to the bulky stature.
Honorable Mentions
Here are some very interesting pocket pistol choices that might be a bit specific, but are still a viable option for concealed carry.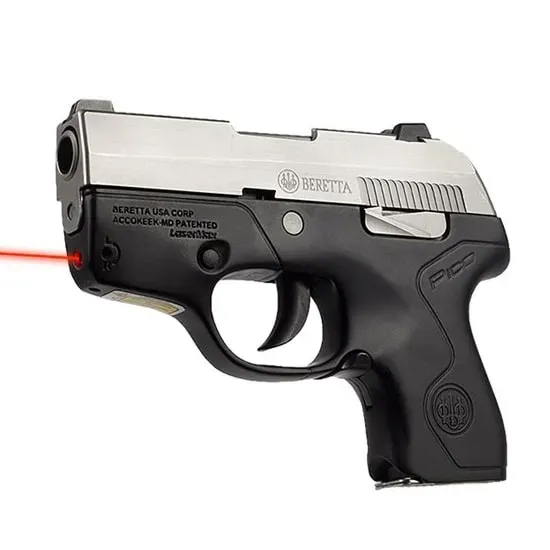 Pros
Ambidextrous magazine release, perfect for lefties
One of the cheapest pocket pistols on the market
Easy to disassemble and clean
Snag-free design
Cons
Plastic firing pin
Long trigger pull
Here's another Beretta if you want something even smaller for your pants' pockets or purse.
Chambered in the .380 ACP, the Beretta Pico is the Beretta Nano's younger brother with an even smaller frame that offers a nice, modular setting with great ergonomics.
This pocket carry gun looks like a toy, but shoots like a cannon with its 6 rounds and DAO mechanism that's designed for low recoil. With its stainless steel finish, 11-ounce weight, and snag-free design, expect comfortable and reliable shooting with this tiny Beretta for a long time.
It's easy to operate, easy to disassemble, and the magazine release is ambidextrous and accessible on either side, which makes it a perfect left-handed pistol. You'll greatly appreciate the 2.7-inch length, which is standard pocket carry size.
I personally think that the plastic firing pin should be replaced by a better one, and the long trigger pull might not be suitable for some.
However, the modular design encourages gun owners to tweak the configuration with various grips, sights, and magazines with a thumb rest.
I'd recommend the Beretta Pico to newcomers who are looking for a nice concealed carry pistol that's easy to disassemble and customize. It's practically built for convenience and concealability, and some models come with a free storage case and two magazines.
Pros
Smith & Wesson reliability
Hammerless, snag-free design
Smooth trigger pull
Ambidextrous cylinder release
Crimson trace grips/Gray synthetic grip models
Abundance of aftermarket options
Cons
Only 5 rounds
Needs a good pocket holster
I chose the Smith & Wesson M&P Bodyguard as the best pocket revolver for a number of reasons. Chambered in the .38 Special, you can expect massive stopping power and high S&W reliability.
It's very easy to conceal even for a bulky revolver of 14 ounces. I recommend you use a holster for this one, but it's still a viable pocket option with its 1.9-inch barrel length and overall length of 6.6 inches.
The trigger is (DAO) double-action only, as most cases for revolvers, but it's very smooth, which makes it a good option for newbies. The black ramp front sights and integral rear sights offer standard revolver accuracy around the 10-yard range.
I personally like the hammerless, snag-free design, and the ambidextrous cylinder release makes it a good choice for lefties as well.
There are models with a one-piece gray plastic grips, synthetic grip, or a Crimson Trace grip, which are slightly more expensive. All of the models have a 5-round capacity, but the stainless steel cylinder and smooth trigger pull are all the essential features for a great pocket revolver.
Smith & Wesson are kind enough to offer you a lifetime service policy if you ever happen to need a gunsmith for it.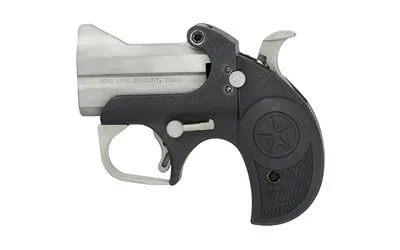 Pros
able for concealed carry
Super cool design
Fits perfectly for most hands
All components made in the US
Cons
More of a collector's item
Only two rounds, so make them count
Heavy recoil
Difficult to find
This is as Texas as it gets.
Famous gunsmith and gunslinger John Derringer made history with these double-barrel revolvers around the middle of the 19th century, paving the way for frontier firearms innovation. 
He made one tiny mistake, though—he didn't patent his design, which resulted in countless copycats with a similar build and features. But, they're not as good as the ones made by Bond Arms.
The modern approach to the lost wax casting process of the Old West makes the Bond Arms Backup .45 stand out as one of the most powerful pocket revolvers money can buy.
Chambered in the .45 ACP, this double-barrel revolver kicks like a mule. The spring-loaded lever style and single-action hammer with two rounds make it an ambitious yet viable choice for self-defense.
But, it's tiny and pretty lightweight for a steel pocket revolver, and the interchangeable grips and hammer safety are a nice touch for convenience. It has an overall length of 4.5 inches, but it weighs around 18 ounces.
The Bond Arms Backup is the odd one on this list. With only 2-rounds, a highly powerful .45 ACP cartridge, and an unusual action, I wouldn't recommend them to just anyone, but if you're from Texas, I understand.
Buyer's Guide for the Best Pocket Pistols
There are many valuable criteria points to look at when choosing the best pocket pistol for you. 
Price might be important, but that depends entirely on you and whether or not you'd like to consider aftermarket options with those spare few bucks.
If this is your first pocket carry pistol, it's very important to know your handgun in and out and get acquainted with its safeties, recoil, ergonomics, as well as how it fits your holster and clothing.
Before you consider your purchase, I advise you to try your pocket pistol before you buy it, and this means going to your local gun shop and shooting it first at the ranges.
There are lots of gun shops and shooting ranges that offer free trials. Additionally, don't forget some proper ear protection gear. Tinnitus is no laughing matter.
Size, Safeties, and Holsters
Pocket pistols are guns that are no more than 6 inches long and 1 inch wide. They are smaller in stature than full-sized handguns with a double-stack magazine.
Subcompact revolvers like the Ruger LCR or compact pistols like the SIG Sauer P365 have vastly different mechanisms and slide safety locations that you must first learn about before you consider a purchase.
Remember that your hand and fingers must always easily reach the magazine release, slide lock, and other safeties as well.
Convenience and ergonomics are almost always first place, and if you have trouble with a stubborn rack, I would definitely recommend you easy-racking pistols like the Smith & Wesson M&P EZ, a very reliable 9mm Luger with thumb safety.
Considering the Calibers and Recoil
What I really like about pocket carry pistols and subcompact revolvers is that they use very common and convenient calibers that are easy to manage, even with a snappy recoil.
They are usually chambered in a smaller caliber like the .380 ACP, .32 ACP, 9mm, or the .22 LR and .22 Magnum calibers. These cartridges are great because you can find them in almost any gun shop, at any time.
Personally, I'd advise you to stick to something on the lines of a .380 ACP, a .22 LR, or a 9mm. Still, you should test out multiple pocket carry pistols with various calibers before making your choice.
Their shorter barrel makes them a viable option for close-quarter combat and distances around a 10- to 30-yard mark, depending on the barrel length.
Concealability and Holstering
As I stated before, pocket carry pistols are usually around the 3-inch barrel length, have a lower round capacity, and are built to fit in your pocket. But, I wouldn't advise you to carry without a good pocket holster.
In order to properly honor the pocket holster, you should consider the size, height, width, and weight of the pocket holster, and how it can be combined to fit in your pocket, your IWB holster, or your purse. Any pistol or revolver above 3.1 inches is considered tricky for pocket carry, and you should always make sure it doesn't print.
You can also check out the best handguns for women if you want to know more about clothing and concealed carry.
Conclusion
When people consider pocket pistols, they value the concealability and low-profile factor above all.
Consistency, accuracy, and convenience in operations are very important, but once you try out a gun first, it's much easier to find out what you truly want and need in a good pocket pistol.
These choices I rounded up for you are all fine options, and they are more than just a placeholder that tells you what to look for.
For now, I would most definitely recommend you the Ruger LCP II if you value simplicity, or the Beretta Tomcat. If you're a Glock fanatic and have no problem with blocky designs, you have the good old Glock G42.
The Smith & Wesson M&P 9 Shield EZ isn't a pocket pistol, and it's not on the list for a number of reasons, but if racking is a problem for you, and you're looking for something with a bigger round capacity, there's no contest.
Shoot straight, stay safe.
Explore more