Springfield Armory Hellcat Review: Hands-On With Photos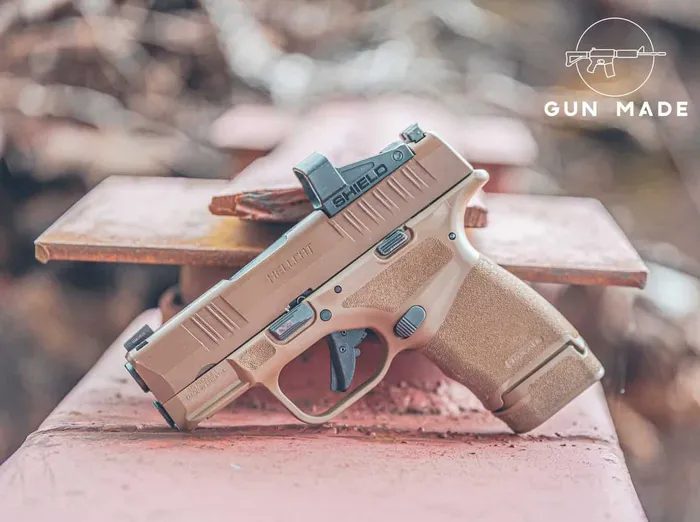 Springfield Armory Hellcat Review: Hands-On With Photos
Micro Compacts are truly a unique category in the firearms industry in today's concealed carry world. Today I will give you a quick review of one of those pistols, the Springfield Armory Hellcat.  I will quickly dive into a few features that stick out about this micro-compact 9mm pistol, as well as give you some general facts and information about it that you can use to help you in your search to find the best fit conceal carry pistol. 
From my perspective, I will give you the good, bad, and ugly with the Hellcat. Please remember the best practice is to go into a store, get your hands on the firearm, and see how it fits YOU. Without further ado, here is my Springfield Armory Hellcat review. 
Hellcat Introduction
The Springfield Armory Hellcat was released back in 2019. The Hellcat is a direct competitor of the Sig P365 and the Glock 43. Springfield designed this as a micro-compact design but could easily be used as a duty pistol. The Springfield Hellcat is imported from HS Produkt, which is from Croatia. This is not a new development, as Springfield has been working with HS Produkt on specialty firearms for nearly two decades. One benefit that stands out to me is the quality of the gun you get and the consumer-friendly price tag. I am a fan of "Made in America," but I do see that keeping costs down and maintaining the quality of the firearm is an objective easier achieved by working with outside companies in manufacturing.  This firearm was built with intent, and that shows through and through. 
Specifications
| | |
| --- | --- |
| Caliber | 9mm |
| Sights | Tritium Sights, Optics Ready |
| Capacity | 11+1 or 13+1 |
| Height | 4″ or 4.5″ |
| Barrel | 3″ |
| Twist | 1:10 |
| Length | 6″ |
| Weight | 18.6 oz |
The Springfield Armory Hellcat is chambered in 9mm and comes out of the box with an 11 and 13-round magazine. Since its release, Springfield Armory has come out with a 15-round magazine, giving you an even higher capacity option if you desire it. 
With an 11+1, 13+1, and 15+1 capacity it is no secret that the Springfield Armory Hellcat is fully capable of protecting you and being fit to your situational needs. Springfield's Hellcat has a 3" barrel with a 1:10 twist and a total overall length of 6''.  One of the craziest facts about this firearm is that it's only about an inch wide! Weighing in at 18.6 ounces and topped with their new U-dot sight, it is also available with an optics-ready package (OSP version.) Springfield Armory added a standard-size rail on the Hellcat, making it compatible with most found accessories such as lights and lasers. Slide serrations are located on both the front and back of the slide and on top of the rear. 
Checking out the data and factory information on the Springfield Armory Hellcat, let's dive into what we thought of this pistol giving you the meat and potatoes of this CCW-styled micro-compact.
Springfield Hellcat Review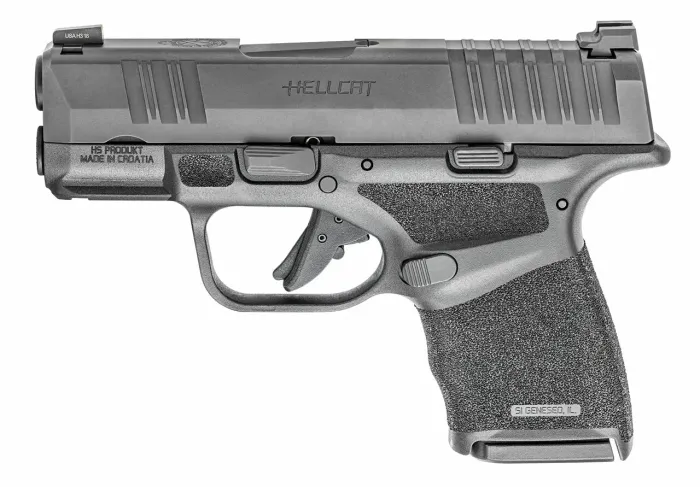 Finally, the time has come when I can share with you my thoughts on this micro ball of fire. I want to start by congratulating Springfield Armory on another successful and beautiful build; Springfield has cranked out some fantastic new firearms, adding more creative and needed pistols to their lineup. That said, I highly suggest looking into their other offerings and keeping an eye out for what is coming from Springfield Armory. 
Straight out of the box, I think Springfield Armory nailed this pistol. It is no secret that aesthetics sell, and this Hellcat is a gorgeous build. The Hellcat is small and narrow, and it's honestly incredible you can get so much out of such a small package. 
Slide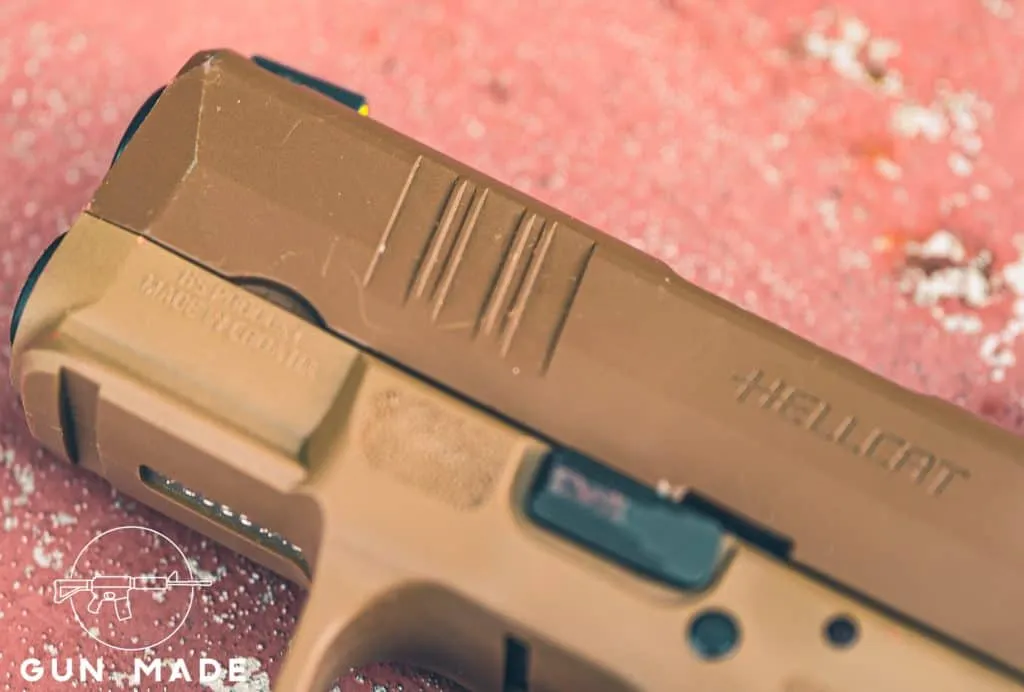 The serrations on the slide offer more grip, are incredibly detailed, and compliment the pistol very nicely. The only serration on the slide I am unsure of is the one on the top rear. It isn't bad, but I don't understand its purpose. It would not offer any extra grip or unique attributes to my knowledge. I would also like to see the serrations on the rear of the slide be more aggressive. 
In a hot environment where your hands are sweaty, you could slip trying to actuate the slide. I could see weaker grip-strength shooters having an issue with those serrations. I also was not a fan of the slide release lever.
Sights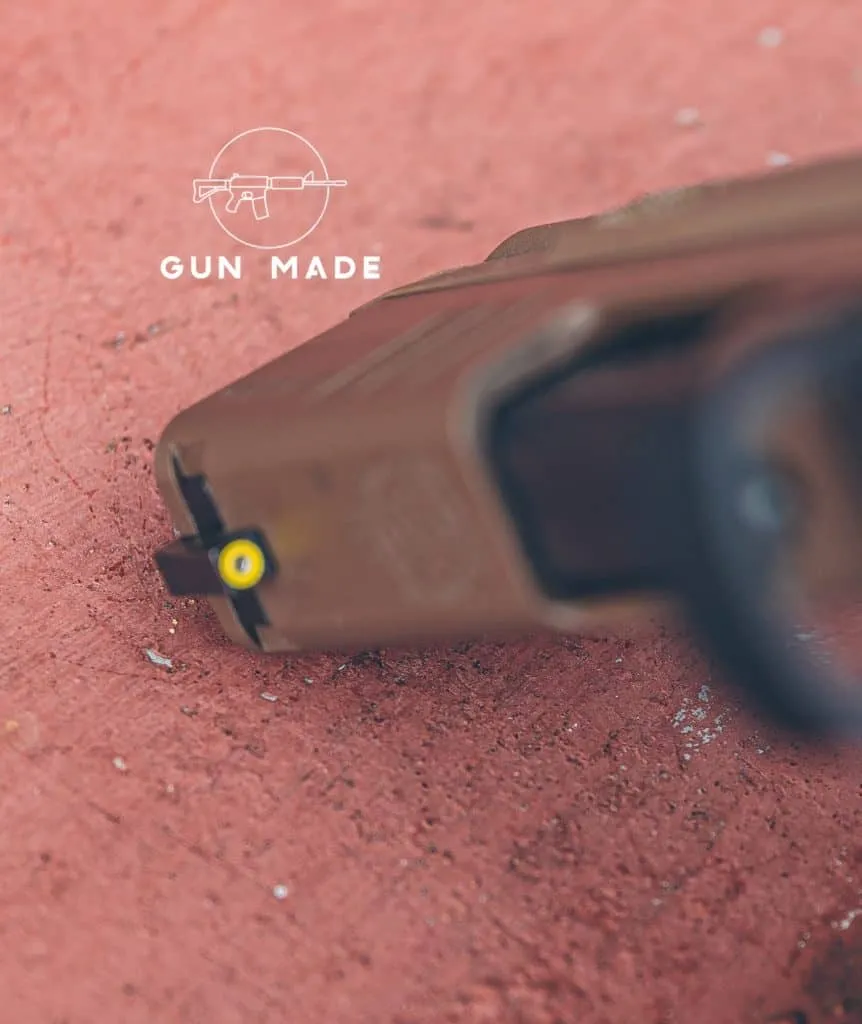 The U-dot sights are extremely bright, making it easy to locate the target and stay on target. At first, the bright front sight doesn't look all that big, but once you raise the firearm and acquire the target, you will notice how it fills up the U-shaped rear sight. That being said, some would argue you wouldn't put an optic on this platform because it is one of its best features. I could go either way on that myself, I enjoy the red dot sights, but I really love the bright sights that come on this pistol. 
Let's talk about this U-dot sight a little more. I know that may make some of you cringe a little bit, but honestly, I think Springfield delivered exactly what was needed for this platform. The front sight is Tritium, so it's incredibly bright and an absolute standout on the Hellcat. The only thing I would have liked to see different on the u-dot sight in the rear would be to have it done in a glow-in-the-dark paint or coating so it's simpler to use in those after-dark, low-light kinds of settings.
Ergonomics/Grip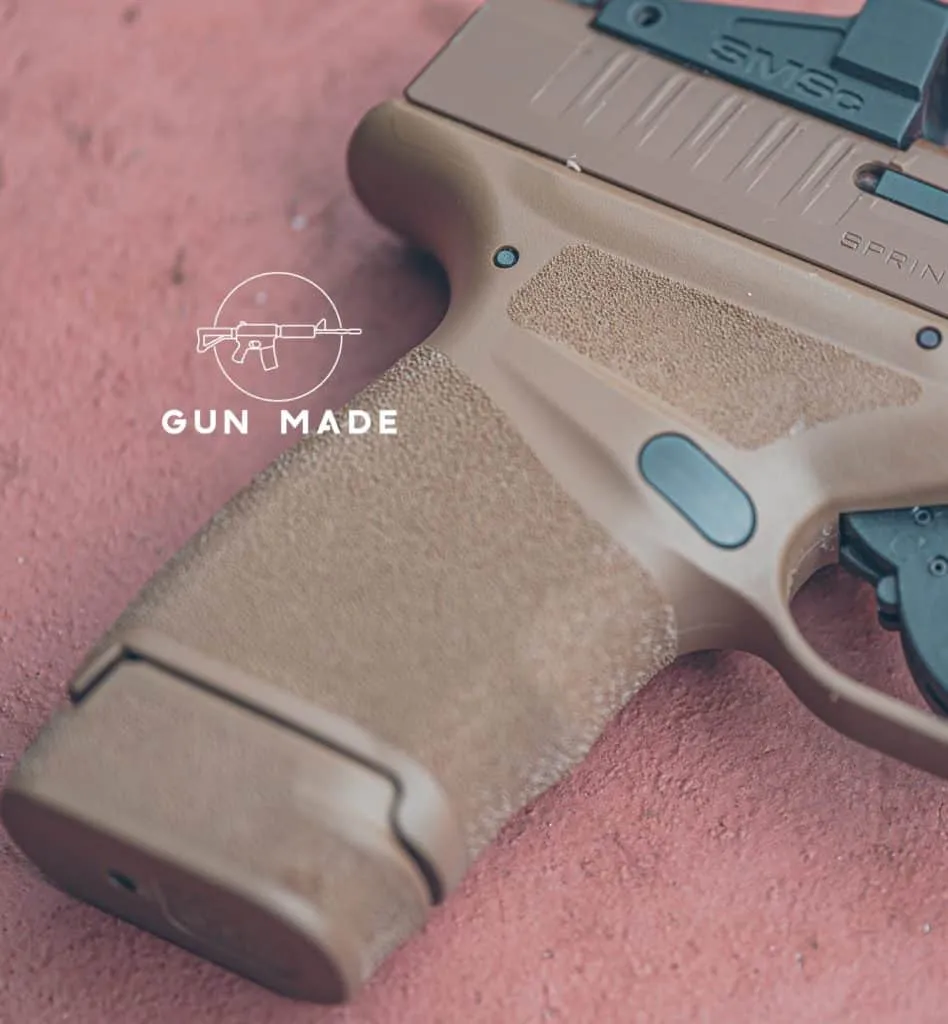 It is extremely comfortable in hand with the 13 or 15-round magazines inserted. I would attribute some of that to the adaptive grip and its sandpaper-like texture. 
Diving into the "adaptive" grip texture on the Hellcat, it just reiterates the amount of attention to detail in the design and build of the Hellcat. The grip is designed to wear less on your clothes when concealed and offers a very comfortable and good grip when held with pressure. The sandpaper-like texture you get from the grip will let you know you're carrying it, but the increased amount of grip you get is worth it. 
The grip doesn't hurt the aesthetics of this pistol either, helping really tie this pistol in with the frame and slide. The textures in the grip just make it all flow and look sharp. I really like the grip on the Springfield Armory Hellcat; it offers a lot of traction, and the gritty texture works well for me. 
Earlier, we talked about the different capacity magazines for the Hellcat, but I left out that there is a plate that comes with a pinky grip for the 11-round mag. That makes a tremendous difference in comfort, but I still like how the 13 and 15-round magazines feel in my hands. The 11+1 Mag would be an awesome magazine to conceal carry with for most others as it's sleek and keeps the Hellcat streamlined. Bear paws make me have to adjust, but you can't go wrong either way. 
Magazines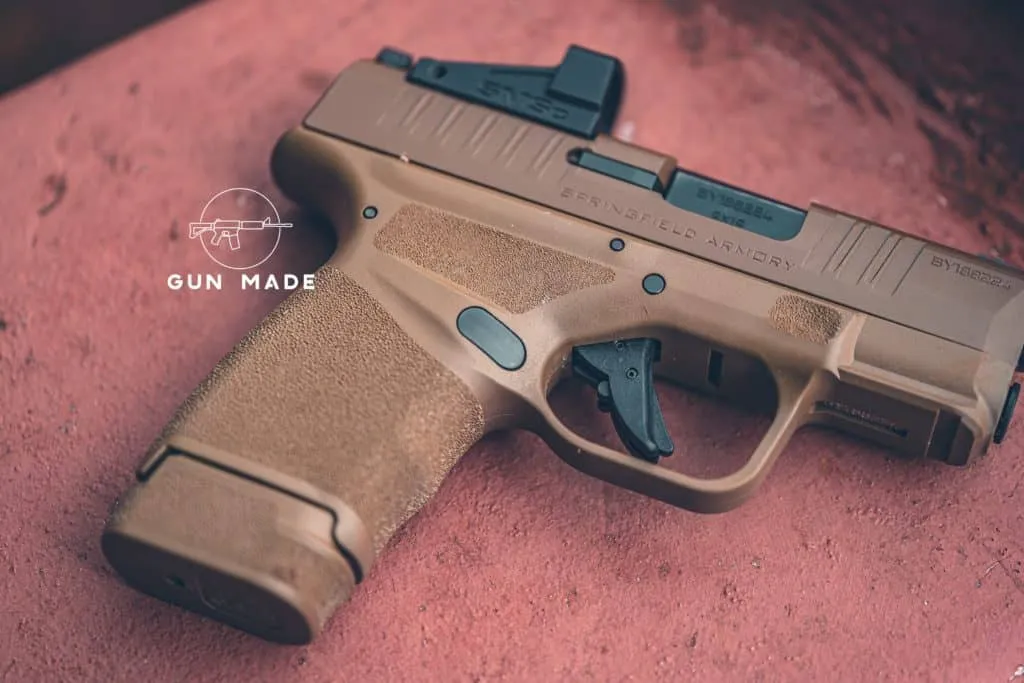 As a larger man, the 11-round magazine doesn't quite offer the support on my pinky finger that I find comfortable. I did, however, like that the 11-round magazines offered a slick and compact feel for concealed carry. 
A negative I did find with the magazines was how stiff the springs were. I had a really hard time compressing the spring to load the magazine clear to 13 rounds and could only get 14 in on the 15-round magazine. I am not sure if that is something that will get better with time, but I was less than impressed initially.
Now that I have big bear paws for hands, the micro-compact size of this would probably turn the "form police" onto me. However, I think this was a very purposefully built pistol. I struggle with finding a good, comfortable grip with most Micro-sized firearms, but I can make it work with the extended magazine offerings. My personal Hellcat is the RDP version, and I really dig the Hex optics red dot sight that's on it.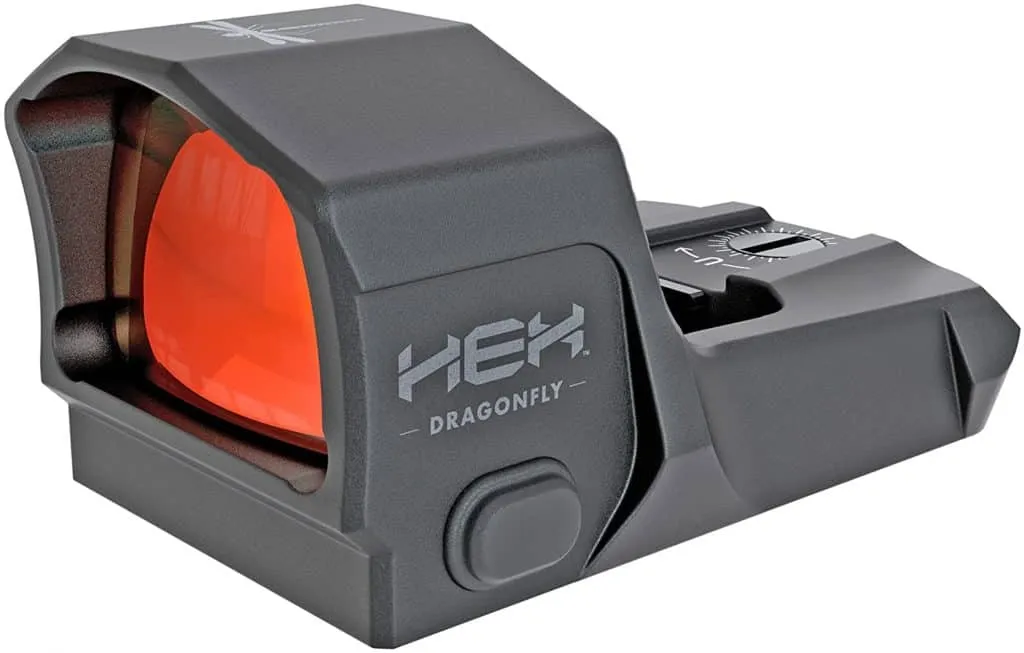 Offering the Hellcat in an optics-ready package was a very well-played design, especially in defense circumstances. Springfield did not need to do that, though, as the standard sights are more than capable. The overall narrow, sleek, super-compact design of the Hellcat paired with its high-capacity abilities and topped with a red dot, creates a perfect defensive platform. As far as CCW is concerned, this firearm hits the mark. 
Trigger
The trigger was the only thing I wasn't impressed with out of the box. It was rough at best. I just didn't like it personally. However, with today's firearms industry advancements, other manufacturers offer after-market triggers for the Hellcat that can be thrown in.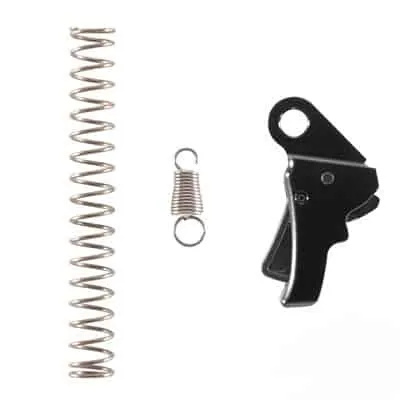 Accuracy
The first shots out of the Hellcat were exactly what you would expect from a micro platform, aggressive; lots of bark in this pistol. The Hellcat was fun to shoot, but it lets you know it's not playing around. I had the muzzle jump on me a little, but that's something with more trigger time I think I could work out. It is not hard to find the target and stay on it with the Hellcat. This cat might have a loud and aggressive nature, but its performance makes up for it, and with more rounds down range, you learn to tame this beast. 
As I discussed earlier, the bright sights topping the hellcat make it easy to find your target and to be able to stay on target. On the OSP version (my personal Hellcat,) I liked using the red dot, and I found the Hellcat to be accurate. However, I did notice I was consistently high and right on target, which I'm not sure if that was an operator error or something others have found also? No matter the case, the rounds impacted the target and would get the job done.   
Reliability
I have about 200-300 rounds through my Hellcat now and have yet to have any misfires or failures to feed. Springfield Armory is known for building tough pistols that withstand most things you throw at them, so this wasn't a surprise. Although I have a low round count through the Hellcat in a quick search in the world of YouTube you'll be able to find specific reviews on the higher round count, including a video where one was tested first to 10,000 rounds and then that same Hellcat to 20,000 rounds. Out of the box, I was very happy with the results and how this Hellcat performed on the range.  
Assembly/Disassembly
Another great design feature of the Hellcat is the ease of taking it apart for maintenance or cleaning. Removing the slide is a very simple process and allows for quick takedowns. Springfield Armory did a very good job keeping this like their XD line up on how to remove the slide. 
Deeper Dive into the Hellcat
It is easy to sit here and add all our wish list items to this build but coming out of the factory, the Hellcat holds its own. 
There are multiple offerings of the Hellcat on their website also. I enjoyed that they offer this pistol in an FDE option. Again the aesthetics really appeal to me on this firearm. They offer the Hellcat in a "'low capacity" option also. That offering, I thought, was a very nice touch to be able to reach more of the consumers and Springfield fans.
I would suggest purchasing this pistol in the OSP version so you can throw a red dot on top of the Hellcat and truly experience what it offers.  I would always suggest purchasing any carry gun in an optics-ready platform even if you intend to leave the plate on it. It will allow you to have the option for optics if desired.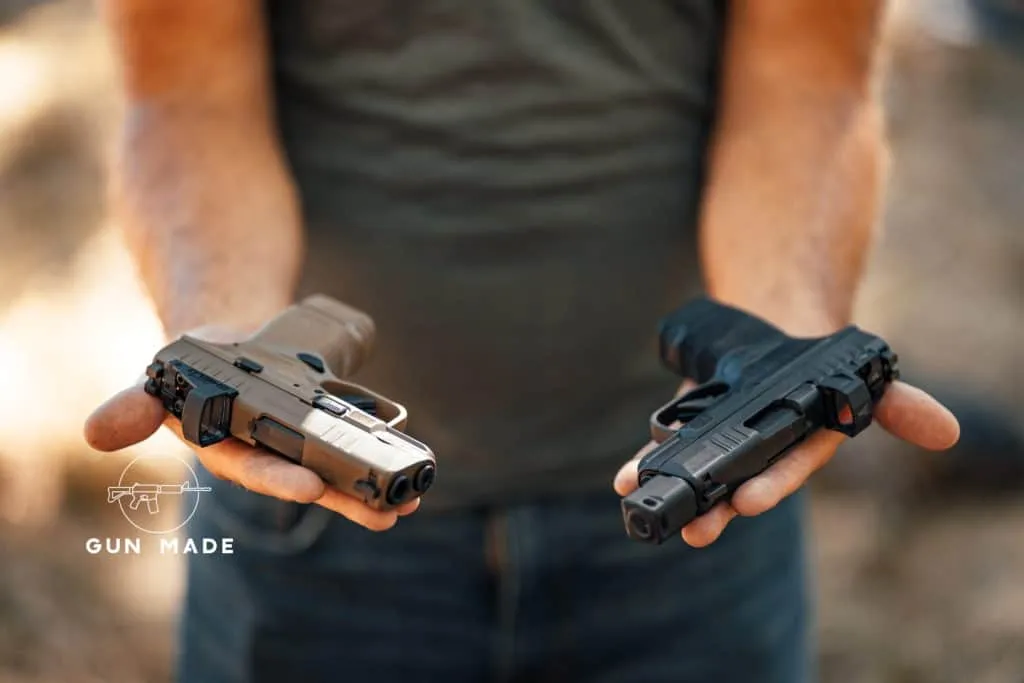 You can conceal the Hellcat anywhere. Springfield really knocked this firearm out of the park when it comes to blending it into whatever clothing you use. I can carry this Hellcat in active wear just fine with my Crossbreed Holster. There are multiple options in carry gear for the Springfield Hellcat as many manufacturers make them. I enjoy that Springfield has gotten this into enough related industry hands to give the consumer options. I think with more options comes a more personal fit for your needs. 
Springfield also addressed a lot in the Hellcat RDP. For example, it comes with a self-timing compensator, addressing the "bark" of this pistol.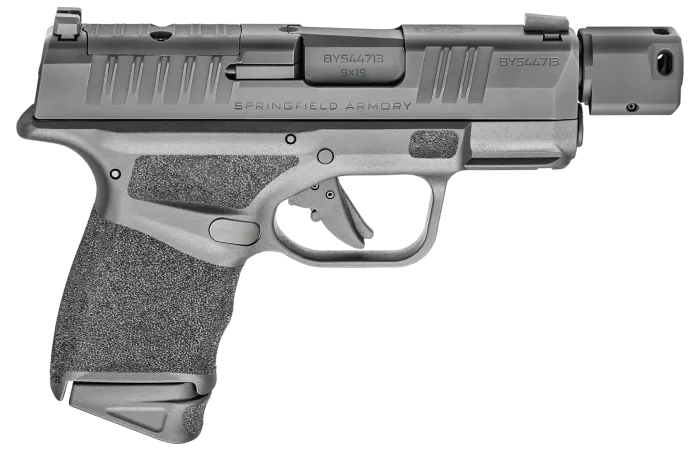 Having a threaded barrel also allows other gun nerds like me to explore suppressors. I am not suggesting using a suppressor on the Hellcat as a carry option, but it never hurts to have a little fun or get a good laugh.
I mentioned the 15-round magazine for the Hellcat, which is a more recent offering and allows those of us with bigger hands to use this pistol better. I mean, it never hurts having more rounds either, am I wrong? Springfield took it a step further with their new Hellcat Pro, which is just slightly bigger than the standard Hellcat. I prefer the new Hellcat Pro over the standard Hellcat because I like how it fits and feels in my hands.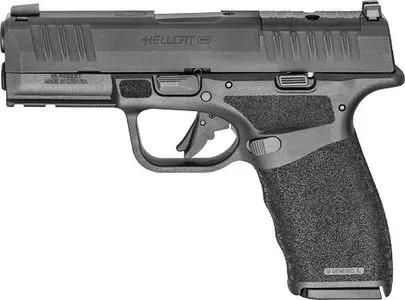 I stressed this at the beginning of this article, but I'll state it again; test a few and get your hands on these firearms in person before deciding to purchase. You, the consumer, matter, and the fact they've addressed a lot of these little details tell me they care about putting a quality firearm in your hands. I will say this, the fact that Springfield listened to its customers and offered improvements and new variations of the Hellcat speaks volumes.
Springfield Hellcat Alternatives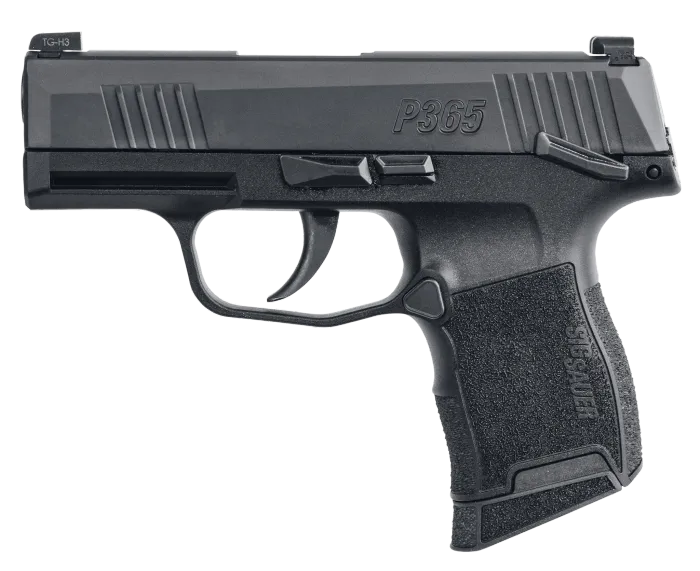 Coming out of the box, I was very happy with this Springfield Armory Hellcat and thought it offered some competition to its competitor Sig and their P365, which is rumored to be the most popular carry gun.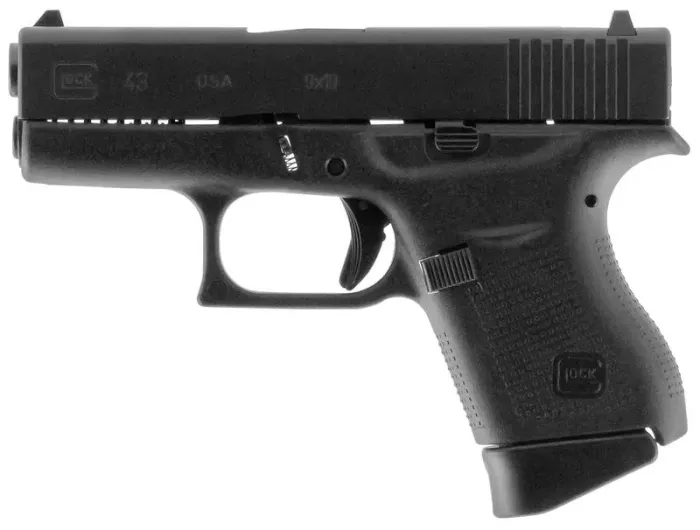 Sig Sauer and their P365 and Glock, with their model 43, would be the closest competitors in this micro-compact category as they are very similar in size, weight, and dimensions.  Springfield does top its competitors in capacity, though, giving it one edge that Sig and Glock are missing. The Glock 43 has a better trigger coming from the factory though, in my opinion
All the hype and personal opinions aside, there are a lot of similarities between all three of these platforms, and they are all more than capable. I do not have enough time with a Sig P365 to offer more information on that firearm, but it fairs well in reviews. 
Conclusion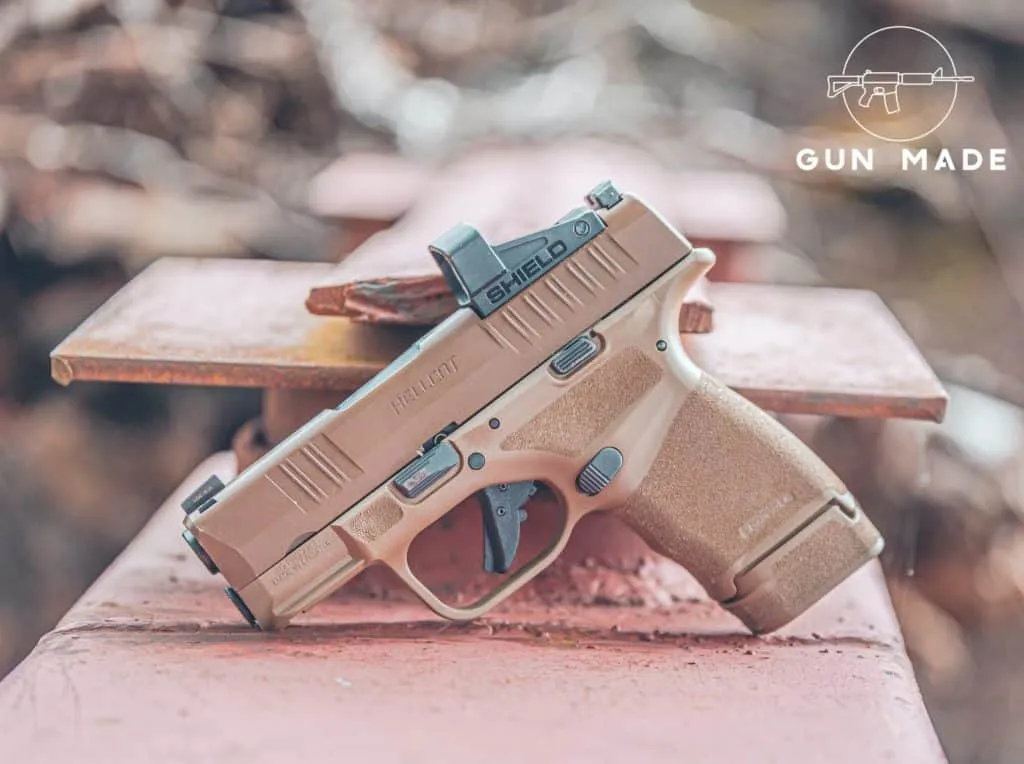 Would I recommend this firearm, the Springfield Armory Hellcat? Would I say the Hellcat is a top contender in the CCW world? Would I tell you it is priced appropriately? I would answer those questions with this; YES.
If you've made it this far down the rabbit hole and into this article, then you know this pistol is still a contender for what you are looking for. Springfield built an incredible firearm with the Hellcat. I think there is a version of the Hellcat that fits everyone's needs.  For the shooters with larger hands and a bigger frame, I would suggest looking at the Hellcat Pro. I would say the standard Hellcat works just fine if you are an average build or size. I would absolutely say the Hellcat has more positive attributes than negatives. Springfield, you get my recommendation with this build.  
As far as the Hellcat being a Top contender in the micro or CCW category, I would also say yes. I personally think this race really comes down to personal preference, if I am to be completely honest with you. Springfield made an absolutely beautiful and highly capable firearm, but that doesn't make the competition any way, shape, or form less viable. Sig really set the bar high with the P365, and Springfield did a fantastic job answering that with the introduction of the Hellcat. Glock's G43 is a great competitor. I still stand with my initial impressions of Glock having the better trigger of the two. Outside of Sig and Glock I do not think any other manufacturers come close to the Hellcat. Springfield, you built a top contender in the category.
Is the Springfield Hellcat priced right? This is a tricky question as we do not know the cost of raw materials in the current world market. I would like to see the price tag on the Hellcat come down at least $150. I think what Springfield is asking is fair, but I tend to lean towards this particular build being a $500–550 firearm and not a $600–650 price tag. If you shop around, you could probably find a Hellcat on special or at a certain annual sale for less of a price tag. I would still suggest the Hellcat but I would like to see it a little less on the price tag. 
All in all, the Springfield Hellcat is a win. This pistol was a fun platform and built very well. Springfield gave us a sexy, sleek, and highly capable CCW firearm with a reasonable price tag. Any experience-level shooter could take the Hellcat out of the box and become proficient with it. With the defensive game in mind, Springfield built these Hellcats, and they did not miss their target. I was not disappointed with the Springfield Hellcat, not one bit. Get out there and get your hands on this masterpiece and see for yourself.
Explore more