CMMG Dissent MK4 Pistol Review: Unique AR Pattern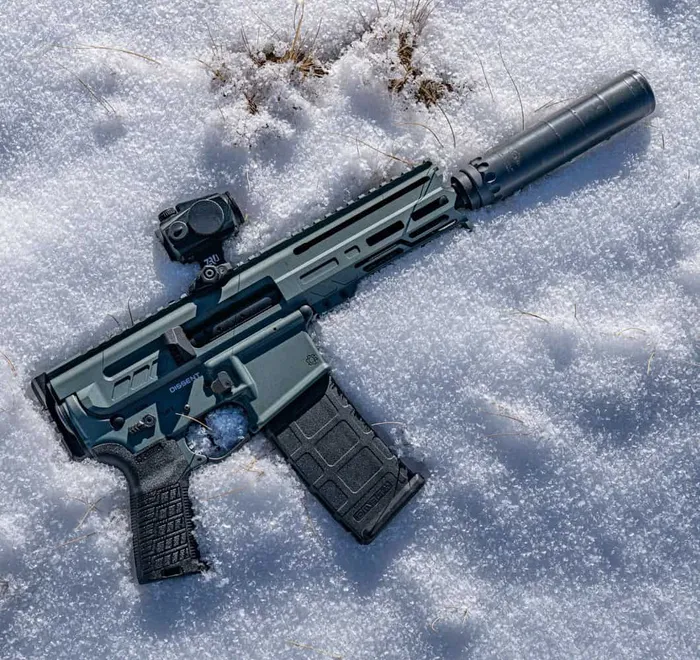 CMMG Dissent MK4 Pistol Review: Unique AR Pattern
Introduction
CMMG is no newcomer to the AR-15 market. They have been making waves in the market for twenty years. They have produced many innovations over the years, and the 5.56 CMMG Dissent pistol we are reviewing today comes directly from those innovations.
I'm not a huge fan of AR pistols, but due to the ridiculous regulations pushed upon American gun owners, it has become a necessary evil. I get the feeling CMMG shares my disdain for arbitrary infringement, which is why they named it the Dissent in the first place.
AR pistols have become a default for those who wish to have the utility of a short-barreled rifle but don't want to kiss the ring and pay a fee to exercise their rights. AR pistols with an added "brace" (which is just like, but apparently not a buttstock) have become extremely popular in recent years for that very reason. The Dissent is one of the latest developments in this arena, and I was quite excited for the opportunity to check them out.
I said I don't like AR pistols, but I love short-barreled rifles. And the Dissent is an excellent start to an SBR or an AR pistol. Let's get into the details about why.
CMMG Dissent Review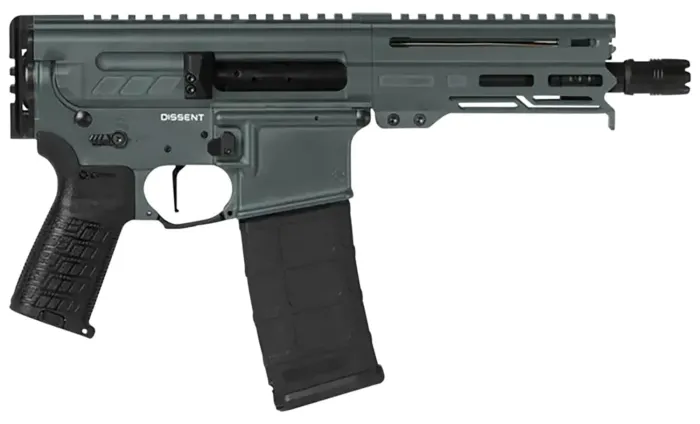 Specifications
| | |
| --- | --- |
| Caliber | 5.56 |
| Capacity | 30 round P-Mag |
| Weight | 4.8 lbs |
| Length | 14.7 inches |
| Barrel Twist | 1:7 |
| Barrel Length | 6.5 inches |
| Operating System | Compact Action Direct impingement |
| Muzzle Threads | ½ x 28 |
| Trigger | Trigger Tech AR-D |
Pros & Cons
Pros
No buffer tube required
Picatinny rail for easy stock or arm brace installation
High quality upper and lower with flawless union
Fantastic Trigger Tech trigger from the factory
Very reliable functioning operating system
Cons
Must purchase separate charging handle to run on right side of firearm
Awkward shooting without a buttstock or arm brace
First Range Outing With The Dissent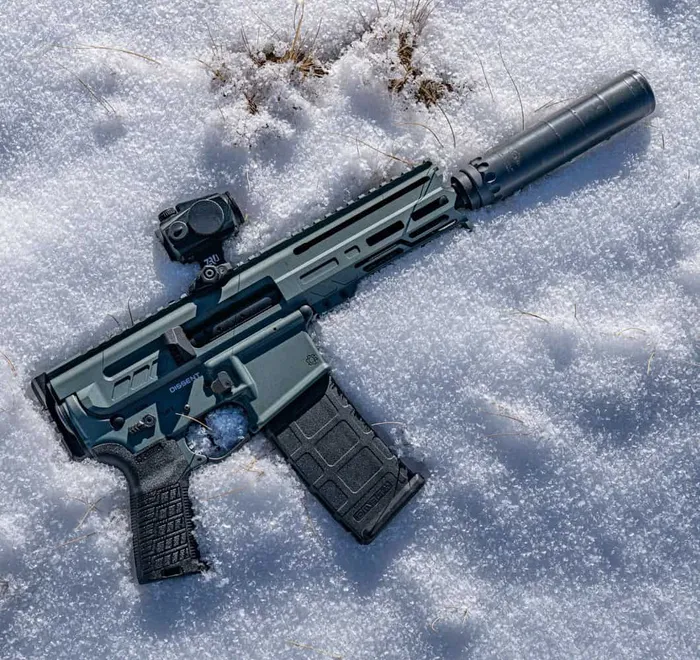 I was excited to get the Dissent out into the open where I could shoot it. It was a beautiful winter afternoon, with temps in the teens. Not exactly a perfect day, but close to it. I did nothing to the gun as far as lubrication or anything like that. We just started loading P-mags and went to it.
My very first impression was, how am I supposed to shoot this thing? AR pistols are small enough that you can shoot them like a pistol, but it feels awkward and silly to me. So we tried several different ways of holding the gun and ended up with one hand on the pistol grip and the other on the magwell or handguard area.
I had mounted my US Optics TSR 1X red dot for a sight, and lucky for me, it was near perfectly zeroed at about fifty yards. We went through several magazines of American Eagle 55 grain ball ammunition, and the DIssent kept plugging away.
Most things inside 50 yards seemed fairly easy to hit, I'm sure it would be useful at further distances, but something was going to need to change first. It was difficult for a guy who mainly shoots precision rifles to properly steady the rifle without having a rear point to anchor to the shoulder.
This is certainly not the fault of the Dissent, just something I'm not used to. Before testing any accuracy with the gun, I wanted to get a proper brace or buttstock to shoot it right.
Even so, we had a great time shooting the little charcoal green pistol. At no time during testing did the firearm show any malfunctions or issues, and it was fun to shoot.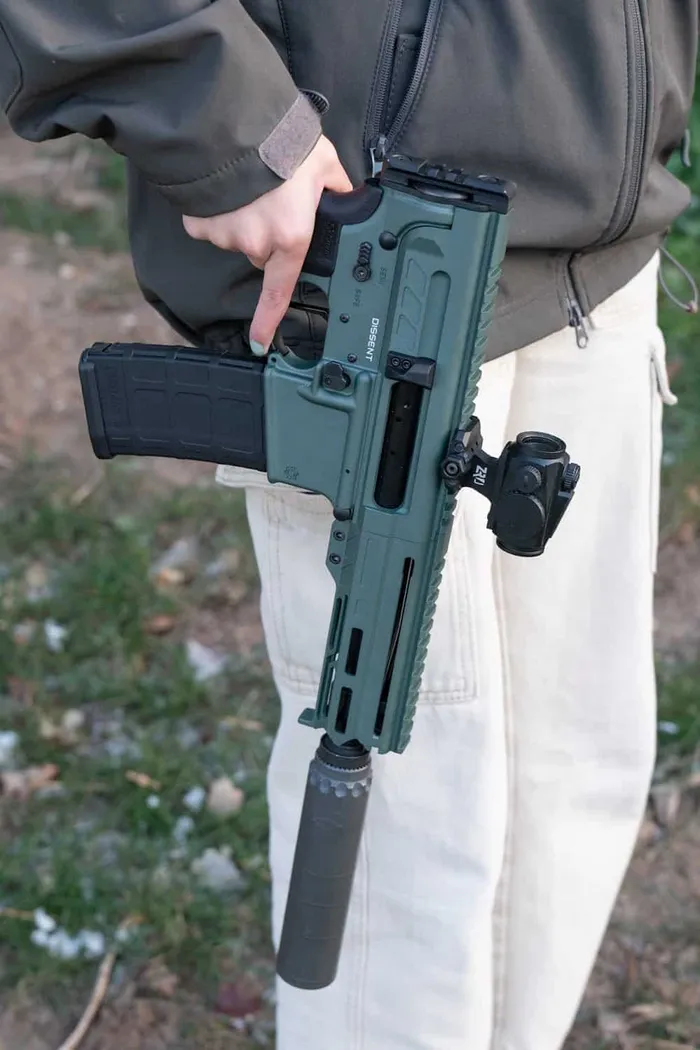 I decided to throw a suppressor on the gun as well, to see how it did as a host. I had my Yankee Hill Machine Turbo 556 suppressor handy and spun it on after removing the CMMG muzzle device.
The Dissent doesn't have an adjustable gas block, but it didn't seem to matter. It kept banging along, suppressed, which was obviously more pleasant for the user. Slightly more noticeable gas was felt for the shooter, but not something I would be too concerned about.
Reliability
The Dissent showed no malfunctions during my testing. It was using P-mags, metal GI mags, and an assortment of ammunition. Besides the American Eagle 55 grain ammo, we also shot some Frontier 55 grain hollow point ammunition and a handful of others that had collected in the bottom of my range bucket.
The seven-twist barrel of the dissent also had no trouble shooting some 75-grain loads that worked without problems.
Accuracy
The short stiff barrel of the Dissent worked great for keeping shots consistent. Once a brace was added, I found it was easy to keep groups under 2 MOA at one hundred yards.
As the Dissent is more configured as a personal defense weapon (PDW) or something of a short sporting arm, I found this level of accuracy to be perfectly acceptable.
Overall Feel
The Dissent definitely feels like a quality-made firearm, as with other CMMG firearms I have shot before this one. The fit and finish are top-notch, as are the CMMG furniture and accessories that come with it.
Everything from the Cerakote finish to the engraving looks very well done and justifies the rifle's price point.
Features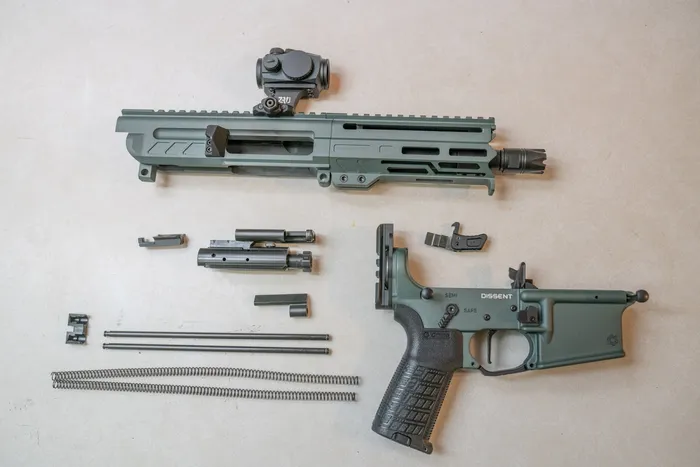 The Bufferless Operating System
The best feature of the Dissent is its bufferless operating system. It utilizes two springs and guide-rods that are housed above the bolt carrier in the upper receiver. They are captured at the rear with an aluminum block and pass through a T-shaped boss on top of the bolt carrier.
This design allows the Dissent to be more compact than its buffered competitors.
Forward Charging Handle
The charging handle for the Dissent is mounted in the handguard in front of the upper receiver. There is a steel charging block that slides in its own keyed slot of the handguard, and the charging handle slides in from the side. The whole assembly can be drawn to the rear by the left hand to operate the action.
The charging block isn't attached to the bolt carrier itself. It simply pushes back on the front of the carrier. This makes the charging handle non-reciprocating, for which the engineers at CMMG added a claw capture to the front of the charging handle to keep it in place.
The forward charging handle makes a lot of sense for a gun like this; having the traditional top-rear of the upper receiver charging handle would be very awkward.
The only downside I can see is that the charging handle isn't reversible, it can be switched to the right side of the gun, but that requires purchasing an additional right-side charging handle.
Stock/Brace Pic Rail Mount
Since the Dissent has no buffer tube, CMMG has installed a vertical pic rail in place of the buffer tube to add either a sling mount, arm brace, or a stock.
I tried mounting an arm brace from a Sig MCX Rattler that I had, but it wouldn't slide over the Picatinny rail section. The only option I found worked was one clamped over the pic rail.
Trigger
The Trigger Tech AR-D trigger was a fantastic addition to the Dissent. It had a very clean pull and crisp break. The reset felt slightly different than I expected, but I wasn't sure if that was by design or simply my lack of familiarity with it. Regardless, it is a fantastic component of the gun.
Back to the Range
After installing an arm brace, I wanted to further test the Dissent and see how much better I could do. Additional accuracy testing proved the rifle to be very capable of 1-2 MOA depending on ammunition type. And I felt much more comfortable with the gun, shooting it as a rifle vs. a pistol.
The very short Dissent is extremely agile when moving through a course of fire. The short length makes the rifle quick to get on target and easy to maneuver. In my opinion, the addition of a suppressor is almost a requirement, as the gun is so short that one can easily get the support hand into the extremely dangerous muzzle area. Adding a suppressor greatly reduces the likelihood of your fingers' proximity to gas and bullets being expelled from the muzzle.
I found myself really appreciating the enlarged magazine release buttons on the Dissent. They did make it easy to perform reloads quickly. The bolt release did end up being a touch obscured for my taste. After reloading, it took a little bit more attention than normal to ensure the bolt release was depressed acutely.
I was again impressed with the trigger, as I always have been with Trigger Tech products. It made a significant improvement, in my opinion, in my ability to accurately shoot the Dissent.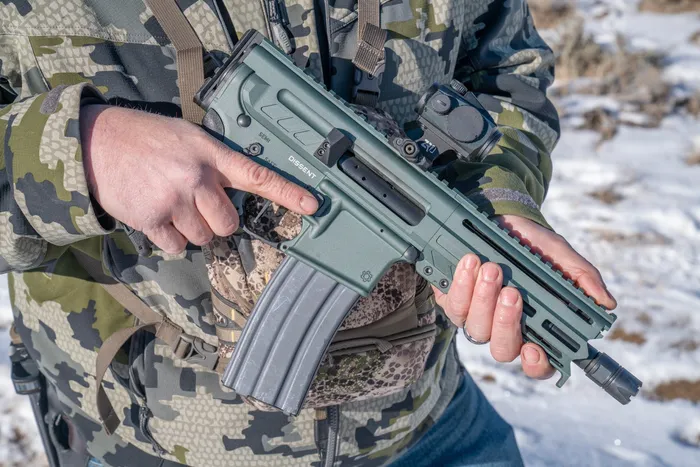 Ammo Used
The Majority of ammunition used for this review was American Eagle 55 grain ball ammo. There was a significant amount of the Frontier 55 HP and PMC X Tac ammunition. But from what I witnessed with the Dissent, I would feel confident shooting most any ammunition.
Accessories
The Dissent truly shines as an SBR or quasi-SBR using the arm brace. The FS1913 from SB Tactical is an excellent choice. Make sure to try them out to see how it fits both you and the gun.
If you don't mind registering your Dissent as an SBR, then I would skip the arm brace and go straight for a buttstock like this Jmac Customs offered directly from CMMG. These are high quality and fit the Dissent perfectly.
A firearm this small needs a good sling to keep it securely attached to the user. I used the Magpul MS4 sling, which I found to be very useful for my shooting purposes.
There are many different trains of thought regarding sling attachment and use, so do a little research and see which one will best fit your style and the configuration of your rifle once the stock/brace and other parts are installed.
I prefer optical sights over traditional options, but you do you. For most of my shooting, I used the US Optics TSR 1X, which I found to work perfectly with the Dissent. The elevated mount was a perfect fit for my sight picture. If you go with a different option, make sure it is tall enough.
An absolute must-have, in my opinion. A suppressor is a valuable accessory for safety and added comfort during your shooting.
I ran my Yankee Hill Machine Turbo 556, which was a great option. A very robust 5.56 suppressor would be a good idea as the barrel length of the Dissent is quite short, and many suppressor manufacturers do have minimum barrel requirements.
The Dead Air Sierra 5 would also be a good option, as it doesn't have a barrel restriction and is full auto-rated.
Alternatives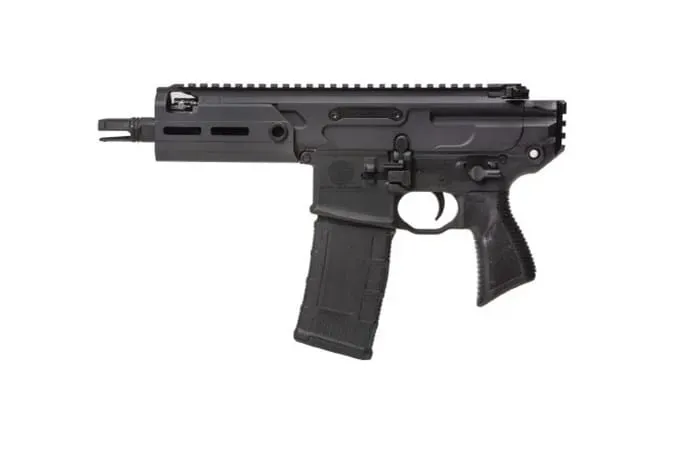 The Sig Sauer MCX Rattler is one alternative to the Dissent. While it has a similar quality, performance, and size, it comes at a premium with a significantly higher price point. The Rattler and the Dissent both have very similar operating systems and accessory packages, the Rattler does have an adjustable gas setting. But it also weighs in more than a pound heavier.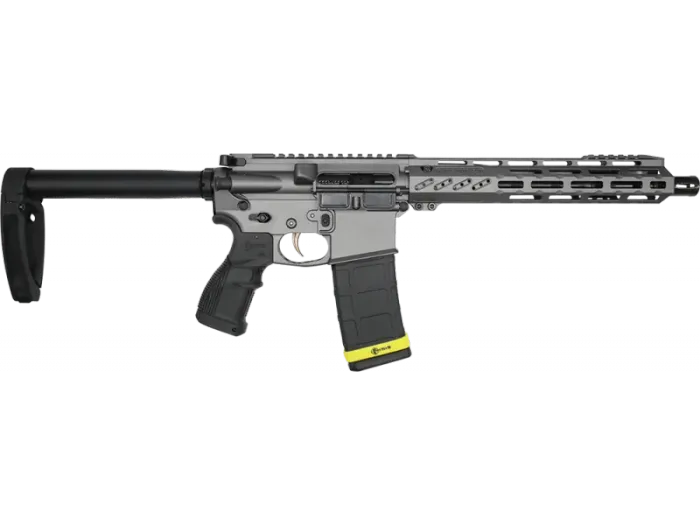 The Fostech Flite Tiger Mod2 is a very comparable AR pistol. The Fostech uses the traditional buffer system, so it will likely not get as small as the Dissent. That said it can be had for a bit less money at your local FFL, and it has very comparable features. It has the added availability of Fostech's fancy triggers that will further stress out your local ATF agent.
FAQs
What does CMMG stand for?
CMMG actually doesn't stand for anything, I thought maybe it was an acronym. But in fact it doesn't stand for anything.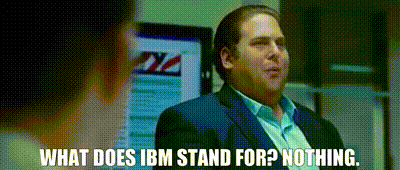 Are CMMG AR15s any good?
Based on the CMMG Dissent, and a couple other CMMG firearms I have had the chance to shoot, I would say yes they are certainly good products.
What was the idea behind the CMMG Dissent?
The CMMG Dissent was designed around CMMG's bufferless operating system, to reduce the overall length of the firearm in a firing configuration. AR pistols that use the traditional buffer system either need to be folded or disassembled to rival the diminutive size of the Dissent, which retains its ability to fire without assembly or unfolding a buttstock.  
Conclusion
I've said it already, the CMMG Dissent is a great option if you are looking to SBR or quasi-SBR an AR-15 type rifle. If you enjoy shooting AR pistols then I figure you can certainly do that with this one too. The gun works perfectly either way, and it is compatible with all the best options for either direction.
For me it is an excellent option with flawless function and a well executed design. CMMG has obviously put a lot of thought into their design, and added quality accessories to go along with it. Little things like their 60/90 degree safety that allow you to adjust the throw to your liking bring great value to the Dissent and other CMMG products as well.
If you are in the market for an AR pistol, do NOT overlook the Dissent, or at minimum look at it and the other pistol offerings from CMMG as they are hard to pass up.
Explore more