Colt M4 Carbine Review: Unleashing the Full Potential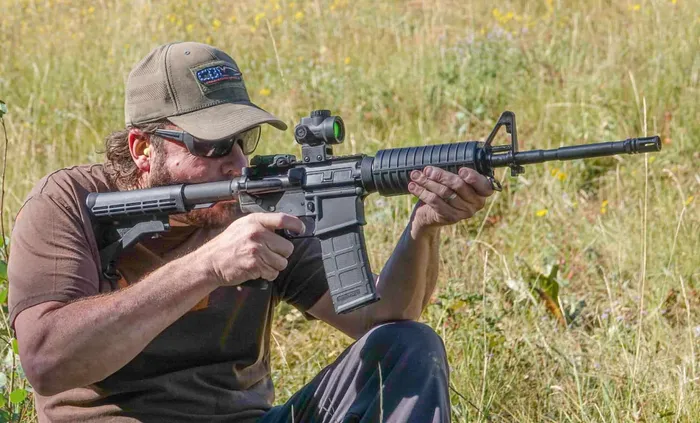 Colt M4 Carbine Review: Unleashing the Full Potential
Introduction
Colt has been around for a long time, and they are well known for making many famous firearms.
Today we will take a close look at one of them, the Colt M4 Carbine. The M4 Carbine has been used in both military and civilian activities, and it is perhaps as famous a firearm as any that Colt manufactures.
With so many Colt rifles out in the world today, I was surprised I was asked to review one, but it was a sacrifice I was willing to make for the public.
The Colt M4 is a direct impingement gas-operated semi-automatic rifle chambered in 5.56. The rifle was designed to be a lightweight and easy-to-operate fighting weapon, it uses standard Stanag pattern magazines.
The modularity of the AR-type rifle is surely responsible for the rifle's popularity, and the Colt M4 fits perfectly in that family group.
The M4 is a perfect place to start if you are wanting to assemble a battle carbine. It's compatible with all the most popular accessories. And with a strong history of service, it has been the choice of many both in the civilian and professional shooting world.
I picked up the Colt, ready to give it an honest look. As I lifted it from the box, I immediately began my inspection.
It felt like almost every other AR type rifle I'd ever held. The quality looked great, and the finish and feel just as I expected them to be. My initial impression was; I think we'll get along just fine.
Colt M4 Carbine Review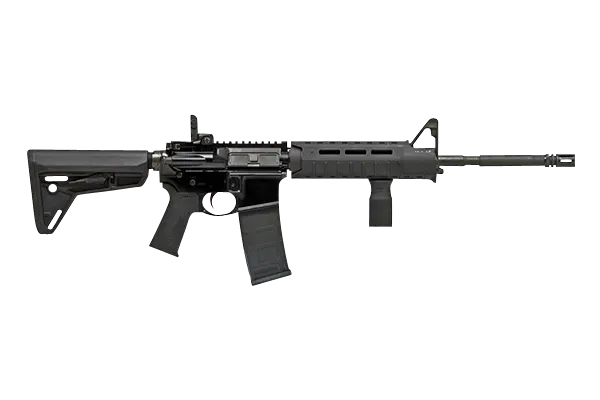 As a lightweight carbine, the M4 makes a great foundation for a fighting rifle. If you are unfamiliar with that term, I would refer you to all the Youtube channels where they can go deep into the subject of what makes a fighting rifle. The M4 makes a great foundation with its common features and its adaptability.
The name Colt does come with some history, and therefore it often fetches a higher price than your typical house-brand AR. It's not outrageous, but if you are looking for a cheap option, you may want to look elsewhere.
But if you are perhaps a little more distinguished shooter, or at least wish to be, then a higher tier rifle like this would be a good place to start. There are both worse and better options to go with, I suppose is my point, but only you can decide if the price fits your needs.
Specifications
| | |
| --- | --- |
| Caliber | 5.56 Nato |
| Capacity | 30 rounds |
| Barrel Length | 16.1 inches |
| Action | Direct Impingement |
| Weight | 6.5 pounds |
| Overall length | 29.75 inches (stock collapsed) |
| Barrel Twist | 1-7 inches |
Pros & Cons
Pros
Compatible/universal, I mean c'mon it's an AR 15

Well established service record

Light weight

Easily maneuvered

Threaded ½-28 barrel to change muzzle devices
Cons
Probably a little more costly than comparable AR's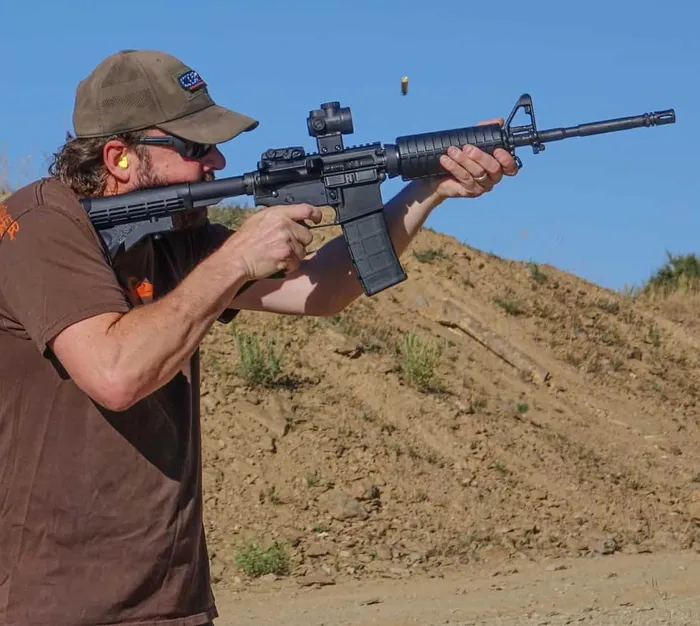 On The Range Testing
I installed a Trijicon MRO on the rifle, and headed to the range. With a stack of magazines and ammunition I figured was big enough to get a good feel for the rifle, I began my range session.
There is something so familiar with this rifle; everything about it was in place. I've never had any formal training on the M4, and yet it still felt like an old friend.
Reliability
As I expected, the Colt M4 functioned flawlessly during my testing. No service or lubrication was needed, I just loaded the rifle and shot it.
The rifle barks like you expect any AR to do, and the recoil is very modest, which is nice considering how light it is. And the weight makes the rifle very easy to handle and move around. It's quite apparent why the rifle enjoys so much use by so many agencies.
I brought a bunch of PMC Bronze ammunition for the rifle to consume, and it happily functioned through it all flawlessly. Using both Pmags and the traditional metal OK individual magazines, the rifle kept going.
The trigger is a pretty standard mil-spec as far as I can tell, nothing too fancy, but surely good enough for my purposes. Compared to other imported service weapons, it could certainly be considered an upgrade.
Overall Feel
While I may say it's a bit run-of-the-mill for an AR, that's not necessarily a bad thing. I think the rifle has everything a potential buyer would want.
The very basic furniture on the rifle may not turn heads for all the mall ninjas at the range, but it's become obvious to me why these are the basic parts of the rifle.
They simply work comfortably and methodically. The collapsible stock makes the rifle easy to fit different shooter statures or different apparel and body-armor use. The basic forearm may be reminiscent of decades past, and it may not win any beauty contests, but I couldn't complain.
Shooting the M4 was a pleasant experience. Reloads came easily and quickly. I found the MRO to be a perfect companion for the rifle, allowing rapid target acquisition and engagement.
In my opinion, this rifle is ideal for engaging targets in the immediate range of the shooter, and with this sight, I found hitting anything inside two-hundred yards to be quite simple. And targets as far as three-hundred yards away required only slightly more effort.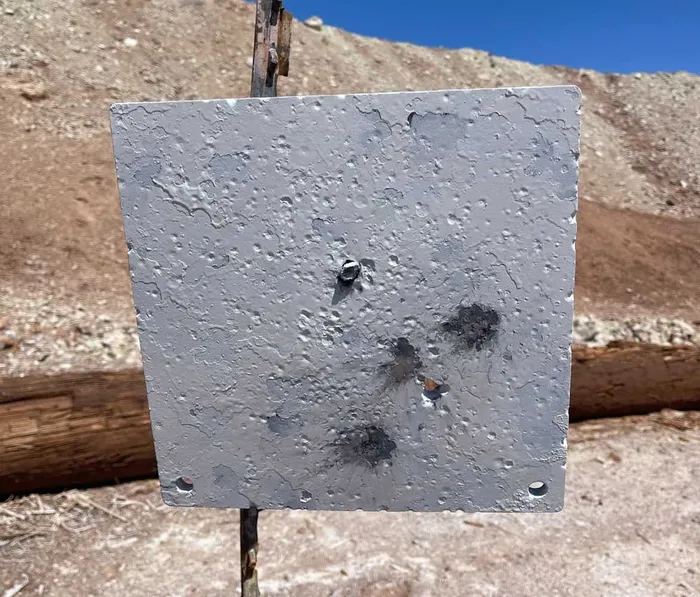 Accuracy
I expect the rifle would provide me with better accuracy groups if I used something magnified. But I think expecting this rifle to shoot 1-1.5 MOA is certainly doable.
After several hundred rounds puncturing various paper and steel targets, I felt quite proficient with the little Colt. There were a few things I couldn't reasonably engage in on the range.
I could also understand why this rifle has become such a standard for so many purposes, the function and flow with this rifle are familiar as can be.
Rested shot groups at the two-hundred yard-line measured 2.5-3 inches, which I didn't feel was very bad using a non-magnified optic. And should you use the 77-grain ammunition, you could certainly expect more power at that range.
Features
Collapsible Stock
Collapsible stock- Easily adjusted for different shooters, or to accommodate body armor or heavier clothing.
Mil-Spec Trigger
Mil-spec Trigger – The two-stage trigger is nothing to write home about, but it is perfectly usable. And of course, since it's an AR, you can swap it out for anything you like.
Flat-Top Receiver
Flat-top receiver – This has vastly broadened the sight mounting options of the rifle. You can use traditional iron sights, or like me, you can add a red dot of your choice however suits your fancy. There is plenty of room for larger LPVO type sights as well.
1:7 Twist Barrel
The 1:7 twist barrel is optimal for 77 grain and lower ammunition. It's threaded ½-28 at the muzzle which makes it easy to change muzzle devices and add a suppressor if desired.
How We Tested
The duration of my testing was done in and around 300 yards, using, for the most part, 55 grain FMJ ammunition.
Most of the shooting was done using partially loaded magazines and shooting various self-imposed drills. Shooting back and forth between multiple targets, double tapping one target and then another.
Transitioning between near and far targets, as well as maneuvering between shots. Reloading drills were also performed frequently, shooting one round each at two targets, reloading the magazine, and engaging the same two targets again.
The day went by too fast, and I had quite a bit of fun. The rifle was perfect for all these drills, and is likely the reason I enjoyed it so much. I wish I had brought another sight option with me to the range. I would have liked to see how well the rifle did at two and three hundred yards on paper targets. Just to satisfy my own curiosity.
Ammo Used
For the majority of my shooting, I used PMC Bronze ammunition loaded with 55-grain FMJs.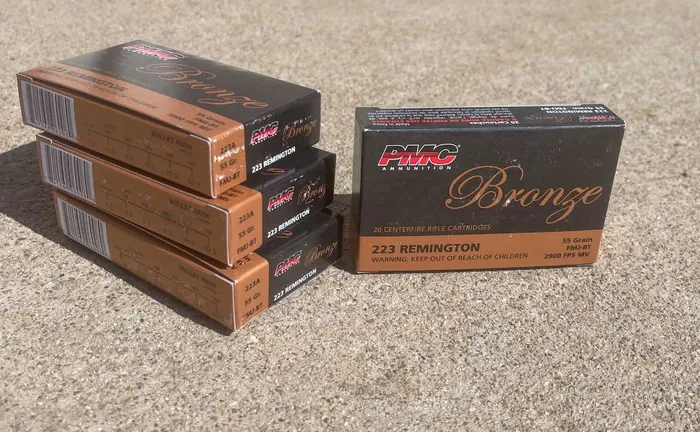 Score Card
Reliability (10/10)  
No malfunctions were experienced
Ergonomics (8/10)
Other than adding some more preferred furniture to the rifle, it feels great.
Customization (8/10)
It's an AR15, so you can pretty much do whatever you want to customize the rifle.
Appearance (8/10)
The M4 is perhaps one of the most recognizable rifles in the world; besides its celebrity, it's just a handsome little rifle. And its clean manufacturing and finish are apparent.
Value (8/10)
The Colt M4 is not inexpensive as far as AR rifles go. Surely you could find a very comparable example or M4 clone from another manufacturer for less. But it's not the Colt M4. It may be hard for some to justify the roughly $1100 street price for an M4, but that is up to you.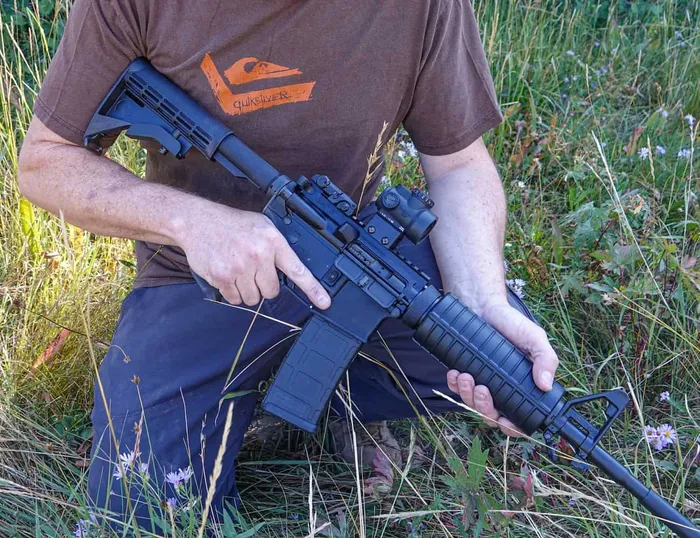 Accessories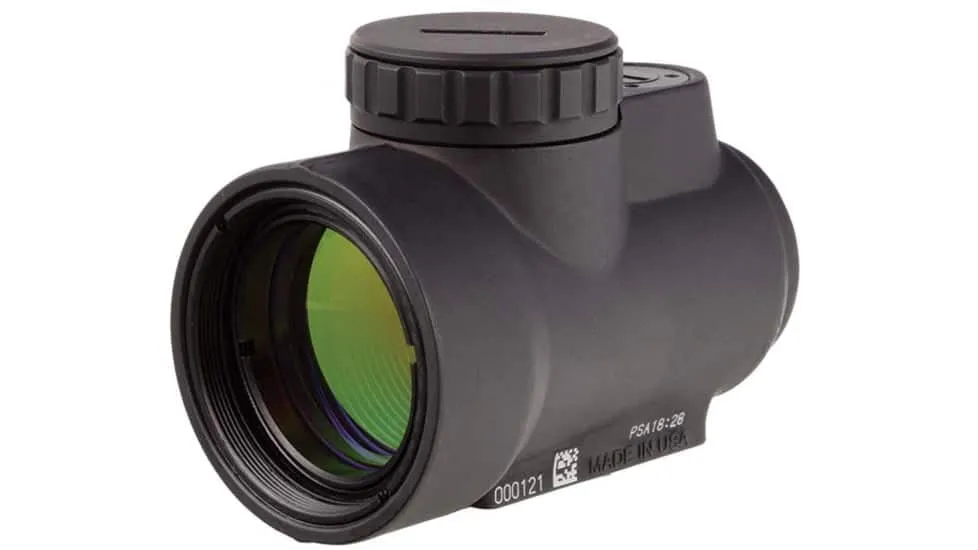 I loved the MRO on the M4. They are a perfect pairing. Obviously, something comparable would also make a good choice, but this is what I chose.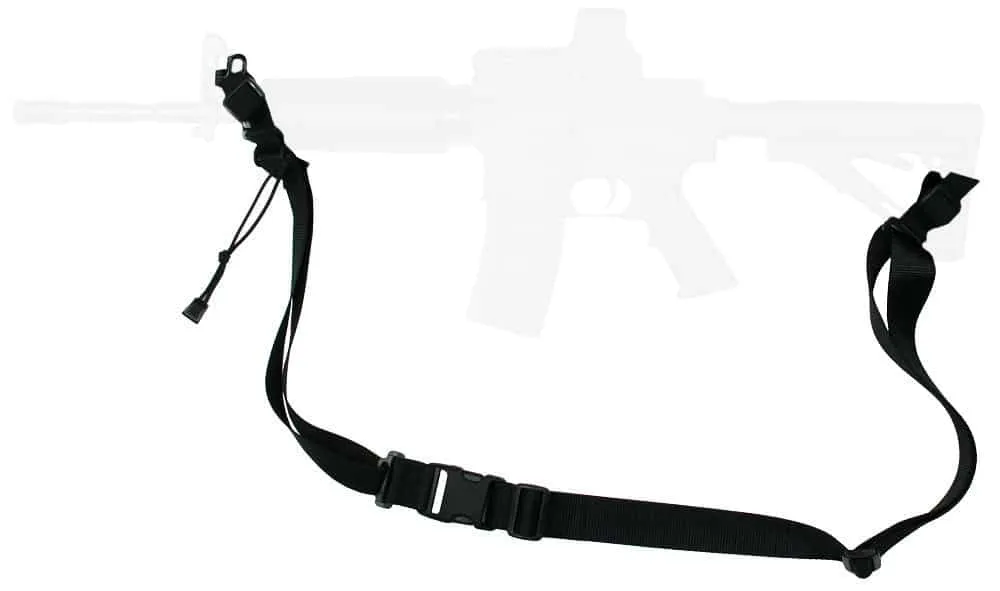 A good sling would be helpful for the rifle. If you like two-point slings, you could try this Specter Gear.
Alternatives
Bravo Company also makes a good M4 carbine model, it will cost you a bit more than the Colt, but it too has a good reputation.
The Bravo Company M4 Mod 3 carbine is built to excel in harsh extremes with several duty-proven enhancements. The carbine's 16-inch-long, chrome-lined, phosphate-finished barrel has a 1-in-7-inch twist rate and a standard A2-style flash suppressor.
The rifle also features a mid-length gas system, which provides a smoother recoil impulse and less wear and tear on internal parts than a carbine-length gas system.

A much more affordable version of the M4 carbine is available from Palmetto State Armory.
The Palmetto State Armory (PSA) PA-15 M4 is a great alternative to the Colt M4 because of its value and quality. PSA is known for producing high-quality ARs at an affordable price, and the PA-15 M4 is no exception. It's one of those companies where budget AR-15 options are the norm, but its base model PA-15 is tough to beat when you're getting your legs with the platform.
The PA-15 M4 features a 16-inch barrel with a 1-in-7-inch twist rate and a mid-length gas system. It also has a chrome-lined bolt carrier group and an A2-style flash hider. The rifle has been tested in harsh environments and has proven to be reliable and accurate.
Conclusion
After spending some range time with the Colt M4, I have come to appreciate the familiarity and simplicity of what many may consider a run-of-the-mill AR-15. I can see why the rifle has become so prolific in the shooting world, and particularly in military and law enforcement communities.
There are so many different M4 carbines a guy could choose from nowadays it can almost be a tough decision.
But I think the Colt is not a bad choice. It brings its history of reliable service and modern manufacturing. Some might say that Colt has gone down in quality in the recent past, and they have recently joined forces with CZ, which I believe can only help the brand.
What do you think of the Colt M4? Let us know in the comment section below.
Explore more