Best Red Dot Sights For AR-15 [2023]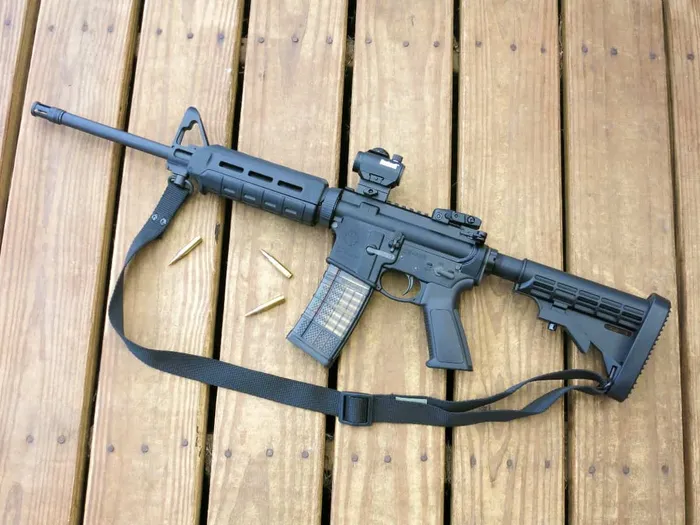 Best Red Dot Sights For AR-15 [2023]
Cover Photo Credit: James Case
So, you've bought yourself an AR-15 and you're looking forward to upgrading it.
To many gun enthusiasts like myself – customizing or building an AR-15 is fun and it's very rewarding to see it in action at the ranges.
If you've already picked a comfortable pistol grip, stock, magazine, sling, the AR-15 probably feels like a limb of your own. But, what about sights and optics?
The first thing that comes to mind is red dot sights, and they are an absolute, unbeatable standard when close- to mid-range shooting is in question.
In this ultimate red dot optics guide, I narrowed down the aftermarket pool and rounded up the top five best and most versatile red dot sights for your AR-15.
Here's a little roundup:
From budget options to premium choices, we'll talk about their features, what makes them special, where they excel, where they flop, and highlight minor details that make a world of difference when aiming down your sight.
I also devised a helpful little buyer's guide that will show you exactly what to look for in red dot sights.
Best Red Dot Sights For AR-15
Let's dive into our favorite red dot sights for the AR-15!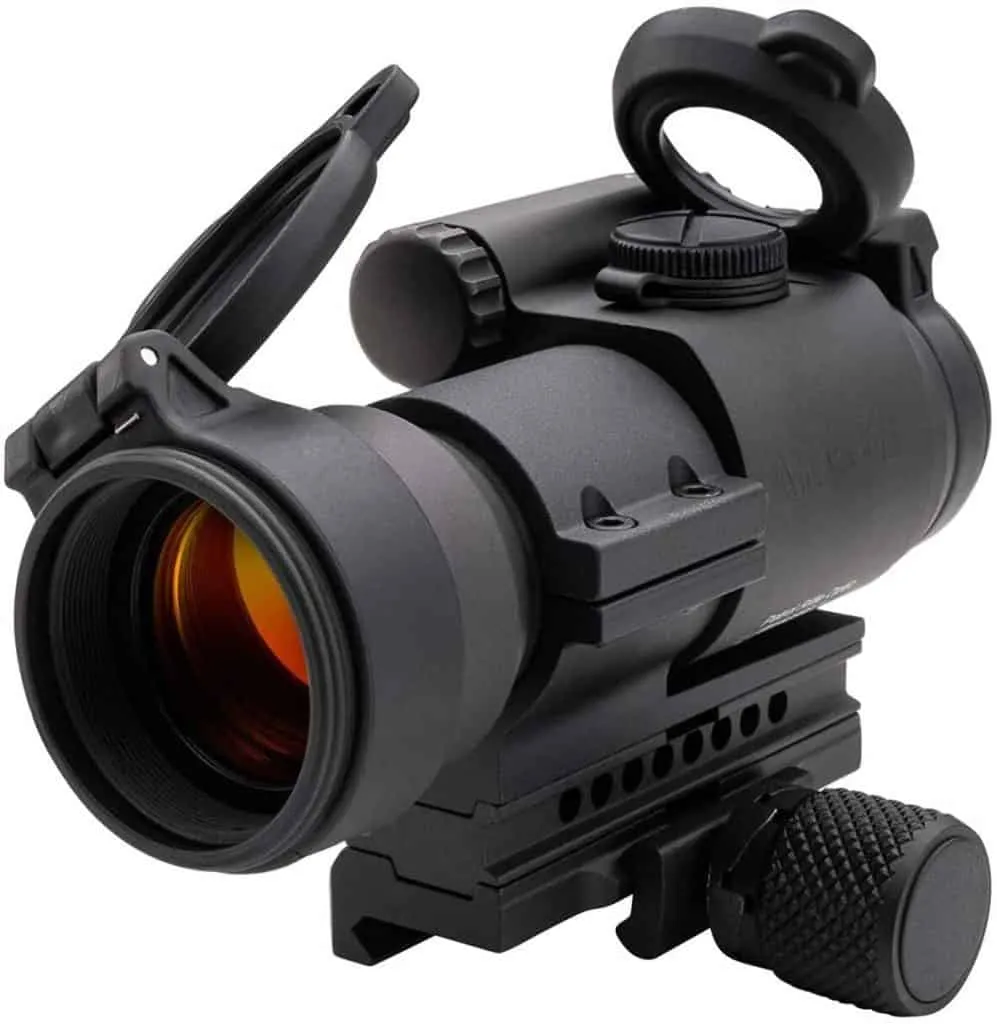 Our overall best pick just has to be the Aimpoint PRO (the 'PRO' stands for 'Patrol Rifle Optic'). 
Pros
2 MOA reticle

10 brightness settings

3-year battery life

Great co-witness mount

Durable

Night vision for low-light shooting

Lifetime warranty

38mm objective lens
Cons
Expensive

No brightness memory

Heavy and bulky
I specifically chose the Aimpoint PRO because it has all the features one might need, and though it might be a premium option for some, it offers unmatched target acquisition, convenience, and ease of use. It simply gives your AR-15 profound accuracy and precision.
The Aimpoint PRO boasts all kinds of characteristics of durability. It can withstand harsh temperatures from -50°F up to 160°F, it's waterproof below 150 feet, has a night vision function, a 2 MOA dot strength, and although it's bulky, the hard-anodized aluminum alloy makes it very resilient.
It's suitable for night hunting because of the night vision and has superb low-light condition brightness. Additionally, the PRO has a 2-minute angle red dot for fast target acquisition and doesn't need activation switches. It's definitely not a red dot for beginners.
The objective lens is 38mm, the red dot reticle is 2 MOA, and it has unlimited eye relief. The adjustable click value is 0.6 inches at 100 yards and it also applies to windage adjustment, not to mention the multi-coated, anti-reflective coating on the lens. This explains the heavy weight.
The batteries are a V3 lithium battery that can go up to 30k hours, which clearly indicates that it's designed for military and law enforcement. I can safely say that the Aimpoint PRO has everything you need for short to mid-range AR-15 shooting.
You can also check out the Aimpoint Micro H-2 Red Dot Reflex Sight if you want something more lightweight. The Aimpoint Micro is more expensive, but it might be better suited for you.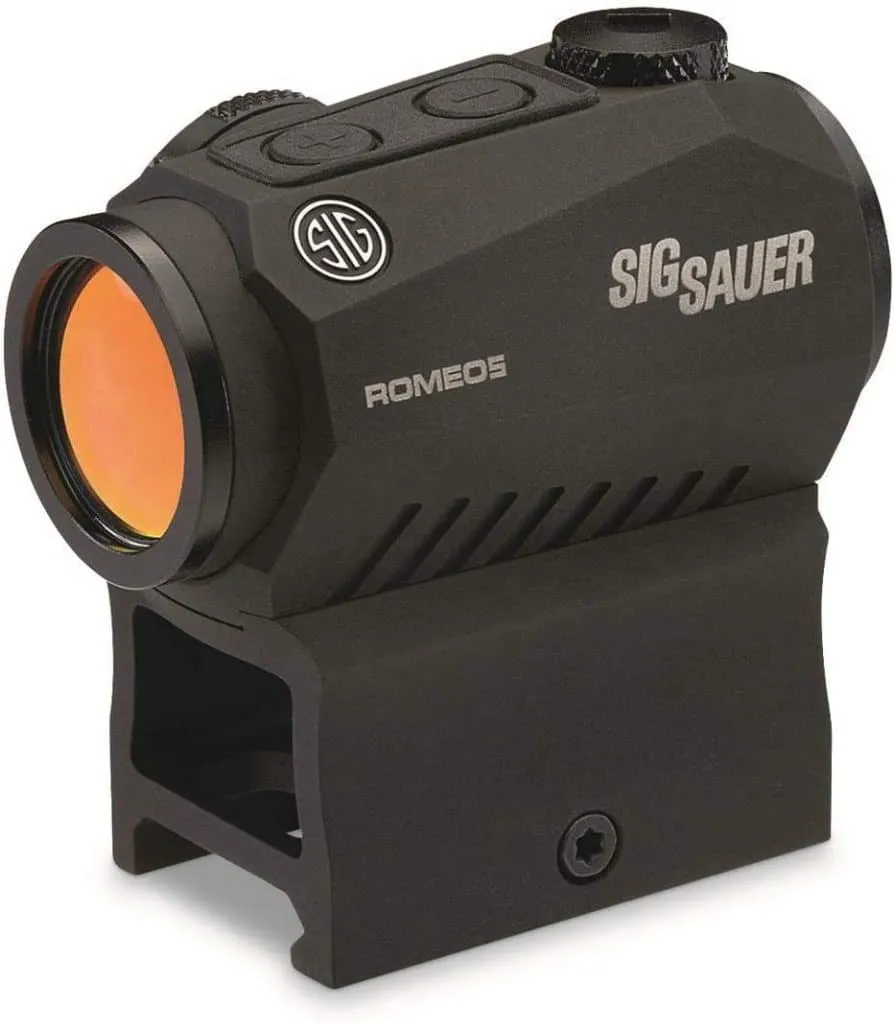 Pros
One of the most solid reflex sights that's rated IPX-7

Comes with backup batteries

10 brightness settings (two are night vision settings)

Durable, waterproof, and fogproof

Has a MOTAC feature

Sig Sauer Infinite Guarantee and Electronics Limited Warranty
Cons
Small objective lens

MOTAC feature might be annoying for some
If you're looking for something cheaper than the Aimpoint sight, here's Sig Sauer with the Romeo5.
The Romeo5 has a 20mm SpectraCoat multi-layered anti-reflective Tube Reflex coating that has an impeccable light transmission and glass clarity. The 2 MOA red dot reticle has 10 brightness settings, two of which are for night vision hunting, and it offers unlimited eye relief for solid target acquisition.
The solid aluminum construction is waterproof and fog proof, while the motion-activated illumination (MOTAC) might just be your favorite feature if you give it a shot. The Romeo5 detects motion once you pick up the AR-15 and it turns itself on; if you leave it motionless for a few minutes, it turns off. A very nice battery-saving feature if you ask me. However, it can be a hassle if you keep your rifle in your trunk because of how the vibrations from the road will keep it "awake" and drain the battery faster.
The elevation and windage turrets are easy to use and adjust in comparison to most Aimpoint red dot sights, and zeroing the red dot scope doesn't take much time. The Romeo5 has a Picatinny low mount and a co-witness mount option with a mounting and adjusting tool. Additionally, it comes with a replacement battery, a lens cloth for cleaning, an extra lens cover, and a Sig Sauer limited warranty!
You should know that there's the Romeo 5 XDR Compact version available if you're going for something with more reticle options, AAA batteries. The caveat is that it's slightly more expensive.
Premium (Fanciest Option) – Trijicon MRO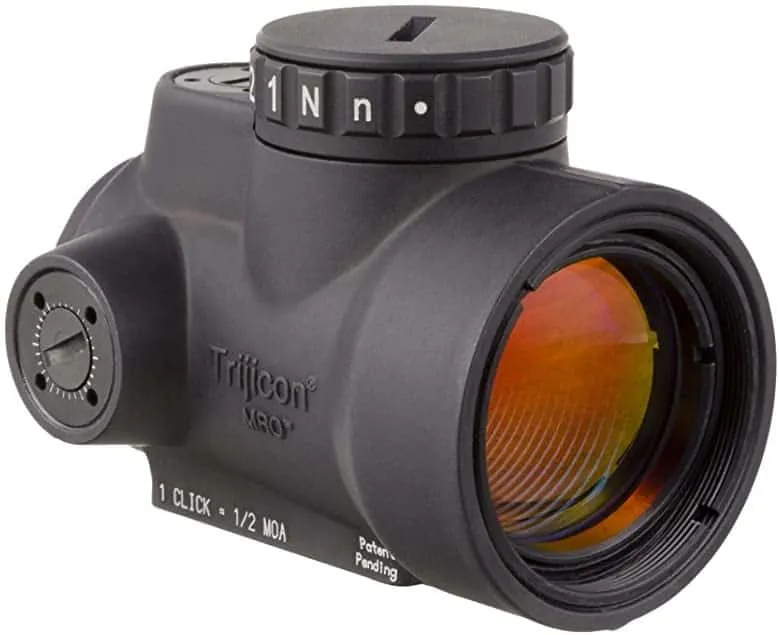 Pros
Compact, waterproof, and lightweight

5-year battery life

Easy to co-witness

Efficient night vision device
Cons
Very expensive for its features
The Trijicon MRO (Miniature Rifle Optic) is a compact 2 MOA red dot sight that's perfect for those who are looking for a lightweight option. I've also seen high praises for the Trijicon RMR models (see our Trijicon RMR Type 2 review here) with a 3.25 MOA and 6.5 MOA reticle, but the Trijicon MRO has greater value.
Trijicon is known for its optics, and the MRO is an excellent option when it comes to enhancing target acquisition. The various mounting options, open reflex sight, wide field of view, and 7075 aircraft-grade aluminum explain why the price is hefty.
The lens is fully multi-coated, waterproof, and durable, and the unit has 8 brightness settings with two-night vision modes. You can set the brightness to level 3 and expect 5 years of battery (CR2032) life.
I personally like how wide the field of view is. Most AR-15 owners are looking for this trait, and the MRO delivers excellent target acquisition and visibility. It comes with a low mount adapter that's suitable for weaver-style rails.
The MRO is waterproof, the forged aluminum offers great durability, and the glass is clear enough for people with astigmatism. You can adjust the brightness with both hands as the controls are ambidextrous. Flipping the caps for the lens system and quickly changing targets around the 50 to 100-yard mark is a breeze with the ACOG reflex sight.
For a premium option, it's a great investment and the value is pretty balanced. Though, I wouldn't recommend the Trijicon MRO to beginner AR-15 riflemen.
Speaking of premium options, here are some high-end AR-15 manufacturers if you're looking for high-quality AR-15 rifles.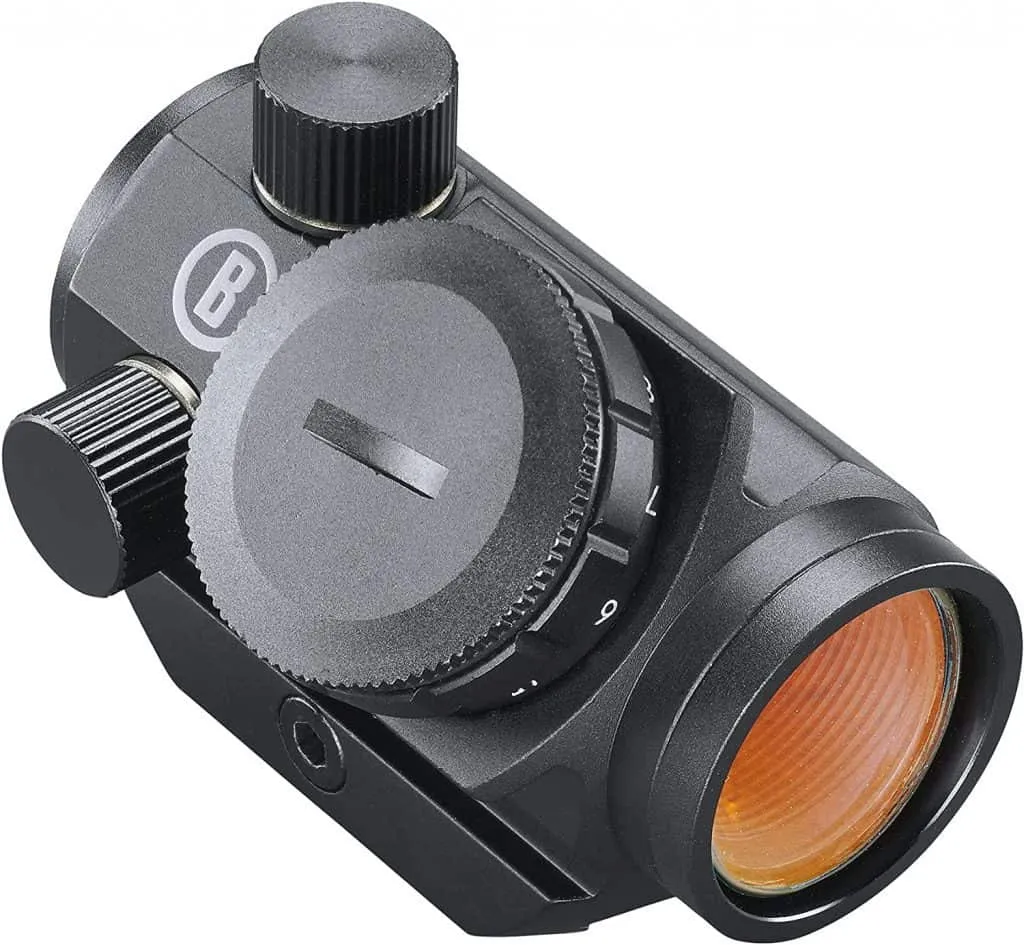 Pros
The best budget red dot sight on the market

Solid 3 MOA reticle

Unlimited eye relief

11 brightness levels

5,000-hour battery life

Auto adjustment mode for better control

Shockproof and waterproof

Lifetime warranty
Cons
No brightness memory

Auto mode has no on/off buttons

Not very effective in broad daylight
And here it is folks, the Bushnell Trophy TRS-25—a 1x magnified optic, 3 MOA reticle, standard 1CR2 batteries, 1x25mm ultra LED lenses, and tube reflex optics. It's amazing how the price is under $100. This is definitely a great red dot option that should be available in bundles, but so far I haven't seen any.
The reason why it's so inexpensive is that there are not many features, and it relies entirely on an auto mode that might not be suitable for some. But, don't worry, it's really functional, with easy windage and elevation adjustments, holds zero pretty well, and it's small enough to be pocket-friendly.
Tube sights such as the Bushnell Trophy TRS-25 maintain clear and brighter reticles than most open reflex sights, and it offers fast target acquisition with its 3 MOA dot reticle, 11 brightness settings, and the optic is higher than the iron sights for convenience.
What's great about the Trophy TRS-25 is that it has a 'two-eyes open' shooting feature for that much-needed eye relief, and the aluminum mount with lower third co-witness offers an uncluttered field of view that's perfect for AR-15 rifles with fixed sights. The nitrogen-purged fogproof scope is durable in humid weather, so you can say that it's great for forest hunting.
I would also recommend getting the 1-inch UTG Compact Riser for your Picatinny rail if you're having trouble with the mount and elevation adjustment.
Overall, for an under $100 option, it's amazing how it has every standard one might need. The red dot is crisp, the construction is durable, and if used properly it might be the only red dot you'll ever need.
If you're looking for a well-balanced budget option AR-15 that has all the standard features, the DPMS Oracle AR-15 is worth a shot. Check out our review here.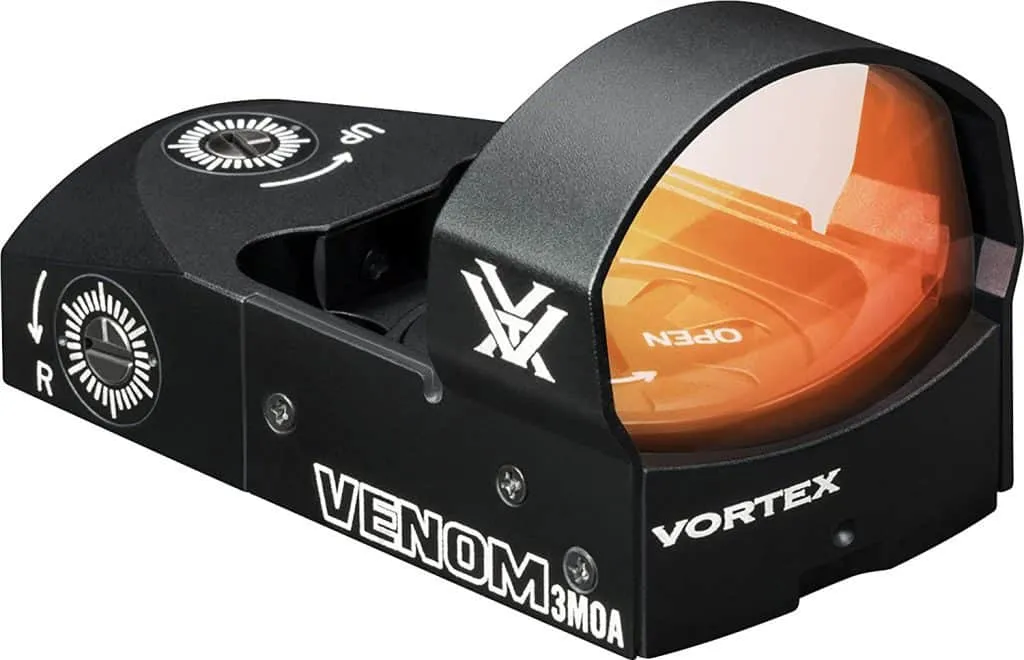 Pros
Best value

6 MOA dot reticle with 10 levels of brightness and fast auto mode

Shockproof, weatherproof, and scratch proof

Effective up to 100 yards

Vortex lifetime warranty
After careful consideration, splitting hairs, and comparing every tiny detail, I've concluded that there is no red dot sight that offers features for the money like the Vortex Venom does.
The Vortex Venom is a fully multi-coated, exposed reflex red dot sight with 3 MOA or 6 MOA dot reticle options, 26.5mm lens, and most importantly, it has minimal parallax deviation. The field of view is one of the widest when compared with other red dot sights.
It has 10 levels of brightness and it's manually adjustable. I was amazed at how accurate the auto mode is; it adjusts perfectly and turns on in an instant if you need it for a quick draw.
The 1 MOA windage and elevation knob adjustments are also very comfortable to use, and it holds zero very well, even after hundreds of rounds. The mounting O-ring seals prevent moisture and debris, while the CR1632 3V battery can go up to 30,000 hours!
The red dot is crisp and visible in broad daylight conditions, the 6 MOA is very consistent, offers quick target acquisition, and is effective around the 50- to 100-yard range. As for the power and dot intensity controls, they're conveniently placed on the left side of the sights.
The Venom offers solid eye relief for two-eyed shooting, has a waterproof, scratchproof, snag-free, and shockproof construction with a hard-anodized finish, and offers impeccable clarity.
The characteristics of the Vortex Venom are akin to some premium, high-quality competitive lens and yet it still remains at a relative budget level. I don't know what is going on or how they do it, but you better snag one before they realize what a mistake they're making with that low price.
Holosun SCRS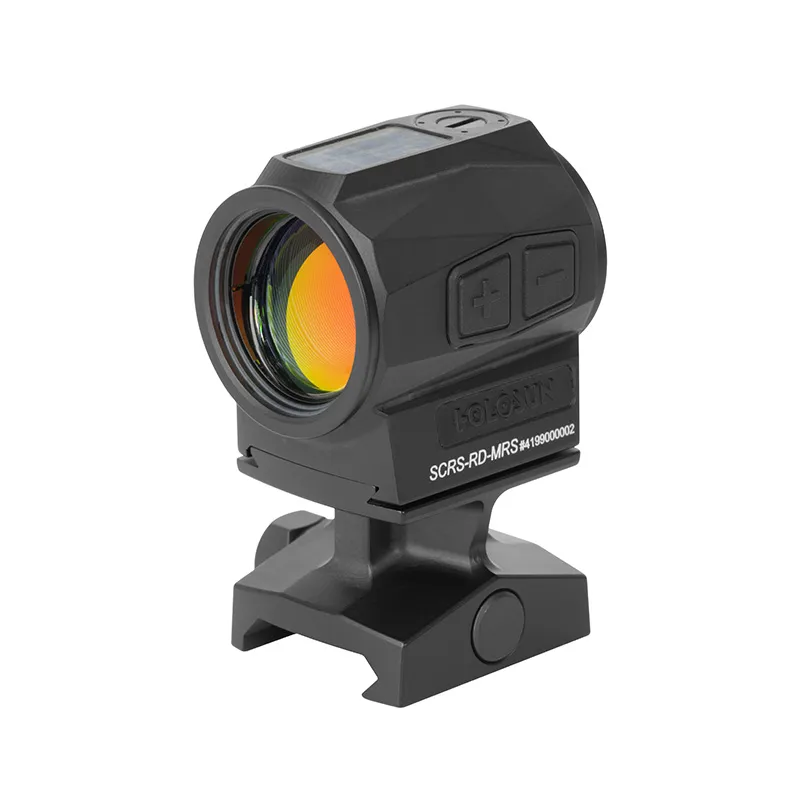 | | |
| --- | --- |
| Reticle | 2 MOA Dot, 65 MOA Circle or combination |
| Reticle Color | Green (also available in red) |
| Magnification | 1x |
| Brightness Settings | 12 (four of which are night vision compatible) |
| Power Source | Solar & Battery |
| Battery Type | Internal Rechargeable Battery |
| Battery Life (Hours) | Unlimited! |
| Dimension | 1.7 x 1.35 x 1.6 inches |
| Weight | 2.45 ounces |
| Housing Material | 7075 T6 Aluminum |
| Submersion | IP67 |
Pros
Solar charging
Dual reticles
Unlimited battery life
Durable housing
Compact and lightweight
Cons
No quick-detach mount
Small buttons
Looks fragile on rifles
The Holosun SCRS stands out as one of the best red dot sights for rifles, thanks to its innovative solar charging technology. The solar charging gives the SCRS essentially unlimited battery life – a major advantage over most other red dots that require periodic battery changes. In our experience testing the SCRS, we never had to worry about the battery running low, even after extensive range sessions.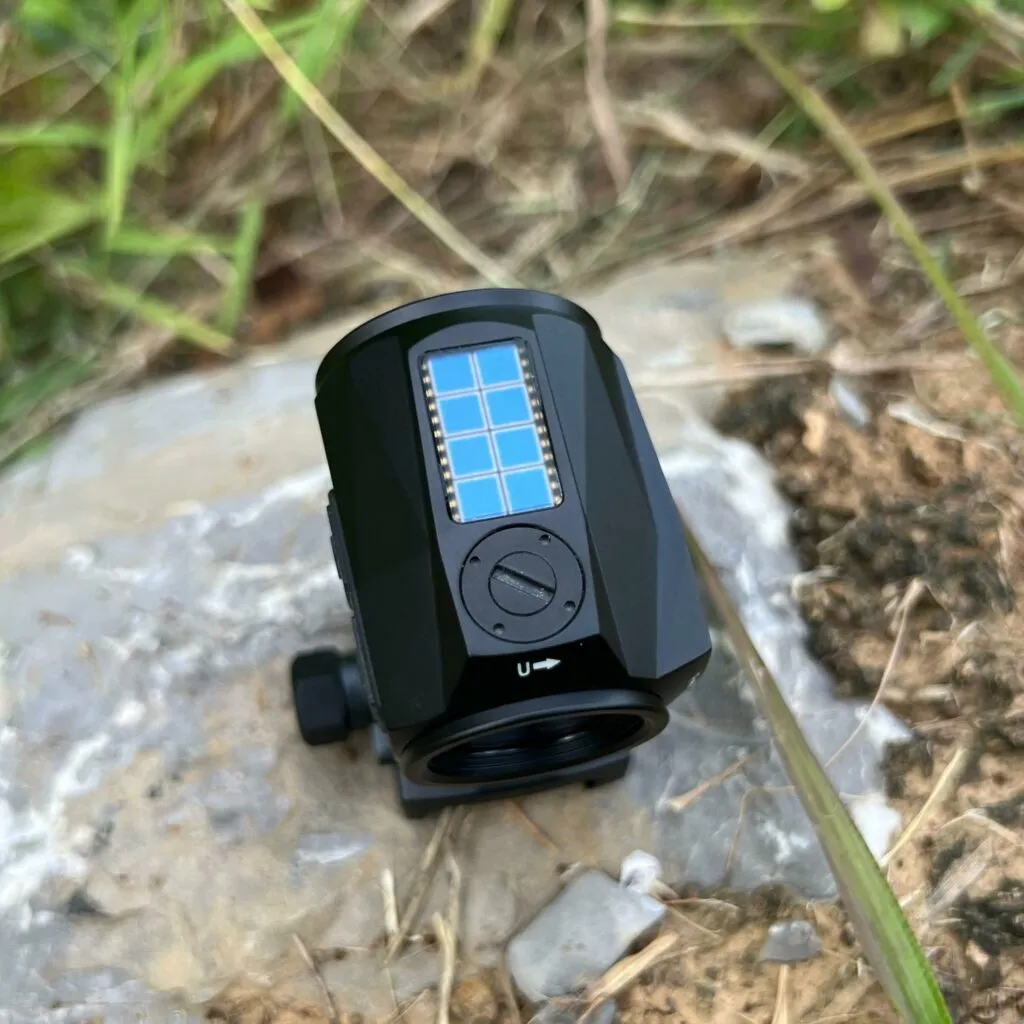 Another big selling point of the SCRS is the multi-reticle system, allowing you to switch between a 2 MOA dot and a 65 MOA circle reticle. Having both options in one optic is extremely versatile. We found the simple press of a button to change reticles very convenient during testing. The circle reticle helped acquire targets quickly at close range, while the dot remained precise for longer shots.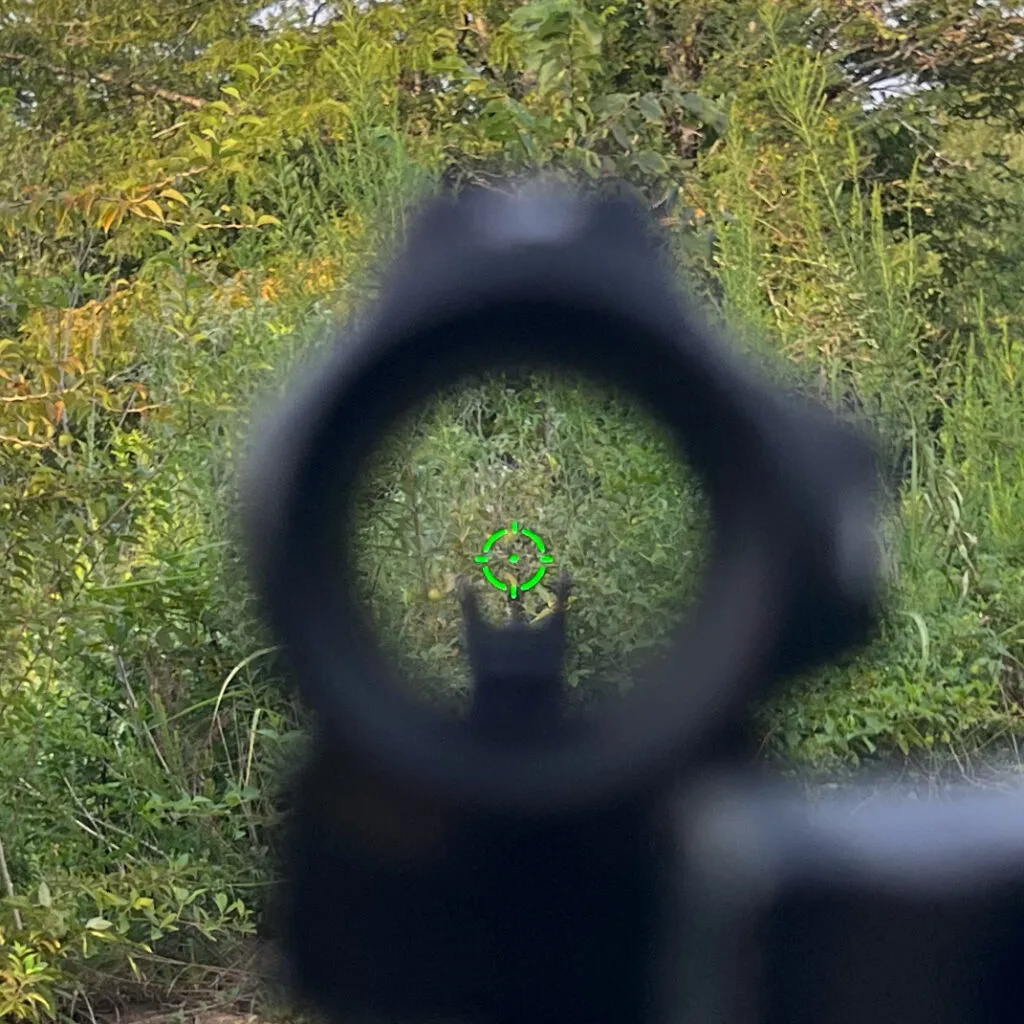 Finally, the rugged IP67-rated aluminum housing makes the SCRS durable and reliable. Though compact in size, the SCRS proved just as shock, water, and dust resistant as much larger rifle scopes. After runs through rain, drops, and bumps during testing, it never lost zero or had any issues. For the price, you get optics and electronics that can withstand serious abuse.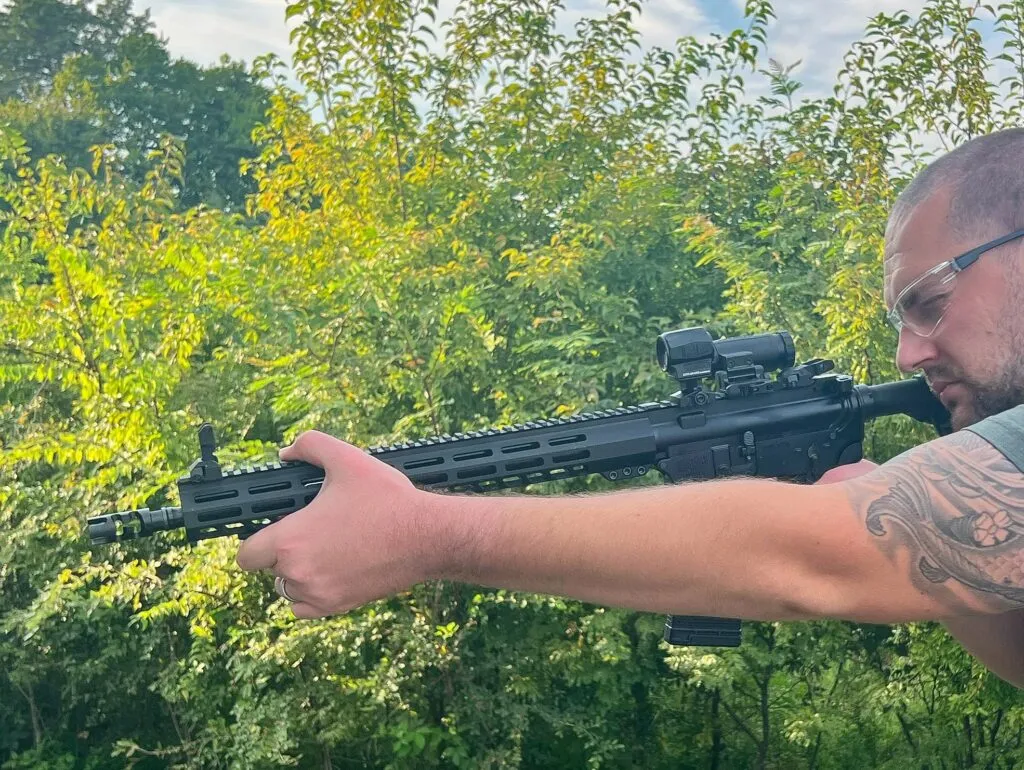 In summary, with game-changing solar power, dual reticle options, and bombproof construction, the Holosun SCRS stands near the top of the rifle red dot sights market. Our hands-on testing confirms its place on any list of the best optics for AR-15s and other tactical rifles.
Honorable Mentions
Here are some honorable mentions deserving of recognition.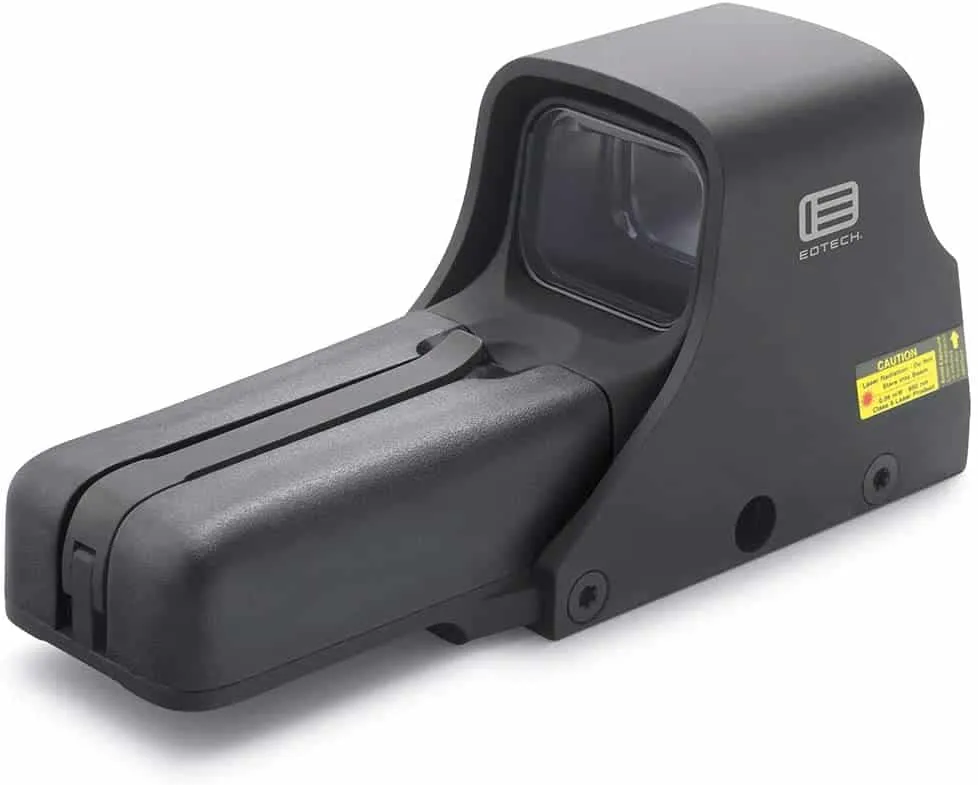 Pros
20 brightness levels

Auto-off

Durable and 

User-friendly controls
The EOTECH 512 is a holographic sight, not a red dot, but we decided to include it anyway due to its more-than-justified popularity. EOTECH is a brand that focuses on holographic weapon sights almost exclusively.
The unit is a holographic 1 MOA dot with a 68 MOA ring that costs slightly more than your standard red dot sight, but the 512 model is a fairly decent optic that's suitable for rookie shooters. Since it's a holographic one, best believe it eats batteries.
What I like about this model is the 20 brightness settings, 1 MOA dot, and the easy-to-use HUD. It uses 2 AA batteries and lasts around a thousand hours, but it has an automatic shut down mode at around 4 to 8 hours. The lens has a high-quality anti-glare 20mm coating that's water and fogproof. It might as well be one of the best holographic sights when ease of use is in question.
This EOTECH sight is favored by law enforcement and military personnel. I chose this one because it's lightweight, non-magnifying, and perfect for close quarters. If you're willing to pay more for a holographic model, this is it.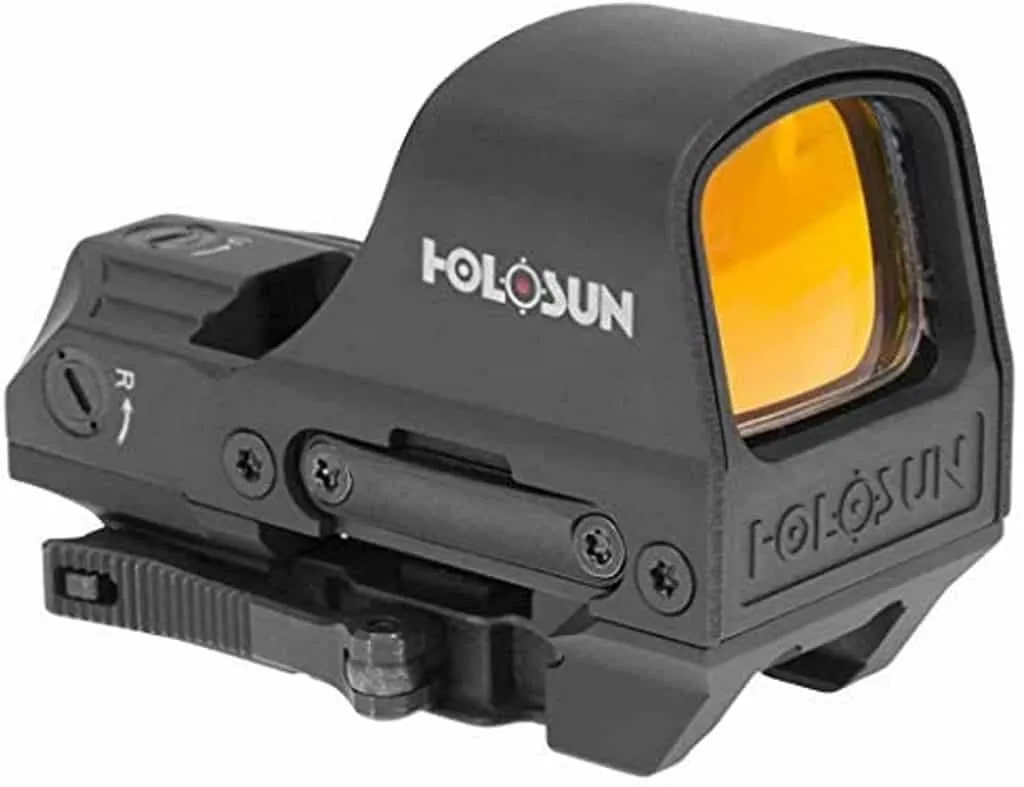 Pros
Battery-focused reflex sights

Flexible and easy-to-use QD (quick detach) mounting system

Decent brightness with LED technology

Good value for the money

Solar panels for extended battery life

Motion sensor shake awake system

Multiple reticles
Cons
Heavy (9.3 ounces)

Not very precise automatic brightness mode

Zeroing in is a hassle
We're not going anywhere without mentioning Holosun. The brand has made ripples since 2013, and I can only anticipate more innovative sporting gadgets in the future from this company. Here's some solar power for you.
The Holosun HS510C reflex sight is entirely focused on NextGen LED technology, combined with extended battery features. It's an exposed reflex sight in a holographic shell with high-quality LED technology that offers solid brightness.
Not only that, but thanks to the solar panel, emergency solar failsafe, and CR2032 battery backup, it can last up to 50,000 hours when on medium settings.
As for target acquisition, Holosun decided to go with the 2MOA standard red dot with 65 MOA ring. The multiple-reticle system allows you to toggle sections of the reticle as you see fit, depending on the range or daylight.
The shake awake onboard motion sensor is also a nice touch. If it senses motion, it turns on, and if you leave it still, it turns off. Pretty standard stuff for a battery-focused red dot sight.
The automatic mode is solar-powered and it adjusts the brightness by following lighting conditions but it doesn't do much of a good job. The auto-brightness might be hazy or low for some. As for parallax, it's near-zero and the field of view is decent enough.
Buyer's Guide for the Best Red Dot for AR-15 Rifles
There are lots of great red dot sights on the market today, and believe me, most of them are of great quality and do their job just fine. But, there are tiny details and features that can either make or break your target acquisition.
Red dot sights are here to give you the edge in precision shooting when it comes to mid-range AR-15 use. You're free to use other scope models, but the red dot is a definite standard.
One warning though, please don't look for dirt-cheap red dot sights. Unless you're shooting something with low recoil, I wouldn't recommend options that are too low on the price spectrum.
Here are some very important characteristics to look for when buying a suitable red dot sight.
Field of View
It's very important to know whether or not you want a tube-sized scope or something with a wider field of view. Make sure your field of view covers a 100-yard arena, and remember that the FOV is directly proportional to magnification.
A quality rifle red dot sight needs to have good rifle scope which allows you to better acquire your target whether it's near or far. In most cases, the higher the magnification, the better the aim.
If you're interested in some lightweight AR-15 options, check out our list of the best lightweight AR-15s.
Variable and Fixed Magnification
There are two types of scopes: scopes with variable magnification and fixed magnification.
With a fixed magnification scope you won't have many options to adjust and there are no controls on the power ring, while the variable sort does have better ones. So, keep in mind when you're browsing for red dots because this characteristic is very overlooked.
A quality red dot sight needs to be adjustable to your every need in every weather condition and time of day.
If you're looking for a handgun red dot sight the Vortex Viper is an excellent option worth checking out.
Weight and Size
Always look for lightweight and compact red dot sights, unless you can try it out first and decide whether or not it's too heavy for your shooting style. The weight won't impair your accuracy much, but for some, this may be a really annoying hindrance.
Red dot reflex sights like the Holosun HS510C are heavy, but people have no problems using them, so it still depends on you. Keep in mind that lightweight options are always a good idea, and you probably won't even need those extra accessories like knobs, solar panels, or lens caps.
Here's our roundup for the best bolt carrier groups for AR-15 rifles.
Durability and Weather Resistance
Of course, by durability I mean how long will it last, not how battered it looks. I for one really think that those scratches and nicks look pretty cool. But, when it comes to sights, you probably don't want to see battle scars on the surface of your optics.
I suggest you look for anodized or hard-anodized aluminum, titanium alloys, and multi-coated scratchproof layers on the lens. It costs extra, but best believe you're going to use that red dot for years and years.
Then there's also the matter of waterproof, fogproof, and shockproof features. If you're hunting in a forest where humidity levels are high, and rain and forecasts are frequent, make sure your rifle sight is absolutely weather-resistant.
FAQs
Here are some commonly asked questions regarding red dot sights and optics.
Why Do I Need a Red Dot Sight for AR-15?
For the precise aim and quick target acquisition, it's far easier and faster to operate with a red dot sight and iron sight.
Red dot sight optics allow you to acquire your target faster while enjoying greater visibility and mid-range precision. They offer absolute co-witness or ⅓ co-witness, eye relief, and parallax-free shooting. It's a definite necessity if you're using modern sporting rifles or AR-15s.
What Is Parallax?
Ever wonder why some red dot sights cost a couple of hundred dollars more than others? The expenses go to added lenses that remove parallax.
Parallax is how the red dot is viewed in accordance with various points of view, and it can be detected when you move your head and aim. The reticle will appear to slightly move or swim around the target.
It occurs when the target and reticle aren't aligned into view and are located on slightly different planes. This causes your aim to be off-target and miss shots, depending on how aligned your eye with the optic is.
You need red dot sights with a quality reticle that aligns with the target on the same focal plane. If the red dot is still on target, the parallax is correctly adjusted (zero or near-zero).
Obviously, this greatly affects accuracy, but parallax is still one of the most misunderstood shooter concepts. It's not about just bringing the reticle into focus on your target; there's much more lens physics behind it, but for now, this explanation has to do.
How Should I Zero My Red Dot Sight?
I would recommend zeroing your red dot sight at 50 yards for mid-range operations. This range offers clearer vision and decent precision.
First, set your target around 25 meters away and center a sign on the target. After that, it all comes down to shooting around the target. Make sure it's placed near a tree, for example, so you can easily gauge how far off you were. This will allow you to mark, adjust, and modify your red dot optic according to the shots. Don't stop until the bullets hit the bullseye.
What's MOA?
MOA stands for "minute of angle" and it's a unit of angular measurement that tells you the approximate size of groups the rifle is shooting that is in the effective range. For example, one MOA is equal to 100 yards, 5 MOA is equal to 500 yards, and so on.
Conclusion
Always remember that if you want better accuracy, stick to your daily practice. Of course, some fine technology helps to fine-tune and hone your accuracy, but this entirely depends on your shooting skill.
I'm sure that these red dot sights offer a little something for everyone, and if not, then the buyer's guide will definitely show you how to find the most suitable red dot for you.
Besides AR-15s, red dot sights are also compatible with other modern sporting rifles like the Ruger AR-556. Affordable red dot optics have objective lenses around the 20 and 25mm mark, while the premium ones with weatherproof features can go above 26mm.
The Aimpoint PRO is a definite top choice, but I also suggest the Romeo5 and the Vortex Venom, and I can guarantee it has all the right preferences and characteristics you'll need.
The Bushnell TRS-25 AR is the workhorse of all the optics reviewed. It might be the most often sold sight and is one of the cheapest options available. The optic has a pretty large 25mm objective lens for excellent visibility even in low-light conditions.
Most AR-15 rifle owners look for compatible and suitable MOA, lens coating, and other features, but the most important ones are definitely durability, ease of use, battery life, and mounting. And lastly, look for the ones that offer a warranty.
Stay safe, shoot straight.
Explore more