CZ Bren 2 Review: A Smooth and Fast Shooting Carbine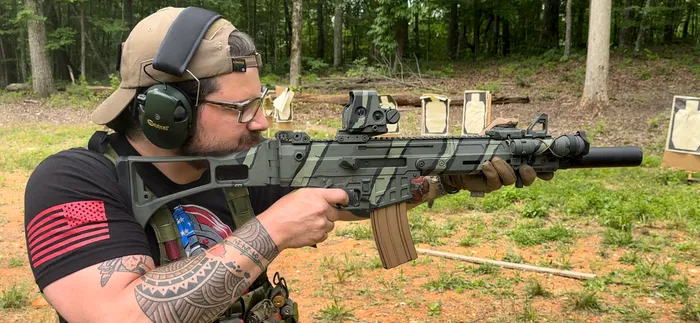 CZ Bren 2 Review: A Smooth and Fast Shooting Carbine
Introduction
If you've been following the war in Ukraine for the last year, there's a likely chance you've seen a CZ Bren 2 in photos or videos. From the trenches there to the ranges here, the CZ Bren 2 has proven itself to be a top contender in the battle rifle division.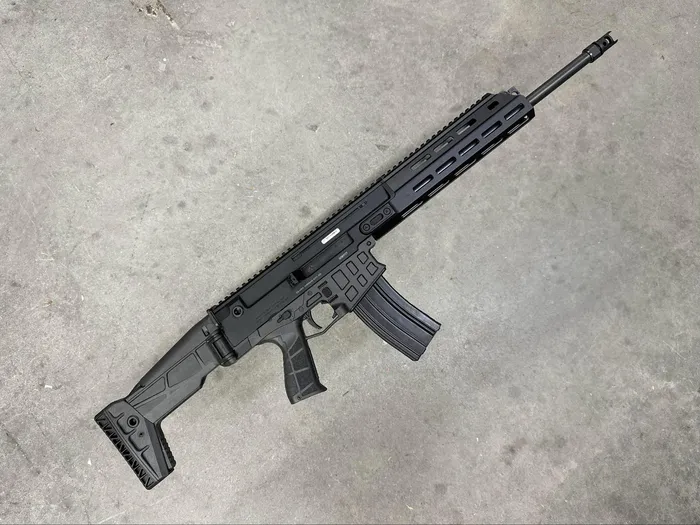 The Bren 2 promises to provide the reliability of the original 805 model, but with the advancements it desperately needed. A few of the major issues have already been eliminated by changing to a non-reciprocating charging handle and using the new lighter carbon-reinforced polymer lower.
No one likes their knuckles bruised by a system that's supposed to make life easier. Let alone carry an overweight rifle because it hasn't caught up with the times yet.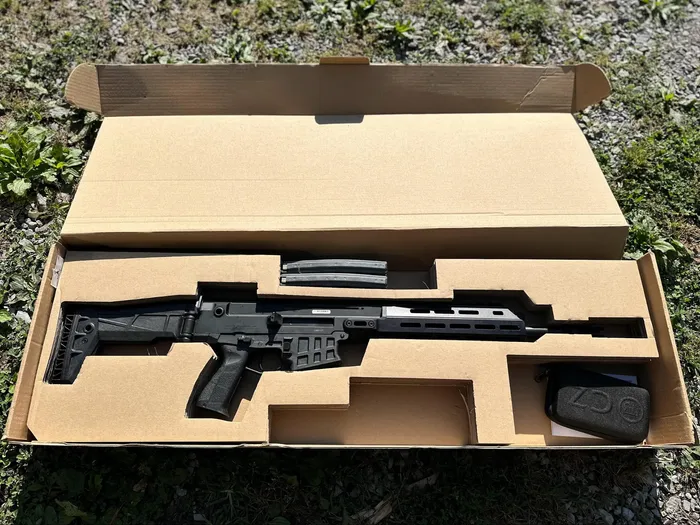 The Bren 2 came with two steel mags, which seem to be of decent quality, and in CZ fashion, it also came with CZ's cleaning kit. While I did love this gun right out of the box, I still felt a few more things could've been done to give it the ultimate war makeover.
In this CZ Bren 2 Review, you'll see an up-close look at one of the Czech Republic's most reliable offerings, along with some of the available aftermarket upgrades we put to use.
CZ Bren 2 Review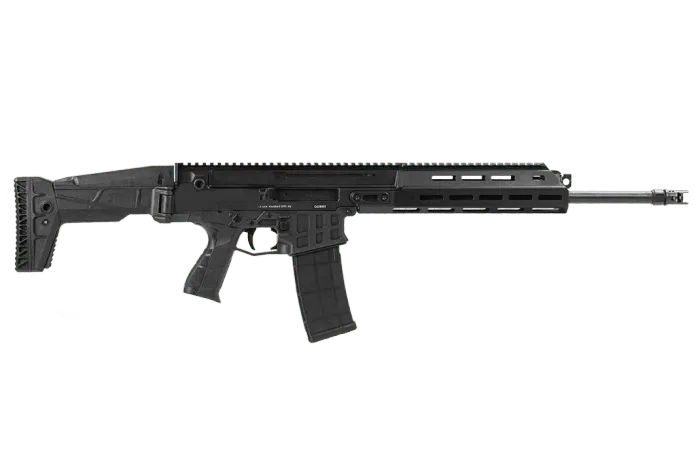 Fresh out of the cardboard box it comes in, the Bren 2 started doing exactly what it was intended to do, and that's RUN. We were instantly shocked by how soft this rifle was shooting. The smoothness translated to speed naturally, allowing us to have incredibly quick follow-up shots and split times.
Keep in mind, we are supposed to shoot 500 round review videos, and within a quarter of that round count, we ALL decided we wanted it. After some blood, sweat, and tears were shed on the range, our buddy Mike came out victorious, and the Bren 2 became his.
The Bren 2 checks many of the boxes when looking for a war-proven battle rifle. It offers lightweight durability in a modern style platform that accepts a wide variety of optics and accessories.
If you're looking for your grandpappy's M1 Carbine, this ain't it. But be prepared, because with great power usually comes great expense. Starting with a $2K price tag, the upgrades won't be cheap either, quickly making this one of the most expensive daily drivers you could have in your arsenal.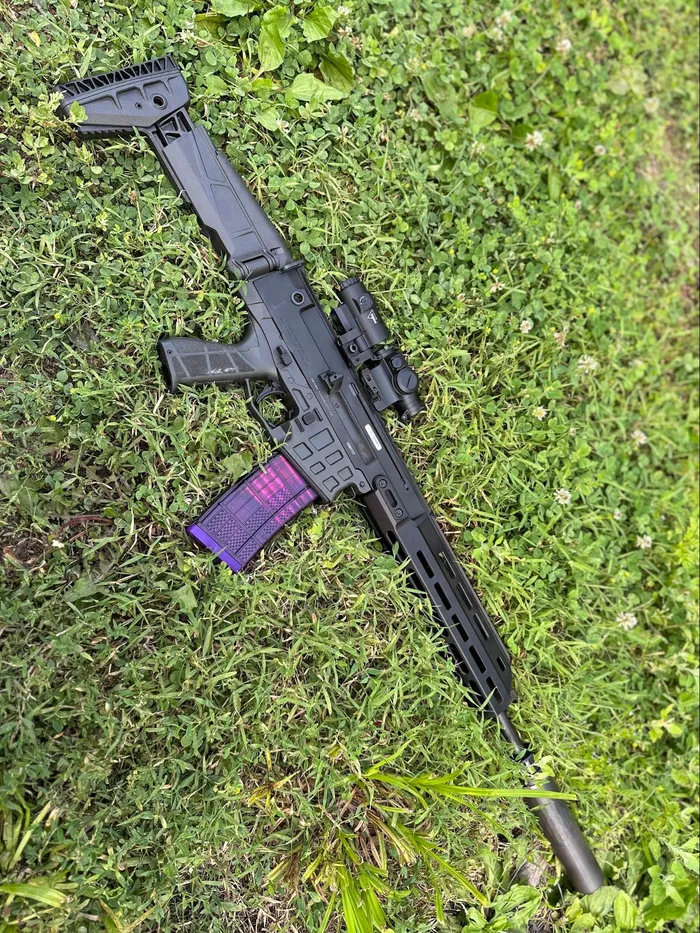 Specifications
| | |
| --- | --- |
| Caliber | 5.56 / 7.62×39 |
| Capacity | 30 rounds |
| Lengths | 5.56: 16.5 inches, 14 inches, 11 inches, 8 inches7.62×39: 14 inches, 11 inches, 9 inches |
| Barrel | Cold Hammer Forged |
| Overall Length (16-inch model) | 35.6 inches / 28 inches (folded) |
| Weight (16-inch model) | 7.3 Pounds |
| MSRP | $1999.00 |
| Ambidextrous | Safety, Mag Release, Bolt Catch, Charging Handle. |
| Gas System | Piston |
Pros & Cons
Pros
Lightweight carbon-reinforced polymer lower

Very versatile and accepting of add-ons and upgrades

Extremely durable and now war-proven
Cons
Limited aftermarket support since it's so new 

The $2000 MSRP is a hard pill to swallow

Only two calibers are currently on the market
Initial Impressions & Range Testing
I think back to a video I saw of several Bren 2's being pressure washed in a shower after weeks in the trenches. That video stuck with me in regard to the reliability of that rifle. Then I get one in my hand and see that the Bren 2 has a POLYMER lower?!
I initially questioned this aspect, but after a bit of research, I learned that the SCAR also uses polymer lowers. It's pretty insane to me that rifles that cost a couple of grand or more are using plastic lowers, but don't knock it till you try it. I do not think that is something to be concerned about.
Reliability
The Bren 2 has outperformed all expectations regarding its reliability. So much so that we didn't have to change the gas settings on the rifle when shooting suppressed. Pretty cool, considering that area could get pretty hot shooting non-suppressed.
Being able to throw on the suppressor quickly and rocking that gas setting is a big plus for me.
We put nearly 600 rounds through the Bren 2 with zero failures.
Accuracy
The accuracy of this rifle seemed on point. With minimal impact shift from non-suppressed to suppressed, even after cutting down our barrel from 16.5 inches to 13.7 inches pinned and welded, we noticed nothing significant at 100 yards and in.
We plan on doing more formal accuracy testing now that the chop has been completed.
Overall Feel
With the ability to easily manipulate this rifle that's set up very similar to an AR15, the overall feel of this rifle is pretty phenomenal. The stock that it comes with out of the box has a nice length of pull adjustment to get it set up correctly for each shooter.
With my little research, I know there are at least five different stock options if the owner needs something different.
Features
Before the changes, I had already fallen in love, and now that the Bren 2 has an entire facelift, I'm having a tough time not drooling over how beautiful it is.
Let's dive into some of the most important features and some of what I consider the most advantageous upgrades.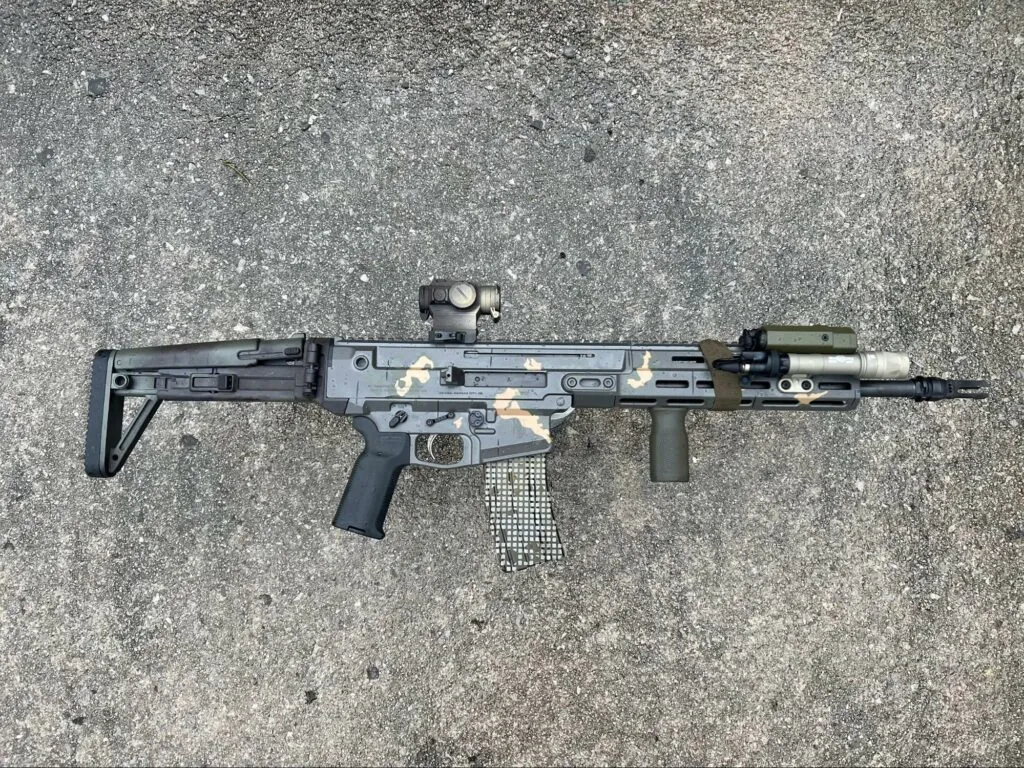 Easy to Store and Transport
Having the ability to fold it down from almost three feet long to nearly two is pretty nice. Especially if trying to hide it or put it into a case with multiple rifles. As far as being a battle type of upgrade, I don't see it unless you like folding the stock away from your face when slung.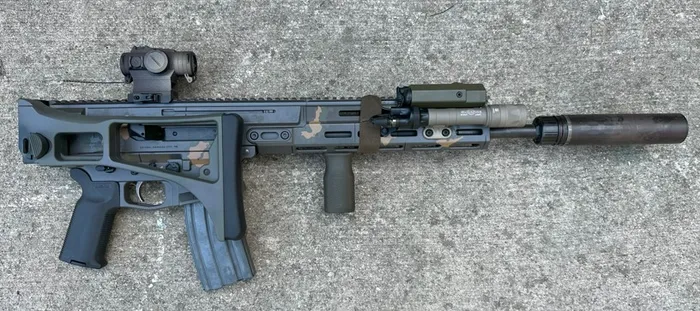 Ambidextrous Controls – Even Wrong-Handed Users are Covered
Being setup fully ambidextrous right out of the box allows even those who shoot left-handed to get going immediately: safety, mag release, and bolt catch are all covered. The bolt catch offers a unique portion in the front of the trigger guard that can be locked open or activated from the shooter's trigger finger. Think Magpul Bad Lever built in.
To top it off, it has an interchanging charging handle. This is officially one of the best "both-handed" stock setups I've seen.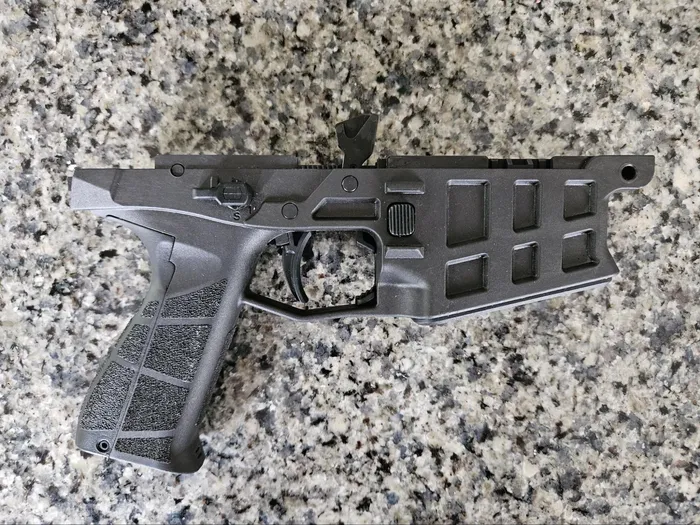 Standard Magazines
This is purely for the 5.56 version, as I believe the 7.62 is a little more picky. But having the access to using all the mags already in your armory is a HUGE plus. While CZ included two steel mags, you need about 10 loaded mags each trip to the range with this one.
How We Tested
For our testing, we mixed real-world style shooting and an abnormal amount of rounds in a short period of time for review. We generally put guns through pretty extensive torture tests and like to suppress everything we can. If it accepts it, it gets a hush puppy.
We feel that's a great way to speed up the torture test and to get some really informative data within those first several hundred rounds. During this Bren 2 review, it was shot suppressed nearly 375 out of the 600 or so rounds.
We also put the weapon in the hands of multiple shooters with various backgrounds to get a decent test subject group.
Upgrades
As I mentioned earlier, we had to add some "extras" and replace a few things.
The first upgrade was a Haga Defense Lower. It's an all-metal lower that provides the user an opportunity to use their favorite AR15-style trigger, trigger pins, safety, mag release, and pistol grip.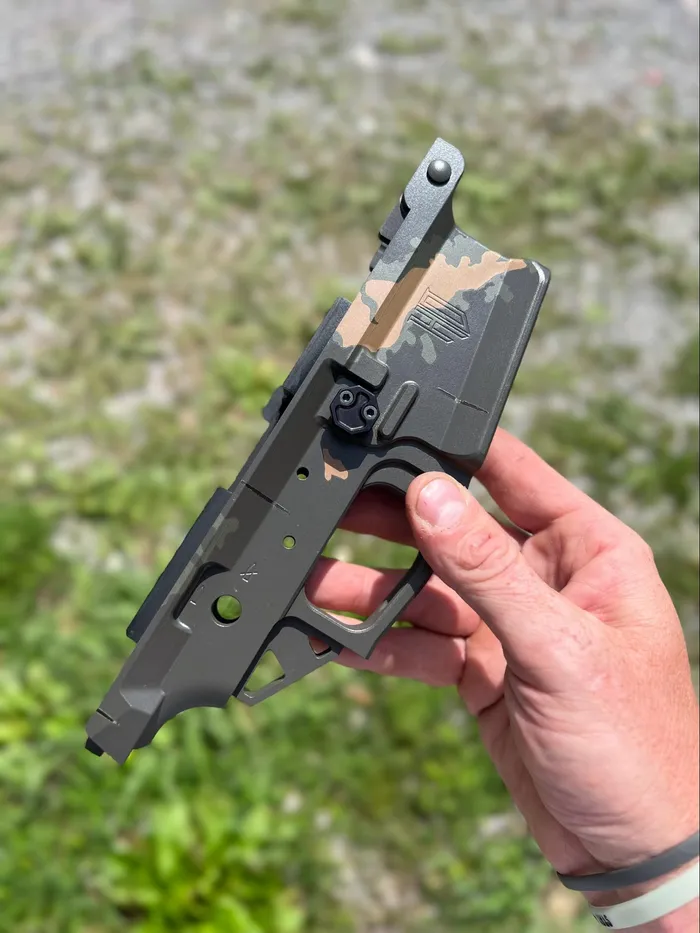 Then we also added an HB Industries G36 Style Stock. It's an excellent streamlined stock that allows the user to lock it when folded. It comes with a new deflector that is easily swapped out to ensure the stock locks when opened.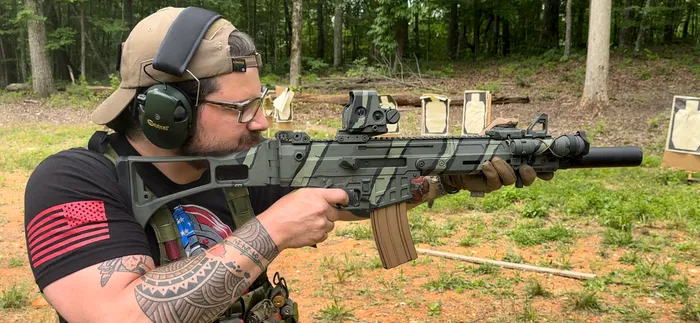 Ammo Used
To feed the Bren 2 during our review, we ran 55-grain Wolf Performance FMJs and 55-grain PMC Bronze FMJs. Both rounds performed well, but the Wolf had several "damaged" rounds scattered randomly in a few boxes. The PMCs were all usable.
Score Card
Reliability 9/10
Through almost 600 rounds, we didn't see a single malfunction.
Ergonomics 9/10
Feels excellent and the controls are easily manipulated.
Customization 8/10
Aftermarket parts and upgrades are still trying to catch up. Need more!
Appearance 7/10
It's a CZ, so of course, it's going to look a little funny. However, it's probably the sexiest CZ I've seen.
Value 9/10
Worth every penny and holds resale value well.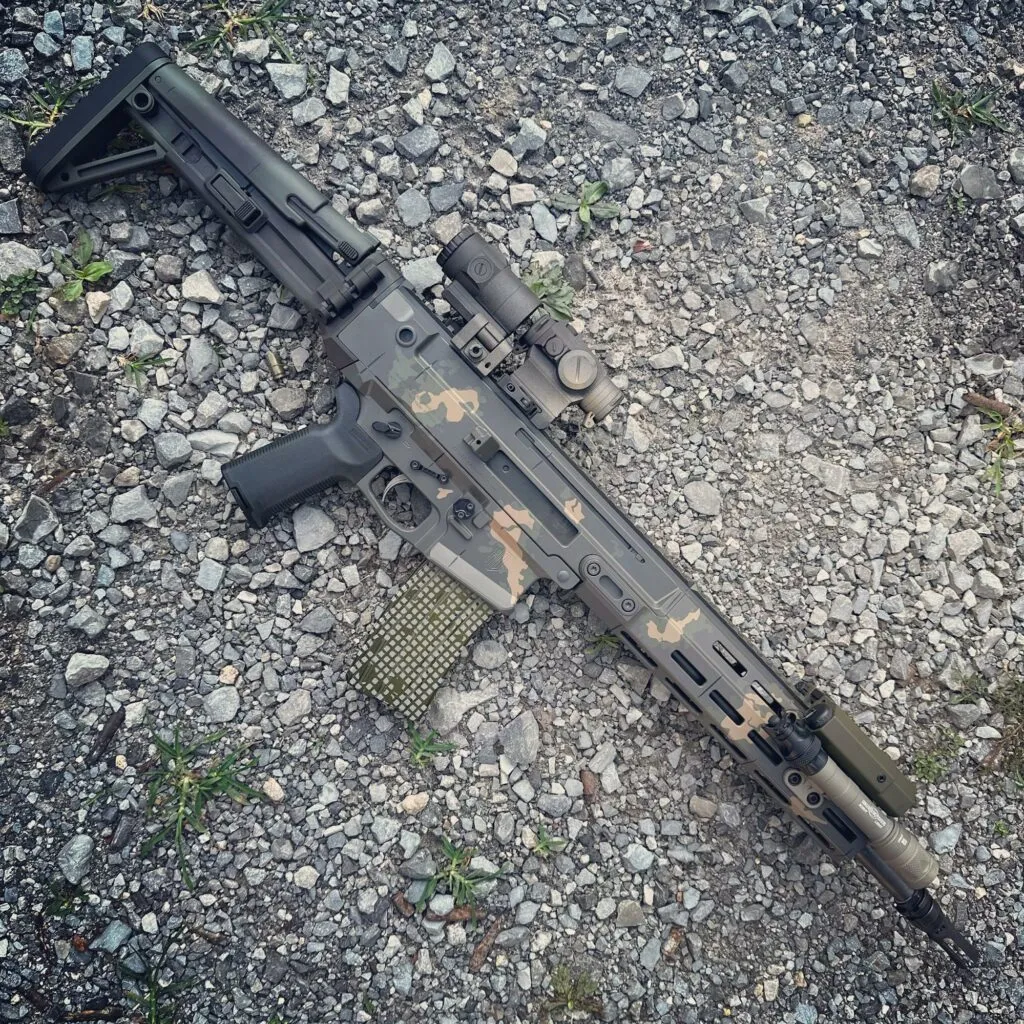 Accessories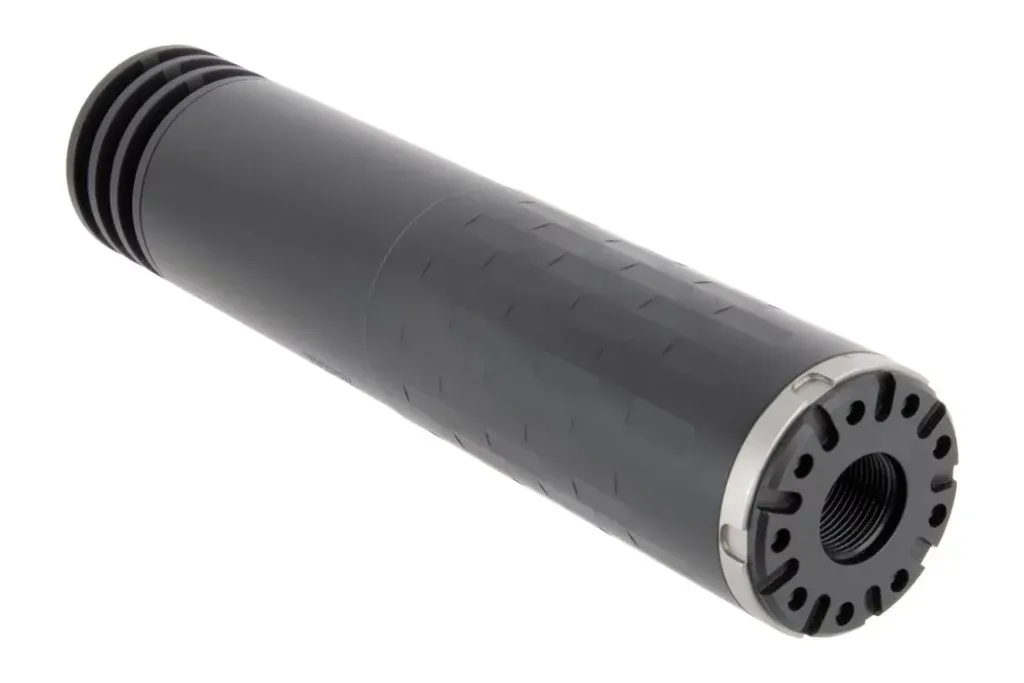 Shooting quieter is awesome, but it's what makes this already sweet battle rifle a top-notch piece with this one little addition. While we shot it with the gas all the way open most of the time, swapping over to the suppressed gas setting makes this thing a dream. This rifle was meant to be suppressed, that's for sure!
The Omega 300 from SilencerCo is lightweight, versatile, and full-auto-rated. It's rated from .223/5.56 to .300WM. It's hard to beat.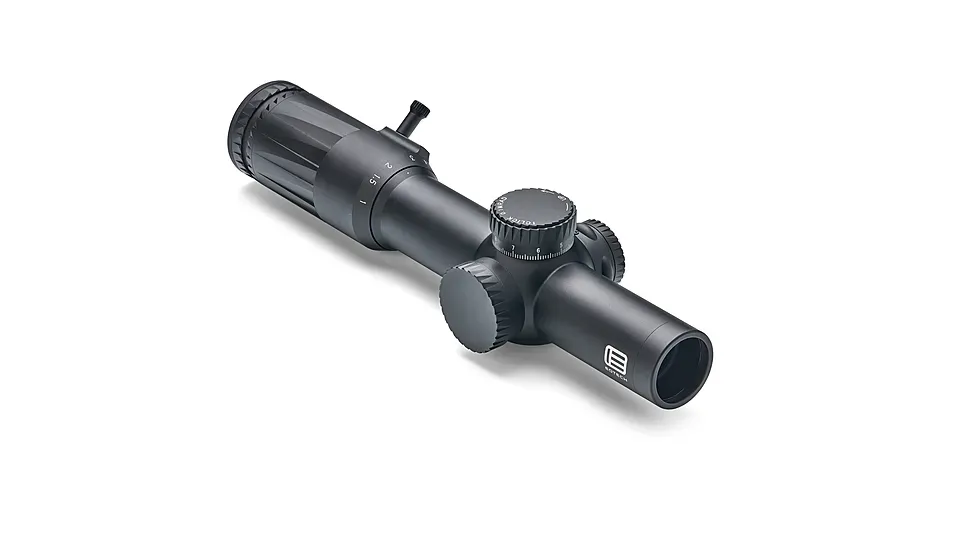 This thing is ready to work, so be sure you make it easy on yourself for both near and far. It can easily be set up as a 350-yard rifle and in with the proper outfitting of some good optics.
The Eotech Vudu 1-10×28 is one of the best on the market. It's on the pricey side, well, very pricey side, but you get what you pay for. It features an illuminated, glass-etched reticle, low profile elevation turret, removable throw-lever and is made out of aircraft aluminum for maximum durability.
For some additional information on the Vudu, check out our 1-8x review here.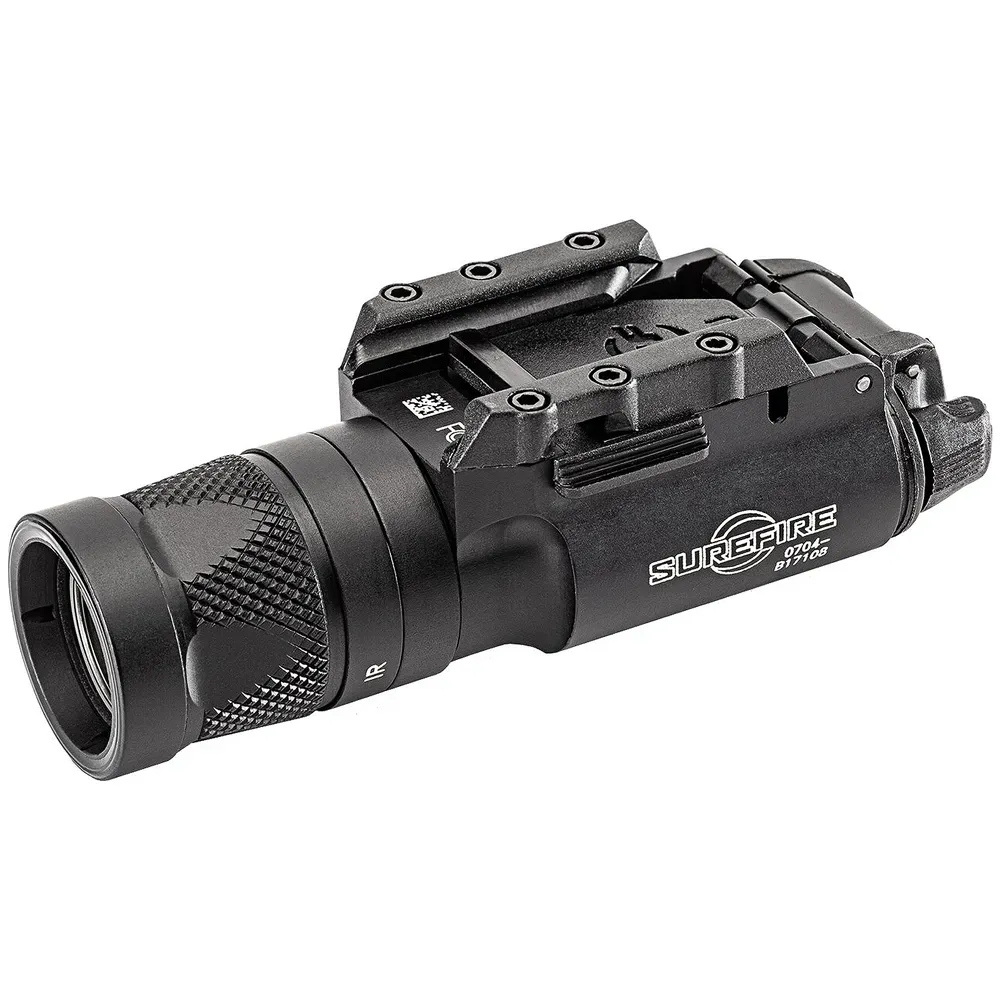 While I try to set up every rifle with night vision usability, a white light is a must. If shooting with cat eyes like us, then a good vampire-style SureFire with white and IR light is a must.
The X300V puts out 350 lumens of white tactical light or 120 mW of IR output. It attaches securely to universal and Picatinny rails, is IPX7 waterproof, and has ambidextrous switches.
Alternatives

The FN SCAR 16 has been battle proven a tad bit longer, being used in the Afghanistan and Iraq war. Its birth was in 2009 and has been heavily used in multiple conflicts since.
The SCAR is legendary in the gun industry, being the holy grail for many shooters. Coming in various calibers and lengths, it offers a variety of options for the shooter to choose from.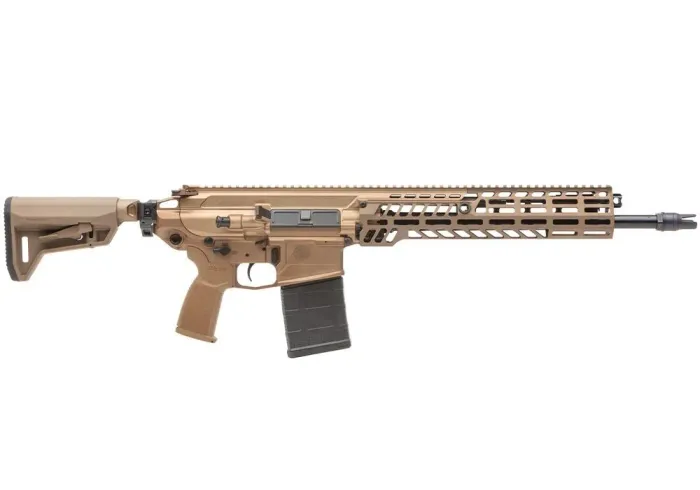 The Sig Sauer MCX-SPEAR is a super popular rifle that's been proven more on the homefront. It's been adopted by agencies and departments nationwide and is a highly sought-after option among civilian shooters too. It features an adjustable gas valve, ambidextrous controls, and Matchlite Duo trigger, to highlight a few. It's offered in multiple calibers and lengths as well.
For some information on the SBR version, check out our MCX Spear LT review.
Conclusion
I believe the Bren 2 solves all the problems it was made to fix. We did wind up going back to an all-metal lower receiver, which added weight, but hey, leave us alone! Remember, the more weight shaved off without sacrificing durability and longevity, the better.
CZ has done a great job of providing a solid, trustworthy battle rifle that's significantly cheaper than its competition. It gives end users plenty of opportunities for customizing to their particular needs. From CQB to open field, this Bren 2 is not limited to one or the other.
Keep an eye out for the real-time war videos that come out. You'll see some Bren 2s floating around out there being proven over and over again, every single day, easily identified by those waffle-looking lower receivers.
Have you had the chance to shoot a Bren 2 yet? If so, what did you think of it? Let us know in the comments!
Explore more