EOTech Vudu 1-8×24 Review: Under the Vudu Spell

EOTech Vudu 1-8×24 Review: Under the Vudu Spell
Introduction
For the better part of the last twenty years, you could hardly talk about tactical weapon sights with EOtech coming up.
The brand has grown quickly to become an industry stalwart. In much more recent times, the company has released its own line of optical rifle scopes under the Vudu brand.
Today we will look at a model from the Vudu line, the EOTech Vudu 1-8X24 precision rifle scope. This model features a thirty-millimeter tube and the typical twenty-four millimeter ocular lens. Variable power swings between one and eight times magnification with the reticle in the second focal plane. The reticle itself is the HC3, which features an illuminated center dot and several hold-over points for shooting further distances. The capped turrets are graduated in quarter minutes of angle adjustments.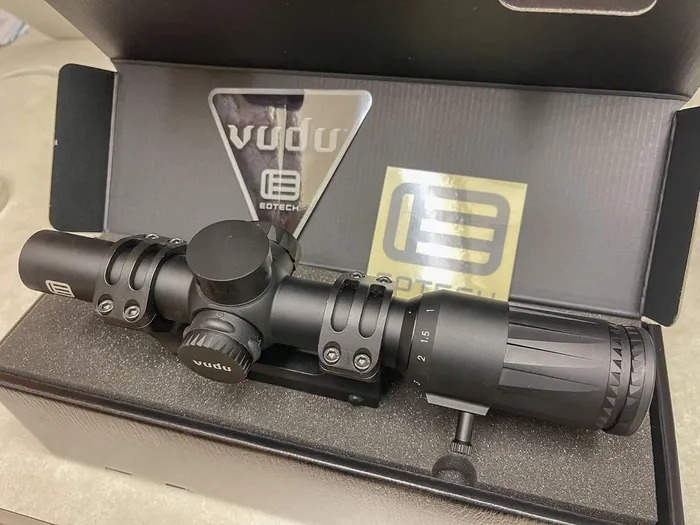 Low Power Variable Optics (LPVOs) have become increasingly more popular for modern sporting rifles and tactical-style rifles. When rapidly engaging targets at dangerously close distances, a rifle scope can be extremely valuable over red dots or holographic sights, particularly if those targets could range from fifty to three hundred yards away.
The LPVO has become a valued option for that kind of shooting scenario, and our subject today appears to fit that purpose quite well.
I enjoy shooting sports a great deal and have spent a good deal of time behind many riflescopes. I was thrilled to see how the Vudu scope would perform. I am a total fanboy for quality rifle scopes, and if this Vudu lived up to my expectations, I couldn't wait to add it to my collection.
After unboxing the Vudu and playing around with it in just a few minutes, it has already got me excited to shoot with it.
Vudu 1-8×24 Precision Rifle Scope Review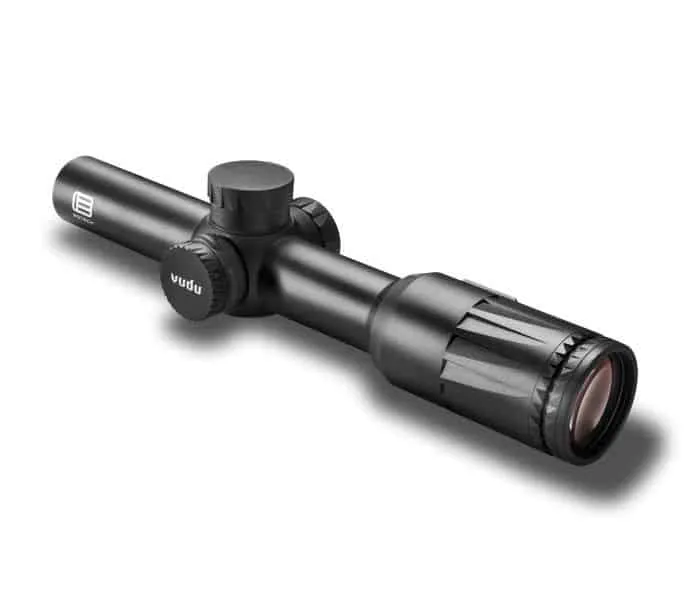 The LPVO market has become quite crowded over the past ten or so years, so I was curious to see what Vudu had to offer that others weren't already selling. I have heard good stories about optical quality, and so far, glancing over the features, it appears to tick all the boxes I want in an LPVO.
So I wasted no time getting the Vudu mounted and ready for the range.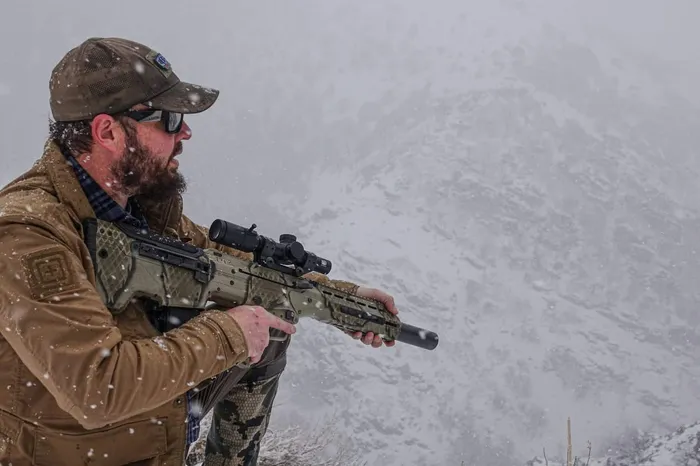 The market is crowded, as I said, but there is undoubtedly room for quality optics at every price and quality point. There are inexpensive LPVOs in the three to five-hundred range, and even more at the thousand dollar price point, and even at the fourteen to fifteen-hundred price point, there is still a lot of competition.
The Vudu fits right into that area for those who can't or won't jump to the two-thousand-dollar-plus price range, but it is still a great place to select a high-quality and well-performing LPVO. A good scope like this deserves a good mount that will allow proper positioning on the rifle, so make sure you research before mounting your scope.
With all that in mind, I set out to shoot a selection of different scenarios using the Vudu.
Varying shots from near to far and using both the variable power of the scope and the holdover points on the reticle. The one to eight-power magnification gives a great deal of versatility for a wide field of view on close-up shots with both eyes open.
And it also allows you to zoom it into eight power to take more precise shots at targets further out. I have found eight power suitable for shots as far as one thousand yards at times. So with a great deal of space at my disposal, I prepared to give the Vudu a good workout.
Specifications
| | |
| --- | --- |
| Tube | 30 mm |
| Length | 10.9 inches |
| Weight | 20.8 ounces |
| Magnification | 1-8x |
| Objective lens | 24 mm |
| Reticle | HC3 |
| Illumination | Green center dot |
| Battery | CR2032 |
| Elevation travel | 100 MOA @.25 per click |
Pros & Cons
Pros
High quality Japanese optical lenses

Capped hand-adjustable turrets

Illuminated reticle

Push-button illumination change

Throw lever included

Hold-over HC3 reticle
Cons
Wish it was the 1-10

Would like a little more reticle detail

Would also like an MRAD option
Range testing
I had a hard time coming up with cons for the Vudu, as you might have noticed. It looks like I will have to get my hands on their 1-10×28 model as well, as it fits my wishes to a T.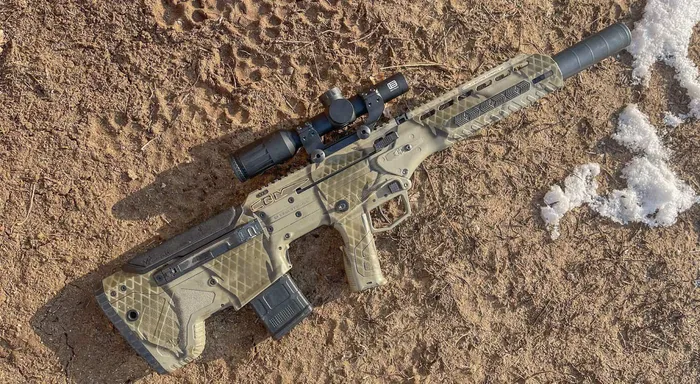 Getting the Vudu on the range was my priority now. I mounted it up to one of my favorite carbines, my Desert Tech MDRX (see our MDRX review here). I do a LOT of shooting with this rifle, so it seemed an excellent fit to compare to a bunch of other LPVOs I have run on the rifle over the years.
With the Vudu in a cantilevered mount, I installed it on the pic rail of the rifle at the proper distance for good eye relief.  It felt right at home there, so I grabbed some ammunition and headed out the door.
Upon arrival at my spot, I set the rifle on a bipod and did a quick boresight job to ensure it would be on paper. After just a few shots, it was zeroed.
I typically zero my rifles at one hundred yards, mainly because that's where I do a lot of shooting. But it would also make sense to zero a scope like this at seventy-five or fifty yards. It depends entirely on your shooting activities.
After zeroing the scope, I started with some quick transitional shooting between a couple of different targets. The straight one-power allows you to shoot with both eyes open, something I appreciate very much. I also really like the bright green dot in the reticle. It allows the scope to be used almost like a red dot sight.
The push-button on and off makes it much easier to power up than the typical rotational rheostats. The added simplicity of push buttons to increase or decrease brightness are also convenient and easily understood when you're moving fast.
For shooting IPSC-sized targets from standing and improvised positions, I found that zooming the scope in a few X's was helpful. I had several targets between fifty and one-hundred-fifty yards. The two to three power settings helped get those targets bracketed and shot.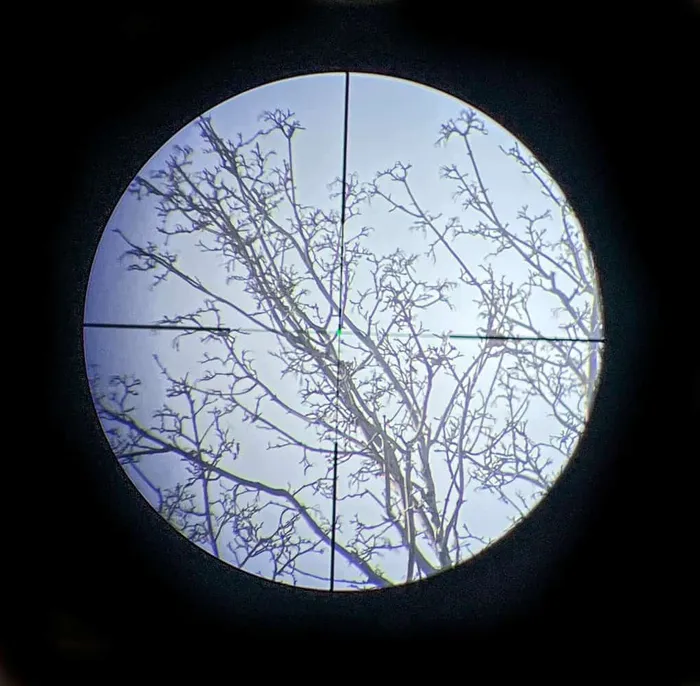 This rifle is very handy for shots out to five or six hundred yards and even twice that when I switch out barrels for another caliber.
So I wanted to see how targets looked through the Vudu at much further distances. I couldn't find any information on the parallax setting for this Vudu, but I assumed it is likely at a hundred yards like many others. Not a huge deal but something you should know.
I checked the estimated drop for my 223 ammunition at four hundred yards, about twelve MOA.
Conveniently for me, the Vudu's HC3 reticle has holdovers for 2, 5, 8.5, and 12.5 MOA. So my holdover for the four hundred-yard shot was pretty easy to line up. Holding into the breeze a little bit resulted in a perfect hit. I watched the bullet splash through the eight-power with great clarity and definition.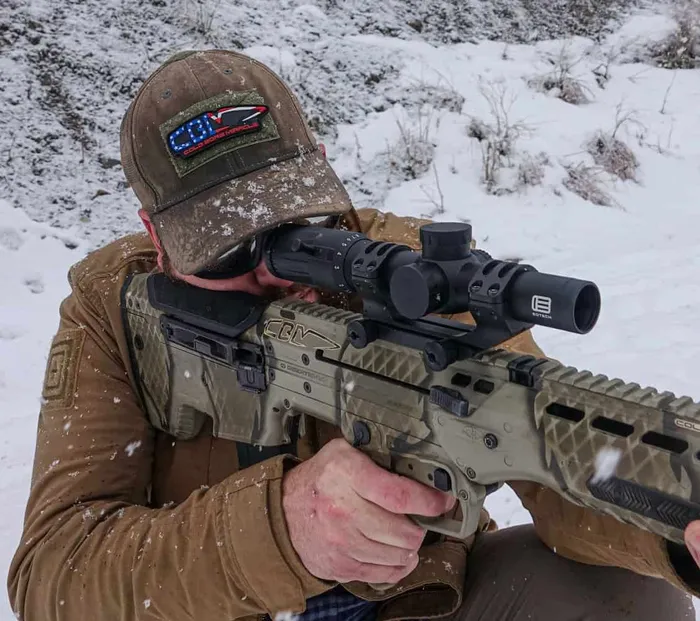 Reliability
The Vudu 1-8×24 worked great for me. Through all my zooming in and out, as well as dialing the scope all over, it never lost zero or gave me any grief.
The small scope size makes me think it is less likely to get smacked around like full-sized scopes often do. But I see no reason why this scope wouldn't live up to EOTech's famously robust no-BS warranty.  
Accuracy
The accuracy of a riflescope is mainly based on its ability to hold proper zero and track well in its internal movement. I like to measure these movements by bolting the scope down and seeing if it actually moves the amount it says.
In my testing, the Vudu 1-8×24 was as accurate as I could have hoped, with precise corrections and matching the reticle values.
Overall Feel
The Vudu feels outstanding, I like the texturing on the grip areas, and the included throw-lever is very handy, especially in the cold.
The clear optics and rubberized push-button controls make it look and feel outstanding. The large turrets are easily adjusted with gloves on, as are the other controls.
Features
Throw Lever
The Vudu comes with a thread-in throw lever or cat-tail, as some call it. The idea is to give additional purchase to adjust the magnification of the optic, as gripping the ocular housing from some positions can be challenging. The throw lever gives a better ability to pivot the input force as the housing rotates in many shooting positions.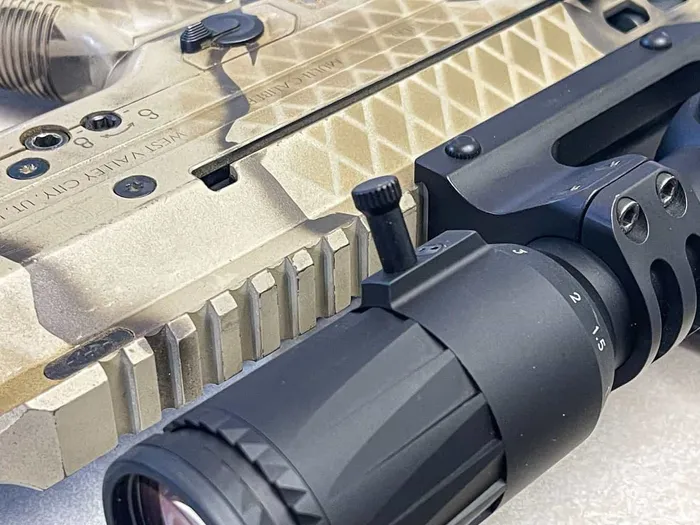 Illumination
The Vudu features an illuminated green dot at the center of the reticle. It is powered by a battery housed in the left-hand turret.
There are three buttons on that turret at the twelve, three, and nine o'clock positions. The top button is the on/off switch; the other two buttons are for increasing or decreasing the brightness level of the dot.
I really like this ability to quickly turn the reticle on or off without having to rotate the turret, particularly those that don't have off settings in between brightness settings. And it is easy to adjust the brightness from the shooting position using the buttons.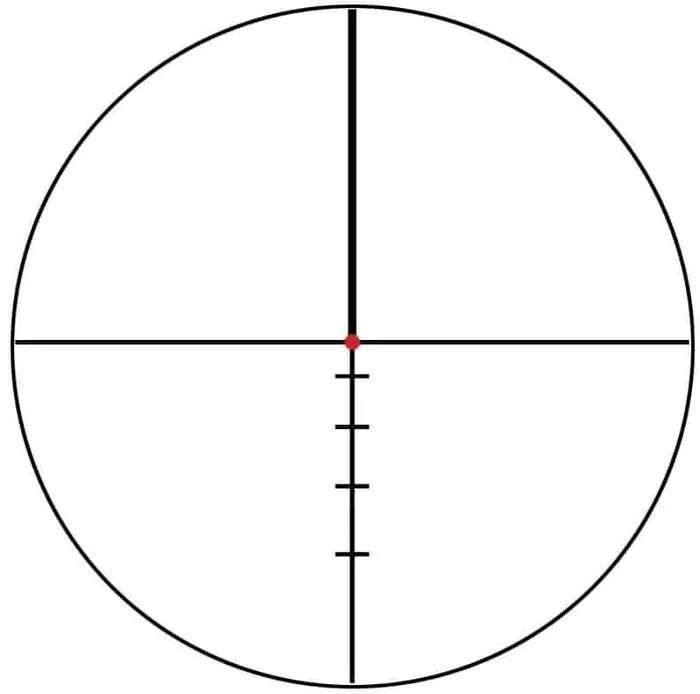 20 MOA Turrets
The twenty MOA turrets on the Vudu allow for a good deal of corrective adjustment. In the event that you need to adjust for elevation at further distances, the turrets allow for precise adjustment in ¼ MOA increments.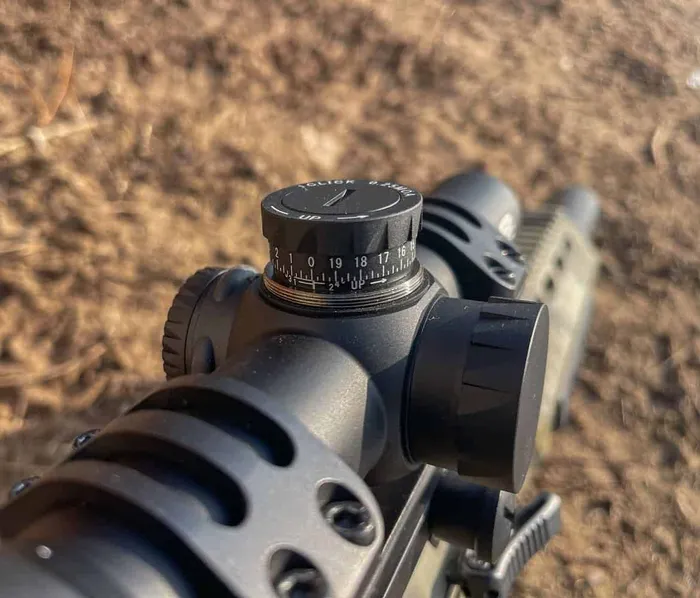 How We Tested
I ran the Vudu 1-8 through a whole bunch of shooting at my range. Fast shooting between target transitions as well as slow fire at much further targets, was a great way to get familiarized with the Vudu and its weak spots.
The only thing I might have found as far as weakness was that at 1X, there is a tiny bit of deformation around the circumference of the image. This is not uncommon in my experience, nor is it a huge deal. It didn't affect my ability to see and hit my targets.
I also noticed at some of the higher power settings that the eye relief seems a little touchier than I would have wanted; again not a big deal but something I did notice.
The hold-over points on the reticle were quite handy, though if you were going to do more medium to long-range shooting, you would likely want more points. Luckily, Vudu makes another scope for those who are looking for just that.
As it is, this scope makes a great choice for fifty to four-hundred-yard shooting. And when doing up-close shooting, I ran the scope on 1X with the dot turned all the way up and used it just like a red dot.
As I typically do with most optics I test, I also ran the turrets and reticle against a yardstick to see how well and accurately the erector tracks. Most of the time, they are all pretty close to their advertised graduations, and the Vudu 1-8×24 was one of those.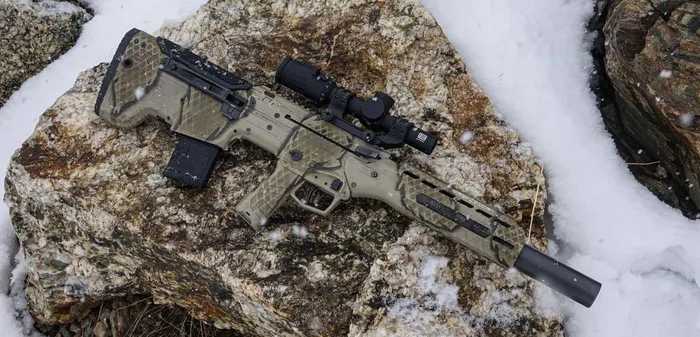 Score Card
Reliability (9/10)  
The Vudu 1-8×24 functioned flawlessly for me during my testing. Surely this hasn't been long enough to truly test its abilities, but only time will tell how that plays out. Follow me to see how the Vudu does over time.
Optical Quality (8/10)
The optical quality of the Vudu was great. There was a tiny bit of optical aberration around the edges at 1X. Still, it was certainly something I could live with.
The clarity of targets was superb, and it performed well for my eyes even at low light near dusk. I won't lie and say that I haven't seen better, but I think the Vudu is right in line with its best competitors for this price.
Features (7/10)
The illuminated reticle and throw lever were nice things to have when I opened the box, but I was kind of hopeful that Vudu would have brought just a little something extra to the game.
I would have liked a slightly more detailed reticle option and an MRAD option. Of course, more options like these would only add to the Vudu line.
Value (8/10)
I think the Vudu brings a significant level of performance and quality for its price point. Competitors in the comparable price range make it a very challenging market. You could almost select based on pure appearance and still get a great scope.  
Accessories
A Good Scope Mount
I prefer one-piece scope mounts, not just because they are more robust but also because they allow easy swapping of optics from one gun to another.
They also frequently incorporate additional features such as canted bases, off-set backup sights, and such. I am a big fan of the scope mounts from Strike Industries and the Scalarworks.
Scope Covers
I like using good scope covers to keep the lenses on my optics clean.
There are countless options these days, the classic ones from Butler Creek are pretty cheap, but they also don't last long. The Vortex Defender caps are much better quality and should last much longer.
Alternatives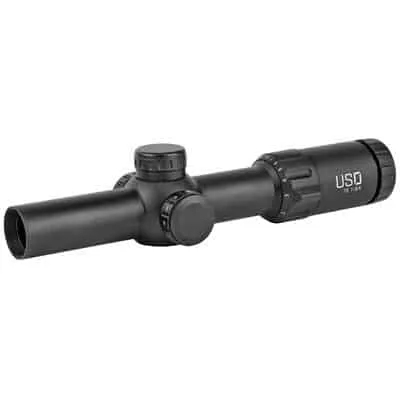 I have used the US Optics TS8x extensively, and it is a great little scope if you don't want to spend the $1400 for the Vudu.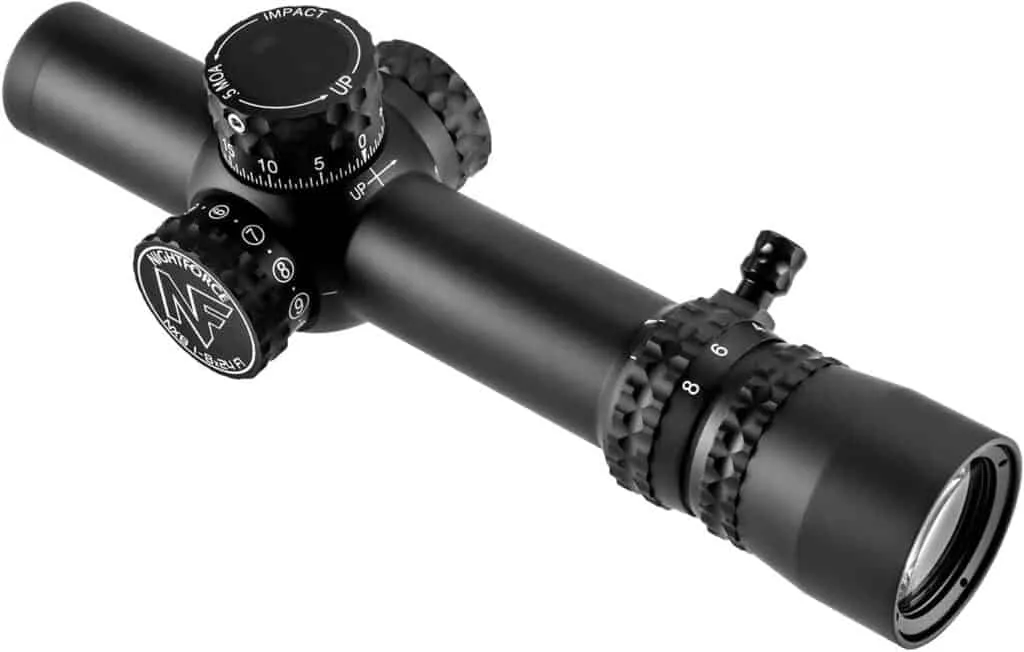 The Nightforce NX8 is another great alternative to the Vudu, but it would be a price increase.
Conclusion

If you are looking for a quality rifle scope to use on your short to medium-range carbine, the EOTech Vudu 1-8×24 is a great choice that will allow you to use your rifle to its full capability. That also allows you to see clearly what you are shooting at and look good simultaneously.
The Vudu does what a good LPVO should. It gives you the ease of a red dot or holographic sight up close while leaving you options for magnifying those targets further out. And it comes with the necessary tools to engage those targets if you wish to.
I am really looking forward to shooting more with this scope. I think I'll leave it on my MDRX for now unless I find a better home for it. No doubt, I will use it extensively for shooting and hunting this spring.
Explore more