CZ Scorpion EVO 3 S1 Review: A Built for Fun Sub-Gun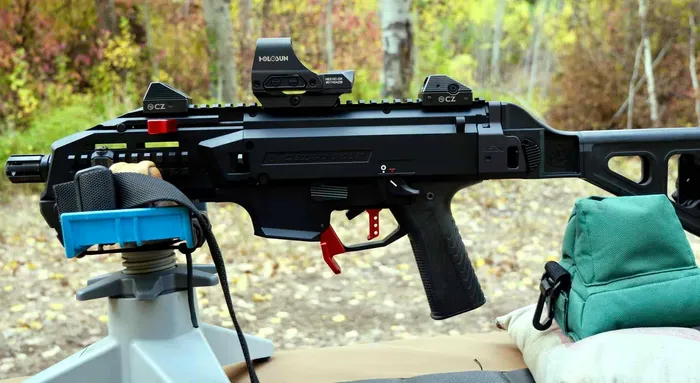 CZ Scorpion EVO 3 S1 Review: A Built for Fun Sub-Gun
Introduction
The Scorpion EVO 3 S1 Pistol is a 9mm sub-gun for those mere mortals who long for HK's ubiquitous MP5. Dollar for dollar, you get an accurate, reliable, customizable, and fun 9mm pistol that will do everything the MP5 will without mortgaging your home and eating Top Ramen for a decade. Let's jump in and review this fun little pistol everyone would love to own.
We've all seen movies like Die Hard and Navy Seals where an MP5 really is the star of the show. And who hasn't seen the Navy recruiting poster with a 4-man SEAL team coming out of the surf with suppressed MP5s at the ready?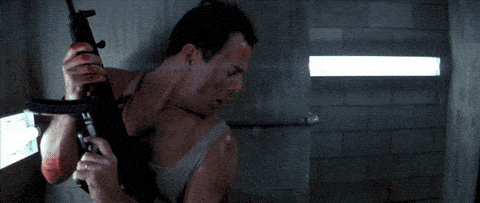 While the MP5 is cool, it really is a grail gun and one that most of us will never own.
For the rest of us, the fully capable and affordable CZ Scorpion EVO 3 S1 is a perfect stand-in. With its short, 7 ¾" barrel ready for a suppressor, a non-reciprocating charging handle that can be slapped down to charge the gun, and a host of custom parts available, the CZ Scorpion is the perfect semi-automatic sub-gun.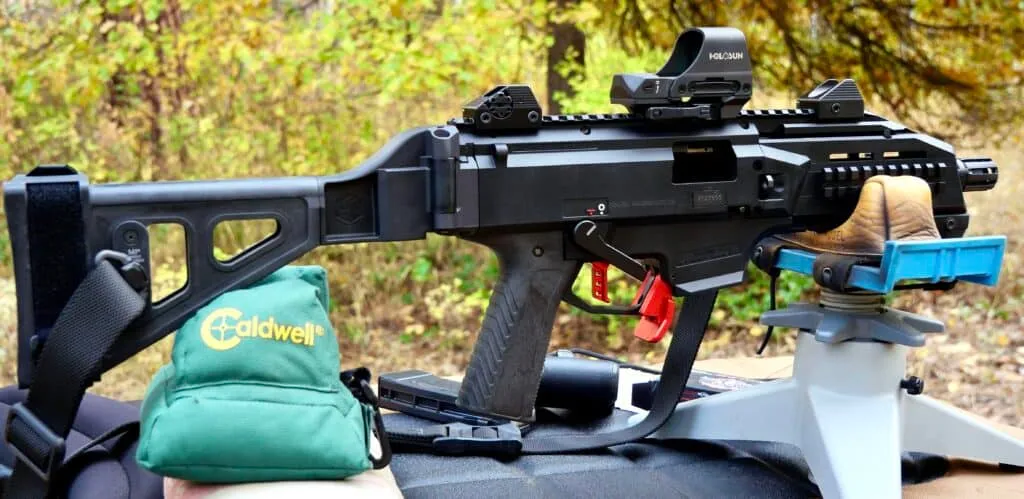 I was able to spend some time with a stock Scorpion from The Range LLC, and the Scorpion my wife has 'cooled up' a bit. Not surprisingly, they both functioned perfectly, were superbly accurate, and were fun to shoot. We'll do a little side-by-side so you can see some simple upgrades you can do at home and take a look at some groups that are typical of this cool little pistol.
All in all, I would not hesitate to recommend the Scorpion EVO 3 S1 to someone looking for a home defense firearm or just as a fun gun to take to the range and ring some steel and poke holes in cardboard targets.
CZ Scorpion EVO3 S1 Review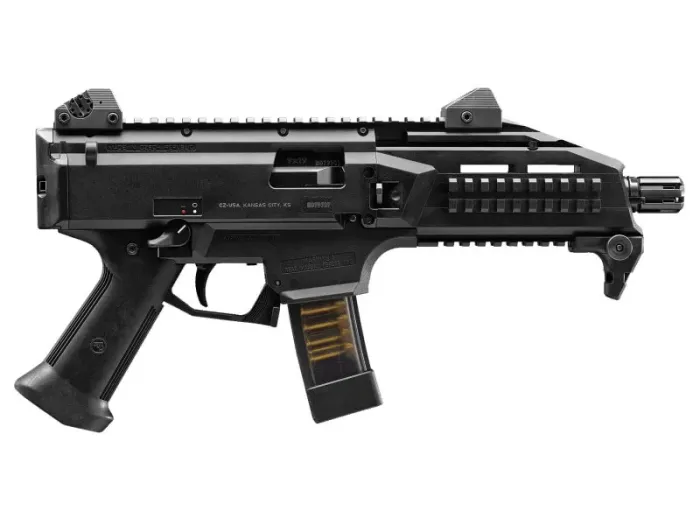 CZ Scorpion Models
CZ currently lists 3 Scorpion pistol models; the 3+ Micro, the 3+ Pistol, and the EVO 3 S1.
The 3+ Micro sports a 4.2" barrel, ambidextrous magazine release and bolt catch, and enhanced grip ergonomics. The 3+ Pistol features a 4.8" barrel, ambidextrous safety and is basically a more sleek version of the EVO 3 S1.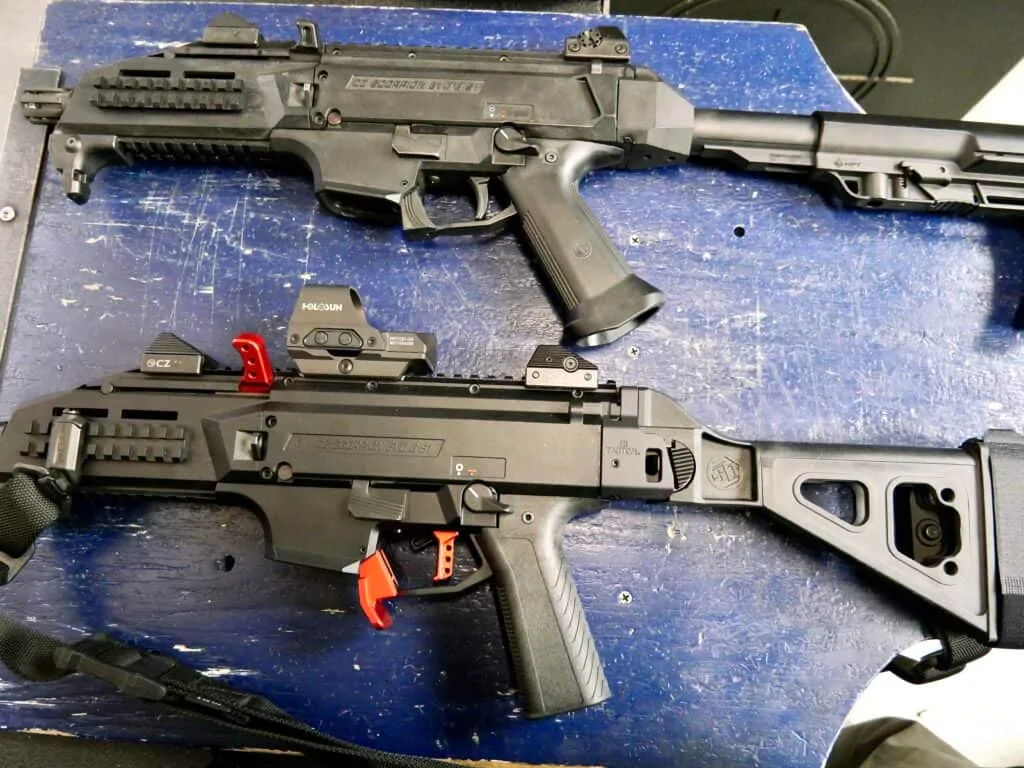 This review will focus on the EVO 3 S1 pistol, which is most commonly available to shooters at their local gun stores.
Specifications
| | |
| --- | --- |
| Caliber | 9mm Luger |
| Capacity | Polymer Magazine – 20 +1 (10 round and 30 round magazines are also available) |
| Barrel | 4.75", Cold Hammer Forged, Threaded ½ x 28 |
| Frame | Fiber reinforced polymer |
| Grip | Polymer; adjustable for reach to trigger |
| Sights | Adjustable, aperture rear w/4 aperture sizes |
| Safety | Ambidextrous |
| Action | Blow-back, semi automatic |
| Weight | 5 pounds |
| Overall Length | 16 Inches |
Pros & Cons
Pros
Affordable Price Point (MSRP $1059)

Lots of upgrades and custom parts available

Extremely accurate at all ranges tested

Easy to learn manual of arms
Cons
Factory ambidextrous safety is not comfortable for some shooters

Grip angle could be better

Magazine release is a little small
Going Hot With the CZ Scorpion EVO 3 S1
The Scorpion is a first-rate 9mm ammo unloader! You just know it will be a blast to shoot this gun as fast as you can.
At a little over 5 pounds with a stabilizing brace, the gun is easy to handle and would be perfect for youngsters or smaller-statured shooters to learn. The gun balances very nicely with its short barrel.
It points naturally and is very easy to get on target, whether fired from a braced stance or shouldering the firearm. (Please understand your local laws and regulations when utilizing a stabilizing brace on pistol platforms like the Scorpion).
I did find that for my eyes, the smallest aperture on the rear sight made the front post come into a very clear focus and helped greatly with accuracy. Once I switched from a larger aperture to the smallest, my groups shrank considerably.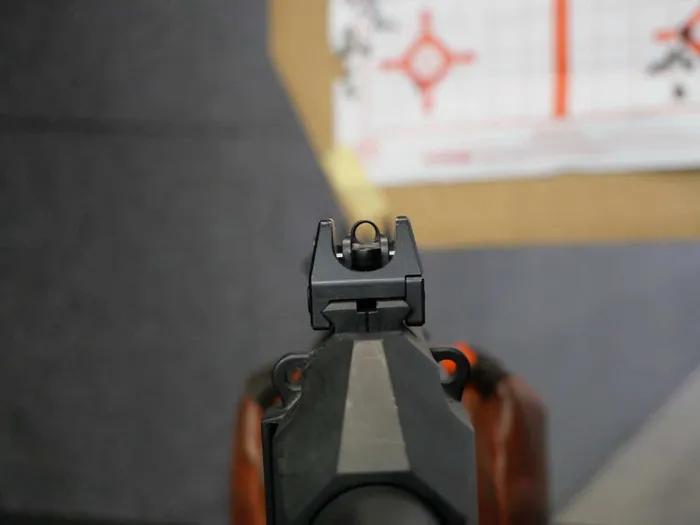 The factory trigger averaged 7 pounds 1 ounce and provided a smooth pull with no overtravel. Even at this relatively heavy weight, the gun was easy to shoot accurately. In fact, I managed to put five rounds in one ragged hole at 7 yards shooting relatively fast.
The aftermarket trigger on my wife's Scorpion averaged 5 pounds 2 ounces and was also very smooth, broke cleanly, and had no overtravel.
Some right-handed shooters complain about the factory ambidextrous safety interfering with their trigger finger. I did not have any issues with the safety lever and found it to be easy to operate.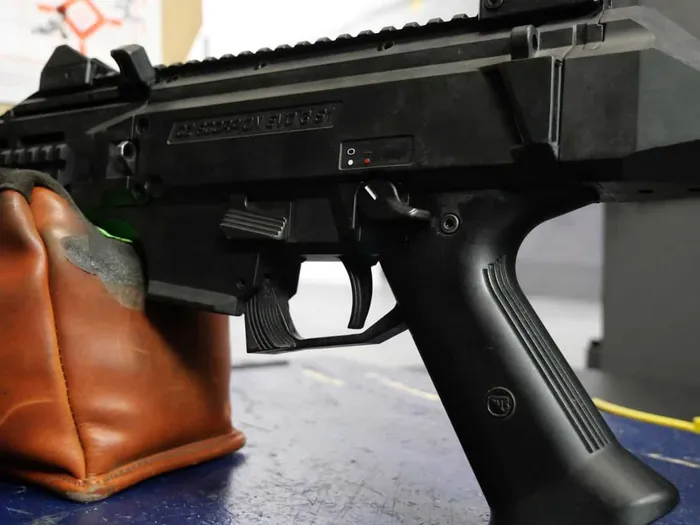 A quick downward swipe with the thumb, similar to an AR-style safety, and the gun is ready to go. Likewise, I found I could safe the gun just as easily as an AR by changing my grip a little and sweeping the safety lever up.
What I did find a little harder to master is the magazine release. The mag release is nestled right against the front of the trigger guard. It is ambidextrous and can be pushed forward with the thumb causing the magazine to drop free while you go for your fresh magazine.
I found myself searching for a non-existent AR-style magazine release more than once. I found it was quite easy to get my thumb inside the trigger guard rather than on the magazine release. With practice, learning the new system will become second nature.
The charging handle on the Scorpion is on the left side of the gun and can be easily swapped to the right side for left-handed shooters.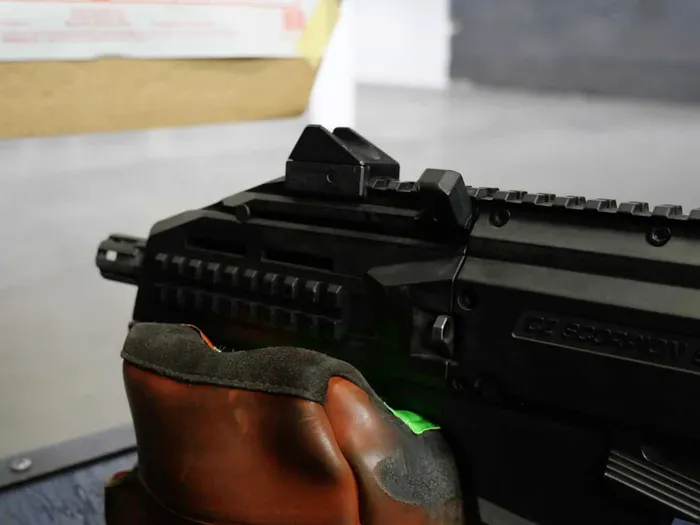 With no optic on the gun, the factory handle is easy to grab and manipulate. To lock the action open, pull the handle all the way to the rear and move right into the locking notch. When in this position the handle must be pushed down and allowed to slam forward to chamber a round and close the bolt.
The bolt does lock open on an empty magazine. From this condition when a fresh magazine has loaded the bolt can be closed by pushing down on the bolt catch on the left side of the gun. It is really easy to hit the bolt catch during your magazine reload to get the gun back into battery and ready to go.
All in all, the Scorpion EVO 3 S1 is great fun, easy to shoot, and really accurate!
My Favorite Things About the Scorpion
Accuracy
The Scorpion is a supremely accurate pistol. CZ has a reputation for turning out high-quality barrels, and the hammer-forged barrels on the Scorpions are no exception. For a fun day at the range set some targets out at least 25 yards and even 50 or 100 yards, and bet your friends you can make the shots. Just be sure you know your hold-overs with the ammo you are shooting :).  
Sights
The factory sights on the Scorpion are really nice. They are easy to place wherever you want them on the top section of the Picatinny rail. However, I would suggest having them at the extreme front and extreme rear of the rail system to provide the longest sight radius possible and, thus, provide the most accuracy possible.
The front sight is a flat-top post protected by robust wings and adjustable for elevation just like your A2 front sight on an AR. There is a small stop you push down, then turn the sight to lower or raise to meet your needs.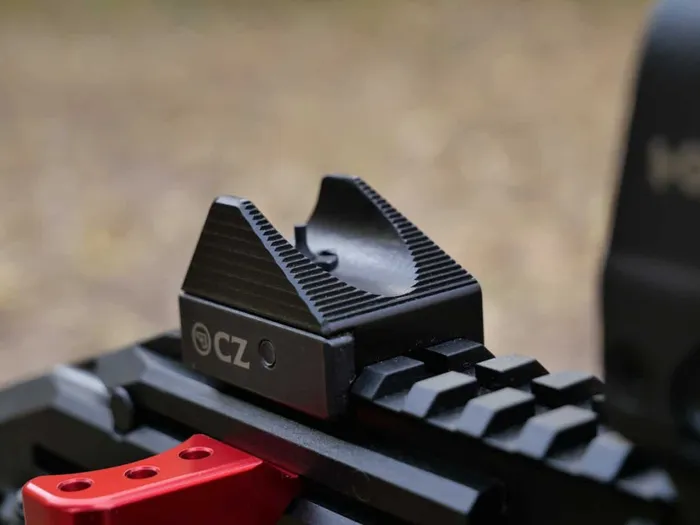 The rear sight is also protected by robust wings and features four different aperture sizes to meet your shooting conditions.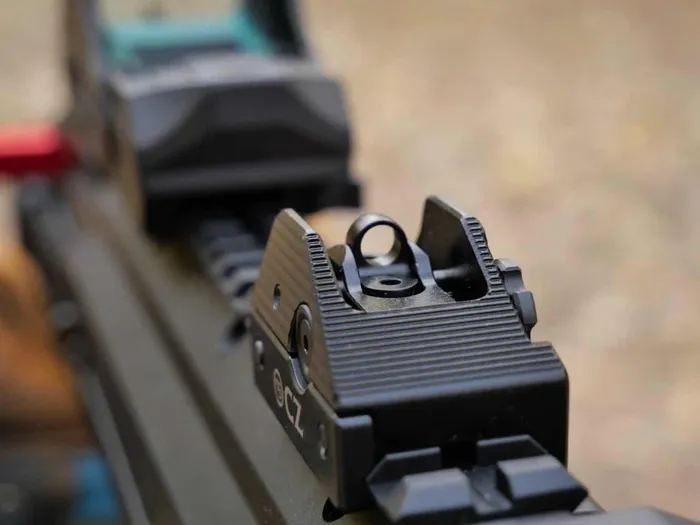 The sight is adjustable for windage by turning the large adjusting wheel on the side of the sight. The wheel locks in place with a small pin at the bottom of the wheel. Simply push it in with a small screwdriver or punch and turn to the next locking position.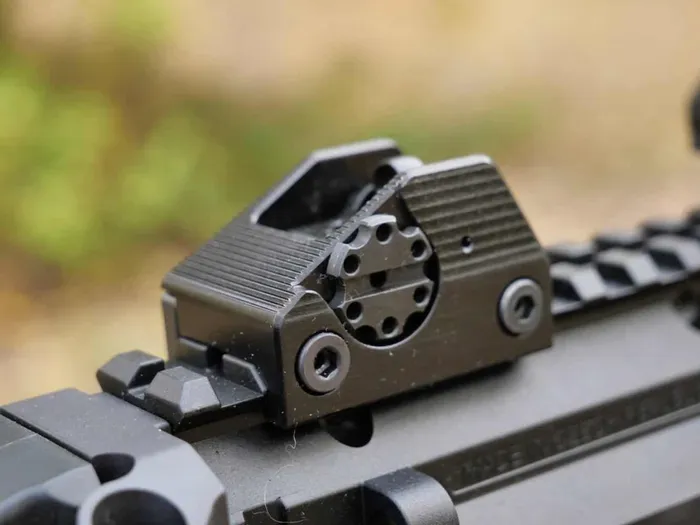 Easily Customizable
The Scorpion is just fine out of the box. It's accurate, it's reliable, and it's easy to shoot. But what fun is leaving a gun box stock?
There are many easy upgrades such as optics, slings, folding braces, magazine releases, and trigger packs that make an already great gun even better.
With just a few tools and some mechanical aptitude, most shooters can build their Scorpion into something that is truly their own and meets their needs.
How We Tested
Between the stock factory gun and my wife's gun, I ran about 400 rounds.
Many rounds were from benched positions to really get a feel for the accuracy potential. I had no malfunctions of any kind running 115-grain FMJs through the guns. I fired an assortment of handloads, Sellier & Bellot, and Buffalo Cartridge Adrenaline ammo. All were equally accurate and all functioned perfectly.
The CZ cold hammer forged barrels performed as expected. The Scorpion is a very accurate gun and quite easy to shoot well.
With iron sights, I could keep 10-round groups to about 1.5" at 10 yards and 2" at 20 yards from the bench. My offhand groups were larger, but still acceptable to me.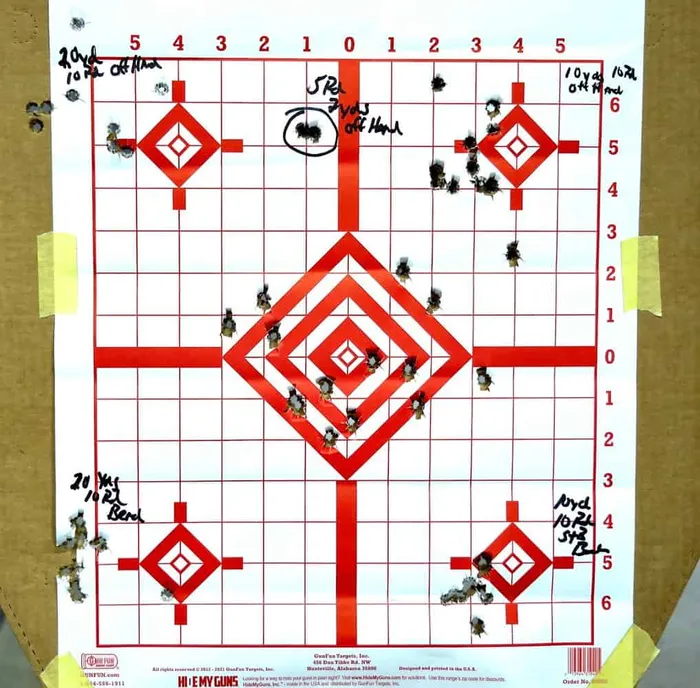 With the Holosun 510C on my wife's gun, my 10-yard group was just under an inch and at 20 yards I had two fliers but 8 shots went into 1.25".
At 15 yards I put 10 rounds in 1 hole with a called flier.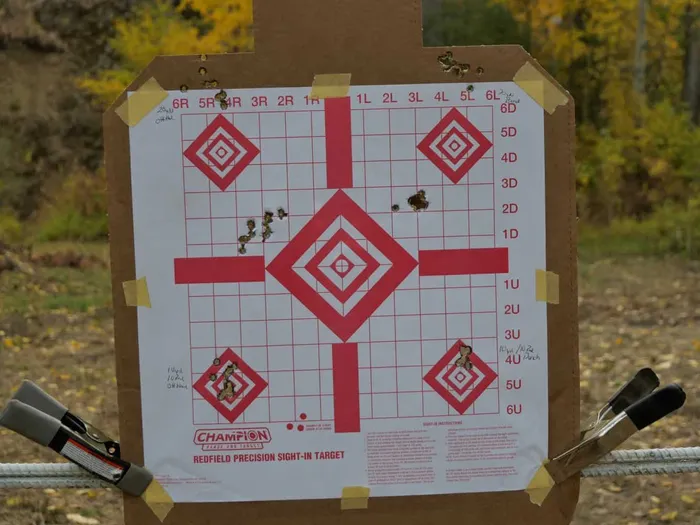 As mentioned earlier, the gun begs to be shot fast! With my wife's gun, I shot 10-round bursts on steel at 15 yards and had no issue keeping all the rounds in the middle of the plate. I worked on a few quick reloads and multiple mag dumps as well. Other than fumbling a few times with the mag release, fast groups were easy and fun.
I did some mag dumps with 5 rounds each and reloads at 7 yards at The Range LLC with the factory gun and managed to keep most of the rounds right in the center of the target. My last five were a bit right and probably indicated I was trying to go too fast.
Accessories
Red Dot or Optic
I think the first thing I would put on a Scorpion I owned would be a red dot site of some sort. For many, as we age, seeing the front sight clearly becomes a challenge.
The Holosun 510C-GR on my wife's Scorpion worked really well for me indoors and outdoors.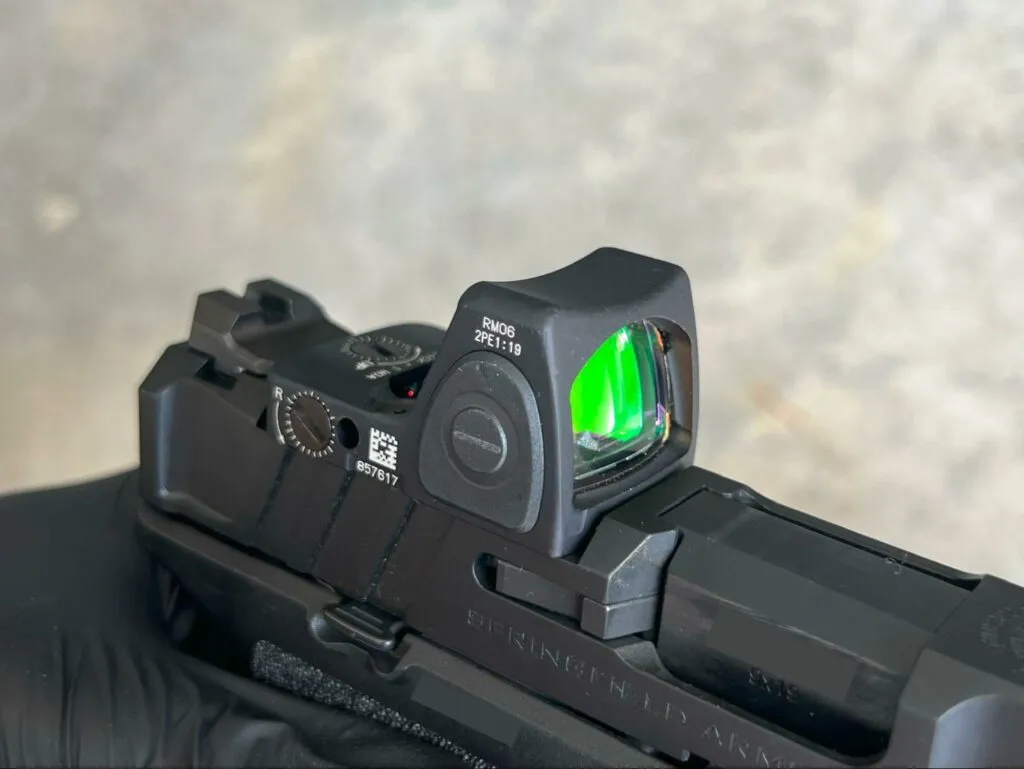 Of course, for those who have used Trijicon optics would feel right at home with the Trijicon RMR Red Dot Sight. See our RMR Type 2 review for more information.
Regardless of what sight you choose, your groups will likely tighten up, and you will be able to shoot the Scorpion faster than with factory iron sights.
Trigger and Trigger Pack
As stated above, the factory trigger is a bit heavy, but you can shave about 2 pounds off the trigger pull with a THETA Forward Flat Trigger. The increased leverage of this trigger decreases pull weight by about 12%. It is a simple drop-in replacement.
Add a Reduced Weight Trigger Spring Kit and the Trigger Pack Hardware Refresh Pack, and you have a nice smooth trigger with 5-pound pull.
Pistol Stabilizing Brace
A brace on a gun like the Scorpion only makes sense. You have much more control and can shoot the gun much more accurately with a brace. Again, be sure you understand your local ordinances as well as the pending federal rulemaking regarding stabilizing braces.
The SB Tactical SBTEVO-G2 brace was designed with CZ from the ground up as a stabilizing brace. It folds to the right side of the gun to make transport and storage very easy.
Alternatives
The PC Charger is a fun 9mm pistol that fits the same niche as the Scorpion. With a 6.5" barrel, the PC Charger is very compact. The PC Charger ships with two magazine wells to utilize Ruger SR-Series magazines or Glock magazines with a simple change of the magazine well.
The barrel is hammer forged and threaded to accept any common muzzle devices, including suppressors.
Check out our Ruger PC Charger review for more specifics.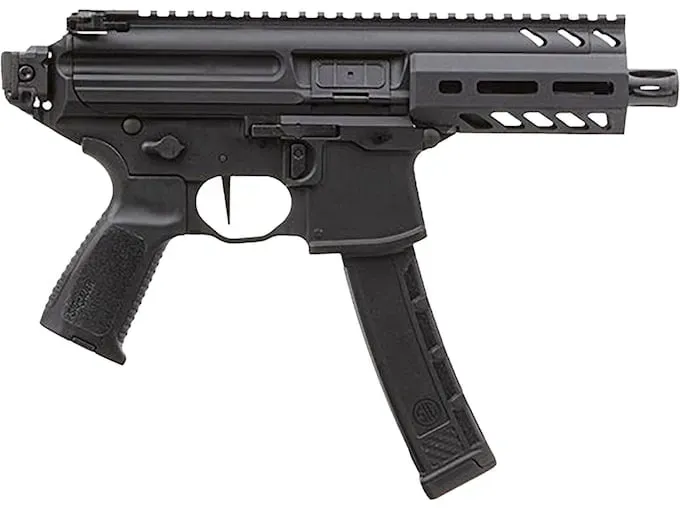 The Sig MPX K is a semi-auto sub-gun built to match your familiar AR-platform controls. The big bonus is that it ships with a 35-round magazine! (For those of you still living in Free America).
The modularity of the MPX allows for quick barrel and handguard changes. The barrel is threaded and ready for your favorite suppressor. The MPX also features Sig's PCB folding brace to make accurate shooting easier and storage and transport very easy.
FAQs
How to care for your CZ Scorpion?
The CZ Scorpion requires only basic maintenance and cleaning. Wipe the gun down after use. Metal parts get light gun oil. Do not use bore solvent on the polymer frame!
The Owner's Manual has great pictures of where to lubricate the gun for optimal performance.
Bore cleaning is straightforward; use a quality solvent, quality brushes, and quality patches. Only clean from the breech, pushing the brush and patches from breech to muzzle.
If the gun is to be stored for an extended period, a very light coat of oil in the bore will help prevent rust and corrosion. Just be sure to run a dry patch down the bore before your next range session.
Yes! You are getting a very quality gun for a reasonable price. You get accuracy, reliability, and the ability to customize to your liking.
What is the effective range of a CZ Scorpion?
The Scorpion is accurate from 5-20 yards with all ammo tested. That said, I have shot a Scorpion at 50 and 100 yards with no holdover and made consistent hits on steel targets. The real limitation is the energy of the 9mm cartridge at extended ranges.
Where is the CZ Scorpion made?
The Scorpion is manufactured in the Czech Republic and imported to the US by CZ-USA in Kansas City, Kansas.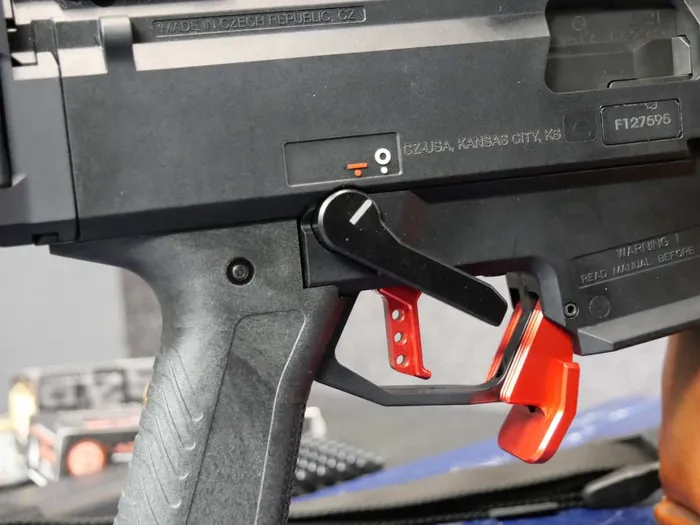 Conclusion
The CZ Scorpion EVO 3 S1 provides a lot of performance and options in a very user-friendly platform.
Though born and bred for law enforcement and military use, the Scorpion is a versatile tool for the law-abiding citizen.
As a pistol, the firearm can be utilized as a handy, accurate, and reliable home defense weapon. Its compact and lightweight configuration allows small-statured and younger shooters to handle it safely and with ease.
For someone looking for a reliable gun to keep in a truck or bush plane, the Scorpion is ideal. It provides adequate power and accuracy for small game hunting as well as personal defense.
Additionally, because the Scorpion is a pistol, in many states, you can have the gun loaded and ready for use in a vehicle if you have your concealed carry license. You cannot have loaded rifles or carbines in your vehicle.
Would I buy a Scorpion? Yes! The gun is a ton of fun to shoot. It is accurate. It runs reliably, and it has a lot of utility. There is a strong aftermarket and custom industry that allows you to configure the Scorpion any way you want.
In short, give the Scorpion EVO 3 S1 a look next time you hit the gun store. Better yet, find a range that has a Scorpion in the rental fleet and buy a few boxes of ammo…it'll be gone in short order.
Explore more