Diamondback DB15 Review [2023]: Solid Home Protection Rifle?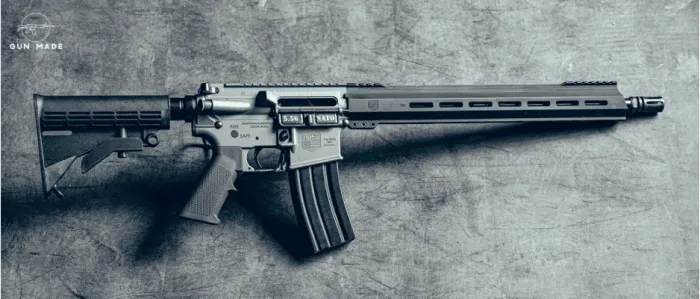 Diamondback DB15 Review [2023]: Solid Home Protection Rifle?
The Diamondback DB15 16" 5.56 Nato M-Lok compatible rifle has been rising in popularity due to provably reliable performance at a really affordable price. The DB15 featured specifically in this review is the DB15YPTG. I have taken the time to do a complete study and test of not only the features but functionality of this rifle to bring you a thorough review.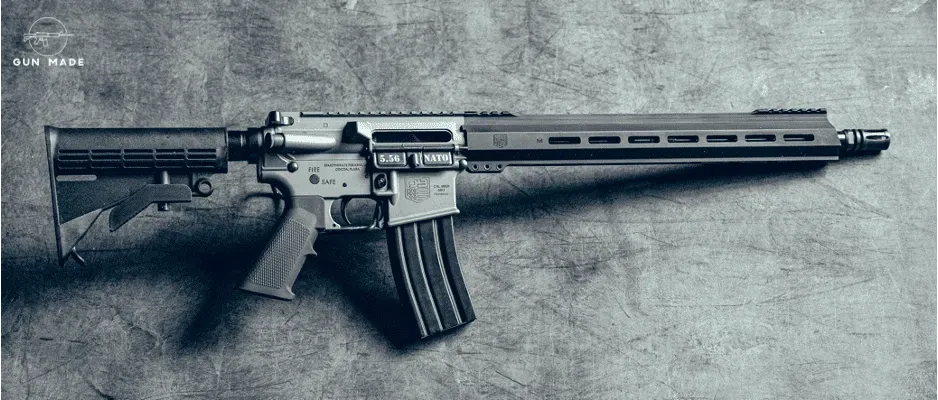 Spending years in the gun business and working in the gunsmith shop has allowed me to become an expert on the firearm subject, especially the AR-15. At this point, I have fired, fixed, and built hundreds of AR-15s. That said, you can be assured of getting the raw and relevant details about this Diamondback DB15YPTG.
My first look at this gun was in the shop, inspecting things like parts, features, and finish. After getting a good look, I captured an array of pictures to bring you a visualization of what we will discuss. Then, of course, the true test, my personal experience with the DB15 out on the range.
Diamondback DB-15 Review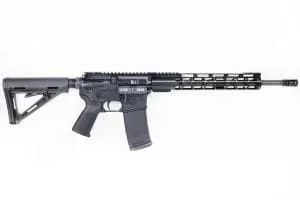 Specifications
| | |
| --- | --- |
| UPC | 810035754928 |
| Caliber | 5.56 Nato |
| Barrel | Diamondback Barrels 5.56, Carbine Length, 16 in., Medium, 4150 CrMov, Black Nitride |
| Twist | 1:8 RH |
| Gas System | Carbine-Length |
| BCG | Shot-Peened, Magnetic Particle Inspected Mil-Spec 8620 Carrier |
| Upper | A3 Flattop Forged 7075 T-6 Aluminum |
| Lower | Forged 7075 T-6 Aluminum [Diamondback Standard] |
| Handguard | 15 in. M-LOK Rail |
| Grip | A2 Style Black Plastic |
| Stock/Brace | 6-Position ATI Mil-Spec Buttstock |
| Magazine | 30 Rnd CPD |
| Sights | None |
| Muzzle Device | A2 Flash Hider [1/2 x 28] |
| Trigger | Standard |
| Weight | 6.6 lb. |
| Length (Collapsed) | 32 in. |
| Length (Extended) | 35-1/4 in. |
Diamondback DB15 Pros and Cons
Pros
Highly Customizable
Affordable
Lightweight
All essential elements to a functional AR-15 are present as well as some upgrades
Clean overall look
Reliable
Cons
No Ambidextrous Controls
Handguard finish scuffs easy
Features
This rifle comes with what I would consider some standard features as well as some upgraded modern features. I will be going over each feature exactly how this gun comes out of the box and describe them based on that principle, standard vs. upgraded.
Upper/Lower Receiver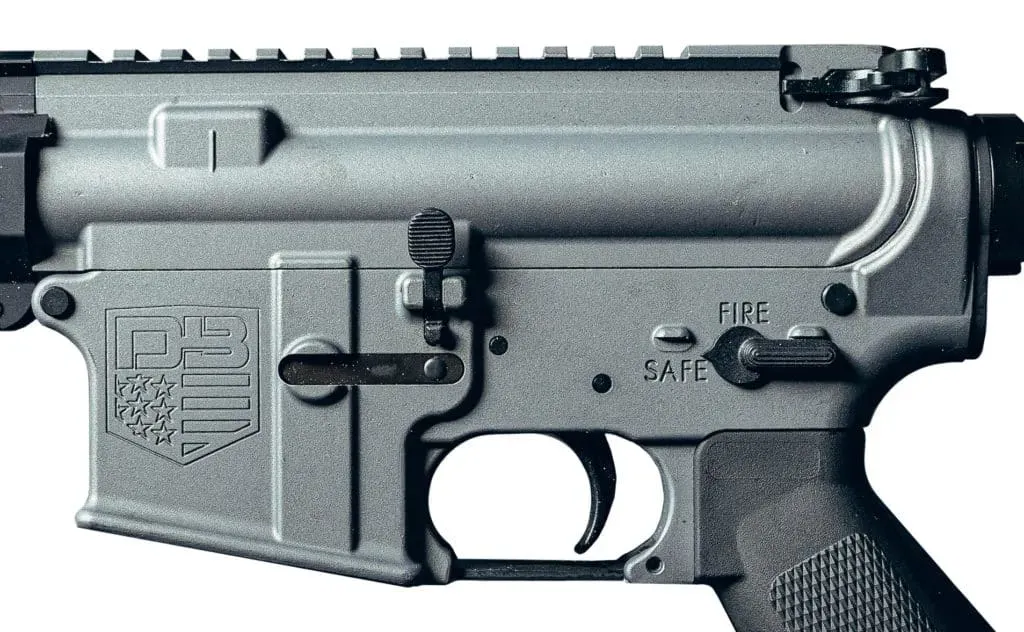 I think we can discuss upper and lower receivers together. The upper and lower mostly just work as a containment unit for the parts that make everything work. Other than the upper being an A3 flat top with Picatinny across it and the lower being the Diamondback standard, the rest of the discussion points apply to both. 
The upper and lower are both made from forged 7075 T-6 Aluminum. Those details are standard for the DB15 line however they can come in different finishes. This specific model, the DB15YPTG, has a raw aluminum bead blasted finish. The beaded finish contrasts the rest of the black controls, furniture, and components on the rifle in a way that I think looks good. 
B.C.G Bolt Carrier Group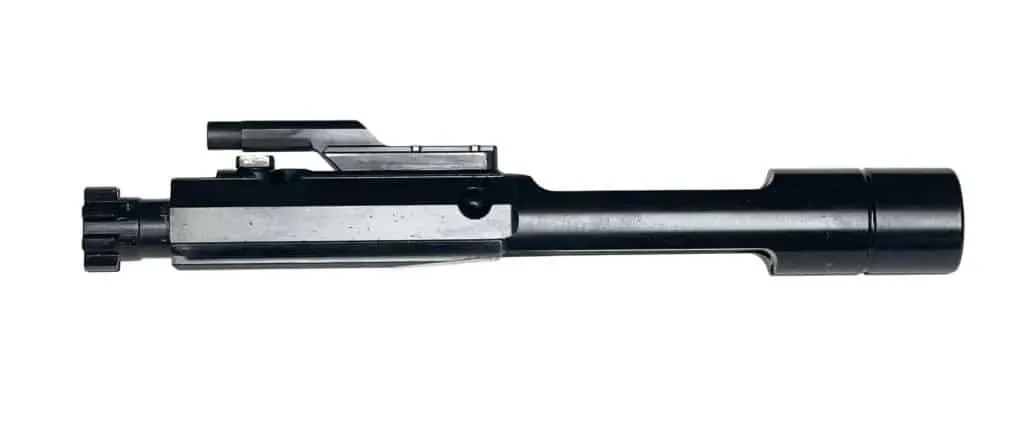 When I cracked open the upper and lower, a shot-peened, magnetic particle inspected mil-spec 8620 carrier can be found. There is not a lot of room for opinion on this part other than I do assume it to be decent quality based on a quick look and its reliability when I tested the rifle
Handguard 

This 7-slot M-Lok handguard is a great feature of this rifle. I would consider this a modern style or upgraded handguard in comparison to the standard baseline options that come with many rifles. The sleek shape and design of this handguard not only looks good but feels good in the hand. 
On either side of the handguard, as well as the bottom, there are 7 M-Lok slots giving you plenty of areas to mount accessories such as a QD mount, lights, lasers, angle/foregrip, or any other desired M-lok item. There are 2 Picatinny rail sections at the front and rear on the handguard's top side, allowing for mounting of sights or any other pic-mounted gear. 
As mentioned, the Picatinny sections do not extend across the entire handguard, which leaves the middle portion open for a comfortable grip, especially if you use the c-clamp grip style. 
Muzzle Device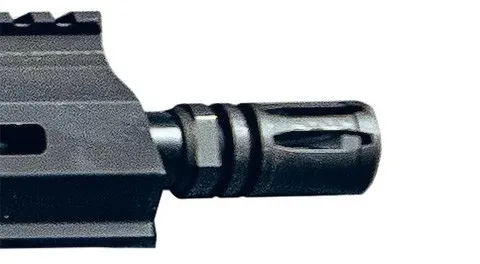 The A2 flash hider on this rifle is just like any other A2 brake, nothing less nothing more. The purpose is to hide a portion of directional flash as well as fight the upward recoil by forcing the barrel downwards. This brake has five slits positioned to the top, directing the blast up and pushing the barrel down as desired. 
Stock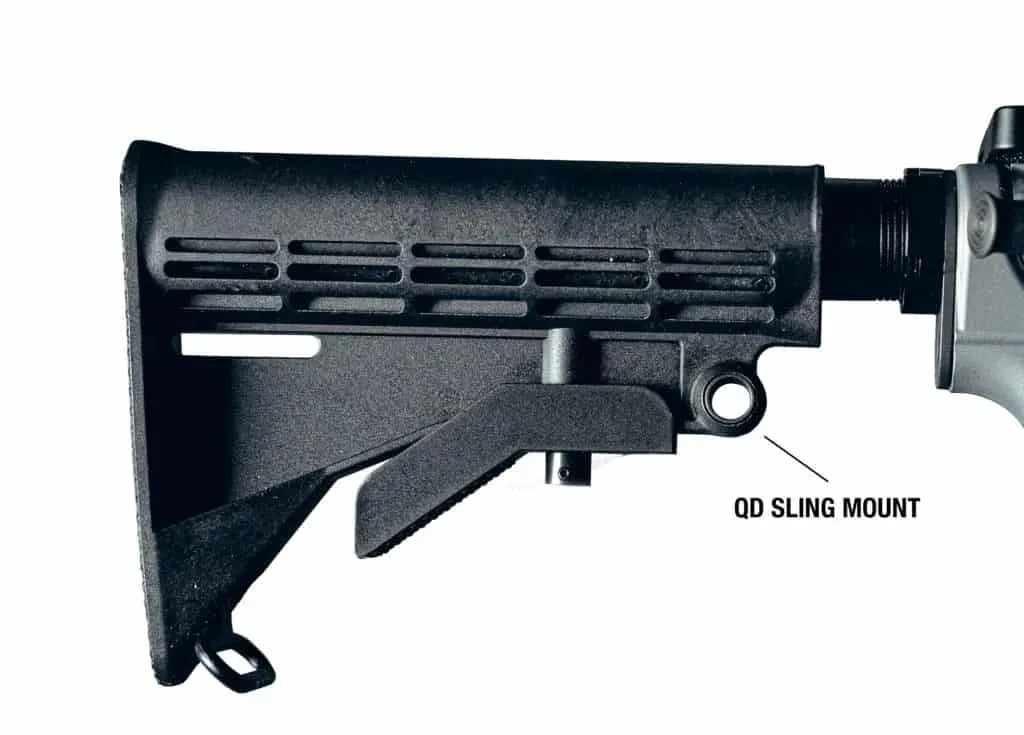 This is a 6-Position ATI Mil-Spec polymer Buttstock. I would describe this as a combination of standard and upgraded. For the most part, it resembles a standard 6-position stock with an external 1 1/4" sling latching loop and sling loophole for various attachment styles.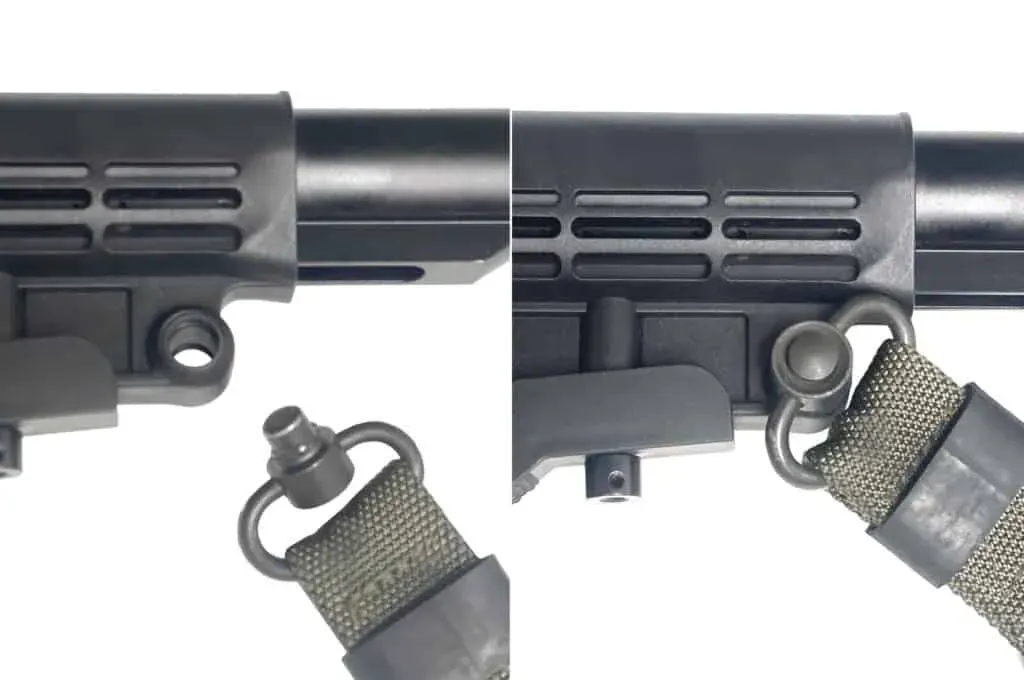 The upgraded feature, as indicated in the picture above, is the more modern QD sling mount hole which gives you the option to use a QD push button plug style sling. To use a QD sling in conjunction with the rear mount on the stock, you would likely want to add a secondary QD mount to the handguard. 
Grip
Like many out-of-the-box AR-15s, the DB15YPTG is equipped with a mil-spec A2 style synthetic black grip with a standard checker pattern and vertical groove back strap. The A2 grip is probably the most common grip found on an AR, being simple, light, and all you need.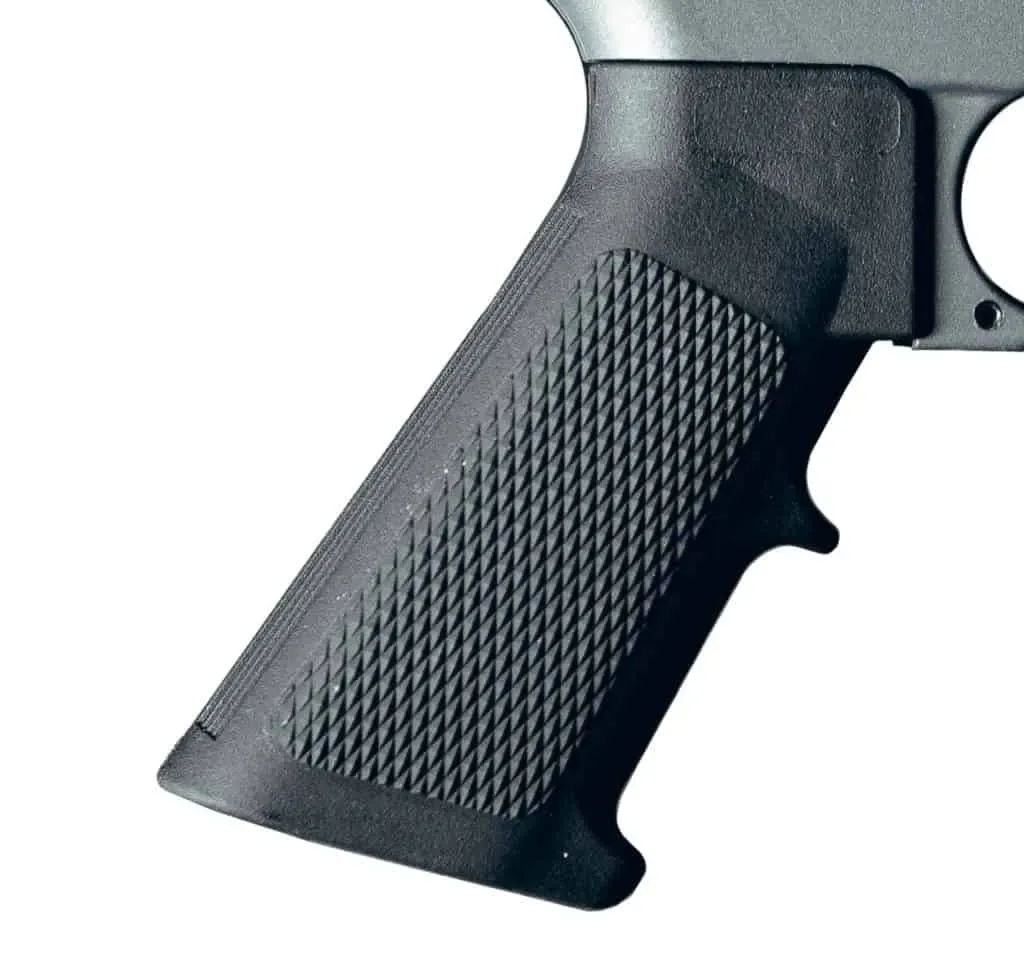 However, don't worry if this isn't the grip for you. A single screw accessible through the bottom of the grip is all that secures this onto the receiver, making it a quick job to switch for your favorite style aftermarket options. 
I recommend doing this with the firearm upside down and slowly removing the grip from the receiver to capture the selector detent spring while using gravity to maintain the detent position.
Magazine 
The magazine that comes with this model is a C Products Defense Duramag speed (410 stainless steel) which comes with all DB15s other than the Magpul furniture models that include a PMAG. I will just start by saying I prefer this mag style just because the stainless will drop free from a hot dirty gun compared to a PMAG that might have too much friction under those circumstances.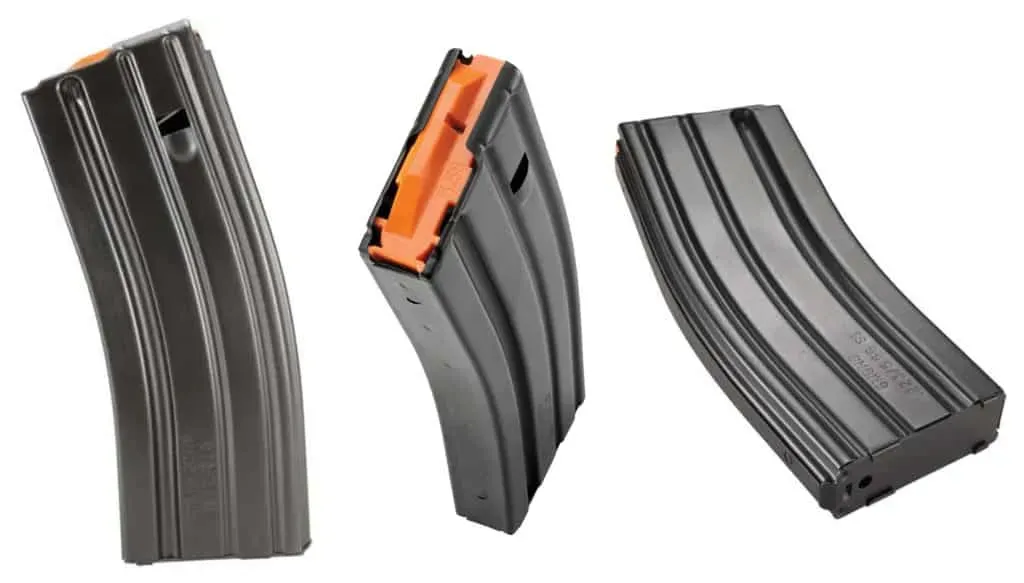 From a glance, visually, most stainless mags appear to be very similar. Upon a closer look, certain things, such as coating, follower, and spring tension, stand out. The coating on these is a Duramag-specific T-360 coating that they boast, ensuring a smooth performance that I have tested and can verify. 
The bright orange follower looks sturdy and is a Duramag trademark Advanced Geometry Follower™ that is supposed to remain level for consistent feeding. 
Another trademark component to this mag is the Everflex™ anti-fatigue spring that claims long life and reliability. I have not used the mag long enough to verify that claim, but it does feel like a quality spring with good spring tension compared to many mags I have used. In my opinion, I would say that this is a great quality magazine, especially to be included with purchase.
Controls
Safety Selector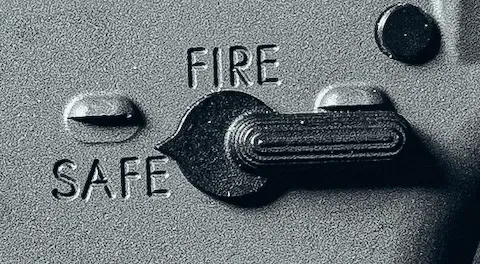 Not much to talk about here or anything special. The safety selector is as basic and standard as they come. There is absolutely nothing wrong with the Selector, just nothing extra. The selector is a right-hand 90-degree flip allowing an easy switch between safe and fire.    
Magazine Release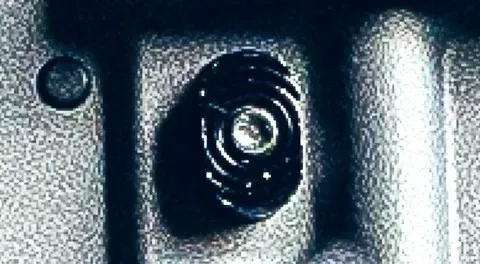 The magazine release is another simple yet perfectly functional control on this rifle. For most, this easy-to-use push button will drop your mags without a problem. If you do feel the need to upgrade to an extended mag release, this is an extremely easy part to remove and switch out.
Forward Assist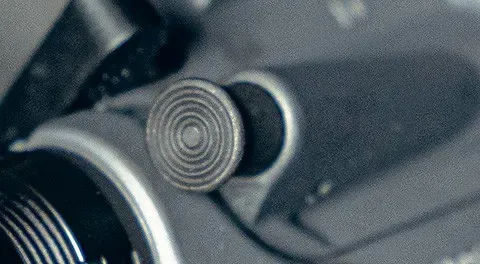 The forward assist can be pushed to assist the bolt into battery if, for some reason, it did not go fully into battery on its own. Not all AR-15s have a forward assist, especially early versions, but most modern ARs do and likely look just like this one. There are some options for a slightly different design or colored forward assist buttons, but for the most part, this is the typical assist button.
Charging Handle
This charging handle is your standard one-sided release handle. You have to pull on the left side of the handle to release the latch to drop the bolt and charge a round into the chamber. This style is most common for a non-upgraded handle.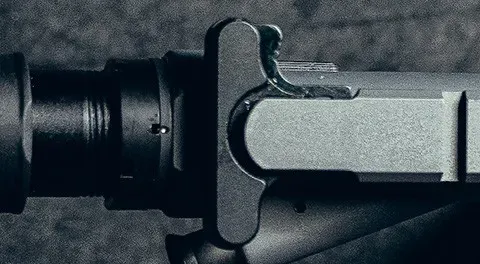 Changing from this to an upgraded option, such as ambidextrous or extended handle, is as easy as opening the receiver and sliding the handle along with the bolt out, then sliding a new one in.
Bolt Catch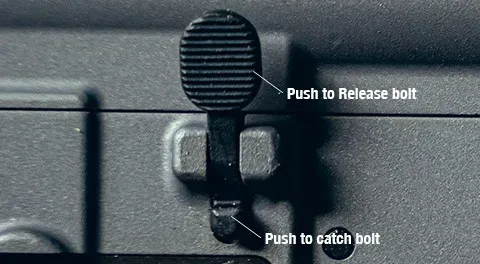 The bolt catch is a standard mil-spec catch that can be used to catch the bolt when pressed in one direction or drop the bolt when pressed the other way. Upgrades are available to replace this style catch, either extending it or bringing a bar to the other side of the rifle for an ambidextrous operation which can be nice. This catch is all that is necessary and even suggested for use by many firearms instructors over upgraded catches to keep the operation safe, standard, and simple.  
Dust Cover
The dust cover is not a control, but I think due to its simple function that operates by using other controls, it can be discussed within the control category. This piece is a standard non-upgraded dust cover that opens upon bolt drop by either bolt catch lever or charging handle.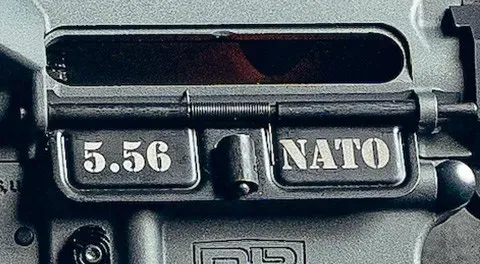 When closed (by hand), it functions exactly as described by the name as a dust cover to keep debris and dust from entering the chamber. This cover does have a little flash to it with a "5.56 NATO" engraving adding a cool aesthetic to the rifle.
Trigger
Last for the controls is a standard mil-spec trigger. Many times with the term mil-spec you already know what to expect. With a trigger, that is not necessarily the case. There is quite a bit of variation between triggers.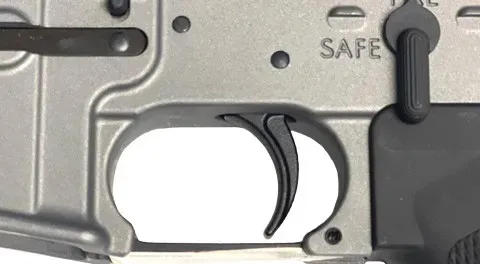 I would describe this as a "good mil-spec trigger. The trigger pull is fairly crisp with a clean break. I wouldn't exactly say smooth, but that will likely change over time when the surfaces have worn on each other. The reset does feel a little slappy but only when I am doing a trigger test inside. 
While shooting, I never paused to think, "hmm that was slappy". As far as a mil-spec trigger goes, I think this one is adequate. You can always replace it with another trigger, but I recommend getting good and comfortable with one just like this before venturing out.  
Shooting Experience
Last but not least, I want to talk about the shooting experience. Arguably this might be the most important part because regardless of parts or components if it does not shoot well, the rest doesn't matter. Luckily I did find this rifle to perform very well. I shot multiple of these to ensure a true and accurate experimental conclusion. The rifles I shot consisted of 2-DB15YPTG as well as a DB15DB. 
The first of these that I took to the range seemed to expel a large amount of gas which then heated the handguard within a couple of mags. I put 90 rounds through this before deciding there was definitely something wrong. For that reason, I wanted to try another one of these as well as another DB model to verify if this was an isolated flaw with the first one I grabbed or a bigger problem to be expected throughout the line. 
After acquiring another DB15YPTG and the DB15DB I put them through the test. Shooting over 200 rounds through the DB15YPTG and 60 rounds through the DB15DB. As I had expected, the gas problem was an isolated issue that sometimes happens within the manufacturing process.
I have seen issues much worse than this with even the best of brands. I will not name who exactly, but many of the top-known AR-15 companies let something slip periodically. That being said, I personally do not feel like that is a true reflection on the DB15 entirely. My opinion that the DB15 is a reliable and affordable AR-15 option remains, and I will tell you why. 
Despite the slight issue mentioned, the things I noticed when shooting the multiple DB15s were all positive. On the range, I used an array of different magazines and ammo that all proved entirely functional through the rifle. Another test factor was reliability at varying speeds. I did not experience a single jam, double feed, or any other issue when shooting slow and even very fast. 
I tried to induce problems by doing things like kinking the mag during rapid fire. Even this did not cause a problem with function or feeding. If there were to be an issue, it would likely be under those circumstances. After confirming reliability, I put it through the paces to test accuracy. With only Magpul flip-up sights, I was able to group proficiently out to ranges of 50, 100, and 200 yards. I know that with a quality optic, I could do the same out to much further ranges.   
FAQs
How do you Disassemble and Clean a DB-15?
Is the DB15 a good gun?
The DB15 is a great gun. It's lightweight, accurate, and has a lot of firepower. The DB15 comes in a variety of different calibers, so you can find one that fits your needs. It also has a Picatinny rail system, so you can add on various accessories. The DB15 is a great gun for self-defense, target shooting, or even hunting. It's reliable, and it will get the job done.
What ammo does a DB15 use?
The DB15 is a semi-automatic rifle that uses standard 5.56 NATO/.223 Remington ammunition.
Alternatives to Consider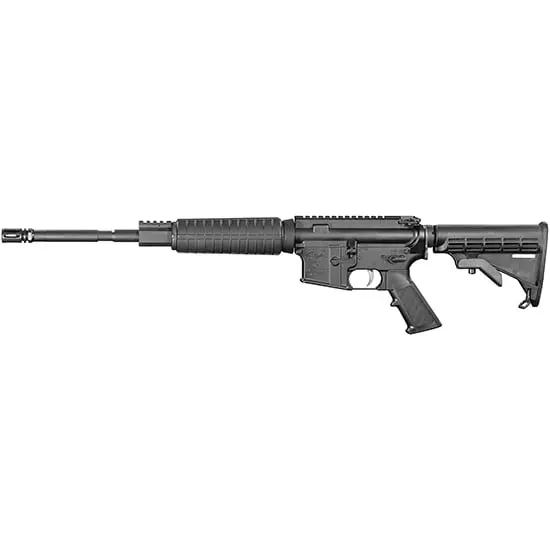 The Anderson Arms offers the basics you need in an AR-15 but at a slightly lower price than the Diamondback, generally going for under $500. If you're on a budget, this is a great alternative option. In order to stay as affordable as possible, the Anderson is pretty plain Jane. 
For example, this rifle does not come with a full-length M-Lok rail like the DB. Luckily an AR-15 is fully customizable, so you can get in the door now and upgrade to your preference later. 

Some people don't want to do much to their gun after buying it. That is completely understandable. If you are one of those types of people, the Radical FR16 Socom might be the option for you. On this rifle, you will notice an upgraded Bravo stock, texturized pistol grip, and the much desired full-length M-lok rail. For under $700 this is a fantastic AR-15 that comes ready to slap a sling, light, and sights on, then go to work. 
Conclusion
I definitely put the DB15 through the tests. Spending as much time as I did with the DB15 and shooting as many rounds, I now have a much more intimate understanding of this rifle. Although my first run with the DB15YPTG ended up being a little gassier than I had expected, I would say this was a good gun overall. 
The reliability was displayed by continued operation throughout various mags and ammunition. The operation and feel while shooting was pleasant. Accuracy was well within satisfaction based on the standard capabilities of a 5.56 nato AR-15. 
In conclusion, I believe the DB15YPTG meets all requirements to be considered reliable, comfortable to use, and accurate, which is all I can ask of an AR-15 at this price point. The DB15YPTG would be a great range or home protection gun.
Explore more