Diamondback DB9 Gen4 Review: An Affordable Micro-Compact 9mm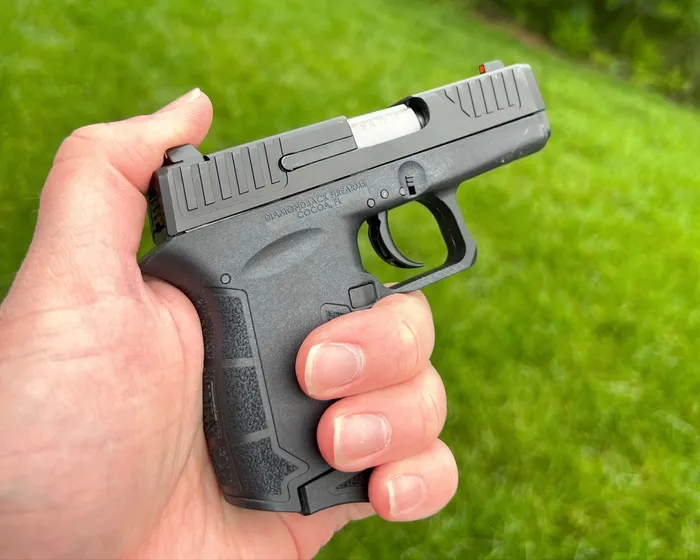 Diamondback DB9 Gen4 Review: An Affordable Micro-Compact 9mm
Introduction
Micro-compact 9mm pistols are taking over these days, and for good reason.
They are easy to conceal, still deliver enough stopping power, and can be budget friendly (sometimes). However, the range of pistol sizes that fall into the micro-compact category varies substantially.
The Diamondback DB9 Gen4, however, embodies what many would think of when they hear the term micro-compact.
With a short 3.1-inch barrel and an overall length of only 5.73-inches, it's small even in comparison to your 6-inch Spicy Italian sub from Subway. At less than an inch thick and exactly 4-inches tall with a flush mag, you can truly pocket carry it with the right attire.
Having a gun that is easy to conceal is great and all, but it still has to be reliable and accurate in the event you ever need to use it.
I may have only shot the DB9 once in the past, but I'd essentially consider this testing period my first experience with it. I'll go over my impressions, range results and give you a closer look at the different features of the gun so that you can decide if it's one worth checking out for yourself.
Enjoy!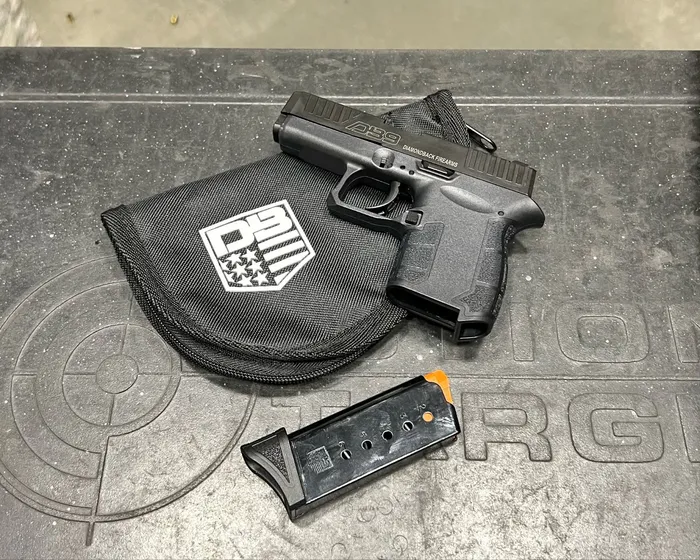 Diamondback DB9 Gen4 Review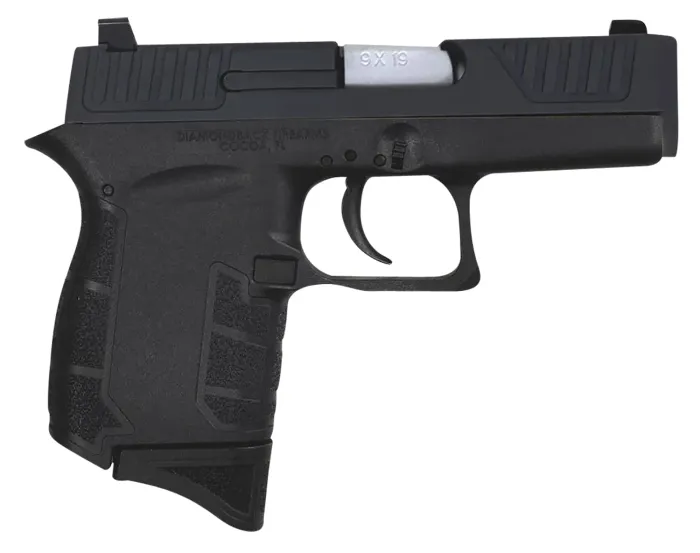 Specifications
| | |
| --- | --- |
| Caliber | 9mm |
| Capacity | 6+1 |
| Barrel Length | 3.1 Inches |
| Overall Length | 5.73 Inches |
| Width | 0.9 Inches |
| Height (Flush Mag) | 4 Inches |
| Height (Extended Mag) | 4.51 Inches |
| Weight (Empty Flush Mag) | 13.4 Ounces |
| Sight Radius | 4.51 Inches |
| Sights | 3-Dot, Glock Compatible |
| Trigger Pull | 5.5 Pounds +/- |
| MSRP | $305.00 |
Pros & Cons
Pros
Extremely affordable

Easy to conceal

Glock compatible sights

Reliable

Front slide serrations

Made in the USA
Cons
Low capacity

Too small for larger hands

Snappy to shoot – to be expected though at this size

Limited aftermarket support

Lack of ambidextrous controls
First Impressions & Range Results
Overall Feel
This won't come as a surprise, but man does this gun feel small. Reading over the specs is one thing to help you understand how small it is, but actually picking it up out of the box is a whole other story.
With having very large hands, it felt like using a backhoe to pick up a pebble…alright, that was a little dramatic, but you get the point.  
Reliability
I was surprised to see that I didn't have any issues with the DB9. At such a low price point, it's hard not to be skeptical.
Out of the 200 total rounds I put through it, I had only one issue. The gun cycled both FMJs and JHPs wonderfully and without almost any hiccups. It's not the most fun gun to shoot, but it works.
Accuracy
I am definitely not going to win any shooting competitions with the DB9, but I wouldn't have expected to.
With guns of this size, I typically only shoot them or train with them within defensive distances. I kept my shooting with the DB9 within 15 yards, and my groupings were basically a crap shoot. I had to constantly readjust my hands every couple of shots to feel confident in my grip.
As far as "hitting your target," I'm confident that it could be done at further distances, but for the sake of the review and groupings, I kept it close.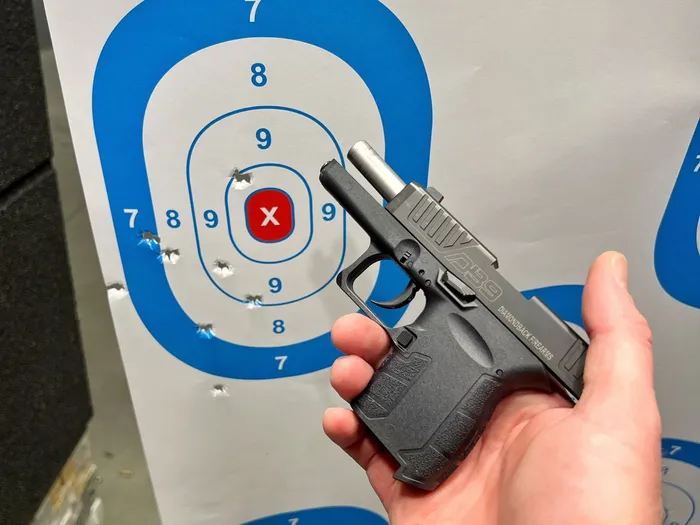 Features
Aggressive Grip Texture & Beavertail
Diamondback thankfully made the grip texture rather aggressive. With the grip being so short, any additional assistance in keeping a firm grasp is appreciated!
I do wish that the texturing wrapped completely around the grip, but having it in the front and rear is sufficient.
I'm very glad to report that the beavertail helps to avoid any nasty slide bite. With the grip being so short, you really have to grip as high as you can, so the beavertail comes in handy. It's not overly extended, but just enough to protect your hand.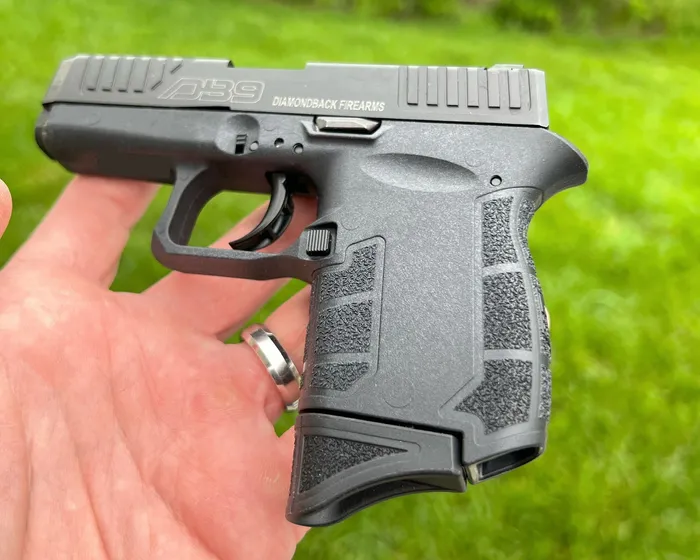 Front & Rear Slide Serrations
Decent slide serrations are a must on a slide this small. Even though earlier DB9 models had both front and rear slide serrations too, they were shallow and scalloped shaped.
The Gen4 serrations are much deeper and essentially vertical, making it easier to rack the slide or press check. These serrations earn my approval.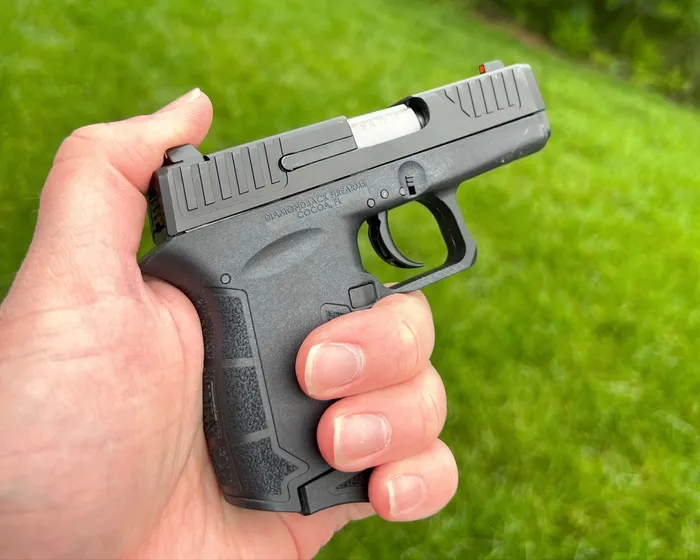 Glock Compatible Sights
I didn't know this until I actually received the gun and looked into it, but Glock 42/43 sights fit the DB9.
That opens up a ton of options for aftermarket night sights if you want to switch them out. However, the sights that come installed aren't bad at all, so I wouldn't say you really "need" to change them.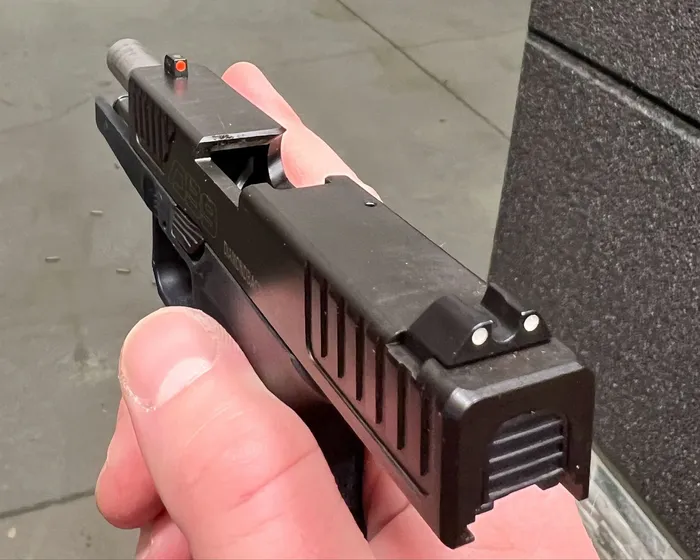 The three-dot sight setup features a U-notch rear white sight with an orange dot in the front. The U-notch is wide enough to get the entire front dot centered, with a little room to spare on each side. Again, they aren't bad at all.
Trigger and Controls
A basic curved metal trigger is found within the standard-sized trigger guard. It has a smooth but heavier than expected pull. Diamondback states the pull is 5.5 pounds +/-, and I'd estimate it to be +1.5"ish" pounds. Complete guess there, though.
The trigger guard is adequately sized in relation to the frame and even has a nice undercut to help with your grip. I can't really complain about the trigger guard, as it can only be so big on such a small gun.
Looking at the controls, you won't see any ambidextrous ones. The magazine release and slide stop lever are just large enough to activate, but I had a hard time doing so in a hurry. I do wish the mag release had a little better texturing as opposed to the basic vertical lines.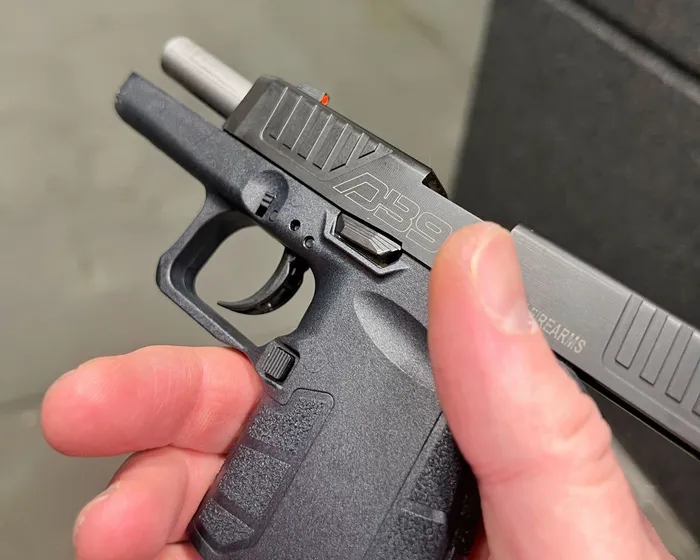 How We Tested
With such low-capacity magazines, reloading at the range took up a solid chunk of my shooting time, but I took the DB9 out three times to my local indoor range and put a total of 30+ magazines through it.
Ammo Used
I recently ordered another case of 124-grain Blazer Brass FMJs, so the bulk of my rounds through the DB9 was the Blazer Brass.
I put an even 180 rounds of the Blazer down range and only saw one failure, which was a failure to feed. I also put a box of 124-grain Federal Punch JHPs, which surprisingly didn't have any issues.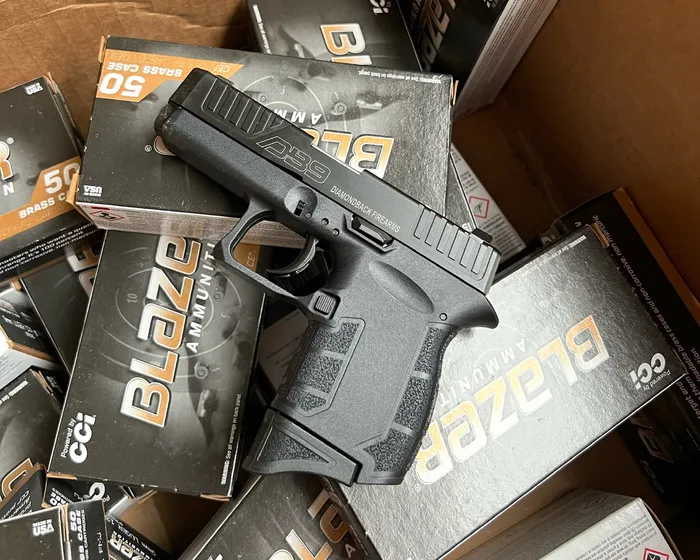 Score Card
Reliability (9/10)  
One hiccup out of the couple hundred rounds, but I would need a larger sample size to make a definitive decision.
Ergonomics (7/10)
Grip angle and size are smaller than desired for my large hands. Could be different for each person, though.
Customization (6/10)
No accessory rail or optics cut. But, you can find a decent amount of holsters and sights.
Appearance (7/10)
It's a black pistol.
Value (8/10)
With such an affordable price tag, it's hard to knock the value when it seems to be reliable too.
Accessories
You're not going to find an endless amount of accessories like you would with a Glock or S&W, but there are still a couple out there for the DB9.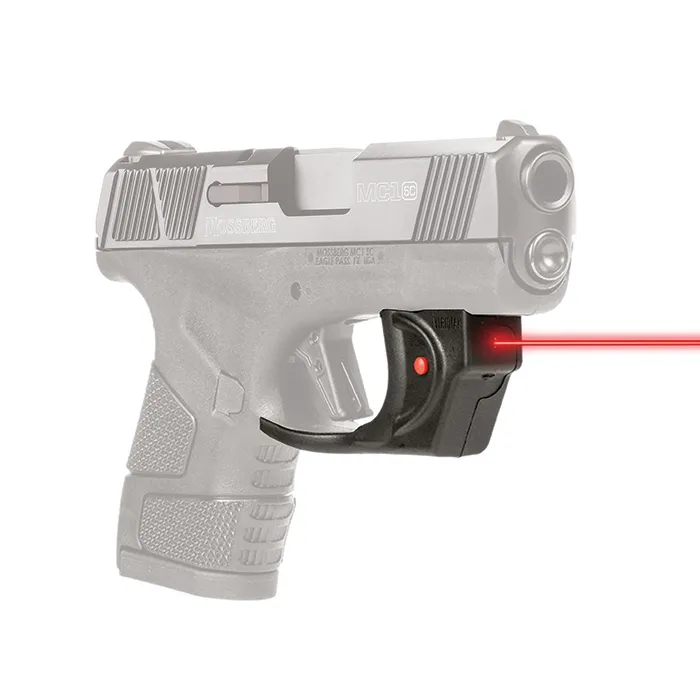 If you're a laser fan, you're in luck. Viridian makes a trigger guard mounted DB9 laser that has a 25 yard range in daylight and up to a one-mile range at night.
It features an ambidextrous on/off button, a 6+ hour battery life, and a five-minute auto shut-off. You can adjust the windage and elevation of course, making sure you are right on target.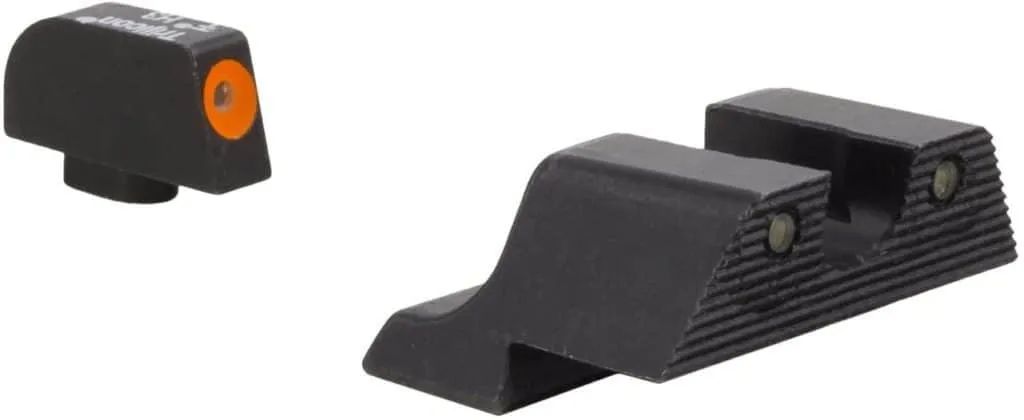 I really like my Trijicon HDs on some of my other guns, so I would probably spring for a set if I was keeping the DB9.
The sights are a three-dot tritium setup, with a blacked-out and serrated rear sight with a yellow or orange photoluminescent painted outline on the front sight. The front surface of the rear sight is steeply hooked so that you can rack the slide one-handed if the need ever arises.
Alternatives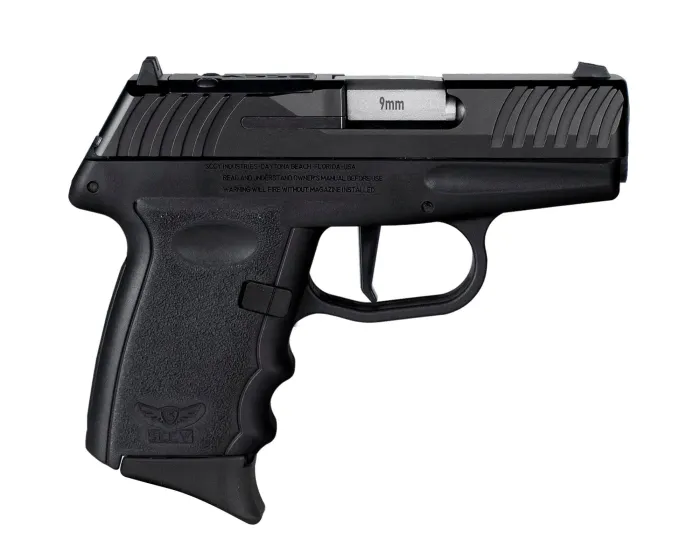 SCCY's entry into the striker-fired arena is definitely a welcomed one.
The DVG-1 is another budget-friendly micro-compact (SCCY calls it a sub-compact, but I would disagree!) that you'll often find being compared to the DB9.
The DVG-1 RDR features an optics-ready slide, a flat face trigger, and a 10+1 capacity. I put several hundred rounds through mine before I sold it to fund a new build without having any issues.
With an MSRP of only $299.99, you'll have plenty of leftover cash for ammo or accessories.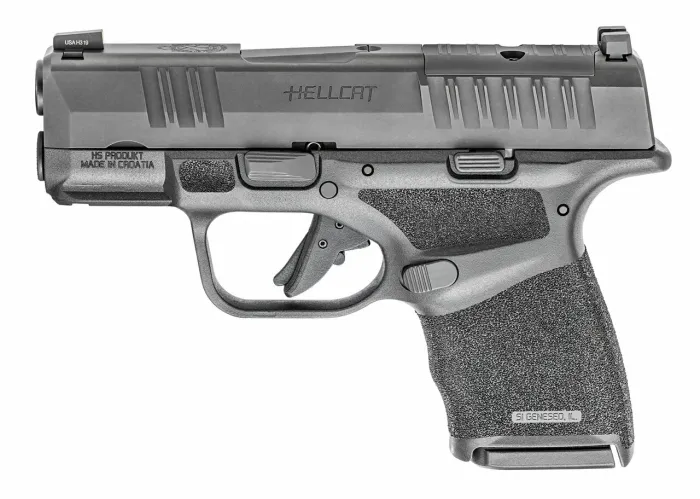 The Hellcat is not in the same price category as the DB9, but the higher price tag brings several upgraded features.
The Hellcat OSP comes optics-ready, upgraded U-Dot sights with a tritium front sight and an awesome adaptive grip texture.
Some would say, best of all, is the capacity. Still, within the micro-compact category, you actually get an 11+1 flush mag capacity and a 13+1 extended mag capacity. For its size, the capacity is great.
Overall, the Hellcat is a feature-packed and reliable concealed carry option.
Check out our Hellcat review here.
Conclusion
If you're on a tight budget and want a reliable and easy-to-conceal 9mm, the Diamondback DB9 is one worth testing out for yourself.
It's not necessarily one I would personally carry due to its size and low capacity, but if you have smaller hands and don't mind carrying a spare mag, it could be right for you. Just remember, training with any gun that you own is imperative, so make sure if you do go with a DB9, you find it comfortable enough to shoot it often.
Would you ever consider carrying a gun with such a low capacity? What is the lowest round count you feel comfortable leaving the house with?
Explore more