EOTECH EXPS3 Review [2023]: The Gold Standard of Holographic Sights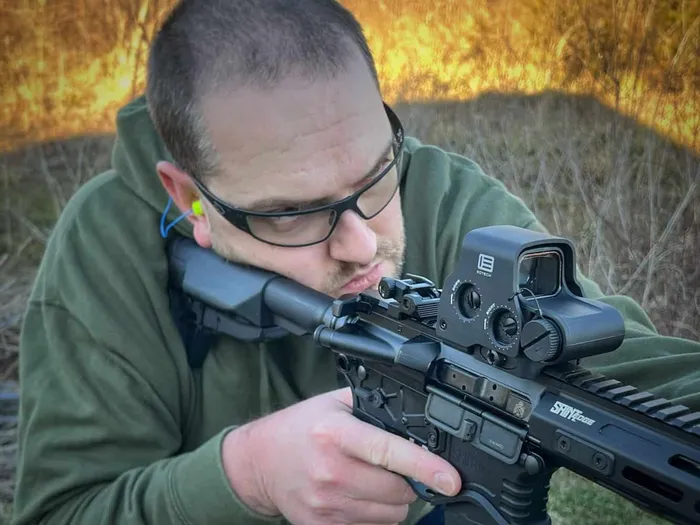 EOTECH EXPS3 Review [2023]: The Gold Standard of Holographic Sights
Introduction
EOTECH Holographic Weapon Sights (HWS) are considered the industry's gold standard by many.
While a traditional red dot sight and a holographic sight are different, if you search for the "best of" either, there is a high probability that the EOTECH EXPS3 pops up in the majority of the results, which is why we decided to get one to review.
After spending some quality time with the EXPS3, I can definitely see why it's the talk of the town. But, when an optic price starts pushing over $600, I become extra critical of them to evaluate if they are worth the price.
When it comes to the EXPS3 in particular, I feel…that you'll have to keep reading to find out!
Let's take a look at one of the most popular holographic sights on the market.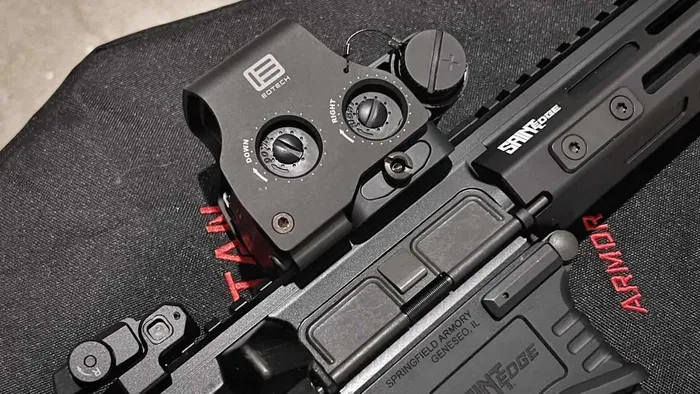 EOTECH EXPS3 Review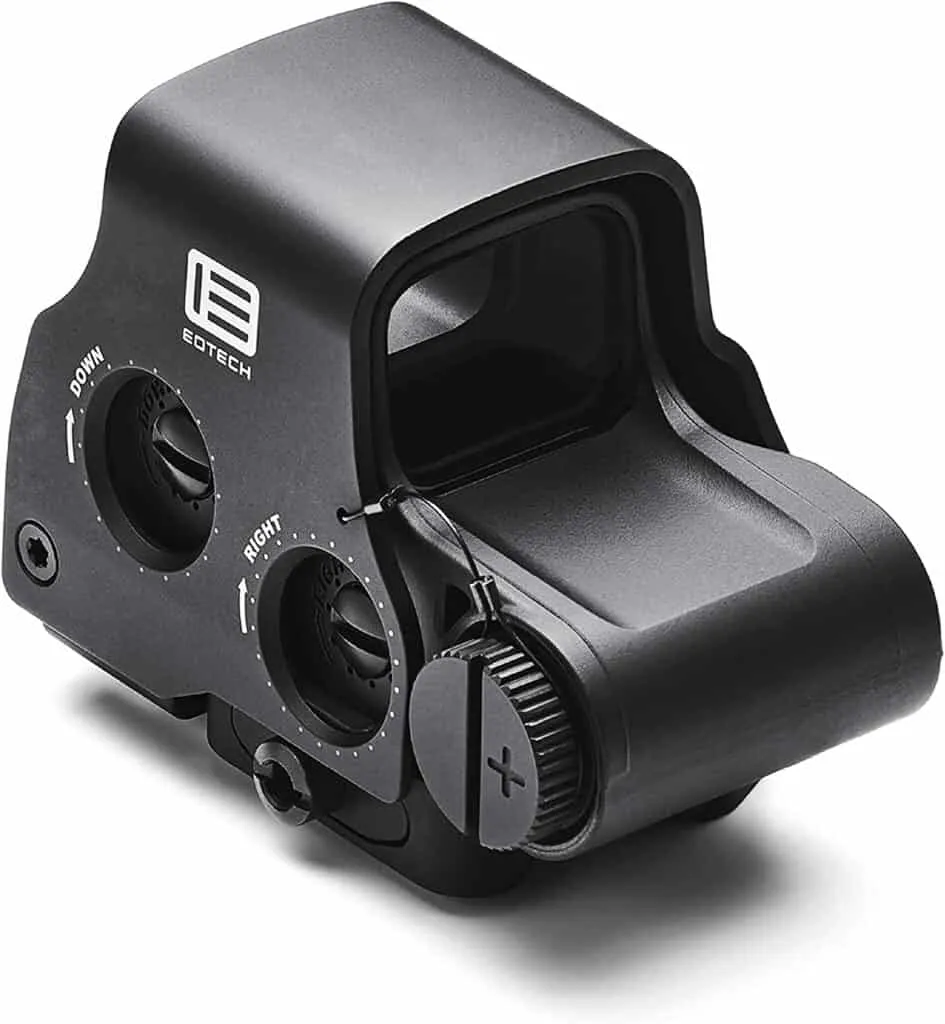 Specifications
| | |
| --- | --- |
| Reticle | 68 MOA Ring With 1 MOA Dot |
| Reticle Color | Red |
| Brightness Settings | 20 Daylight and 10 for Night Vision |
| Length x Width x Height | 3.8" x 2.3" x 2.9" |
| Window Dimensions | 1.2" x 0.85" |
| Weight | 11.2 Ounces |
| Power Source | 1x CR123 Battery |
| Battery Life | 1,000 Hours |
| Adjustment Per Click | 0.5 MOA |
| Eye Relief | Unlimited |
Pros & Cons
Pros
Extremely durable and reliable

True two-eye open shooting

Easy to manipulate controls

Night-vision compatible

Range estimation and aiming points

Quick-detach lever
Cons
No motion-activated power (personal preference)

Hefty price – but you get what you pay for
First Impressions & Range Testing
The EXPS3 came neatly tucked in an EOTech hard case with a custom cut foam insert to keep it nice and safe. It's funny how little things like a sticker can get you excited when you are talking about a several-hundred-dollar optic…but I do love stickers!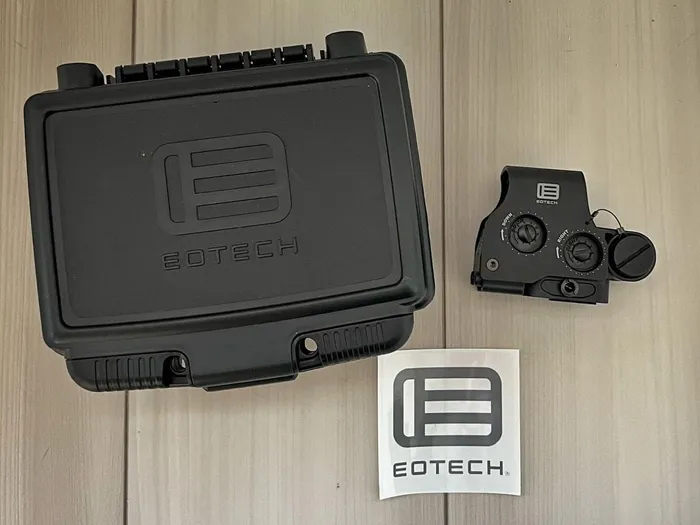 Reliability
You don't get much more reliable than this optic. I haven't put too many rounds through my AR since mounting the EXPS3, but I have literally no reservations about the reliability or durability.
With it holding zero thus far, being water resistant, and able to withstand extreme temperatures, I'm confident this thing will keep kicking and remain accurate.
I'll try to post an update after a few thousand rounds.
Accuracy
The smaller 1 MOA dot allows for more precise accuracy.
I zeroed the sight at 50 yards to start and then tested the 7-yard aim point. Both were dead on.
I didn't have a 200-yard range to test on, but I had no issues putting my shots on target at 100 yards. The 68 MOA ring helped to center my target(s) quickly and easily.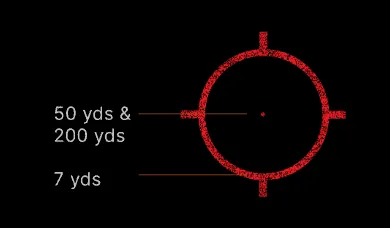 Overall Feel
I wasn't busy "feeling" the sight much, but overall the finish is great.
Its housing is smooth, the rubberized buttons are easy to manipulate, and even with the use of the quick detach lever, the sight feels very secure, as if it's not going anywhere once mounted.
Features
Circle 1-Dot Reticle
The 68 MOA ring paired with a 1 MOA center dot is a great combination for both quick target acquisition and accuracy. This particular reticle is EOTECH's most popular.
You can also use the reticle to estimate ranges as well.
If a man-sized target fills up the ring from top to bottom, it's at roughly 100 yards. If the target fills from the center dot to the bottom of the ring, it's at roughly 200 yards.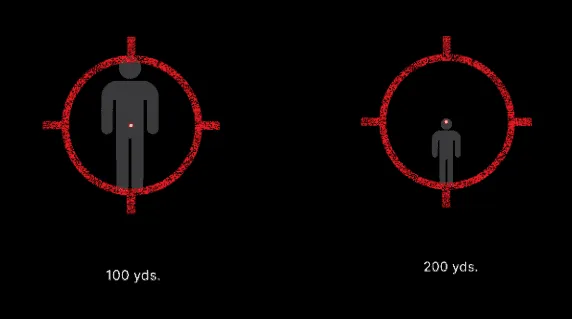 So while the reticle may seem basic, if you understand the nuances compared to others of it, it's definitely not.
Brightness Setting
There is no shortage of brightness levels with the EXPS3.
It comes with 20 daylight settings and 10 additional night-vision settings. I don't typically run night vision, but it's nice to have that option if I choose to.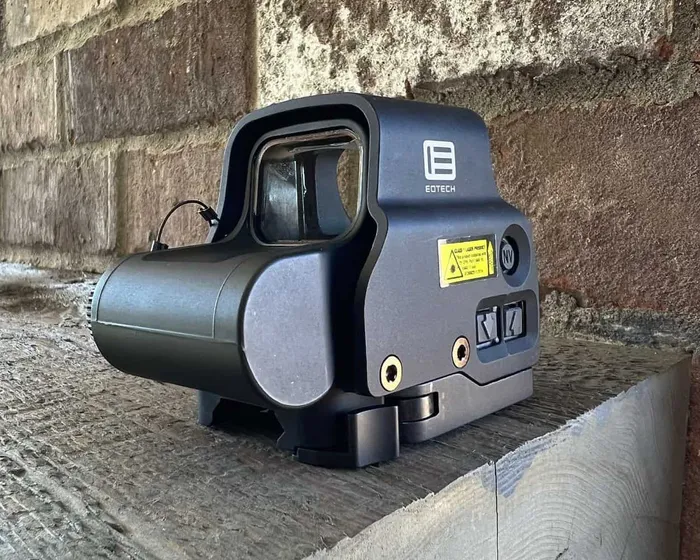 The brightness control buttons are very easy to manipulate and due to them being rubber, are not slippery where you'll "miss" them in inclement weather. The night-vision button is also easy to find and press, which will essentially just dim your reticle down to the point it's operable with night vision.
Windage & Elevation Controls
Many optics have similar windage and elevation controls, but not all of them are as easy and well thought out as the ones on the EXPS3.
They are recessed and well protected, provide a positive "click" when you're adjusting them, and there is room to adjust them with plenty of objects, such as the tail-end of your 9mm round.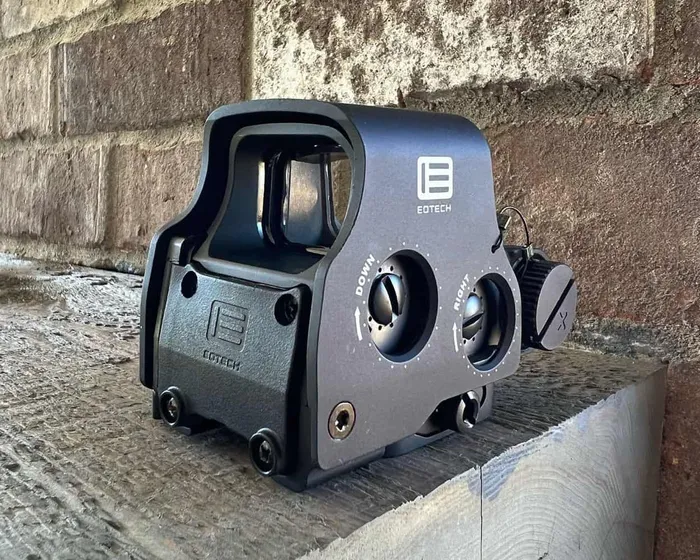 Military Grade Durability
There is a reason why our military trusts EOTECH and somewhat recently has started using the EXPS3.
This thing is built like a tank and is ready to withstand all types of conditions.
It's water-resistant to a 33-foot depth, can operate between -40 and 140 degrees Fahrenheit, and of course, had to pass the military's drop test.
How We Tested
The EXPS3 was immediately mounted to my Springfield Armory Saint Edge to hit the range with. Speaking of, check out our list of the best red dots for AR-15s.
I made sure to test it indoors in a climate-controlled environment with great lighting and also outdoors in the cold with varying lighting conditions.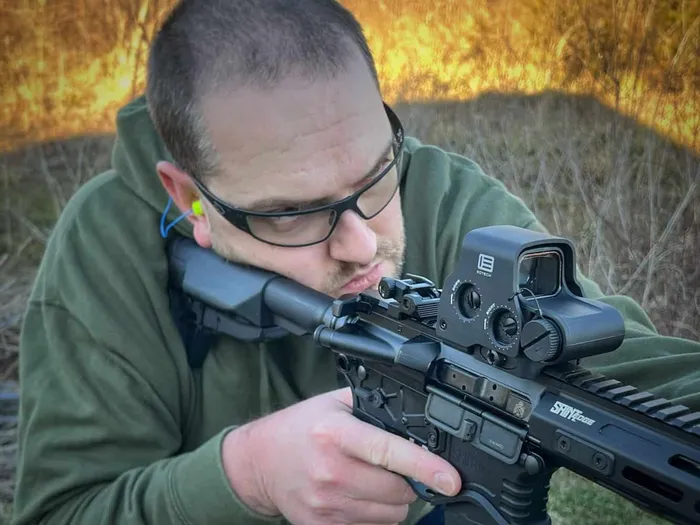 Picking up the reticle quickly and transitioning between targets was no issue, regardless of lighting conditions. The temperature (38 degrees) wasn't cold enough to really push the optic, but I never plan to be in a -40 degree scenario…at least I hope not!
From slow and controlled fire to mag dumps, it held zero and remained accurate. Being able to shoot with both eyes open is a much-appreciated feature, so you can keep your eye(s) on your target and your surroundings.
Score Card
Reliability (10/10)  
There's a reason our military trusts it.
Features (8/10)
I'd like to see a solar panel model available to supplement the battery life and an auto-power feature once movement is detected.
Cool Factor (10/10)
This is the first time I've added this category. From video games to movies, you've likely seen EOTECH holographic sights whether you realize it or not. The sight simply looks and feels cool to have on your rifle!
Value (8.5/10)
It is pricey, but you get what you pay for. MSRP is $769, but you can find it around $700 or just under, if you look hard enough.
Accessories
The G33 is the perfect companion for your EXPS3.
It provides fast transitioning from 3x to 1x and features a quick-detach lever to easily swap it to another rifle. It's designed for both left and right-handed shooters, so you'll be set regardless.
Whether you need to shoot in the cold, heat, rain, or shine, the G33 will be just as durable as your EXPS3.
Alternatives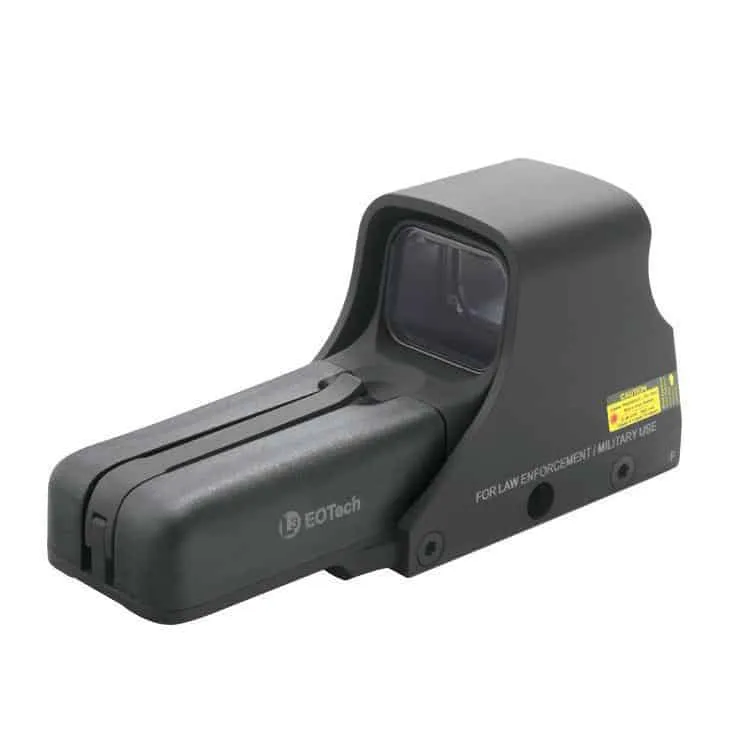 If the EXPS3 is a little bit too pricey for your budget, the 512 is a great alternative.
At roughly $150 less, it's a great value. You still get the durability you'd expect from EOTech, 20 daylight settings, and the 68 MOA ring paired with a 1 MOA center dot.
The one thing it lacks is night-vision compatibility, but to some, that's not important at all.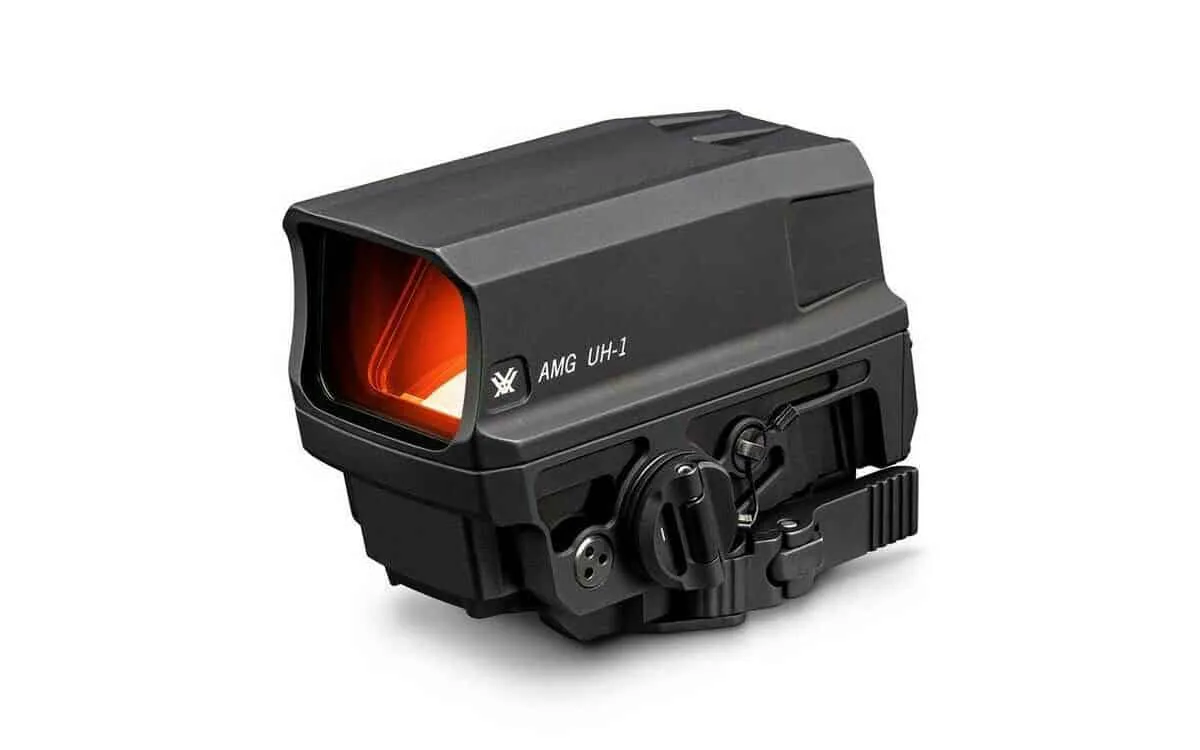 Another one of the most recommended holographic sights I hear about is the Vortex AMG UH-1 Gen II.
It features a 65 MOA outer circle and 1 MOA center dot, four night-vision compatible settings, and a dedicated night-vision button. In addition, it has Vortex's FHQ technology that virtually eliminates stray light emissions for stealth shooting.
Conclusion
After getting to spend quality time with the EXPS3, I can see it taking the top spot for my main optic on my Saint Edge. The only thing I'll likely add is EOTECH's G33 magnifier to have that extra range.
If you are looking for a new red dot or holographic sight and your budget allows for it, I highly recommend considering the EXPS3. As I mentioned above, if you never plan to use your optic with night vision, you can save a few bucks by looking at the EXPS2.
Either way, I don't think you'll have any buyer's remorse!
The optic options seem to be endless these days. What are your top three for close to medium-range shooting?  
Explore more