Looking For The Best LPVOs? Here Are Five Of The Best Out There [2023]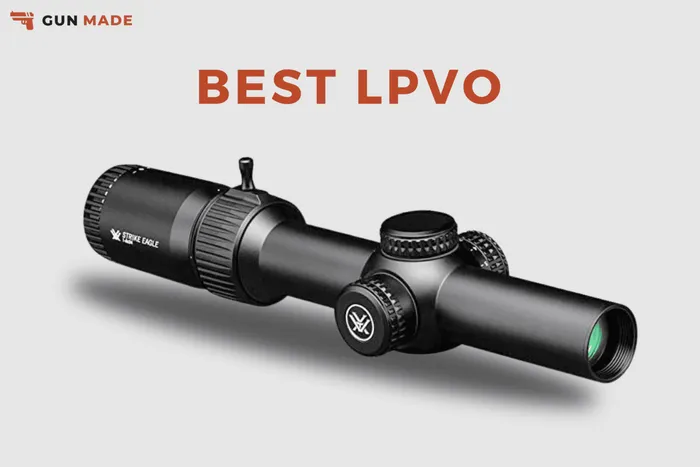 Looking For The Best LPVOs? Here Are Five Of The Best Out There [2023]
Introduction
Low Power Variable Optics, or LPVOs, are optics with a one-by magnification that starts around 1×4 but can go up to 1×10 or more. It all depends on the fine shooter's preferences.
Okay, now that we have definitions out of the way, we will chat about which ones are the best and what magnifications should be used for what.
And which caliber can use that range. I mean, unless you're a Hollywood stuntman, you don't need a 1×10 scope for a .22 caliber rifle. But, if that floats your boat, then you do your thing.
Anyway, without further ado, let's jump into the list.
Sidebar – For all of you fine shooters who don't know what MOA (Minute Of Angle or Moment Of Arc) is used to determine how far the projectile will drop at 100 yards. For example, 1 MOA is 1 inch of drop at 100 yards.
Or a two-inch drop at 200 yards.
Best LPVO & Recommendations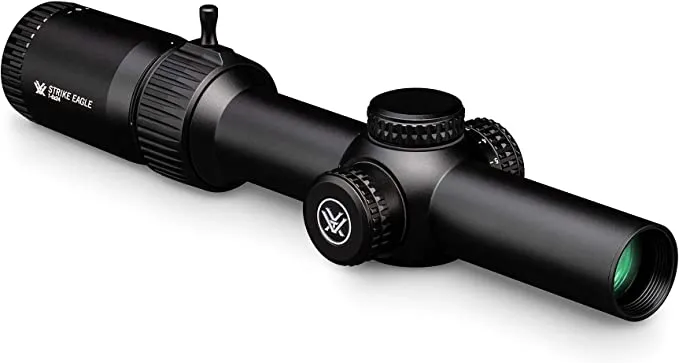 Specifications
| | |
| --- | --- |
| Magnification | 1-6x |
| Tube Diameter | 30mm |
| Objective Lens Diameter | 24mm |
| Length | 10.5 Inches |
| Weight | 1.1 Pounds |
| Reticle | Illuminated |
| Focal Plane | Second Focal Plane |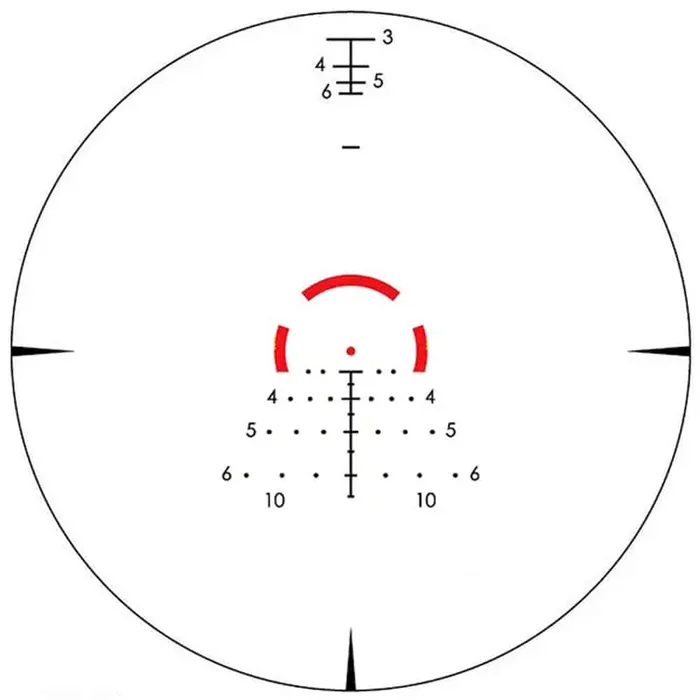 Pros & Cons
Pros
Built well and not too heavy

Meets IPX7 Waterproof standards

Can't beat it for the price

Glass is clearer than my future
Cons
Must be dead on or you will see shadows around edge

Would have liked a better throw lever
There are two things in this life that I am sure.
One, the ATF sucks. Two, Vortex is one of the finest purveyors of LPVOs on the market. Especially under $500.
Quite frankly, you'd be hard-pressed to find an optic that offers more than the Strike Eagle for the price you pay. Which is why it is number one on our list of the best LPVOs.
The Strike Eagle can handle whether you want to run it on a rifle chambered in 5.56, 7.62, .300 Blackout, or whatever floats your boat. Which might be suitable for your shooters who don't want to buy multiple optics. Just swap it out and re-zero.
The Strike Eagle meets IPX7 waterproofing standards as well. So you don't have to clench your cheeks when you drop it in a puddle or if you fall into the water while hunting the night crawler.
And finally, it's just sturdy and well-built. Some may even call it a tank. And you just can't beat it for the price. This is why you see many of your favorite YouTubers using it on their builds.
I'm not the only one who thinks the Strike Eagle is the best scope for the AR-15.
It also does an excellent job for you close-to-mid-range hunters out there.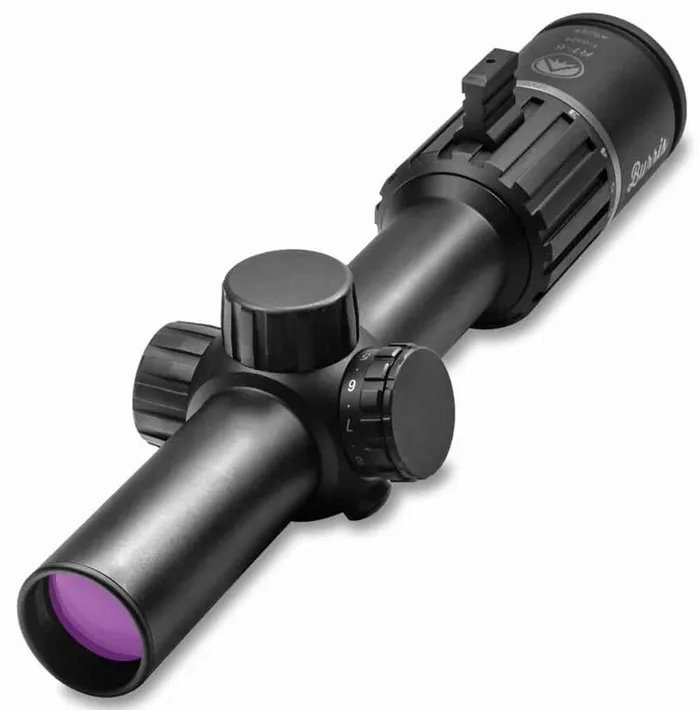 Specifications
| | |
| --- | --- |
| Magnification | 1-6 |
| Tube Diameter | 30mm |
| Objective Lens Diameter | 24mm |
| Length | 10.3 Inches |
| Weight | 1.08 Pounds |
| Reticle | Illuminated |
| Focal Plane | First Focal Plane |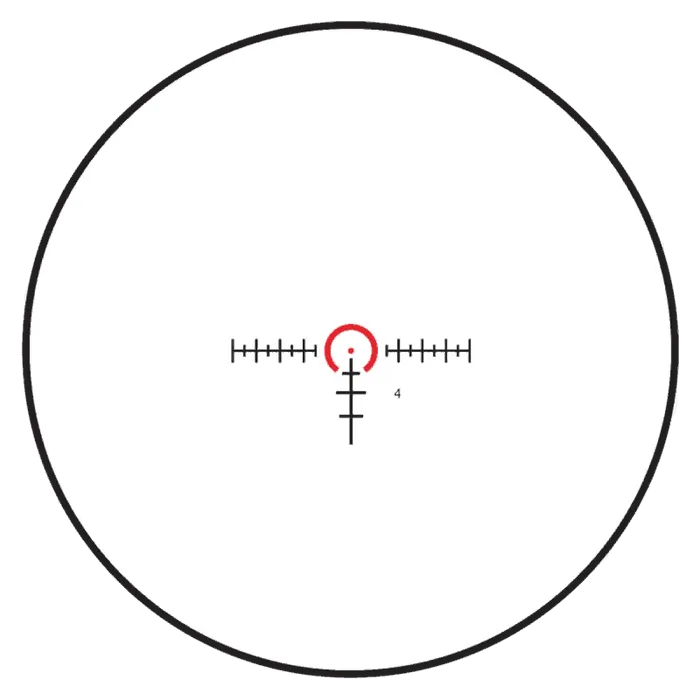 Pros & Cons
Pros
Used widely in 3 gun competitions

Easy to shoot with both eyes open

Nice throw lever

Glass is super clear
Cons
Some users reported issues with a dim reticle

I wouldn't recommend the Fastfire 3 it comes with (Tactical kit)
The Burris RT6 is an entry-level three-gun competition LPVO. Or at least that's what I read before I bought mine, and then the real fun started.
I didn't run any three-gun competitions, but I sure did throw this thing around like I was. I can honestly say that there were a few times that I thought, "No way this thing can survive that."
And every single time I said that, I was wrong. It ran like a dream on my buddy's Sig 716 and Mossberg Patriot. I would have thought that the shock from the .270 would have caused an issue, but no. Still ran fine and true.
The only issue I had with my optic was the Fastfire 3 red dot that comes with the RT6 tactical kit. It's not the worst red dot on the planet, but it's pretty close to it. I personally would not bet my life on it if I had the option.
But, focusing on the LPVO itself, it's pretty damn great if you ask me. It's well-built, sturdy, and the glass is clear enough to see the future. Minimal distortion all the way around and easy to get on target.
Yes, even with both eyes open.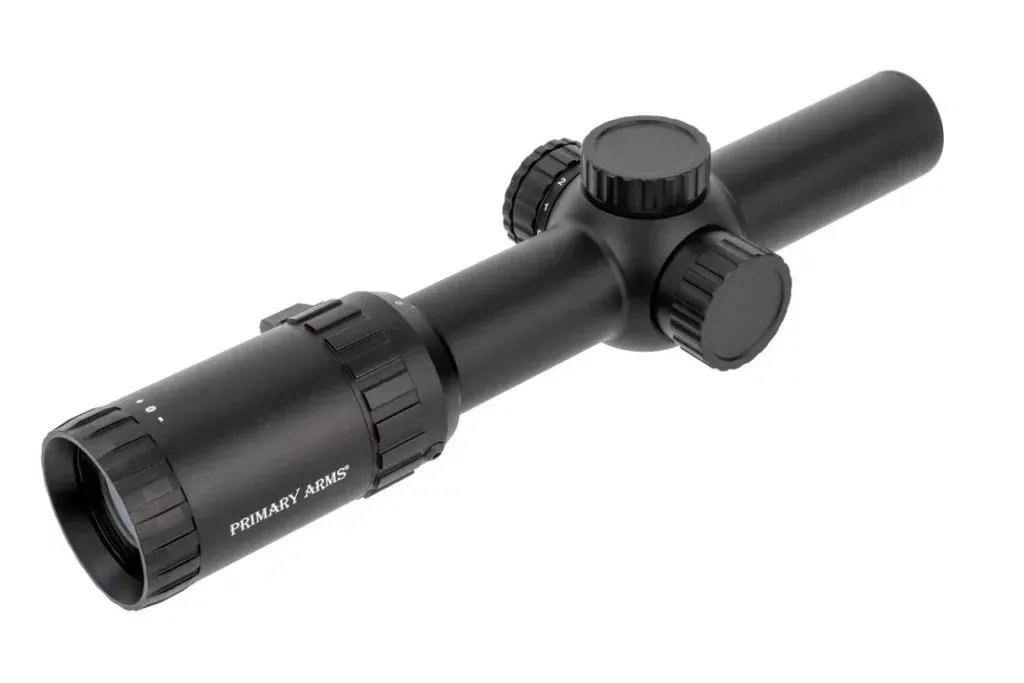 Specifications
| | |
| --- | --- |
| Magnification | 1-6 |
| Tube Diameter | 30mm |
| Objective Lens Diameter | 24mm |
| Length | 10 Inches |
| Weight | 1.05 Pounds |
| Reticle | Illuminated |
| Focal Plane | Second Focal Plane |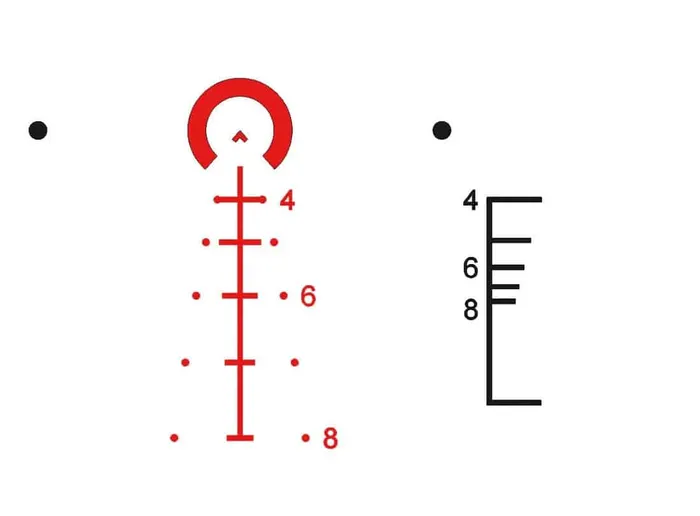 Pros & Cons
Pros
Glass is clear, minimal distortion around edges

Headshots at 600 yards with 55 grain 5.56 (accurate)

Great eye relief at 6x zoom

Takes a beating and keeps on going
Cons
Top portion of eye box can be blurry at times
Unless you live under a bush, you've heard about Primary Arms. And this LPVO is a testament to how good an optic can be even when you don't have to sell your kids and wife to afford one.
The SLx is part of Primary Arms' SLx line, which has built quite a reputation in the shooting community for being an absolute animal on the field. And it's true; this LPVO is definitely good for those shooters out there who want a rugged and accurate optic that won't break the bank.
The SLx line (yes, including this optic) features PA's patented Advanced Combined Sighting System reticle, which features all of the compensations for wind and target leads that your heart desires.
At close range, finding the reticle is almost as easy as finding a red-dot or holographic sight. But this one has zoom for days, and punching steel targets in the face at 600 yards is a breeze when you power it up to the 6x magnification.
Seriously, this thing is as accurate (if not more accurate) than some of the higher dollar optics that I found on the market. And if you want something rugged, easy to use, and accurate, then the SLx is an optic you should take into consideration.
This optic is also great for hunting.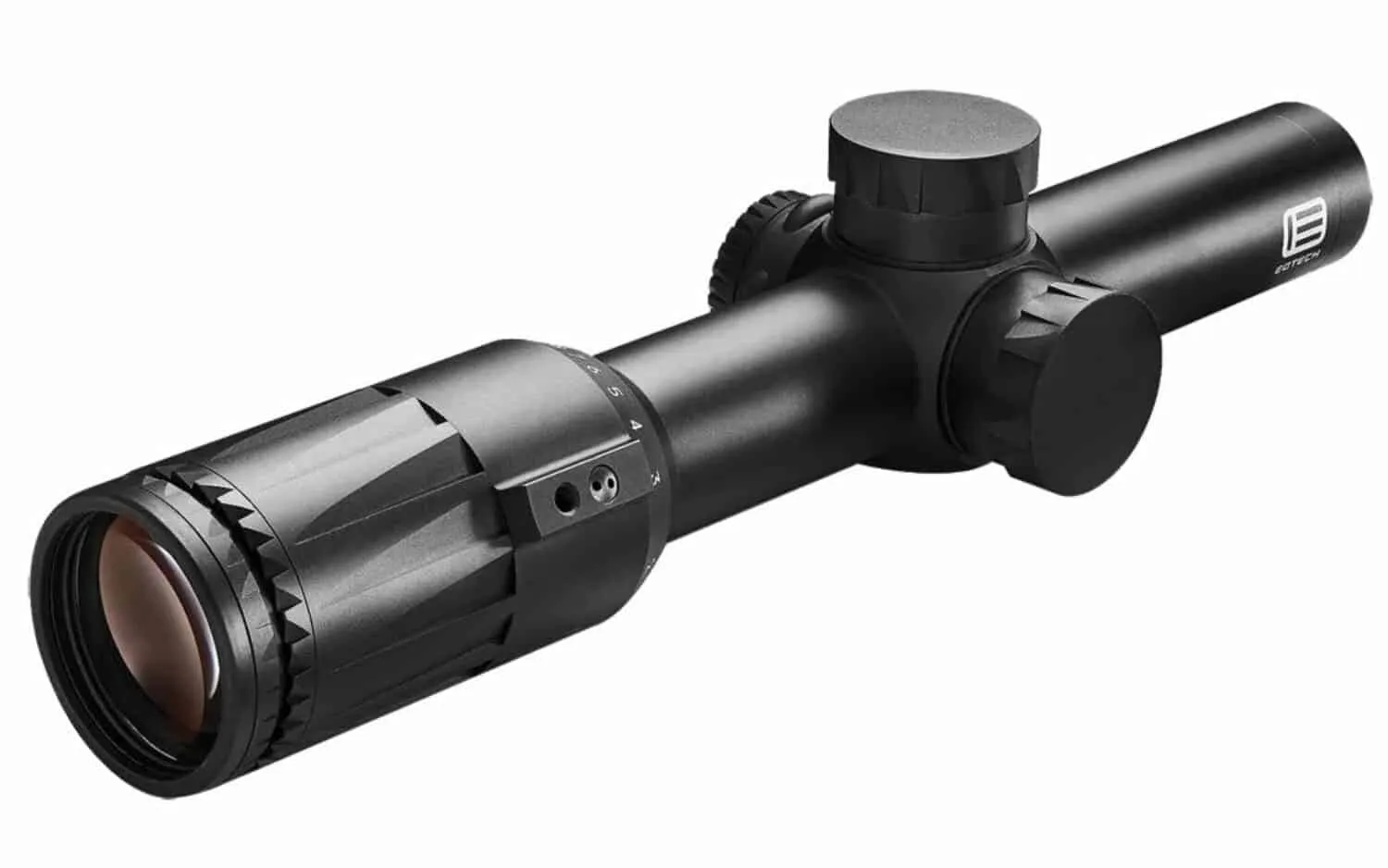 Specifications
| | |
| --- | --- |
| Magnification | 1-8×24 |
| Objective Lens Diameter | 24mm |
| Tube Diameter | 30mm |
| Length | 10.9 Inches |
| Weight | 1.3 Pounds |
| Reticle | Illuminated |
| Focal Plane | First Focal Plane |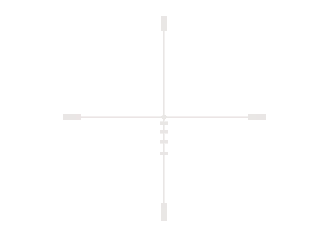 Pros & Cons
Pros
Made from Aircraft Aluminum 

Long throw lever for easy adjustments

Anti-reflective lens (so you don't catch a sunbeam to the eye)

Water/Dust/Dirt resistant
Cons
For the price, it should be waterproof

Oh, and it's expensive
EOTech has been producing some of the finest optics in the firearms industry since 1996, and they have been known for their uses in military and law-enforcement roles. I mean, honestly, who wouldn't want an optic that can still function even if the glass has been blown out?
I'm speaking of their Holographic sights. Which currently sits atop of my BCM MCMR.
In 2016, EOTech introduced its Vudu line of optics, and let's just say they must have named it after the witchery they performed to make this optic as good as it is. Once you use it, every other optic becomes pale in comparison.
Albeit expensive, the Vudu uses that Japanese glass that made the Vortex what it is today. The clarity from one edge to the other brings more clarity to your eyes than my last relationship. Very little distortion around the edges.
The eye relief is on par with most other optics of the 1-8 category at 3.46 – 4.09 inches at the 1x magnification and 3.54 – 3.9 at the 8x magnification, respectfully. Which is pretty generous.
But your pockets may have to be a bit generous to afford one. Pretty expensive.
We reviewed the Vudu 1-8×24 if you want to learn more.

Specifications
| | |
| --- | --- |
| Magnification | 1-6x |
| Objective Lens Diameter | 24mm |
| Tube Diameter | 30mm |
| Length | 10.7 Inches |
| Weight | 1.12 Pounds |
| Reticle | Illuminated |
| Focal Plane | First Focal Plane |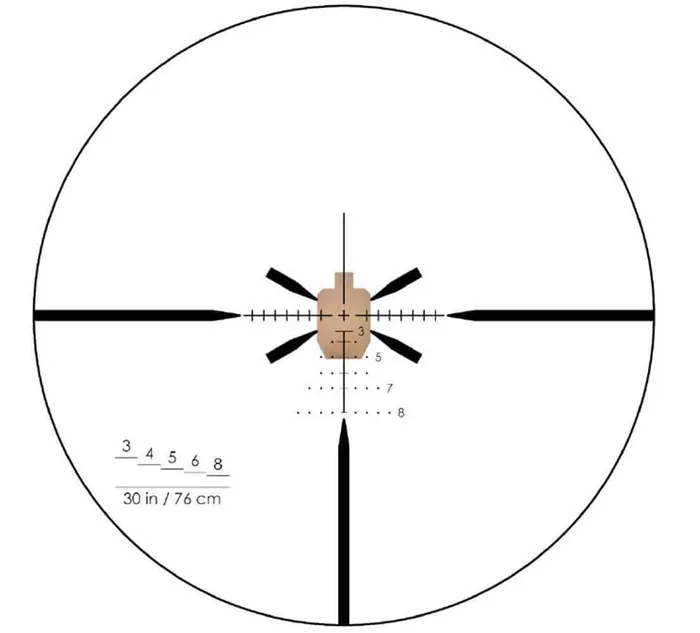 Pros & Cons
Pros
Built like a tank, doesn't weigh a tank

Submersible (2 hours at 3 meters)

Comes with anti-reflective lens cover
You've probably heard of Armament Technology from their legendary Tangent Theta scopes that would make any precision shooter wet their pants. They're that good.
But when you create an optic that is as good as the Tangent Theta, you set the bar so high that folks are expecting you to pull more than one rabbit out of your hat. Good thing Armament is good at magic.
But this ain't no trick; the SAI 6 is what most LPVOs look at in the morning when they need motivation. Like Rocky when he had the picture of Drago hanging on the mirror.
Out of any optic I've ever tested, this one might just take the cake in terms of clarity and quality of glass. It can also take a beating and keeps its zero.
But perhaps one of my favorite features of this optic is how easy it is to put on a target. I know when you practice, anything is easy to use. But I had a friend of mine give it a try, and he compared the acquisition to "using a red dot."
Perfect for when you have a split second to hit that wild boar before it hits your crops. Or your children.
And if you've been shooting for a long time, you won't feel any different.
Check out our SAI 6 review for more info.
How We Chose our Top Picks
I admit that finding the top picks was a bit more difficult than usual. There are so many LPVOs out there that just knock it out of the park. But, we also turned to the gun community to ask which LPVO they thought best for each application.
Once we got that list together, we boiled it down to which ones were good enough to recommend to folks who wanted to buy once (and maybe cry once).
They had to be durable, the glass had to be crystal clear, and we also aimed for the optics with the best ratings by many fine shooters across the country.
LPVO Buyer's Guide
If you're anything like me, you spend hours doing the research before you hand over your money or credit card. Buying any optic, be it an LPVO, Red-dot, or Holographic sight, without doing your due diligence can leave you in the hole with the wrong tool for the job.
So. Let's address that real quick.
What To Look For When Buying An LPVO
Low-power variable optics come in many different magnifications, and sometimes it doesn't hurt to buy more than you need. But what does matter is the round you're shooting, the length of the barrel, and what you are using that LPVO for.
If you think you need an 8x magnification for your 11-inch barreled 5.56 blaster, I'll save you the trouble. You probably don't need that much. And yes, I have seen this. You know how the gun world can be, fine shooter.
Obviously, what I'm saying is if you have a longer barrel, larger magnifications may be beneficial. But don't go buying something that reaches farther than you plan on shooting or what your rifle can reach.
First Focal Plane vs. Second Focal Plane
Without getting too technical, I'm going to try and break this down for you and give you some recommendations.
A wise man by the name of Mohammed once told me, "First follows, second stays" 
First and Second Focal planes have to do with where the reticle is placed inside of the scope itself.
First Focal Plane, or FFP, is where the reticle gets bigger as you zoom in the magnification. These can sometimes be a bit more expensive, but there are benefits to you fine shooters who like to take shots from a distance.
One of those benefits being the marks for windage and elevation will work no matter how far you zoom in or out.
This is why precision shooters mostly prefer FFP or SFP.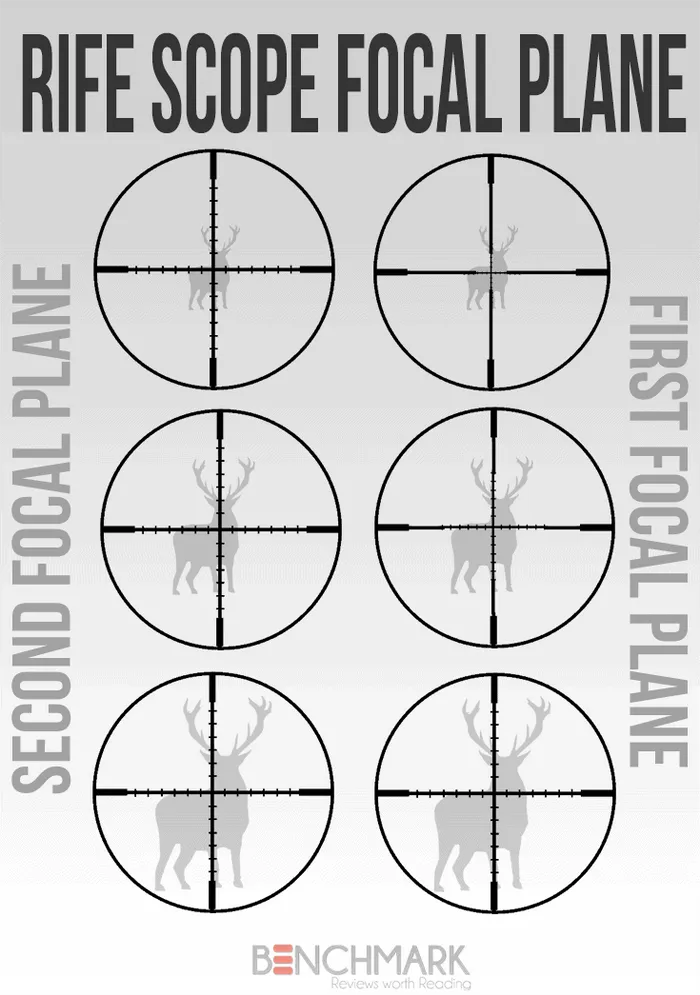 Second Focal Plane, or SFP, is where the reticle stays the same size whether or not you are zoomed in or not. This is what most of us saw when we were growing up.
But, SFP scopes fall behind FFP scopes due to how the scope has to be zoomed in all the way for the windage and elevation marks to be 'true'
The upside to SFP is how easy the reticle is to spot when hunting up close or using the rifle for defensive situations. Since FFP reticles only become super clear when fully dialed in, it may be hard to pick up quickly when you need to.
And that is a great reason to ensure you have an illuminated reticle on your scope.
Is FFP or SFP Better?
I cannot sit here and tell you that one may be better than the other. That all depends on how you plan on using the LPVO or scope. As with everything in the gun world, it all boils down to your preferences, fine shooter.
And we don't judge anyone's preferences. It's 2023.
If you plan on shooting for a distance but still want to be able to use the tick marks at lower powers, I would suggest FFP.
Short-distance hunting and fast acquisition of the reticle? SFP.
Using LPVOs On Your Build
There are plenty of professionals that use LPVOs in Law Enforcement and Military roles.
Since most urban engagements happen at a distance further than 40 feet, having the ability to push your optic to a further distance while still being able to use it for close-quarters shooting can be the only reason you need to run an LPVO over a red-dot or holographic.
I know you've all seen the video of the cop tap-dancing on that guy from across the highway. 143 feet, to be exact.
Here's the video with some great commentary by Donut Operator.
And that's from a distance.
If you ever wondered how well LPVOs do in close quarters, the bodycam footage from Officer Rex Engelbert shows just how well they do in the hands of a professional.
Officer Engelbert used a Vortex Razor on his AR-15 (much like the one we have as the best overall LPVO) alongside a canted red-dot to 360 no-scope the piece of dog shi… I mean doo doo, who killed three children and three staff members at a school in Nashville.
I won't like the bodycam footage since it may be a bit graphic for some of you fine shooters out there. Just leave a comment below, and I'll get it to you. I promise.
FAQs
Can you hunt with an LPVO?
People used to hunt with sticks and stones. I'm sure you can hunt with an LPVO.
What LPVO does the military use?
Is an LPVO better than a Red Dot?
Up close, no. From a distance, yes.
Conclusion
LPVOs are one of the most diverse optics in the gun game.
Many fine shooters in the world use them for all things up close and personal to shooting far away. But what do you think about them? Will you be sealing the deal on that LPVO that has been sitting in your cart for the past month? Or will you hold out for something different?
As always, I love to hear from you. It's better to read your comments on here while I'm taking my morning glory than scrolling through Instagram.
See you on the range, fine shooter.
Explore more