FN Five-seveN Review: Is the O.G. 5.7 Pistol Still on Top?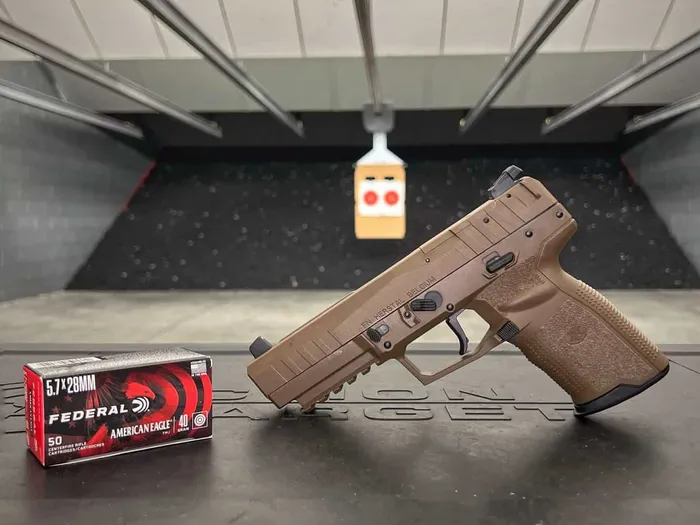 FN Five-seveN Review: Is the O.G. 5.7 Pistol Still on Top?
Introduction
FN pioneered the 5.7x28mm, literally. It was developed from scratch by FN in an attempt to satisfy NATO's request to replace the 9x19mm round. The Five-seveN was not the first 5.7x28mm firearm (the infamous FN P90 was), but it was the first pistol chambered in it.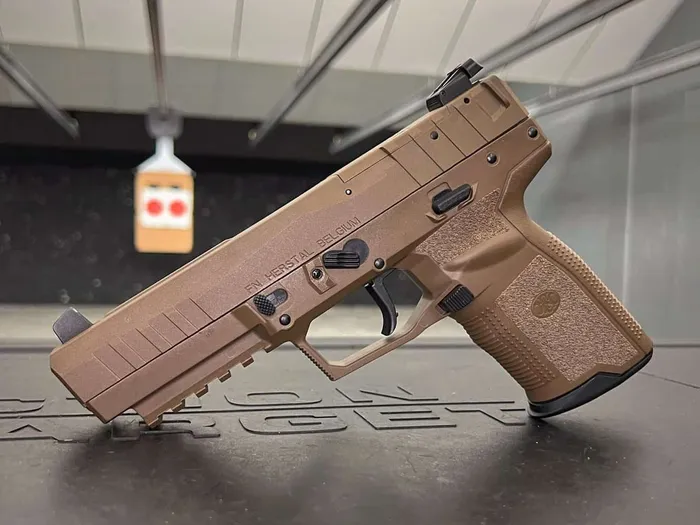 The history of the Five-seveN is unique; its looks are unique, and shooting it is unique.
Being new to the 5.7x28mm world myself, I was very excited to test this one out. Here is a closer look at a piece of history.
FN Five-seveN Review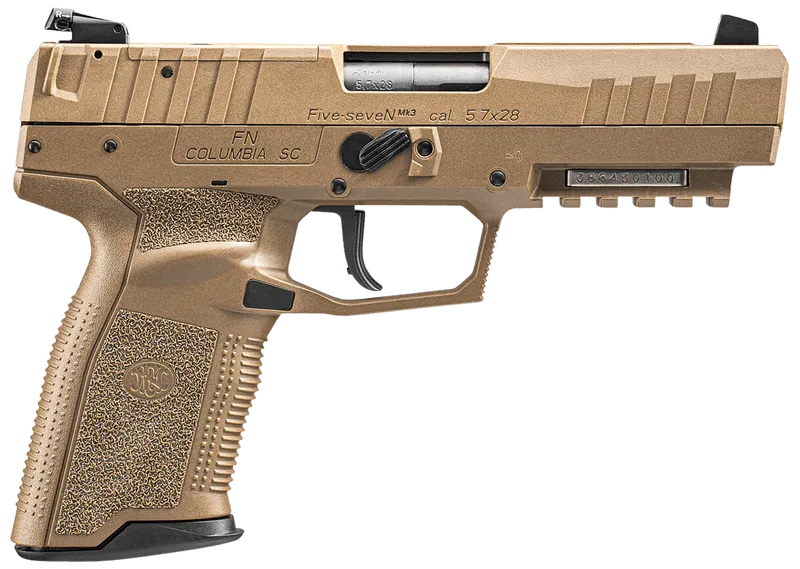 Specifications
| | |
| --- | --- |
| Caliber | 5.7x28mm |
| Operation | Delayed Blowback, Single-action only |
| Capacity | 20+1 |
| Barrel Length | 4.8 Inches |
| Overall Length | 8.2 Inches |
| Width | 1.35 Inches |
| Height | 5.6 Inches |
| Weight | 25.2 Ounces (without mag) |
Pros & Cons
Pros
Minimal recoil

Great accuracy

Optics-ready

Head turner and conversation starter

Piece of history
Cons
Expensive like an aged whiskey

Limited aftermarket parts
First Impressions & Range Report
Reliability
5.7x28mm in general, can be quite gassy, like the morning after a late night Taco Bell run.
This can sometimes reduce reliability and cause issues, but I found the Five-seveN to run flawlessly. Granted, I only shot two different types of ammo through it due to availability near me, but they both loaded, shot, and extracted wonderfully.
I'd have to shoot many more rounds to give a more definitive reliability opinion, but so far, so good.
Accuracy
With the minimal recoil that comes naturally with the 5.7x28mm round, it's very easy to stay on target, especially when rapid firing. It's still a "new" round to me since I don't have much experience with it, so I'll blame some of the groupings on a learning curve!
Overall though, after a few mags, I was extremely pleased with the groupings out to 25 yards.
Overall Feel
I have some very large hands, so the extra length on the grip due to the longer rounds feels great in my hand.
Even fully loaded, the gun doesn't feel too heavy and it's very well-balanced. Everything about the gun is smooth, from the grip textures to the slide serrations…both of which I would have liked to be more aggressive.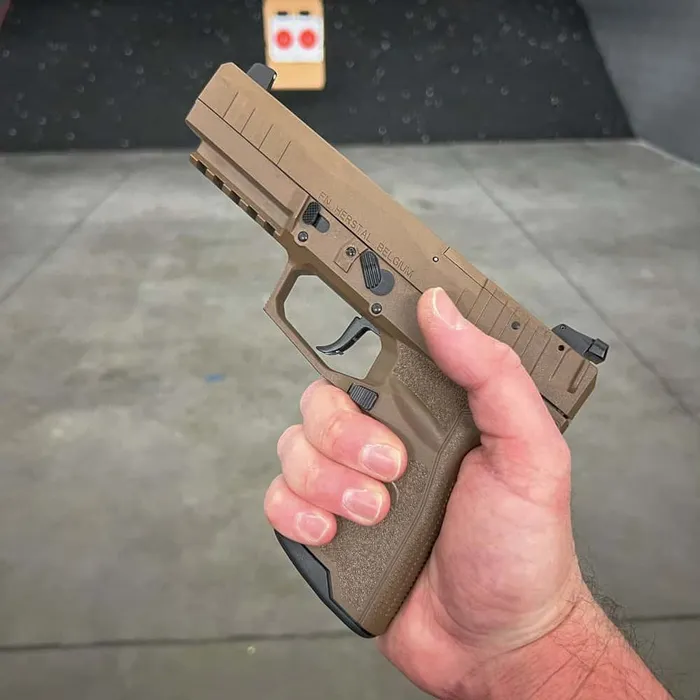 Features
Ambidextrous and Reversible Controls
For you wrong-handers out there (lefties), you'll be covered with an ambidextrous safety and a reversible mag release. The safety took some getting used to, being in a different position than normal, but I can see why FN placed it there.
After practicing activating it several times, it felt pretty natural. It definitely would be helpful if it protruded more, though.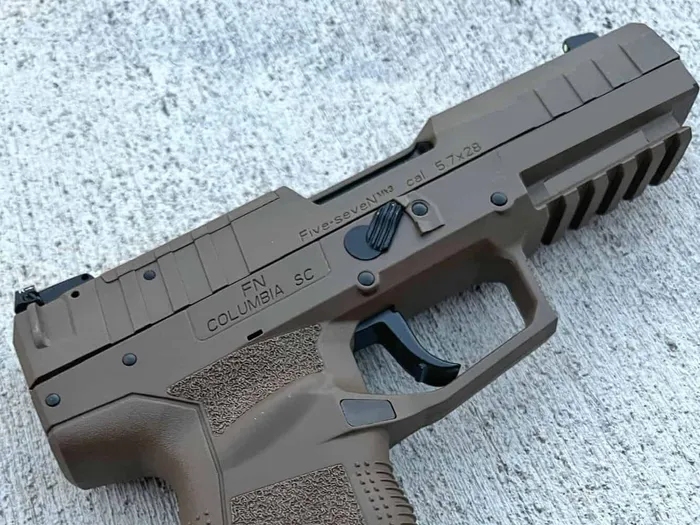 Interesting Grip
I actually love the size of this grip. Since the 5.7x28mm rounds are longer, the grip has to be as well.
So, in addition to being longer, it also is tall and feels great in hand. The grip texture could be a bit more aggressive, but it works just fine.
Overall, the grip does feel very "plasticky" but not necessarily cheap.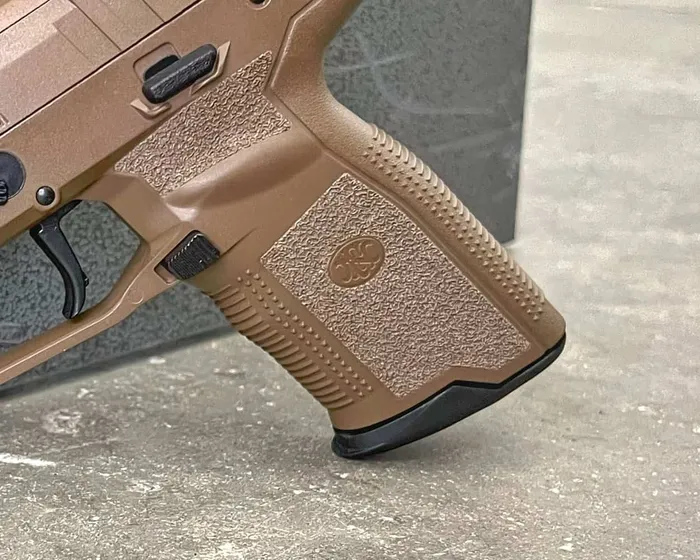 Optics-Ready Slide
We're seeing more and more pistols coming straight from the factory with optics-ready slides, which I love. I've seen a lot of Trijicon RMR's (check out our RMR Type 2 review) and Burris Fastfire 3s mounted on Five-seveNs, but there are others that will fit as well.
Slide serrations can be found on the front and rear of the slide. As mentioned earlier, they aren't very aggressive and I would have liked to see them deeper.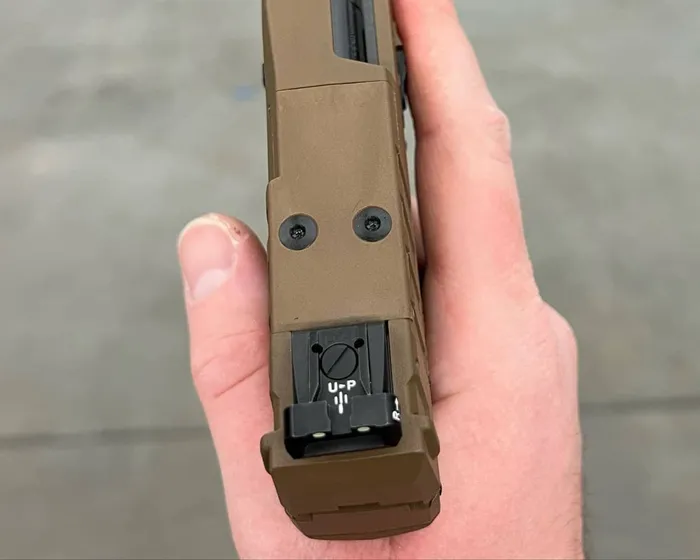 20-Round Magazine
Depending on where you reside, you'll be getting the Five-seveN with either three 10-round mags or two 20-round mags.
By choice, I live in a state where I can enjoy the higher capacity magazines, so I received the FN with the two 20-round mags. May be time to consider a move if you can't own them!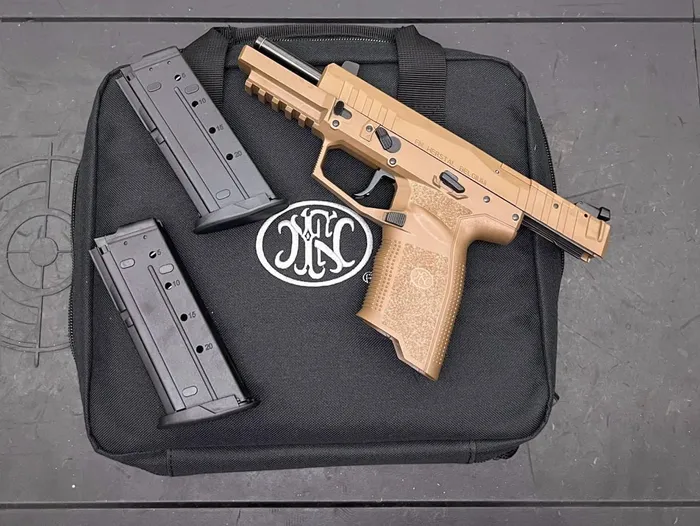 With the round itself being small, you're able to have that higher capacity in a not so large magazine. The magazine is able to stay lightweight being made out of polymer and also has several witness holes.  
How We Tested
Ammo Used
You're not going to find a variety of ammo like you would if you were shooting 9mm. I only had access to two different rounds while I had the Five-seveN, which were 40-grain FN polymer tips and 40-grain American Eagle FMJs.
Both cycled perfectly and I honestly didn't notice a difference in accuracy between the two. With both performing similarly, I would likely go with the American Eagle's due to price.
Check out our guide on the best 5.7×28 ammo if you are on the hunt,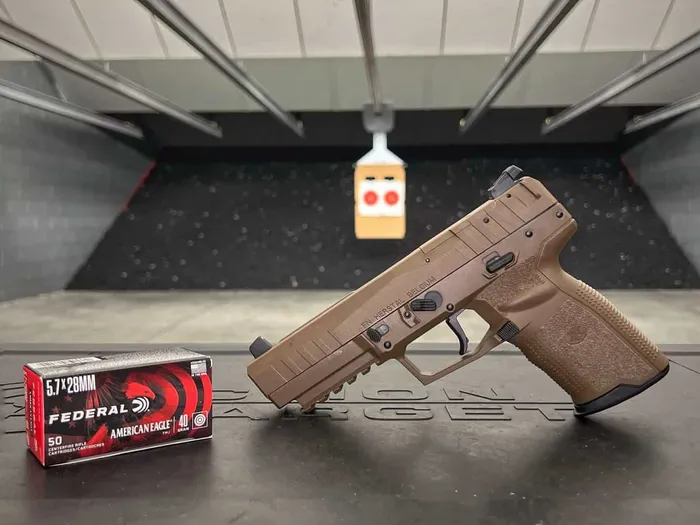 Score Card
Reliability (10/10)  
I had zero issues with the Five-seveN, and from what I hear, most others don't either.
Ergonomics (8/10)
It fits well in hand and has a decent grip texture. With the longer rounds, the grip is naturally longer too.
Customization (7/10)
The aftermarket space is going to be limited. However, the optics-ready slide and accessory rail will provide some options at least.
Appearance (7/10)
It's not ugly, it's not sexy. I do like the FDE finish though!
Value (7/10)
FN needs to revisit the price tag before I'll change this score.
Accessories
The TLR-1 HL doesn't need much of an introduction. It puts out 1,000 lumens for an hour and a half, and features momentary/constant/strobe modes.
It's IPX-7 rated and machined out of aircraft grade aluminum, making it super durable. The FDE version specifically, would look amazing on the Five-Seven.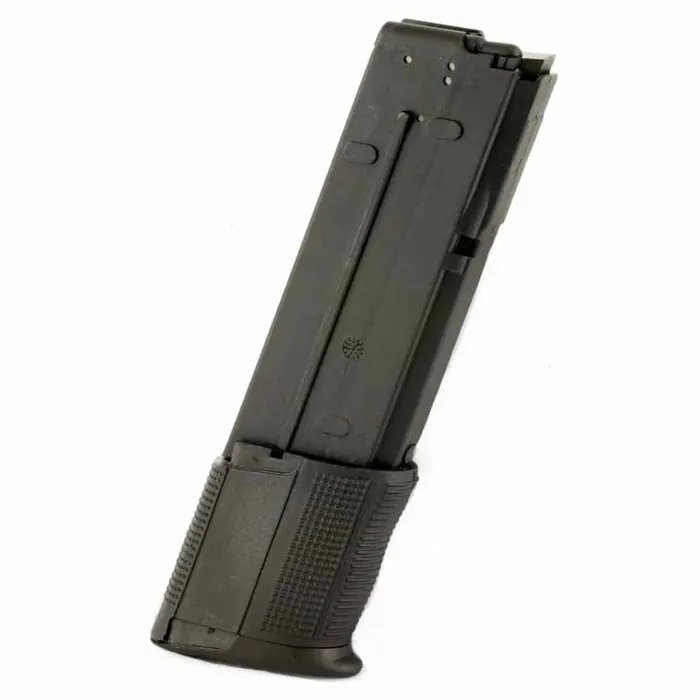 I will almost never shy away from more capacity. You get an extra 10 rounds with the Promag magazines compared to the ones that come with the Five-seveN.
It's made out of a durable polymer to keep weight down and has a few witness holes to gauge how many rounds you have left. They are even made in the USA!
Alternatives
We wrote a list of the best 5.7 guns if you want to give that a read. Otherwise, here are two good alternatives below.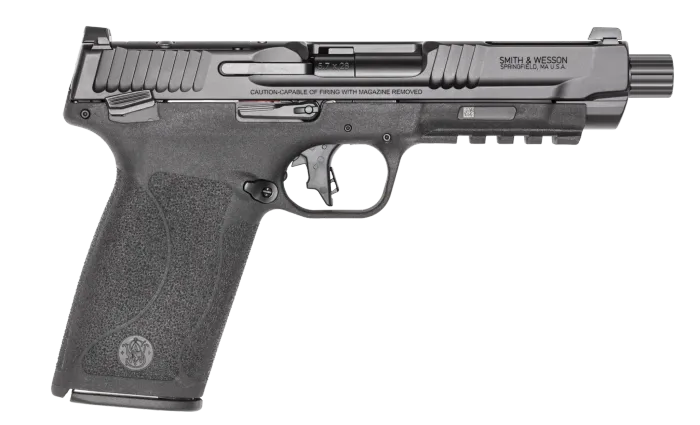 Even though it's new to the market, it definitely made a splash. Coming in significantly lower priced than the Five-seveN, you still aren't going to have to sacrifice quality or features. It features a threaded barrel, optics-ready slide and a standard 22+1 capacity. I've been able to personally shoot this one and can attest to how well it shoots.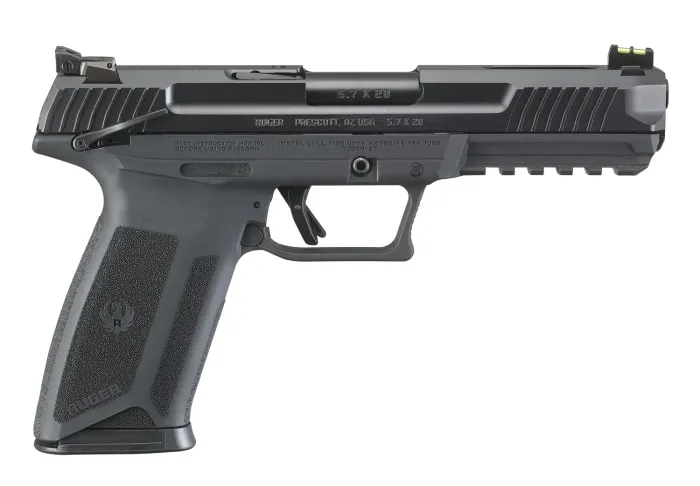 The Ruger-5.7 falls right in between the other two from a price perspective.
It offers a 20+1 capacity and has a nice fiber optic front sight. The controls are laid out in a more standard position which will feel more familiar than the Five-seveN.
You can also get it in a couple of different finishes if you're feeling like you want to get fancy with it.
Conclusion
If you're thinking about getting a 5.7x28mm pistol, the FN Five-seveN is definitely worth checking out.
It's the O.G. but continues to keep its popularity, which I don't see changing. There are more affordable options out there, but owning a Five-seveN is like owning a piece of history.
If you get the opportunity to shoot one, I wouldn't pass it up!
Explore more