The Best 5.7 Guns In 2023: Five Of The Best Pistols Chambered In 5.7x28mm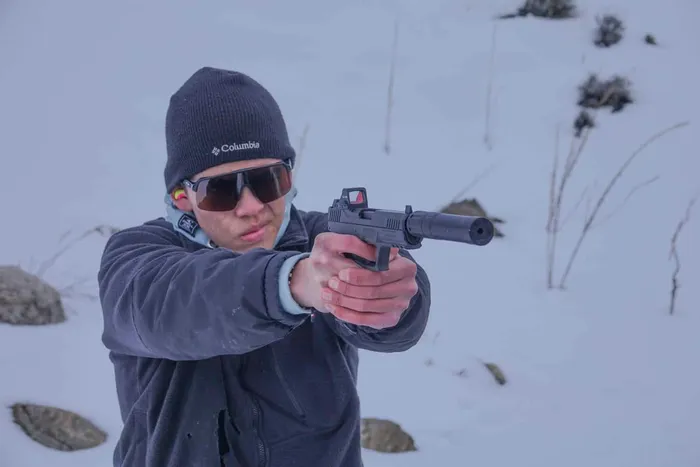 The Best 5.7 Guns In 2023: Five Of The Best Pistols Chambered In 5.7x28mm
Introduction
The best 5.7 guns today are not the same as a few years ago. There has been a massive rise in the popularity of pistols chambered in 5.7x28mm in the past years, and now we have different manufacturers entering the ring for the title of the best.
You know, Ruger, Smith & Wesson, and CMMG, just to name a few.
If you're here to find out which one is the best. I'm here to let you know which one those are, depending on what you're looking for.
So we'll go through a few options, and at the end, we'll talk about some considerations you should take before sealing the deal on a pistol in 5.7x28mm.
Without further ado.
Best 5.7×28 Guns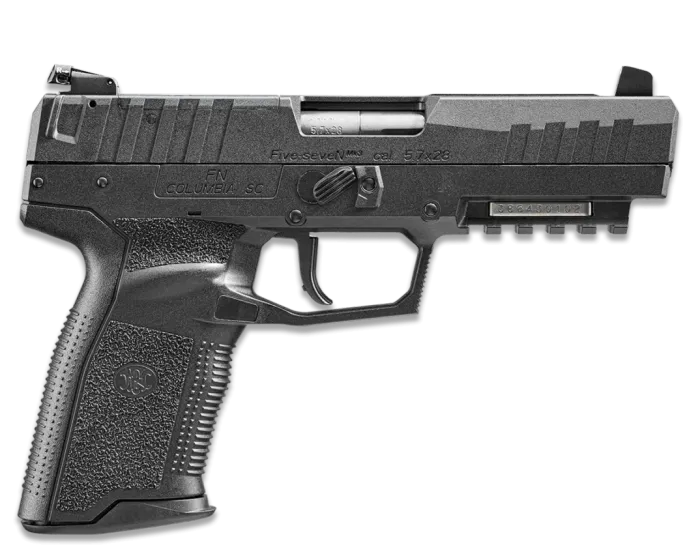 Specifications
| | |
| --- | --- |
| Caliber | 5.7x28mm |
| Capacity | 20+1 Rounds |
| Weight | 1.5 Pounds |
| Overall Length | 8.2 Inches |
| Barrel Length | 4.8 Inches |
Pros & Cons
Pros
Optics ready 

Great magazine capacity

Polymer shell around the slide to mitigate corrosion
If NATO tasked your company with making a round that could knock the 9mm of its pedestal, you'd probably work your back off to make sure that the pistol complimented the round it came out of.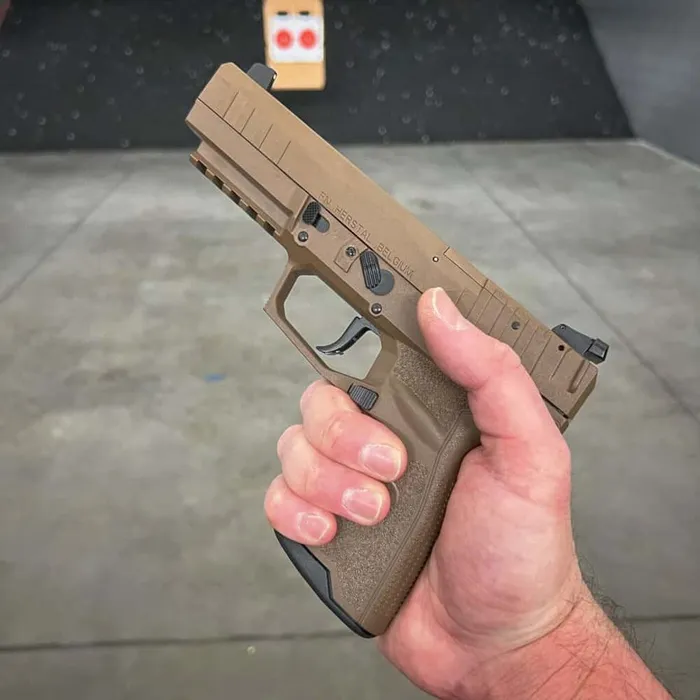 That's what FN did, and that's why the FN Five-SeveN is my pick for the best overall pistol in 5.7.
FN has had years to perfect the Five-SeveN platform. It has been tinkering and tailoring the Five-SeveN since 2000, so it could be where it is today.
We're now in the third generation of the FN Five-SeveN's design, and there have been multiple changes over the years.
The Five-SeveN MK3 (third generation) has front slide serrations like the MK2 but now offers an optics cut for a red dot which was not offered in previous models.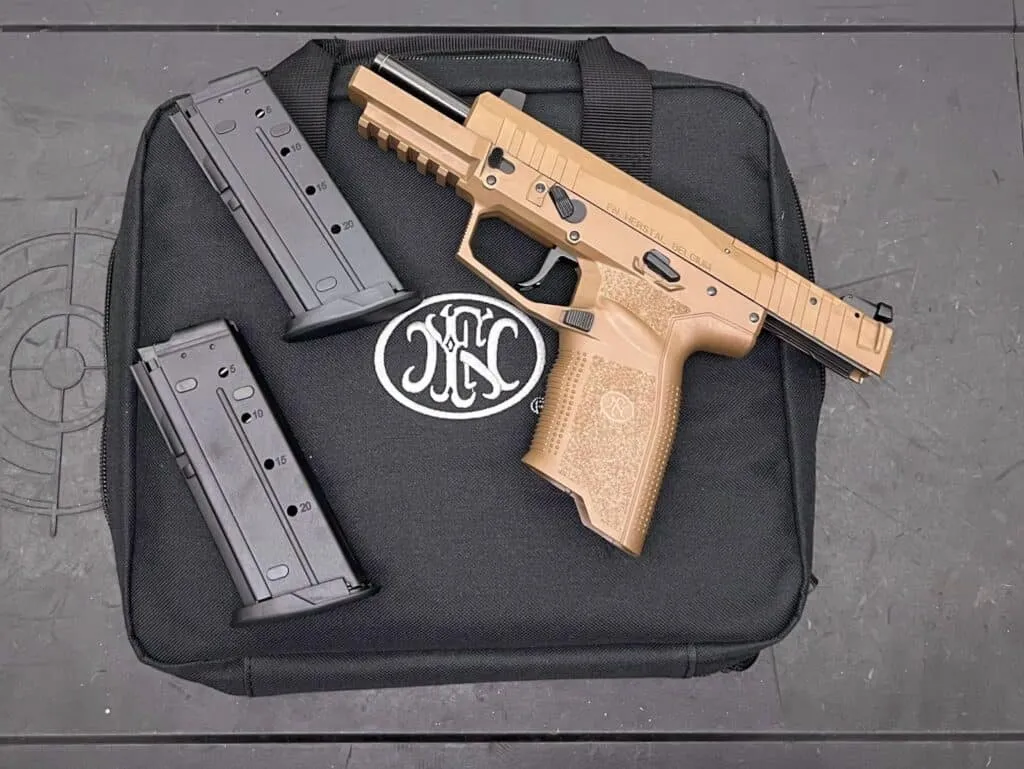 The grip on the third-gen model has texturing on more surface area for you to wrap your mitts around. This will help you further mitigate the slight recoil felt when shooting the 5.7x28mm.
The Five-SeveN is quite expensive, but you pay for what you get. The polymer shell around the slide keeps the metal from corrosion and all the other dangers of running a pistol hard.
Our hands-on experience with the FN Five-seveN was notably exceptional (see the full Five-Seven review here). The pistol performed seamlessly, demonstrating remarkable reliability throughout our testing.
Despite the 5.7x28mm caliber being relatively new, the rounds loaded, shot, and extracted flawlessly, contributing to an overall pleasant shooting experience. The minimal recoil, a natural feature of the 5.7x28mm round, allowed us to maintain accuracy even during rapid-fire scenarios.
Notably, the Five-seveN showed admirable groupings out to 25 yards, enhancing our confidence in its performance capabilities.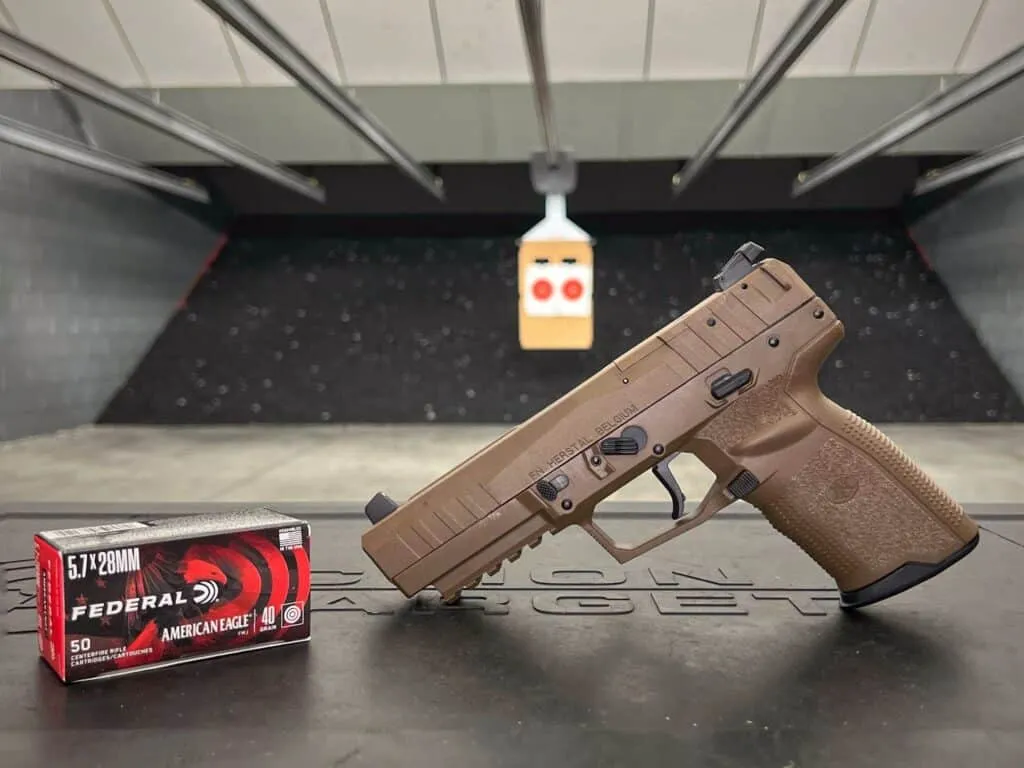 Ergonomically, the FN Five-seveN was a delight. The extended grip, necessitated by the length of the 5.7x28mm rounds, made handling the pistol a comfortable experience, even for those with larger hands.
The gun felt balanced and well-distributed in terms of weight, adding to its overall appeal. While the grip texture could be a tad more aggressive, we found it adequate for handling the pistol's low recoil. With an optics-ready slide, reversible and ambidextrous controls, and a generous 20-round magazine capacity, the FN Five-seveN proved to be well-equipped.
With all of the advancements in the design and how well the Five-SeveN does with the round it was designed for, I recommend it to anyone who wants the best pistol for their 5.7x28mm escapades.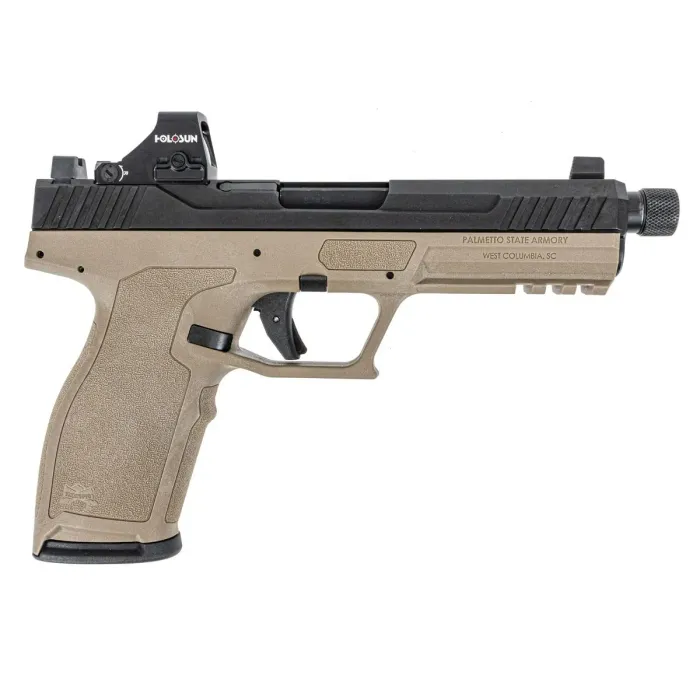 Specifications
| | |
| --- | --- |
| Caliber | 5.7x28mm |
| Capacity | 23+1 Rounds |
| Weight | 1.5 Pounds |
| Overall Length | 8 Inches |
| Barrel Length | 5.2 Inches |
Pros & Cons
Pros
Threaded barrel and suppressor height sights

Optics cut 

23 round magazines

Affordable
Cons
There were a lot of quality issues when this pistol came out

It doesn't offer both a threaded barrel and optics cut
Palmetto State Armory is a company well-known for being for sticking to their beliefs and selling some of the best bang-for-your-buck firearms on the market. It aims to arm those who pay their taxes and live the righteous way.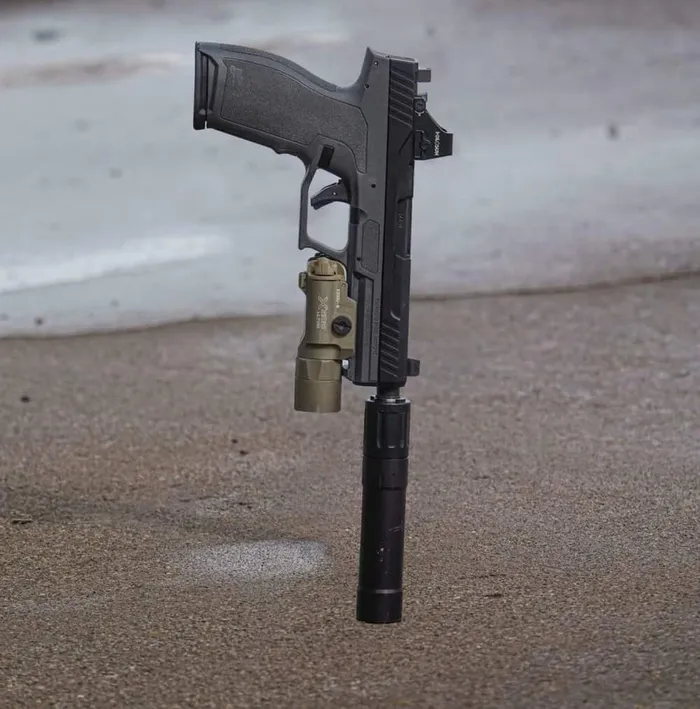 Legends.
The PSA Rock 5.7 (I don't know why it's called Rock) is PSA's entrance into the battle for the best pistol chambered in 5.7x28mm. It positioned the pistol as an affordable yet durable option for anyone who wants to give the round a shot.
And you can find it pretty easily under MSRP.
The fit of the pistol in your hands almost feels like an extension of yourself. It shoots smooth and flat, and when you have the red-dot variant of the Rock, keeping that dot right on the target is easy—a true tac-driver.
I wish we would see an optic-cut and threaded barrel in one place. PSA still has not given us an option with both features for some reason. For anyone stuck choosing between the two, I recommend the red-dot variant until you can have both. Take notes, PSA, great pistol. But give us both options, please.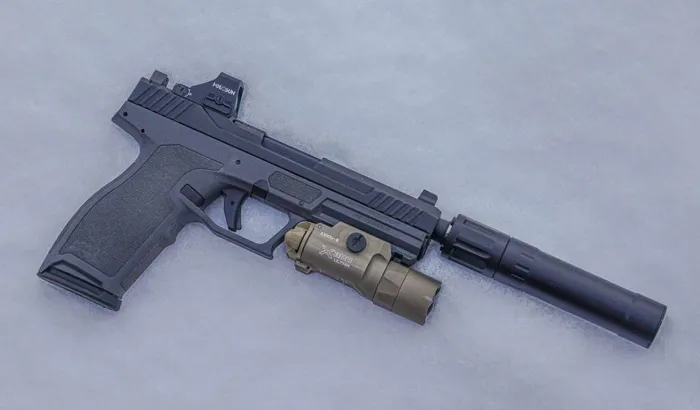 Our testing experience with the PSA Rock 5.7 (see full review here) was generally positive, with this polymer-frame striker-fired pistol impressing us in several ways. We found the gun to be comfortable in our hands and surprisingly lightweight. The slide action was smooth, and the trigger response was notably good, offering a clean, crisp feel.
We were also impressed by the gun's high-capacity 23-round magazine, which is unusual for a pistol. When we took it to the range, it performed admirably in both fast and accurate shooting, and the mild recoil was a pleasant surprise. The gun's accuracy exceeded our expectations, delivering consistent and precise shots, even at 25 yards.
However, it was not without a few hiccups. We noticed that the gun would not reliably lock back when the magazine was empty, and the slide release felt a bit stiff. Despite these minor issues, the PSA Rock 5.7 offers some excellent features, including its suppressor-ready threaded barrel, optics-ready slide, and the superb trigger.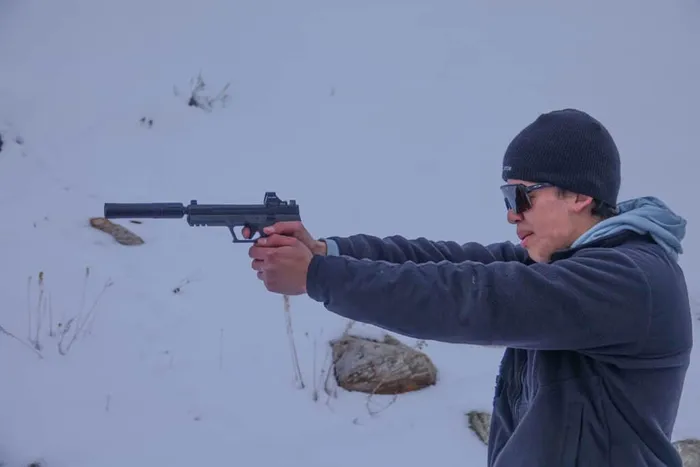 The ability to customize this gun to personal preference, with various color combinations and the capability to add a red dot sight, added to its appeal.
Its affordable pricing sets the PSA Rock 5.7 apart, making it one of the best value 5.7 pistols available on the market. It offers many of the same features as other higher-priced 5.7 models, such as the FN or Ruger, but at a much more accessible price point.
Given its overall performance and features, coupled with its affordability, we believe the PSA Rock 5.7 is a top contender in the market for 5.7×28 pistols.
Best 5.7 Home Defense Gun – CMMG Banshee 

Specifications
| | |
| --- | --- |
| Caliber | 5.7x28mm |
| Capacity | 20+1 Rounds (40 Available) |
| Weight | 5.2 Pounds |
| Overall Length | 23.7 Inches |
| Barrel Length | 8 Inches |
Pros & Cons
Pros
Virtually no recoil

8 Inch barrel allows 5.7x28mm to reach its full potential (ballistically)

Rail space for grips and optics (and lasers and lights)

Ambidextrous
Cons
Price

Lower is not compatible with both magazine options
A home defense gun chambered in 5.7x28mm is probably one of the most beautiful creations known to man aside from tacos and the New York Yankees. Slapping a low-recoil cartridge like 5.7 in a CMMG Banshee Mk57 with a red dot is like a cheat code in home defense.
I would compare it to the recoil of a .22 LR out of a Ruger 10/22. But it hits way harder and is a more viable home defense round. The Banshee Mk57 is one of the best ways to get the round on target.
I'll tell you why.
CMMG does something different with the Mk57 you don't usually see on pistol-caliber carbines.
Instead of using gas blow-back into a heavy bolt carrier group like normal pistol caliber carbines, CMMG uses a clever radial delayed blowback to cycle the rounds. This reduces the amount of felt recoil while giving you a reliable feeding system.
And when you add a round that is already easy with recoil, in this case, the 5.7x28mm round coming out of the business end, you can easily shoot sub-MOA groupings in close proximities.
But be sure to practice so you don't freeze up when you see the person running in your house, or you don't mistake the drunk neighbor for an intruder.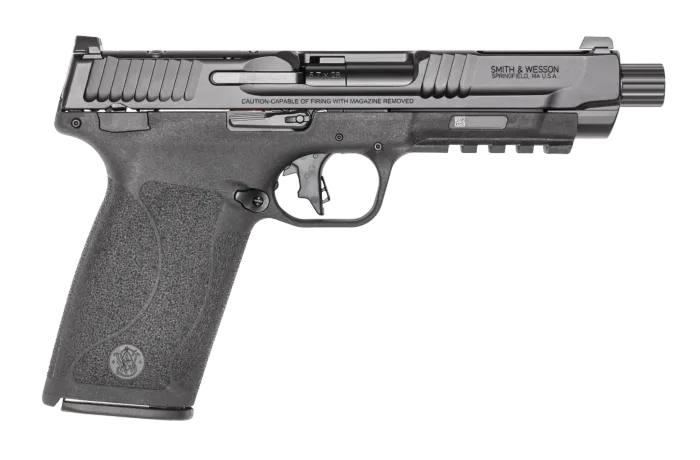 Specifications
| | |
| --- | --- |
| Caliber | 5.7x28mm |
| Capacity | 20+1 Rounds |
| Weight | 1.6 Pounds |
| Overall Length | 8.5 Inches |
| Barrel Length | 5 Inches |
Pros & Cons
Pros
Comes optic ready

Threaded barrel  

Ambidextrous slide release

Suppressor height sights
Cons
Magazine feeding issues

Not a fan of the trigger
Smith and Wesson released its pistol chambered in 5.7x28mm in 2023 and gave us what we wanted from the PSA Rock…an all-in-one pistol.
We wanted a high magazine capacity and both a threaded barrel and optics cut, which is precisely what you get with the Smith and Wesson M&P 5.7.
S&W also made this gun suitable for carrying if you don't mind carrying a full-size pistol. The M&P 5.7 is relatively light and thin for a pistol of its size. While I don't recommend shooters with smaller mitts or a more petite frame to carry this pistol, an average-sized person could get away with it during the winter.
You know, when the layers are on.
The 5.7 also has suppressor height sights for co-witnessing your red dot, or if we just so happen to get EMP'd, and all of our precious optics go down, and you have to go back to a primitive way of shooting.
Some of the magazines from S&W have had issues with feeding and things of that nature, making it a bit harder to trust the M&P 5.7 fully, but Smith and Wesson may have addressed that.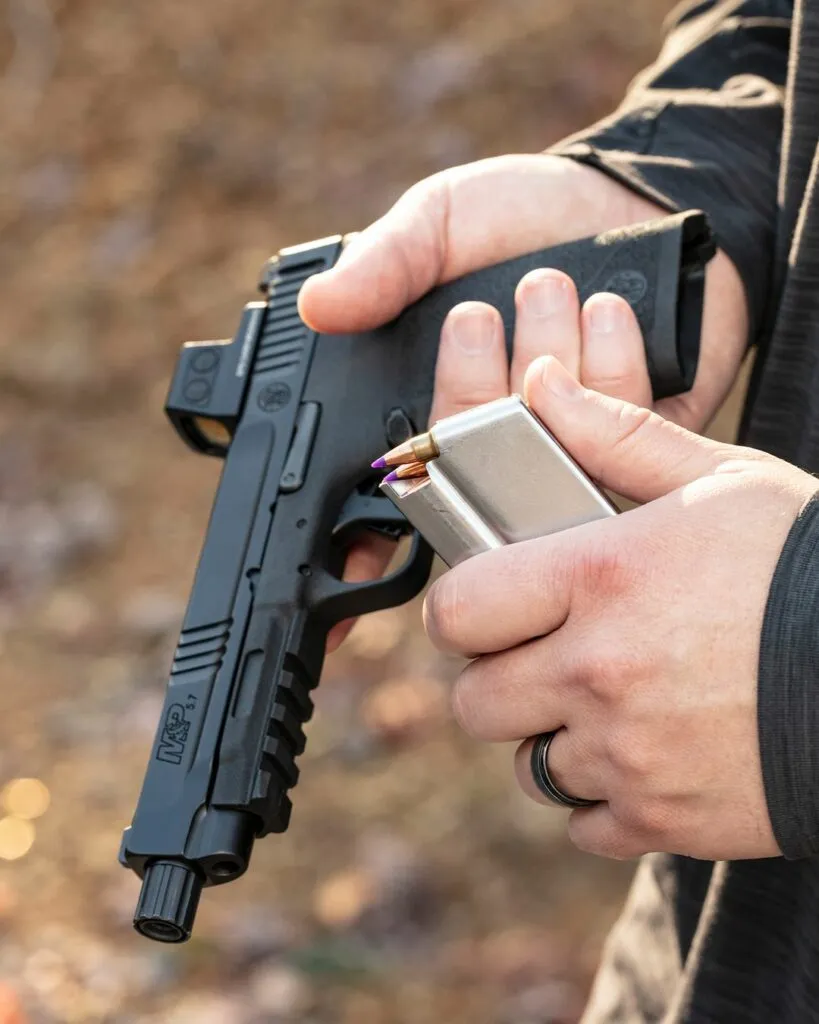 The new models should not have that issue.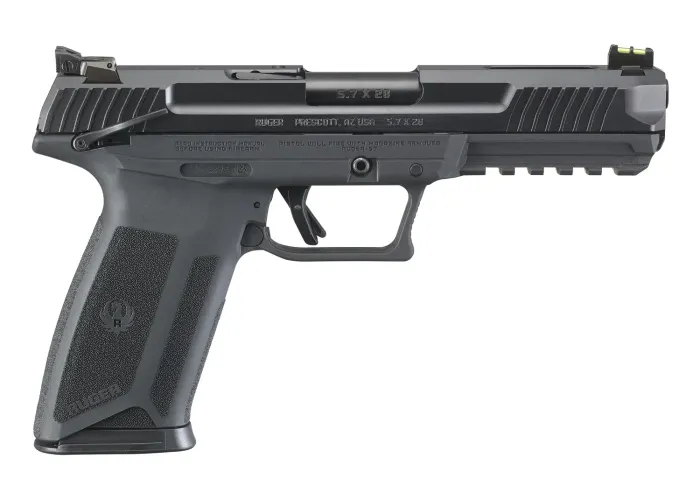 Specifications
| | |
| --- | --- |
| Caliber | 5.7x28mm |
| Capacity | 20+1 Rounds |
| Weight | 1.5 Pounds |
| Overall Length | 8.65 Inches |
| Barrel Length | 4.94 Inches |
Pros & Cons
Pros
Fairly priced

Optics ready 

Great ergonomics 

Lightening cut on top of the slide
Cons
I've seen some mysterious feeding issues that I could not figure out

Needs an adapter plate for optics
We've had a storm of new pistols chambered in 5.7x28mm brought forward this year, and long-time purveyor of fine firearms, Ruger, was one of the manufacturers to jump on board.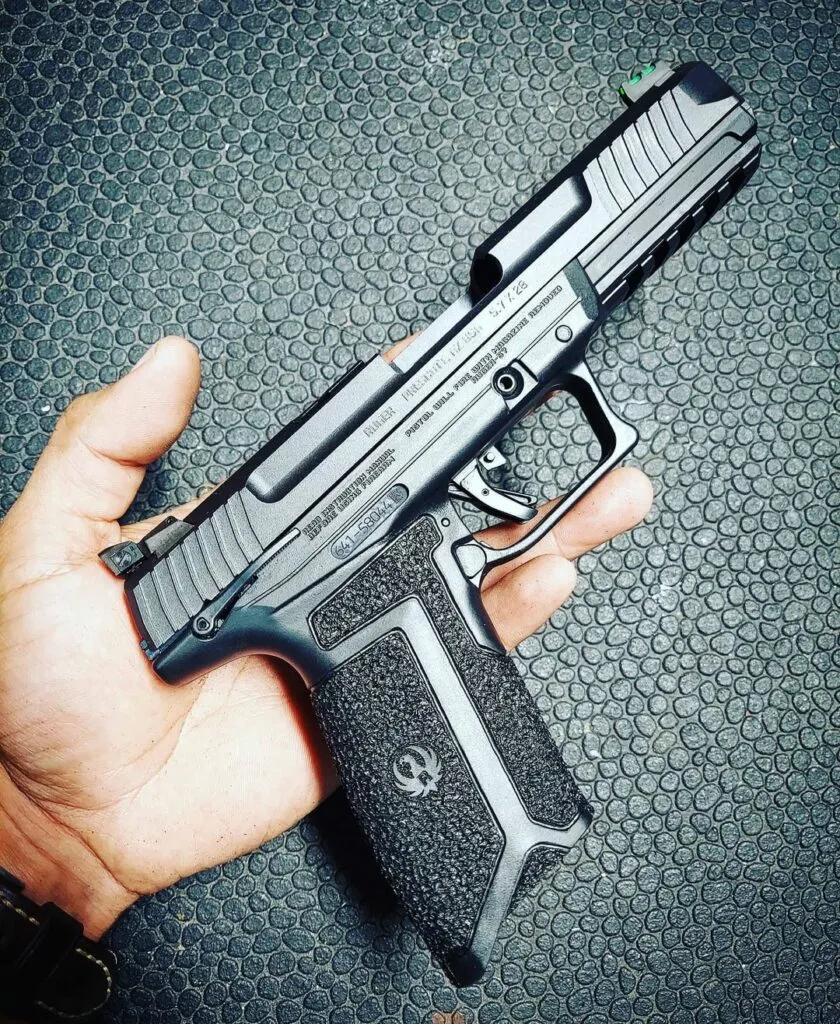 And the Ruger 5.7 was born.
It's another affordable pistol that can accept the high-dollar round and perform when needed. From the factory, the Ruger 5.7 has a lighting cut on the top of the slide and a fiber optic front sight to keep everything aligned when it's dark outside.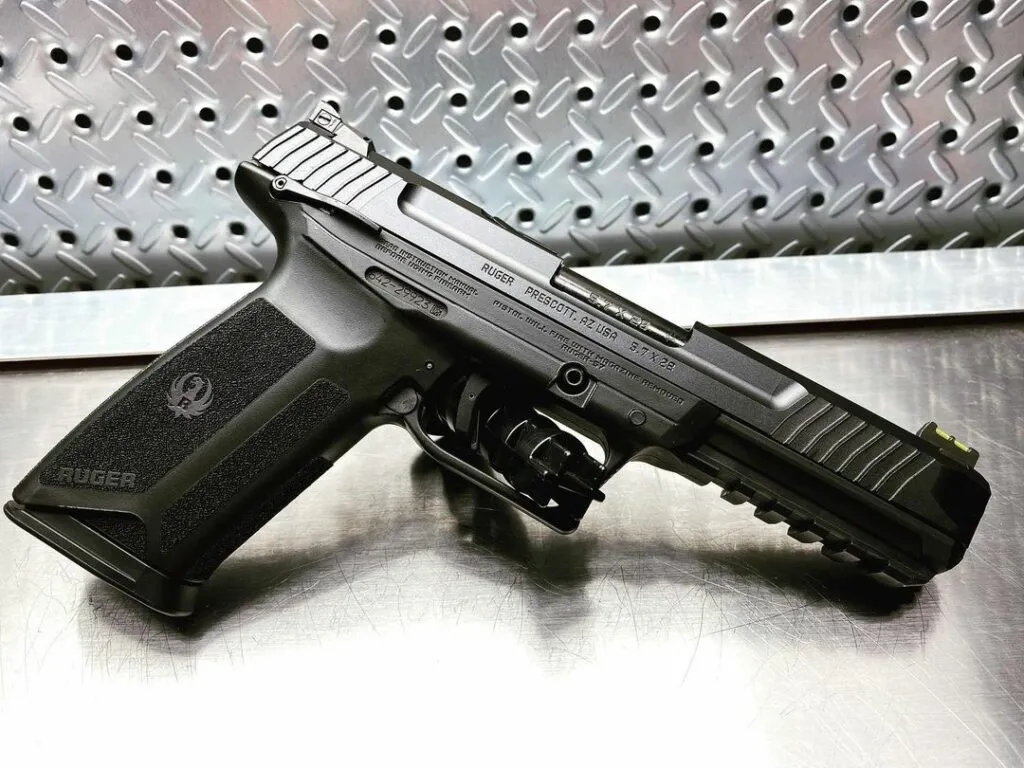 The ergonomics of the Ruger 5.7 feels 1911-esque and good in the hands. It's easy to achieve a proper hand placement for great control over the firearm and keeping the recoil under wraps.
The Ruger 5.7 makes for a fine pistol if you want a pistol chambered 5.7x28mm for backyard fun purposes.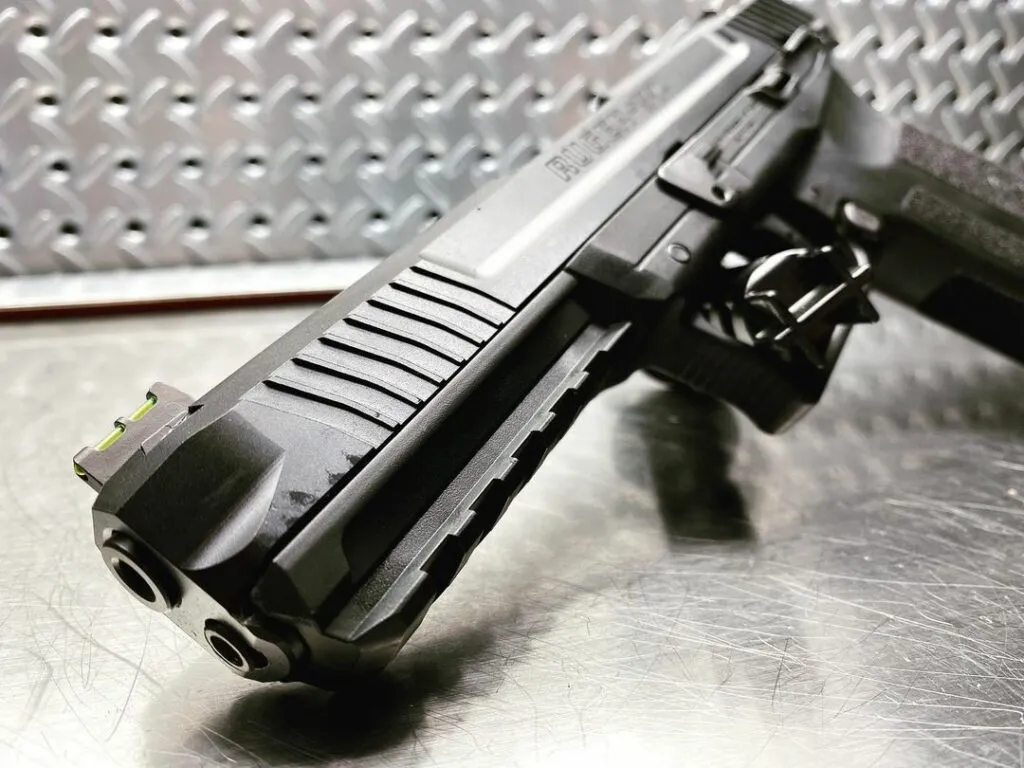 Still, I may suggest something easier to mount optics on without needing an adapter plate.
It's also not the most affordable pistol chambered in 5.7x28mm if you get it directly from Ruger, but finding one elsewhere under MSRP should be easy. Not to worry.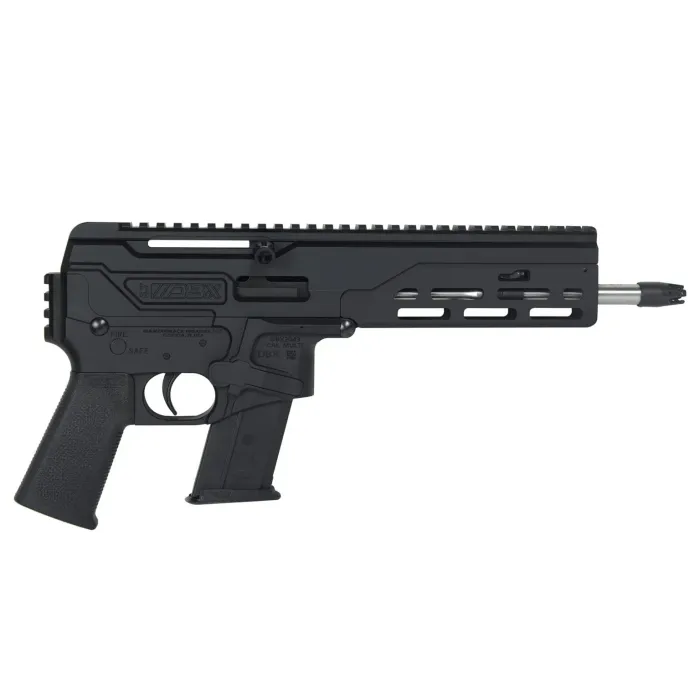 Specifications
| | |
| --- | --- |
| Caliber | 5.7x28mm |
| Operating SYstem | Locked Breech, Dual Gas Piston |
| Capacity | 20 Rounds |
| Barrel Length | 8 Inches |
| Twist | 1:9 RH |
| Barrel Muzzle Threads | ½ x 28 RH |
| Overall Length | 15.25 Inches |
| Width | 1.75 Inches |
| Height | 7.3 Inches |
| Weight (Unloaded) | 3 Pounds |
| Frame | 7075 Aluminum |
| Handguard | 6061 Aluminum |
Pros & Cons
Pros
AR-15 part compatibility: Enhances customization.

Lightweight and compact: Easier to handle.

High reliability: Fired flawlessly in our tests.
Cons
Difficult to disassemble/reassemble: Potentially time-consuming.

Small charging handle: Feels somewhat flimsy.
Our time spent testing the Diamondback DBX57 was immensely enjoyable (see our DBX57 review).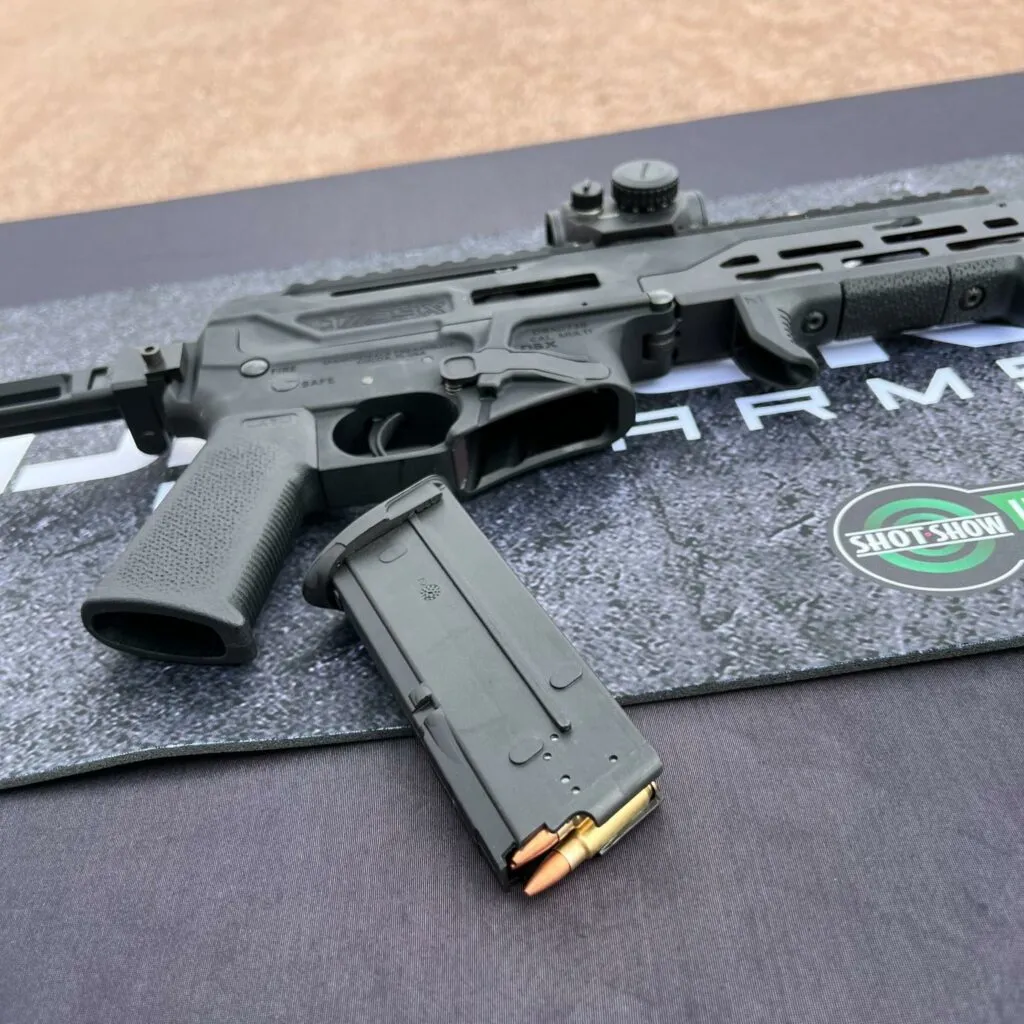 The lightweight and compact nature of this gun, weighing in at only 3 pounds unloaded and 1.75 inches wide, truly sets it apart from its counterparts.
Despite its weight, the gun maintained an excellent balance during shooting, something that was surprising yet appreciated. The recoil was minimal, which facilitated one-handed shooting with or without the brace. Its design feels almost like an airsoft gun, but the performance was anything but.
We were greatly impressed by the DBX57's reliability. Over the course of our testing period, it didn't falter, successfully firing every round flawlessly. The 5.7x28mm round caliber, combined with the gun's locked breech, dual gas piston operating system, ensured seamless shooting sessions.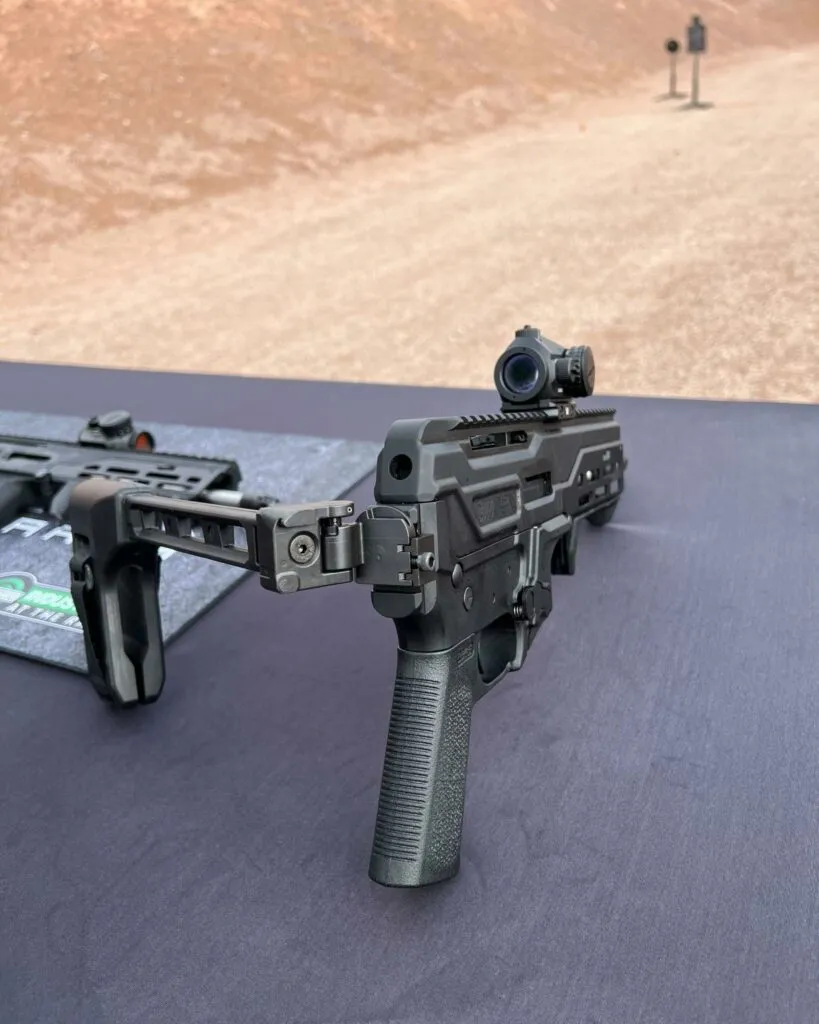 In terms of accuracy, with the right optics or sights, it hit the mark every time, even at a distance of 40-yards.
The DBX57 excelled in terms of features. The addition of an adjustable gas block allowed us to optimize performance based on the specific ammo in use or if a suppressor was attached.
We found the 20-round ProMag magazine sufficient, but the compatibility with standard FN Five-seveN magazines, offering 10 to 30-round options, was a welcome feature.
However, do keep in mind that the gun does not come with any sights or a brace, and you might need to purchase these separately.
So why is the Diamondback DBX57 one of the best 5.7 guns on the market?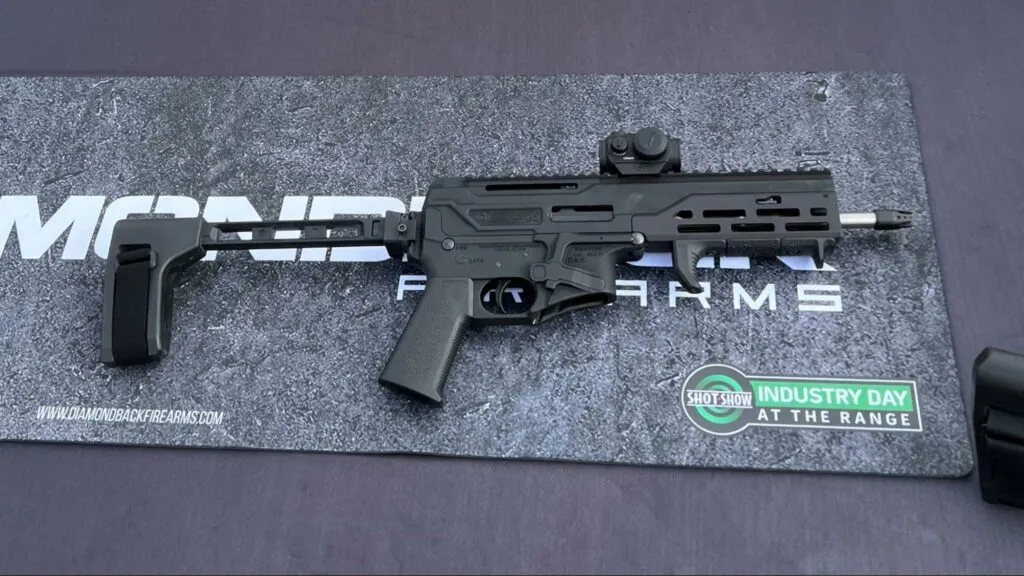 The reasons are plentiful: its compatibility with AR-15 parts, lightweight and compact design, and reliable operation make it a top contender. The adjustable gas blocks, rail space, and M-LOK slots offer customization options, while its impressive accuracy and low recoil provide a superior shooting experience.
While it might not be the cheapest option available, and you'll have to spend extra on sights and braces, the DBX57 offers unmatched value, performance, and versatility.
How We Chose Our Top Picks
When trying to find the best pistol in 5.7x28mm, we embarked on extensive research and practical testing. We sought insights from team members with extensive experience with this round and firearms that utilize it. Additionally, our research led us to comb through various forums to supplement our knowledge.
While we have shot a good number of these firearms, our comprehensive approach ensured we engaged with some of the latest offerings as well. Our aim was to identify high-performance firearms and ones that offered value for money.
We wanted to feature guns that would not break the bank, allowing every enthusiast to experience the 5.7x28mm cartridge without spending a fortune.
Ultimately, I wanted a few firearms that cost less than the mortgage. That way, shooters like myself who don't have the dough to fork out Five-SeveN money can still get behind the 5.7x28mm cartridge.
Oh, and I wanted pistols that had optic cuts.
And this list is what I had left.
5.7x28mm Pistol Buyer's Guide
Before buying a pistol chambered in 5.7x28mm, you should consider a few important things.
The Cost Of 5.7x28mm
I'm just going to come out and say this. The 5.7x28mm ammo is pretty expensive.
I've seen gentlemen at the range pay north of $50 for one box of ammo (50 rounds).
Since I'm a huge advocate for getting out there and shooting your firearms as much as possible, I don't recommend buying a pistol chambered in 5.7x28mm if you're looking to stock up on ammo for the boog, unless you can seriously afford to spend a bunch of money on ammo.
Shooting 5.7x28mm is fun, and the rounds just seem to disappear. It goes quickly when you have 20+ rounds of ammo in each magazine.
But you want to shoot more, and you should.
So unless you can come out of pocket a couple hundred bucks for each range trip, I would consider purchasing something in a more common caliber.
Are You Sure You Want to Conceal That?
Pistols in 5.7x28mm are full-sized and have not been made for concealed carry. Yet. I'm sure somebody will come out with something soon so we can enter that field with pistols in 5.7x28mm.
I said it first.
But for now, we're stuck with full-size pistols, which aren't very comfortable to carry concealed. And that's if you can break up the print enough so no one asks if you have something in your pocket or are just happy to see them.
Now I may just be speaking to a small group of people here who were actually considering concealing one of these pistols, but I've seen it mentioned on Reddit a few times and wanted to address it.
5.7x28mm For Home Defense
Is it a viable option? You have softer recoil, plenty of ammo in the magazine, and maneuverability with space for a red dot and a light. That's pretty much all you need for a home defense situation, right?
But what about stopping power? And wall penetration?
With 288 pounds of stopping energy at the muzzle with 40-grain Speer Gold Dot, you may have to put two or three rounds on target to put down an attacker. For reference, 9mm has about 360-390 foot-pounds of energy at the muzzle with 124-grain Federal HST.
The smooth recoil and large magazine capacity will back you up if you're dealing with one of those drugged-up intruders, so quickly putting two or three on target won't require too much effort.
But training will be your best friend here. So make sure you get it.
FAQs
Is 5.7 more powerful than 9mm?
5.7 is less powerful than 9mm. In terms of energy at the muzzle, 9mm has about 100 more pounds of stopping force 5.7x28mm.
Is 5.7 good for self-defense?
5.7 will do the job. But you may have to put two or three rounds in the attacker before they go down, depending on their state of mind and all that. Just keep pulling that trigger until he goes down, and you'll be fine.
Can 5.7 stop a bear?
I would not suggest 5.7x28mm for a bear. Against a human is one thing, but a bear can take much more than a human due to all the fat, muscle, and fur surrounding them.
Conclusion
5.7x28mm is a growing star in the community. The pistols mentioned above are not going to be  the last we see from manufacturers who want to put their own spin on the round.
But what do you think about 5.7? Does it have room in your safe?
Personally, I'm going to wait until the 5.7x28mm gains a bit more traction and rounds are more available and less expensive, so I'm not spending three hundred dollars per range trip.
But when I do grab one, it'll most likely be an FN Five-SeveN. With all of the tweaking that FN has done with the third generation, I'm excited to see what comes out with the fourth generation in a few years.
But you'll know as soon as I do.
See you on the range, fine shooter.
Explore more