Glock 17 Gen5 MOS: Hands-on Review & Photos [2023]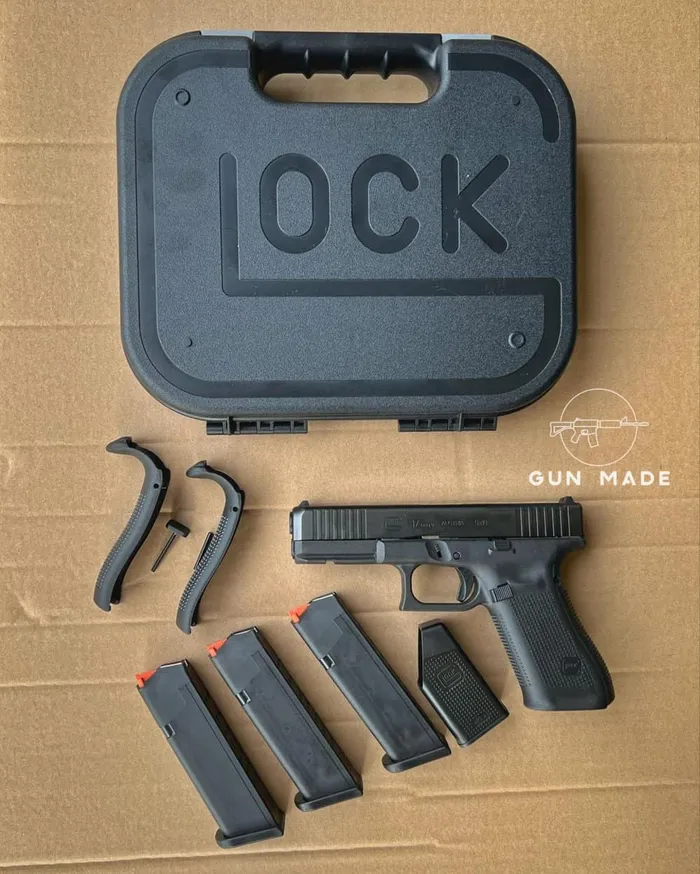 Glock 17 Gen5 MOS: Hands-on Review & Photos [2023]
The Glock 17 (G17) doesn't really need much of an introduction, which makes my job a lot easier! Just in case you live under a rock, though, I'll still go through all the nitty-gritty of it. But first, here's some background on the Glock 17. 
The Glock 17 is the "O.G" Glock. It was designed as a service pistol for the Austrian military and law-enforcement, in the early 1980's. By 1984, it had been adopted by the Austrian and Norwegian Army, paving the road for the Glock to become an international law-enforcement and military sidearm. 
Shortly after that, in 1986, Glock made its way to the US, and it's all history from there. According to Glock, over 65% of US federal, state, and local agencies are issued Glocks. Many of those Glocks being the G17. 
Even though I've shot Glocks for years, this was still a gun review I was excited to write. There are enough improvements that were brought to the fifth generation Glocks, especially the Modular Optic System (MOS) versions, to make for a very worthwhile review.
Without further ado, let's take a look at the finer details and features of the Glock 17 Gen5 MOS.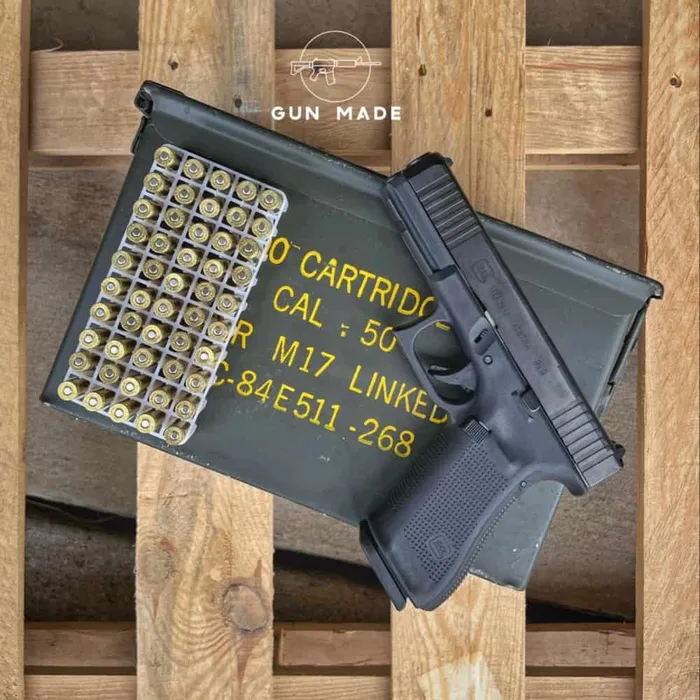 Glock 17 Gen5 M.O.S. Review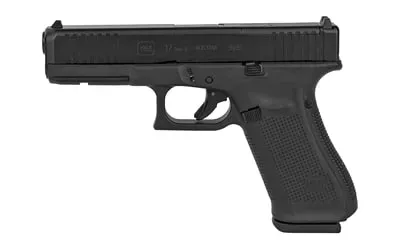 Specifications
| | |
| --- | --- |
| Caliber | 9mm |
| Capacity | 17+1 Rounds |
| Length | 7.95 Inches |
| Width | 1.34 Inches |
| Height | 5.47 Inches |
| Barrel Length | 4.49 Inches |
| Weight | 22.05 Ounces (without magazine), 24.87 Ounces (with empty magazine), 33.33 Ounces (with loaded magazine) |
| Frame | Polymer Frame |
In the Box
This trend of specific handguns coming with three magazines instead of two, is something I can really get used to! You'll also get a MOS adapter set that consists of several optic mounting plates and hardware. 
In addition to the mags and adapter set, there is a magazine loader and a couple of different-sized backstraps. All of that somehow fits perfectly inside of the Glock hard case.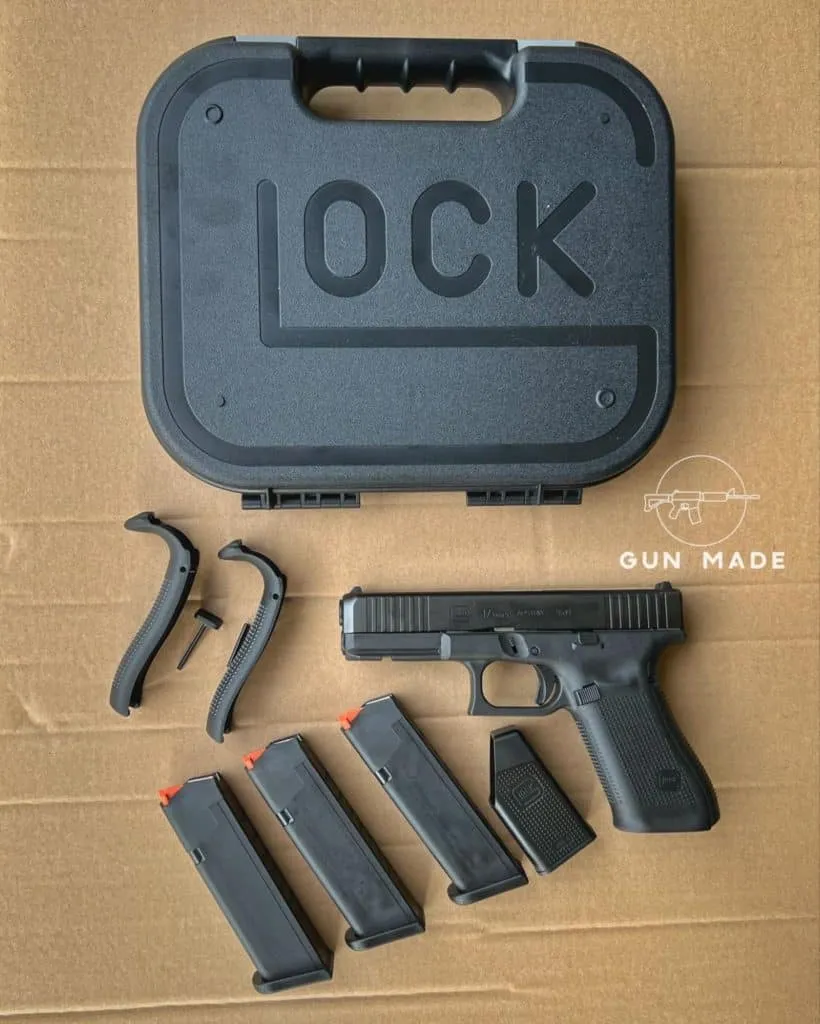 Features
My initial impressions of this new gen MOS version were almost all positive. There is no shortfall of solid features. Even though some of them leave a little bit to be desired, the value is evident with the Glock 17 Gen5 MOS. 
Slide
The slide is the star of the show here. I find it crazy that Glock just started adding front slide serrations with the Gen5. I think it should be standard on all pistols to have them. Well, now they are here and much appreciated. 
But, even better is the fact that the slide comes precision machined from the factory and with those several base plates to mount your favorite optics. It really helped to take the Glock 17 from great to epic.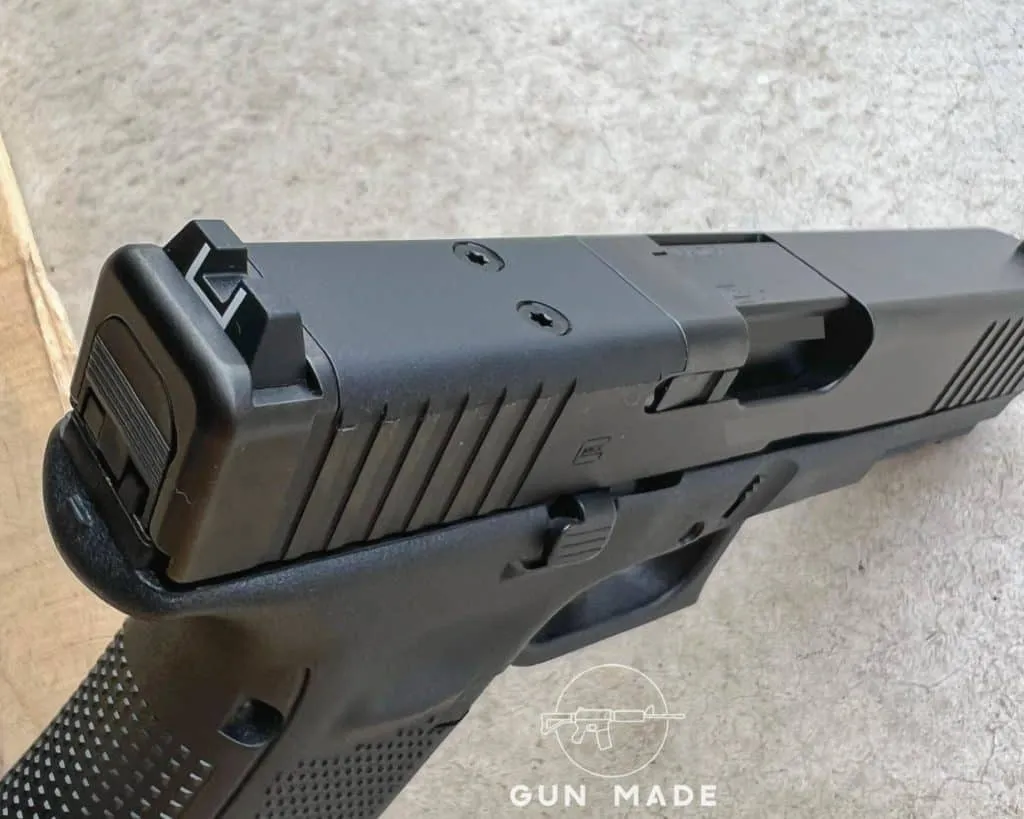 The MOS version of the Glock 17 Gen 5 gives you the optic-ready slide. I'm hoping that all Glock pistols moving forward will include them, or at least have the option.  
Controls
I've always found the Glock slide stop lever to be undersized, and this one is no different. It doesn't give me issues necessarily, but it would have been nice if they enlarged it a tad for easier manipulation. 
On a positive note, it is ambidextrous, so any of you left-handed shooters out there will be in good shape. The magazine release is textured just enough to activate in a hurry and is reversible. When I think about the G17's controls, I'd probably have to use the word adequate to describe them.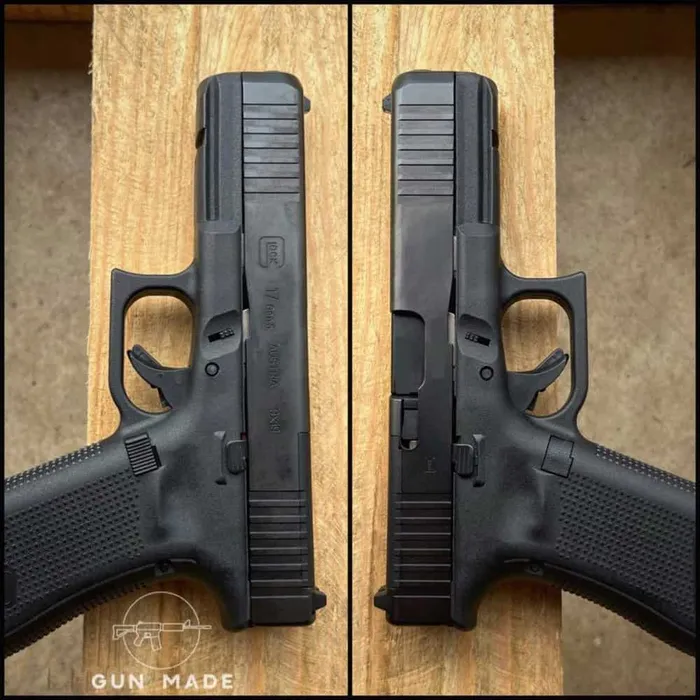 Magazine
Polymer magazines can be just as sturdy as metal magazines these days, especially if they contain metal feed lips. This is the case with Glock mags, which have never given me any issues. 
I like that they also come with a bright orange follower so you can quickly spot your unloaded vs. loaded magazines. You get three 17-round magazines with the G17 and a magazine loader. I see many people saying the magazine loader is "useless," but I disagree. 
Yes, you can manually load your magazines just as fast without it. However, if you have a range day or training class where you're putting a dozen or more magazines downrange in a short amount of time, it can definitely help save your fingers! 
Call me a baby if you'd like, I'll still be keeping the mag loader in my range bag each trip.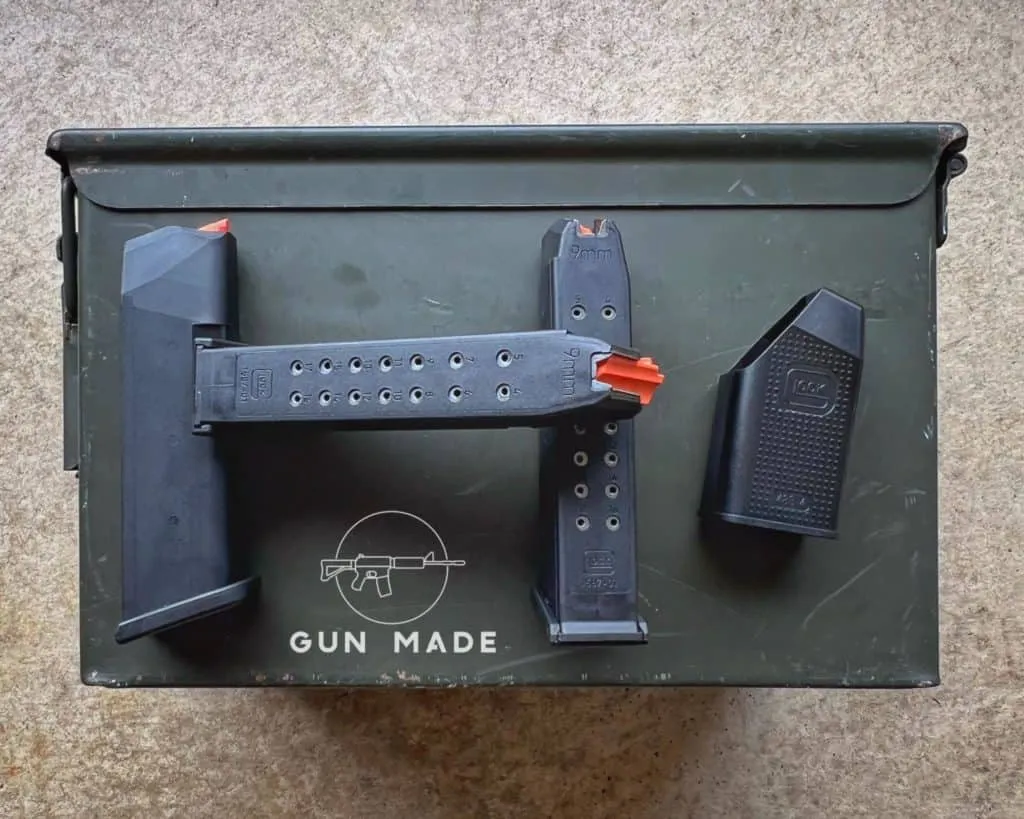 Trigger
Historically, Glock triggers have not been great. This one is no exception but is my favorite among all the Glock generations. The improved trigger changes are subtle, though. 
I find this trigger to have a smoother pull than the previous generations, with a more defined but still crisp and short reset. I don't see myself swapping out the trigger on this one.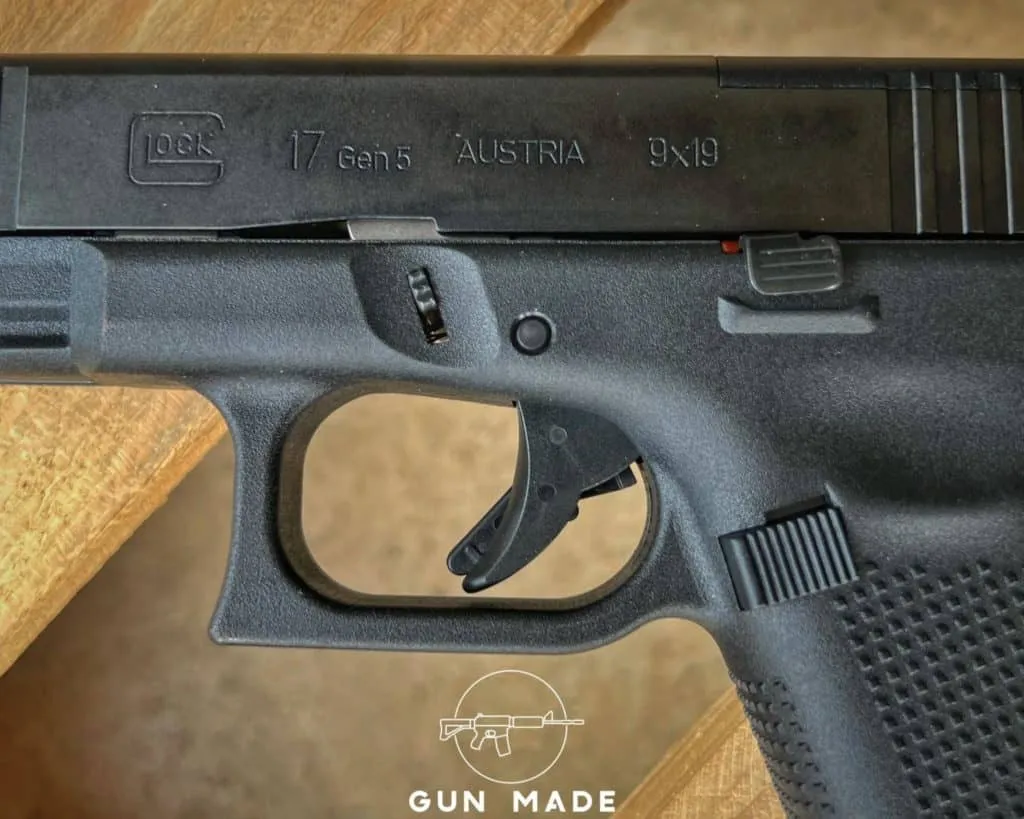 Sights
The OEM square-notch Glock sights are loved by some, but not liked by many. With that being said, if you're used to Glocks, the sights are familiar and easy to shoot with. Do they get the job done? Yes. Am I probably going to replace them with a set of aftermarket night sights? Yes. 
Luckily, there are many aftermarket options for upgraded sights.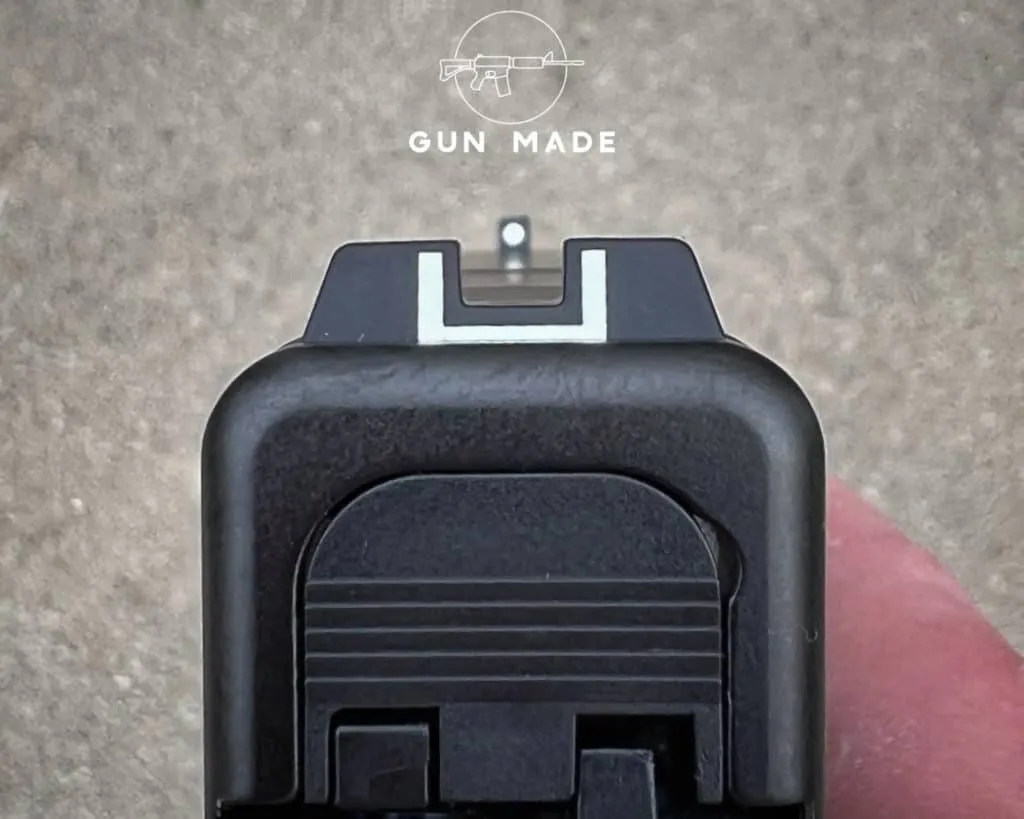 Grip
The Gen5 Glocks have my favorite grips (out of the Glock generations) by far. Coming from a previous Gen4 Glock 19, which had the finger-grooves, the removal of them on the Gen5s had me very excited. 
The texturing is more aggressive than some of the previous generations, too, which I've really found that I like. You'll also notice that there is a flared magwell for easier reloads. Those differences make for a much more enjoyable shooting experience, in my opinion.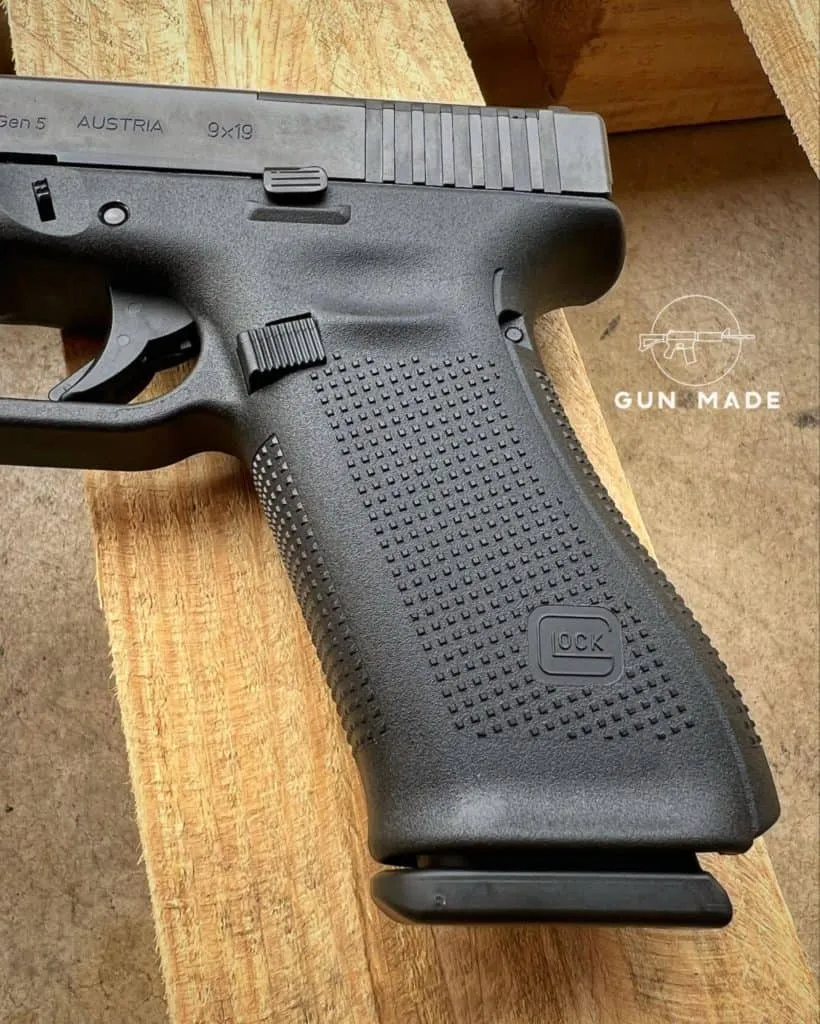 Accuracy and Reliability
Reliability is what Glocks are known for. I don't think I've ever heard someone complain that their Glock was unreliable. Have I heard plenty of other complaints? Yes, but none about reliability. 
I have a low round count of only 150 rounds through this specific gun, but I have put several thousand between other Glocks. I know their reliability and am comfortable after shooting just 150 flawless rounds through this one, that it should be no different. 
I made sure to put a box of defense rounds through it in addition to the 115gr target ammo I was using, and it ate through all of them with ease. I'm sure this gun will see a ton more rounds sooner and later!
For me, accuracy is an interesting one with Glocks. I never seem to shoot Glocks as accurately as some others, as I'm not extremely used to their trigger and sight combination. That's not at all saying that the gun itself is inaccurate. Just more so operator preference differences. 
Regardless, it's a very flat shooter, thanks to the longer barrel and slide. You're ready to go out of the box at defensive distances. After a few magazines through it to get acquainted, I was having smaller than fist-sized groupings out to 10 yards at the indoor range. 
When I took it outside, I was able to consistently place shots on 6" and 8" gongs at 25 yards. That was with the stock sights, so once I either replace them or add an optic, I would expect a quick and significant improvement.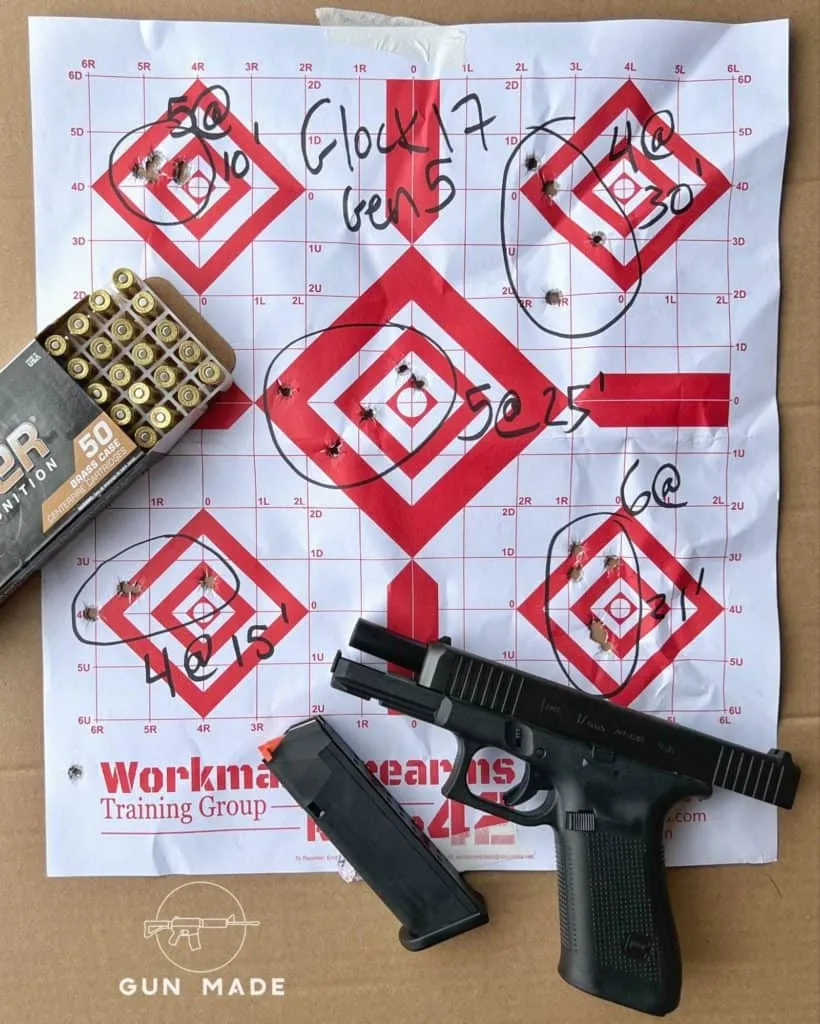 Glock 17 Gen 5 Pros and Cons
Pros
Extremely Reliable
Low Maintenance
Easily Customizable
Recoil Management
Accessories
Very few of the guns that I've ever owned have remained completely stock. I love accessories. With the optic-ready slide and accessory rail on the Glock 17 accepting many of the most popular lights or lasers, there are an endless amount of accessories and aftermarket parts for it.
Instead of listing a bunch since there are so many good ones, I'll tell you what I plan to outfit my G17 with. Holosun recently came out with the SCS-MOS (Solar Charging Sight) that is made to attach to Glocks directly. It features a 2 MOA dot and 32 MOA circle for extremely fast target acquisition. It even has matching serration cutouts for a clean finished look. 
Then, one of my standard default lights that has never given me any issues is the Streamlight TLR-1 HL. I think that optic and light combination will be perfect for this gun. 
Frequently Asked Questions
How to clean a Glock 17?
Cleaning a Glock is no different than any other handgun. Shoot, clean, lube, and repeat. 
How to take apart a Glock 17?
Taking apart a Glock 17 and other Glocks, in general, is a very easy task.
Is the Gock 17 a good carry gun?
Simply put, yes. With its reliability and high capacity, and as long as you have the right holster to help conceal and secure your gun, the Glock 17 makes for a fantastic carry gun.
Alternatives
Just in case you aren't a Glock person, need something a bit smaller or just want to try something from a different manufacturer, here are a few comparable options that I don't think you can go wrong with.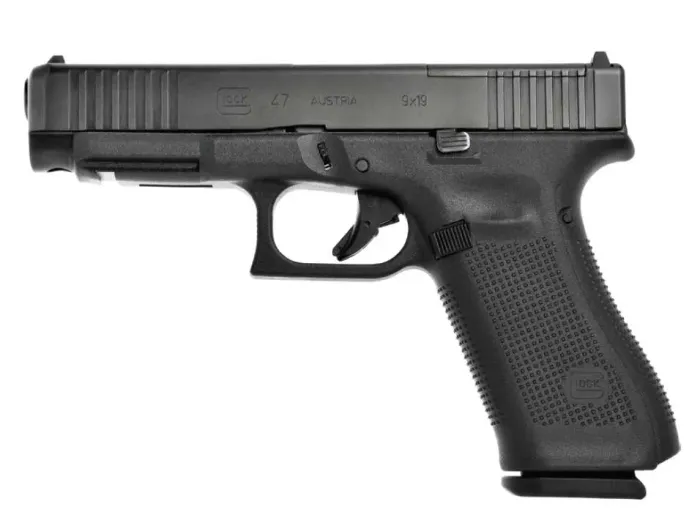 The Glock 47 MOS was developed for the United States Customs and Border Protection (CBP) in 2019 and is now available to the commercial market.
It offers the same reliability and performance as the Glock 17 Gen5 MOS, with a shortened dust cover, and maintains parts compatibility with other Glock models such as the G17 Gen5 MOS, G19 Gen5 MOS, and G45 MOS.
The notable difference between the Glock 47 MOS and Glock 17 Gen5 MOS is that Glock 47 has a shorter dust cover (portion under the muzzle). Otherwise, it is not largely different from the G17 MOS in terms of size, weight, capacity, and performance.
For more info, check out our Glock 47 Gen 5 review.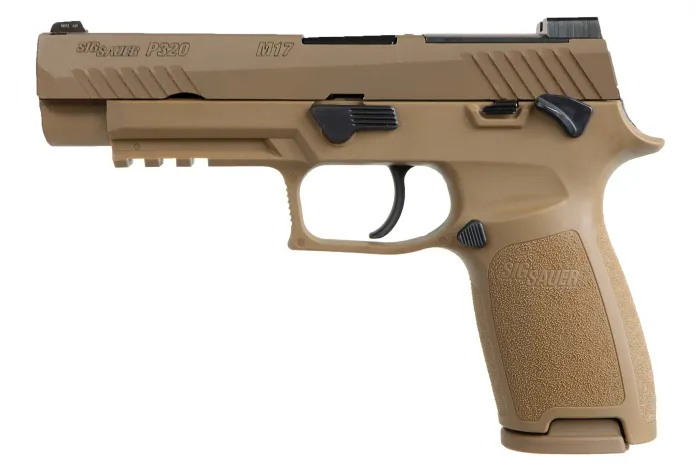 The P320 M17 is the civilian version of the US Army's chosen service handgun. It has a very smooth and consistent trigger pull, comes with 21-round and 17-round magazines, and features an optic ready slide.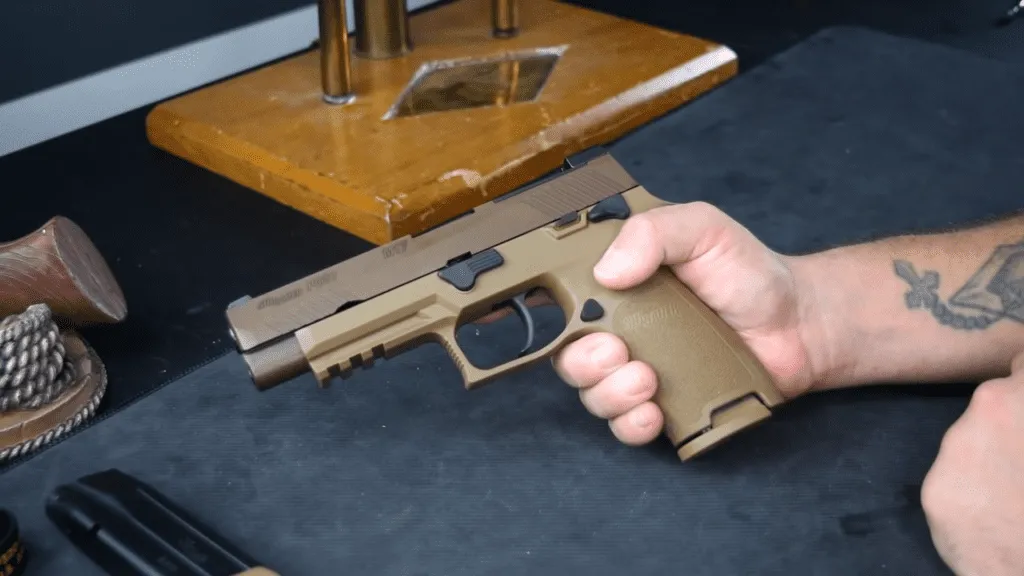 To be able to own the same weapon that many in the military use, is an added feature in itself.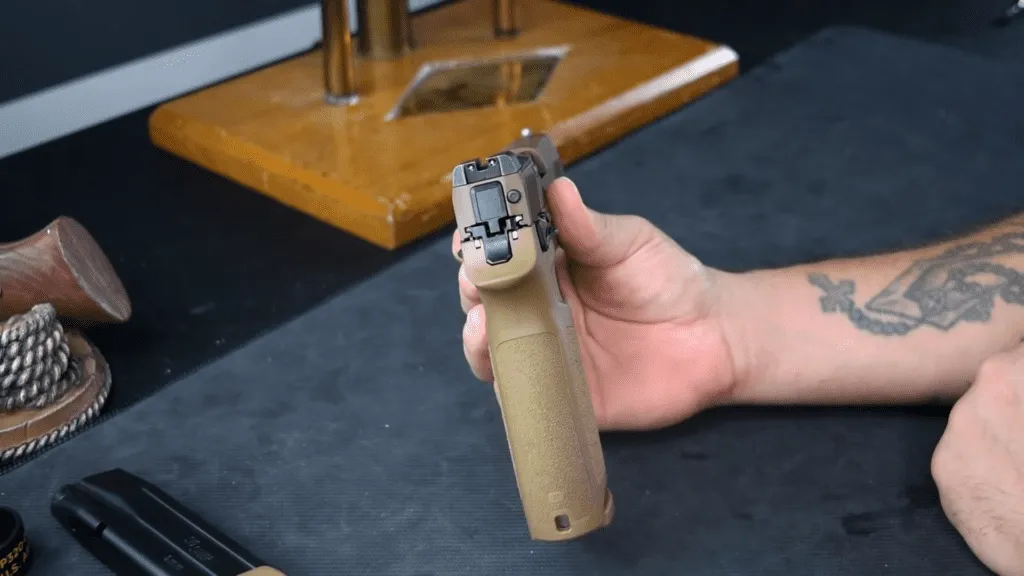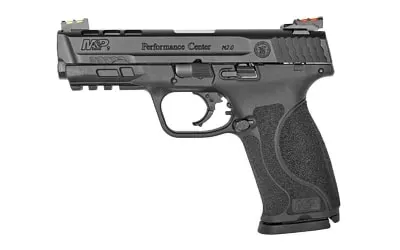 One of my favorite platforms is the M&P. Smith and Wesson recently rolled out an updated version of the M2.0 line that now includes a flat face trigger and optic-ready slide.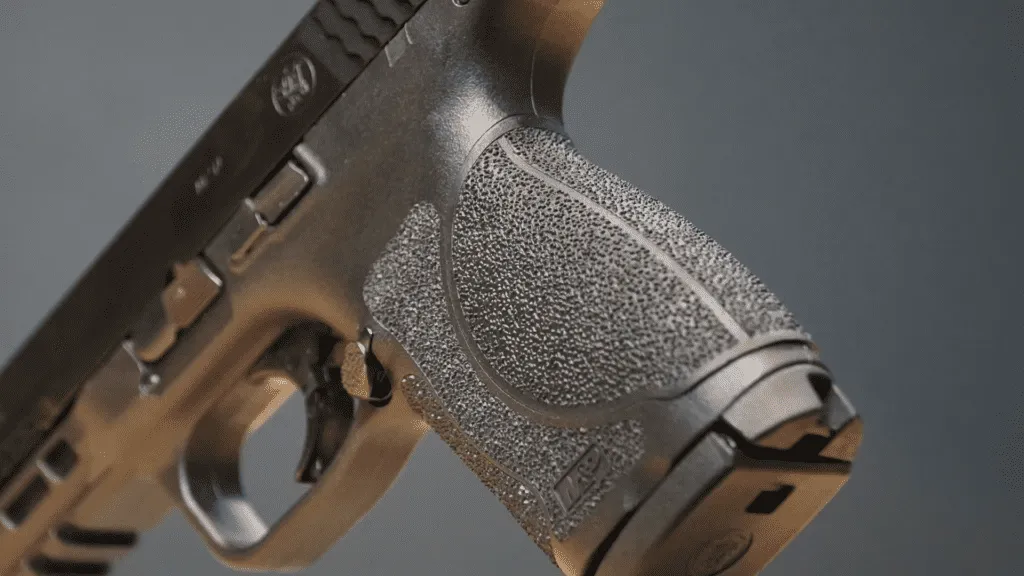 It took the already great M2.0 and made it better. It gives you a 17+1 capacity and includes tall white dot sights that come in handy once you mount an optic.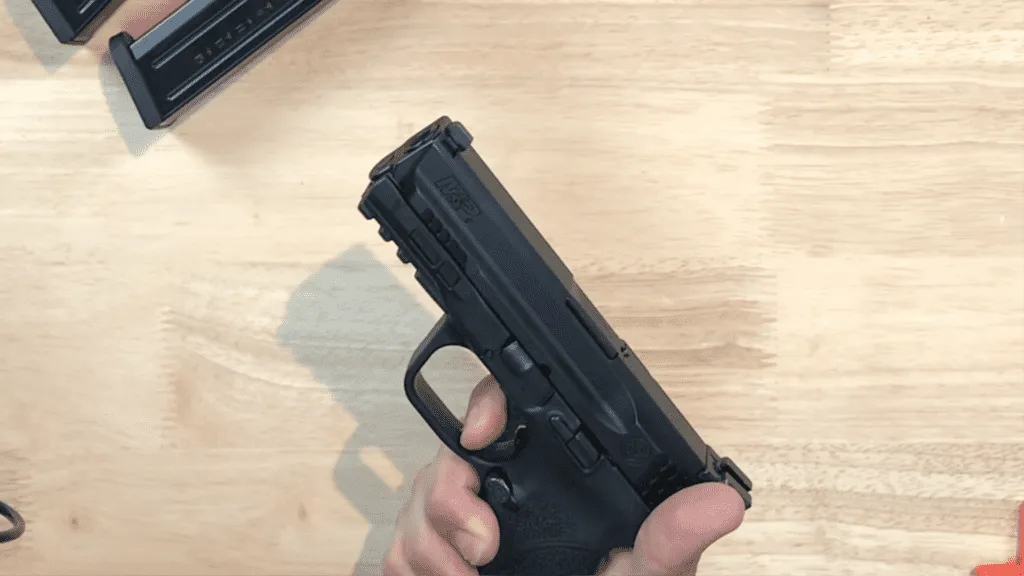 See our M&P M2.0 review for more info.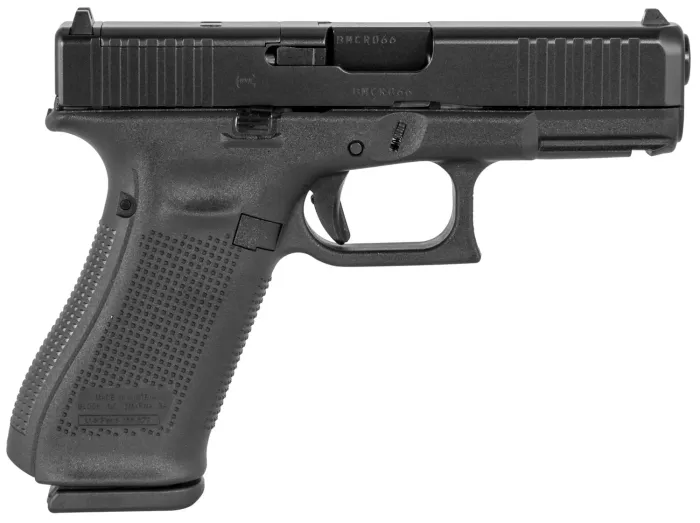 If you like the Glock 17 we've discussed in this review but want a slightly shorter barrel, the Glock 45 is for you (see our Glock 45 review here).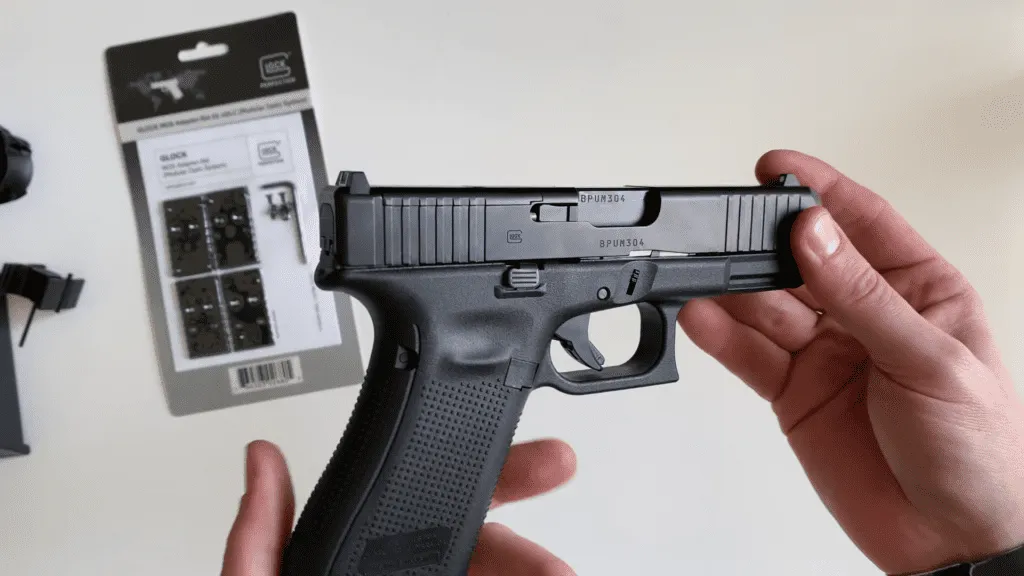 It's essentially the same gun but with a shorter barrel/slide combo.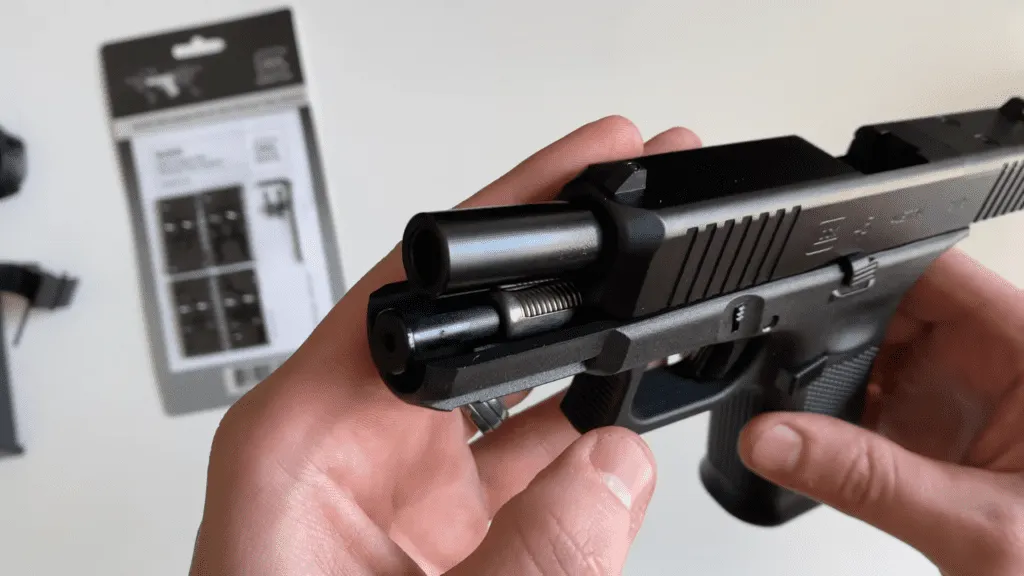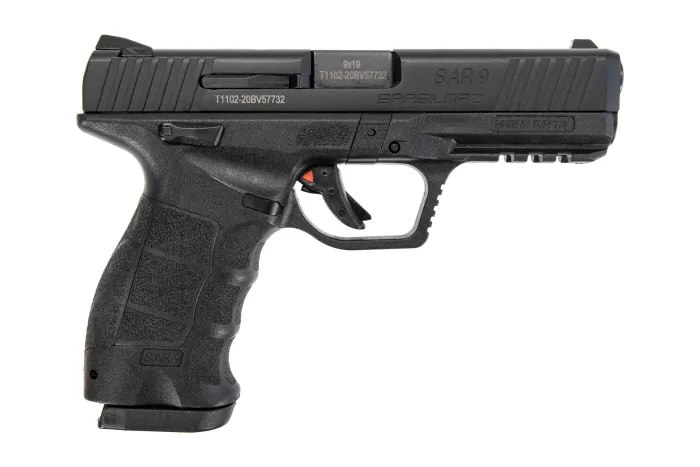 The Sarsilmaz SAR9 provides a cost-effective alternative to the Glock 17, exhibiting reliable performance during our testing phase (see our SAR9 review here). Its design, blending elements from HK and Glock, alongside Sarsilmaz's unique inputs, results in a balanced firearm.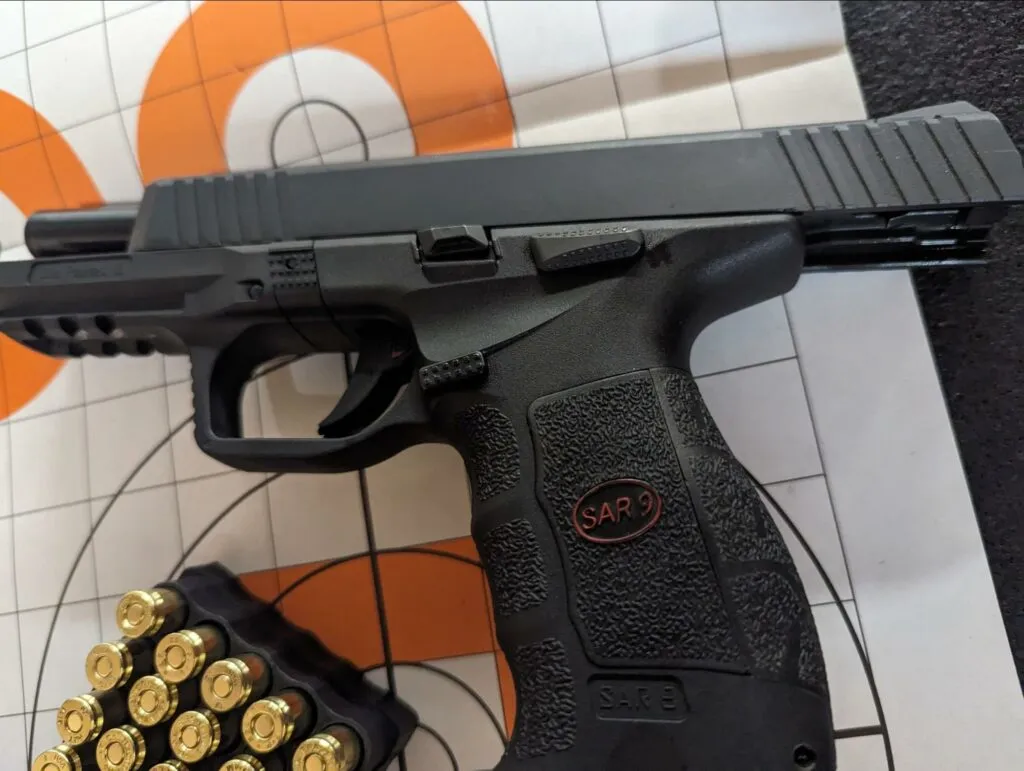 The affordability, having been rigorously tested by U.S., NATO, and UN military forces, stands out. Despite a long and heavy trigger pull and reduced accuracy at longer ranges, its value proposition remains strong.
Our experience at the range revealed the SAR9's commendable reliability, a sentiment echoed by others at the range. Its ergonomic design with customizable grip panels and backstrap, manual safety feature, and Picatinny accessory rail enhances its utility.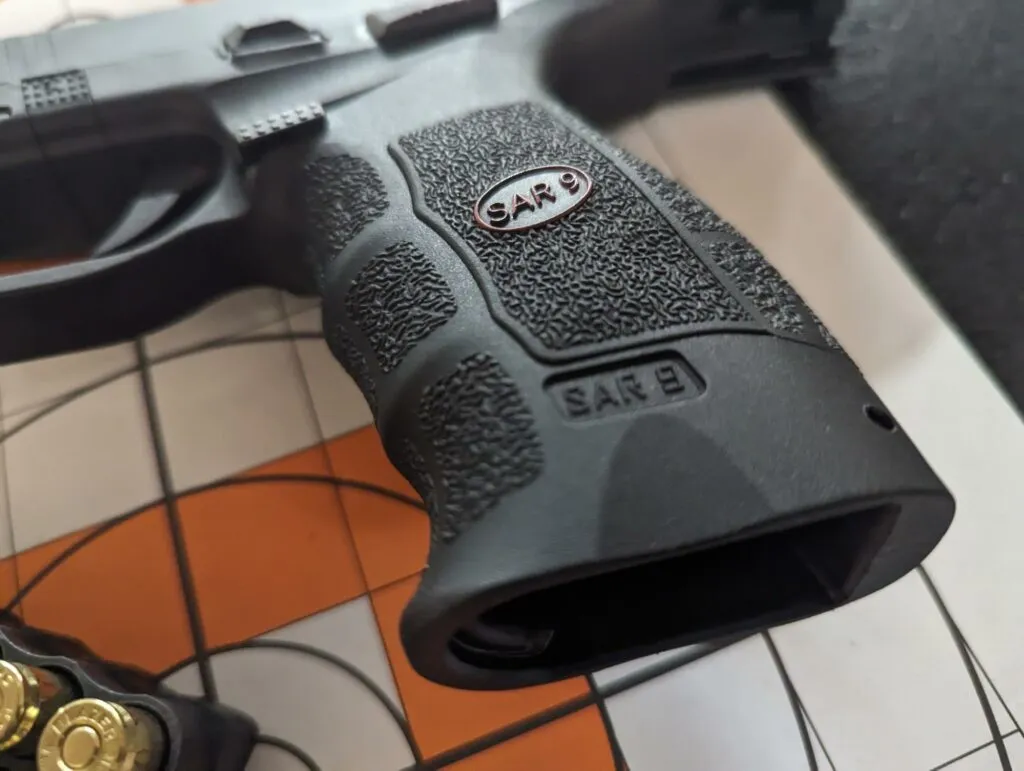 The 17+1 round capacity is standard, yet valuable for various use-case scenarios. The SAR9's minor shortcomings are overshadowed by its performance at defensive distances, showcasing its potential as a budget-friendly alternative to the Glock 17, particularly appealing to budget-conscious buyers or those new to the firearms realm.
Final Thoughts
The Glock 17 Gen5 MOS will serve almost any need you have, and do it well. Whether it's duty use, competition, or even concealed carry, it will have you covered. Glock pistols, in general, are very reliable, and this one is no exception. The G17 is one of those guns that I don't ever see going away, and I have a feeling we'll be seeing many more generations of the G17 to come.
Explore more