Glock 47 MOS Review: The "New" Glock 17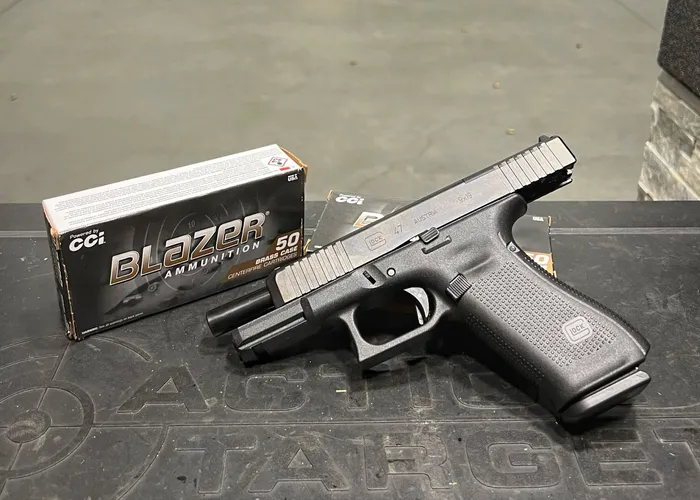 Glock 47 MOS Review: The "New" Glock 17
Introduction
For those who don't follow Glock closely, the Glock 47 may seem like a "new" addition to its popular 9mm lineup.
However, it was actually released a few years back, it just wasn't available to the commercial consumer market.
It was developed for the United States Customs and Border Protection (CBP) as part of an $85 million dollar contract.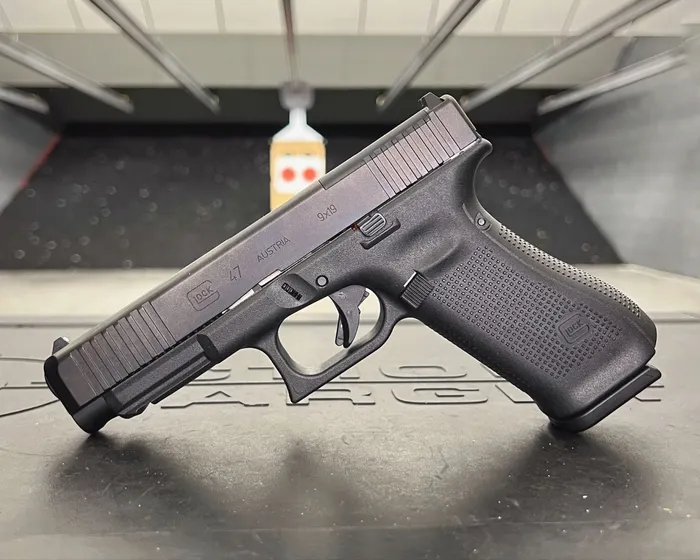 Glock 47 vs. Glock 17
From a quick glance, the Glock 47 looks very similar to your Glock 17.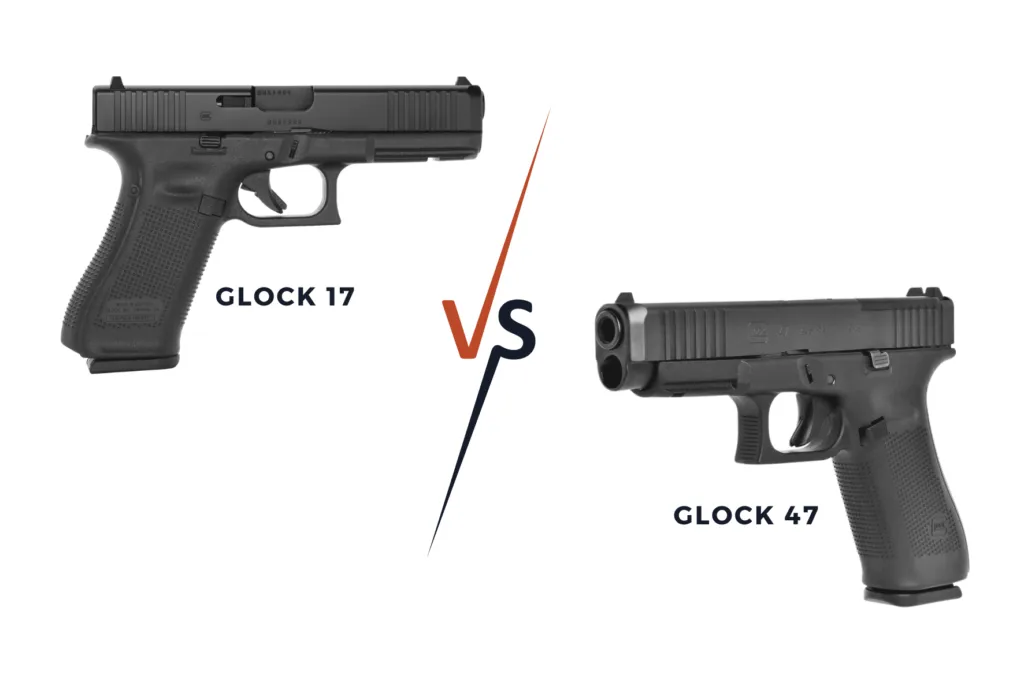 | Specification | Glock 17 | Glock 47 |
| --- | --- | --- |
| Caliber | 9x19mm | 9x19mm |
| System | Safe Action® | Safe Action® |
| Magazine Capacity | Standard: 17 Optional: 19 / 24 / 31 / 33 | Standard: 17 Optional: 17 / 19 / 24 / 31 / 33 |
| Barrel Length | 114 mm / 4.49 inches | 114 mm / 4.49 inches |
| Weight without Magazine | 625 g / 22.05 oz | 658 g / 23.21 oz |
| Weight with Empty Magazine | 705 g / 24.87 oz | 735 g / 25.93 oz |
| Weight with Loaded Magazine | 945 g / 33.33 oz | 972 g / 34.29 oz |
| Trigger Pull | 26 N | 26 N |
| Overall Length | 202 mm / 7.95 inches | 202 mm / 7.95 inches |
| Slide Length | 186 mm / 7.32 inches | 186 mm / 7.32 inches |
| Overall Width | 34 mm / 1.34 inches | 34 mm / 1.34 inches |
Source: Glock 17, Glock 47
From a size and weight perspective, it's almost the same. The grip is essentially the same. BUT, pay close attention to the dust cover. It's shortened to allow the shooter to swap over a Glock 19 Gen5 or Glock 45 Gen5 slide assembly. The Glock 17 Gen5 slides are no issue, either.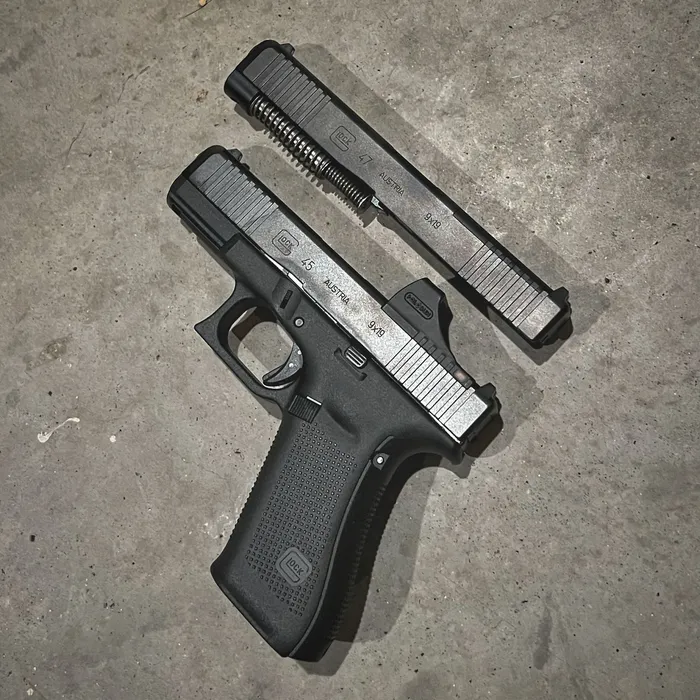 While the Glock 47 doesn't necessarily "reinvent the wheel," it does bring a level of modularity that should be welcomed with open arms.
After Glock announced that the Glock 47 would not only be available to us civilians, but also will be replacing the Glock 17 Gen5 MOS, I knew it wouldn't be long until I acquired one to review.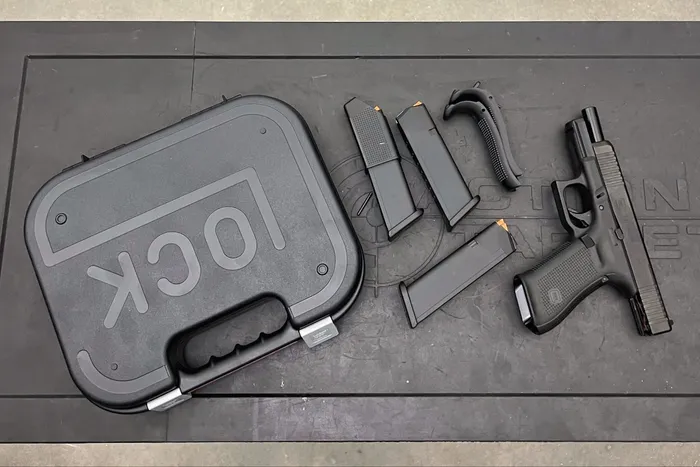 Glock 47 Review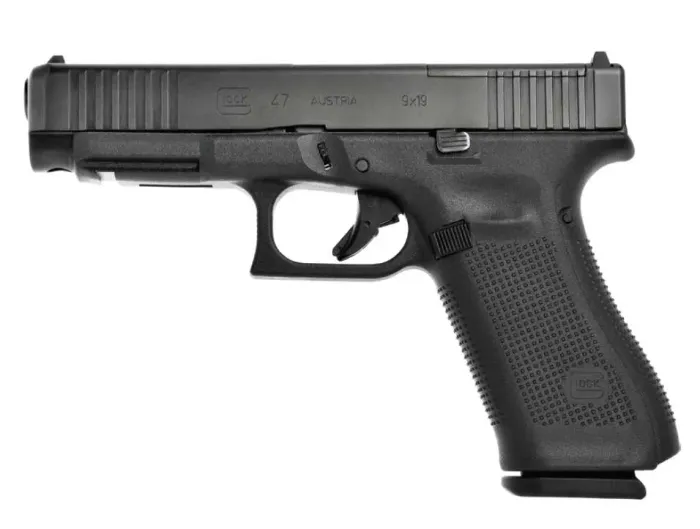 Specifications
| | |
| --- | --- |
| Caliber | 9mm |
| Capacity | 17+1 |
| Barrel Length | 4.49 Inches |
| Overall Length | 7.95 Inches |
| Width | 1.34 Inches |
| Height | 5.47 Inches (including magazine) |
| Weight | 23.21 Ounces (w/out magazine), 25.93 Ounces (w/ empty magazine) |
Pros & Cons
Pros
Improved modularity with the Glock 17/19/45 (Gen5s)

That top-notch Glock reliability 

Enough aftermarket support to make your head spin

Optics-ready slide

Front slide serrations
Cons
Subpar sights – easily swapped out though

No provided optic mounting plates
Range Report: Reliable and Accurate
Reliability
This should come as no surprise, but I experienced a whopping zero malfunctions during my testing with the Glock 47.
I put 260 rounds through it so far that included a variety of ammo types. I don't shoot remanufactured ammo or steel case ammo through any of my pistols, but I have a feeling if I did, the Glock 47 would handle them with ease as well.
Accuracy
It's no secret that I'm not a huge fan of the stock sights that come on most Glocks, but that doesn't mean they aren't still accurate and get the job done. Especially with the compact or full-size models, I'm usually able to maintain 3ish-inch groupings out to 15 yards straight out of the box until I get a better feel for the specific gun.
Yes, I know that's not going to have me winning any competitions. With that being said, though, I'm more concerned about "hitting my target" quickly in designated locations than pin-holing five rounds in a row at a rate of one round per minute.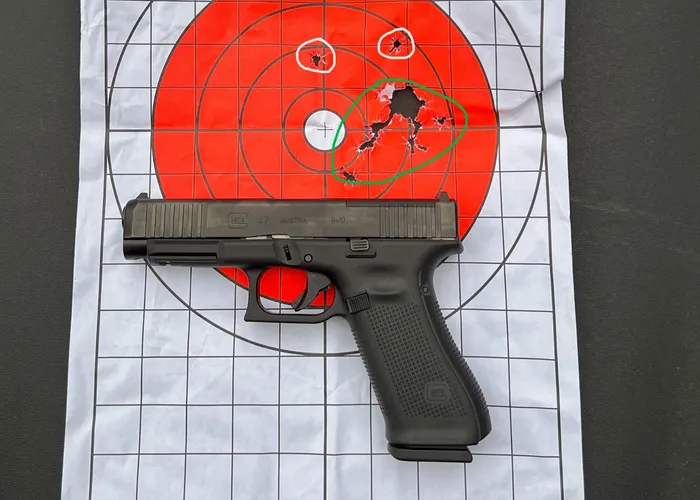 Overall Feel
Since the grip is the same as my Glock 45, it's extremely familiar. The removal of the finger grooves is something I was waiting for, so the Gen5 grips add to the comfort (at least for me).
Features
Enhanced Modularity
This is the section to pay the most attention to when it comes to the Glock 47.
The prepper in me loves the fact that I can swap my Glock 45 slide assembly over to this grip in the event anything happens to the other. And again, it's not just the Glock 45 that shares compatibility, but the Gen5 Glock 17 and Gen5 Glock 19 as well.
I wish there was a way to utilize the 15-round magazines from the Glock 19, but maybe that will be the next iteration?!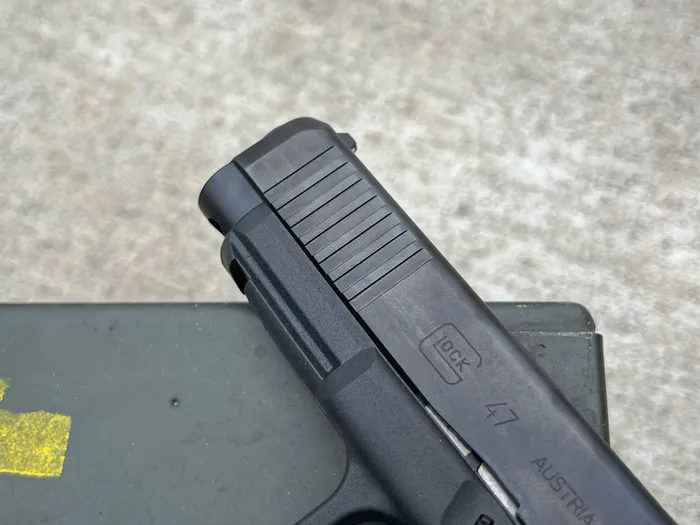 MOS Slide
These days, it seems like everyone and their neighbor runs an optic on their pistols. Thankfully, the Gen5 MOS slide comes optics-ready from the factory.
The Glock 47 didn't come with a set of mounting plates, but you can purchase the Glock MOS Adapter set that will give you options to mount some of the most popular optics like your Trijicon RMR (see our RMR Type 2 review), Vortex Razor, or Holosun 507C.  
The slide also has front serrations, which was one of my complaints about certain other models that don't have them. I always press check before I head out for the day, so it's nice to have that extra grip up front.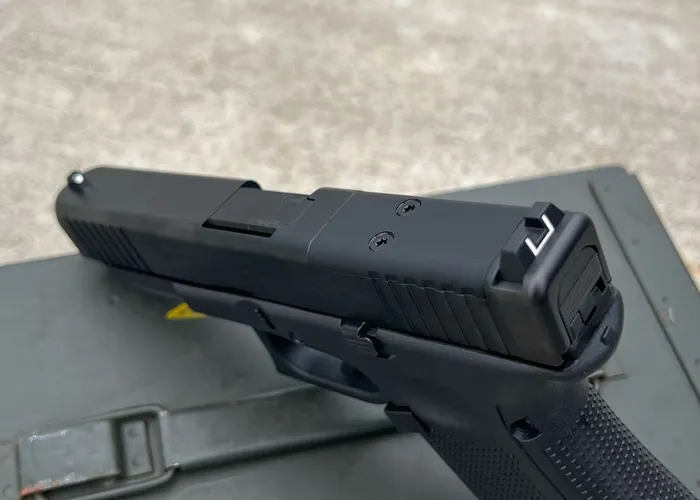 Ambidextrous & Reversible Controls
The controls aren't fancy, but they work and are familiar. The slide stop lever is ambidextrous, while the magazine release is reversible. The takedown lever is very small and sits nicely in that little recess, out of the way.
Gen5 Grip
Man, does it feel good to say goodbye to those finger grooves.
All of the Gen5 Glocks have thankfully had the finger grooves removed, and I'm all for it! It may still feel rather stocky to some, but at least it's more comfortable now.
The taller grip is great for those with larger hands (a.k.a. me), and the slightly flared magwell helps with reloads. The medium grip texture is enough to maintain solid control without tearing up your hands. No need for stippling here.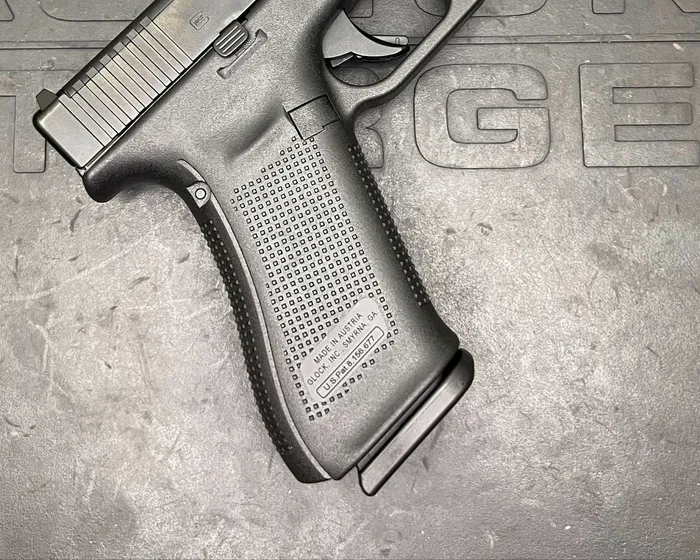 How We Tested
My new friend, the Glock 47, accompanied me on three different range trips.
After a magazine or two of slow and steady fire, I moved on to rapid fire, and some reload drills. I also threw in some various accuracy drills like dot torture, all of which were no problem.
Ammo Used
The bulk of the 260 rounds through the Glock 47 were 115-grain Blazer Brass FMJs. But I also put some 124-grain Federal Punch JHPs and 115-grain LAX Ammo FMJs. Each one of those 260 rounds zoomed beautifully down range.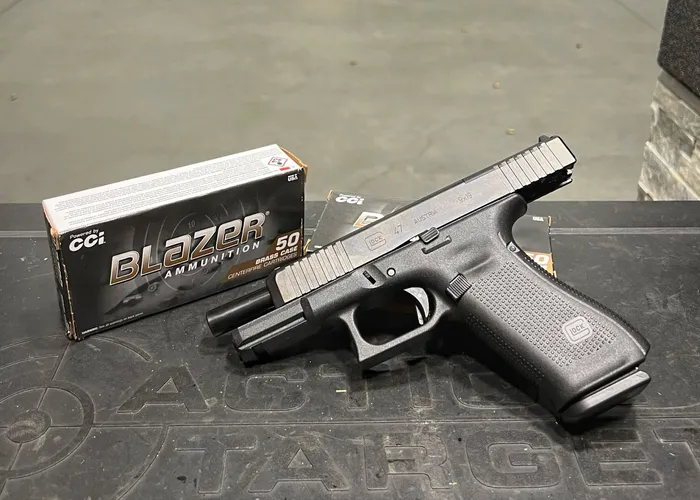 Score Card
Reliability (10/10)  
As with almost any Glock I've shot, I had no issues with reliability.
Ergonomics (8/10)
With the finger grooves removed on the Gen 5s, it feels better.
Customization (10/10)
A plethora of aftermarket parts and accessories will have your head spinning.
Appearance (7/10)
It's not fancy or ugly. It's a Glock.
Value (10/10)
At the time of writing this article, I was seeing Glock 47s for $620 across several sites. With all of the Gen5 MOS features, you get solid bang for your buck.
Accessories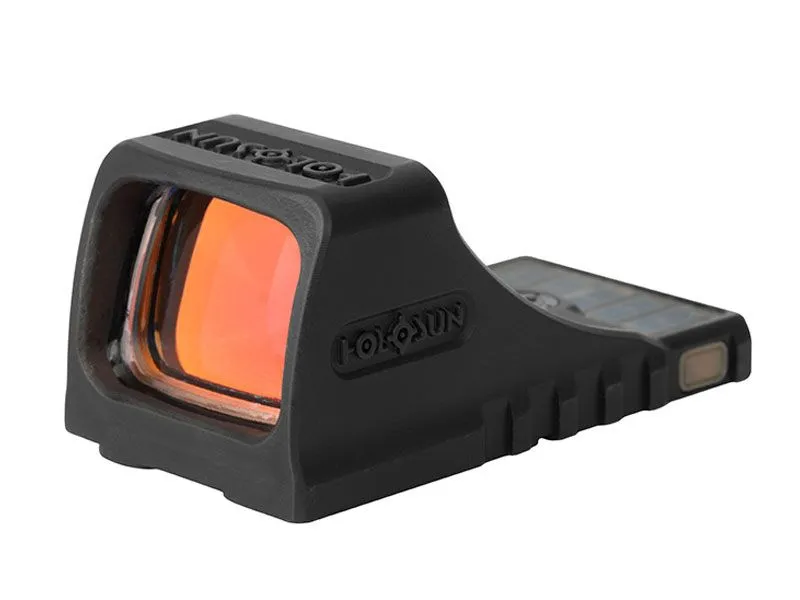 A direct attachment optic made especially for full-size Glock MOS slides, the SCS features a multiple reticle system, and a solar charging system and automatically adjusts the brightness for you.
Its grade 5 titanium housing and IP68 submersion rating will help keep your setup up and running through almost anything you can throw at it. Oh yeah, and the reticle is green…which is my favorite!
For more information on the Holosun SCS, check out our review.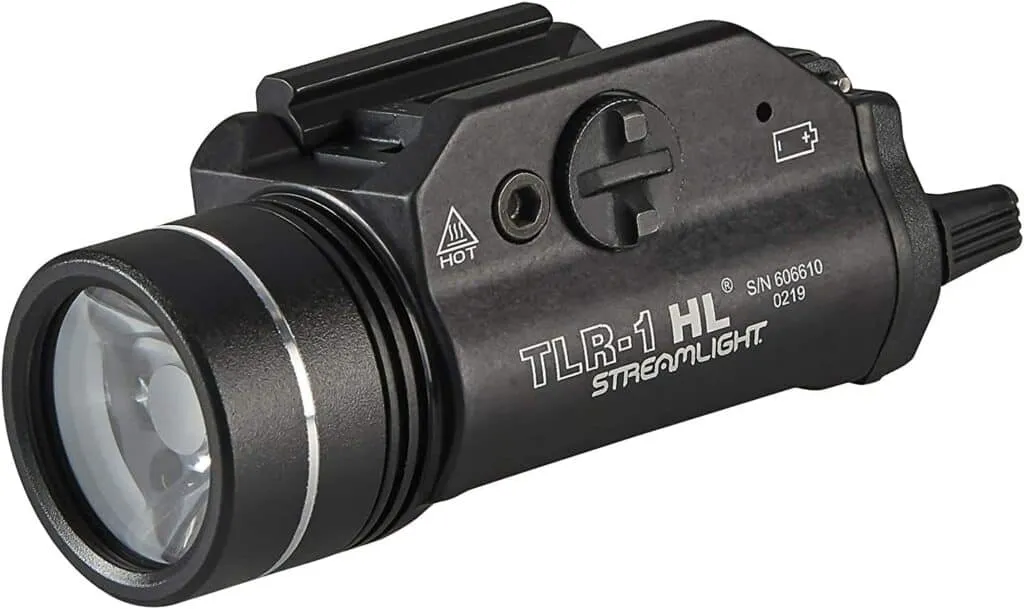 The TLR-1 HL is my most commonly recommended workhorse of a light. It puts out 1,000 lumens, for an hour and a half and seems indestructible after what I've put some of mine through.
Most holster companies will have plenty of compatible options for it, so you should be covered if you want to carry with it.
You can even add remote switches if you want and it's backed by a limited lifetime warranty. It's hard to beat, especially for the price.
Alternatives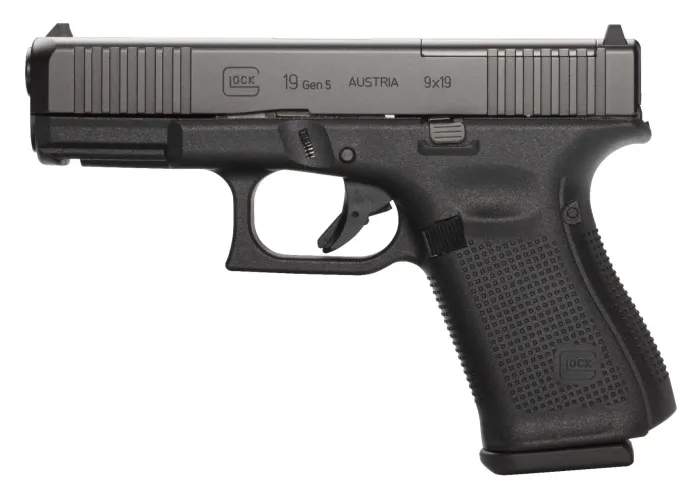 I know it's a very comparable alternative, but it's one of the most popular 9mms out there for a reason.
It also brings a level of modularity thanks to the slightly shorter grip. While it comes with 15-round magazines, you can also use the 17-round mags that come with some of its "fuller-sized" siblings. It's reliable. It's accurate. It's a solid option that fits most needs.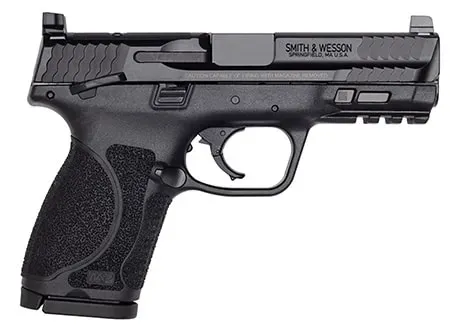 If you happen to already be invested in the M&P platform, the M2.0 Compact is a great choice. Standard capacity is 15+1, but again, you can use the 17-round mags from the full-size M&Ps.
The M2.0s now come standard with flat-face triggers and optics-ready slides. The bang for the buck is also very high with this one.
Conclusion
The Glock 47, at least in my opinion, was worth the wait. Being someone who already runs a Glock 45, the versatility that comes along with the Glock 47 is fantastic.
If you don't want a full-size grip, then I'd suggest the Glock 19. However, for the best of both sizes, I would ultimately suggest picking up a Glock 19 Gen5 MOS and Glock 47 MOS, then switching up your setup as needed.
Will you be replacing your Glock 17/19/45 with the Glock 47? Whether you're planning to replace an existing Glock or add to your current collection, let us know in the comments!
Brady Kirkpatrick
Mon, 27 Mar 2023 13:14:39
Hello,
Unfortunately we can only help in the US.
Reply
Explore more