Glock 19x Gen 5 Review: Near Perfect Carry Gun?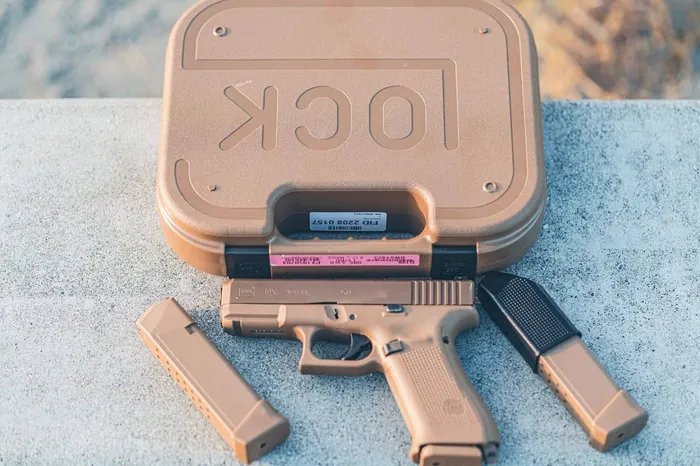 Glock 19x Gen 5 Review: Near Perfect Carry Gun?
Introduction
Glock doesn't need a huge elaborate introduction to most of you. Still, for those less educated, I'll take the time to introduce you to the "Gucci" firearms manufacturer. Today we are going to talk about the popular Glock 19x, which is a "Frankenstein," so to speak, creation. Glock took two notably more popular and sought-after pistols in their lineup and meshed them together, giving their customers a near-perfect carry gun.
Regarding the "Frankenstein" mashup build of the Glock 19x (Glock refers to this as a crossover pistol), let's talk about exactly that. Glock has a full-size 9mm model known as the Glock 17. The 17 is one of the most frequently purchased and popular firearms that Glock produces. I personally have been a fan of the Glock 17 for a long time and purchased one as my first Glock quite a few years back.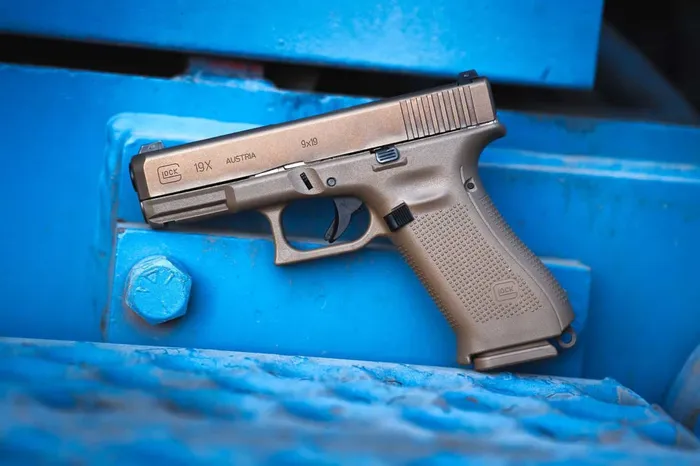 Glock also makes a Glock 19, similar to the Glock 17, but a little more compact and conceal carry-friendly.
How do you make a perfect EDC (Every day carry) platform without completely abandoning a platform that is already loved and appreciated by your customers? Glock set out to answer that question by combining the Glock 19's compact-sized slide and barrel with the Glock 17's incredibly comfortable frame, birthing the Glock 19x.
Glock combined two legendary builds filling the void for the consumer and creating a hybrid-sized 9mm pistol, a compact yet comfortable and full-size feeling platform. The Glock 19x is surely becoming its own legend.
Glock 19x Review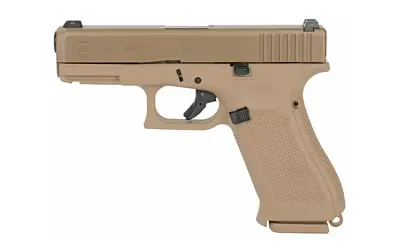 Specifications
| | |
| --- | --- |
| Caliber | 9x19mm |
| Capacity | 17 standard; Optional: 19/24/31/33 |
| Barrel length | 4.02 inch |
| Weight | 22.05 oz (empty) 31.39 oz (loaded) |
| Length | 7.44 inches |
| Width | 1.30 inches |
| Trigger distance | 2.76 inches |
| Color | Coyote |
Pros & Cons
Pros
Full-size comfort
Compact Size
Many aftermarket parts are available.
Combination of two of the greatest firearms platforms
Dependable and versatile
Cons
Not MOS or optic ready
Sights are not very bright
Grip textures are lacking
Initial Impressions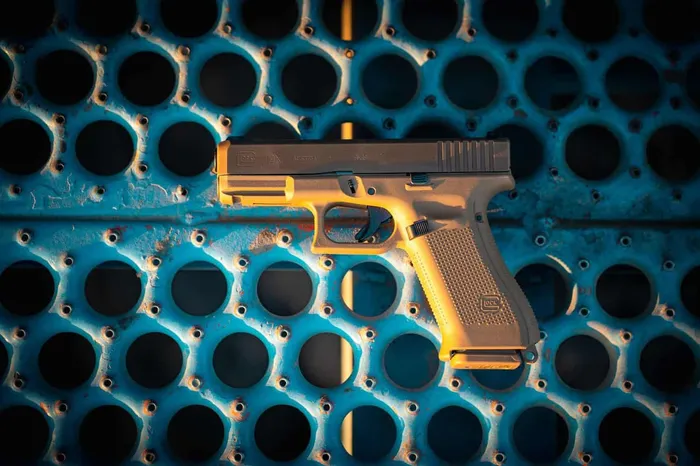 I was blown away at how beautiful this Glock 19x is right out of the box. If looks alone could kill you, this 19x would be deadly when you open the case it comes in.
I will be transparent with you and share that I had huge plans for a custom cerakote job on my Glock 19x, but upon opening the box, the factory-coated burnt bronze color of the slide stole my heart. Glock built an absolutely BEAUTIFUL firearm, and I am a huge fan of the color they call coyote, but most would know as FDE.
Glock gives you quite the care package with the purchase of your firearm. My Glock 19x came in a coyote-colored case with three magazines, a speed loader, back straps for the grip, the firearm, and a lock. I was extremely happy to see that they had added a third magazine with the 19x, giving you that extra magazine to use to start you out with a solid starting point for training and such. I have heard that the third magazine is something they are offering for all of their 5th gen firearms, and I think that is a win for everyone.
Overall Feel
I told you earlier that I had previously owned a Glock 17, and I love my Glock 17, so I was really excited to get my hands on this 19x. Glock calls the 19x their "crossover" pistol because it is a combination of their full-size frame and their compact slide. I personally liked the shorter slide on the Glock 19, but the frame was smaller and less comfortable.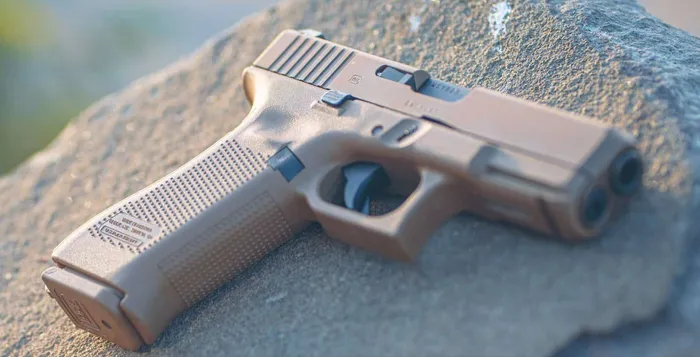 I love how comfortable the Glock 17 is in my hands, especially being a man with bear paw-sized hands. I love that I get the same comfort with my Glock 19x as I did with my Glock 17, but I don't have the extra length of the barrel. I can very comfortably carry the Glock 19x, and I felt at home immediately when I first picked it up.
Glock did a really smart thing with this pairing, I can not express enough how much it appeals to me to have a full-size frame to hang onto. I like that the 19x is compact but not overly small, as I like compact-sized firearms more than the micro categories you see more commonly today within the EDC world of firearms. I can get a very comfortable grip with this 19x, and it is extremely well-balanced in the hand. I found that the Glock 19x not only looked sharp but was as comfortable as good-looking.
Glock makes a really clean shooting factory trigger, which I have touched about in past articles. I am not a huge fan of the trigger with the safety built into it, but overall I was satisfied with the factory trigger. Glock triggers are crisp and break over really nicely, making them fun to shoot.
I would add that I was happy with the size of the frame, being it is the Glock 17 frame, but I do think there is room for improvement on the factory grip. I will say that this is one of the most well-balanced firearms I have, and it is a platform I would find to be valuable to any level of shooter. Glock built a really well-thought-out firearm with the 19x, and I think this would be a really great addition to anyone's gun safe or as a first carry gun. Glock left little to chance when they built the Glock 19x.
Range Test
I was very excited to get the Glock 19x out on the range and put some rounds down range with it! I will be honest; I made this personal as I am really enjoying some of my other 9mm pistols that I have been running as of late. I was disappointed with this 19x, but not for reasons that you would assume. 
I was disappointed because Glock made this thing too damn fun and comfortable to shoot; I thought that I would lean more toward the other firearms I have had on the range lately, but I was wrong. Glock's 19x is a blast to shoot and accurate out of the box. I would like to see the sights a tad brighter during the daytime hours, but they are clean, and the pistol puts rounds on target where you want it to and will do more than enough for you in a self-defense situation. 
Reliability
I love how this 9mm performs being a crossover pistol. The full-size frame makes this Glock a dream in the hand and offers you the purchase of the grip to maintain excellent control over the firearm. I have put about 150 rounds through my 19x now and have not had any issues. Glock built this thing to perform and it without a doubt does that. I love shooting this pistol.
I will attach a video below that goes over the 10,000-round review on the 19x. The first minute will show you how smooth and impressive this pistol is. I am really happy with and impressed with the Glock 19x.
Features
Trigger
I touched earlier on the fact that Glock has really nice factory triggers, and I stand by that assessment 1000%. Glock triggers are in that medium trigger pull category. In my mind, they are not super light, but they are also not extremely heavy. I get a clean break, and more importantly, the trigger reset is damn near perfect. I am a huge fan of aftermarket parts in general. However, this trigger was above board for me.
I am not a fan of the triggers that have a separate smaller trigger acting as a safety, but if that's my only complaint, I'll take it over a hard safety any day. I also found that the Glock 19x has a bulky trigger guard. I have seen this on other Glock models, so I would assume it is a "GLOCK'' thing, but I could do with less. It is easy to sit here and nitpick things, and sometimes less is more, but overall I was satisfied with the Glock 19x trigger.
Ergonomics
Glock made their 19x almost perfectly, from the size to the way that it feels in hand, this was a knockout of a build for them. I am really happy to have a firearm in my collection that offers a full-size feel but can be concealed and carried with ease. I have been very impressed with the balance of this firearm, especially with a full magazine. Glock has made this "crossover" a very hard-to-beat production firearm. I was a little disappointed with the grip, though.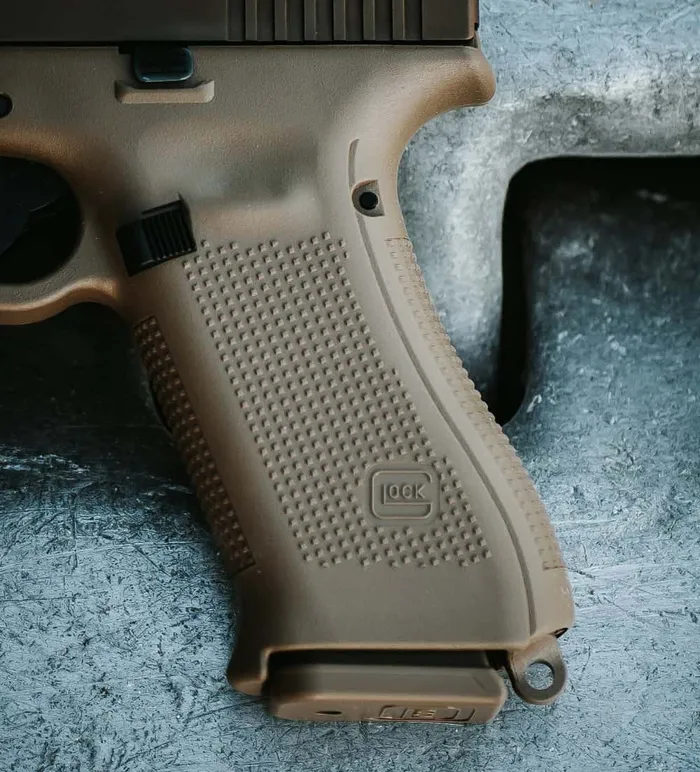 I get extremely good grip purchase, but the factory texture on the Glock 19x handle is lacking to say the least. I would love to see more aggressive laser work in the polyframe, but again this is a minor dissatisfaction for me and could be corrected in the aftermarket world of stippling.
Sights/Slide

Glock did a really awesome job with the sights on this one and built it with night sights. I was mistaken at first glance of the sights and thought they were all white, but I quickly figured out these were night sights. I believe these are Trijicon sights with Glock wrote out on them, but I really do like these sights. I found them to be nearly perfect when I held them up in low light. Glock did a great job on the sights with the 19x.
I will say that the factory Glock is continuously accurate. I have had zero issues keeping my Glock 19x on target and cycling rounds through it. I really like that the Glock 19x is accurately impacting the target, but I would like to see more of an MOS model or optics-ready version of the 19x, like Glock has with other models.
The Glock 19x slide is absolutely one of my favorite features on this firearm. The factory coating on this pistol is a burnt bronze-colored coating with some deep serrations cut into the rear of the slide. I love it. I would add that you could also send your Glock 19x slide in and have it cut for an optic from anyone that does custom slide cutting, but that would take away from that gorgeous coloration of the coating and require you to give up your firearm for a period of time.
Accessory Rail
Glock did all of us a giant favor by adding the accessories rail underneath the slide. I was thrilled to see they added this feature to the Glock 19x. This allows you to make it a bit more personal and customize it to your specific needs. The rail is large enough to fit a light, a laser, or some combination of a light/ laser. I think this alleviates some of my complaints with the slide not being cut for optics. A laser could be a great supporting cast member.
Accessories
In my introduction statement, you read that I referred to Glock firearms as the "Gucci' guns of the firearms world, and now I get to share more of what I meant by that statement. Glock is not only known for being dependable, reliable, comfortable, and popular; they are one of the most customizable firearms on the market.
Glock firearms are more than suitable coming from the factory, but I absolutely love that they have a wide variety of aftermarket parts and accessories. I can not even begin to tell you all the ideas I have in mind for turning my Glock 19x "Gucci'' but I will share a few cool accessories with you to get your brain rolling on this train. Remember when ordering parts that this is a Glock 19 slide and barrel, and Glock 17 frame, before you order aftermarket components.
And check out our guide on the best Glock triggers for some other ideas on upgrades.
I absolutely love having a threaded barrel on my pistols. Once one gets a suppressor, you have a really hard time not screwing it onto anything you can. Faxon makes a variety of aftermarket Glock barrels, but the one I like is Gold and will look super cool with the coyote color of the pistol. Faxon makes them in a variety of colors, like prism, black, nickel etc. I would be sure to take a look at alternative barrel options.
Eclipse makes some of the coolest and crazy coloration options for custom kydex holsters. I am a huge fan of what they have to offer and love that they are a small family-owned business. Eclipse makes a variety of styles of holster, but I will drop a link to one they have on sale for IWB. I love Kydex holsters and you can not go wrong with anything these guys make! I love the NASA themed holsters they make.
Alternatives
Glock makes an incredible firearm, and the Glock 19x is no slouch. I was initially curious as to how this would hold up in comparison to some of my Springfield Armory pistols, but the Glock held its own. I think that this 19x is a great pistol, but I will share some alternative firearms that I would say are in the same category as the Glock 19x.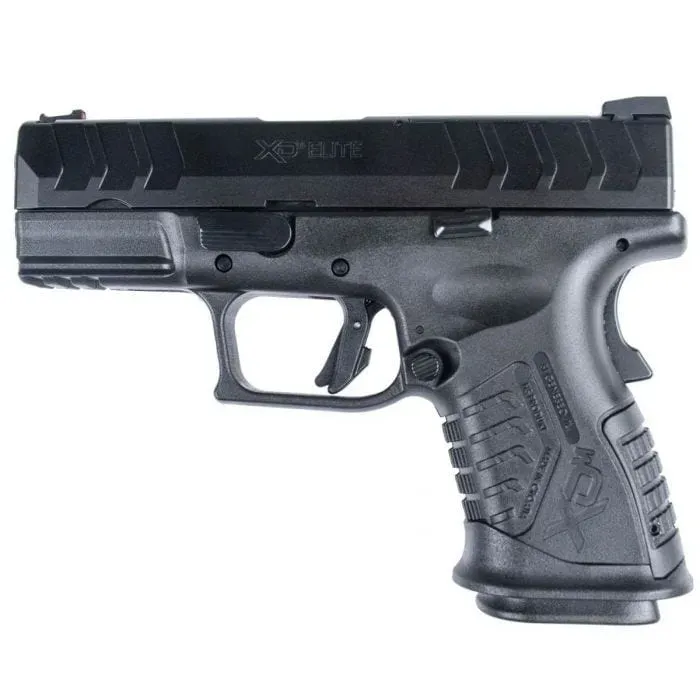 Springfield Armory has many options in its 9mm sub-compact category lineup. I would place the Springfield XDM Elite Compact 9mm towards the top of that list when it comes to a comfortable, fun, and reliable firearm. Springfield Armory essentially took their XDM Elite and shrunk it down to make it a carry-friendly option.
I personally would place this closer to the Glock 19 in size, but with the width of the firearm and the subtle bulkiness to its grip, I find the Elite compact to be closer to that full frame comfort. I would additionally add that this is closer in price to the Glock 19x, and has the accessory rail under the slide.
I have a Springfield XDM Elite compact in 9mm, and it's truly an awesome piece to have in my safe. Springfield made an incredible firearm. It's reliable, it's fun, and comfortable to shoot, and the trigger is adequate for a factory trigger. Springfield Armory also offers this in an optics-ready package and in 10mm if your heart aches for a bigger caliber.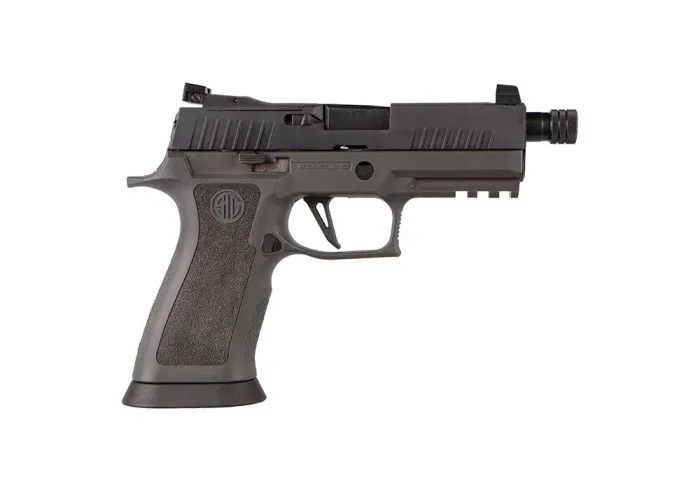 Sig Sauer is in the business of making top of the line, top of the industry firearms. I am not in the least bit surprised that they have been awarded the most recent government contracts and keep releasing firearms that are drooled over.
Sig's P320 XCarry Legion is going to come with a lot more of a lofty price tag, however, I would tend to lean in this direction for the leading comparison with the Glock 19x, if you could even do that. I do not own one of these 9mm yet, but this one is at the top of my wish list! Sig built this with a full frame, shortened slide, threaded barrel, and optic cut slide.
It is built like a Ferrari, if you will. I would say that this would be my first choice if I could palate the price tag on it when I was looking to add a new firearm to my collection.
FAQs
Did Glock discontinue the 19X?
I ordered my Glock 19x at the end of July in 2022 directly from Glock themselves. I had heard the rumors like all of you, that it has been discontinued but that simply hasn't happened. To date, no Glock has not discontinued the 19x.
Is the Glock 19X better than Glock 19?
I think that this question is one that would come down to what the shooter and intended use is for the firearm. I love that the Glock 19x has the larger frame of the Glock 17 and the slide from the Glock 19. To me, yes I like features of the 19x more, but I could say the same for the Glock 19. I would tell you that they are both equally valuable and personal needs would dictate the answer to me on this.
Are there any problems with the Glock 19X?
I have had no issues with my Glock 19x thus far, however, I am still at a fairly low round count. Glock does NOT ship these firearms all lubricated, so I would suggest taking the time to do a light cleaning/lubrication job on the pistol prior to use.
I was a little disappointed with how cheaply made the factory magazines are for the Glock, and that would cause me some area of concern. I have also read that the Gen 5 and Gen 4 variants of the 19 show more wear on the barrels quicker, but I haven't yet experienced issues personally.
Conclusion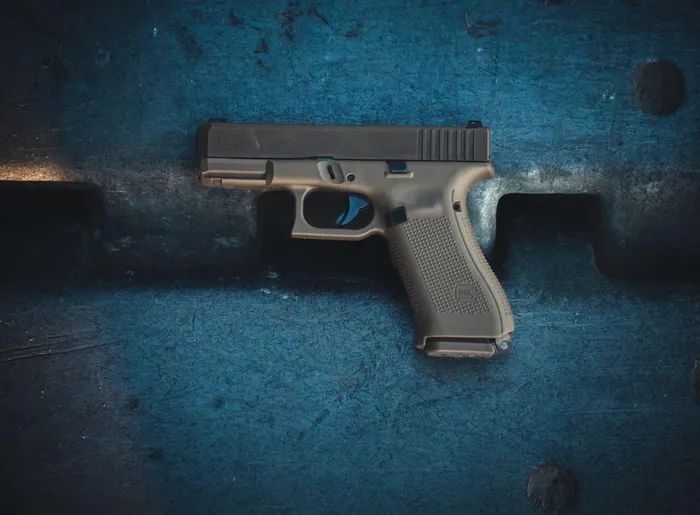 I have thoroughly enjoyed the Glock 19x so far. I was really happy with what I found with this being a production firearm. I would say that it is easy to get wrapped up in all the gimmicks of this vs. that in the firearms world, but Glock delivered a firearm that they can be proud of. I think that Glock should be proud of this pistol as it truly is a crossover of two very bad ass builds.
Glock does come with a little bit of a price tag for a pistol that comes fairly bare bones. Glock comes with a reputation for durability and versatility, and that is reflected in the little bit steeper price point. I do love that this pistol makes you wonder if it's a full-size or a compact platform when first looking at it. Glock made it fun to try and figure out how to run it.
The Glock 19x could be used as not only a carry firearm but a duty weapon in most cases. Glock built this pistol beautifully and added another strong option to their lineup. I could pick apart almost any firearm with a wish list and "you could do this or that" items, but I have more positives than negatives. I was impressed with the Glock 19x, and I am really happy to have one. If you are in the market for a firearm that is capable of shifting between intended uses, I would seriously recommend giving the Glock 19x a double look. I can see why this is the most popular Glock on the market.
Explore more