Glock 26 vs. Glock 43 Comparison [2023 Guide]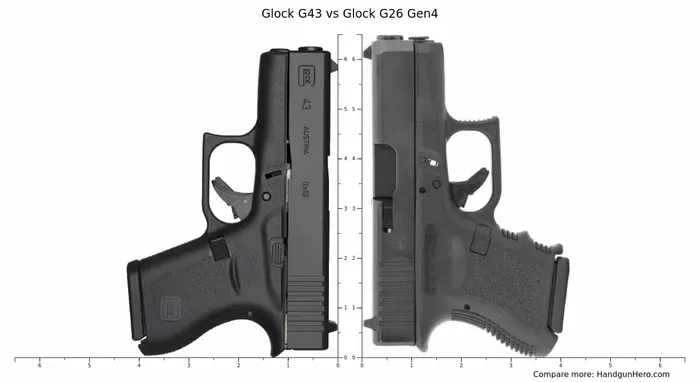 Glock 26 vs. Glock 43 Comparison [2023 Guide]
Cover Photo Credit – Handgun Hero
If you're looking for a subcompact 9mm pistol and would trust a Glock with your life, the Glock 26 and the Glock 43 fit the bill perfectly as concealed carry pistol choices.
They're one of the most popular concealed carry Glocks and can be used both for self-defense purposes or as backup handguns to your compact Glock 19, for example.
The well-made Austrian machinery, combined with a subcompact blueprint design, makes these two handguns a truly exceptional choice based on practical use, convenience, and good old Glock reliability.
However, just when you think you have it narrowed down, deciding between these two "Baby Glocks" can be very difficult. They're very similar in build and purpose, and there's not much difference in price either.
So, that's why in today's comparison review, we'll talk about the main differences between the Glock 26 and the Glock 43.
I'll highlight their characteristics, how they shoot, which is better for concealed carry, and help you figure out what you would want them for in terms of use.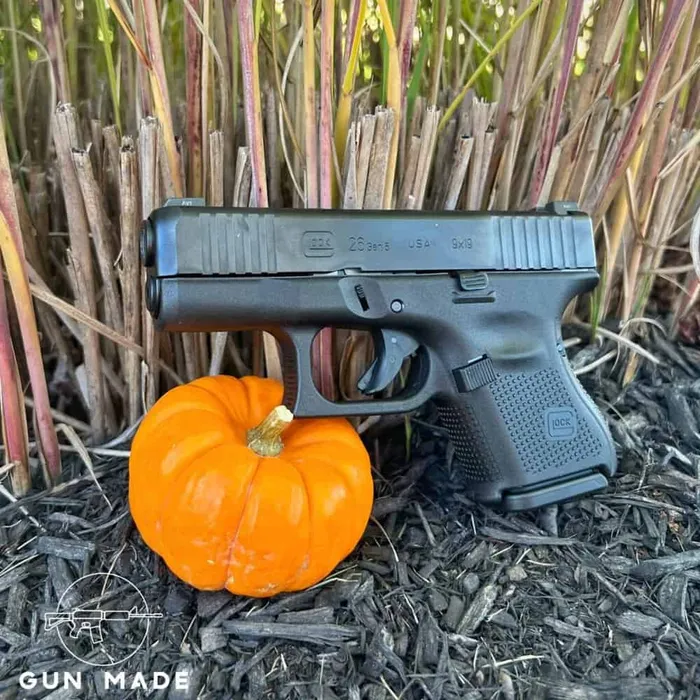 I'll also talk about other "Slimline Wonder Nines" as great alternatives if you decide that these Glocks are not your type.
The truth is, the 26 and the 43 are exceptional pistols that anyone can use, and both have a reasonable price tag and an abundance of available aftermarket accessories.
Choosing between the two guns boils down to minor details and factors and a sense of personal preference that varies from person to person.
Let's start with the Glock 26 first.
At a Glance: The Glock 26 9mm 10+1 Rounds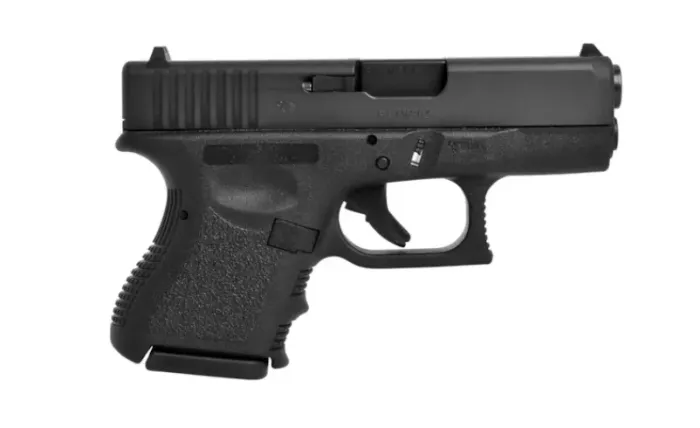 First unveiled in 1994, the Glock 26 G1 was the first model of Glock's subcompact pistols. It was the handgun that competed with serious snub-nosed revolvers in the 90s.
The Glock 26 had its fair share of shaping the world of concealed carry pistols, and it's still a very popular choice as a backup gun for civilians and law enforcement agencies.
Since then, the pistol got some upgrades, and it's now in its fifth generation as the Gen 5 version of the Glock 26.
At first glance, the Glock 26 is basically a shortened Glock 19. It's bigger, thicker, and heavier than the Glock 43, but the G26 fills the hand better and has a magazine capacity of 10+1 rounds.
The G26 has three independent safeties, no finger grooves, an ambidextrous slide, an nDLC finish, and standard white dot sights.
One thing is for certain—both guns shoot a little better than the G19 when 9mm is in question.
Because it's bulkier, this gun can manage recoil better than the G43, and the cold hammer-forged barrel is a testament to the Glock reliability.
Now for the Glock 43…
At a Glance: The Glock 43 9mm 6+1 Rounds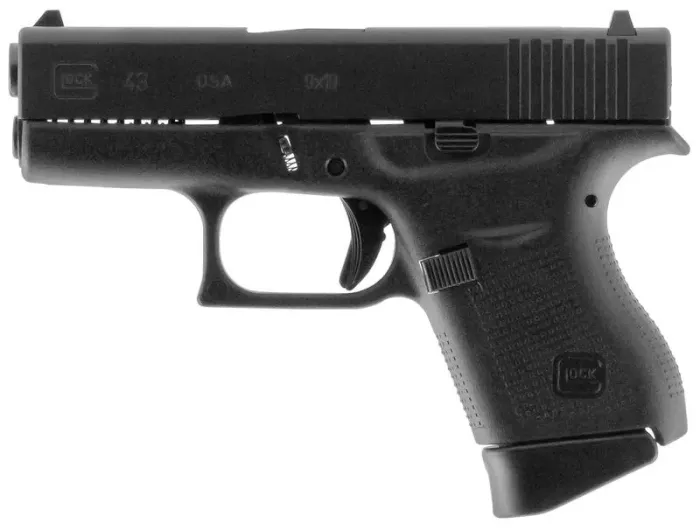 Glock released the G43 in 2015, which was seen as a reasonable business move in the ever-increasing market for concealed carry pistols.
The main idea here was to cram the same firepower of the G26 into an even smaller subcompact pistol.
The "Baby Glock" was well received, and to this day, it's one of the smallest subcompact models in the Glock arsenal, second only to the extra tiny Glock G42 .380 ACP.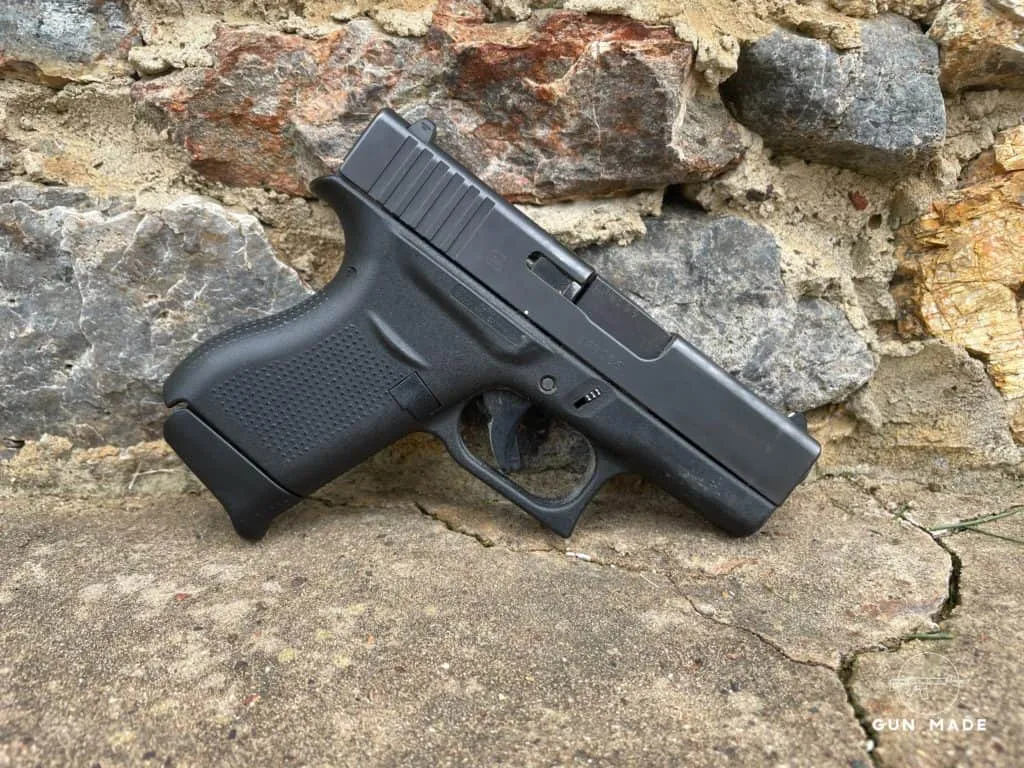 It's a single-stack, striker-fired pistol with a 6+1 round capacity. When talking about other models, the G26 Gen 4 is lighter, but the Glock 26 Gen 5 has a lighter trigger pull.
If you want more rounds, you can check out the Glock G43X with a 10+1 round capacity—a great alternative and roughly the same size.
There are many aftermarket options and holsters, mainly magazine extensions with floor plates that increase the capacity for up to two rounds and add extra space for your pinky finger if you feel the grip is short.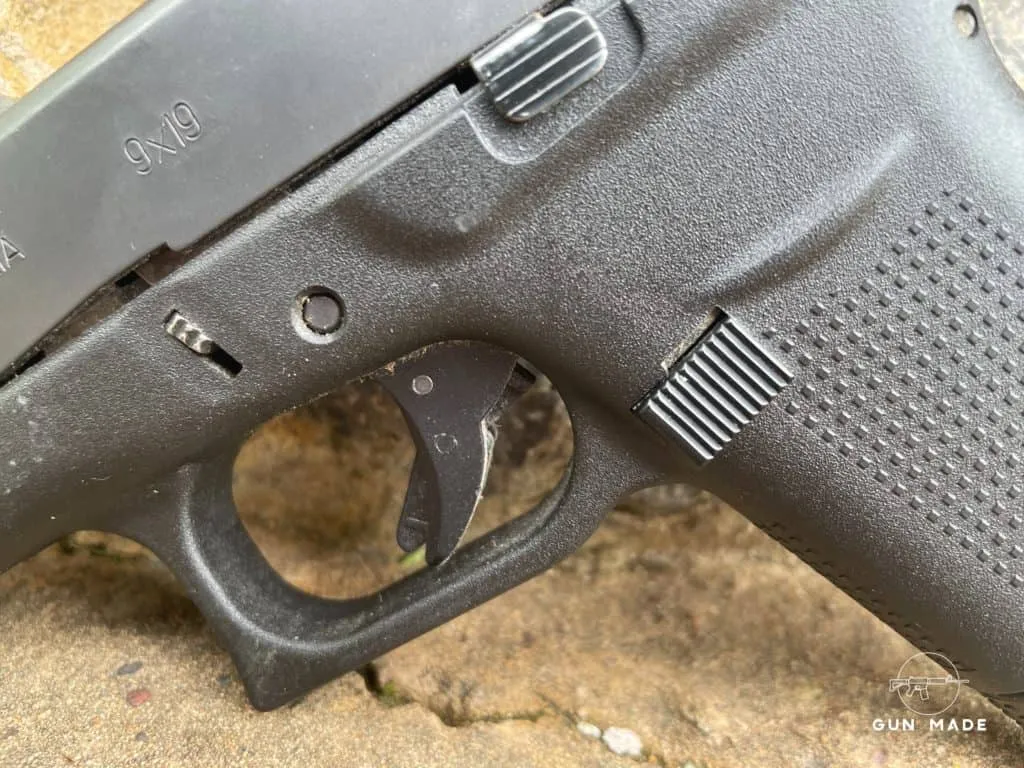 This is a great pistol for deep concealment if you're wearing slim fits, and I recommend you pick a good IWB holster for your gun.
Let's see the main specs of both the Glock 26 and the Glock 43:
Specifications
| | | |
| --- | --- | --- |
| Specifications/Model | Glock 26 | Glock 43 |
| Chamber | 9mm Luger | 9mm Luger |
| Action | Striker-fired; Semi-automatic pistol | Striker-fired; Semi-automatic pistol |
| Magazine Capacity | Extended magazine capacity of 10+1 | 6+1 |
| Trigger | Polymer | Polymer |
| Safeties | Trigger safety, firing pin safety, and slide stop safety. | Similar kinds of internal safeties but no trigger safety. |
| Trigger Pull | 5.5 pounds | 5.5 pounds |
| Overall Length | 6.42 inches | 6.25 inches |
| Barrel Length | 3.42 inches | 3.39 inches |
| Width | 1.3 inches | 1.02 inches |
| Height | 4.17 inches | 4.25 inches |
| Weight | 21.7 ounces | 17.95 ounces |
| Frame | Polymer | Polymer |
| Finish | Black Nitrite, nDLC | Gas nitride finish |
| Sights | Fixed rear white dot | Fixed front and rear sights |
| Main Differences | Bulkier, but more round capacity. | Lighter and smaller, but less round capacity, and a higher recoil. |
The Main Differences Between the Glock 26 vs. Glock 43
As the name suggests, Baby Glock pistols are small.
The G26 has more magazine capacity, which can be critical for self-defense. What's more, the bulk and stability of the G26 really lower muzzle rise and recoil, which truly affects accuracy.
On the other hand, the G43 is the lighter option at around 17.9 ounces, and its width is a bit over 1 inch, which is great for a low-profile pocket carry option. Its main advantage is that it doesn't print as much as the Glock 26 does.
Basically, the only main differences worthy of notice are the ammo capacity, the size, and the weight.
But, there's more to it than that.
Size, Ergonomics, and Concealability
According to the statistics, the differences in terms of size between the two guns are only slight decimals, but it could mean a lot for some gun owners.
Since it's smaller, the G43 has slightly more recoil than the G26. It has the same safe action mechanism as the G26, so there is not much difference in operation here.
The Glock 43 has 6 rounds and is around 3-4 ounces lighter than the 26 (that's a whole 17%), while the G26 is a 10-rounder.
As for the width, the Glock 26's hefty double-stack magazines aren't as good for conceal carry as the G43's single-stack magazine.
Both Glocks are barely over an inch wide, both have convenient, snag-free frames, and both of them shave off from the backstraps, which makes them great concealed carry options.
Personally, I believe you can get the best of both worlds by grabbing a G43 and carrying an extra magazine.
The Glock 26's smooth grips make it one of the most convenient subcompact Glocks for folks with larger hands. The angle is narrower than the Glock 43, and the backstraps are replaceable.
The G43's grips are slim but with a more aggressive texturing on the front and rear.
The thinner and lighter G43 is your best bet if you're wearing slim-fitting, light clothing. However, it still depends on your preference, carry style, holster type, and clothes.
The winner here is the G43 because it's easier to conceal and is perfect if you have larger hands.
Trigger and Safeties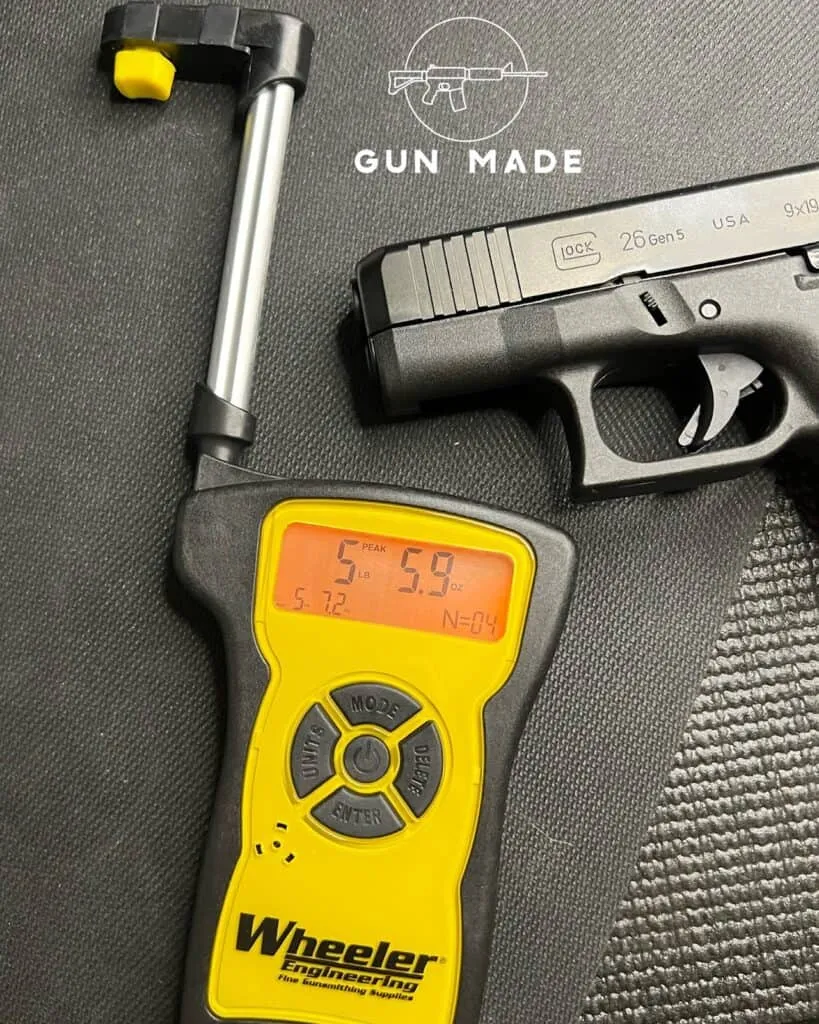 When talking about triggers, both the G26 and G43 have a safe action trigger that works great with the internal parts.
Their mechanism runs like butter, but I think that the G43 has a far smoother trigger with a crisp break when compared to the G26.
The trigger reach is around 2.8 inches for the G26, while the G43 has a 2.56-inch trigger reach.
As for the safety systems, the Glock 26 system has three automatic fail-safe safeties like the firing pin, magazine drop safety, and trigger safety. They provide a consistent trigger pull every time.
The Glock 43 has similar internal safeties, but it has no trigger safety. The Glock 26 has a better way of preventing misfires.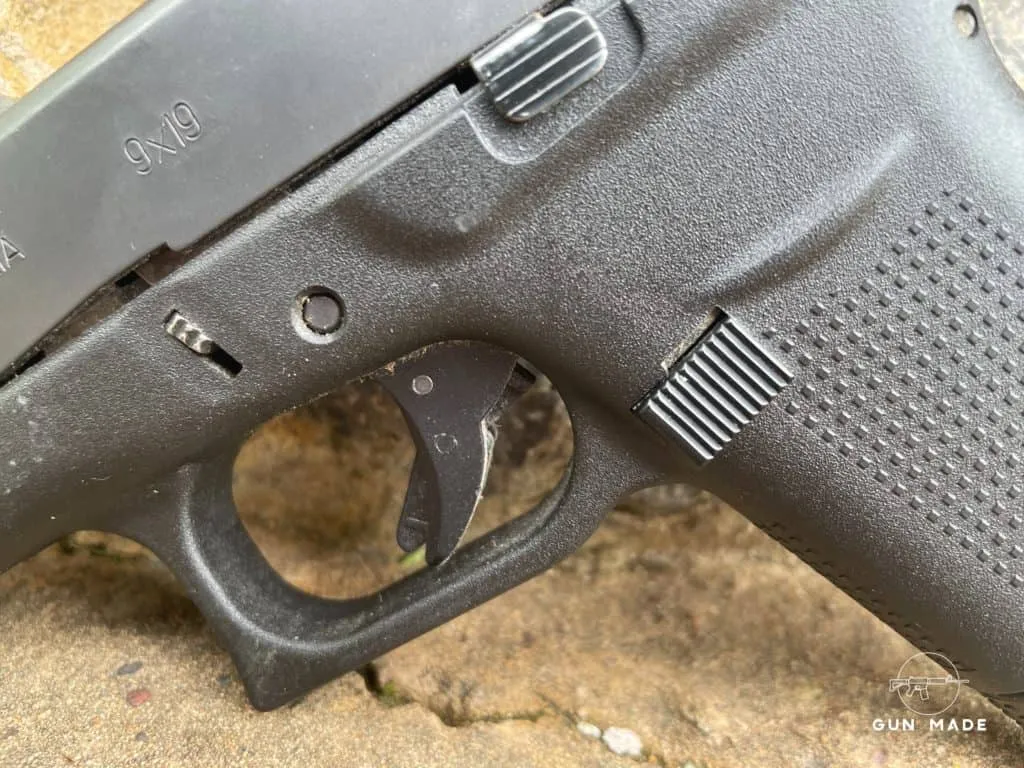 We know that these Glocks are basically the same in performance and cycling. The G43 has a smoother trigger that I really like, so the G43 wins by a single hair.
Magazine
Magazine capacity or size? What's more important to you?
There are countless discussions about the trade-off between unloaded weight and ammo capacity.
The factory magazines work as intended, but the winner here is the Glock G26 with its 10-round capacity.
One of the biggest advantages the G26 has over the G43 is that its magazines are interchangeable with the G17 and G19 magazines.
The triggers, magazine base pads, and some internal parts like the connectors from the G19 can also be switched.
If you really want more ammo capacity on your Glock 43, many great Glock 43 magazine extensions are on the market. There's also a trendy 12+1 magazine with a pinky extension for your Glock 26.
My opinion on the double-stack magazine capacity vs. size discussion is that many people don't understand that, in practice, more rounds don't mean effective self-defense.
It's much more important to be confident with your handgun; you need a CCW-efficient pistol, not a competition shooter.
That being said, a point goes to the G26 pistol because it shares important parts with a G19.
Recoil and Ammo Recommendation
There's not much to say about the recoil. These guns are small, and when compared to a full-sized 9mm pistol, they have quite the kick.
The lack of weight doesn't really help recoil management, so expect snappy jumps from both Glock pistols. This is an important factor to consider, especially if you're a new shooter.
The G26 is bulkier, offers stability, and manages recoil a bit better than the G43, not to mention the decreased muzzle rise, which allows you to place your follow-up shots more carefully and accurately.
To thwart jumpy pistols, I recommend sticking to your Federal Premium 124-gr 9mm ammo boxes. They're not cheap, but we're talking self-defense here.
If you want a cheaper option, the Federal Personal Defense 124-gr 9mm is your best bet, or the Hornady Critical Defense 115-gr 9mm Luger ammo box with expanding flex tips which are also good.
However minimal the difference between the G26 and G43, the G26 is still the winner in recoil reduction and shot placement.
Accuracy and Sights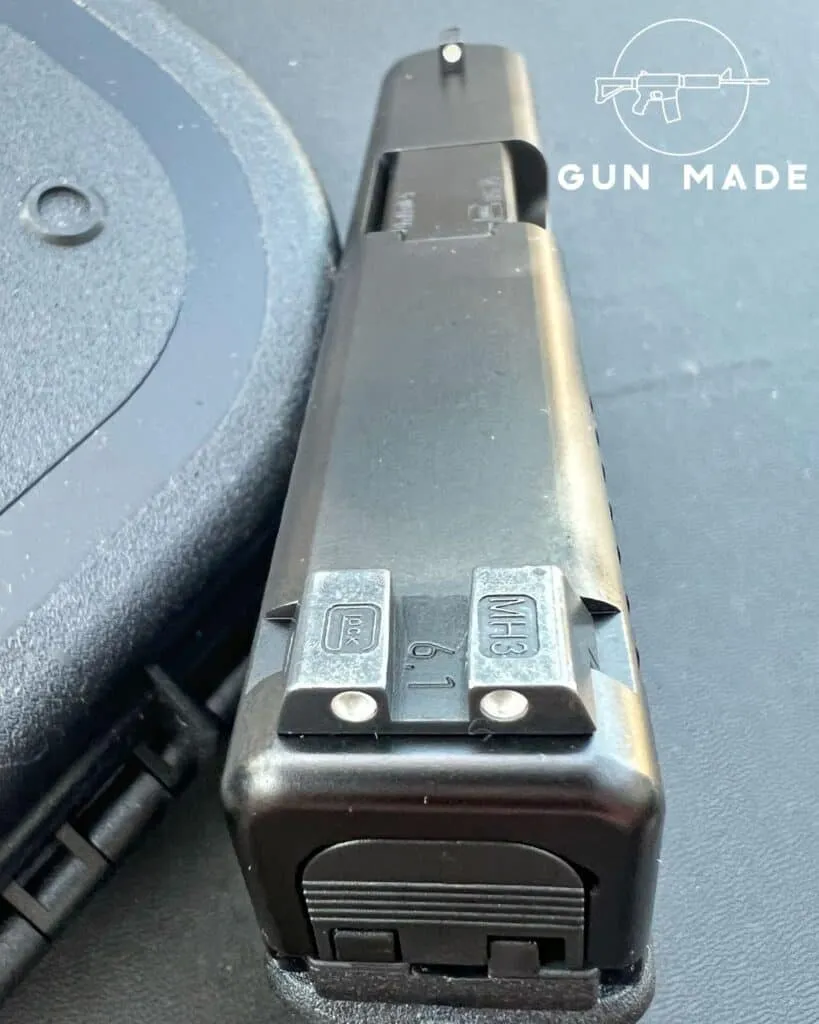 Both pistols have a fixed front and rear sight, with the G26 sticking to the standard white dot rear sight. They're ideal for close-quarter combat and are more than accurate for self-defense situations around the 15-yard mark.
The Glock 43 is too small for accurate shooting at longer ranges. However, it's easier to holster, and you can find lots of holsters that have an optics-friendly concealment method.
Speaking of which, if you want to enhance your accuracy with the G26 further, you can always go for a Truglo Micro Red Dot Sight with an open reflex or a cheaper ArmaLaser Red Dot Sight with grip activation.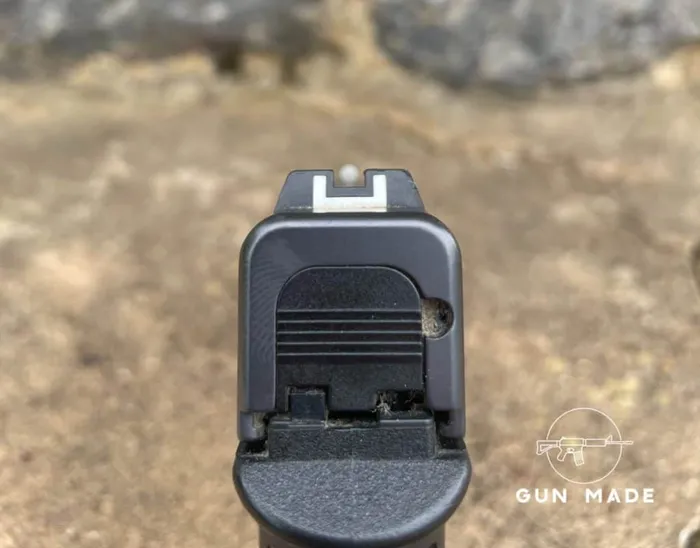 As for the G43, there are cool Night Sight sets with a 3-dot tritium standard for decent target acquisition. If you have a couple of hundred dollars to spare, snag the Trijicon RMRcc Sight Adjustable LED Red Dot with a 3.25 MOA.
I'd call this a draw, to be honest. Both pistols excel as CCW handguns, given their price tag, and in terms of reliability, handling, and shot placement, they're neck and neck.
Alternatives Pistols to the Glock 26 and Glock 43
If you're still stumped and still can't decide over the G26 and G43, here are some exciting alternatives that shoot just as well as these Glocks.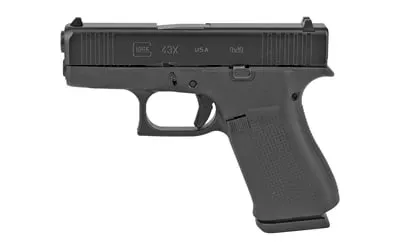 Here's the Glock 43X, in all its glory. If you're leaning towards the G43, I believe the G43X can change the course of your decision.
The Glock 43X is marketed as a definite improvement over the G43. It has the same slide, barrel, and internal parts; only it has a longer grip which is great for larger hands.
Its most valued improvement is the 10+1 single-stack magazine, which caters to those who wanted a Glock 43 but with more ammo like the Glock 26.
The barrel of the G43X is a bit longer than the G43, meaning it lowers the center of gravity and adds to stability when shooting. It's still concealable as ever.
For more info, check out our Glock 43x review!
Known as the successor to the S&M Shield, the S&W Shield Plus is a micro-compact 9mm pistol with a 10-round capacity that's lighter than the Canik TP9 Elite SC but is about the weight of the G43.
It offers a fuller grip than the G43, but its crisp trigger with an audible reset makes this a better option. It's flat, tough, secure, and stable and offers a pleasurable shooting experience.
What's more, there's an abundance of aftermarket sights, holsters, magazine base pads, grips, and lights to choose from, much like the Glocks.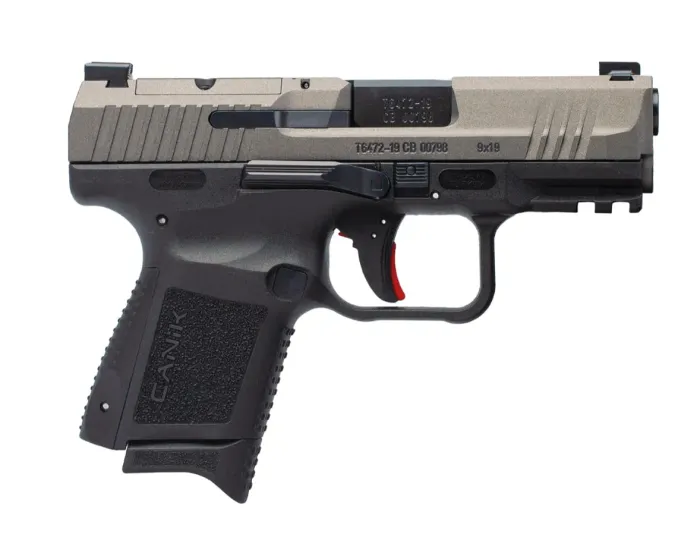 If you ever had to endure a blind shooting test with the Canik TP9 Elite SC (not looking at the price, of course), you'd be amazed.
Canik's newest subcompact addition really topples the former concealed carry Canik models. It's a strong budget pistol that thinks it's a competition shooter.
With its 3.6-inch barrel pistol, it's not exactly a subcompact carry. However, the 12-round mag capacity, optics-ready red dot slide, butter-smooth cycling, and a smooth polymer trigger make the Elite SC a brilliant pistol for its overall price.
The polymer trigger is similar in build to the Glock, only smoother. It has a 4.5-pound trigger pull and is far lighter than the Glocks we argue about.
What's more, Canik are kind enough to cram a ton of stuff into the hard case with your purchase.
Glock 26 vs. Glock 43: The Winner – The Glock G43
This is probably the most narrow "photo finish" of Glock battles you've ever seen. What we're looking at are tried-and-true Glock models with a very reliable, concealed carry design.
The differences between these baby Glocks are the size, weight, mag capacity, and concealability. The Glock 43 is a bit lighter than the Glock 26, but the G26 has a 10-round capacity, which is an imperative criterion for self-defense for some shooters.
What's more, the Glock 26 has interchangeable magazines that can be switched with a G19, so it's up to you to decide if the interchangeability and mag capacity is worth the switch.
The Glock 26 is more expensive than the Glock 43. But they're popular models, and you can snag both for a solid price. Just keep your eyes peeled.
This was a close call, and there's always the chance that I'll change my mind in the distant future.
Ultimately, choosing more rounds or better holstering will always be up to the customers.
For now, my money's on the small and cost-effective Glock 43, which saves you cash for quality aftermarket parts.
You can always go for the Glock 43X with a 10-round capacity if you want more ammo.
Stay safe, and shoot straight.
Explore more