Hi-Point 3095 Review: The First 30 Super Carry Carbine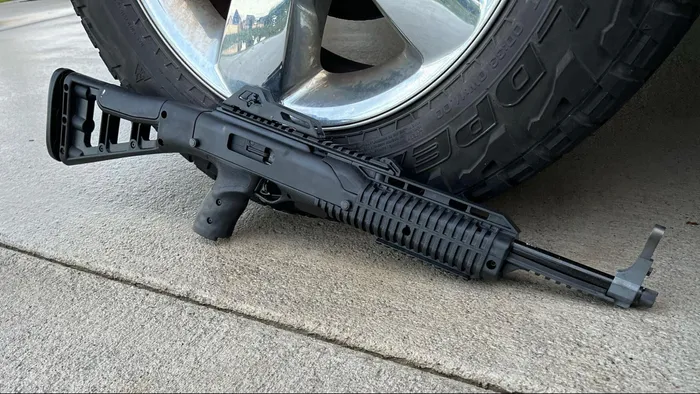 Hi-Point 3095 Review: The First 30 Super Carry Carbine
Introduction
Almost exactly one year ago, I had my first hands-on experience with a Hi-Point. It was the Hi-Point C9, which is Hi-Point's compact 9mm handgun.
From a reliability perspective, I was blown away. For that review, I put 250 rounds of mixed ammo through it without a single failure. I then reached out to Hi-Point and requested to be sent a 9mm carbine (model 995).
Again, not one failure during my testing period.
Fast forward to just a few weeks ago, Hi-Point was nice enough to send me the new 3095 model to review. It's not just Hi-Point's first carbine in 30 Super Carry, but unless there is another that I'm unaware of, it's actually the first carbine in 30 Super Carry period.
It's built off of the proven 995 Model, so it felt eerily similar upon opening the box.
Now that I've spent some time with it and shot a solid variety of ammo through it, I can finally give my honest opinion…but you'll have to read the rest of the article to find out how I really feel.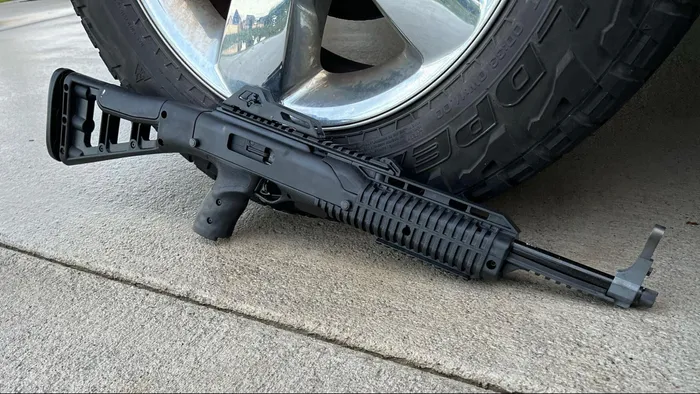 Hi-Point 3095 Review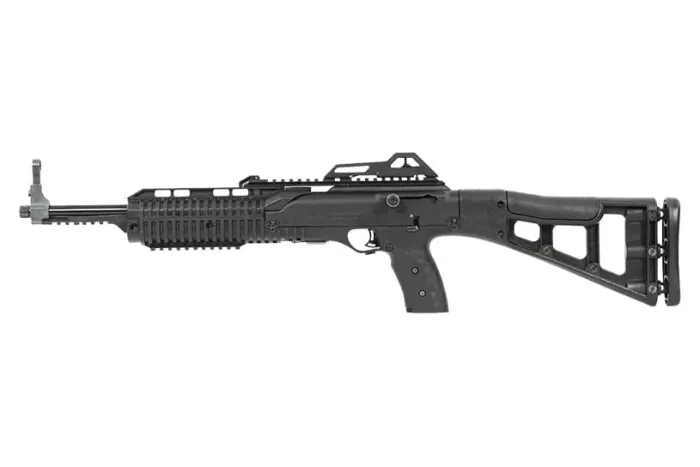 Specifications
| | |
| --- | --- |
| Caliber | 30 Super Carry |
| Capacity | 10+1 |
| Barrel Length | 16.5 Inches |
| Overall Length | 31 Inches |
| Sights | Fully-adjustable |
| Barrel | Threaded, ½ x 28 |
| Safety | Manual Thumb |
Pros & Cons
Pros
Affordable – you won't need to scrounge up change to save for it

Extremely low recoil

Threaded barrel

Plenty of rail space for accessories

Comes with adjustable sights

Made in the USA
Cons
Lack of ambidextrous controls

Low capacity 

Magazine was hard to fully load

Slick pistol grip texture
First"ish" Impressions & Range Report
As I mentioned earlier, since the 3095 is so similar to the 995, it didn't really "feel" like my first time handling it. However, shooting it was a bit of a different story.
Reliability
179 various rounds fed and cycled fine, with one lone double feed being the only issue. It happened early on in my round count, probably in the second or third magazine.
FMJs and JHPs both proved to be favored food for the 3095. I'll detail which ammo I shot through it below in the Ammo Used section, but I didn't find one it didn't like. The recoil is so low you can instantly tell the difference, even from the 9mm model.
Accuracy
You shouldn't have any issues out to 75-100 yards with the 3095.
The sights are adjustable, so if it's a little off out of the box, you're able to tweak them as needed. I set my target out to 10 yards for my first mag or two through it and then quickly went to 15, 20, and 25 yards with no issues.
At least for my eyes, the sights started getting difficult to keep super tight groupings once I got to 20 yards, but I was still hitting my overall zone of each target I was aiming for.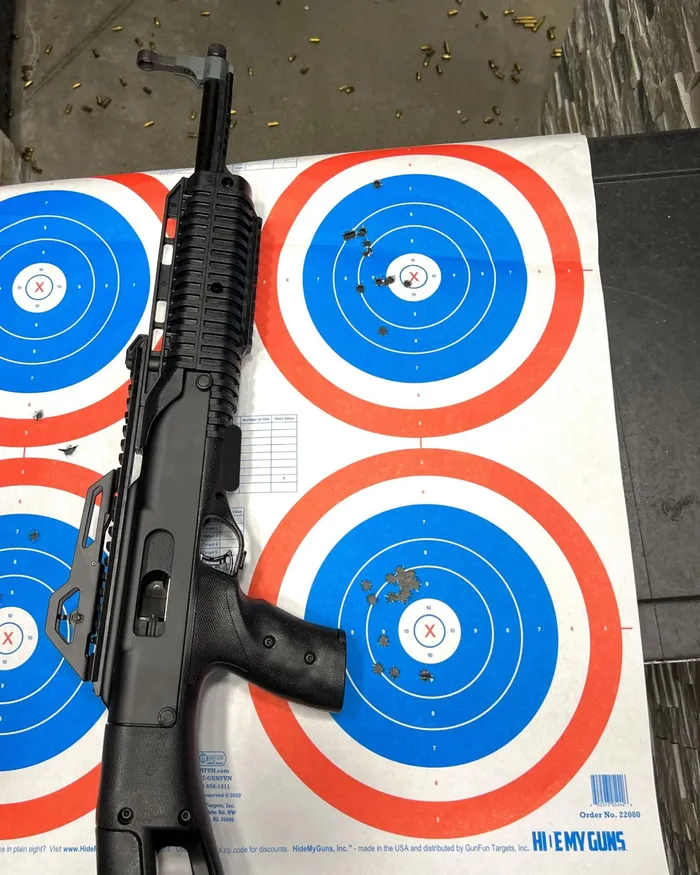 Overall Feel
It doesn't feel as heavy as it looks, at least to me. It is front-heavy and thicker than a snicker up front, but it makes it just feel more durable.
The spring-loaded recoil pad in the rear makes for a fun "springy" shooting experience and shoulders nicely. Smooth is a word I'd use to describe the majority of the gun, with everything from the grip texture, to the stock, to the forearm, all being "rounded" and slick.
Features
Skeletonized Stock
The stock isn't very pretty, but it definitely gets the job done. It has an internal recoil buffer and a spring-loaded recoil pad which means there is very little recoil.
With the gun already being chambered in 30 Super Carry, which has a little bit less recoil than your typical 9mm, you'd be surprised at how easy of a shooter this gun is. It would be nice to see an adjustable stock on a future model, though, especially for us long-armed folks.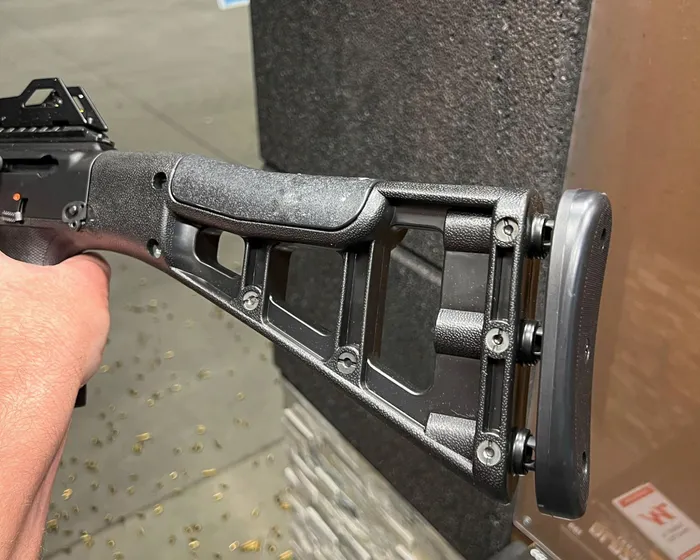 Picatinny Rails
If you're an accessory fanatic, you're in luck. There's a Picatinny rail underneath the forearm and on top of the upper receiver. Pick your favorite foregrip, optic, light, or laser, and load those rails up!
Given that the 3095 is so affordable, you should have plenty of money left over to add a little razzle-dazzle to it.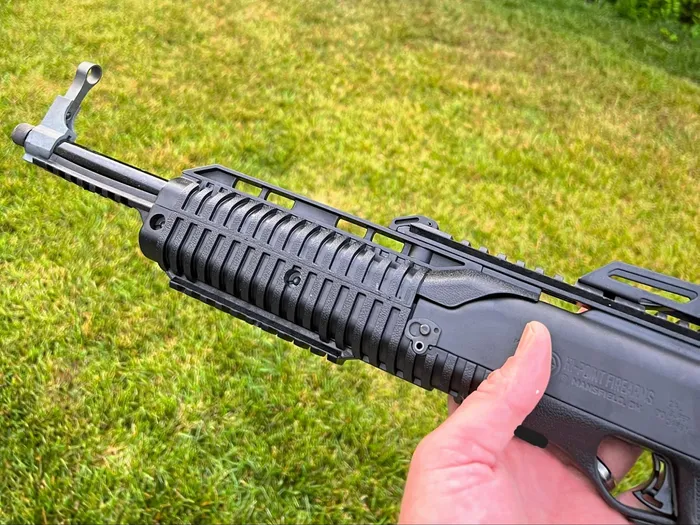 Adjustable Sights
Functionally speaking, these sights work really well. The rear peep sight is adjustable for windage and elevation, with the front post sight being adjustable for elevation only.
They are very solid, being made out of metal, and the rear can be removed if you'd rather add an optic in its place. If you decide to keep them, for extra security, the rear sight is protected by metal side walls. You can never be too safe!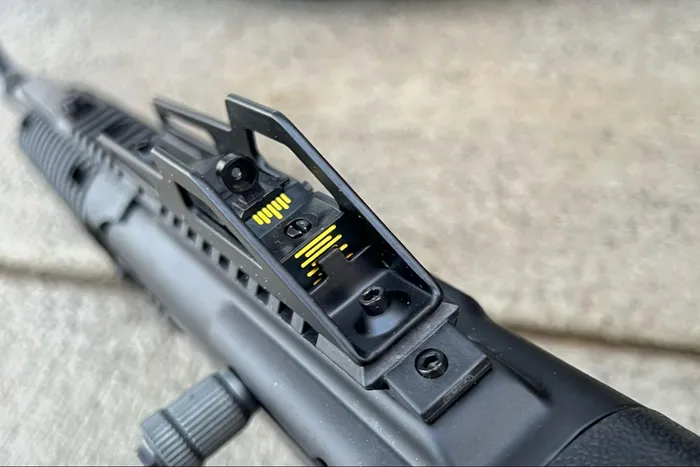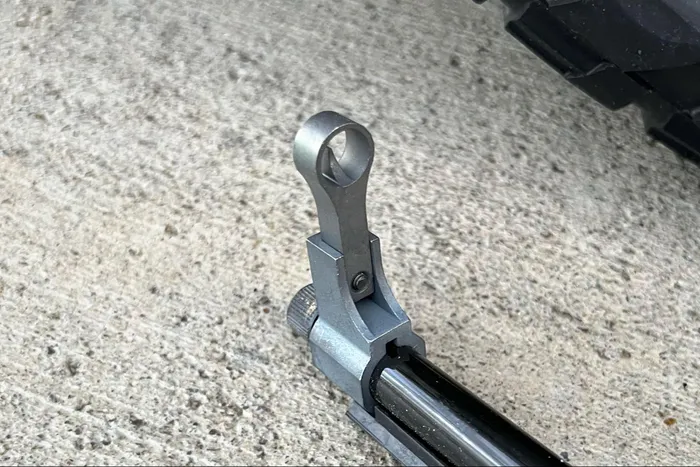 Threaded Barrel
It's nice to see the 3095 comes with a standard ½ x 28 threaded barrel, given the low price of the gun.
Sure, you can go ahead and add a suppressor to it, but you'll probably wind up spending more than the gun cost itself. Covering up the threads is an included thread protector.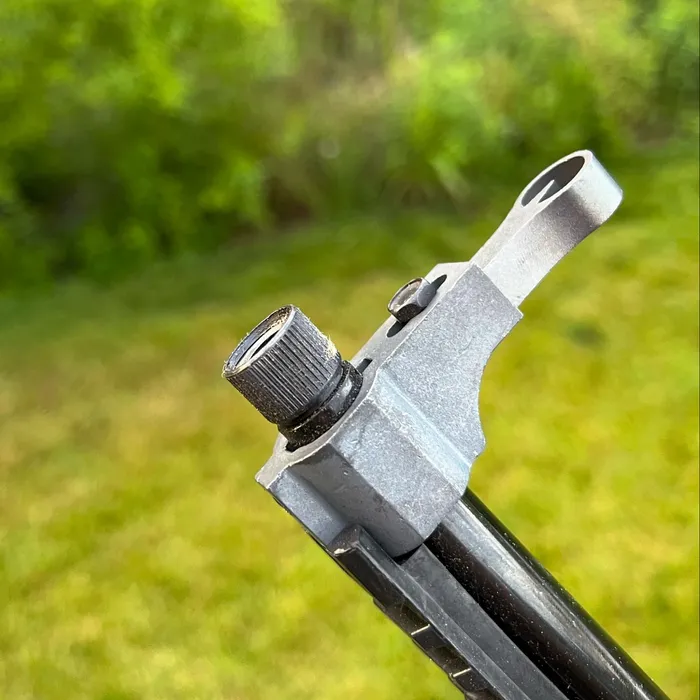 How We Tested
Ammo Used
I was lucky enough to have Federal send out some ammo when 30 Super Carry was just being introduced, so I had a nice variety to send through the 3095. Below is the ammo the 3095 had the pleasure of going through.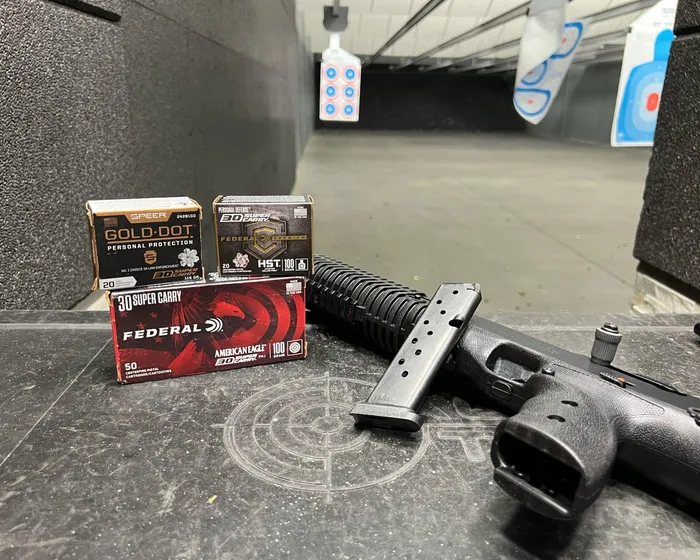 Score Card
Reliability (9/10)  
I had one malfunction out of the 180 rounds I put through the gun.
Ergonomics (7/10)
The controls can use some work, but the grip and stock are comfortable enough for extended shooting trips.
Customization (8/10)
With plenty of rail space, you can add a ton of accessories. However, you won't find many aftermarket replacement parts or magazines for it.
Appearance (7/10)
I've seen worse; I've seen better. I'm assuming the 3095 will come in other color variants, just like the 995 does.
Value (9/10)
I almost never throw a 10/10 out there for value, but this one is up there simply due to the price point and reliability.
Accessories
If you're looking at the Hi-Point 3095, cost is probably at the forefront of your decision. I'll keep my accessory recommendations in the budget category as well to save some additional money.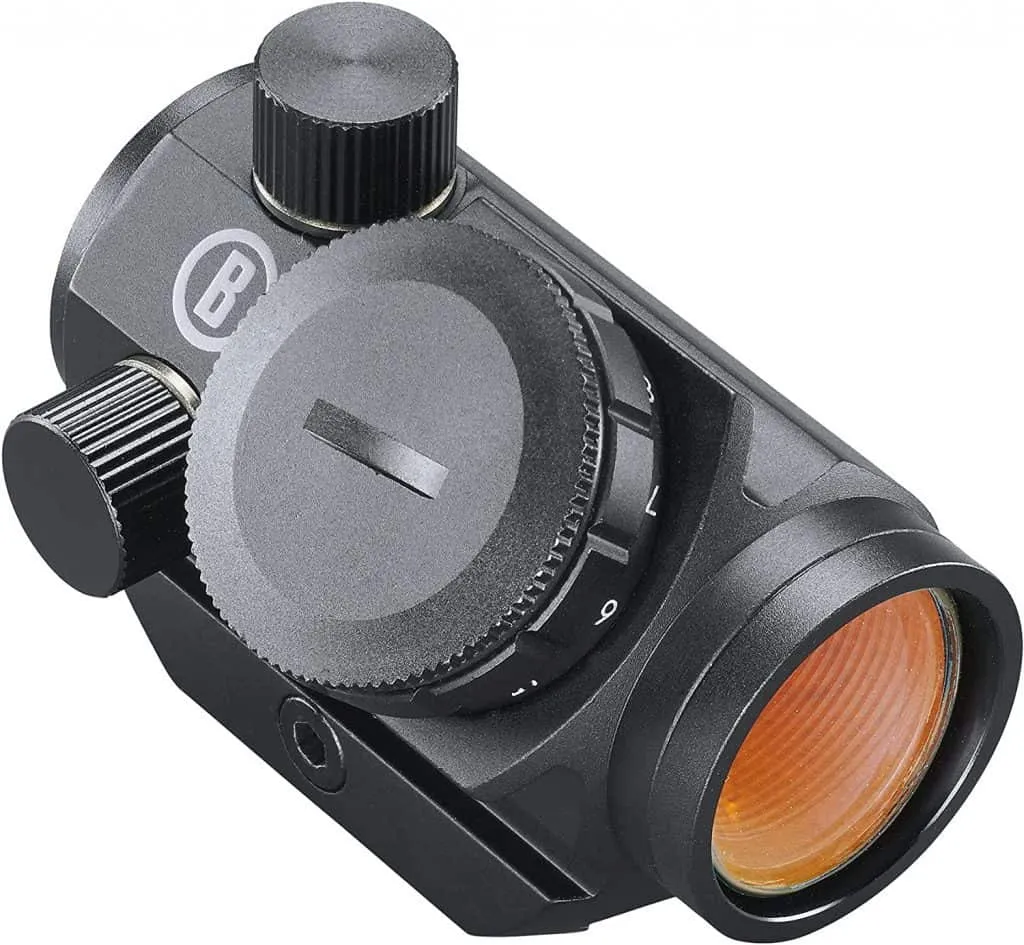 Coming in with an MSRP of only $79.99, it actually can be found under $60 quite often. It features a 3 MOA red dot, 11 brightness settings, and a 5,000+ battery life (CR2032 battery).
It doesn't have a ton of the fancy features you may find on some other more expensive optics, but at this price point, would you really expect it to? It's a solid and reliable budget red dot.
The lightweight polymer AFG is compatible with most Picatinny style rails making it a great option for the Hi-Point. It will help you maintain control and improve your follow-up shot accuracy.
At only 2.92 ounces, you'll barely notice it from a weight perspective. You can find them floating around the $30 mark, so they won't drain your account.
Alternatives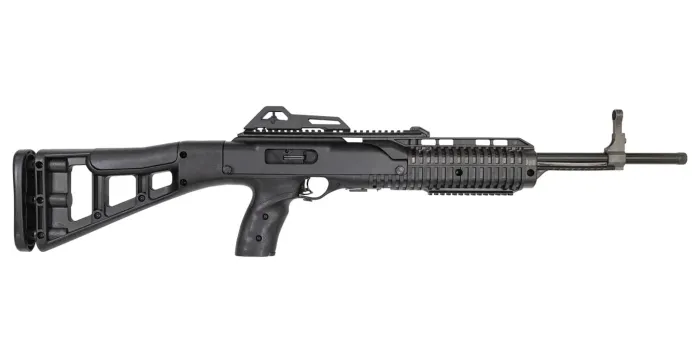 Are you still on a tight budget, but 30 Super Carry isn't your ideal caliber?
Don't forget that Hi-Point offers the same carbine chambered 9mm. I won't bore you by going into all of the features since they are essentially the same as the 3095. It's affordable and reliable but chambered in 9mm.

The Sub2000 is quite different but in a good way. It's a folding carbine chambered in 9mm (or .40) that folds vertically, making it extremely compact.
It has a 16.25" barrel and still weighs only 4.25 pounds. It's definitely not going to win any beauty pageants, but let's be honest; the Hi-Point probably won't, either.  
Conclusion
Hi-Point continues to prove that budget firearms do not have to sacrifice quality.
Are these carbines the sexiest on the market? Nope. Do they come with all the bells and whistles a $2,000 carbine would? Definitely not. Do they work when you need them to? Yes, and that's what matters.
If you're on a tight budget, looking for a gun that will go bang in a time of need, and want to own the first 30 Super Carry carbine, check out the Hi-Point 3095…I think you'll be surprised.
How have your experiences been with Hi-Point? In this price category, are there any other firearms you'd recommend?
Explore more