Heckler & Koch MR556A1 Review: A Tank of an AR-15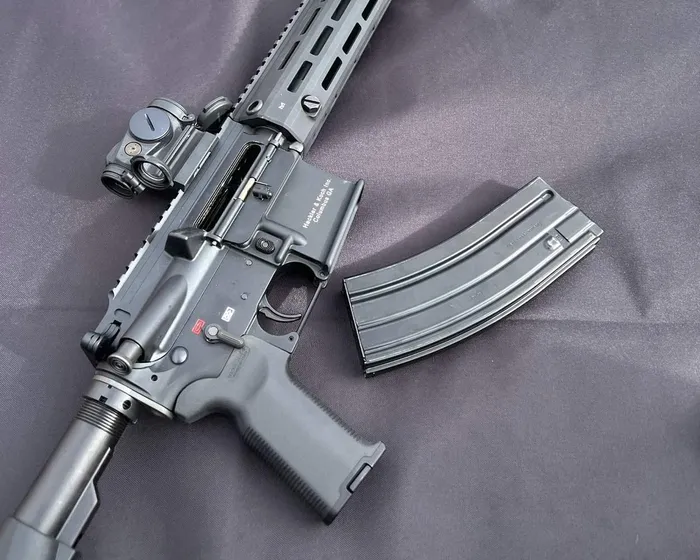 Heckler & Koch MR556A1 Review: A Tank of an AR-15
Introduction
Heckler & Koch (HK) is known for its high-quality and reliable firearms. The MR556A1 is no different and, as such, has become quite popular.
Being a direct descendant of the well-known HK416, it's made with many of the same parts, including HK's proprietary short-stroke gas piston system. It's essentially the civilian version of the HK416 and is actually assembled in the beautiful US of A.
The MR556A1 falls into a price category I don't usually shop in for an AR-15, so I haven't sought one out to test before. However, when I had the opportunity to shoot one at Industry Day at the Range this year, I didn't pass it up.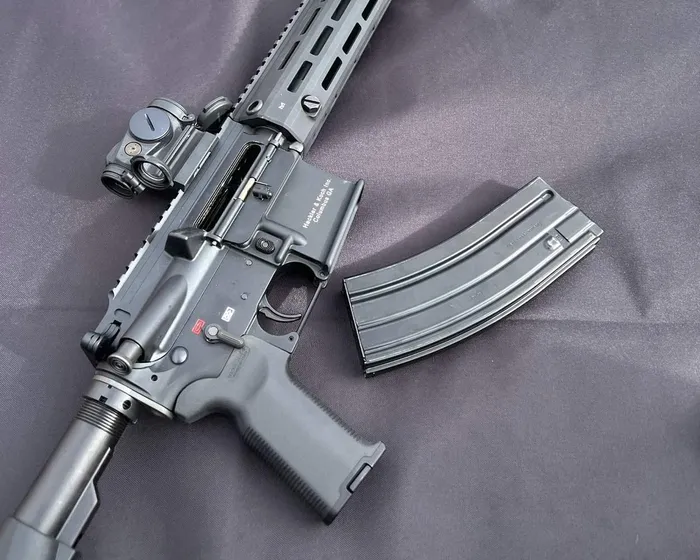 By the end of the article, I hope you'll be able to decide for yourself if it's worth the steep price tag. Enjoy!
HK MR556A1 Review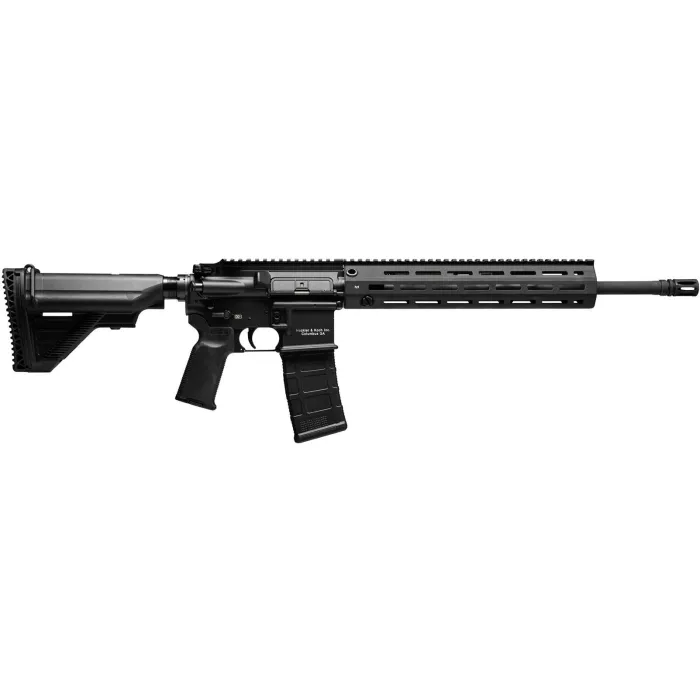 Specifications
| | |
| --- | --- |
| Caliber | 5.56/.223 |
| Capacity | 30+1 |
| Operating System | Short Stroke Gas Piston |
| Barrel Length | 16.5 Inches |
| Twist | 1:7 |
| Overall Length | 33.9 – 37.7 Inches |
| Width | 3.1 Inches |
| Height | 9.5 Inches |
| Weight | 8.6 Pounds w/out Magazine |
| Trigger Pull | 7.6 Pounds |
| Sight Radius | 14.6 Inches |
Pros & Cons
Pros
Exceptionally accurate and reliable

Short-stroke gas piston system

Enhanced internals

Longevity – built to last
Cons
Expensive – you'll need some deep pockets

Picky with magazines (from what I've read, not experience)

Proprietary parts

Heavier than average AR
Time for the Range
Reliability & Accuracy
Reliability is not something you'll need to be concerned about with the MR556A1. There is a reason that various military and special forces all around the world have been known to use, and continue to use it (HK416 version).
Through my own time shooting it, I had zero issues. It ran extremely smoothly, even after it had been shooting non-stop, all day long.
The exact unit I was shooting had an Aimpoint Duty RDS mounted on it, which made ringing the steel targets between 25 and 100 yards easier than falling off a log. The rifle would definitely out-shoot me, and I would love to see how it would perform in the hands of a sharpshooter or true operator.
Overall Feel
It feels like you're driving a tank among Honda Civics. It looks like a standard AR, but it's heavier and feels really sturdy right off the bat. Coming in at 8.6 pounds without a magazine, once you load the metal magazine with 30 rounds…you get the idea.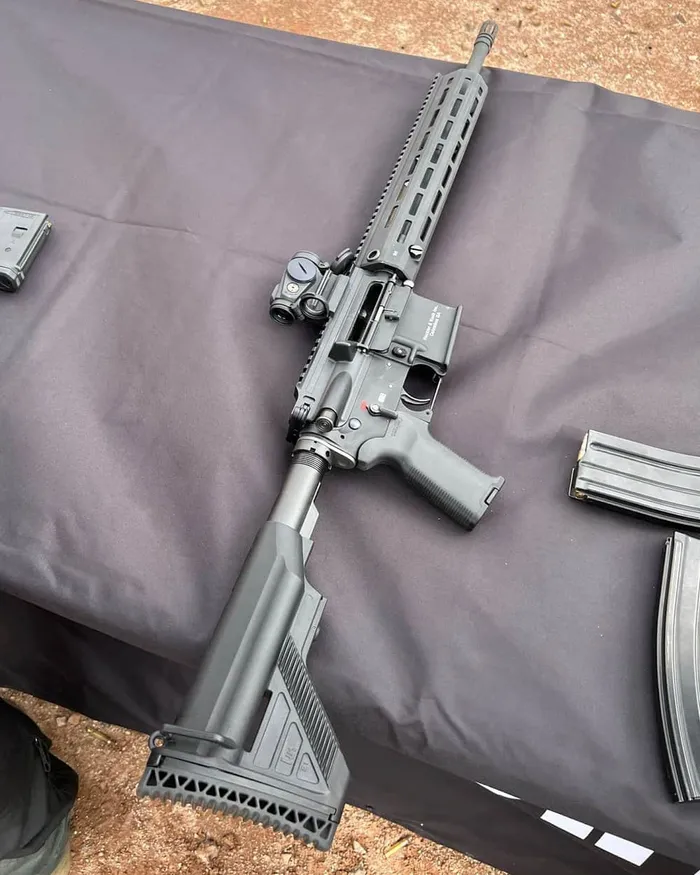 Features
Proprietary Piston Operating System
One of the main driving factors of the reliability of the MR556A1 is HK's proprietary short-stroke gas piston system. In short, compared to a direct impingement system, it prevents the exhaust gasses from entering and fouling up the upper receiver.
This results in a rifle that runs cleaner, cooler, and more reliably. Keep in mind, though, this usually will increase the cost and weight of the gun.  
Rail System
The free-floating handguard is very smooth and comfortable, and is literally covered in M-Lok slots. Up top, the rail runs the entire length of the receiver and handguard, giving you plenty of room to mount some backup sights and your favorite optic.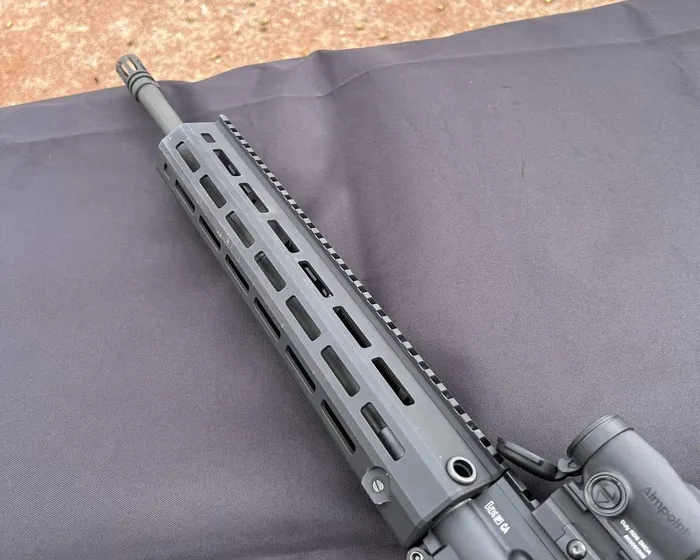 Furniture
The star of the furniture has to be the buttstock.
It has a nice-sized cheek weld, the buttpad does a great job at further minimizing felt recoil, and there is a ton of internal storage room for some spare batteries, rounds, or tools.
My one complaint though, is that it does not have any QD mounting points, only sling loops.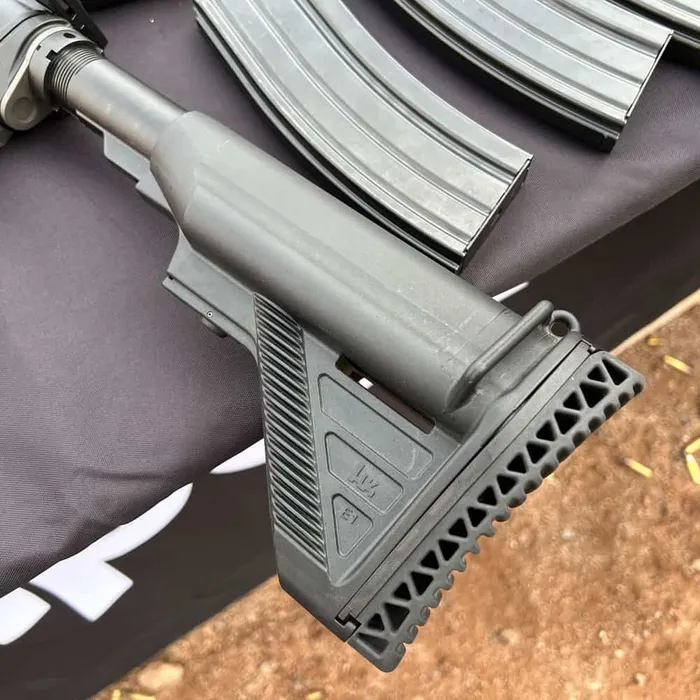 I was surprised to see a Magpul MOE grip at this price point, but it's at least better than your standard A2 style. The grip also has internal storage, so between the buttstock and the grip, you'll have ample storage room.
Controls & Trigger
Taking a look at the controls and trigger, I'm left with a mixed bag of emotions. Let's start with the trigger.
The trigger pull is said to weigh in right around 7.6 pounds, and let me say, it definitely feels like it. While a heavier pull isn't the worst thing in the world, I would have loved a lighter trigger on this rifle. The trigger guard also was a let-down, as it seemed small and cramped.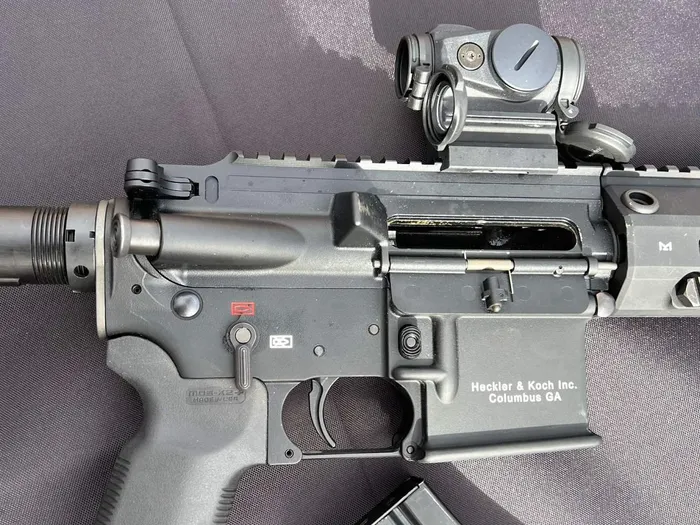 On a positive note, you'll find an ambidextrous safety and a reversible charging handle. To finish off the controls, you'll find a basic magazine and bolt release.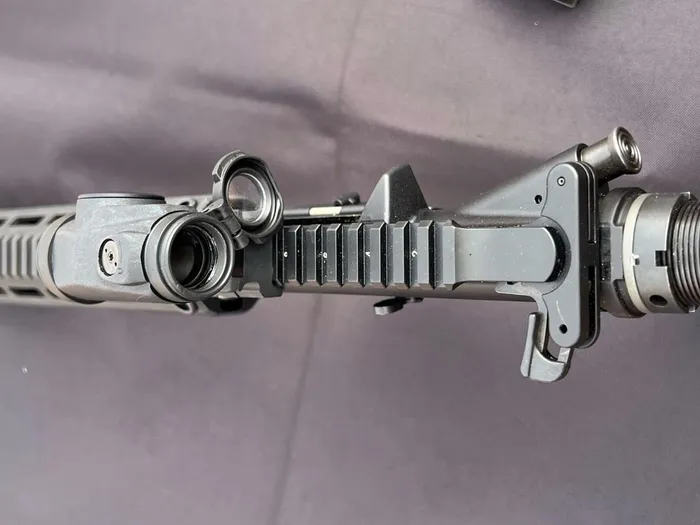 How We Tested
Ammo Used
With the ammo being supplied to us, we shot what we could get our hands on.
There was a variety of FMJs being loaded in various magazines, so I'm not 100% sure exactly what I was shooting. However, I had no problems with any of the ammo that I put through it.
Score Card
Reliability (10/10)  
Simply put, it's reliable.
Ergonomics (10/10)
AR-15s are pretty ergonomic in nature, so when you add some upgraded furniture, they get even better.
Customization (7/10)
With many proprietary parts, you may have some issues customizing it.
Appearance (7/10)
It looks about as standard as it gets.
Value (8/10)
I still gave it an 8 due to the reliability and accuracy, but the price seems too high.
Accessories
The Aimpoint Duty RDS features a 2 MOA dot that can run for 30,000 hours on brightness setting 7.
It has four night vision compatible settings and is submersible to 80 feet. While it definitely doesn't fall into the budget category of optics, you get what you pay for.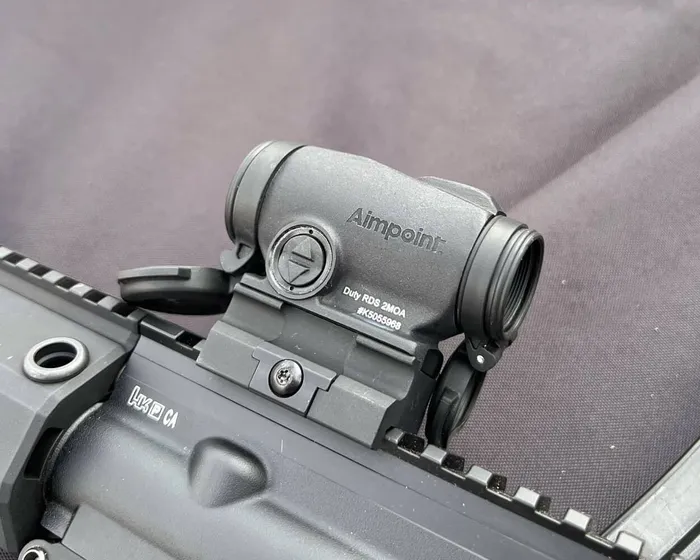 I'm a huge fan of curved foregrips. The LINK is made out of 6061 T6 aluminum, which makes it very durable.
It's lightweight, offers a barricade stop functionality, and comes in several colors if you want to get fancy with it.
Alternatives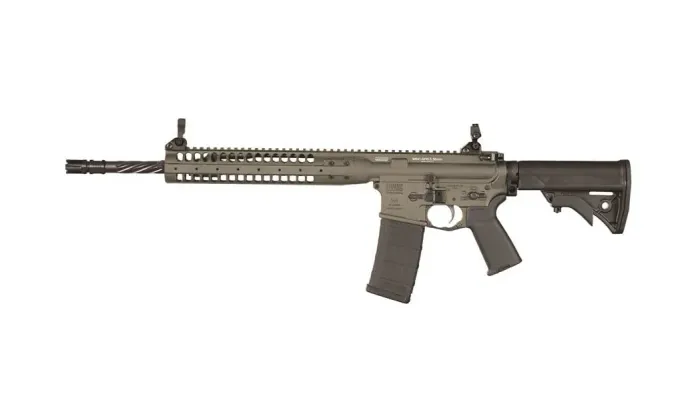 Another reliable gas piston AR, the IC-SPR will also save you about $1,000.
It features ambidextrous controls, a fluted barrel, and a free-floating rail. Oh yeah, and it comes with backup sights, which at this price point, every rifle should.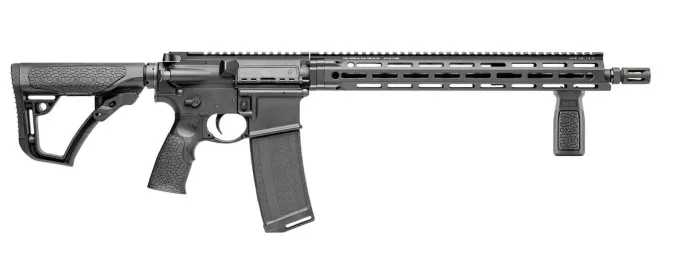 The most affordable of the ones mentioned, the DDM4 V7 will still not disappoint. It's reliable, accurate and fully ambidextrous, in addition to having some great upgraded furniture. I've personally tested this one out and had a blast.
For more info, check out our DDM4 V7 review.
Final Thoughts
I know I value unbiased and honest opinions, so that's what I strive to deliver.
While the MR556A1 has been battle-proven to be reliable and accurate, which I agree with, I honestly don't see the value for a civilian to justify the price. There is nothing "wrong" with the gun, but I think there are plenty of much more affordable rifles that are just as good for the average shooter.
If you have money burning a hole in your pocket though, and are looking for a gas piston-driven AR, it couldn't hurt to check the MR556A1 out for yourself.  
Explore more