HK VP9 Review: Some Striker-Fired Fun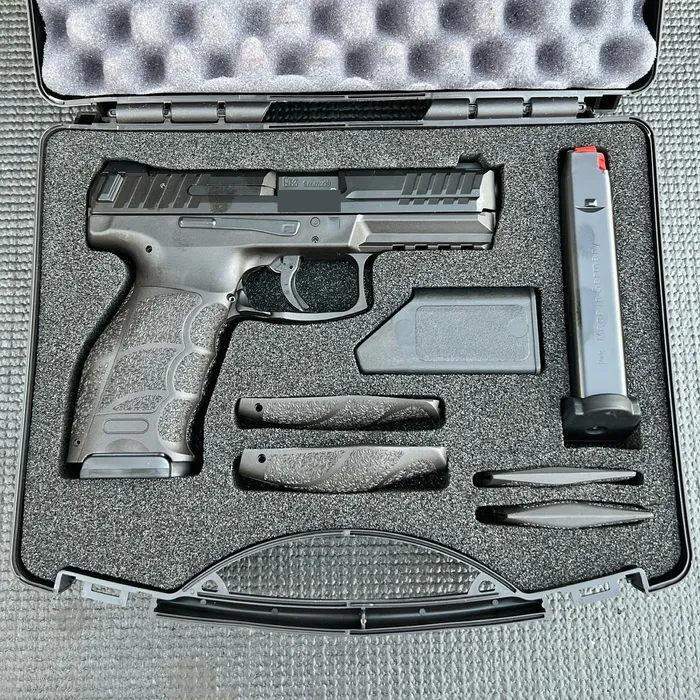 HK VP9 Review: Some Striker-Fired Fun
Introduction
Heckler & Koch (HK) is arguably the most famous for its MP5.
That's not to say that it hasn't put out plenty of other kick-ass guns too. They mostly have focused on hammer-fired pistols, but there is an interesting tidbit of history behind HK and striker-fired pistols.
The HK VP9 isn't technically the first striker-fired option that Heckler & Koch has brought to the market, but it's the first in a few decades. HK actually put out the first striker-fired pistol back in 1970, appropriately named the VP70.
Fast forward to 2014, the VP9 was released. I had the opportunity to shoot one right after it came out, but I haven't again since then. So, I jumped at having the VP9 sent out for review and took it to the range immediately.
Let's take a look at what I found after revisiting it after many years.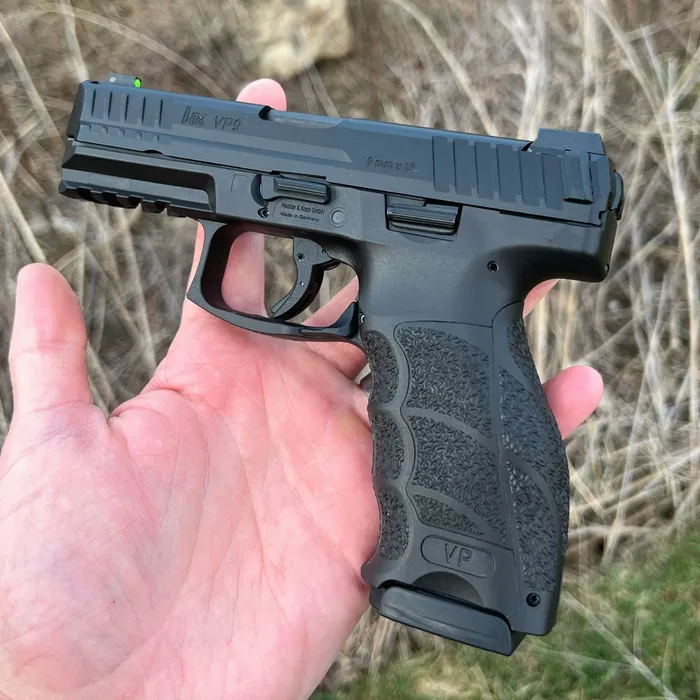 HK VP9 Review
Specifications
| | |
| --- | --- |
| Caliber | 9mm |
| Capacity | 17+1 |
| Barrel Length | 4.09 Inches |
| Overall Length | 7.34 Inches |
| Height | 5.41 Inches |
| Width | 1.32 Inches |
| Weight | 25.56 Ounces (w/ empty magazine) |
Pros & Cons
Pros
The trigger…it's

really

nice

Very ergonomic – feels great in hand

Ambidextrous controls 

Reliable and accurate
Cons
On the pricier side

Not optic-ready (though HK does offer models that are)
Unboxing & First Impressions
My VP9 came in a hard sided HK case, with a custom foam insert holding the gun and accessories tightly. Aside from the gun, you'll find two 17-round magazines, a mag loader, interchangeable backstraps, and side panels.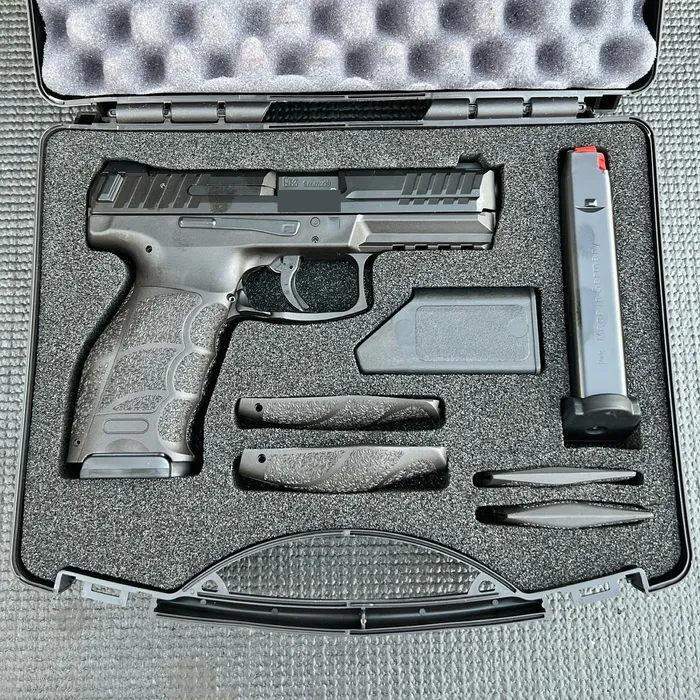 Reliability
I took the VP9 out on a couple of range trips and wound up putting 220 rounds through it so far. Out of those 220 rounds, they all went BANG without a hitch. I'm not saying I won't ever see a malfunction, but we started off on the right foot!
Accuracy
For not having shot the VP9 in years, my first magazine shot surprisingly well.
I'm sure you're sick of me saying this by now in many of my articles, but I'm not an expert shooter.
With that being said, my groupings out to 20 yards with my first couple dozen rounds were within a couple of inches, and the outliers were quickly brought in closer by the end of the 220 rounds. I would say that for a stock gun that was "new" to me, it shot hard-sided.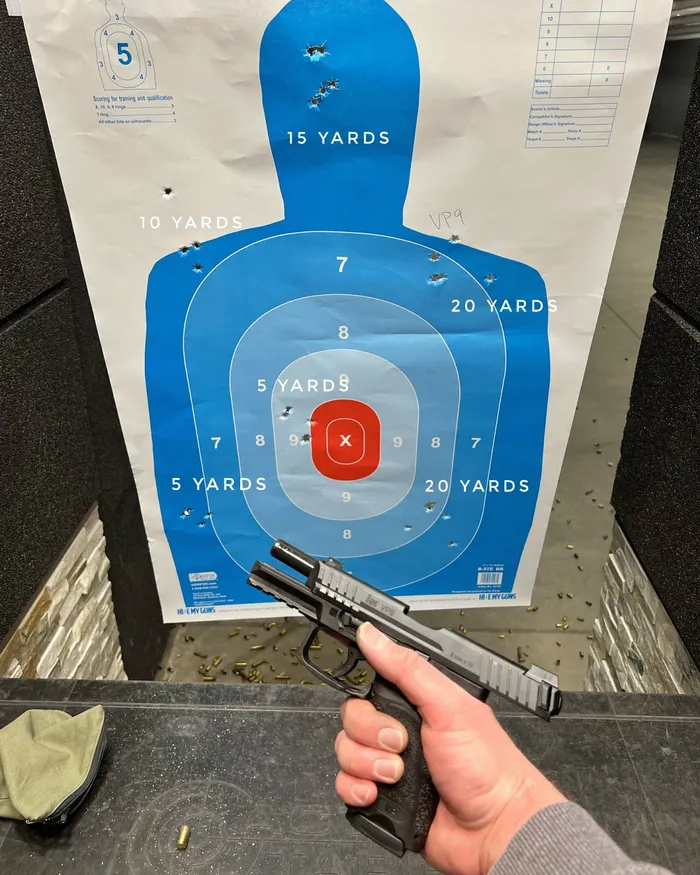 Overall Feel
It feels great in hand. It's not too heavy (25.5 ounces unloaded) and is very well-balanced.
Regarding comfortability and ergonomics, there aren't any negatives to note.
Features
Grip
I'm typically not a huge fan of finger grooves on my own guns, but man, is the VP9 grip comfortable.
I like that the grooves are subtle when you hold it, and for someone with larger hands, they fit surprisingly well. I wound up keeping the grip exactly how it came in the box, but you can change backstraps and side panels to better fit your hand.
The grip texture is not too aggressive but still provides a solid amount of grip.
Sights
I've found myself becoming less concerned with fancy sights as long as I can pick up the front quickly and easily. The sights on the VP9 allowed me to do that well.
The square notch rear sight is blacked out and serrated, which pairs well with the front high-visibility green sight. The front sight is narrow enough to allow a great sight picture within the rear notch.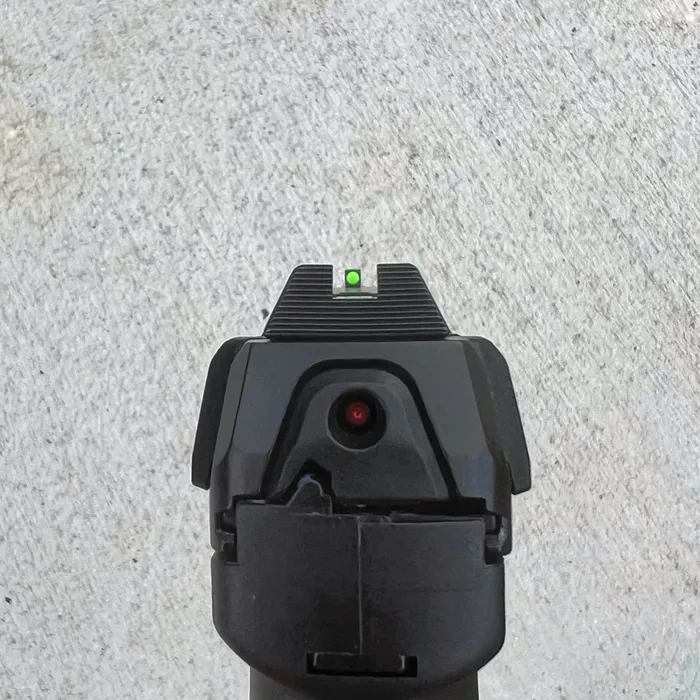 Controls
The controls are different, very different. However, that doesn't mean it's all in a negative way. It's fully ambidextrous.
There is no need to reverse any controls to make it left-hand friendly. Also, the controls are oversized, and the magazine release is a paddle-style located at the rear of the trigger guard, as opposed to on the grip. It was fun to reload with this mag release, but I definitely like the button style much better.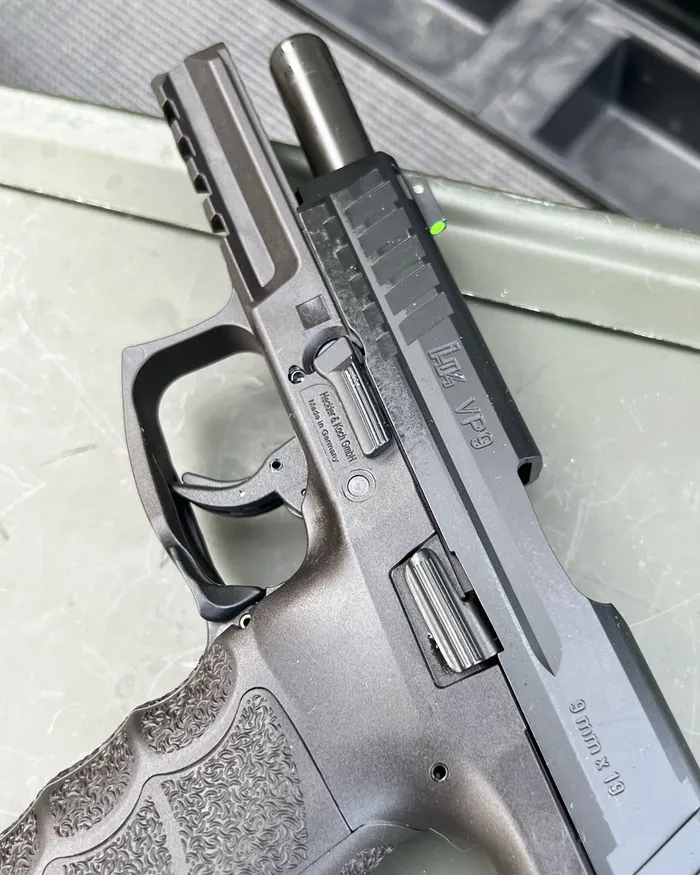 Slide
There are optic-cut models available, but sadly this particular one is not one of them. The slide features aggressive serrations with an extra charging support that you'll see at the rear of the serrations.
They are removable if you aren't a fan of that small piece.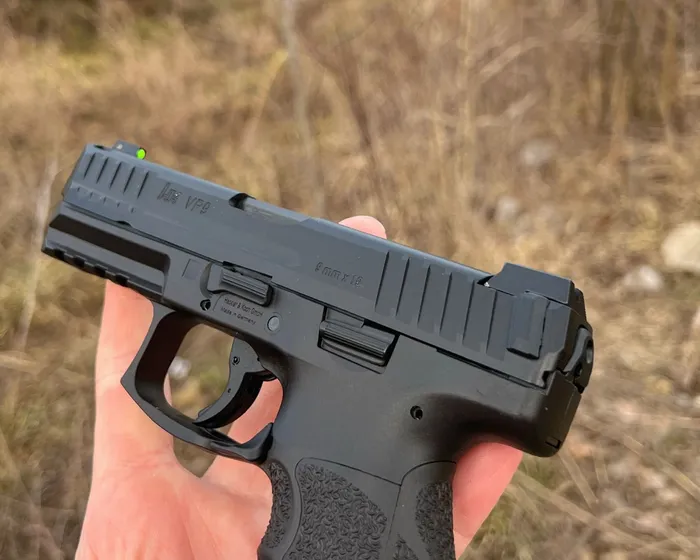 Trigger
Unintentionally, I saved the best feature for last.
The trigger is simply delightful…yes, I used the word delightful, and that's because it is! HK made sure to pay extremely close attention to the trigger on the VP9, and it shows.
It's one of the nicest stock striker-fired triggers I've shot recently. I believe the advertised trigger pull sits right at 5.4 pounds, but it honestly feels a bit lighter. The pull is extremely consistent, with a crisp break and quick reset.
I want to say it again to drive the point home; this trigger is delightful.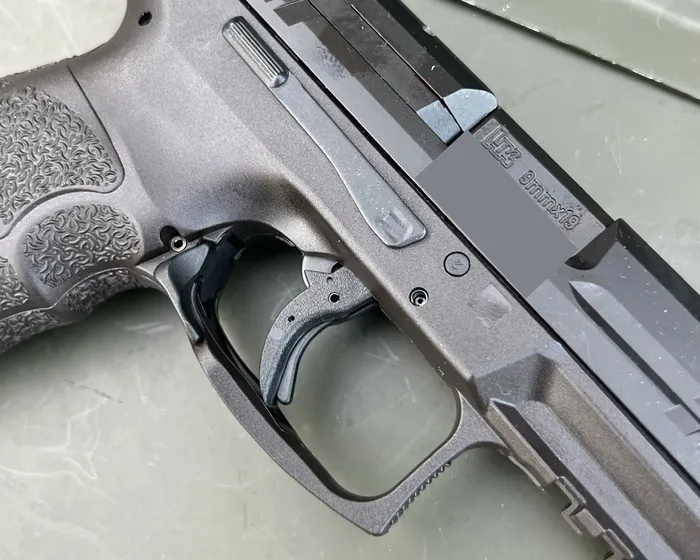 How We Tested
I only got to shoot the VP9 indoors, but it did accompany me on three separate range trips. I made sure to run some reload drills, slow fire drills, and of course, dump a few mags quickly.
All went smoothly with no hiccups.
Ammo Used
The majority of rounds that went through this gun were 115-grain Blazer Brass FMJs. 200 rounds, to be exact.
The other 20 rounds were the last of my 124-grain Federal Punch JHP.
Out of the 220 rounds total, I had exactly zero issues.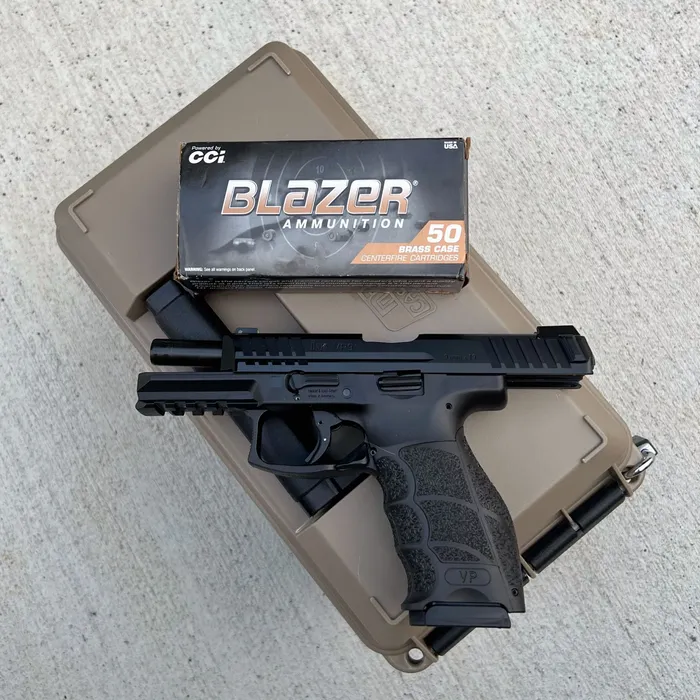 Score Card
Reliability (10/10)  
It went bang 220 out of 220 rounds.
Ergonomics (9/10)
Fits nicely in hand and is well balanced.
Customization (8/10)
There are plenty of aftermarket goodies out there for the VP9, but not as many as some other comparable pistols.
Appearance (8/10)
It looks a bit like an old airsoft gun I had, but that's not a horrible thing.
Value (8/10)
If the price was dropped by $100+, I would have given this a higher score.
Accessories
The TLR-7A is one of my favorite lights for this size of handgun.
It's not as long as the TLR-1, so it sits almost flush with the end of the barrel and slide. It puts out 500 lumens for an hour and a half and is durable as heck. You can't go wrong with Streamlight.
To save some money but still get a quality optic, check out the Vortex Venom.
It's low-profile, comes with either a 3 MOA or 6 MOA dot, and has up to a 3,000-hour battery life on its lower settings.
On top of it all, it's backed by Vortex's lifetime warranty.
Alternatives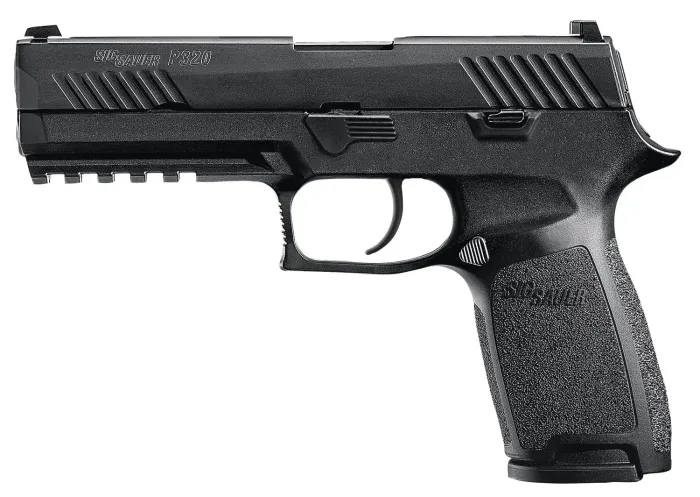 The P320 is one of the most modular handguns on the market and boasts a 17+1 capacity just like the VP9. It's a great option for those looking for a very reliable pistol that can be found for just under $500 if you search for it. It's not the most ergonomic in the world, but it definitely gets the job done at a good price.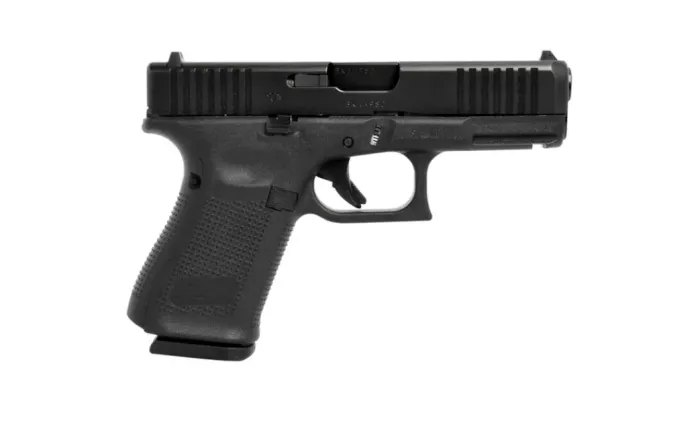 The good old Glock 19 makes the cut in many "alternatives" sections for me.
It's affordable, reliable, and has a million and one aftermarket parts available for it. It does come standard with 15-round magazines, but you can use a ton of various higher-capacity mags.
FAQs
What year did the HK VP9 come out?
The VP9 made its debut in 2014.
Is the Glock 19 better than HK VP9?
It's going to come down to personal preference to say which is "better." If I had to pick one or the other, I would probably go with the Glock 19 for familiarity and the number of aftermarket parts available for it.
Can you conceal carry an HK VP9?
Of course! It's not too large where it should pose a problem, and plenty of holster companies carry options for the VP9.
Conclusion
There aren't many negative things that I can say about the HK VP9.
For the limited amount of rounds I've put through it, it's been reliable and accurate. The trigger is better than many stock triggers on comparable striker-fire pistols.
We can say this about any gun out there, but I wish we'd see the price drop some. There are plenty of great 9mm pistols for less money, but the VP9 is worth checking out for yourself to judge if the value is there for you.
Explore more