Holosun 507c X2 Review: Industry-Changing Red Dot?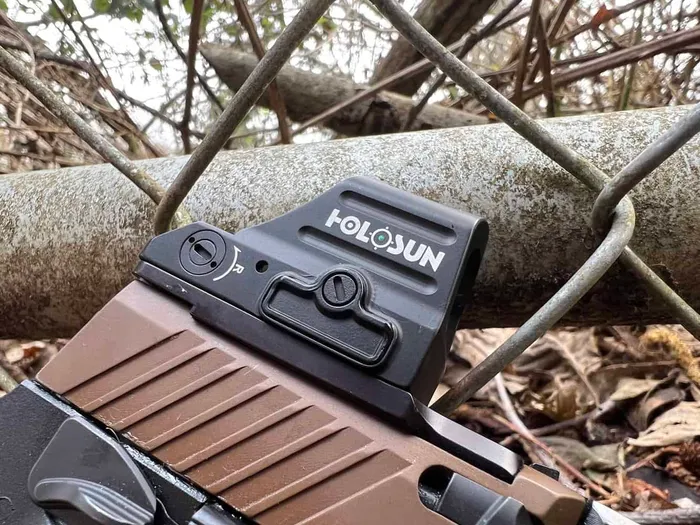 Holosun 507c X2 Review: Industry-Changing Red Dot?
Introduction
Fine shooter, how's it going? I'm excited to do this Holosun 507c review and talk to you about why you should pick one up if you haven't already.
Innovations in the gun industry come about all the time. Still, it's rare that someone blows the competition out of the water.
It's even rarer that they do it for a fraction of the price. Everything in this gun game is expensive, and you pay to play.
Holosun, on the other hand, has brought life back to a moot industry. And they've shown us that you don't have to spend Trijicon money to get something worthy of a build.
To give you a glimpse, the solar fail safe on the 507c is a saving grace. Literally.
And if you're still adjusting your brightness settings by hand, let me invite you over to this side.
We have cookies. And the solar failsafe will take away the need to adjust when entering areas with different lighting.
Let's get into this in-depth review of the Holosun 507c.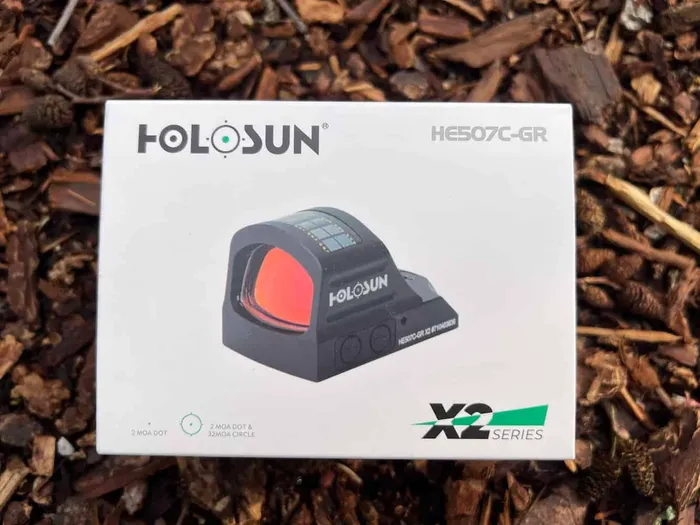 Holosun 507c X2 Review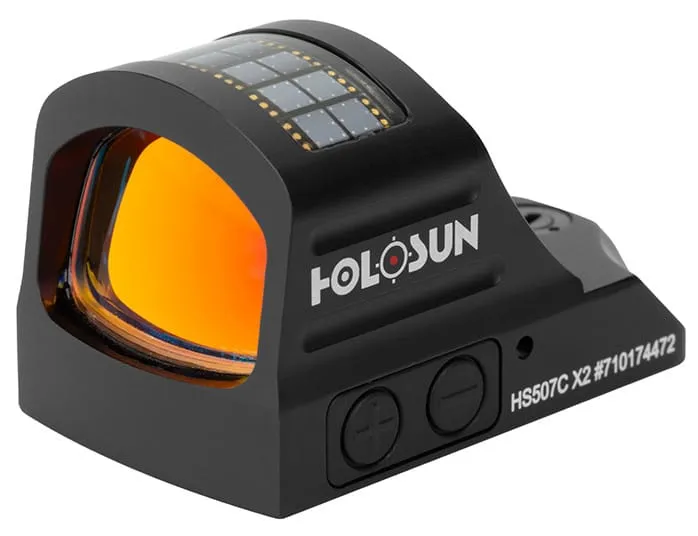 The Holosun 507c was brought about back in 2018 with the intention of bringing shooters a quality optic that won't break the bank and will adapt to situations better than other options.
And when I say adapt, I mean the reticle brightness, which is why the solar panel on top of the optic is there.
The 507c X2, which we're reviewing here, has a lock mode. When activated, the lock mode will protect against accidental brightness changes if you happen to hit the button.
We'll get into that more in a bit, but if you're looking for a pistol red dot that will do what you need when and how you need it, there's a 507c out there for you.
And that goes for any experience level.  
Specifications
| | |
| --- | --- |
| Reticle | 2 MOA Dot and 30 MOA Circle |
| Reticle Color | Red or Green |
| Parallax Free | Yes |
| Unlimited Eye Relief | Yes |
| Magnification | 1x |
| Power Source | Battery and Solar |
| Battery Type | CR1632 |
| Battery Life | 50,000 Hours |
| Brightness Settings | 10 Daylight & 2 Night Vision |
| Window Size | 0.63×0.91 |
| Dimension (in) | 1.78×1.15×1.15 |
| Weight (oz) | 1.5 |
| Housing Material | 7075 T6 Aluminum |
| Surface Finish | Anodized |
| Adjustment per Click | 1 MOA |
| W&E Travel Range | +50 MOA |
| Storage Temperature | -40ºC-70ºC |
| Working Temperature | -30ºC-60ºC |
| Submersion | IP67 |
| Vibration | 5000C |
Pros & Cons
Pros
You won't find a better optic for the price

Multiple reticle options

Solar failsafe (self-adjusting reticle) 

Easy battery replacement tray 

Parallax free 

Unlimited eye relief
Cons
I personally like a bigger window

There's a streak mark on my glass, and I don't know where it's from
On The Range…
I like to play with my optics long before I shoot with them. Lengthy bouts of dry firing, snapping in, and clearing my apartment before a round is fired.
Why?
Saves money and precious brass. Once I feel good about my ability to acquire the reticle and put it on the desired spot, I'll take it to the range and send it.
Since the 507c X2 comes with a 30 MOA Circle around a 2 MOA Dot, finding the reticle is easier than just a standard dot.
My 507c X2 has the green reticle, which pops out at you like, "Hey, I'm right here!" And the LED is BRIGHT.
I was always able to get the reticle right where I wanted it. And Holosun zeroes the reticle in from the factory at 25 yards, so the rest was up to me.
Once dialed in, I set up a silhouette target at 10 and 15 yards to practice some carry drills.
From the ten-yard mark, I have to draw from the appendix and put two to the head and three to the A-Zone. Easy enough?
Sure.
Hornady sent me a few boxes of their Critical Defense rounds in 9mm, and I had time to kill. So I ran through three 21-round magazines.
Oh, and I used my Sig Sauer P320 M18. I'm used to it, I'm comfortable with it, and I don't want to use a pistol I'm unfamiliar with. The 507c deserves a fighting chance.
Since this optic is mine, I could actually beat the hell out of it without worrying about pissing anyone off.
So that's what I did.
I remembered I had some +P+ ammo in an ammo can from Underwood. And, in the name of science and destruction, I put a few magazines (four to be exact) through the Sig to try and throw the 507c off course.
Still couldn't knock it off the tracks. That +P+ ammo has some kick.
So I kept on running the same drill. Over and over. Two to the head, three to the A-Zone from the appendix holster.
Then I just dumped magazines like I was being advanced on by a momma grizzly. Indeed there had to be something that could throw the 507c off its zero, but what that was, I have yet to learn.
It just wouldn't die. And now I have to get my P320 cerakoted.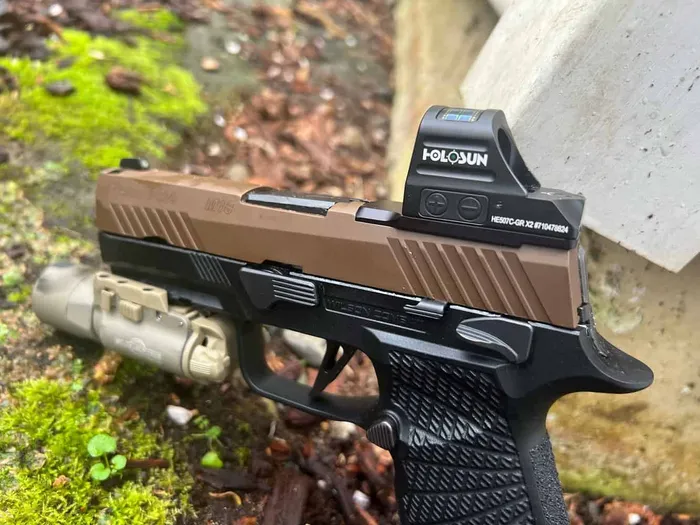 Reliability
As I said, I couldn't get the 507c to mess up. I dropped it from three feet onto some dirt and rocks, picked it up, loaded it, and dumped the magazines at least five or six times. But the 507c held up.
I was trying to replicate situations that a shooter might encounter if they are in a defensive scenario. But I don't think anyone will be dropping their pistol that much.
Hopefully not.
I got bored of trying to make it fail. The redundancy of trying to hurt the 507c became moot. If it hasn't failed by now, it won't fail when used for everyday carry.
So I just used a bench against the 507c to rack the slide back. Maybe that could stir up the pot?
No dice.
At the end of the day, I noticed a streak in the glass that I could only see when I looked for it. It wasn't there before, which was most likely from my tests.
I'm still gonna count that against the 507c.
Accuracy
The 507c X2 (and other Holosun pistol optics) are zeroed at 25 yards from the factory. I like to zero mine at 15 yards.
And once you dial it in, it has no problem holding that zero.
Any issues with accuracy would be my fault.
Overall Feel
The 507c is made of 7075-T6 Aluminum. What else is made of 7075-T6 Aluminum? Most of the AR-15s on the market.
And those rifles have to deal with a bunch of pressure. Over and over again.
Needless to say, it's built tough. And it's small enough to fit on almost any pistol you want while still giving you a wide viewing window.
Features
Solar Failsafe
50,000 hours is a long time. It equates to 5.7 years of continuous operation. And up to 11.4 years when ran for only 12 hours a day.
But, if your optic runs out of juice, the Solar Failsafe will keep your optic running until you get around to changing it (which is relatively easy).
If that doesn't tickle your fancy, the Solar Failsafe can also control brightness and dim or brighten the reticle depending on how much light hits the optic.
Don't worry. You can turn that setting off and control the brightness manually.
Hence the name Solar Failsafe.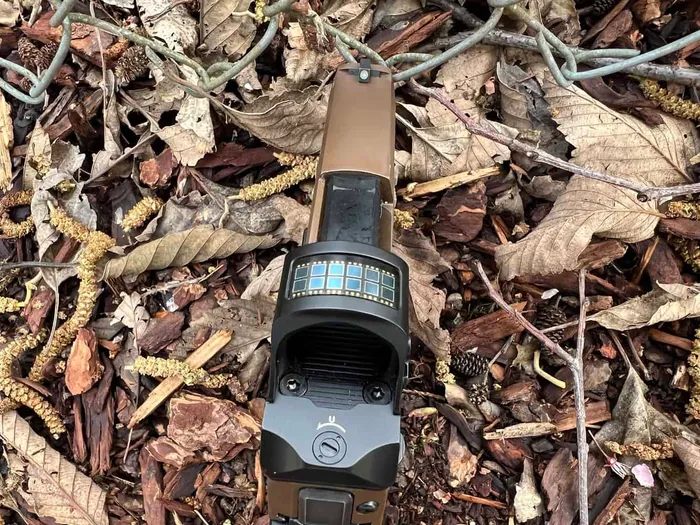 1 MOA Dot & 30 MOA Circle
Have you ever tried finding a dot in a stressful situation? It's not as easy as you think. And fishing for a dot can mean the difference between life and eating through a straw.
While training can help with finding the dot, it's way easier to find a 30-MOA Circle that surrounds a 2-MOA Dot, no matter how much you train.
The 30 MOA Circle also helps you fine shooters with astigmatism to see the dot.
Green Dot = Precise Shots (Distance)
Green Circle = Quick Shots (Up Close)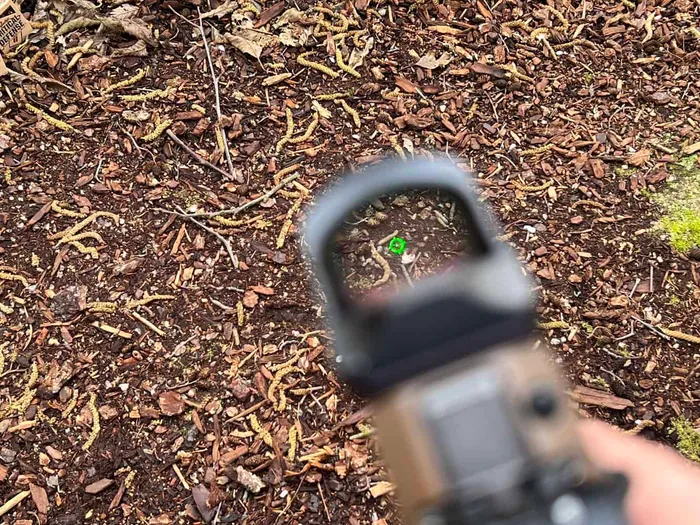 Quick Access Battery Compartment
The 507c X2 has a 50,000-hour battery life on the 6th brightness setting and a Solar Failsafe that will keep it running even after your 50,000 hours are up.
You probably won't have to change the battery for a long, long time.
But, in the event that your battery runs dry, you won't have to go through the trouble of removing the optic like the Trijicon line of red dots and then having to re-zero.
Saved time, saved money, saved brass.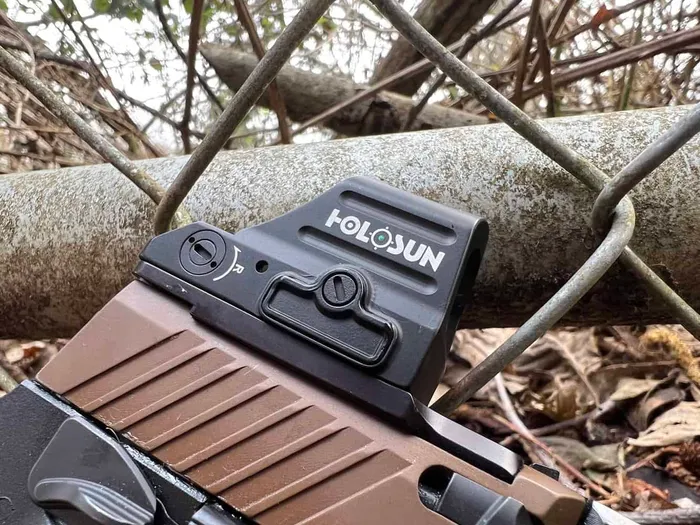 How We Tested
As I said before, I like to play with my optics before shooting with them. I run through home defense scenarios.
Including the scenario of "What if I'm in the shower and I got soap in my eyes and hear something go bump in the night?"
So I took the 507c X2 with a Springer Precision mount, mounted it to my M18, and hit the range.
Once I got there, I ran through some drills given to me by a long-time friend and shooter who would outshoot me any day of the week, Caleb Roberson.
From the 10-yard, I'd shoot 2 to the head and 3 to the A-Zone. Holster, and repeat.
Then I'd shoot two to the head, four to the A-Zone, and one to the pepper for fun. Holster, and repeat.
This went on for what felt like all day. And after 150 rounds of Hornady Critical Defense, some unmarked +P+ that I had lying around, and some Sig Sauer Elite Defense ammo, I called it a day.  
Ammo Used
Hornady kindly sent us some of their Critical Defense ammo for this review.
Whenever I test a gun, optic, or anything else for you fine shooters of the world, I like to use consistent, clean, and properly loaded ammo. This way, I can focus on the topic at hand and not spend my time worrying if I suck, the ammo sucks, or the product sucks.
That's not wise. And I'm definitely not running trash ammunition through my firearms.
I mean, would you rather me use some old Russian steel-cased ammo that's left over from the Cold War? No thanks.
I also used unmarked +P+ ammo from Underwood that I got a while back, which has a higher boom-boom standard than the average 9mm round. I can't quite remember where it was from.
And I like to get rid of old self-defense ammo after it's been in my rotation for a few months. So I used some Sig Sauer Elite Defense with a 115-grain hollowpoint bullet. More realistic when training for a self-defense situation.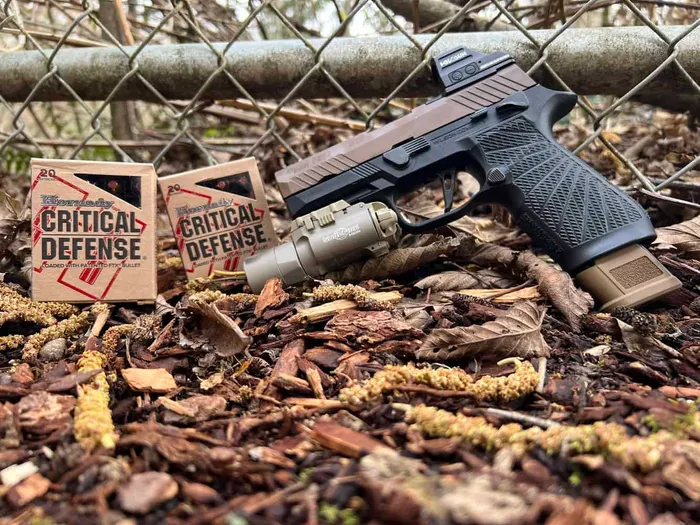 Score Card
Reliability (9/10)  
The only reason that I didn't give the 507c a 10/10 is because of the weird streak on my glass. But that could be my fault.
Ergonomics (10/10)
The 507c is small enough to fit on a micro compact but big enough to see through with ease.
Customization (10/10)
Three reticle options to choose from and automatic brightness adjustment. Come on…
Appearance (9/10)
It's not gonna turn any heads, but it's a pretty optic…
Value (10/10)
Name another optic that does all of this for the cost. Not even Trijicon does this, and those things cost as much as my Sig.
Alternatives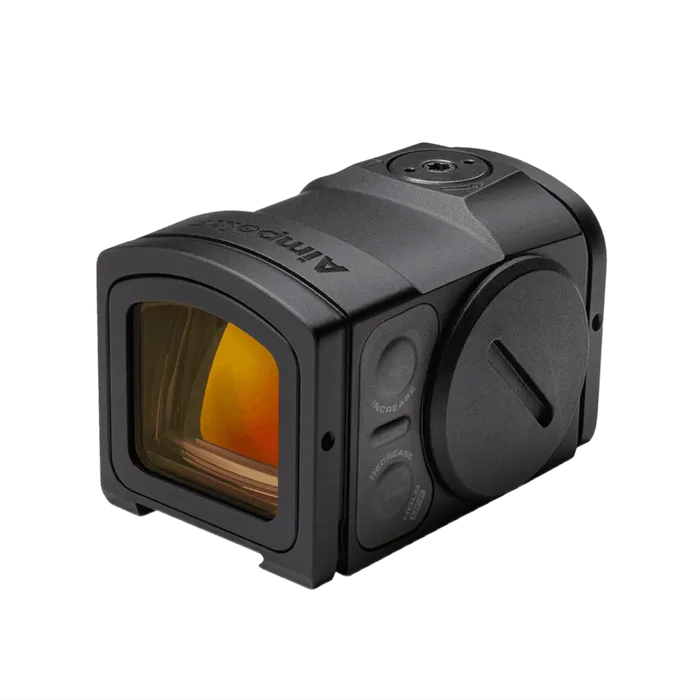 I know what you're thinking; this optic is so huge that it can be used in a 'yo momma' joke. No way would you put that on top of your carry gun.
It's not that bad fine shooter. It's actually a damn good optic. The emitter is enclosed, protecting it from the elements. The ACRO has the best waterproofing out of any pistol red dot on the market, and it's not that bad when carrying concealed.
But I'd recommend it if you plan to be outdoors in the elements. The ACRO can take the heat.
And it still costs less than a Trijicon.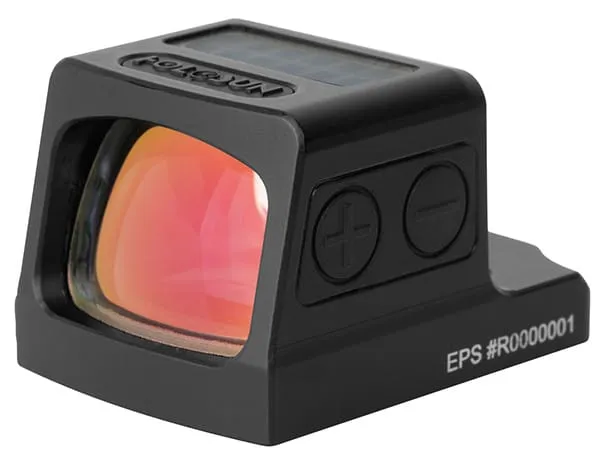 The size of the Aimpoint ACRO may be too big for some shooters, and you may still want a red dot with an enclosed emitter for your carry gun. In that case, the Holosun EPS may be what you want.
The EPS can take what you throw at it. It won't lose its zero. It has a 6 MOA dot for easier acquisition and can mount on the same cuts as the Leupold Deltapoint Pro.  
And the elements won't mess with your emitter. Win, win.
We even reviewed the Holosun EPS Carry if you want to read more about it.
Conclusion
If I had to recommend a red dot (or green dot in my case) to someone getting a pistol for concealed carry, the Holosun 507c would be my go-to.
You get a 50,000-hour battery life, and the Solar Failsafe will keep you going when the music stops. And it will also adjust the brightness depending on the ambient lighting the optic is exposed to.
For the price, you really can't find a better optic. But I'd love to hear any suggestions; just leave a comment down below.
Now excuse me while I try and figure out what this streak mark is about.
See you on the range, fine shooter.
Explore more