KelTec CP33 Review: A Unique and Accurate .22 Pistol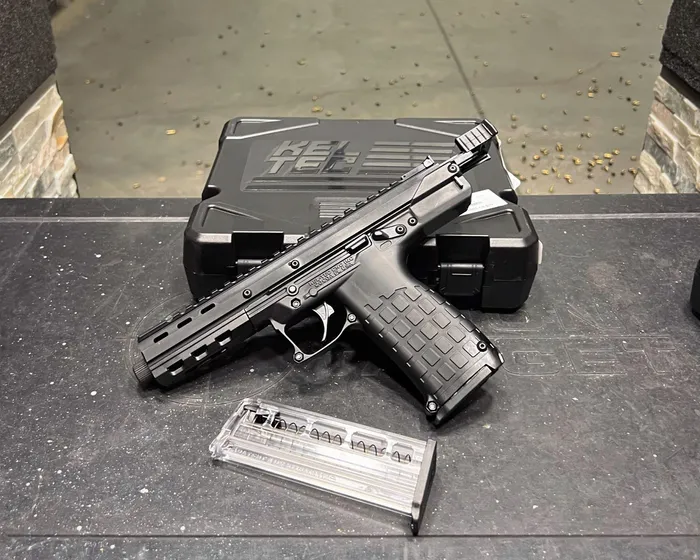 KelTec CP33 Review: A Unique and Accurate .22 Pistol
Introduction
KelTec was established back in 1991 with a guiding principle that the firearms being produced should be innovative in their design and exciting to use. If you're familiar with many of KelTec's offerings, I'd be willing to bet you'd say that has been accomplished.
Many of the KelTec guns are very unique, both from an aesthetic perspective and a functionality perspective. The KelTec CP33 is one of the more unique ones.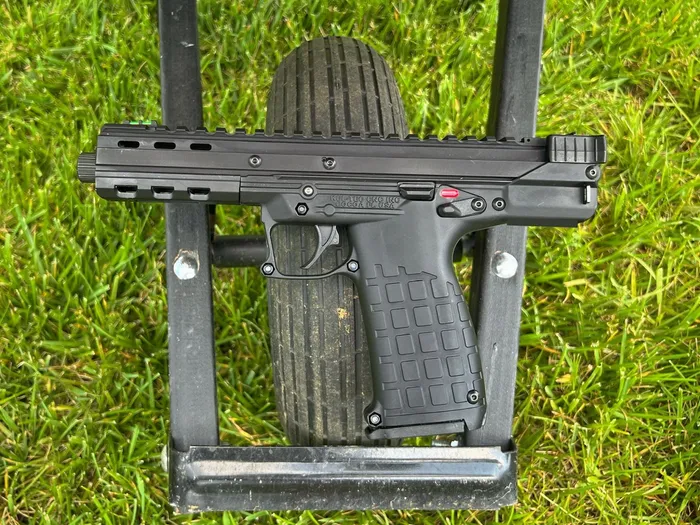 This was the first time I was able to spend time actually shooting a CP33, so I will take you all the way from my expectations, to my first impressions, to my reaction(s) after hitting the range with it.
KelTec CP33 Review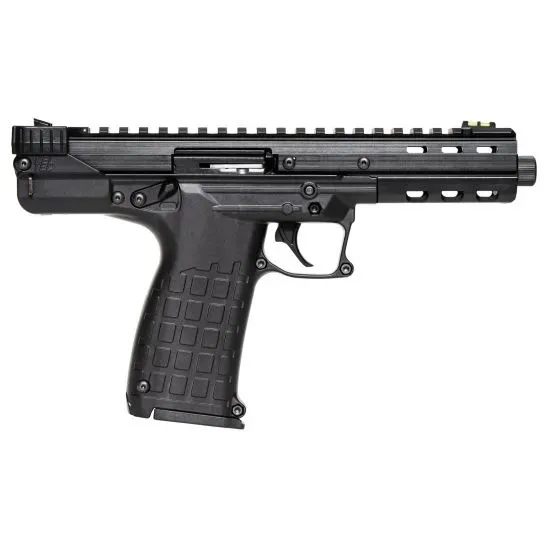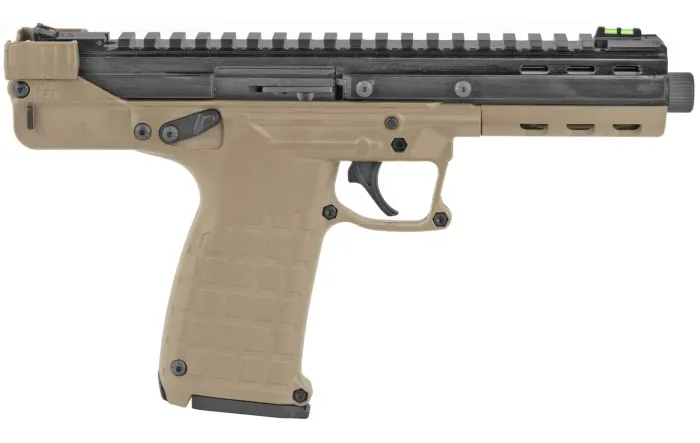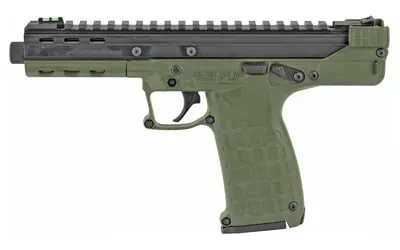 Specifications
| | |
| --- | --- |
| Caliber | .22LR |
| Capacity | 33+1 |
| Barrel Length | 5.5 Inches |
| Twist Rate | 1 in 14" |
| Overall Length | 10.6 Inches |
| Weight (Unloaded) | 1.5 Pounds |
| MSRP | $495 |
Pros & Cons
Pros
Accurate. Accurate. Accurate.

High capacity magazines 

Highly customizable

Threaded barrel

Ambidextrous safety
Cons
Magazines are hard to load

Magazine release is awkwardly placed
Unboxing & Plinking
In the shipping box, you'll find a KelTec branded plastic case with the CP33 and two magazines tucked inside. It also comes with a lock and the standard literature.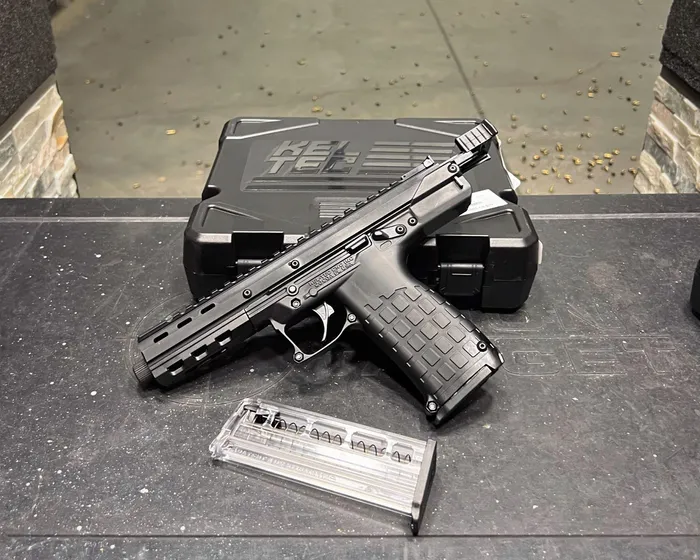 Overall Feel
I really enjoyed the feel of the CP33. It's lightweight, the grip is smooth, and it fit great in my hand. With the very minimal recoil, it's one of those guns you could shoot all day and not feel too fatigued.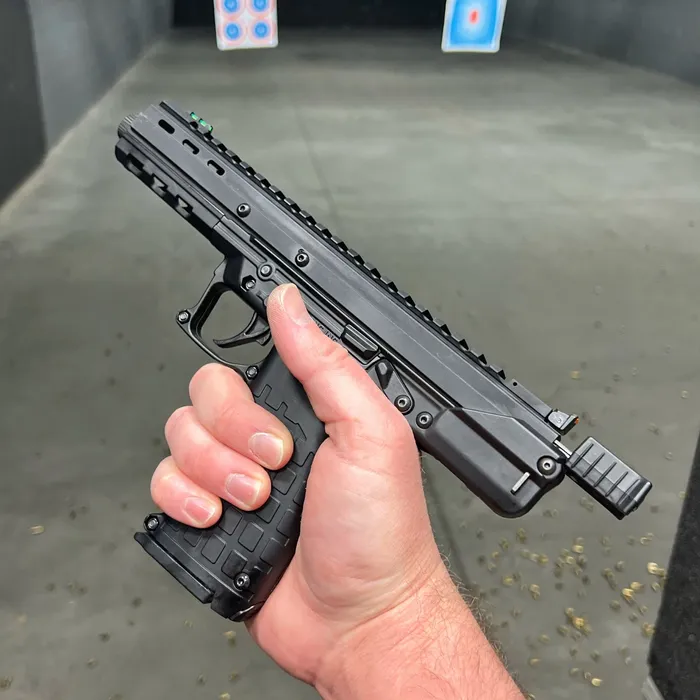 Reliability
This section is a bit tricky with the CP33. Since KelTec recommends certain types of ammunition (I'll explain more in the AMMO USED section), the reliability should hypothetically be better than I experienced since I intentionally tried additional ammo outside of what was recommended.
Even with not sticking to the recommended, I'm surprised I only had a few malfunctions. I saw a total of 5 malfunctions out of 198 rounds.
Accuracy
This is where the CP33 shines. Even with the stock fiber optic iron sights, I was able to get to and maintain 2.5" groupings at 7-10 yards within the first dozen rounds.
With the gun having a Picatinny rail up top, there are a ton of compatible optics you could run. I didn't add an optic during my testing, but I do think something compact and affordable, like a Vortex Viper would fit well on it.
Features
Optic and Accessory Ready
I've seen quite a few "Gucci" CP33 builds out there, made possible due to the Picatinny rail on top of the gun and the M-LOK slot that is built into the dust cover. You can mount your favorite optics, lights, or even foregrips.
On the rear of the gun, you can also mount various braces or stocks (if legal, of course!) to essentially make an MP7 clone of sorts. You can really transform this gun with seemingly endless possibilities.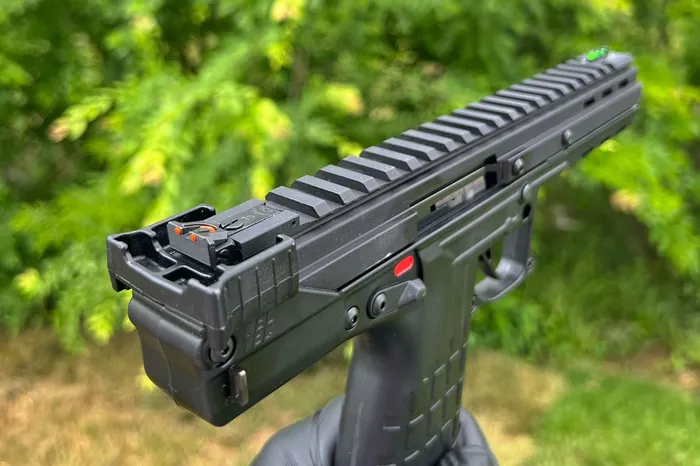 Quad Stack Magazine
In theory, this magazine should be awesome and the main selling point of the gun. A 33-round capacity is great for saving time at the range from not having to reload often or if you ever needed it in a self-defense situation.
However, the magazine is extremely hard to load. So much, in fact, KelTec has to include a multiple-page section in the manual of how to properly load the magazines with tips and tricks.
If you ask me, no magazine should be that difficult to load or have "rules" of what to shoot through it.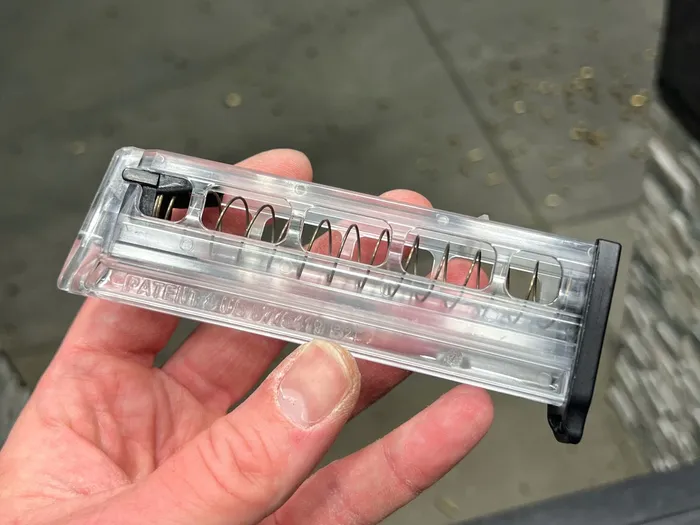 Unique Controls
We have a mixed-bag of pros and cons when it comes to the controls with the CP33.
Let's start with being positive! The safety is ambidextrous and placed in a very easy-to-manipulate location. The unique "charging handle" is pretty simple and easy to use, but it does feel flimsy.
I didn't have any problems with it during my testing, but I could potentially see it being an issue down the road. But for now, all good.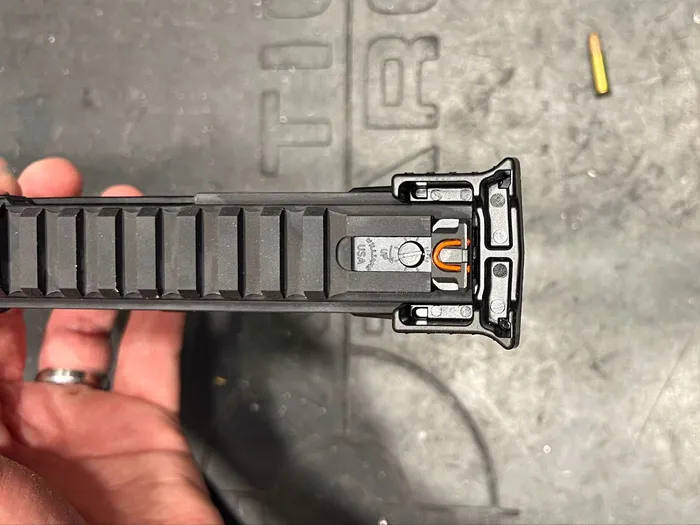 On to the not-so-good. The magazine release is located at the bottom rear of the pistol grip, nowhere close to where you'd expect.
I guess you can say it's ambidextrous, but it's in such a strange spot that it would take a lot of getting used to. Then we have the slide stop lever. While it's easy to use, it's not ambidextrous, and it sits very close to the safety. In a hurry, I can easily see one hitting the opposite control as intended.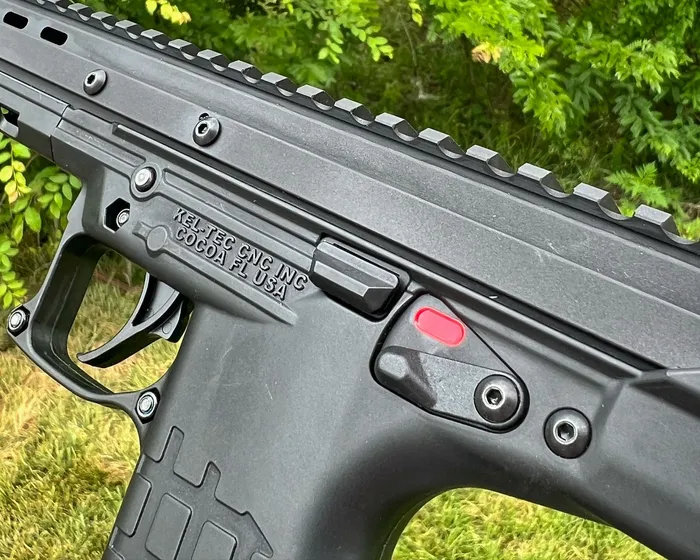 Fiber Optic Sights
I was pleasantly surprised with the stock sights. They are adjustable fiber optic sights that have a 9-inch sight radius.
They are very bright and easy to pick up in a hurry, so I wouldn't have much interest in replacing them if I was to buy a CP33. I didn't have to make any adjustments to them out of the box during my testing.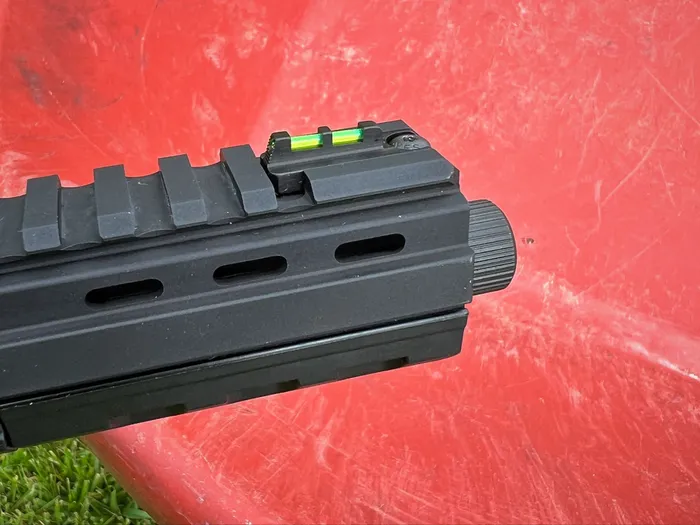 How We Tested
Ammo Used
I'm assuming most of you don't read the manual. Typically I don't either, but this time I did.
KelTec recommends using high-velocity ammo with a bullet weight of 40-grains and up. For science, of course, I wanted to try a variety of ammo, including standard velocity and lower weight.
A special shoutout to Natchez Shooting & Outdoors, one of our trusted ammo retailers. They helped us test the CP33 with following recommended ammo:
36-grain Winchester White Box CPHP (hollow point copper-plated)

Surprisingly had zero malfunctions

40-grain CCI Standard Velocity LRN (lead round nose)
36-grain Remington Golden Bullet HP (hollow point)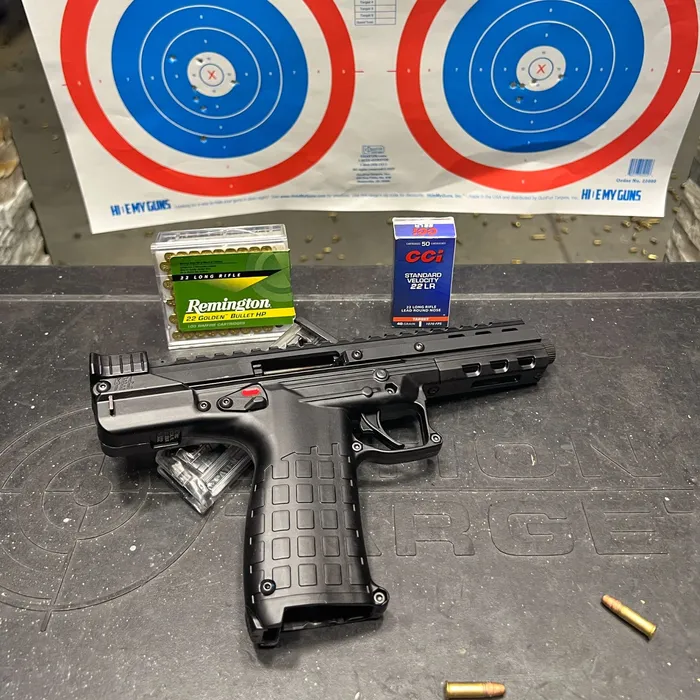 Score Card
Reliability (7/10)  
Had a few hiccups at the beginning, but overall it was pretty reliable for a .22LR.
Ergonomics (8/10)
Comfortable to hold/shoot, nice grip angle, and the addition of a stock or brace can really help.
Customization (8/10)
Picatinny rail…check. M-LOK…check.
Fun (9/10)
After spending the time loading the magazines, this gun is a blast to shoot…pun intended.
Value (8/10)
If you follow the suggestions for ammo and snag a CP33 for a good deal, I would say it delivers good bang for your buck.
Accessories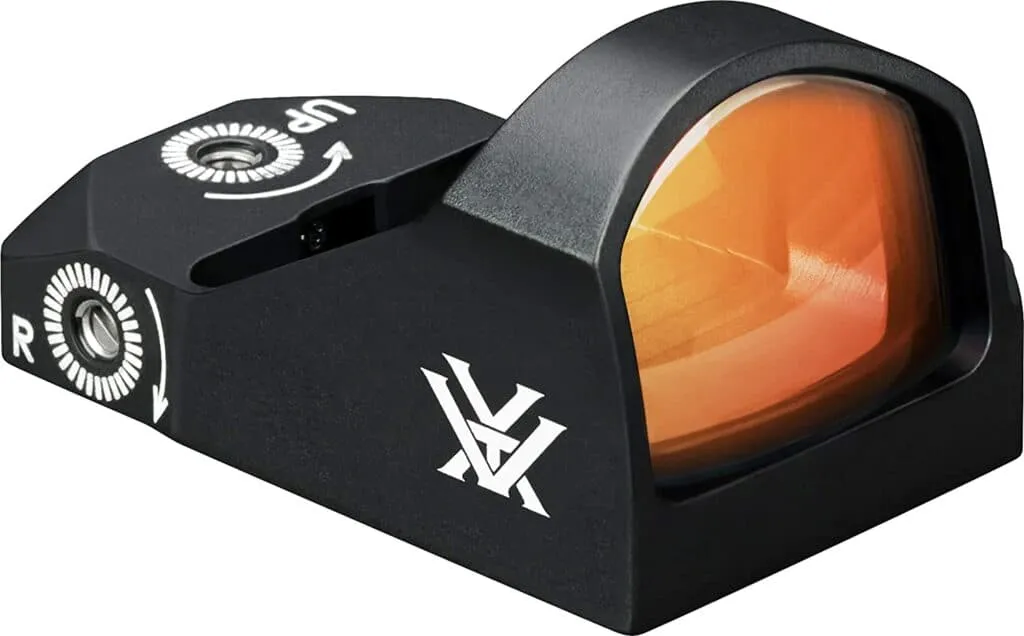 Keeping the budget and compact mindset, the Vortex Viper red dot would fit well on the CP33.
A 6 MOA dot would help you get on target super quickly for up to 30,000 hours on lower settings or 150 hours on the highest setting. Not that you'll need an extremely durable optic with your CP33, but you'll be covered regardless, as the Viper is shockproof and features an ArmorTec scratch-resistant coating to protect your lenses from damage and dirt.
It's also backed by Vortex's lifetime warranty.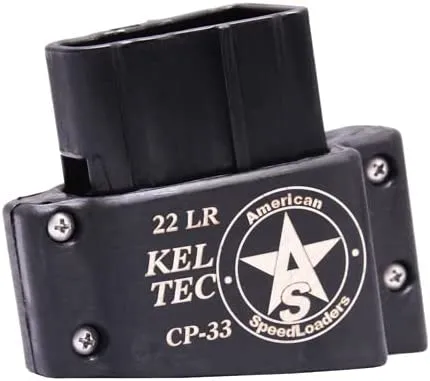 I'll be honest, I haven't tried this one out, but I've seen it recommended by several different people. I'll take any help when it comes to loading the CP33 mags easier, but they were extremely hard to load quickly.
I'd risk the small amount of money in hopes that these work. If not, you're not out much money at least!
Alternatives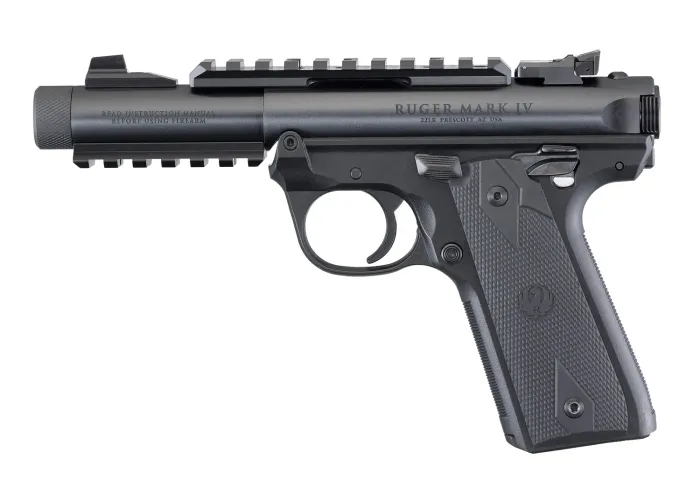 The Ruger Mark IV is one of the most popular .22LR pistols out there.
There are several different models, but let's go with the Ruger Mark IV 22/45 Tactical since it comes with the Picatinny rails to mount your accessories as the CP33 does.
The capacity is lower at only 10+1, but it is extremely reliable (for a .22LR) and accurate. It has a threaded barrel for your favorite suppressors and a nicely textured grip. The MSRP is a bit higher at $659, but you can typically find certain variants for under $500.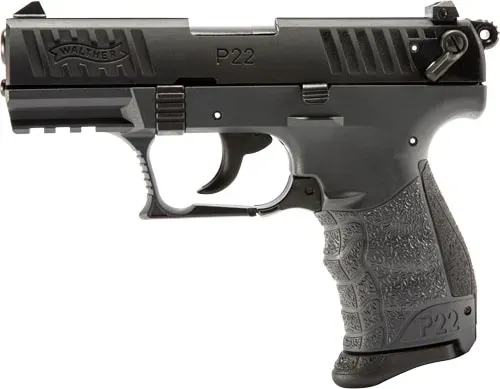 One of the first .22LR pistols I ever shot was a Walter P22. I remember thinking how cool I thought it looked and how surprised I was at how well it shot.
You may not be able to make a knock-off MP7 out of it, but it's a very accurate and compact gun to bring along with you to the range for some affordable plinking fun. It features ambidextrous controls, a threaded barrel and is backed by a lifetime limited warranty. You can find it in a few different variants and colors, many of which are often under $300!
Conclusion
The KelTec CP33 is one of those unique guns that doesn't serve a specific purpose but can fill your range days with a ton of fun.
You can build it out in a ton of different ways and truly make it your own. If you already have your home protection and concealed carrying load-outs taken care of and stumble across a CP33 for a good price, I would say it's worth adding to the safe for some affordable shooting fun.
Explore more