KelTec PMR-30 Review: A Lightweight and Versatile Pistol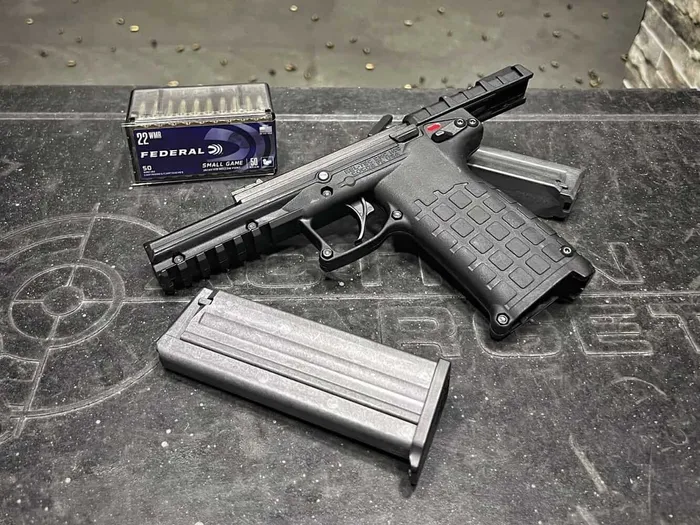 KelTec PMR-30 Review: A Lightweight and Versatile Pistol
Introduction
KelTec's Chief Design Engineer, Tobias Obermeit had a vision of a high capacity .22WMR (Winchester Magnum Rimfire) pistol that could hold 30 rounds in a flush-fit magazine. That was back in 2008, and then by 2010, KelTec released the PMR-30.
Even to this day, .22WMR is not a "standard" caliber you come across often, like the .22LR is. It's more powerful than .22LR, but it also has a little more recoil and is more expensive. Is it worth going with a .22MR like this KelTec PMR-30? That's a question I hope to help you answer by the end of the article.
Let's not waste any more time and take a closer look at the PMR-30 in our review.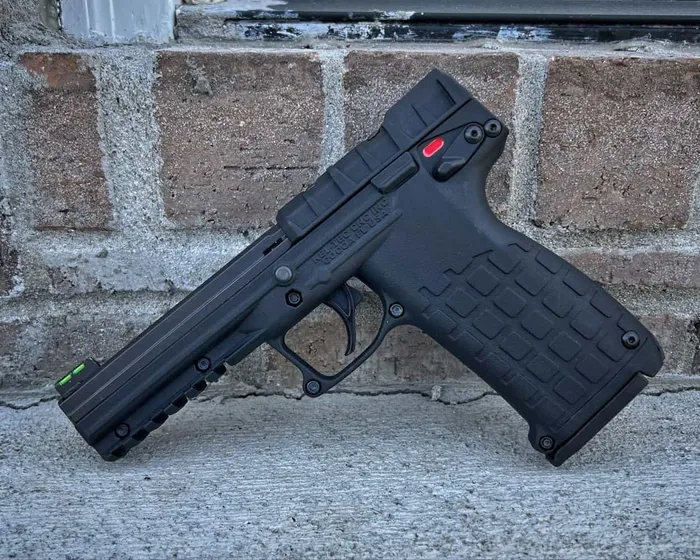 KelTec PMR-30 Review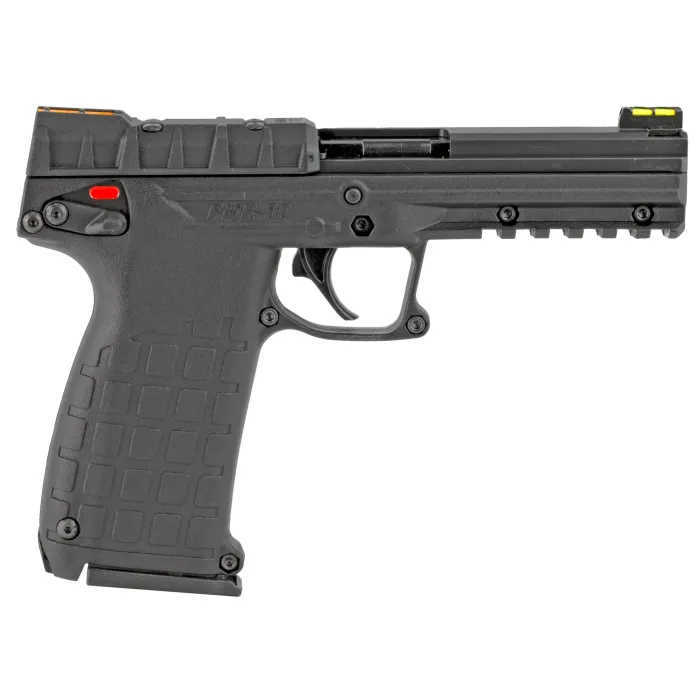 Specifications
| | |
| --- | --- |
| Caliber | .22WMR |
| Capacity | 30+1 rounds |
| Barrel Length | 4.3 Inches |
| Overall Length | 7.9 Inches |
| Width | 1.3 Inches |
| Height | 5.8 Inches |
| Weight | 14 Ounces (unloaded) |
| MSRP | $495 |
Pros & Cons
Pros
High capacity – obvious but still a pro!

Lightweight at under one pound unloaded

Accurate as the weather man is NOT (at least where I'm from the weather always seemed to be incorrectly predicted)
Cons
Reliability – from my limited experience with it, it's not

Odd mag release placement

Slide is hard to grab if you have large hands
On The Range Testing
Reliability
Reliable, the PMR-30 is not. At least not in my experience. Granted, I only tried two different types of ammo, but the reliability was atrocious.
I would estimate that one out of every five shots resulted in some sort of malfunction, mostly failures to eject. Even with the caliber being notorious for poor reliability, this still seemed a bit excessive.
Accuracy
On a positive note, and just as I expected, the PMR-30 is dead-nuts accurate. From the first magazine to the last, when the rounds went down range, they were on-target. I kept my shooting within 20 yards with the PMR-30, but I would have loved to see how it would handle out around 50 yards or so.
Even though the pistol is ready to host an optic, I honestly don't see the need and would probably leave it just as is.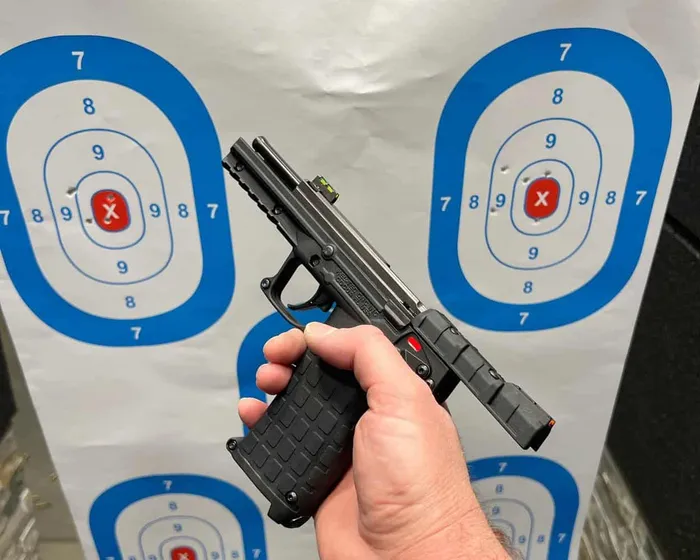 Overall Feel
It's lightweight, with a large and somewhat smooth grip that makes it comfortable to shoot.
When you pick it up, you definitely know you aren't going to use it to hit someone with, if you run out of ammo, like you would a Hi-Point C9. I found it to fit my hand nicely, but I'm assuming if you have a medium to small hand, it would feel a bit awkward.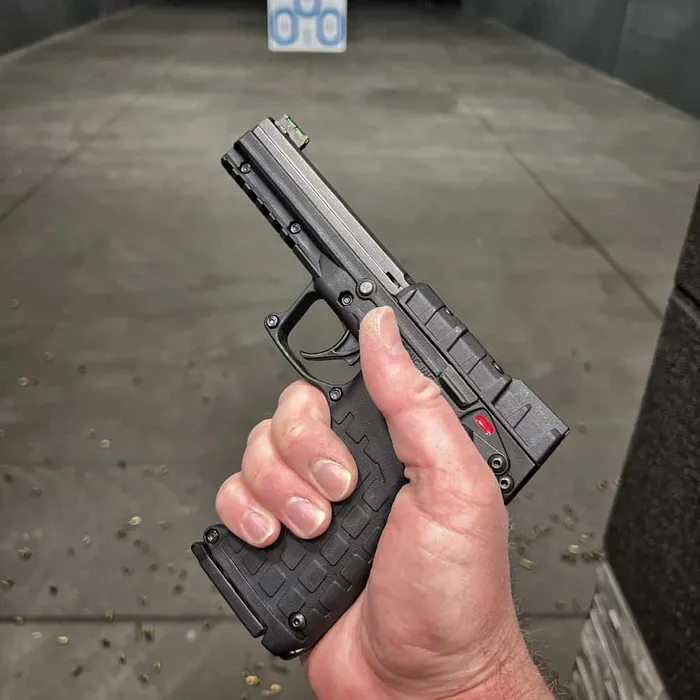 Features
30-Round Capacity
No, I'm not talking about an AR-15 magazine. As I mentioned earlier, the PMR-30 comes standard with a 30+1 capacity.
Now I read somewhere that it wasn't recommended to load the first several magazines fully, so I stopped the first few around 20 rounds. Even taking that into account, I still saw the failures at the same rate.
Getting all 30 rounds was rather difficult, but I'm assuming over time, it would continue to get easier, as with most magazines.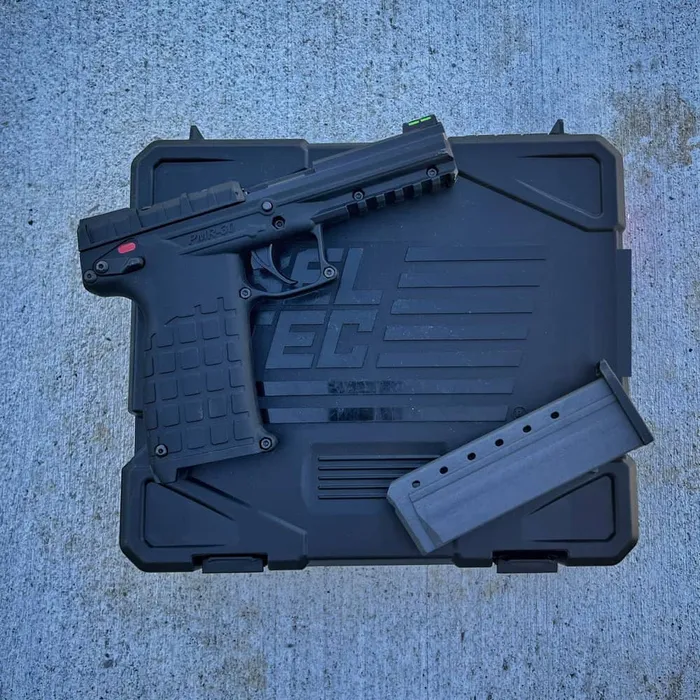 Fiber Optic Sights
I'm not a huge fiber-optic fan, more so tritium, but I really wound up liking these Hi-Viz fiber-optic sights.
They made my target acquisition quick, and the contrasting colors made it really easy to focus on the front sight. I wish they were a little bit more encapsulated for protection, but this isn't the type of gun you'll be running and gunning with anyways.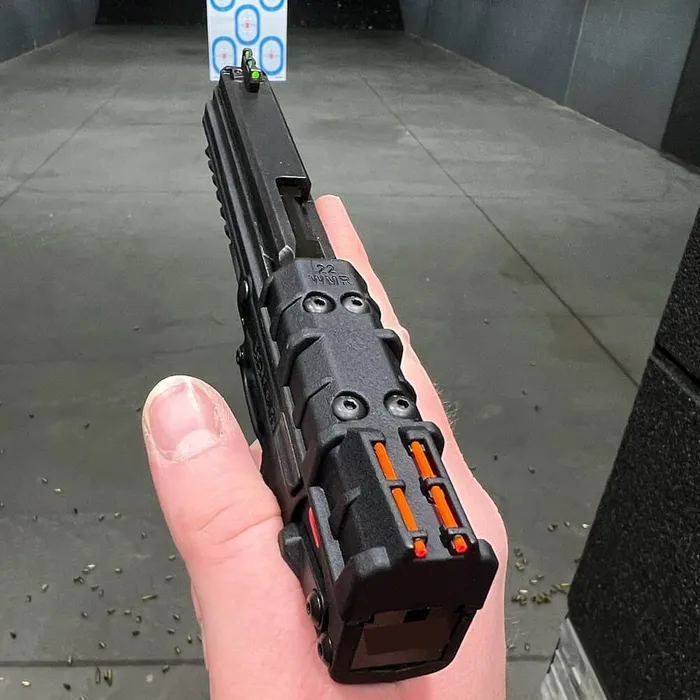 Interesting Controls
A well-placed ambidextrous safety…check. A well-placed and easy-to-manipulate slide stop lever…check. A well-placed and standard magazine release…quite the contrary.
In theory, I can see how a mag release located at the bottom rear of the grip could make some sense. If you weren't worried about quickly reloading, having the release where it is on the PMR-30 positions your hand to simultaneously manipulate the mag release and be able to pull the magazine out at the same time.
With this being the only gun I've ever handled or shot that has it located there though, it felt awkward, and I still found myself instinctively searching for the mag release by the rear of the trigger guard. For any pistol I would be considering for defensive use, I would not choose to have the mag release located where it is on the PMR-30.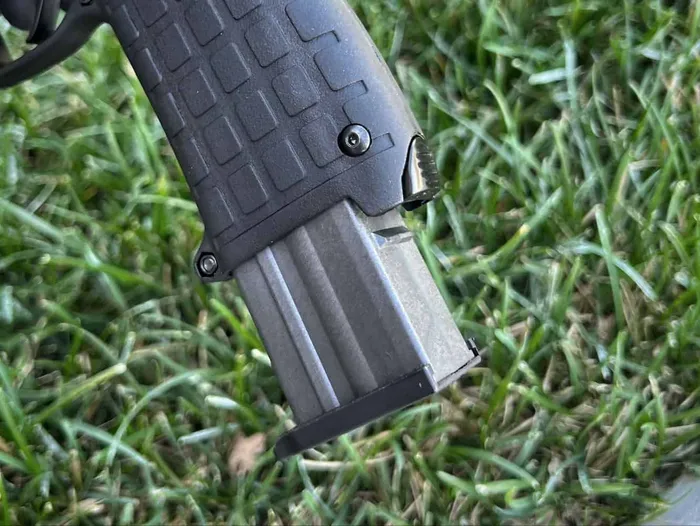 How We Tested
Ammo Used
Since .22WMR is not a caliber that I own, I didn't have much ammo on hand when I got the PMR-30 in. When I hit the range, I bought some 50-grain federal JHPs and also had some 40-grain Winchester Super-X FMJs left.
Neither cycled without issues, and I wound up having an issue of some sort for what seemed like one out of every five rounds. Of the two, though, the Winchester Super-X ran smoother.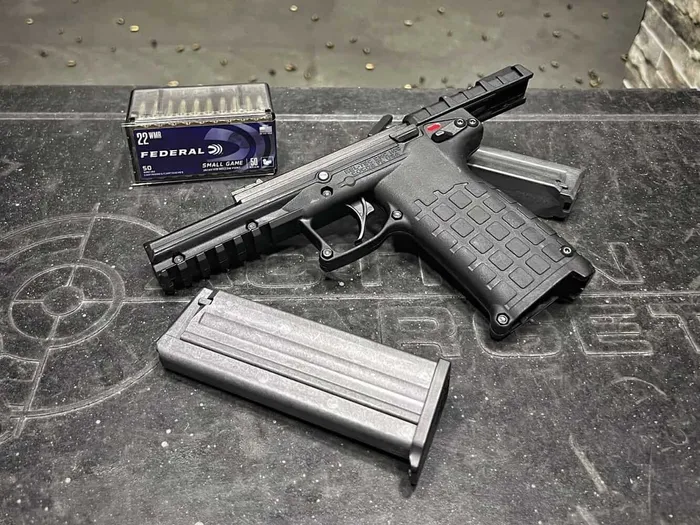 Score Card
Reliability (6/10)  
Maybe a different type of ammo would cycle better, but I can only go off what I experienced personally.
Ergonomics (7/10)
With the grip being longer front to back than many and the mag release being awkwardly positioned, the ergonomics could definitely be better.
Customization (6/10)
You can add an optic. You can add a laser. But you'll be limited to which are compatible.
Appearance (7/10)
I don't hate it, I don't love it. I dig the look of the FDE variant much more than the black, though.
Value (7/10)
You'd have to find one priced well under the MSRP of $495 (which sometimes you can) for me to raise the overall value score.
Accessories
You're not going to find a ton of accessories out there for the PMR-30, unless I'm just not seeing them. However, if you're into lasers, you're in luck.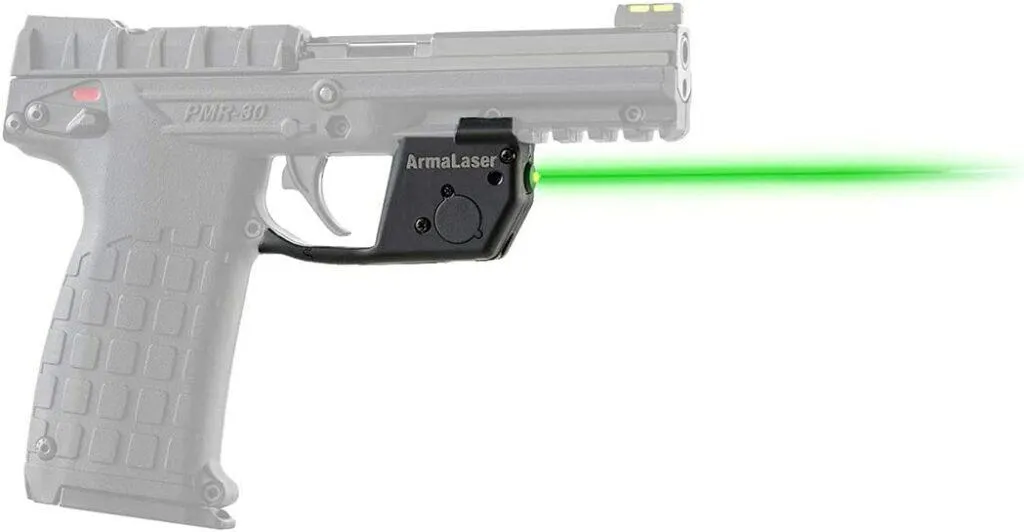 The TR30G is a custom fit laser for the PMR-30 that is grip-touch activated. The touch sensor is located right where the trigger guard and grip meet, so the laser essentially stays on as long as you're holding the gun.
It has a side-loading battery, so you don't ever have to remove the laser and re-adjust. If lasers are your thing, this is one to check out.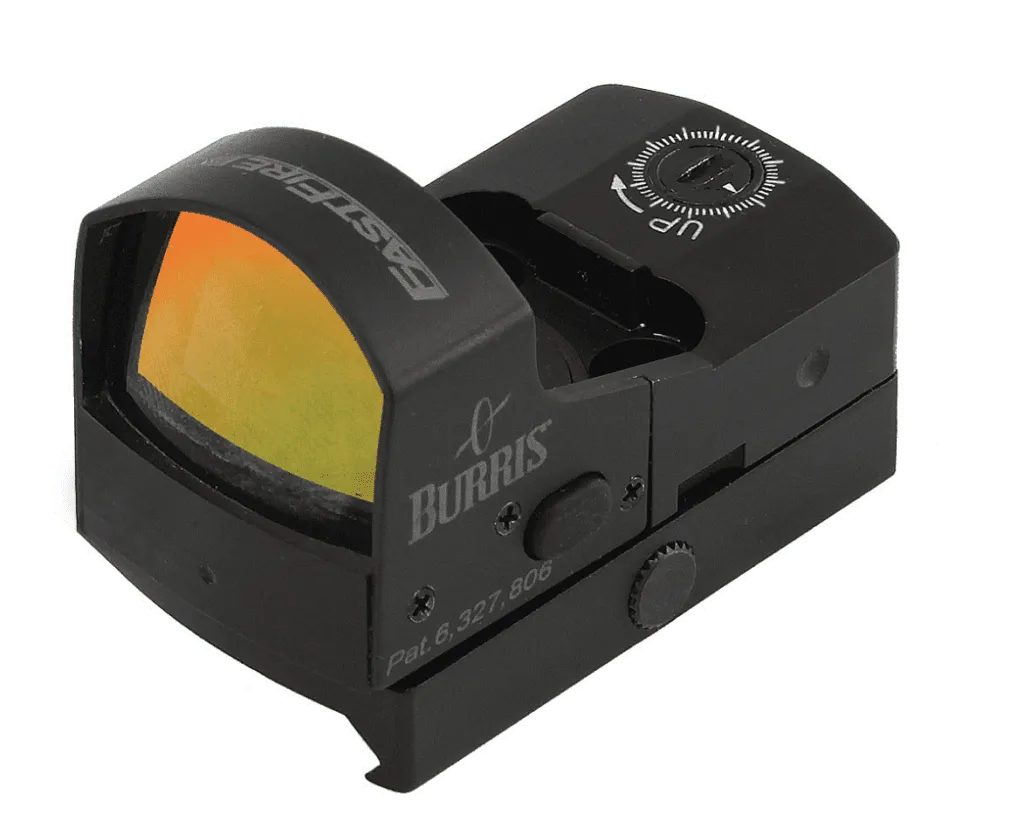 As I mentioned earlier, I probably wouldn't bother mounting an optic, but if you wanted to, I've seen the Burris FastFire mounted on quite a few of them.
You can get the FastFire in either a 3 MOA or 8 MOA dot (I'd go with the three). It has automatic brightness adjustment and is waterproof/shockproof. With an MSRP of only $276, you won't be spending more on the optic than the actual gun itself.
Alternatives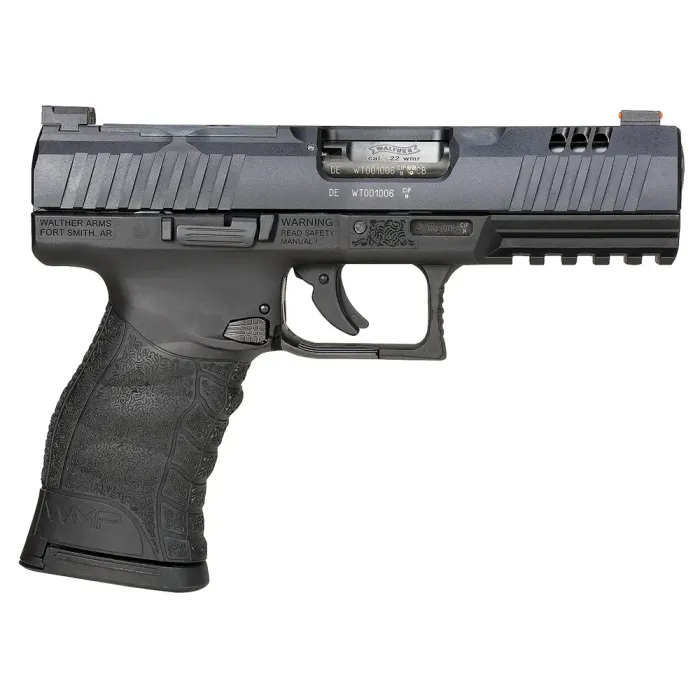 Set on a .22WMR pistol, but unsure if the PMR-30 is for you? Check out the Walther WMP.
You will only have a 15+1 capacity, but you'll have a larger variety of accessories to choose from, increased ergonomics, and both an ambidextrous button mag release and an ambidextrous paddle mag release.
I haven't been able to shoot this one myself, but from what I've read, it's pretty darn reliable too. MSRP is going to be a little higher than the PMR-30 at $549, but you can typically find them for just under $500.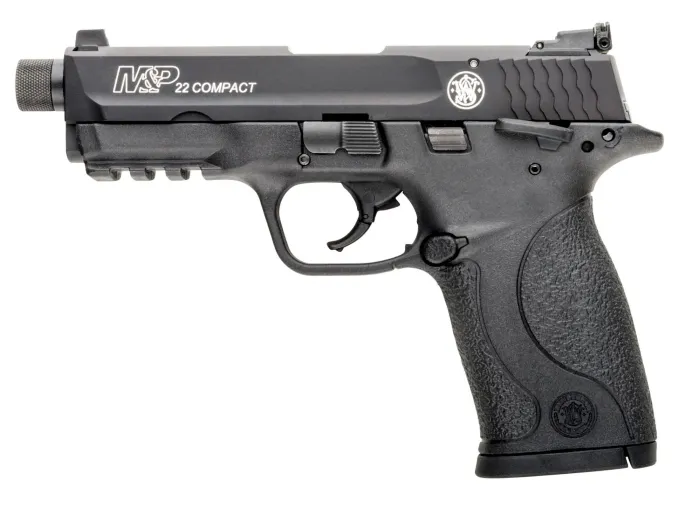 Switching over to .22LR, the M&P22 Compact is one of my favorites. I've had mine for years and have put a ton of rounds through it, with a lower failure rate than many other rimfire guns I've shot or owned.
It features a threaded barrel, Picatinny-style accessory rail, and ambidextrous safety. The mag release is in your standard location, which I much prefer! It may only come with 10-round magazines, but I'd take ten rounds that are more likely to go down range than 30 rounds that I have to hope for.
To top it off, you'll also save some money compared to the other two since the M&P22 Compact retails for only $435 but is often found under $400. If the threaded barrel isn't something that interests you, the standard model can be found closer to $350.
Final Thoughts
If you made it this far, I'm guessing you're still somewhat interested in the Keltec PMR-30. At the end of the day, I would reserve this gun for some range plinking only. With the reliability concerns, being a smaller caliber, and lack of aftermarket support/accessories, I don't feel it would be well-suited for home defense or concealed carry.
However, it's accurate and fun to shoot, so if you find one at a great price, you might as well grab one and plink away!
Explore more