Kore Essentials B1 Belt Review: Custom Support You'll Love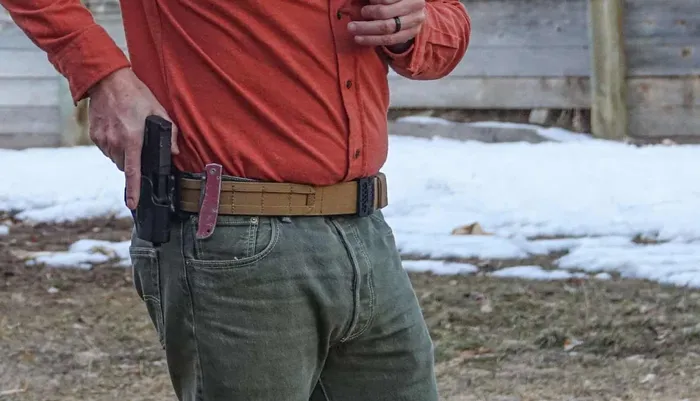 Kore Essentials B1 Belt Review: Custom Support You'll Love
Introduction
Today, we will have a close look at the Kore Essentials B1 Coyote Battle Belt, a system designed to support your pistol and any ancillary gear that needs to go with it. I've been on a battle belt kick for a minute now. You might have already read my other piece about Building your own battle belt.
Battle belts are designed to distribute the weight of a sidearm and other equipment across your waist without becoming cumbersome. At the same time, they securely hold your gun and gear right where you need it. The B1 Battle Belt from Kore is custom fit to the user and promises guaranteed satisfaction and compatibility with whatever gear you choose to put on it.
The B1 uses a ratcheting buckle to keep it tight, something a little different than some other belts. But like other belts, it utilizes an internal velcro belt that goes inside your belt loops, to which the outer belt attaches by both velcro and the ratcheting buckle.
Having used a couple of other belts, I was curious to see how this different design would fit my taste. However, I found myself already quite excited and happy with the belt in a very short time.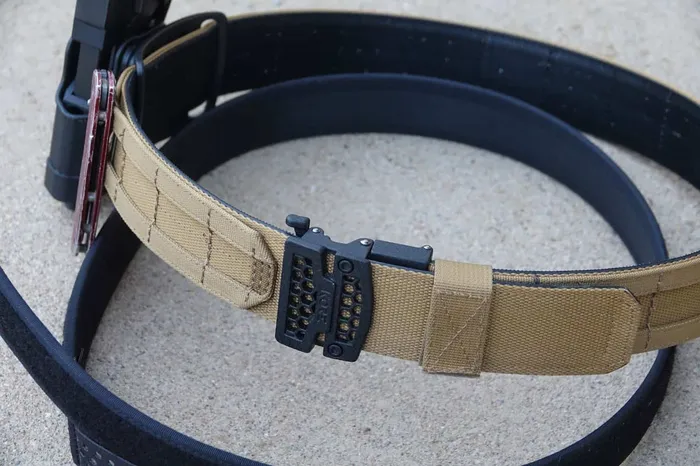 Kore Essentials B1 Battle Belt Review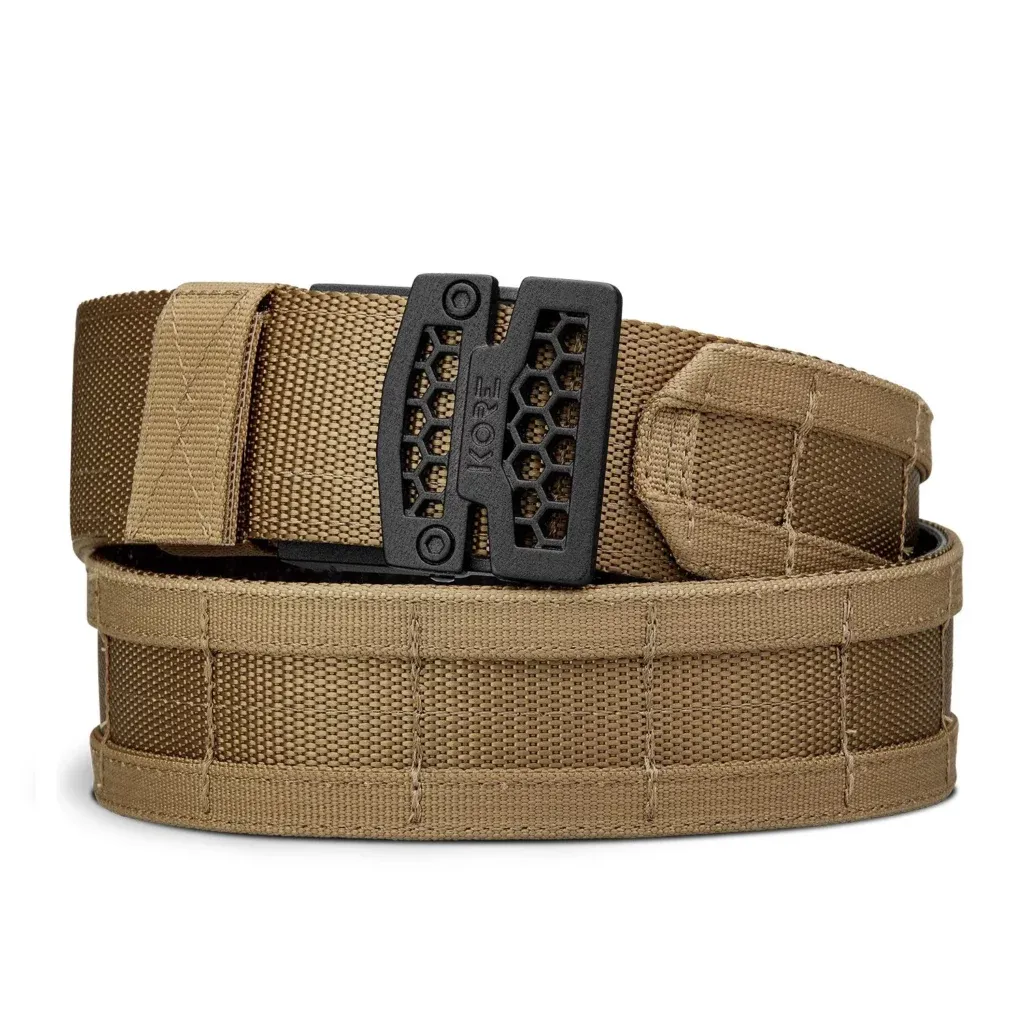 The B1 belt from Kore became my everyday belt in a very short time.
Perhaps the crowning feature of the belt is its ratcheting buckle, which makes donning the belt very quick and easy. This belt is a great option for people who regularly carry a gun, with the ease of quick and easy removal. It's available in several colors, which can easily match any of your daily wear. And with complete external molle loops, you can add any of your necessary accessories like magazine pouches, knives, and such.
The internal velcro belt is black and quite smooth, but for the velcro outer surface, the outer main belt measures 1.75 inches wide to better support your holster and other accessories. Both belts feature a rigid polymer internal core (or Kore) to increase the stability of your weapons and other gear. The idea is to keep things where you want them and not flop around as you move.
I would have zero concerns putting my full-size P320 holster on this belt, but for this review, I used a much smaller system, mainly just to try something different. I recently got one of the new Taurus TX22 Compact pistols, which fit perfectly into a Blackhawk SERPA G26 holster.
I figured it would be fun to try this little pistol out attached to the B1 Kore belt. In just a few minutes I had everything together and ready to start my drawing practice.
Specifications
| | |
| --- | --- |
| Width | 1.75 inches |
| Belt Length (waist size) | From 24 to 48 inches |
| Colors | Black, Ranger Green, Coyote Tan |
Pros & Cons
Pros
Custom fit to user

Quick to put on and take off

Compatible with most holsters and accessories

Comfortable to wear
Cons
User cuts to length, measure twice cut once!
Battle Belt Engaged…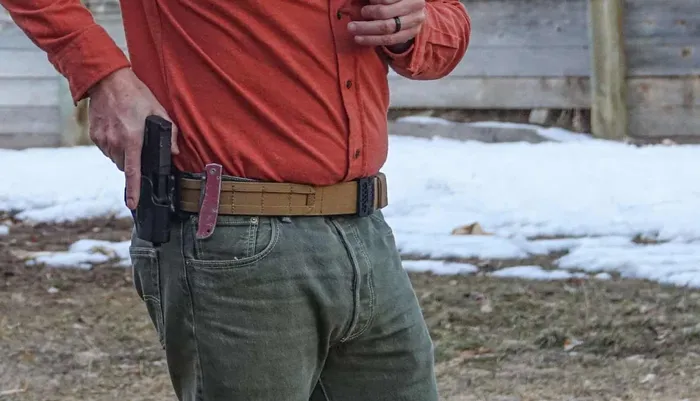 After opening the box and reading most of the directions, I was slightly intimidated, finding out that I had to cut the belt to length.
I know how important it is to get these belts to the right length, so I didn't want to screw it up. The Kore B1 belt comes with a measuring tape to measure directly through your belt loops for the exact right length.
Just to be sure, I cut it a smidge longer than needed, but it turns out that wasn't necessary. But should I gain a few more pounds, I might be glad I did.
After cutting the inner and outer belts to length, I singed the edges with a lighter to prevent fraying. The inner belt has a thin hex tip that is easily threaded through your belt loops.
The outer belt, after cutting, needs to have the buckle installed. The buckle is installed using a couple of hex-head screws that thread into the buckle and compress the end of the nylon belt. There is also a foldable claw that aggressively bites into the nylon belt to secure it while the screws are tightened. The tongue end of the outer belt has nylon teeth on the inside that are secured by the buckle latch.
Installing the belt is pretty simple. You fish the inner belt through your pant belt loops, then cinch it down until it's as tight as you'd like it to be. Then the outer belt is carefully attached to the velcro outer part of the inner belt. This is done while aligning the two belts around your waist as you put them on.
Lastly, you cinch down the outer belt into the buckle. Both the buckle tension and the engagement of the velcro make the belt very firm and secure.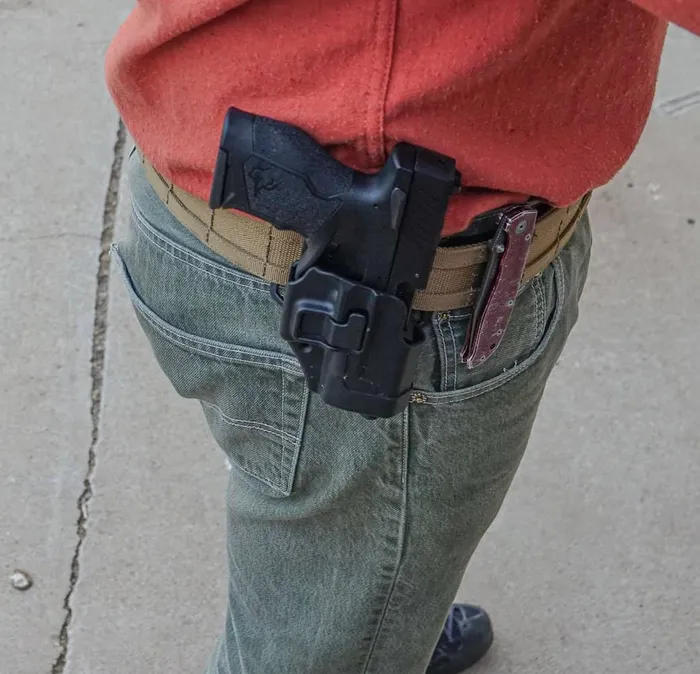 I installed my holster on the outer belt before putting it on. And adding a few accessories is also a good idea BEFORE you put the belt on because once it is on, it's far too secure to add things then.
Once I had everything installed, I hit the shooting range to see how well the belt held my gun. I'm sure that a bigger gun would be a little more cumbersome than this little thing, but the belt feels so secure I wouldn't hesitate for a second. The belt's rigidity felt fantastic, and I carried my gun that way for a week before I even messed with how it rides.
The daily putting on and taking off made the design of this belt shine. I really liked the way it fit me and how easy it was to fit my gear as well.
I've only had it for a few weeks, and I'm already considering another one, and since they are so easy to custom-fit to each person, I think it'd be a great gift.
Reliability
Reliability of the B1 Battle Belt was flawless; solid lockup and comfort are great.
Comfort
The Kore belt was very comfortable and easy to adjust daily.
Compatibility
All my accessories and holsters fit the belt perfectly. Anything molle-based should work.
Overall Feel
The quality of the Kore Battle Belt shined through, quality velcro, great buckle, everything was good.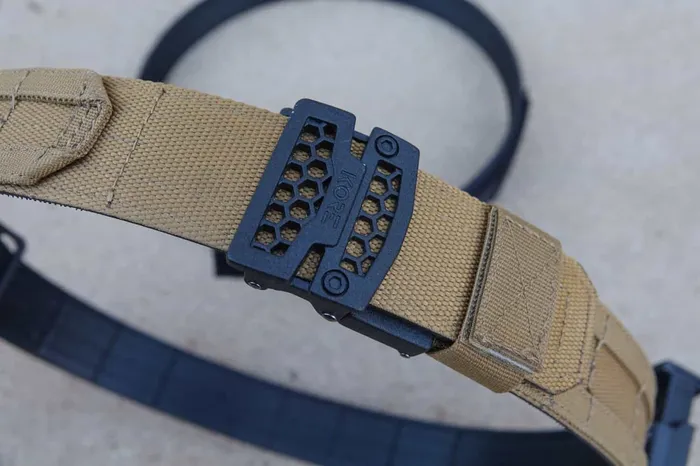 Features
Ratchet Buckle
The ratcheting buckle is easily installed after cutting the belt and feels extremely secure
Full Molle outer belt
The full molle out belt allows a great variety of accessories and holsters to be used.
Smooth Inner Belt
Whether you use it to support the outer belt, or just to hold up your pants this belt is handy.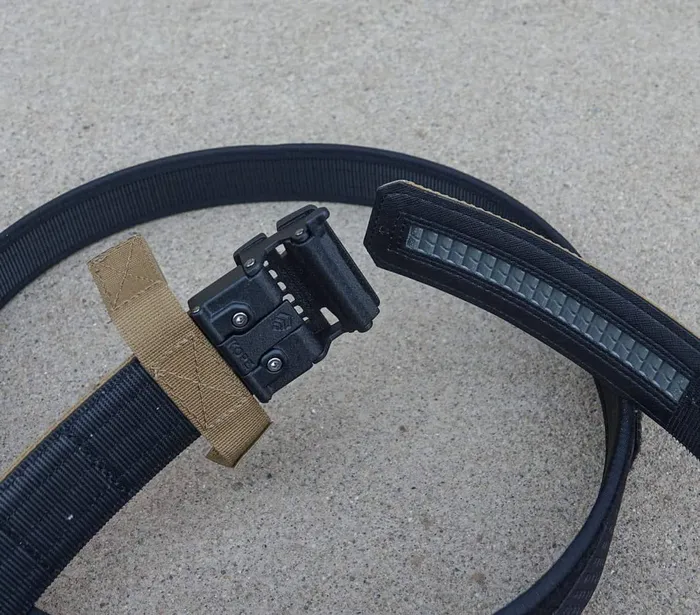 How We Tested
Several trips to the range easily showed the utility of the Kore Battle Belt.
Doing lots of draw practice and shooting from the holster allowed me to better adjust the belt to my taste. Adding things like a simple folding pocket knife, mag pouches, and other accessories made the belt feel extremely useful.
While it's not recommended for such, I don't know if I'd like to be suspended by the belt in an emergency. Other battle belts that don't have the clamped on buckle, on the other hand, though it would be very uncomfortable, I would expect to hold in an emergency situation. That may be the only negative thing I could come up with.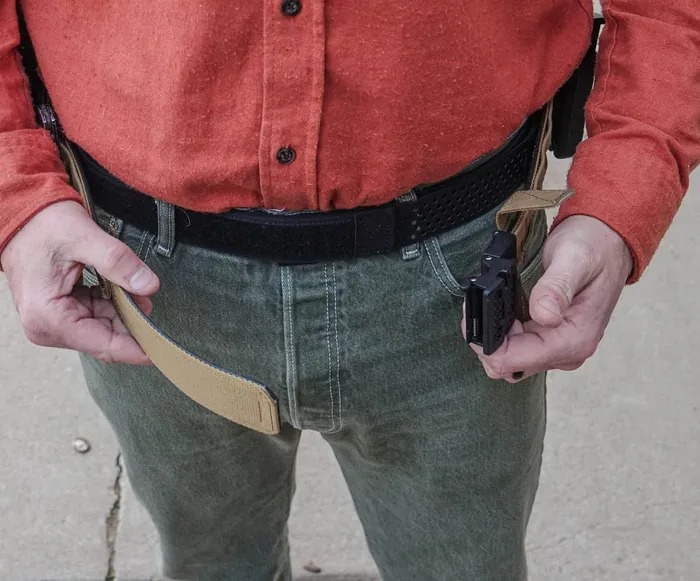 Score Card
Reliability (10/10)  
Flawless function
Customization (10/10)
It allows the user to custom fit to their needs
Appearance (10/10)
Handsome looking belt, for professionals
Value (9/10)
Excellent value when compared to other options.
Accessories
Besides the SERPA holster mentioned above, I would recommend the Safariland ALS.
Depending on your pistol, you may find one that better fits your needs but I love the Esstac Double Kywi.
Alternatives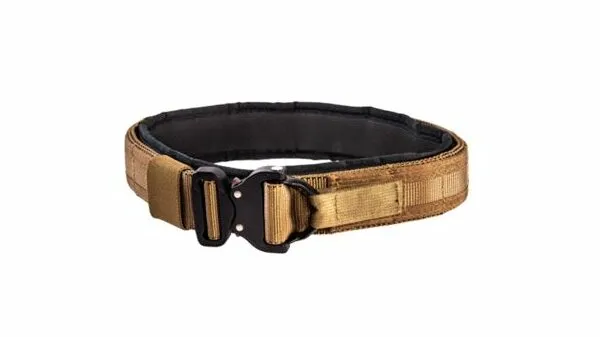 A good alternative is the HSG 1.75 battle belt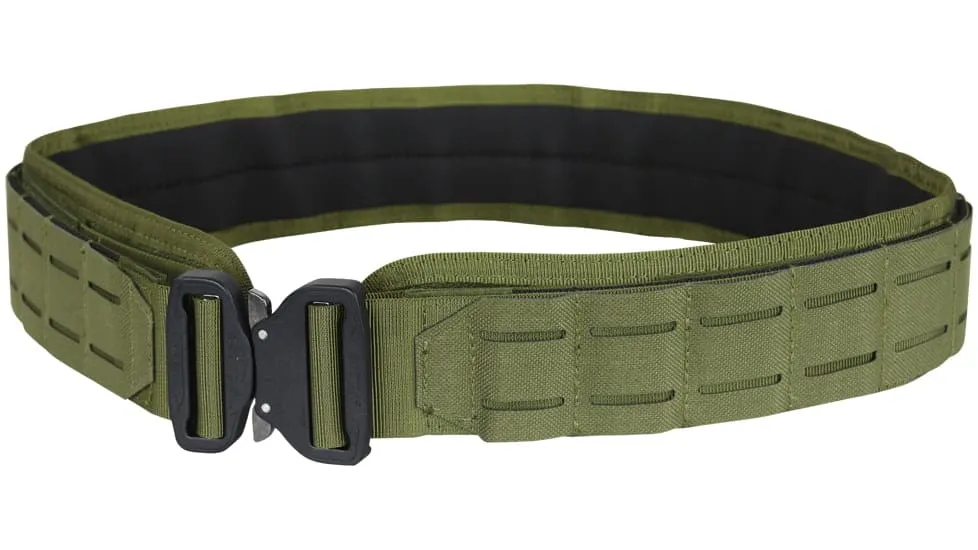 If you are looking for a cheaper option, the Condor LCS Cobra belt would also work.
Conclusion
If you are looking to get into a good battle belt, I would highly recommend taking a look at the Kore Essentials B1 belt. It's fair priced and gives an outstanding and rigid platform you can build your pistol shooting skills from.
Explore more