LA Police Gear EDC Loadout Review: Pants, Knives & Lights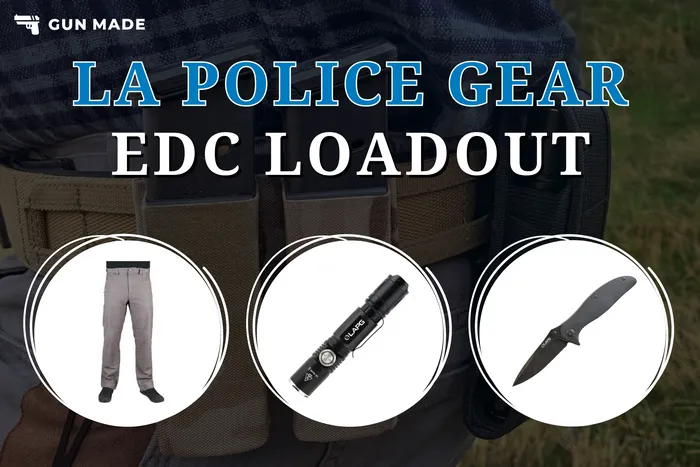 LA Police Gear EDC Loadout Review: Pants, Knives & Lights
Good fortune has often come my way, and more recently, it came in a box from LA Police Gear (LAPG). The box had a mini EDC loadout inside that included a new pair of LAPG Benchmark Tradesmen work pants, its F7 LED flashlight, and its S35VN EDC folding knife.
This is not my first experience with LAPG. I have bought a few things from them in the past and been quite pleased with my purchase. Not only was I happy with the products I purchased, but the transaction was seamless and easy.
LA Police Gear Loadout
LA Police Gear offers an incredible variety of tactical and duty equipment—everything from clothing and accessories to plate carriers and armor. Check out our LAPG Plate Carrier review if you're interested in that lineup.
If you are a law enforcement or security professional, LAPG likely has almost everything you need.
It offers an often more affordable alternative to some of the pricey gear equipment brands. But thankfully, it doesn't short the quality of its products in the process.
Reliable and useful gear is the result, and I am once again happy to share my experience with our readers.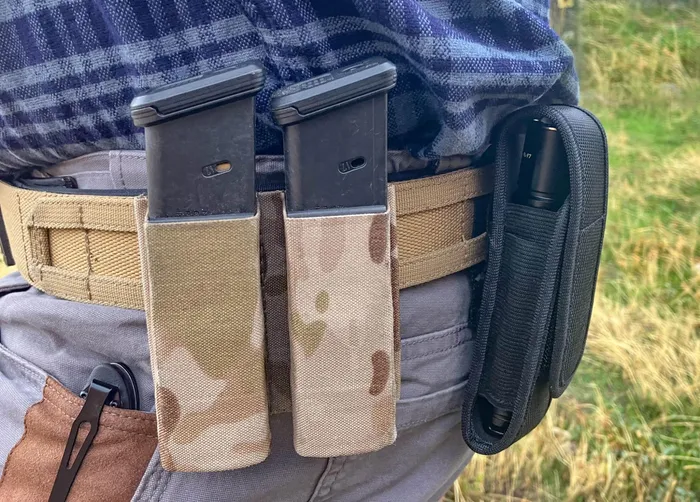 First Impressions/Unboxing
I am a bit of an outdoorsman, and my firearms-related activities are closely intertwined with that lifestyle. As soon as I saw the LA Police Gear Tradesmen pants, I knew they would be coming along on an elk hunt the following week.
I carry a pocket knife daily, so hunting or not, I was going to have this handy little folding knife on my belt. And the LED F7 flashlight would also be useful on my gun belt, and while camping in the mountains.
As I opened each product, they were of nice quality and well-packed. However, testing them out is where the real insight lies.
Benchmark Tradesman Pants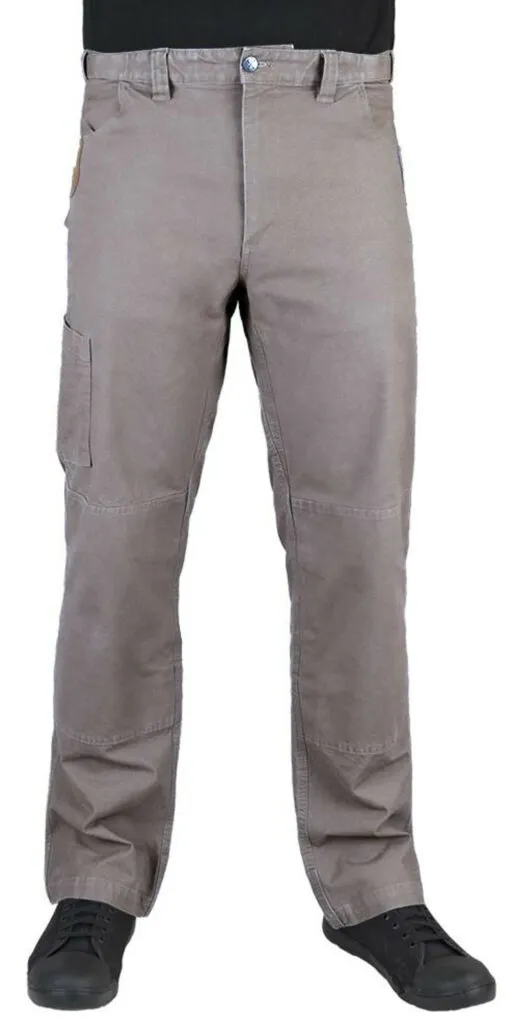 I got two pairs of Tradesman pants; one was a lighter nylon pair that was very light and full of utility pockets, and the other was a slightly heavier pair with reinforced knees, a stretch waistband, and leather reinforced pocket corners. Perfect for putting my EDC knife in.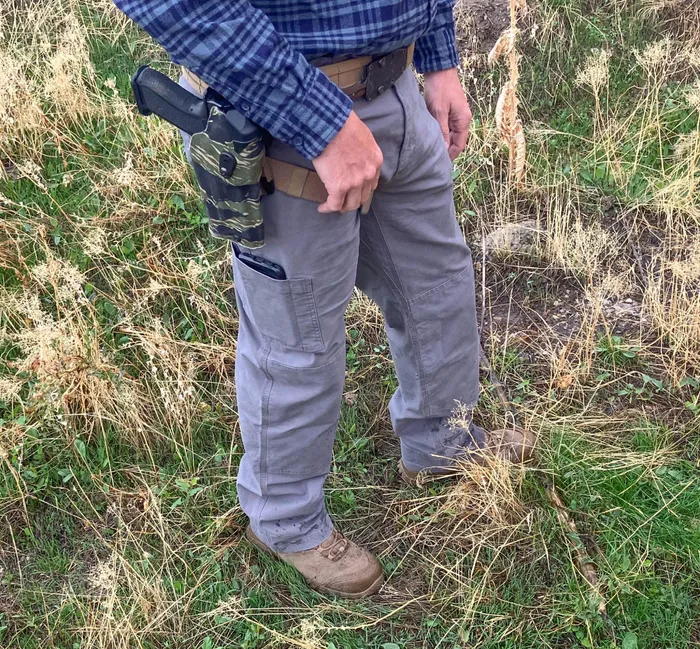 Both pairs were very comfortable and fit perfectly when ordered in the same size as any other pants I wear. These pants are clearly made to work in. Extra pockets and belt-loops, as well as many other little features, made them very handy whether on the range or in the mountains hunting.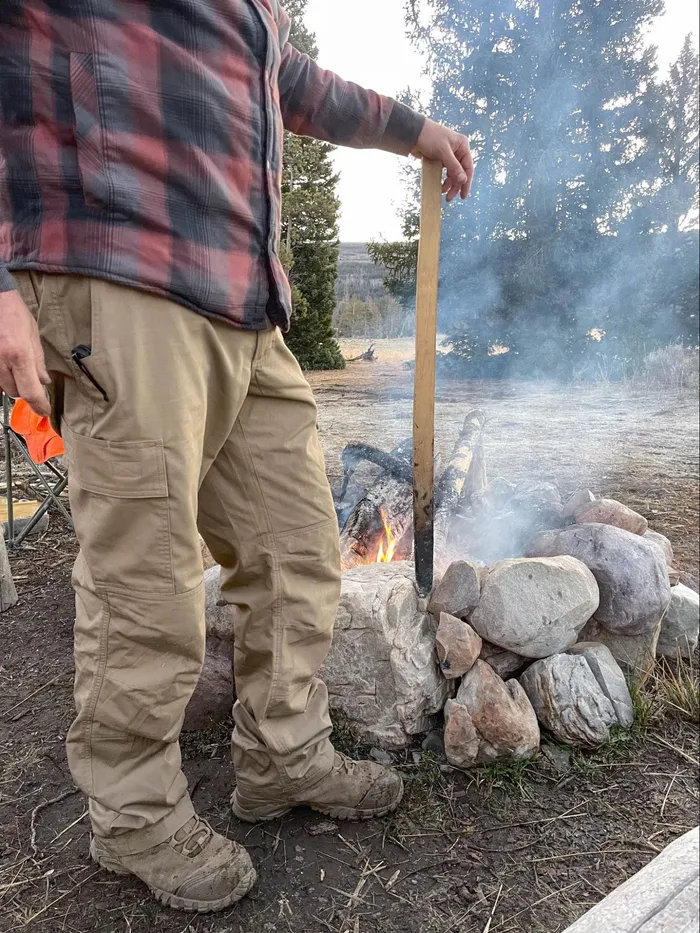 Many of these features were well thought out, so well in fact that the only thing I didn't like about the pants was the primary pocket placement. The opening of the main pockets was placed relatively high on the pants, which required a very deliberate effort to get to my keys or whatever else was inside.
I'm assuming, though, that this is likely by design to prevent items from falling out of your pocket while you are in unconventional positions.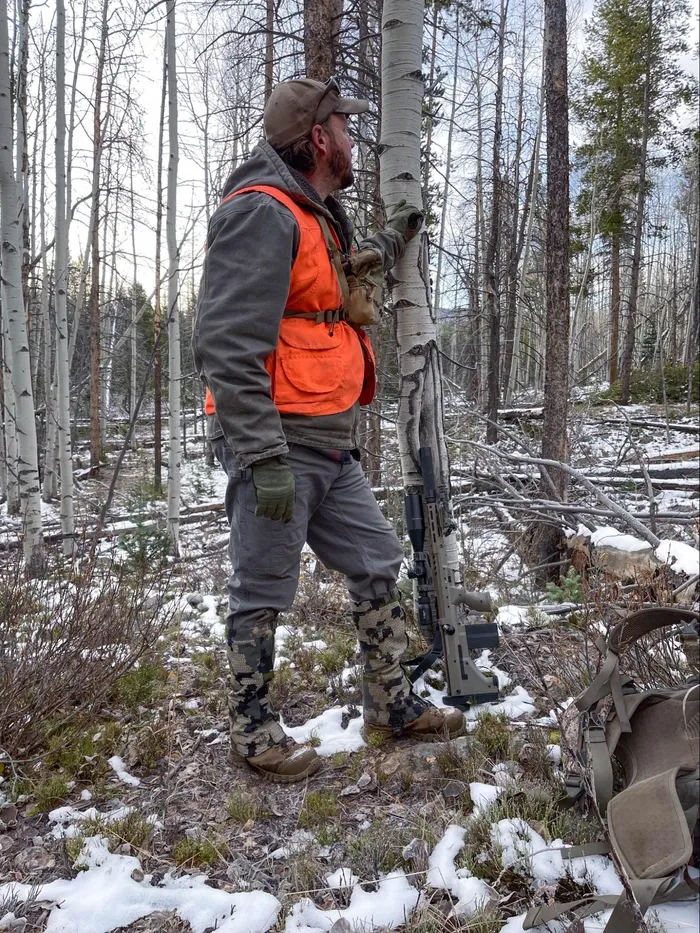 S35VN EDC Folding Pocket Knife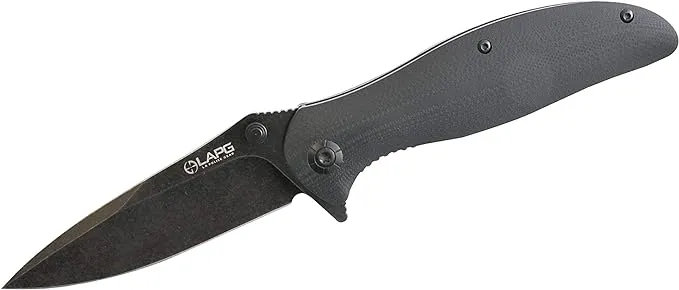 Good pocket knives are a must-have, particularly for an outdoorsman. The S35VN EDC pocket knife has been a great addition to my everyday carry. The knife features a highly polished blade that was razor sharp right out of the box.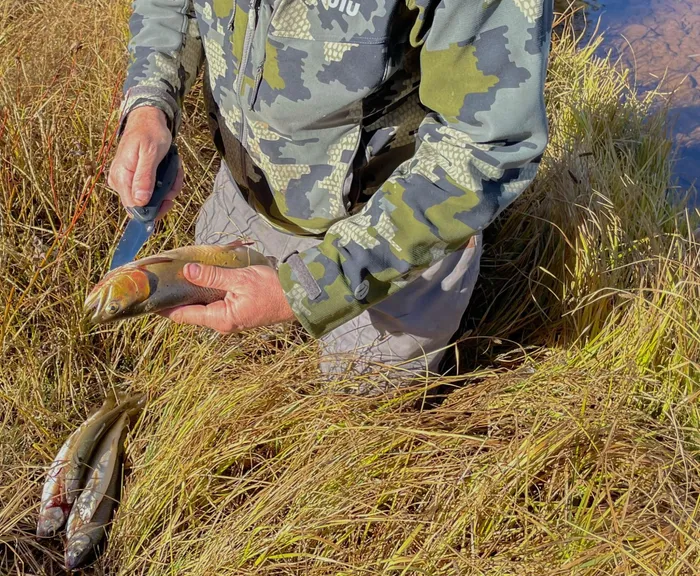 It has the familiar little nub sticking out the back side of the handle, and with a flick of your finger, the knife opens completely. It uses a spring bar to hold the blade firmly locked open.
I found the G10 handles to be very nice in the below-freezing temps at 10,000 feet ASL.
It is heavy, but I like that. It feels very robust, and the weight lets you know when it's there. Or perhaps more importantly, when it isn't. The knife is easily secured with a built-in spring-steel pocket clip.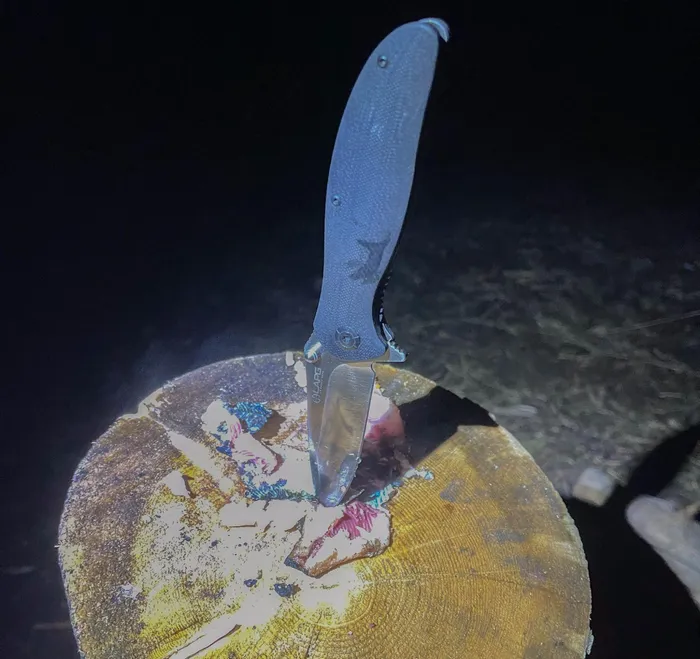 The LAPG EDC Knife after carving up some fish cooked over the fire
I used the knife to do everything from opening feed bags for my animals, to gutting fish on the side of a mountain stream.
F7 LED Rechargeable Flashlight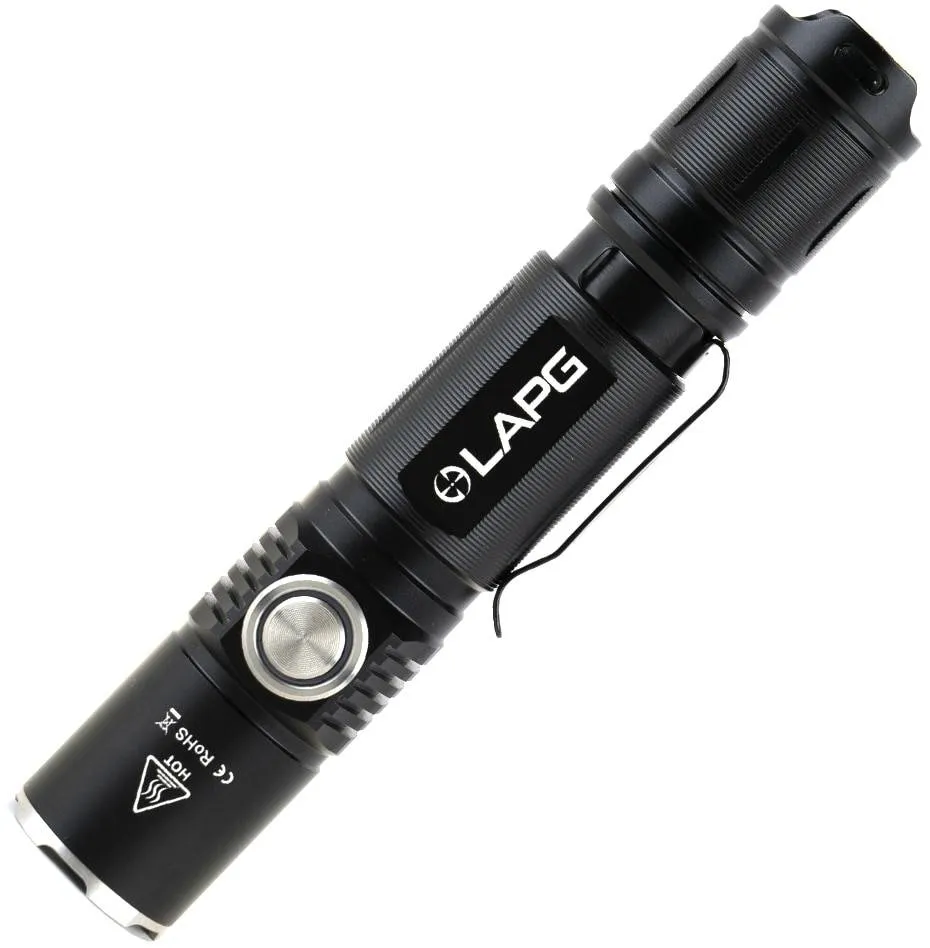 Rechargeable flashlights are hand and convenient, and the F7 model from LAPG turned out to be far better than I expected.
It comes with a rechargeable battery installed, and the battery has a mini USB cable jack, so you can quickly recharge it with almost any micro USB cable. In addition to the battery's jack, the light itself has the same mini USB jack in the side with a captured rubber cap. This allows you to recharge the light with zero disassembly.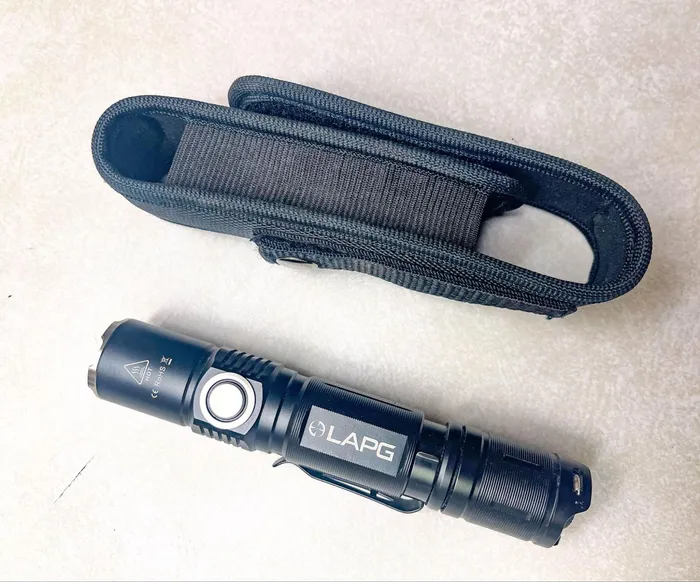 The light is powered on by a rubber-clicking button cap on the rear, but it also has a button on the front of the housing that allows you to cycle through different functions. The cycles go from lower brightness settings to very bright. You can also select a strobe or SOS mode using the same button.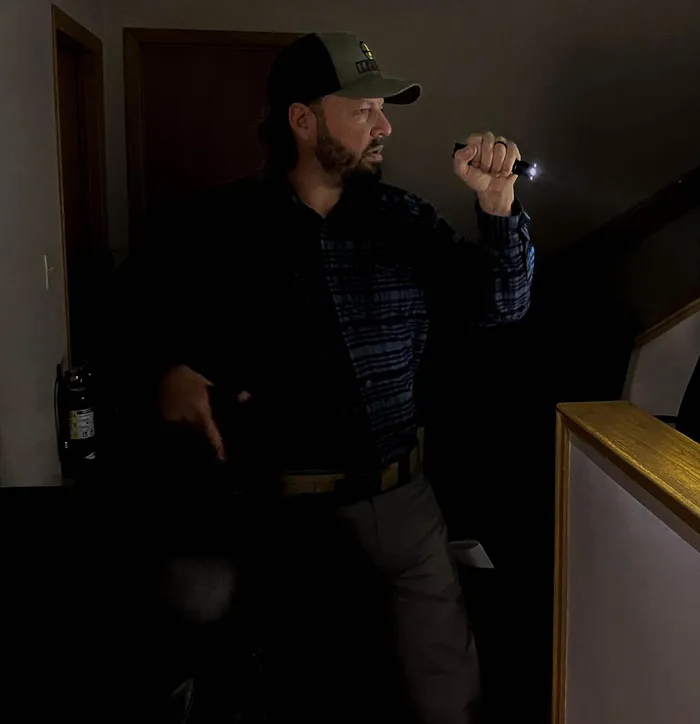 During my elk hunt in the high Rocky Mountains, I found myself using the flashlight often. The lowest brightness settings were perfect for digging around in the truck in the dark. And the brightest settings were like a spotlight when looking out into the forest at night.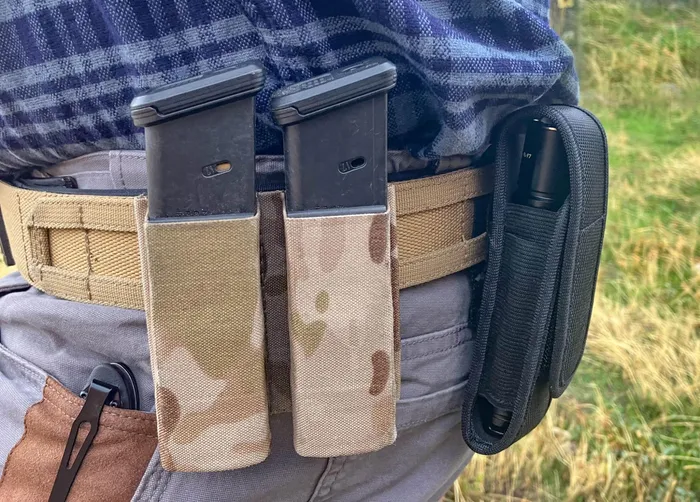 The only complaint I could come up with for the light is the carry pouch is a little bit cheap. When attached to my gun belt, the snap has come undone more than once. But the light itself is pretty slick. Maybe I'll just get a better pouch for it and keep on rockin'.
Conclusion
Once again, I am pleased with my order from LAPG. The pants and the F7 flashlight were definitely a score for the price, and I will be using them for all kinds of activities. The EDC pocket knife will likely stay on my belt or pocket until the unfortunate day I misplace it, slicing through sandwiches, steaks, or cordage around the yard.
While I may be a simple civilian, the rough work of hunting, fishing, and shooting in these challenging mountains surely gave the gear a workout. And I feel they are more than adequate for guys like me and maybe even someone a little more badass than myself.
Let us know what gear you'd like to see us review next in the comments below.
Explore more