Marlin 1895 Review: Classic Lever Gun Goodness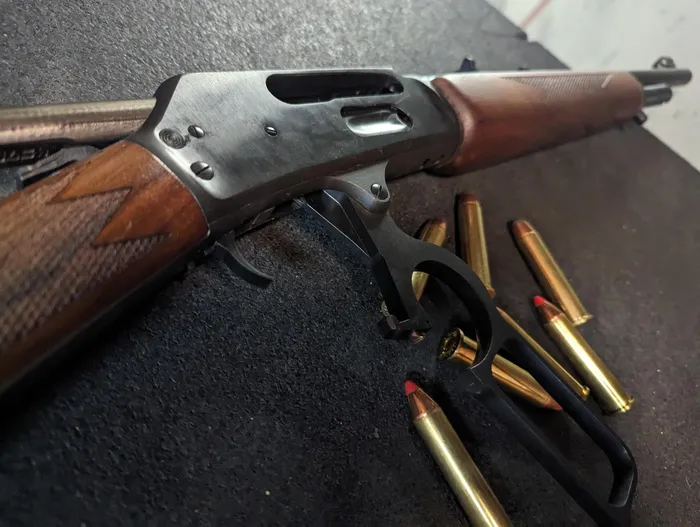 Marlin 1895 Review: Classic Lever Gun Goodness
Introduction
We really like lever action rifles around here, and the Marlin 1895 is one of the most prolific modern options out there. Marlin has quite a few lever actions still in production (or Ruger does, under the Marlin name, which is arguably better), and the 1895 is the big bore option of the bunch.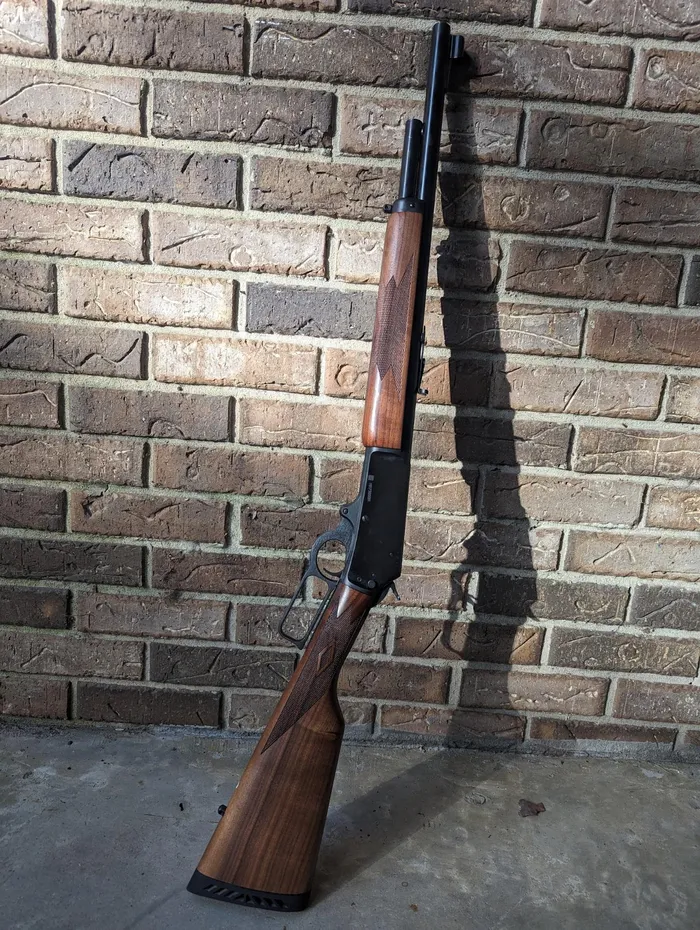 The .30-30 Model 336 and the .44 Mag Model 1894 are all good, but I wanted to get my hands on the cream of the crop, the big bore .45-70 Government (Govt) Model 1895.
Ideally, this gun should be able to effectively bag medium-game like whitetail deer and stand up to stouter targets like hogs and bears. There's a reason the .45-70 is so popular as a "brush gun" and why Marlin makes an 1895 model called the "Alaskan".
Fortunately, the 1895 delivers on these counts, and it's a gun I've come to trust in the year or so I've been shooting it. It's even saved my bacon on one occasion (and put some on the table for me as well).
Marlin 1895 Review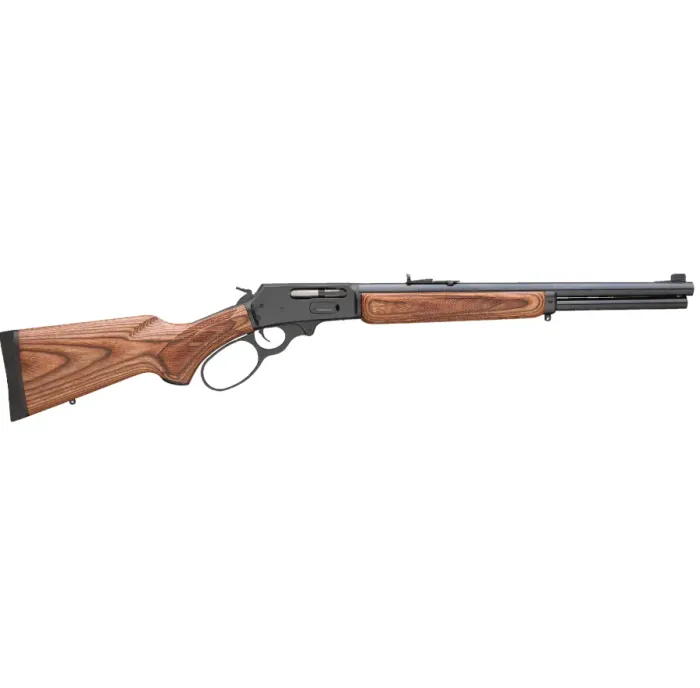 Specifications
| | |
| --- | --- |
| Caliber | .45-70 Government |
| Capacity | 6+1 |
| Weight | 7.4 pounds |
| Length | 37.25 inches |
| Barrel Length | 19.10 inches |
| Finish | Satin Blued |
Pros & Cons
Pros
Excellent fit and finish

6+1 capacity

High-quality recoil pad

Excellent support from Ruger (warranty, upgrade parts, etc.)

Multiple models available including a takedown version

Cold hammer-forged barrel
Cons
Lever requires some break-in to smooth out

Fairly heavy for a hunting rifle
Home on the Range: Testing the Model 1895
The Model 1895 is 100% classic lever-action goodness. When you pick it up, it's hard not to be transported back to the late 19th century when guns like this were essential to life on the frontier.
The walnut laminate stock gives the rifle a classic look without worrying about maintaining a natural wood stock's finish and protecting it from bumps and scratches.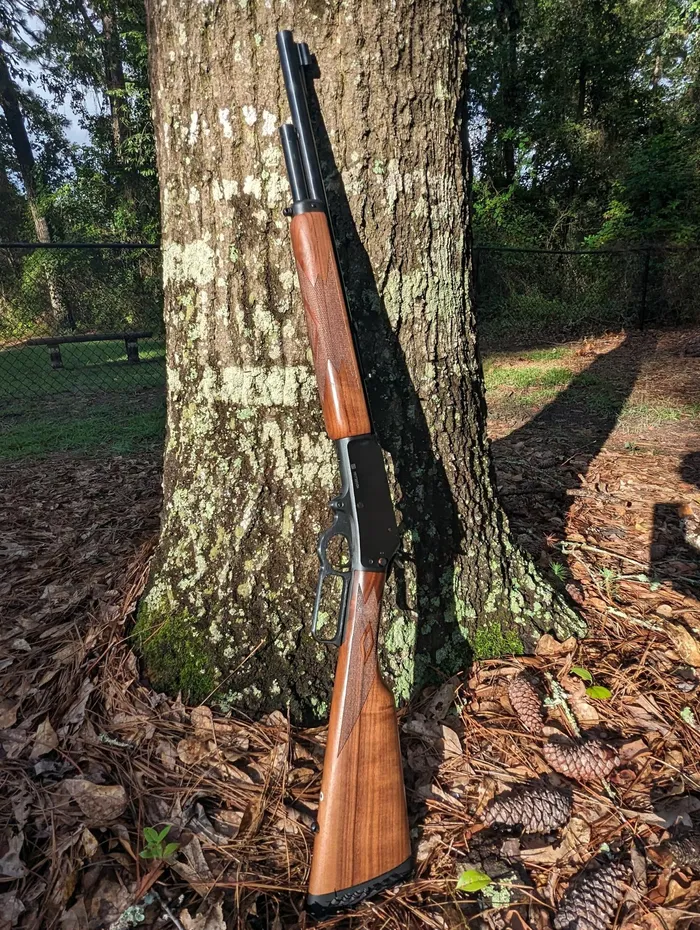 Overall Fit, Finish, and Feel
I've had a good bit of time with both the older Marlin 1895s from before the Ruger buyout and the new post-Ruger ones, and both are excellent. The walnut-colored laminate (on the base model) is nicely checkered, and the recoil pad does a lot to make shooting hot .45-70 rounds less unpleasant.
The lever on my pre-Ruger model was a little bit gritty to start with, but it smoothed out with some repetitions. The newer models are a little smoother from the factory and come with the Big Loop pre-installed.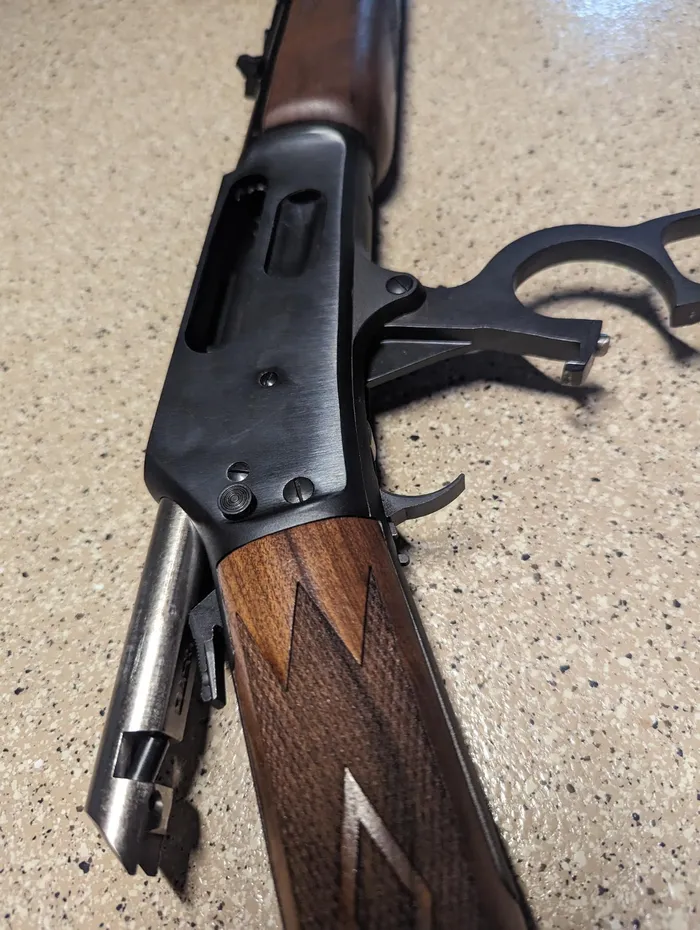 How We Tested
Testing this one was a blast. We got some friends together who like cowboy guns and headed to the indoor range first. We fired at ranges from ten to fifty yards with various ammo.
Then, we went to the hundred-yard range and attached a bipod to the front swivel to test the gun's accuracy instead of our own. With the stock iron sights, most groups stayed within two inches, and things only improved when we tried things out with a red dot and a 1-6x scout-style LPVO.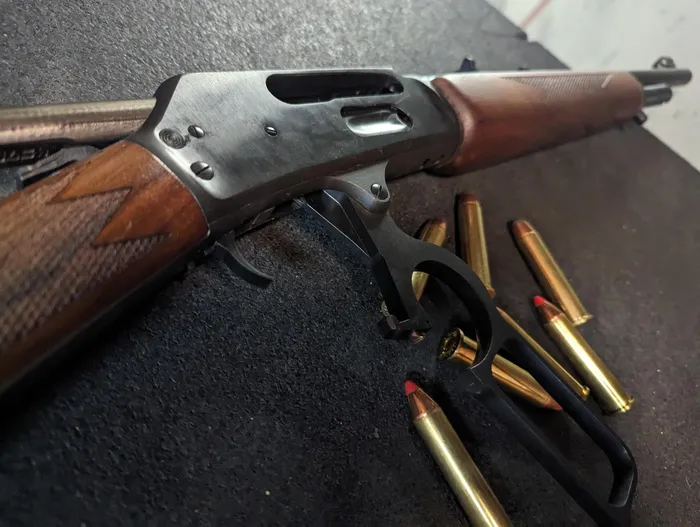 I've also taken the 1895 out hunting, and to date, it has bagged three whitetail deer, including a mature 9-point, and two wild hogs. One of which was very keen to get into some feed that had been left out for a neighbor's cow.
Ammo Used
For testing, I had some handloads, some Hornady LEVERevolution 325gr FTX, and some Fiocchi Field Dynamics flat-nose hollowpoints graciously provided by our ammo sponsor, AmmoMan.com.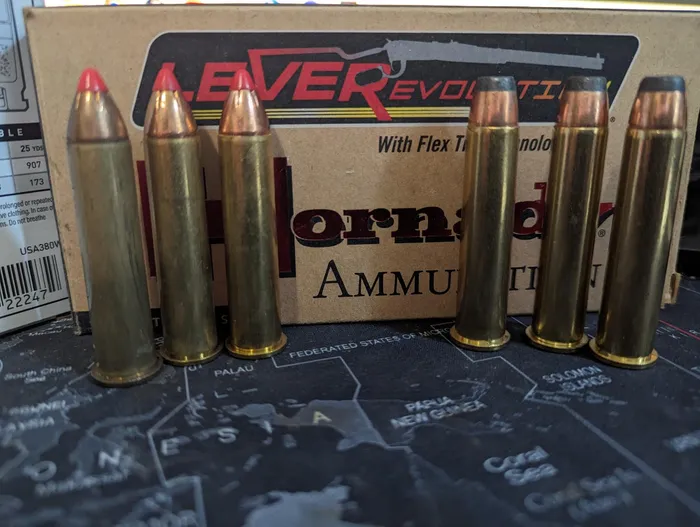 A huge thanks to them for sending out some ammo for us to test the 1895 with (.45-70 ain't cheap). An even bigger thanks to them for being patient when I had to take some time off due to illness, which delayed this review a while.
Reliability
My model 1895 has not malfunctioned or had any feeding/ejection issues in over 200 rounds of factory ammo, plus 50 or so handloads.
Older models from before the Ruger buyout in 2020 have been reported to have extractors that can fail, which thankfully is an easy and cheap (or free in many cases) fix.
If you have a pre-Ruger 1895, I'd swap the extractor out for an upgraded or new factory one. Other than that, I wouldn't expect to have any issues with this thing whatsoever. It's built like a tank, and the Ruger ones are especially well-loved for their durability.
Accuracy
With a red dot, my 100-yard groups hovered around one inch with Hornady Leverevolution ammo and opened up to about 1.25" with flat-nose rounds (thanks again, AmmoMan.com, for helping us keep these reviews as fair as possible).
This is more than acceptable for a .45-70 lever gun since you will primarily shoot inside 200 yards unless something goes wrong. At 50 yards shooting off-hand, everybody we shot with made ragged holes on paper.
All in all, it does what you need it to do; just don't take it to a PRS match.
Features
Checkered Laminate Stock
The laminate stock on the base model 1895 has a lovely walnut-esque look without any of the worry that comes from an actual hardwood stock. There's basically no risk of warping, and it stands up to the elements much better.
The checkering provides an excellent grip, which you want on a big-bore rifle like this. You'll have no problems using this gun with gloves or wet hands. A positive grip on something like this is essential, and the 1895 stock provides that without tearing up your hands or feeling too uncomfortable.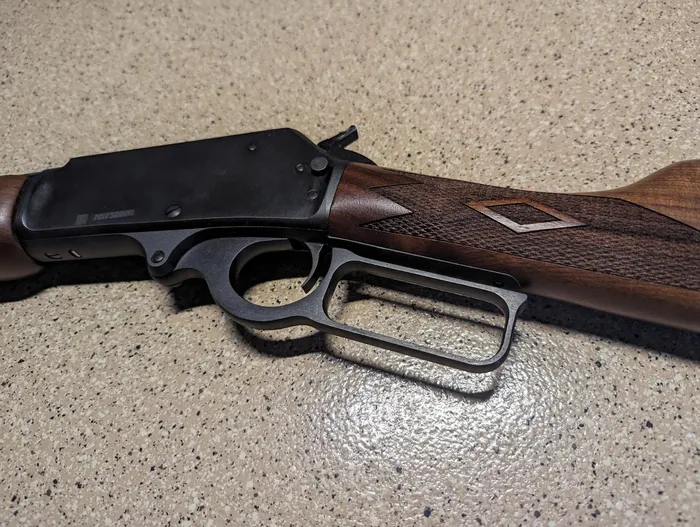 High-Impact Recoil Pad
Look, I hunt with .300 Win Mag, I shoot .338 Lapua fairly regularly, and I've spent a reasonable amount of time behind single-shot and bolt-action .50 BMGs. I'm not what you would call "recoil-sensitive".
That said, blasting .45-70 downrange can be rough on the shoulder.
If you're hunting, maybe that's not much of an issue, but the recoil pad is necessary for shooting at the range. There's nothing manly about abusing your shoulder for no reason. Marlin and Ruger know this, and that's why there's a healthy recoil pad on this thing.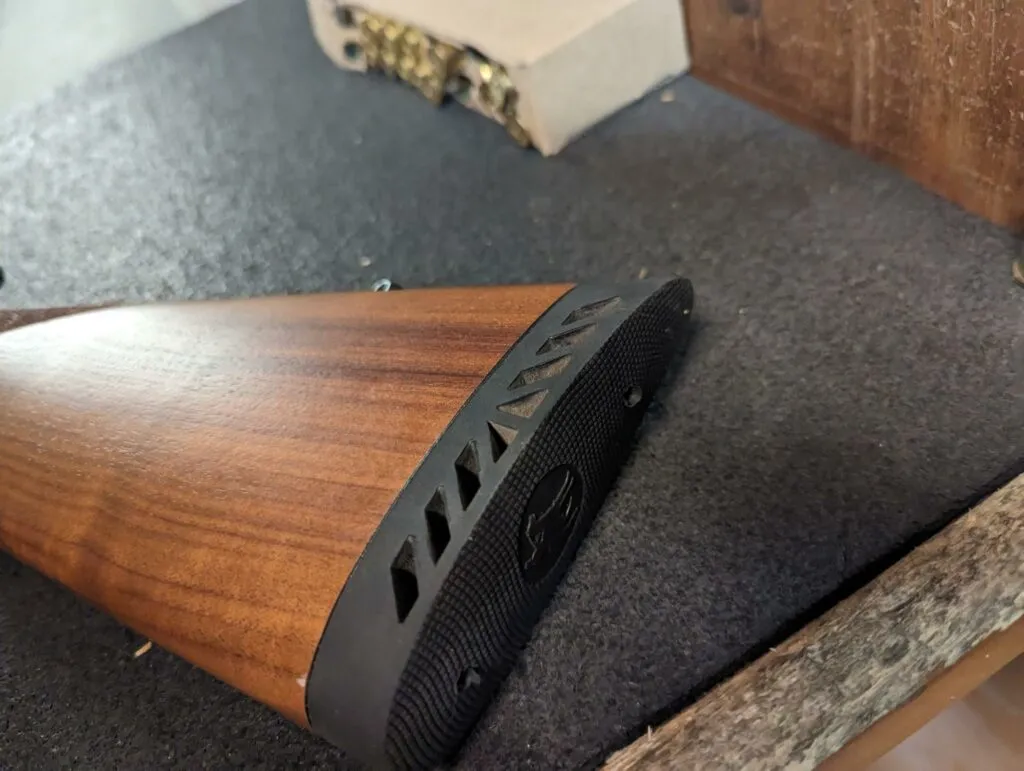 It just makes shooting more pleasant and fun, and if you're not out there to have fun, why are you out there?
Score Card
Reliability (9/10)  
It shoots when and where you tell it to—nothing to complain about.
Ergonomics (8/10)
Taking off a couple of points here just because of the older Marlin 1895s having the smaller lever loop.
Customization (10/10)
You can do some truly awesome things to the 1895, from cowboying it up to going full tactical lever action and making it look like something out of Firefly/Cowboy Beebop.
Appearance (8/10)
It's nice, but the SBL looks better. Get that version over the base mode if you're hung up on looks.
Value (8/10)
Big-bore lever guns are expensive, but with this one, you get what you pay for.
Accessories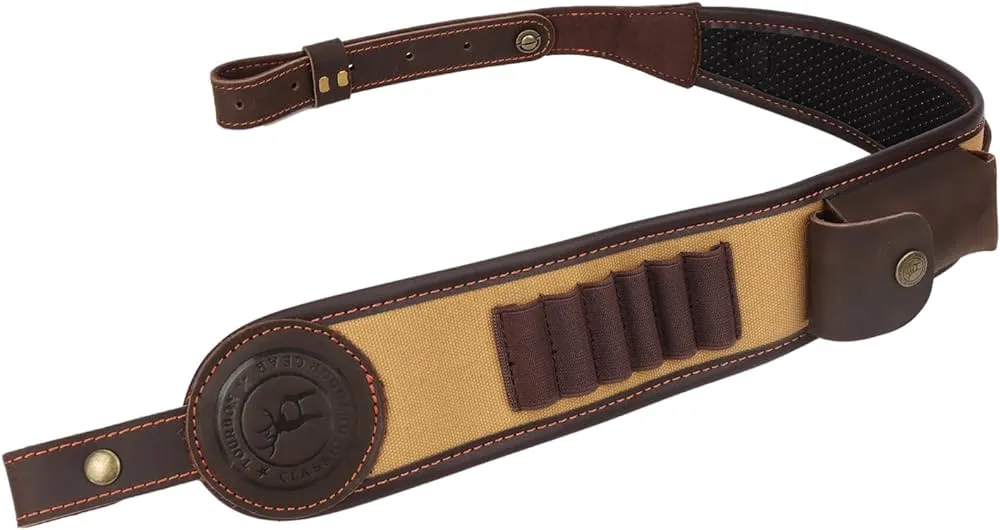 You can put any kind of strap or sling on this gun, but I feel like it needs a classic leather carry strap. I like a carry strap with a shell holder, but a plain leather strap also works.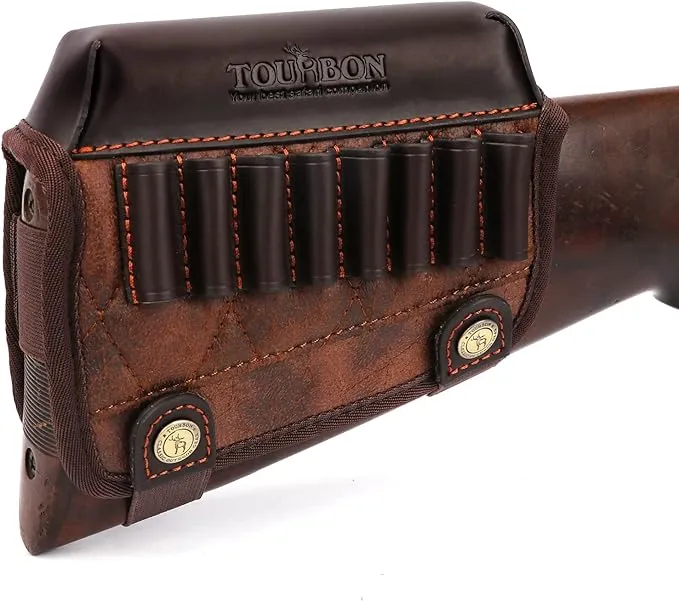 Of course, if you're looking for something a little different for your shell holder, then a buttstock shell holder is a great way to carry a few extra rounds in a convenient place.

My favorite upgrade to the base model Model 1895 is an XS sight Picatinny rail. Being able to run either a red dot or an LPVO is a game-changer for a rifle like this and a great addition whether you're hunting or just shooting at the range.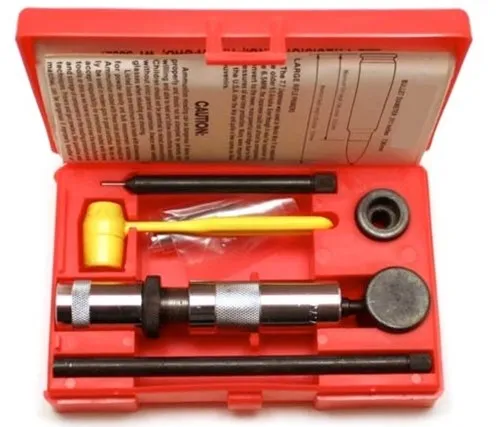 .45-70 is dead simple to reload and is a great place to start if you're new to reloading and want to learn or just don't want to pay around $3/round for ammo. You typically won't be shooting .45-70 too often, so a simple Lee Loader in .45-70 is a great thing to pick up.
Simply save your brass, buy some primers, pick a powder and projectile according to your favorite reloading manual, and you're good to go.
Alternatives

The Henry All Weather is another robust and long-lived option in the big bore lever action space. It features a side loading gate like other modern lever actions (not the tube-loading shtick you may be familiar with from other Henry rifles) and an incredibly durable stainless finish, hence the name.

If you like the idea of the Marlin lever action but want something a little more affordable to shoot at the range, then the Model 1894 is a great option. It's chambered in .44 Rem Mag, which is still hefty enough to bring down medium game but easier on the shoulder (and the wallet).
Other Marlin 1895 Models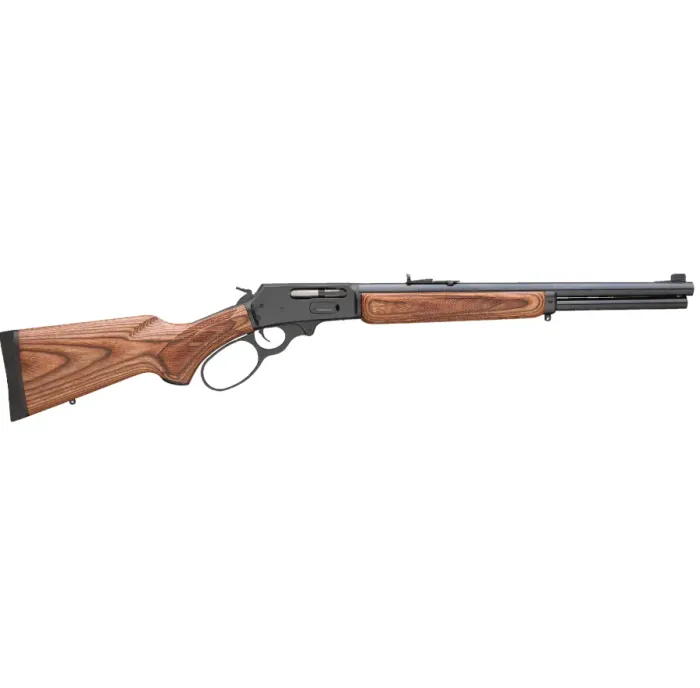 There are three models of 1895: the Guide Gun, SBL, and Trapper. The Guide Gun is basically your standard model, the SBL features a stainless finish and a top rail, and the Trapper is shortened and designed to be easier to move through brush or in and out of vehicles.
Final Thoughts on the Marlin 1895
The Marlin 1895 brings a classic design into the 21st century with a few modern touches that prove this old-school rifle has still got it. The transfer to Ruger's ownership has only streamlined and improved the product line.
If you're looking for a lever action that can bring down most game on the planet and provide a lot of fun at the range, this is a great option.
The fit and finish are excellent, accuracy is even better, and as long as you're on board with the extra expense of this over the pistol-caliber Marlins out there, there's a lot to love about the Model 1895.
What do you think of the Model 1895? Is it something you might add to the collection, or does it fail to spark your interest? Let us know in the comments!
Explore more