Primary Arms SLx 1-6x24mm SFP Rifle Scope Gen IV Review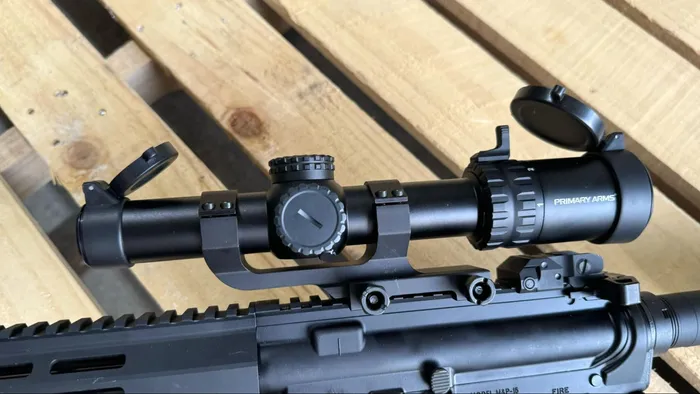 Primary Arms SLx 1-6x24mm SFP Rifle Scope Gen IV Review
Introduction
I share the opinion of many others regarding Primary Arms (PA) making some of the best budget LPVOs in the game. Primary Arms doesn't skimp on features or build quality, all while not taking all your hard-earned money.
The Primary Arms SLx 1-6x24mm Gen IV is the most recent offering in its SLx lineup and offers a couple of different reticle options. This particular one we will look at today features an illuminated ACSS Nova Fiber Wire reticle that makes both close-quarters and long-range target acquisition quick and easy.
Primary Arms was nice enough to send out the scope for testing and evaluation, but don't worry; I get paid by Gun Made for honest reviews, not by the manufacturers!
Primary Arms SLx 1-6x24mm SFP Rifle Scope Gen IV Review
Primary Arms SLx 1-6x24mm SFP Rifle Scope Gen IV For Sale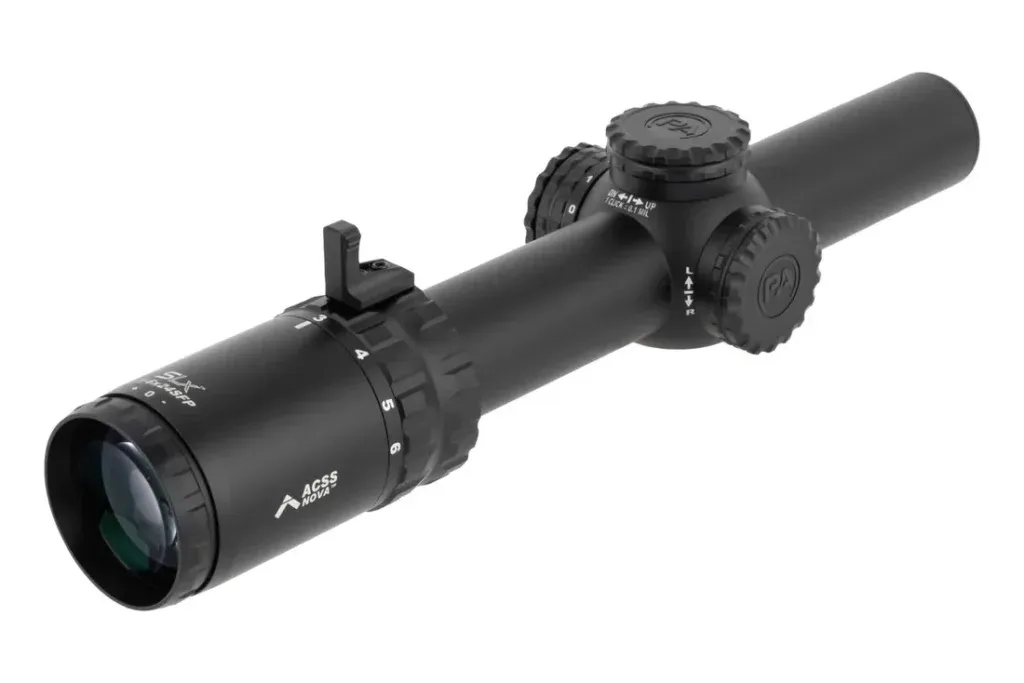 Specifications
| | |
| --- | --- |
| Specification | Detail |
| Battery Type | CR2032 3V Lithium Coin |
| Brand | Primary Arms |
| Click Value | 0.1 Mil |
| Color | Black |
| Exit Pupil Diameter | Low: 10.6mm / High: 3.8mm |
| Eye Relief | 4.00 in |
| Field View 100 | Low: 120 ft / High: 20 ft |
| Focal Plane | Second Focal Plane |
| Illuminated | Illuminated |
| Length | 10.4 In. |
| Magnification | 1X – 6X |
| Objective Diameter | 24mm |
| Optic Series | SLx |
| Reticle | ACSS NOVA |
| Reticle Color | Red |
| Reticle Type | MRAD |
| Total Elevation Adjustment | 120 MOA |
| Total Windage Adjustment | 120 MOA |
| Tube Diameter | 30mm |
| Turret Features | Capped Turrets, Low Profile, Tool Adjustable |
| Weight | 17.9 oz. |
Pros & Cons
Pros
Clear glass with minimal edge distortion

ACSS NOVA reticle features built-in target ranging and moving target leads

11 red dot brightness settings

Integrated throw lever

Affordable, affordable, affordable

Included lens covers

Lifetime warranty
Cons
Magnification power ring is stiff

Minor edge distortion (even less noticeable at higher magnifications)
Unboxing & First Impressions
Upon opening the box, I found the LPVO nicely tucked into a custom-cut foam insert to keep it from obtaining any damage during transit. Turret caps, lens caps, and a throw lever come installed from the factory.
Also, in the box, you'll find things like a cleaning cloth and product manuals. However, you won't find a mount in the package, but that's relatively standard and definitely not expected at this price point.
Picking it up, you can feel the heft. It's not abnormally heavy, but you immediately can tell how solid it feels. The glass looks very clear from a quick look through it, and the adjustment turrets have a nice audible "click" as you adjust them.
How We Tested
I'm not a long-distance shooter, at least typically, so I'm almost always training at or within 100 yards. I hit the range with the SLx 1-6×24 and had targets set up between 25 and 100 yards.
I didn't have any moving targets to test, but the quick acquisition between stationary targets leads me to believe that acclimating to a moving target would not be difficult.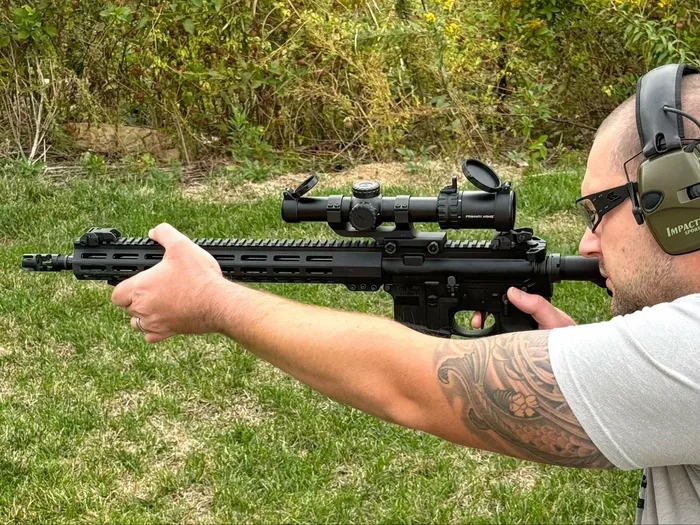 Once zeroed, I never had to adjust it. With 250+ rounds through my M&P15 Volunteer XV Pro with the SLx mounted, it always stayed on point.
I did almost all of my shooting standing with no rest or bipod, and the groupings I was coming up with were more than acceptable for how I run my training (quickly transitioning between targets at a close to medium range, drills & tactical reloads), in my opinion.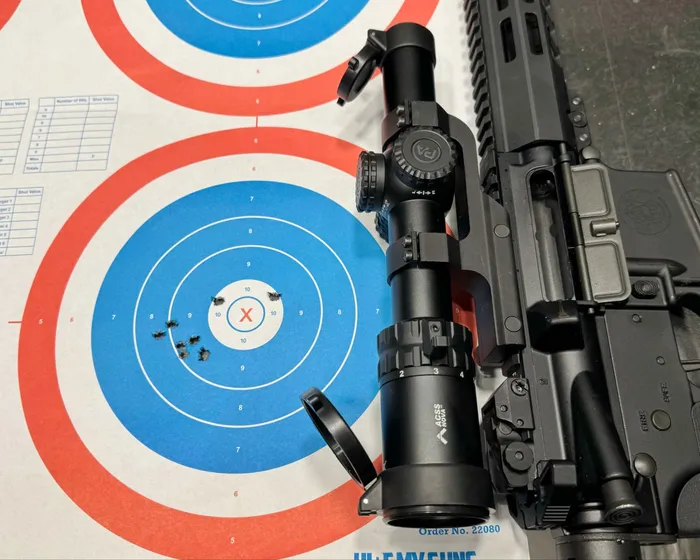 Features
ACSS NOVA Fiber Wire Reticle
In addition to its glass, a scopes reticle is the star of the show, and the ACSS NOVA shines bright, literally and figuratively. The ACSS NOVA features built-in target ranging, moving target leads, and MIL subtensions.
In the center, you'll find an adjustable red dot with 11 brightness settings.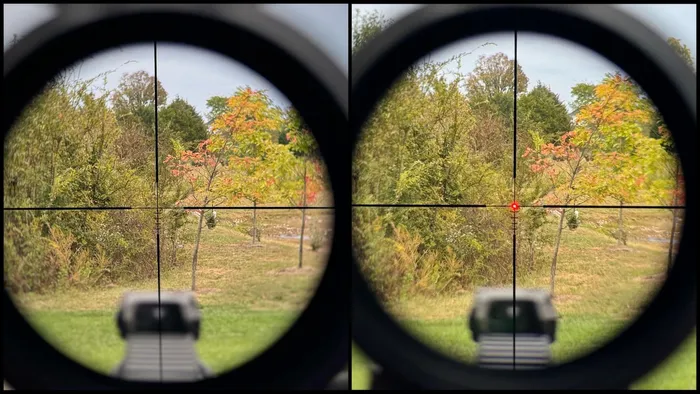 On each side of the dot are the moving target leads. The first, second, and third are for targets moving at three miles per hour, six miles per hour, and 9 miles per hour, respectively.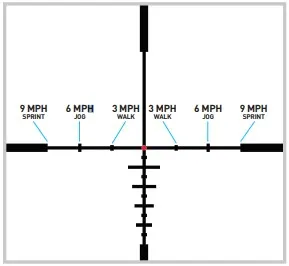 The built-in target ranging has the MIL subtensions sized to match an 18-inch "shoulder-to-shoulder" target. All you need to do is hold those subtensions over the target and find which stadia is the closest from a width perspective.
The 1st, 2nd, 3rd, and 4th MILs equate to distances of 300 yards, 400 yards, 500 yards, and 600 yards, if the width closely matches.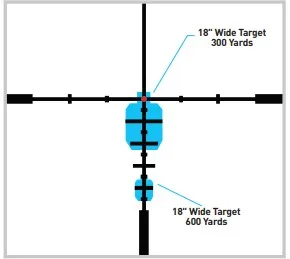 I like that the reticle isn't too "busy" but still provides everything you need at your fingertips.
11 Brightness Settings
There are 11 brightness settings when the reticle is illuminated, with setting "zero" being off. The fiber optic wire provides a true daylight-bright red dot in the center of the reticle. I never had to go above level seven, regardless of how bright it was outside.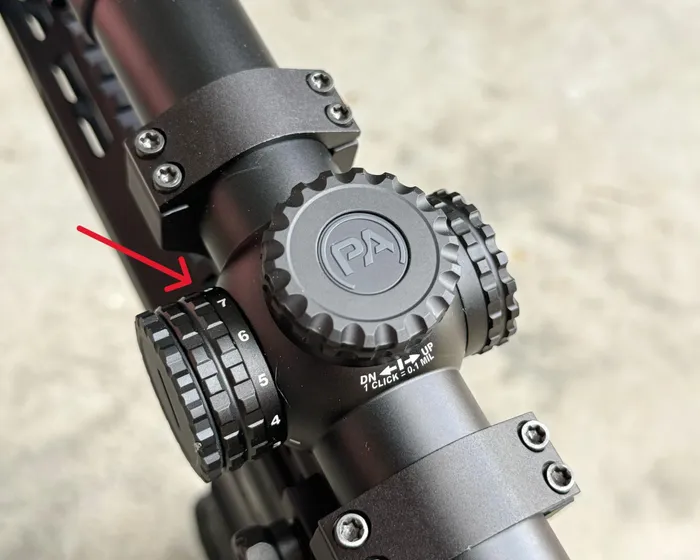 Eleven brightness settings should be enough for any scenario.
Integrated Dovetail Throw Lever
Thank goodness for this throw lever because the magnification adjustment is stiff. The stiffness did subside a bit after playing with the scope for a while, but it still remains stiffer than I'd prefer.
The lever itself is removable and comes placed at the 3x magnification position. It's just big enough to find quickly without getting in the way.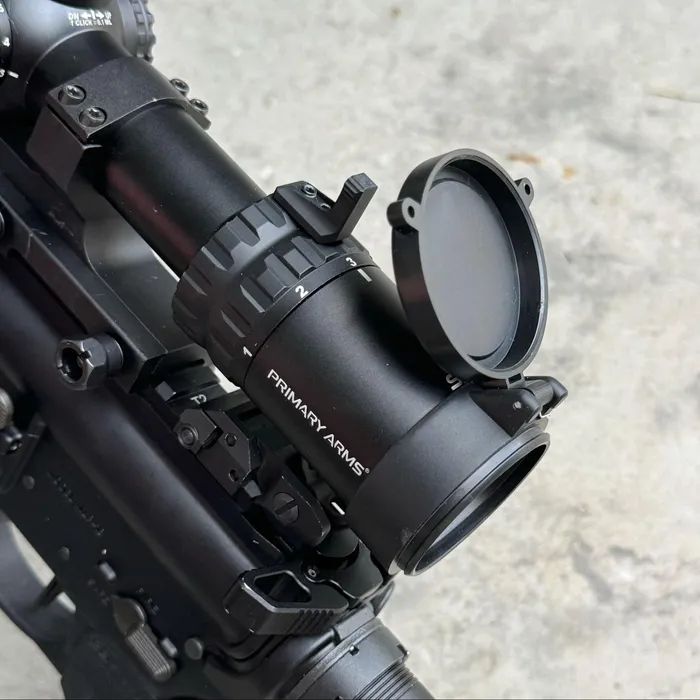 Capped Turrets
I don't hunt, so I almost always prefer to have capped turrets. I never need to make adjustments on the fly to keep up with sprinting animals, so I prefer to reduce the risk of accidental adjustments by using caps.
The ones PA provides have great texturing and are quickly and easily installed/reinstalled.
The turrets underneath have a 0.1 Mil click value and nice audible clicks.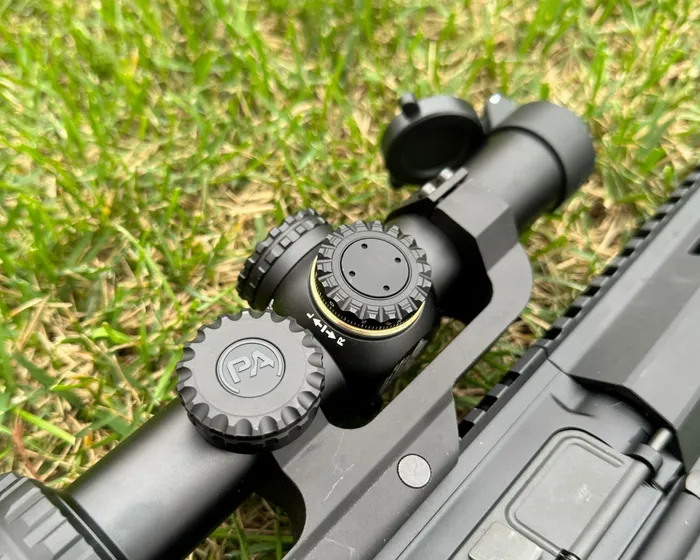 The caps fit perfectly with minimal size added.
Score Card
Reliability (10/10)  
I had zero issues with the scope's adjustability or with it holding its zero.
Ergonomics (9/10)
Overall, everything is laid out just as you'd expect. The controls were easy to adjust, minus the magnification power.
Customization (9/10)
Different brightness settings, lens covers, and different reticle options with other models give you a few options to suit your needs best.
Appearance (9/10)
It's a relatively standard-looking LPVO with a nice blacked-out aesthetic and solid texturing/grooves around the caps and controls.
Value (10/10)
With an MSRP of only $339.99, you get a ton of bang for your hard-earned buck.
Accessories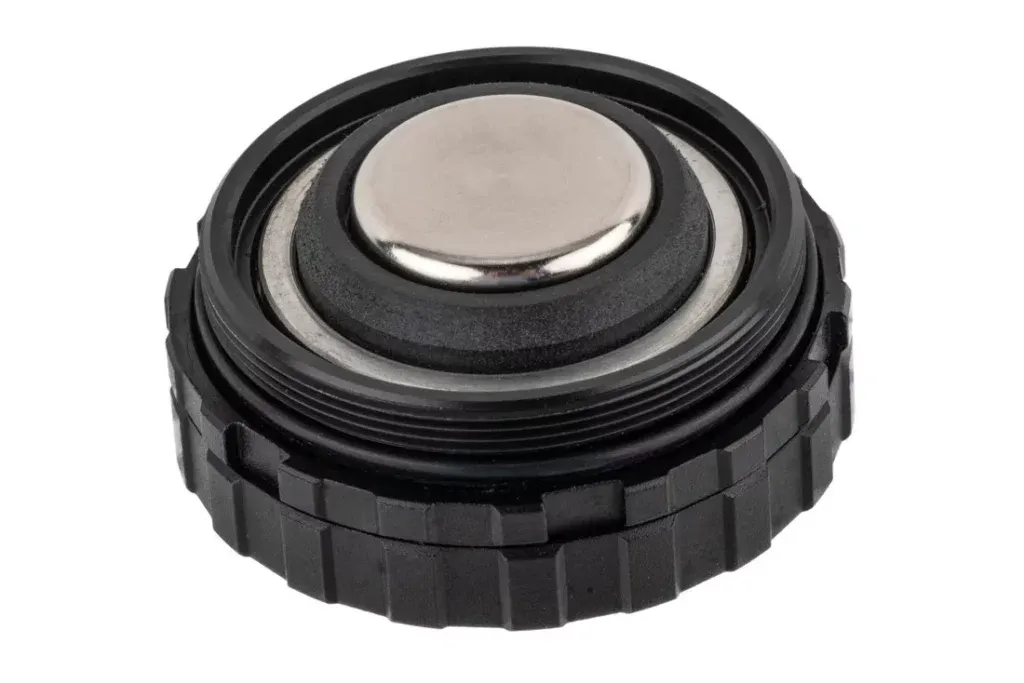 Have you ever wished that your optic would illuminate immediately at the slightest sense of motion? If so, you're in luck with this AutoLive battery cap.
Whether you want to extend your battery life or always have your optic ready for home defense, this option is excellent.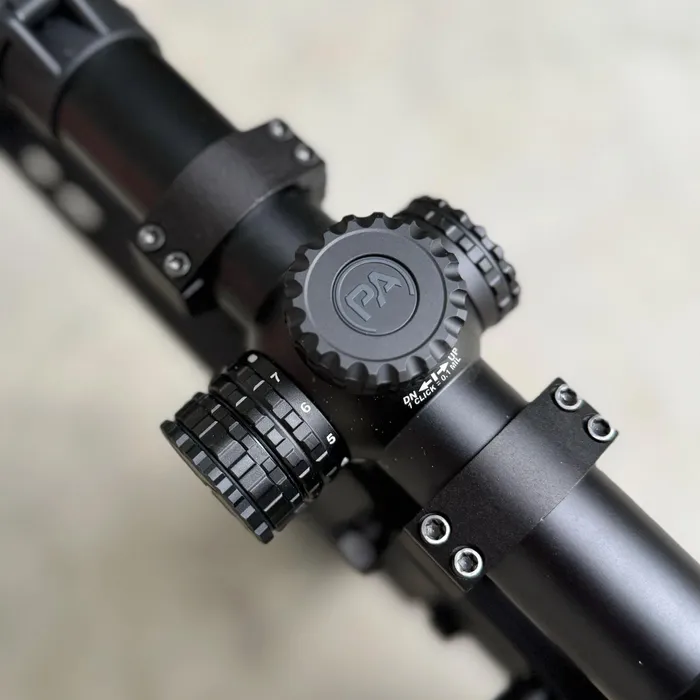 It's also compatible with popular optics like the Vortex Strike Eagle 1-6x and Sig Optics Tango6 MSR 1-6x. Being able to switch it between your other optics (if compatible) is a huge bonus.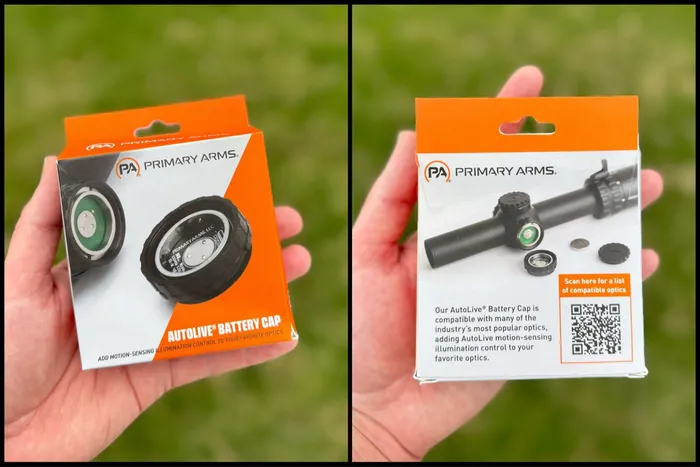 If you don't have the proper scope mount but don't want to spend much money, Primary Arms offers a budget-friendly 30mm mount. It features aluminum construction with a durable matte black anodized finish. It's not the lightest mount out there, but it gets the job done.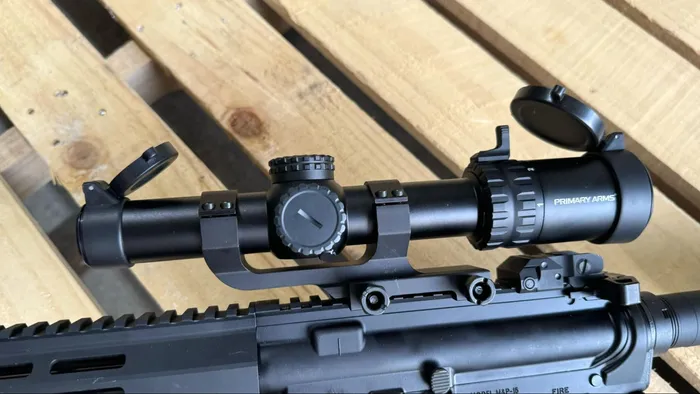 It places your scope one and a half inches above the rail, giving you just enough room to leave your back-up iron sights on. Additionally, a lifetime warranty backs the mount.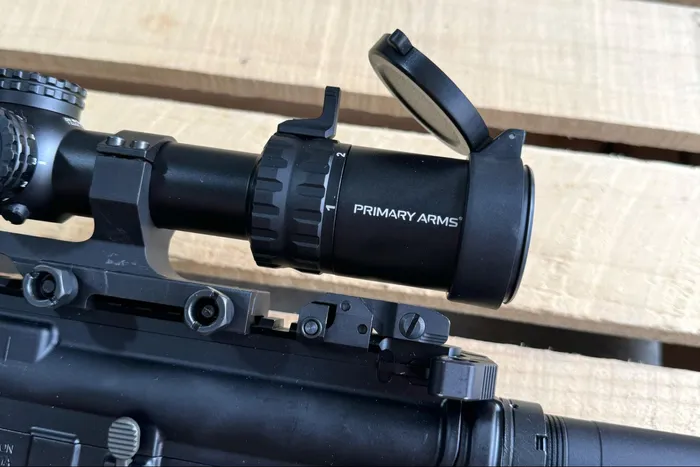 Alternatives
Typically, in this section, I'd list more than one alternative. However, as far as bang for your buck and keeping the optics comparable, the Vortex Strike Eagle is the first and best alternative that comes to mind.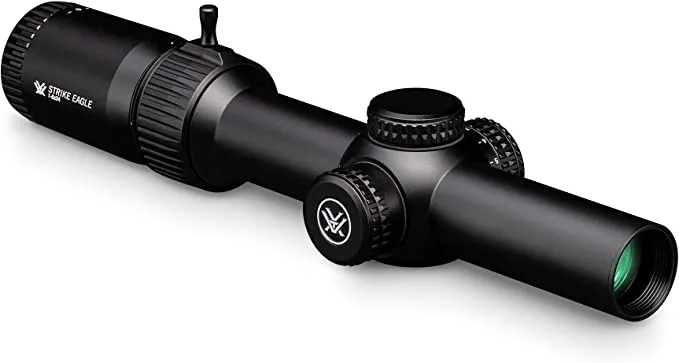 The Strike Eagle 1-6×24 from Vortex is arguably one of the most popular "budget" friendly LPVOs out there. It delivers many similar features to the Primary Arms SLx 1-6×24, such as an illuminated reticle, capped turrets, and the inclusion of a throw lever and lens caps.
However, it is a smidge heavier, has an eye relief of three and a half inches as opposed to the SLx's four inches, and has a slightly smaller field of view. It also features a different reticle (AR-BDC3).
Overall, it's durable and affordable and should have you covered out to 600 yards comfortably.
Conclusion
The Primary Arms SLx 1-6×24 Gen IV is a perfect example of how budget optics do not necessarily equate to fewer or lower-quality features. Regardless of whether Primary Arms had sent this LPVO to us to review or not, it's one that I would strongly consider as my top 1-6×24 contender.
Don't get me wrong, there are plenty of optics out there that still get the job done at a decent price. However, if you pull the trigger on this SLx LPVO, I do not think you'll have even an ounce of buyer's remorse, especially for the price.
Have you had a chance to shoot any of the LPVO offerings from Primary Arms? If so, what did you think of them? Let us know in the comments!
As always, stay safe, train hard, and have fun.
Additional Resources
For more information, the SLx 1-6×24 NOVA Manual contains details on the reticle layout, target ranging, moving target leads, and has data sheets for recording information about shots taken with the scope. 
The SLx 1-6×24 Gen IV SFP Scope Manual provides instructions on adjusting the diopter, zeroing the scope, setting the illumination, and has the scope's specifications and warranty information.
Explore more